ALTHOUGH GIL, EVANS is widely regarded as the leading jazz orchestrator after Duke Ellington, his career has been mottled with the ironies, paradoxes, and inconsistencies more typical of minor cult figures. Born in 1912, Evans is a year older than Woody Herman and only two years younger than Artie Shaw. But his harmonic values, which owe more to bebop and the French impressionistic composers than to big-band swing, distance him from his own generation. Evans, who was pushing forty when he initially made an impression on his peers, nearing fifty when he attained a modicum of popular recognition, close to sixty when he formed a permanent ensemble, and over seventy when he wrote his first film score, was a slow starter who might never have gotten started at all without a shove in the right direction from the trumpeter Miles Davis, in the late 1940s.
At that time Davis and Evans must have seemed odd running mates. Davis, still in his early twenties, had just completed an apprenticeship with the alto saxophonist Charlie Parker. Parker was the foremost exponent of bebop, which was then still a radical new form of jazz delighting in the subversion of pop-song convention. Evans had been an obscure staff arranger for the Claude Thornhill Orchestra, a sometimes experimental dance band famous for dreamy ballads like "Snowfall" and "A Sunday Kind of Love." It was admired by the beboppers for its translucent voicings, which were made possible by an unusual instrumentation that included French horn and tuba in addition to the conventional brass and reeds.
Soon after leaving Parker's group Davis formed a nine-piece band, the Miles Davis Nonet. Although it was smaller in size than Thornhill's group and it derived some of its phraseology and rhythmic crispness from bebop, its instrumentation and palette resembled Thornhill's—it, too, boasted French horn, tuba, and vibrato-less reeds. Significantly, one of the Davis Nonet's arrangers was Evans, whose orchestrations of Charlie Parker compositions for the Thornhill Orchestra had a few years earlier proposed just such a synthesis of bebop abandon and Thornhillian reverie.
The 78s that the Miles Davis Nonet recorded for Capitol in 1949 and 1950 (later collected on an LP titled The Birth of the Cool, now out of print) were recognized as masterpieces only in retrospect. In part this was because Davis quickly abandoned this measured approach for an earthier, more casual improvisatory style dubbed hard bop long after the fact. This suggests that the sound of the Miles Davis Nonet (its most striking characteristic) was a reflection more of Evans's sensibility than of that of the titular leader.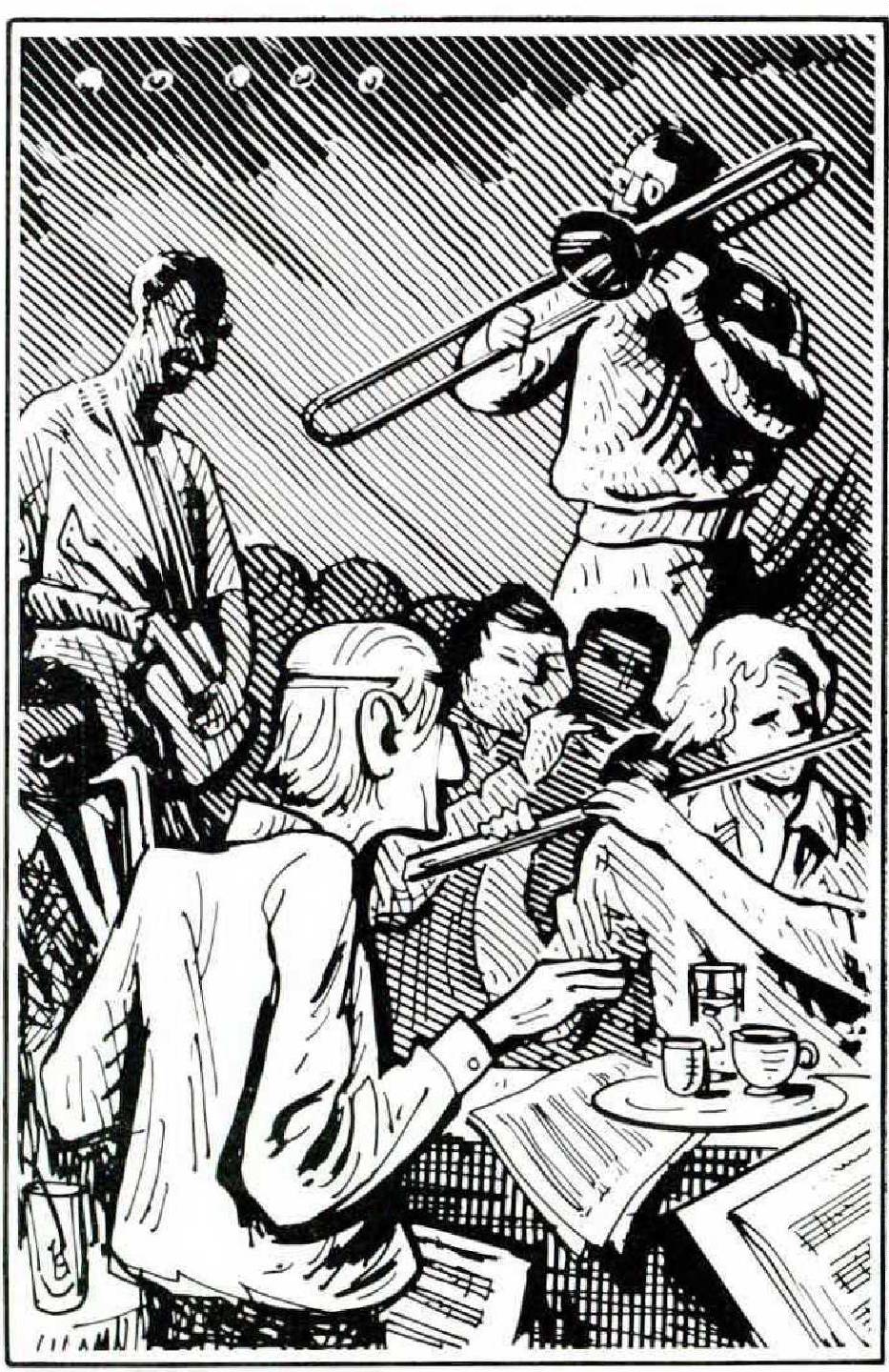 Evans arranged only one of the twelve numbers recorded by the Nonet, and collaborated with Davis on another. Yet the arrangements by Davis, John Lewis, Gerry Mulligan, and John Carisi were rife with what would soon become recognized as Evans trademarks—the shadow play of horns scored across sections, oppositions of low brass and high reeds, harmonic insouciance bordering on modality. Like Duke Ellington, who is often assumed to have written "Take the 'A' Train" and "Things Ain't What They Used to Be," Evans had mastered the genius's trick of creation by proxy.
Bur after those early sessions with Davis he retreated into the shadows, until Davis called him back again almost a decade later. From 1957 to 1959 Evans arranged and conducted three albums for Davis that rival Ellington's showcases for Cootie Williams and Rex Stewart as fully realized concertos for trumpet and orchestra. On the strength of Miles Mead (Columbia PC 8633), Porgy and Bess (Columbia PC 8085), and Sketches of Spain (available only on cassette, Columbia CGT 38220), Evans began to finish second only to Ellington in the composerarranger category of jazz magazines' year-end popularity polls.
But "arranger" is too limited a designation for him, and "composer" is too grandiose. Evans has never been a prolific composer, and few of his pieces have won acceptance in the familiar jazz repertoire. Yet it is unlikely that Kurt Weill's "My Ship" and even a more indigenous number like Dave Brubeck's "The Duke" would have become enduring jazz favorites without Evans's intervention on Miles Ahead. The wistful countermelody with which Evans lightened and modalized George Gershwin's "Summertime" on I Davis's Porgy and Bess album has since become part of the composition, as far as many jazz musicians are concerned, although one wonders how many of them realize that they are paying homage (if not composer's royalties) to Evans as well as to Gershwin. Much the same is true of the tempochanging fanfare that Evans devised to separate Davis's solo from John Coltrane's on a 1956 recording of Thelonious Monk's "'Round Midnight" on Columbia. The anxious, floor-pacing vamp with which Evans introduced John Benson Brooks and Harold Courlander's ballad "Where Flamingos Fly" on a 1956 date for the singer Helen Merrill and on a 1961 date under his own name recently resurfaced on the guitarist Stanley Jordan's version of John Lennon and Paul McCartney's "Eleanor Rigby," of all places. And it would be difficult to imagine "Spain," the pianist Chick Corea's best-known composition, without the working model of Evans's arrangement of Joaquin Rodrigo's Concierto de Aranjuez, from Sketches of Spain.
In one sense, what Evans does is analogous to what a great improviser like Sonny Rollins does when he bestows his favors on Tin Ran Alley. The difference, of course, is that much of Evans's "improvisation" takes place beforehand, on score paper. Like Rollins, he tends to isolate and expand upon discrete elements of his source materials—an especially provocative passing chord, perhaps. or an insistent rhythmic vamp, or an unexpected melodic ellipsis—and discard the rest. As a result, his interpretations have the aura of newly imagined works, ontologically independent of their inspirations. The best illustration of this is his 1963 reworking of Kurt Weill's "The Barbara Song" (on The Individualism of Gil Evans, now out of print), in which he translates the composer's anarchic staccato into a languid reverie that is more characteristic of Evans than of Weill, but no less brilliant for that.
EVANS'S INILIENCE ON younger jazz orchestrators rests on his association with Davis. It can be argued that his albums with the trumpeter—which were commissions, after all, despite their collaborative nature—misrepresent Evans, suggesting that he was a formalist, an advocate of brevity and melodic compression, in a period when other jazz composers and arrangers joined improvising soloists in recklessly exploring the possibilities opened up by the advent of the long-playing disc. BY 1970, when Evans finally launched his own big band after several unsuccessful earlier attempts, his music had left compression behind in a quest for greater expansion. Evans's recent output has suffered from laxity. Frequently characterized as an exacting conductor around the time of his albums with Davis, Evans has since become alarmingly laissez-faire. It was often said of Ellington that he could communicate what he wanted from his orchestra with no more than a shrug or a nod; Evans sometimes seems too laconic to make even those gestures. Big bands have traditionally been characterized as either soloists' bands (the Count Basie Orchestra of the late 1930s is the most celebrated example) or arrangers' bands (the Basie band of the late 1950s will suffice). The Gil Evans Orchestra is an anomaly: a big band led by a great arranger but ruled by its soloists, which, given their prolixity, may be leaving far too much to chance.
Even so, few bandleaders offer as much as does Evans at the top of his form—as he is for much of the two-record set Gil Evans & the Monday Night Orchestra Live at Sweet Basil (Gramavision 18-8610-1), which was recorded in a New York nightclub in 1984 but not released until last year. The set has more than its share of bloat, in the shape of a Charlie Parker blues medley set to a funk rhythm, and Alan Shorter's "Parabola," each of which consumes an entire LP side without benefit of thematic material varied enough or improvised solos meaty enough to justify such elongation.
But the remaining two sides are richly rewarding. It hardly matters that the raw material of Herbie Hancock's "Prince of Darkness" is minimal: Evans's orchestral swirls create the illusion of an ingratiating melody out of a series of harmonic vacillations, and there is a nicely paced solo by Lew Soloff, the latest in a long line of versatile players that Evans uses as Miles Davis surrogates. On Charles Mingus's "Orange Was the Color of Her Dress, Then Blue Silk," featuring the tenor saxophonist George Adams, Evans's barrelhouse accelerandos and lusciously vocalized reeds illuminate the erotic turbulence that quickened all of Mingus's ballads (and the saxophone solo has a yearning quality that Adams never displayed with the late composer). Evans's treatment of "Goodbye Pork Pic Hat," Mingus's eulogy for the tenor saxophonist Lester Young, is slightly less successful, because the featured soloist, the alto saxophonist Chris Hunter, relies too heavily on double-timed bebop licks—knowing which soloist to call on is apparently no longer one of Evans's strengths. Two numbers are reprised from an album of Jimi Hendrix compositions that Evans made and that is now out of print. As reimagined by Evans, "Up From the Skies" is a pleasant etude for the entire band, with especially comely brass figures. But the ambitious "Voodoo Chile" loses its punch about midway through, and Hiram Bullock's Hendrix-like guitar improvisation fails to conjure the spirit of the late rocker, whose charm was in the disparity in scale between his bombastic guitar virtuosity and his mumbled, affectless vocal delivery. Earlier on, though, there is wonderfully comic braying by Howard Johnson on tuba, along with atmospheric synthesizer mewling by Pete Levin. Just the raucous tone of the performance is gratifying, in light of the strained gentility most jazz musicians bring to rock-and-roll. Johnson, who plays both brass and reed instruments, is the ensemble's most valuable member—except for the leader, who plays what he once self-effacingly described as "cheerleader" piano.
LIKE ALL JAZZ performers of his longevity and standing, Evans is forced to compete with his past, in the form of reissues. Magnificent though it is in places, Live at Sweet Basil suffers by comparison with Out of the Cool'S (MCA/Impulse 5653, also available on compact disc), an album from 1961 that resurfaced last year. Out of the Cool's most noticeable flourish is "La Nevada," a simple four-bar minor-to-major riff that swells and contracts for almost sixteen minutes, behind a succession of soloists including the trumpeter Johnny Coles, the bass trombonist Tony Studd, the guitarist Ray Crawford, the bassist Ron Carter, and the tenor saxophonist Budd Johnson. "La Nevada" is clearly the prototype for Live at Sweet Basil's "Parabola." But what rescues it from the monotony of "Parabola" is Elvin Jones-'s and Charlie Persip's varicolored percussion. Over the past two decades Evans has borrowed much from post-Beatles pop, to uneven effect. Synthesizers have given him more color to work with. But the regimented dance patterns of rock and funk, instead of giving his music more forward motion, have brought it closer to the rhythmic standstill it has long courted with its slowly dissolving harmonies.
It might be Evans s recent albums and live performances that are misleading, not his classic albums with Davis. Evans's lively adaptations of Mingus's "Boogie Stop Shuffle" and "Better Git It in Your Soul," and his brass arrangements for the pop singers Sade, David Bowie, Ray Davies, and Jerry Dammers, among others, paced one of last year's most entertaining films—Absolute Beginners, the British director Julien Temple's hyperkinetic, wildly uneven paean to fifties youth culture and CinemaScope musicals, which was a box-office smash in England but a box-office flop in the United States. Avoid the l .S. soundtrack release, a single album that excludes Evans's instrumentals, in favor of Virgin VD 2514, a two-record British import. (Evans is also credited with helping to orchestrate Robbie Robertson's score for Martin Scorsese's The Color of Money, but his hand is nearly undetectable.)
To recommend the Absolute Beginners set over Lice at Sweet Basil would be perverse. The soundtrack played much better on screen than it does on record, where the absence of improvisational development works against it as real jazz. But Absolute Beginners at least has greater focus than one has come to expect from Evans lately, and this may be partly because it was recorded in the studio, like the albums with Davis and unlike the many in-concert LPs that Evans has released since 1978.
Evans belongs back in the studio, where greater focus is a prerequisite, and where arrangers are in their element. He could go back with his band, if that is what he wants, but he also deserves an opportunity to be relieved of the burden of leading a band. He deserves an opportunity to pick the soloists for an entire album of Mingus or Ellington or Billy Strayhorn or Kurt Weill, for whom he has long shown a special affinity—or even Stephen Sondheim, whose compositions have strangely been overlooked by jazz musicians but whose spiraling harmonies seem tailor-made for the Evans treatment.
Even a reunion with Davis might be possible. Or maybe Evans could be persuaded to re-create Thornhill. Or he could come back into the studio for projects of his own choosing. His concert recordings, though uneven, demonstrate that he has maintained his creativity remarkably late in his career. The studio is where that creativity can best be fulfilled.