MUSIC
BY FRANCIS DAVIS
"THRE WAS ALWAYS something a little off, like a Russian playing jazz," muses Fielding Pierce, the narrator of Scott Spencer's latest novel, Waking the Dead. Although the character is describing a quixotic show of solicitude toward a disenchanted lover, the author is appealing to a territorial prejudice harbored by most Americans, including millions who know nothing about jazz save that it is indigenous to the United States. In fact Russians were playing ragtime by 1910, if not before. Moreover, they have persisted in playing every jazz offshoot, from Dixieland to freeform, despite periodic opposition from the Kremlin, which has yet to decide whether to endorse jazz as an oppressed race's cry for freedom or to condemn it as a decadent Western consumer good (Marxist ideologues have rarely known what to make of popular culture). For decades it was assumed in the West, with no generally available recordings to the contrary, that Russian jazz was crude and inferior—a little off, in other words—because Russian musicians had had no exposure to the black progenitors of jazz. But S. Frederick Starr, in his Red and Hot: The Fate of Jazz in the Soviet Union. 1917-1980, published in 1983 by Oxford University Press, turned up compelling new information subsequently corroborated on Harlequin Records' Jazz and Hot Dance in Russia 19101963. Jazz scholars should now concede that by the late 1930s there were at least three Soviet swing musicians equal to any elsewhere in Europe (except Django Reinhardt), if still far behind those in the United States: the bandleader Leonid Utjesov, the pianist Alexander N. "Bob" Tsfasman, and the German-born trumpeter Eddie Rosner. Even before the publication of Red and Hot it was common knowledge that certain Soviets were proficient in bebop: the trumpeter Valery Ponomarev, for example, who joined Art Blakey and the Jazz Messengers after emigrating in the mid-1970s (Wynton Marsalis later replaced him in the group). Despite impressing American musicians and critics with their craftsmanship, these Soviet boppers scored no points for originality, although, to be fair about it, for some time now bebop has not been a genre from which one expects much originality. Fortunately, there is more to contemporary jazz than bebop, and because in the aftermath of Ornette Coleman and Cecil Taylor the jazz avant-garde has borrowed so heavily from alien sources, it is reasonable to suppose that the Soviets might finally have something of their own to contribute to what is rapidly becoming a global art. Still, took many in jazz by surprise when the Soviets, as part of the cultural accords struck by Reagan and Gorbachev at Geneva last year, agreed to export an avantgarde jazz group along with such familiar commodities as the Leningrad Symphony and the Bolshoi and Kirov ballets.
The Ganelin Trio, from Lithuania, last summer became the first Soviet jazz group to tour America. Their threeweek tour started in New York on June 21 and took them to fourteen other cities, including Vancouver and Toronto. This was hardly the first visit to the West for the group, which is made up of the pianist and composer Vyacheslav Ganelin, the saxophonist Vladimir Chekasin, and the percussionist Vladimir Tarasov. They had toured Great Britain in 1984, performed at jazz festivals in West Germany and Holland, and been sent to help solidify Soviet relationships with Communist parties in France, Italy, Austria, and Portugal. Until last summer, however, only a handful of American jazz devotees knew the Ganelin Trio's work, and only through records. I HEARD THE Ganelin Trio in Philadelphia and San Francisco, and in both cities they turned in spectacular performances, which confirmed the impression the Leo albums had given of them as one of the world's premier avantgarde jazz ensembles. Although I (and everybody else) have long heard that Soviet artists are basically no different from their Western counterparts, I was still struck by how much, in conversation as well as in performance, Ganelin, Chekasin, and Tarasov, all of whom are around forty, resembled their contemporaries in the United States and Western Europe. Before the concert in San Francisco, for example, I asked Tarasov—the trio's only English-speaking member—to name his favorite contemporary classical composers. "Other classical composers?" he asked, pointing to Ganelin before listing Cage, Berio, Stockhausen, Penderecki, and Alfred Schnittke. Substitute the names Glass and Reich for Schnittke, a Soviet composer of little influence in the West, and Tarasov's answer is one you might expect from a sideman with, for example, Anthony Davis or Anthony Braxton, to cite just two U.S. musicians categorized as jazz composers although they hold dual citizenship in jazz and classical music. Significantly, Ganelin is the musical director for the Russian Dramatic Theater in Vilnius, Lithuania; Chekasin teaches music at the Vilnius Conservatory; and Tarasov, though self-taught, works full time with the Lithuanian State Symphony Orchestra. These are jobs of the sort that vanguard musicians in the West either have or covet.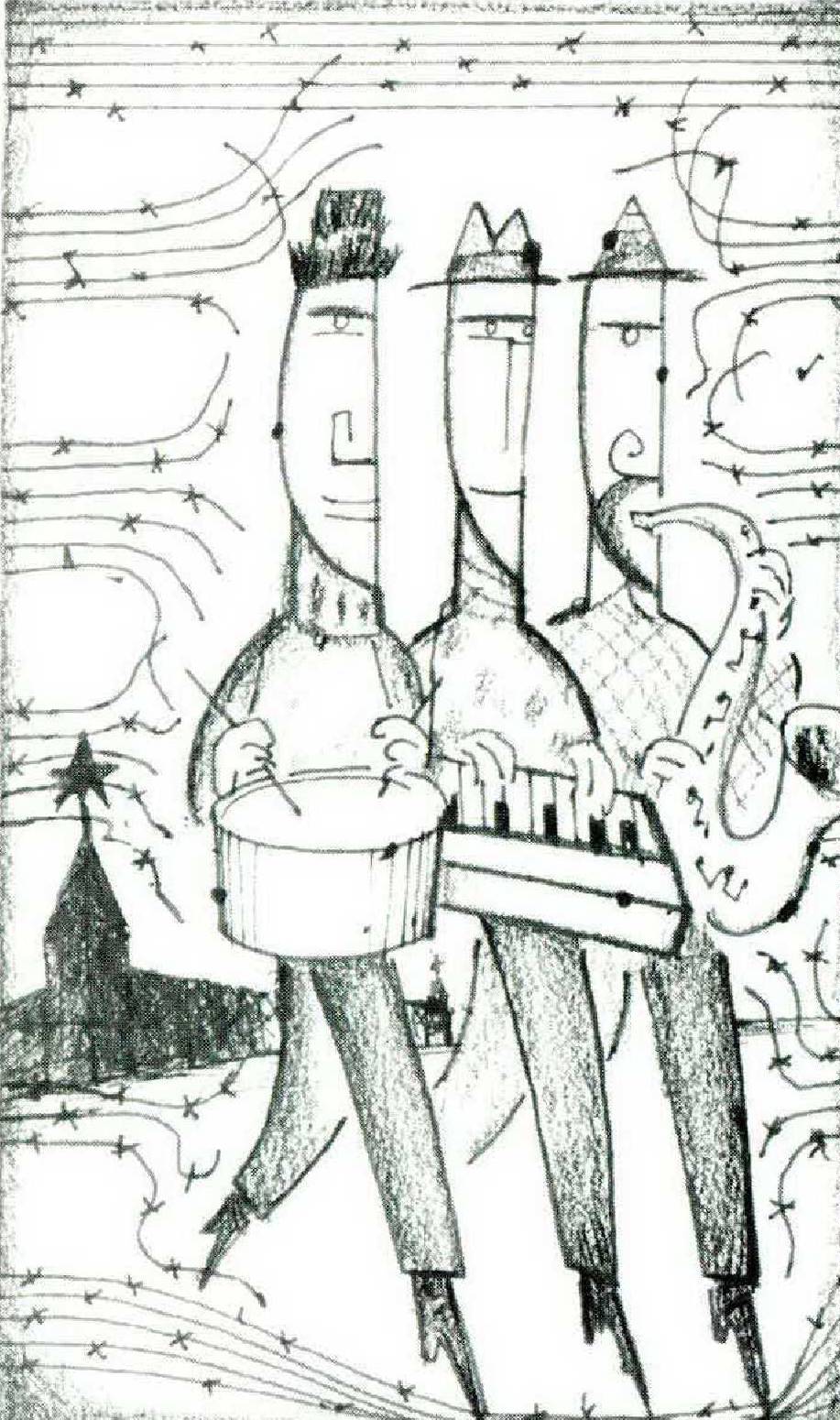 Two albums that the group had made for Melodiya, the state-owned label and the only label in the USSR for which Soviet musicians are officially permitted to record, had reached the West through leasing arrangements with jazz specialty labels. But the albums that had aroused the most curiosity about the Ganelin Trio were nine released without Soviet consent by Leo Records, a British shoestring label operated by Leo Feigin, Soviet émigré. Feigin says that he is not at liberty to disclose how he came into possession of the Ganelin Trio's concert tapes, and absolves the musicians themselves of complicity.
Ganelin has described the music he outlines for the trio as "polystylistic,"a way of saying that he juxtaposes not only jazz from various eras but classical and world folk music as well, in harmony with the recent eclectic tendencies of Western avant-garde composers. Ganelin, Chekasin, and Tarasov are said to have declined an invitation to jam with American musicians at a reception at Gracie Mansion during their tour, apparently fearful of being misjudged for their lack of intimacy with bebop and the blues. I know many younger American musicians who might also have declined the invitation, for the same reason.
Although the Ganelin Trio's music has a boisterous, at times even bellicose, tone, in all of the sets I heard them play the emphasis was on disciplined motivic exposition rather than spontaneous expression. Each set consisted ot one Ganelin opus that blurred the distinction between composition and improvisation, much as do the works that Cecil Taylor and his disciples play. As a pianist, Ganelin resembled Taylor in stamina, speed, and intensity, though his lyrical passages were unabashedly rhapsodic, more akin to the musings of Keith Jarrett or the Romantic flourishes of Ganelin's countrymen Sergei Rachmaninoff and Vladimir Horowitz. Ganelin's percussive density freed Tarasov to concentrate on tintinnabulation rather than propulsion, and the drummer tapped out bewitching rhythms on every object he laid his hands on—bells, shakers, chimes, even a tin water cup, in addition to his traps. From time to time Ganelin and Chekasin also picked up small percussion instruments and a variety of pots and pans, in a manner reminiscent of the Art Ensemble of Chicago and the other black groups affiliated with the Association for the Advancement of Creative Musicians, albeit without the African signification.
Like most of these Chicagoans, Ganelin and Chekasin are multi-instrumentalists. In fact, they often play two or more instruments simultaneously, Ganelin producing chimerical bass lines and atmospheric special effects from a variety of small electronic keyboards that he keeps stacked atop the piano, a la Sun Ra, and Chekasin creating skewered overtones by blowing through two saxophones at once, à la Rahsaan Roland Kirk. (Chekasin plays with a crazed vehemence suggestive of the late Albert Ayler and the German avant-gardist Peter Brötzmann.)
There is an air of post-Beckett theatricality to the Ganelin Trio's multi-instrumentalism, a suggestion of mime in Chekasin's arm-waving and arrhythmic foot-stomping, and a touch of buffoonery in their send-up of "Mack the Knife," the tune that they offered as an encore both times I heard them. In this last respect, as in many others, they bear greater similarity to European outfits like the Willem Breuker Kollektief and the Misha Mengelberg—Han Bennink Duo than to musically comparable black American groups, many of whom still associate broad humor with Uncle Tom.
Despite these many points of comparison to Western counterparts, there was nothing back-numbered or secondhand about the Ganelin Trio's brand of jazz. The source of the trio's inventiveness is hard to place. In the absence of recognizable Soviet folk interpolations or statements of purpose from the musicians themselves, one has to accept on faith the contention of Leo Feigin and the Ganelin Trio's other champions that their music owes its special fervor to its courageous, if tacit, rejection of Soviet social realism in favor of the suppressed Slavic penchant for abstraction.
THE GANELIN TRIO'S North American tour received more publicity than any other event in jazz this summer, with the possible exception of Bennv Goodman's death. There was even attention from The Today Show and Entertainment Tonight, two television programs not usually hospitable to the jazz avant-garde. As a result of this coverage and the natural curiosity surrounding any Soviet export, the Ganelin Trio's concerts drew many ticket buyers previously unexposed to avant-garde jazz, which probably explains why—in Philadelphia in particular, bur even in San Francisco, where the Rova Saxophone Quartet, an avant-garde group with its own local following, was also on the bill—there were audible sighs of relief followed by loud bursts of applause whenever the musicians happened into a steady four beats per measure.
Some American jazz critics suggested in their reviews of the concerts that the Ganelin Trio might pique interest in homegrown avant-gardists. This is an outcome much to be desired but one that strikes me as improbable, for reasons summed up in the reaction of a friend of mine, who thinks of herself as liking jazz though she rarely buys records or visits clubs. "I'm glad I heard them, but I wouldn't want to hear them again, and I do wish they had played a little more American jazz,"she told me — and I would guess that her response to Cecil Taylor, Anthony Braxton, or the Art Ensemble of Chicago might have been much the same. Inasmuch as novice listeners often mistake passion for anger in free-form jazz, many of those in the predominantly white crowds who showed tip to hear the Ganelin Trio probably felt less threatened in the presence of comrades (perceived target: Soviet bureaucracy) than they would have in the presence of brothers (perceived target: whitev).
Less than a week after the Ganelin Trio returned to the LSSR, an episode of the BBC series Comrades, shown here on PBS last summer, was devoted to the tribulations of Sergei Kuryokhin, a selfabsorbed Leningrad-based avant-garde jazz musician who has begun to toy with rock-and-roll. Much was made of the fact that Kuryokhin was "unofficial"— that is, not a sanctioned member of the Composers' Union (unlike Ganelin), and therefore not permitted to record for Melodiva or to advertise his concerts, except by word of mouth.
What was not mentioned but perhaps should have been, if only in the panel discussion that followed,, was that jazz visionaries are also unofficial in the United States, at least in the sense that they are caught between popular culture and the fine arts, unequipped to compete for the consumer dollar yet allocated a fraction of the institutional funding lavished on avant-gardists in other disciplines. Kuryokhin probably has a better chance of eventually recording for Melodiva than the typical American avant-garde jazz musician has of recording for CBS or any of the other corporate labels. If anything, the Ganelin Trio's example proves that the Soviet jazz avant-garde has been more successful in locating a mass following. It is impossible to imagine an album by David Murray or the World Saxophone Quartet selling 65,000 copies, as each of the Ganelin Trio's Melodiya albums has done in the USSR. It is also impossible to imagine the U.S. State Department sending an avant-garde ensemble on a tour of the USSR: judging by past history, the State Department's taste in jazz seems to be limited to big bands and safely assimilated veterans. (The Rova Saxophone Quartet did tour the USSR in 1985, but at their own expense, without State Department sponsorship.)
It is of course better not to push the comparison between the musician's life in Leningrad and the musician's life on New York's Lower East Side further than it should go. Kuryokhin's starvingartist equivalents in the United States can afford the luxury of la vie bohème if they are resourceful enough. In San Francisco the Bay Area Council for Soviet Jews distributed leaflets outside the Ganelin Trio's concert, without attempting to dissuade patrons from entering. John Ballard, a Wyoming concert promoter who brought the Ganelin Trio to the United States and Canada, introduced himself to the protesters and bought one of their T-shirts demanding the release of imprisoned Soviet Jews. But he understandably declined their offer of free shirts for the musicians. It is much safer to protest discrimination against Soviet Jews in San Francisco than it would be in the Soviet Union, especially for Vyacheslav Ganelin, who is himself Jewish. Even though the Ganelin Trio was traveling without a KGB chaperon, the members shied aw ay from questions with political implications, including one I tried to sneak past Tarasov about whether he thought the Ganelin Trio's clandestine Leo releases accurately represented their music.
In the United States musicians are free to inveigh against racism, the oligarchic record business, or anything else they perceive as oppressive. But who listens to them? More to the point, who listens to their music? The avant-garde may have it worst of all, but sometimes it seems that all jazz musicians, past and present, are persona non grata in mainstream American culture. By coincidence, a week after the Ganelin Trio performed in Philadelphia, a local repertory cinema screened Jazzman, a 1984 Soviet him set in the 1920s, about a Russian conservatory dropout so enraptured with the music of Duke Ellington and Scott Joplin that he decides to form his own band. Gjon Mili's famous 1944 short Jammin' the Blues, with its opening overhead shot of Lester Young's trademark porkpie hat, preceded the main feature. As Young's face came into view, followed by other black faces, a man sitting in front of me turned to his companion and said, "I thought you said these guys were supposed to be Russian."For all most of us know about them, and about their present-day descendants, they might as well have been.
Harlequin Records' Jazz and Hot Dance in Russia 1910-1963 (HQ2012) can be ordered from Daybreak Express Records, P.O. Box 250, Van Brunt Station, Brooklyn, New York 11215. Of the nine Leo releases by the Cianelin Trio, Vide (LR-117) and New Wine (LR-112), both uninterrupted album-length suites, the latter a series ot witty variations on the American show tune "Too Close for Comfort," are the most impressive. Strictly for Our Friends (LR-120), however, might serve as a better introduction, because of its greater variety and shorter performances.
The Leo catalogue also includes intriguing albums by Kuryokhin (LR107), Chekasin (LR-115 and LR-119), the saxophonist Anatoly Vapirov (LR110 and LR-121), the pianist Harry Tavitian (LR-124), the singer Valentina Ponomareva (LR-136), and the groups Arkhangelsk (LR-135) and Homo Liber (LR-114 and LR-129), among other Eastern European contraband items. Leo albums can be ordered from New Music Distribution Service, 500 Broadway, New York, New York 10012 and NorthCountry Distributors, Cadence Building, Redwood, New York 13679.
These companies are also good sources for the Ganelin Trio's Non Troppo (hat AR E 2027), a two-record set including one of the trio's "official" Melodiya sessions. In 1985 East Wind Records (3325 Seventeenth Street, N.W., Washington, D.C. 20010) released Poi Segue (MC-20647), the other Ganelin Trio Melodiya album to find its way to the West, along with four other Melodiya albums by derivative Soviet bebop and fusion bands, of interest only as arcana. In 1987 East Wind plans to release a double compact disc from the trio's 1986 U.S. tour. The best fund of background information on the current Soviet jazz ferment is Russian Jazz New Identity, a collection of interviews and panegyrics (many of them impenetrably post-structuralist) edited by Leo Feigin and published by Quartet Books earlier this year. □