ON SEPTEMBER 28 the New York City Opera will present the official premiere of X, the first opera by Anthony Davis, who is the most provocative composer to emerge from the jazz avantgarde in the past decade. Based on the life of Malcolm X, although not derived from his autobiography, X is also the first opera for Davis's brother Christopher, who wrote the scenario, and for their cousin Thulani Davis, who wrote the libretto. The first act of X made its debut as a work-in-progress in Philadelphia two years ago. It received its first fulllength production in Philadelphia last October, on its way to the grand premiere this month. (The difference between a first full-length production and a grand premiere is apparently cultural politics: the City Opera has greater clout than the American Music Theater Festival, the Philadelphia-based organization that nurtured X from conception to maturity.)
X received mixed notices last year. Everyone agreed that there were dramatic and musical problems in the third act, the score of which the orchestra had read only once before, at a dress rehearsal. However, Leighton Kerner, of The Village Voice, wrote, "The music does what music should do in opera. It becomes the source of dramatic energy. Indeed, it becomes the drama." Andrew Porter, of The New Yorker, called X "not just a stirring and well-fashioned opera—that already is much—but one whose music adds a new, individual voice to those previously heard in our opera houses." It is impossible to predict critical reactions to the City Opera's production of X, because the opera may be quite different in New York. For example, the scenes leading up to Malcolm's assassination have been rewritten and rescored.
Although some of the cast will be different, the director and the set designer will be the same, and it therefore seems possible to make certain assumptions on the evidence of last year's production. As directed by Rhoda Levine, a former choreographer, X mixed music, drama, and choreographed movement in a way that seemed more theatrical than operatic. John Conklin's sets were more spartan than they needed to be (chair slats served as prison bars, and the like), but Levine's blocking and Curt Ostermann's spectral lighting effects filled in much of the empty space. And Christopher Davis's story, in combination with Thulani Davis's taut, fierce, blank-verse libretto, passed the fundamental test of dramatic narrative: even though Malcolm's metamorphosis from corner boy to political spokesman is public knowledge, one waited anxiously to see what would happen next, which motivations and consequences the authors would assign to events lifted from yesterday's headlines.
THE MOST GRATIFYING level on which X succeeded was as an evening of intricate, propulsive new music from one of the country's most gifted and ecumenical younger composers. The jazz musician who is equally proficient in the classical repertoire is no longer a rarity, as demonstrated by Wynton Marsalis's dual Grammys in 1984 and 1985. But unlike Marsalis, Anthony Davis does not view the two disciplines as yin and yang. "I think I'm writing classical music at this point, if a name has to be put on it," he has said.
Davis does not want to call any of his recent work—which includes not only his opera but also his commissioned pieces for the San Francisco Symphony and the dancer Laura Dean, his performances with his group Episteme, and duets with the flutist James Newton— jazz. One reason might be the staggering cost of mounting X. In Philadelphia last October, X was given three performances, with a thirty-five piece orchestra and a cast of thirty-two (including non-singing members), at a cost estimated at just under $250,000 by an unofficial source close to the American Music Theater Festival. Jazz composers do not enjoy the benefit of well-established institutional support systems, as do their classical and theatrical counterparts. They must apply for funding as individuals, which effectively rules out the possibility of raising a quarter of a million dollars for a single project. Major new operas are rare enough, but large-scale works of any kind by black composers associated with jazz are practically nonexistent, because so few black jazz composers have been given the necessary carte blanche. With the American Music Theater Festival and the City Opera in its corner, X received grants from the Ford Foundation, the National Institute for Music Theater, the Kitchen Center for Video, Music, Dance, Performance, and Film, and the Opera Music Theater Program of the National Endowment for the Arts, among other public and corporate funding agencies.
Although Davis's score involves some improvisation by the members of Episteme, functioning concerto-grosso style from within the orchestra, none of the singing is in the jazz vernacular—not even the scat solfeggio that one character unleashes in the opening act. Like Philip Glass and Steve Reich, Davis favors inner-moving harmonies and cyclical, busy-bee polyrhythms borrowed from Asia and Africa. The calculated disparity in scale between the "minimalist" score and the larger-than-life story with a twentieth-century icon at the center is bound to invite comparisons of X to Glass's Satyagraha and Einstein on the Beach. But Davis's voicings are sleeker and more cosmopolitan than Glass's, and a comparison to the work of Duke Ellington or Charles Mingus might be more in order. Davis's score does echo Glass and Reich, but it also echoes Ellington, Mingus, John Coltrane, and the ballads from Leonard Bernstein's West Side Story and Stephen Sondheim's Sweeney Todd. It recycles some of Davis's own chamber and solo works, including "Clonetics," "A Walk Through the Shadow,"and "Middle Passage."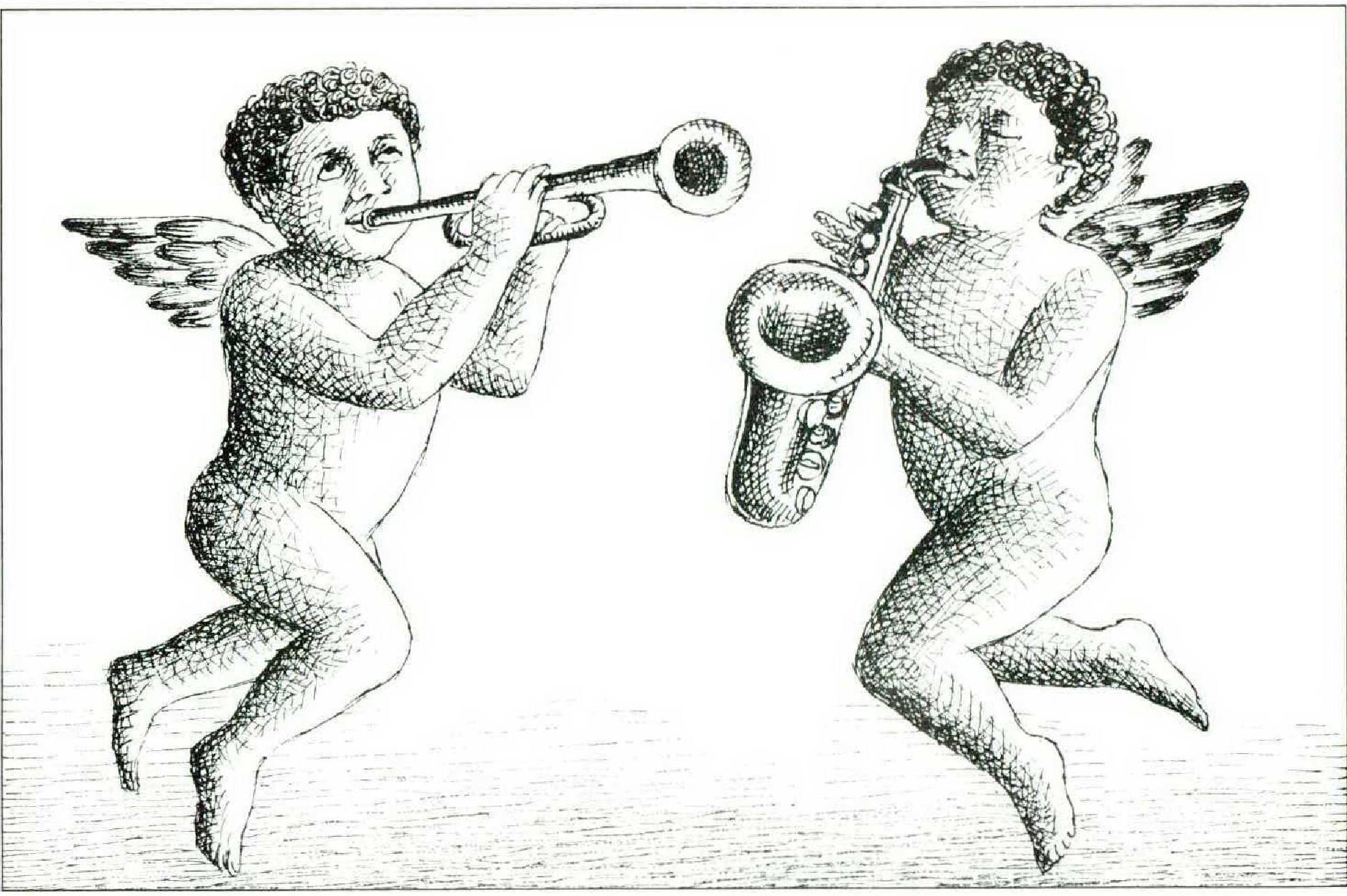 But finally, it is like nothing one has heard before, even from Davis. Here at last is the Third Stream, that confluence of the formal and the idiomatic which John Lewis and Gunther Schuller prophesied in the late 1960s but were less than successful in achieving in their own works. Although X might not be jazz, it is of obvious potential importance to jazz, on at least two counts. In the glorious passages accompanying Malcolm's conversion to Islam and pilgrimage to Mecca, Davis redeems Coltrane-like glossolalia and billowing modal textures that had seemed devalued through overuse. And the opera as a whole dramatizes the role that composition is beginning to play in what has long been considered the improviser's sacred realm.
IN ITS OWN WAY, of course, opera is as empirical an art form as jazz, which is to say that an opera—any opera—is only as good as the cast that sings it. In this respect Davis was lucky in Philadelphia. X proved that there is no shortage of talented black opera singers and stage actors, even if roles created specially for them have been scarce. Avery Brooks was magical in the title role, riveting the eye from his first entrance even though he was not called on to sing a note until the very end of the first act. Brooks, who stole the show in a smaller role when X was presented as a work-in-progress in 1984, was promoted to the lead for performances in the summer of 1985, including a four-week workshop at the Brooklyn Academy of Music. Brooks took a leave from the role in order to play Hawk, Robert Urich's sidekick in the television show Spenser: For Hire, but returned to play the role of Malcolm in Philadelphia. There his carriage, his hand gestures, and the set of his jaw conveyed so much inner turmoil and determination that he recalled the charisma of the real Malcolm X. But Brooks avoided an impersonation; he acted.
Despite his star performance, Brooks was able to fit into an ensemble. For example, Thomas Young, as Street, a fictional composite of the ghetto hustlers Malcolm ran with as a youth, succeeded in making the part (the one Brooks had originated) his own. Young was also Elijah Muhammed, a daring bit of dual casting intended to provide Brooks's Malcolm with a constant alter ego. The casting worked because Young is such a versatile singer and actor, because his tenor blended so mellifluously with Brooks's bass baritone, and because there was such physical chemistry between the two men. Priscilla Baskerville, whose boundless soprano was put to frivolous uses in the film The Cotton Club and in the original Broadway production of Sophisticated Ladies, brought a restrained pathos to the role of Malcolm's mother, and there was also fine singing by Kevin Maynor and Deborah Ford, as Malcolm's brother and sister, Reginald and Ella. The only principal cast member whose singing left anything to be desired was Brooks, an allrounder who lacks an opera singer's verismo. Difficult though it might be to imagine a better Malcolm, singing must take precedence over acting if X is to enter the standard repertory, and it will be interesting to hear the more traditional opera singer Ben Holt in the role in New York this month. Baskerville and Young will repeat their roles at the City Opera.
Apart from Brooks's lack of operatic credibility, and the under-rehearsed third act, there were two flaws in last year's production, both of them easily corrected. Because Christopher Davis's story telescopes thirty years of Malcolm's life (and thirty years of American history) into some 3,500 bars of music and three hours of real time, some of the dramatic transitions were bumpy. And Anthony Davis's overture, although an estimable piece of music given a buoyant reading by the pianist Marilyn Crispell, was too long to fulfill its intended dramatic purpose.
As the overture (it was originally a piece called "Middle Passage," which was commissioned by the pianist Ursula Oppens) built to a succession of crescendos, the cast assembled on stage in groups of two and three in anticipation of the action. This static mode of introduction (perhaps borrowed from Sweeney Todd) signaled that the actors would double as witnesses to history; the entire cast was on stage a good deal of the evening, with spotlights isolating the featured singers in any given scene. The device also contributed to a Brechtian distancing effect, which, though an avant-garde cliché, is a welcome development in black musical theater. If Ain't Misbehavin', Dream Girls, and even The Gospel at Colonus are representative, black musical theater is in constant jeopardy of signifying nothing more than a nostalgic trip with those folks who love to sing and dance.
The audience and future producers might resist the steps forward that Davis has taken. The resolute modernism of his score is unlikely to appeal to operagoers who have accepted Berg, Schoenberg, and Debussy only grudgingly, and the volatility of Christopher Davis's scenario, to say nothing of the Muslim esoterica in Thulani Davis's libretto, might also meet resistance. Jazz fans and blacks might shy away because of the air of privilege and foppish refinement surrounding opera. Other companies might view X as nothing more than an equalopportunity write-off, despite the imprimatur of the City Opera. Anthony Davis has reported that one prestigious West Coast company invited him to stage his opera in inner-city playgrounds this summer (his response was to ask if they would expect Philip Glass to mount a portable Einstein on the Beach outdoors), and Thulani Davis has said that many supporters of classical music have asked her why the composer can't do the opera with just his band and a small choir. I'm not sure that the world is ready fora fullblooded black opera, much less one about Malcolm X, but I hope my skepticism proves unwarranted. In 1984 X seemed to have the potential for greatness, and last year's full-length version only reinforced that perception. Like Sweeney Todd, X persuades one that if all art aspires to music, then all music should aspire to opera.