UPSTAIRS DOWNSTAIRS
This month's puzzle diagram is divided into identical upper and lower levels. Answers are clued in pairs, with one answer belonging upstairs and the other in the symmetrically identical spot downstairs; either word may be clued first. In determining which answer goes on which level, solvers will form an appropriate phrase running down the center of the diagram. Answers include six proper nouns.
The answers to last month's Puzzler appear on page 96.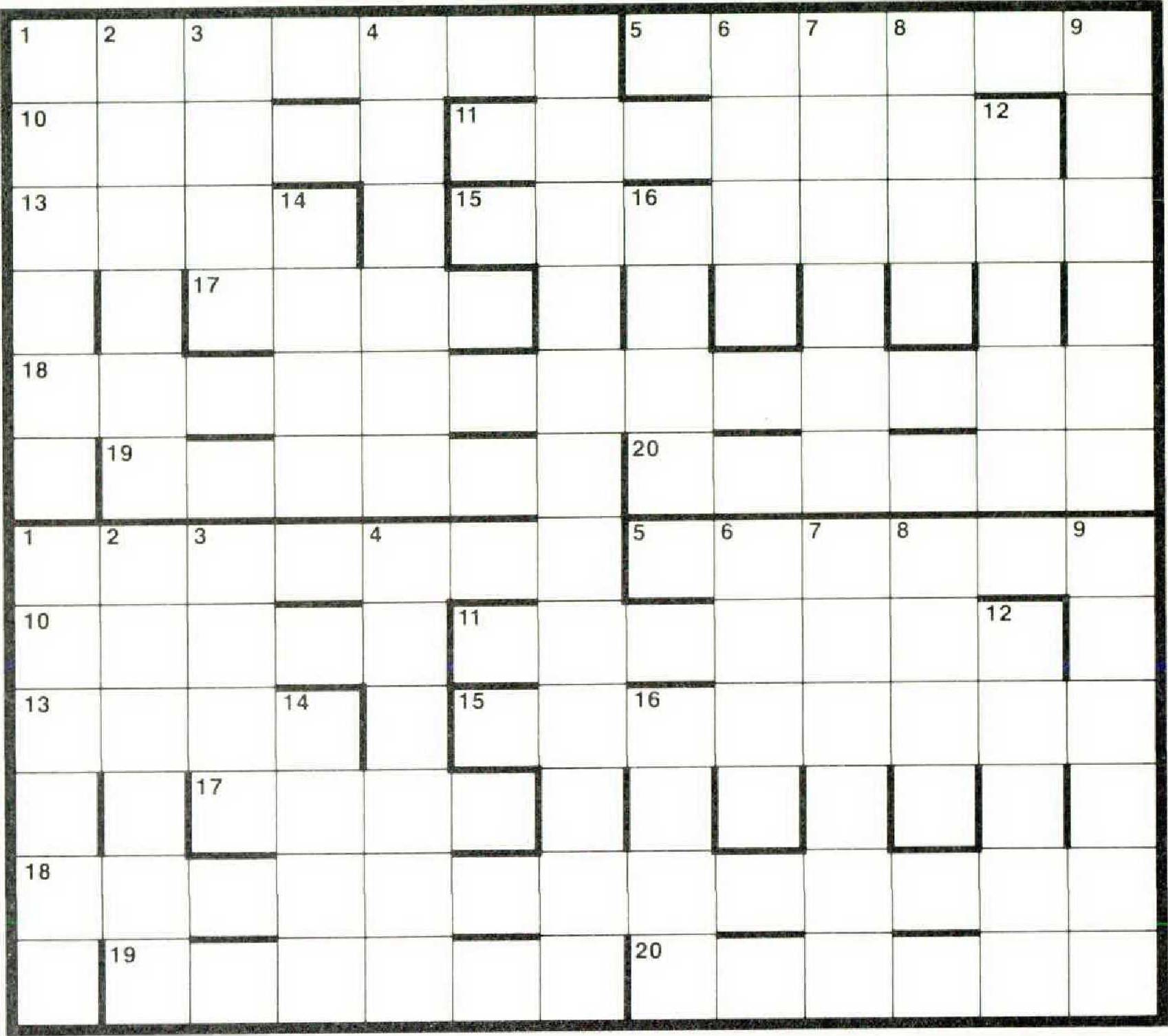 ACROSS
1.Celebrated having "UpstairsDownstairs" arrangement (7) Building around back is fitted with beams (7)
5.Thin wooden poles attached to rear of house (6)
Pigs holding down building material (6)
10.Love Bug seen from behind steps (5) Crest adorning barnyard bird (5)
11. Pairs left sitting in cars (7)
Country bumpkin finally goes in date with young lady (7)
13. Announced alternatives to rough stuff (4)
Male name in the fashion of Norway's leader (4)
15. Oklahoman holding church vessel (8)
Green copper hamper (8)
17. Some time with a mouse! (4)
Look about for knowledge (4)
18. Notice jailbird with extra serving? (13)
Spanish officer turned missile range round (13)
19. Gardener gives little cherry back (6) "Blue Moon" halfway amplified (6)
20. Undercover man pockets one plastic (6)
Painter of mammoth, framing one (6)
DOWN
1. Wooden corral imprisons wild dog (6)
Short cow eats cape (6)
2. Pat bear follows rabbit's tail (6)
N.Y. neighborhood kept women outside of Love's debut (6)
3. Scratch on circle raised in stone (4) An antelope sounds differently (4)
4.Bullfighter ripped or flipped (6) Woman's name in Network (6)
6. Foot soldier has cut flower (4)
Work to eat donut up (4)
7. Practically a thousand appearing in Missing (6)
A pain in the toe I got from a rodent (6)
8. Southern soldiers concerned with bees (4)
Luxuriantly growing row (4)
9. Address in Rome's changed number (6)
Manager ran the shows wrong (6)
12.Fruit in Christmas stocking mother initially put up (5)
Tree in small American town (5)
14. Hearing is associated with sensor (4) Heartlessly cut prophet (4)
16. Instrument cutting head off (4)
Court interrupted by greeting from saucy girl (4)
Note: The instructions above are for this month's puzzle only. It is assumed that you know how to decipher clues. For a complete introduction to clue-solving, send an addressed, stamped envelope to The Atlantic Puzzler. 8 Arlington Street, Boston. Mass. 02116.
Answers to the December Puzzles
"STARLIGHTS"
"Hitch your wagon to a star."
—R. W. Emerson
1. CHIGNON (anag.-l) 2. BOON(I)E'S 3. ST(O)RING 4. C-RAMMER 5. URANOUS (anag.) 6.GROUSES (double def.) 7. RETRIES (anag.) 8. MAE-S(T)RO 9. RE(A)CTOR 10. D(0)R0THY (anag. + 0) 11. FIREMAN (name rev.) 12. MINORCA (anag.) 13. ARSENIC (anag.) 14. S(PIN)ETS
15. TR(A)IPS-E 16. AURORAL (anag.) 17.DI(A)LLER 18. HEL(ICA)L (CIA anag.) 19, F-ILL-S IN 20. IN-SI-FID (dip is rev.)
21. COR(DI)AL 22. TOWELED (anag.) 23. SELLERS (homophone) 24. EL(LIP)SE 25. PI(L'S)NER 26. PRE-BEND (pun) 27.CORN(l)ER 28. ANDORRA (anag.) 29. EN(TERE)D (tree anag.) 30.O(PEN)ERS (rose anag.) 31.ST-RIPER 32. FI(L)BE.R-T 33. HOL(B)E-IN 34. F-AWNING 35. E(NSNA)RE (Ann's anag.) 36. M(ART)INI 37. LAOTIAN (anag.)