Women Writers and Feminist Critics
BY PHYLLIS ROSE
THE NORTON ANTHOLOGY OF LITERATURE BY WOMEN:
The Tradition in English
edited by

Norton

, $28.95.
and .
AT MORE THAN 2,000 pages and over two pounds, The Norton Anthology of Literature by Women is not in any sense to be taken lightly. Intended as a textbook for courses in women's literature, it is likely to be widely used, because of the prestige of its editors, Sandra M. Gilbert and Susan Gubar, in the field of women's studies, and because of the prestige of the Norton anthology series in university literature departments. Our daughters and granddaughters will lug this book home on vacations from college. With what baggage will it freight their minds?
Happily, it should convince them that writing is not an activity alien to women. From Julian of Norwich and Margery Kempe in the Middle Ages to Alice Walker and Leslie Marmon Silko, women have produced a large and varied body of writing in English. This anthology includes close to a hundred and fifty authors, from many countries. The numbers are smaller the further back one goes, but the surprises are greater. In the fifteenth century Margery Kempe wrote about being tempted to commit adultery by a man who refused her when she consented. In the seventeenth century Aphra Behn wrote a poem about male impotence, called "The Disappointment." It's also good to know that women can write dazzlingly about nothing at all—like the dying Alice James, who described the seductive moment when she felt herself "floated for the first time into the deep sea of divine cessation. "
The burden that Gilbert and Gubar have imposed on women of the future is the burden of a tradition—a nurturant tradition. It used to be that women writers, working in silence, exile, and cunning, sought out other women writers to admire. Virginia Woolf wrote about Dorothy Wordsworth and Christina Rossetti, among others, and these essays helped her "self-definition as a woman writer," Gilbert and Gubar say. "For if women had written, and written successfully, women could write." To Virginia Woolf and her successors, the female literary past was, according to Gilbert and Gubar, "empowering rather than intimidating." Now that the female literary past has been enshrined in this gigantic anthology, the observation that it has been empowering in the past becomes a moral imperative for the future. Finding and loving our literary ancestors is no longer a secret pleasure and private solace but a filial duty.
In editorial comments throughout the book Gilbert and Gubar present a female tradition of support and encouragement, a literature "empowered by female community." Eudora Welty's debt to Katherine Anne Porter is noted, as is Elizabeth Bishop's loyalty to her "major female literary mentor," Marianne Moore. Not for women is the kind of literary past Harold Bloom describes, which creates anxiety and provokes rebellion. Not for women is a literary history filled with conflict and marked by aggressive self-definition. Whereas little boys, even wimpy little boy writers, are allowed to hate their literary fathers and have their rebellions, little girls, even rebellious little girl writers, are expected to be good and love their literary mothers.
This anthology takes the model of a women's therapy group and extends it over time and space to art: women join hands across the ages to enhance their self-definition as women writers and to help one another create. Some writers don't want to belong to such a group. Because the editors have been so inclusive, because they apologize for having been "unable to represent such increasingly self-aware movements as those currently being pioneered by Chicanas and Italian-American women," one wonders at their omissions. A few I noticed among contemporary writers (of whom sixtyone are included): Ann Beattie, Anne Tyler, Joan Didion, Susan Sontag, Renata Adler, Annie Dillard, Cynthia Ozick. The suspicion arises that at least one or two of these individual talents declined to make one with The Tradition in English. In her lifetime, as Gilbert and Gubar tell us, Elizabeth Bishop refused to let her work be included in collections of women's writings. Her executor allows it now.
Why might a woman writer prefer not to be a Woman Writer? Perhaps for the same reason a frog dislikes to be used as a demonstration of the nervous system. It's afraid that might be all there is to life. A tension, a potential conflict, exists between women writers who sometimes do not want to be thought of as Women Writers or, indeed, even as women, and feminist literary critics who need them to be their material. The conflict of interest is, I think, insufficiently acknowledged. The male tradition, which has never assumed that writers, editors, and critics all have a common interest simply on the grounds of gender, seems to me in this case at any rate the more humane.
"Literature by women" is in fact a controversial category, not self-evidently valid like "English literature" or "American literature." Who could imagine refusing to be included in The Norton Anthology of English Literature? Who, on the other hand, could take seriously a Norton Anthology of Literature by Men ? The editors dodge this important issue and in doing so render the anthology covertly polemical.
The more feminist the writers, the more comfortable the editors seem to feel about including them. Susan Griffin, represented by one poem, is praised for being "consistently productive and persistently feminist in her writing," whereas excuses must be made for Denise Levertov: "Though she does not define herself as a feminist, her poetry frequently expresses a distinctively female perspective on the world, celebrating the values of nature and nurture." So a hierarchy is established: women who write, Women Writers, who have a distinctively female perspective and celebrate values that Gilbert and Gubar consider female (like nature and nurture), and self-consciously feminist writers. But in that case, where are the important feminist nonfiction writers of recent times? Where are Betty Friedan, Susan Brownmiller, Germaine Greer, Gloria Steinem? The book is too political for a good anthology of literature and yet it is not an anthology of feminist writings. Despite the editors' conviction that the texts they've included, "at the very least, suggest the contours of the canon into which readers will be able to assimilate the works of many other women authors," the grounds for their choices are unclear.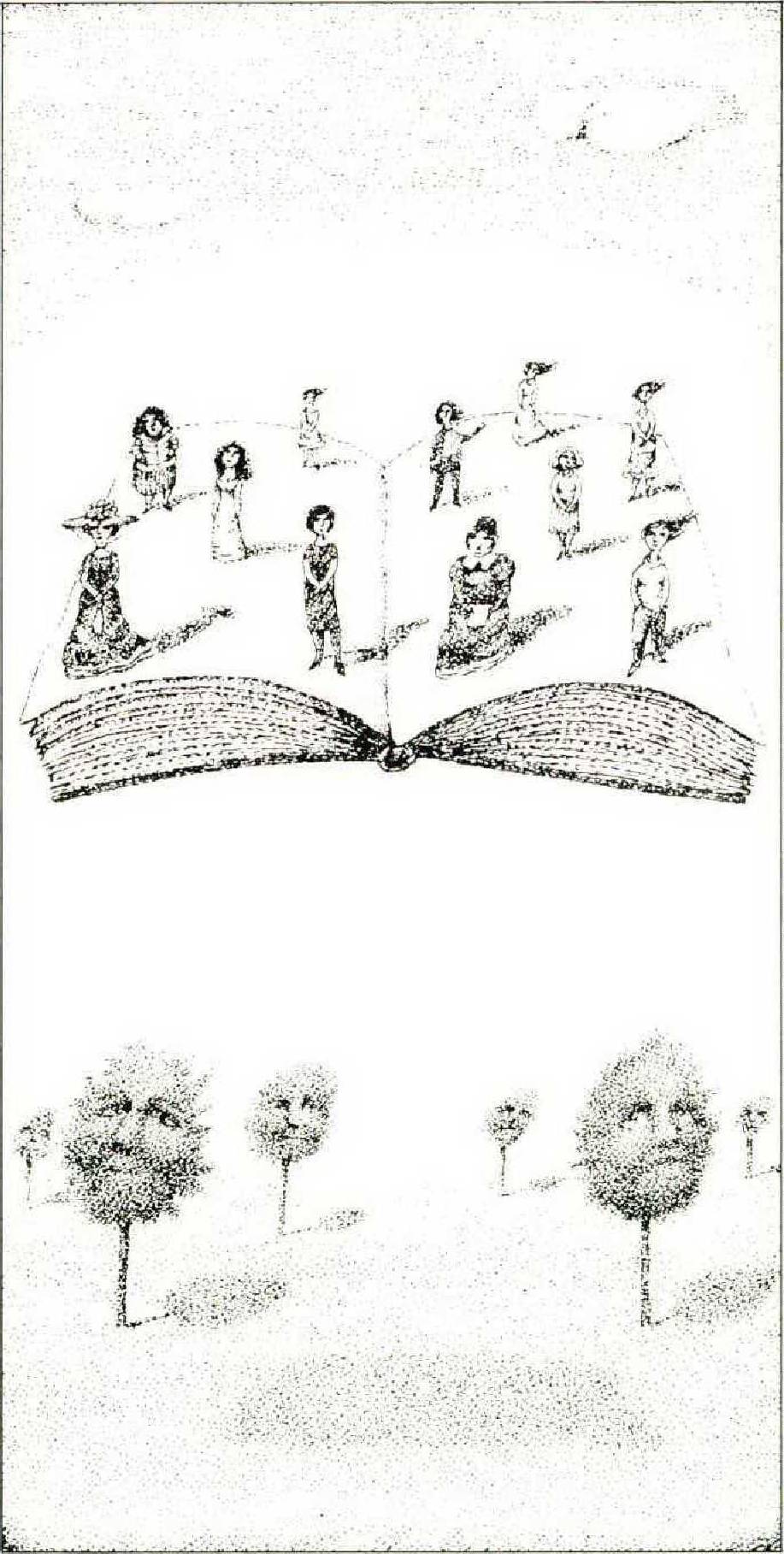 CERTAINLY THIS is a democratic anthology—truly great writers get little more representation than the merely interesting. It is best read as a collection of works about women's experience rather than as a collection of great works by women. Fair enough. Why shouldn't content occasionally be allowed to take precedence over form? The emphasis on female perspective leads to the inclusion of some wonderful pieces—for example, Ursula Le Guin's "Sur," a story about an imaginary expedition to the South Pole in 1909 by a group of South American women who think, "If Captain Scott can do it, why can't we?" They make it to the pole but find the event anticlimactic. It's a delightful parable about the female preference for affiliation over achievement. And there's the rub. The story has been selected to make a point about female nature. So has story after story, poem after poem. Occasionally, an effect other than that of didacticism is produced. An excerpt from Anaïs Nin's diary about the attraction between her and June Miller overcomes the deadly pointedness of the anthology. Presumably, the passage has been selected to illustrate erotic attraction between women, but the passage wins. It is erotic.
True, if you want the red-hot experience of literature, you do not go to a Norton Anthology. It is a teaching tool, not to be faulted for not being Palgrave's Golden Treasury. Still, the amount of apparatus, as opposed to art, in this volume is appalling. The literature scarcely has a chance. The editors seem to pick the shortest piece by each writer and then engulf it in a critical essay that leaves no question of how you should respond. Isak Dinesen is represented by "The Blank Page," perhaps the briefest story she wrote. Jean Rhys, a great story-writer, is given only two pages to prove herself, and barely can. One story serves to represent—or misrepresent—Eudora Welty, Tillie Olsen, Carson McCullers, Muriel Spark, Doris Lessing, Willa Gather, Sarah Orne Jewett, and Grace Paley, among others. So you come to depend on the critical essay. How would you know that Dorothy Parker was funny if the editors didn't tell you so, and didn't quote, in the headnote, Parker's quip "Brevity is the soul of Lingerie"? You'd never know it on the basis of her story "You Were Perfectly Fine," one of her most mannered and dated—but one of her shortest.
Sometimes the literature seems positively to exist so that Gilbert and Gubar may write about its author. Alice Dunbar-Nelson is represented by a twentyone-line poem and discussed in a considerably longer essay, which tells about her work in behalf of civil rights and world peace (black women are excused from the insistent pressure to join hands with other women—questions of race are allowed to take precedence over those of gender) and also about her marriages to the poet Paul Laurence Dunbar and then to the publisher of the Wilmington Advocate.
Indeed, The Norton Anthology of Literature by Women is marked by a courtesy to husbands that we never see toward wives in predominantly male anthologies. Joyce Carol Oates, we are told, is married to "the scholar Raymond Smith." Ursula Le Guin met her husband, "the historian Charles A. Le Guin," when she was studying in Paris on a Fulbright. Margaret Drabble married an actor and began writing backstage, when she was pregnant. The domestic details are welcome, of course, as gossip always is, and in some ways useful. They suggest a context of domesticity for women's writing in which every act of creativity becomes a miracle. But sometimes the notations are ludicrous: "The daughter of Isidore and Nan Gordimer, she attended . . ." And sometimes they are misleading: "The mother of two children, Paley captures . . ." Would anyone think of saying, "The father of ten children, Dickens captures . . . "? It privileges experience over art (as does this entire anthology), suggesting that there is a necessary connection between the experience of mothering and the ability to render it in art.
Gigantism afflicts new fields; modesty comes with endurance. The Norton Anthology of Literature by Women cannot resist, in its historical introductions, presenting much of human history anew. The rule seems to be that no proper name can go unexplained; the assumption, that the reader knows nothing and must learn all from this anthology. Thus, on one page we have "the poet-suffragist Alice Meynell," "the colonial apologist Rudyard Kipling," the "activist-feminist writers Charlotte Perkins Gilman and Crystal Eastman," and "the Viennese psychoanalyst Sigmund Freud (18561939)." Some selections seem to exist to be footnoted, so that essential information may be perpetuated. One of these is Dorothy Parker's poem "Song of One of the Girls," which names many great women in history and permits explanations like "Sappho was a Greek lyric poet of the seventh century B.C." and "Madame Récamier (1777-1849) was a French beauty and friend of Madame de Stael." It is the kind of thing you give to girls to make them proud of being female, like The Great Women of History Cut-Out Book.
Mind-numbing generalizations are endemic to this sort of anthology. They seem more egregious here, because The Norton Anthology of Literature fry Women might have limited itself. Instead, in order to talk about the flowering of women's literature in the twentieth century, the editors feel they must recount the rise to power of "Benito Mussolini, Il Duce ('the leader')" and of "Adolph Hitler, the so-called Fuehrer ('leader')." We must know that bomber pilots in the Second World War were more alienated from their victims than those in the First World War. We must know about DNA and ICBMs as well as IUDs.
This kind of writing generates its own connections. American writers went to Paris in the twenties not because it was cheap to live there but "because the new availability and speed of steamships, railroads, and motorcars had made longrange travel easy." Blacks, Chicanos, Puerto Ricans, "and other disadvantaged groups" move into the decaying cities of America. Members of the white middle class sit in the suburbs watching Ozzie and Harriet. They develop an ethic of togetherness, maturity, and adjustment. The Southern Gothic writers come along to depict immaturity and perversity. Movements sweep across the pages in waves of abstraction. Everything fits. But it has been an effort. Sometimes one's heart goes out to the editors, who have taken on so much. "Charting the movements of twentiethcentury writers, painters, and musicians," they confess, "can be dizzying." Sometimes one's heart goes out to the student who must stay awake through prose like this: "To complicate matters further, the new researches of anthropologists and archeologists led to a kind of cultural relativism that fostered skepticism about the nature of human society itself." It seems a lot to ask of the reader, to encompass both the great sweep of twentieth-century history and the marital history of Alice Dunbar-Nelson.
The critical introductions in The Norton Anthology of Literature by Women are better—indeed, they are awesome— when they address themselves more narrowly to women's literature and women in literature. The editors provide a brilliant interpretation of Frankenstein, in which both Frankenstein the creator and his creation, the lonely outcast monster, are seen as images of female experience. They are excellent at describing the female angle in various writers' work—Le Guin's anthropological interest in gender, Muriel Spark's interest in communities of women. They refreshingly bring together Daisy Buchanan and Brett Ashley as flappers, and see the flapper as an image of the destructive power of women, an expression of male fear. They provide a welcome account of fifties male writing from a female point of view, an account that speculates that Second World War pinups led to a fetishizing of female body parts in the writing of Henry Miller. They zero in with deadly accuracy on male literary sexism, both that of writers, like Norman Mailer, who commit acts of aggression against their female characters and that of critics like William Gass, who criticizes women writers for lacking "that blood congested genital drive which energizes every great style."
Read as a polemic, The Norton Anthology of Literature by Women constitutes the best extended piece of writing there is on literature by and about women. Gilbert and Gubar have amassed more information about women writers than exists in any other document. They have unlocked what Carolyn Kizer calls "the world's best-kept secret:/Merely the private lives of one-half of humanity." For finding lines like that, one should be grateful to them. Along with much that is sweet and much that is useful, however, they have thrust into the book bags of the future the ambivalent gift of a female tradition wrapped in a seventiesstyle political sentimentality that insists we should love one another because we are all in it together. And as an anthology of literature, this one weighs on the spirit like a two-pound balloon.