DOUBLE CROSS
Pairs of clue answers in this puzzle must share accommodations in the grid. Every square is occupied by two letters; in squares where answers intersect, each letter belongs to one Across entry and one Down entry. The solver must determine which horizontal answers intersect with which vertical answers. The order of each pair of clues is arbitrary, as is their order of entry in the diagram. Answers include four proper words.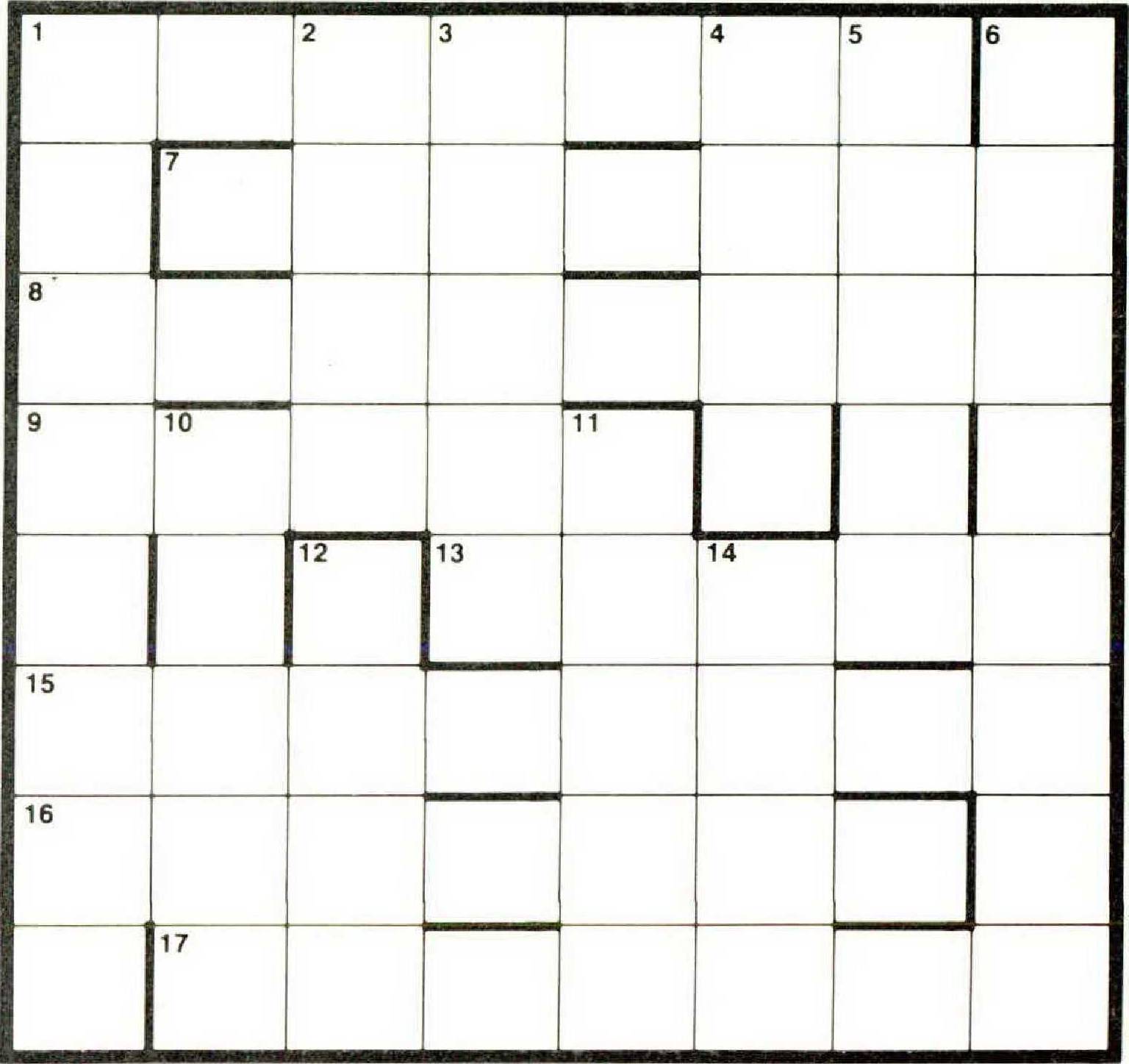 The answers to last month's Puzzler appear on page 95.
ACROSS
1.Double-cross includes a fission product (7) (2 words)
Plant pentacle in wet soil (7)
7. Rug strand gulped back by porker (7) Unite around one GI (7)
8. Huge decline in fossil fuel (8)
Asian born outside gels white (8)
9. Poems all about race site (5)
Pacifies with $100 gift for the poor (5)
13. Loud partying, eats? (5)
Bring wines back with leather thong
(5)
15. Mac translated Croatian (8)
A prisoner put in along with a strangler? (8)
16. Fruit in bed at the end of All Fools' Day? (7)
No-good rotters making comebacks (7)
17.Look down around a king's shoe (7) Vouchers for a Spielberg hit grabbed by pests (7)
DOWN
1. Air-conditioned car interrupts stick game (8)
Scottish queen gains zero profit, regarding finances (8)
2. Heard of room for auction (4)
Lids, see, flipped (4)
3. Reserved a jackass going up (5) Wise up to streetcars (5)
4. One getting married is spellbound (4)
Apparently, certain breads are leavened (4)
5. Poet is obscure as yet (5)
Club Med is coveting harbors (5)
6. Sparkling silver debris (8)
Illegally enter resort, cutting into lock (8)
10. Wishes for woods (5)
Modify apartment after sale offer (5)
11. Bird found in East Orkneys (5)
Holy city came apart around start of century (5)
12. Fix fudge (4)
Piece of zucchini—one eats it with pasta (4)
14. Castle cheat (4)
Stake in a tangled net (4)
Note: The instructions above are for this month's puzzle only. It is assumed that you know how to decipher clues. For a complete introduction to clue-solving, send an addressed, stamped envelope to The Atlantic Puzzler, 8 Arlington Street, Boston, Mass. 02116.