The Fifth Estate
Eavesdropping on American business talking to itself
BY DAVID OWEN
"IF THE BIRD IS TAME'" FREUD WROTE' "I LIKE TO place him on a stand and the' while telling him what a good bird he is, I get behind him and lift one of his feet. . . . Birds which are not tame will generally require handling by two individuals with one holding the patient in a towel and the other doing the cutting."
There's a lot more to it than that. I'm just touching on the major points. Before trying this yourself you'd want to read Arthur Freud's entire article, "Proper Nail Clipping of Birds," in the January issue of PSM. PSM is a magazine for pet-store owners. Its name stands for Pets Supplies Marketing. Say that aloud a few times and you'll understand why they use only the initials.
Let's see. On August 4, 1984, nearly 300 people in Las Vegas stood up and said, "Bowling belongs in the Olympic Games, and I pledge that I will do everything I can for that goal," according to Bowling Proprietor. The bowling industry's Olympic aspirations are "rapidly becoming the talk of the town," the magazine says. Still, bowling linage was down a bit in 1984. Perhaps hoping to reverse that trend, residents of Indiana last year contributed $296 to B-PAC, the bowling political-action committee. B-PAC tries to entice politicians to adopt a more pro-bowling stance. One of its beneficiaries is my own congressman, Bill Green, of New York City, whose district contains exactly one bowling alley.
Here are a few of the magazines that are piled up on the table in my dining room: Turkey World, Iron Age, American Carwash Review, National Jeweler (edited by S. Lynn Diamond), Fur Rancher, Lab Animal Hosiery & Underwear, Weeds Trees & Turf (incorporating Golf Daily), Infections in Surgery' American Cemetery. I also have Kitchen & Bath Business, Ground Water Age, Beverage World (the average American drank 43.2 gallons of soft drinks in 1984), National Mall Monitor, Quick Frozen Foods, Lodging Hospitality, Hardware Age, The National Notary ("Only in Florida, Maine and South Carolina may Notaries join couples in matrimony"), Meat Plant, Pulp & Paper, Pizza Today, and a couple of hundred others.
Although according to my wife it is now impossible to sit down in our apartment without landing on a copy of Cemetery Management, my collection of trade and professional magazines is really just the tip of the iceberg in terms of what's available. Standard Rate & Data Service's directory of business publications, which comes out monthly and is larger than the Manhattan Yellow Pages, has more than 5,000 entries. The largest single publisher is Harcourt Brace Jovanovich, whose hundred or so titles include Plastics Focus' Pit & Quarry, and the brand-new Food Sanitation. Though little known outside their fields, such magazines can be enormously profitable. Last year Rupert Murdoch bought twelve of Ziff-Davis's trade magazines, including Meetings & Conventions and Aerospace Daily' for $350 million.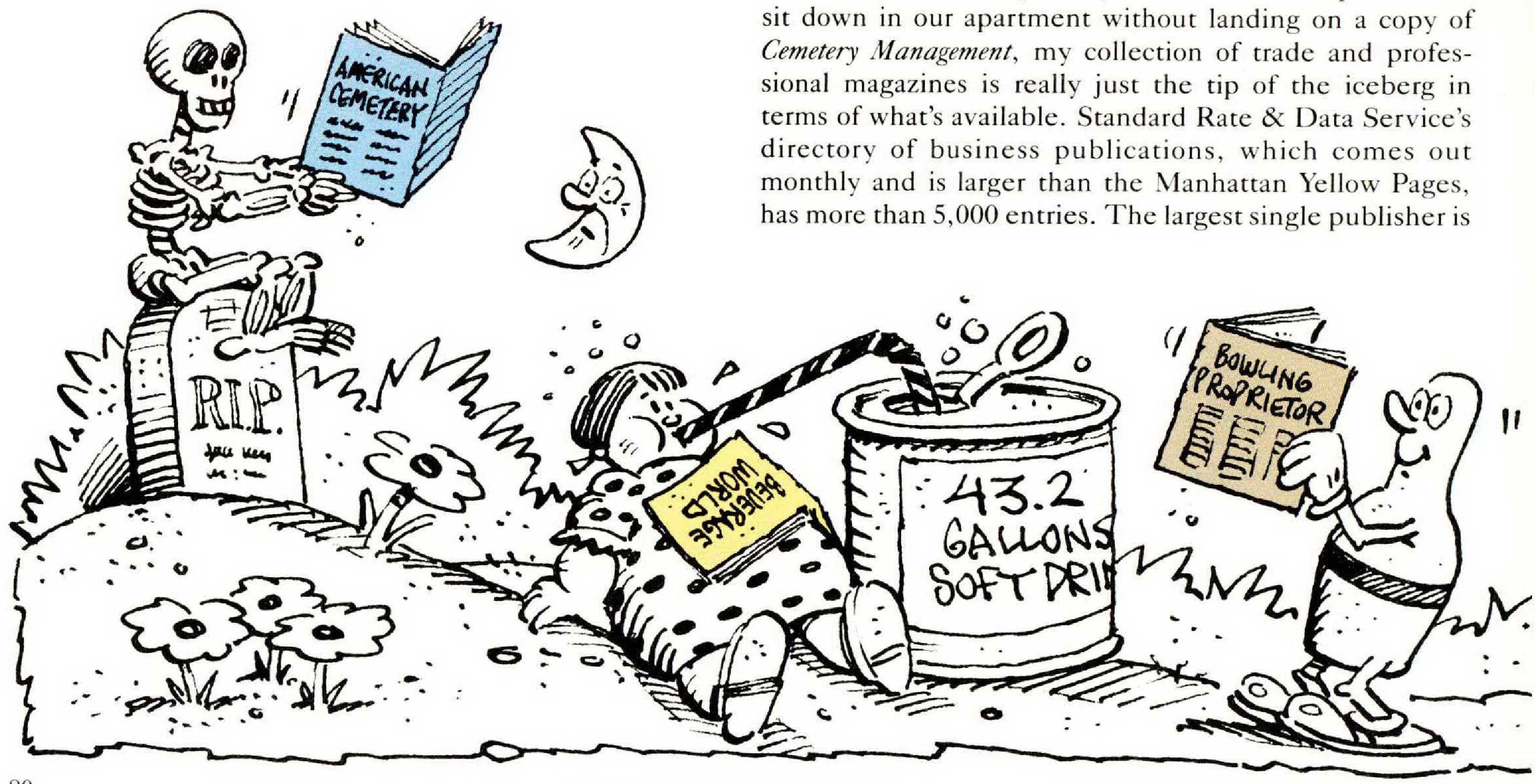 Rupert Murdoch notwithstanding, most trade magazines don't attract much public attention. When people talk about "the media," they are usually not referring to Laundry News. In fact, aside from the 15,387 people who receive it every month, how many Americans are even aware that there is an entire magazine devoted to laundry? (Actually, I saw in the February Standard Rate & Data directory that such magazines abound; they include American Coin-Op' American Drycleaner' American Laundry Digest' Clean Scene Quarterly' Coin Launderer & Cleaner' Coinamatic Age' Drycleaners News, National Clothesline' New Era Laundry & Cleaning Lines' Textile Maintenance Reporter, and Western Cleaner & Launderer.) The specialized focus of trade magazines assures their editors a certain privacy: they can speak to their readers with a candor that is impossible in the popular media. One could never find out from reading Time or Newsweek, for example, that people who make pretzels are considered to be somewhat boring by people who make potato chips. This is a fact that to the best of my knowledge can be found in print nowhere except in the pages of Snack Food.
Before I started piling up trade magazines, I had a vague, free-floating sense—derived mostly from watching the evening news—that there were only about a dozen different jobs in the United States: my job, Dan Rather's job, the President's job, steelworking, farming, banking, law enforcement, driving taxis, several others. But now I realize that the economy is almost inconceivably various and that in addition to the occupations just mentioned there are jobs involving, for example, the building of clam bunk skidders, the marketing of feller-bunchers, and the repairing of log forks (World Wood). I also know that 42 percent of men believe that they have sensitive skin (Progressive Grocer) and that the 1973 Arab oil embargo, though disastrous for almost everybody else, was about the best thing that ever happened to the people who make chain saws (Chain Saw Age' not to be confused with Chain Store Age).
Trade and professional magazines make some of the most esoteric reading in the world. They are the forum where American business talks to itself. Flipping through them is like eavesdropping on private conversations.
IF KEEPING UP WITH ALL THESE MAGAZINES DIDN'T take so darned much time, I might be tempted to start a magazine of my own. It would be a sort of compilation of the best parts of all my favorite trade and professional publications. I wouldn't be able to call it Magazine Age' Communication World, or Editor & Publisher, because there are already magazines with those names. Perhaps I would call it The Other Media or The Fifth Estate. It would be filled with page after page of arresting facts. For example:
• Coffee aroma consists of 100 to 200 volatile chemical compounds derived from the thermal degradation of primarily sucrose in the process of roasting the coffee bean. [Tea and Coffee Trade Journal]
• Astronaut Sally Ride's recent space mission not only advanced the space program, but also prosthetic dentistry. Material used to make her urinary catch device is now being used to make soft denture liners. [DentalManagement]
• Some people call it polish. Others say class. We term it professionalism. Trying to sum up just what professionalism is, is somewhat like trying to define beauty or honesty. It's either there, or it isn't, but its presence adds a very special lustre. And Uniforms by Mindy has it. [Uniforms & Accessories Review ]
• Ironically, Notaries are rarely seen in modern American dramas and musicals—although this nation has more Notaries than any other and their role is an important one. The reason is that the office of Notary is viewed as an auxiliary rather than a primary vocation in modern America (except in Louisiana, with its French heritage), and characters are identified by their primary vocations—as in Arthur Miller's "Death of a Salesman." [The National Notary. This may be the world's most self-absorbed magazine. An article in a recent issue explained that Vanessa Williams lost her Miss America title because she "violated the morals provision of a notarized agreement."]
• Finally, combining the edible with the collectible, Freelance will introduce Goofy Pops™, a lollypop on a "squiggly straw." The candy will be wrapped in a cellophane which will have a puffy sticker with roily eyes attached to it. Extra stickers will come with the Goofy Pop. [Giftware Business]
Every now and then my magazine would cover certain stories in greater depth. I might, for example, consider running an entire article about Goofy Pops, which in the taxonomy of giftware are classified as "stationery." (So are Mello Smello Mini Duffles, stick-on Mello Smello scratchand-smell tattoos, Wild & Wacky Mello Smellos, Smell & Spell fragranced message stickers, and Smellopads.)
Stationery is a category of giftware, but it isn't the same thing as a gift. Before I started reading Giftware Business' I was a little confused on this point. Now I understand that a gift in the giftware sense isn't something like a fishing rod, a set of golf clubs, or anything else you wish someone would give you. Rather, it is something like a pewter figurine of a scuba diver, a tiny panda sculpted from "hydrostone," a pencil sharpener in the shape of a monkey standing in a shoe, or a ball-point pen packaged with a colorcoordinated lady's bow tie. It is, in brief, a thing that no sensible person would ever buy for himself or herself. It is a thing that is generally thrown away shortly after it is received.
One place where people buy a lot of giftware (according to a recent issue of Souvenirs & Novelties, a magazine whose readership overlaps somewhat with that of Giftware Business) is the souvenir shop at the Oklahoma City Zoo. (Another place is the gift shop at almost any hospital. In fact, hospital gift shops have their own trade magazine, called Hospital Gift Shop Management.) In an article titled "Zoo Shop Employees Create Functional Displays," Judy Rowe, the manager of the zoo shop, explains the secret of her success: "When someone walks in and asks for something penguinor tiger-themed, we'll show the shopper whatever is currently in stock. We don't stop after showing one item. I prefer to take a few extra moments and make sure my customer is aware of everything—the plush, statues, and pictures." Plush is the giftware word for fuzzy stuffed things. According to Giftware Business, teddy bears led the plush list last year, "but lambs did pick up momentum."
The line between gifts and souvenirs is thin. Souvenirs are generally a bit less inhibited: a baseball cap covered with golf-ball-sized plastic peas and a huge plastic pat of melting butter; "underwear that's funtawear," from British Bulldog, Ltd.; toilet paper printed with sayings like "Show business is my life"; a pair of hat-wearing Maw and Paw 'Zarky Doodler Hillbilly Character Pens, sold in a "2holer outhouse display-gift package"; Famous Amish Dolls; fake tomahawks made by Cherokee Indians from North Carolina ("We're on the warpath to bring you fast selling items that bring high profits for you!").
Cherokee tomahawks aside, gifts and souvenirs tend to be made on islands in the Pacific. This sometimes causes tension. An article in Souvenirs & Novelties discusses the perceived indelicacy of selling Japanese-made souvenirs in American battleship museums. The problem can usually be overcome. "In the past three years I have had only one person who, after discussing this issue, still refused to buy," reports Hattie Horton, the retail manager of the gift shop at Battleship Alabama Memorial Park.
If you just bought up your local battleship museum's entire supply of Bother Me greeting cards (for example, "It bothers me when you eat with your mouth open") but don't have anyone in particular you want to send them to, you might consider buying a mailing list consisting of the names of, say, all the people who between January and August of 1984 bought the phonograph record Floyd Cramer Piano Favorites, "featuring World Famous Love Songs and a Treasury of Favorites." There are 59,000 such people, 90 percent of them female. Finding out who they are costs fifty dollars per thousand names.
Selling names and addresses is a very big business. Popular lists, according to recent issues of Direct Marketing and Fund Raising Management, include people in the state of California who have rented or purchased wheelchairs, canes, walking chairs, or crutches; women who subscribed to Redbook after responding to a sweepstakes offer; members of the Association of Handicapped Artists; Americans "concerned about the growing Soviet military threat to peace"; buyers of the Thompson Chain Reference Bible; buyers of the Perry County Pizza Kit; and "people interested in the welfare of children and who support building character, teaching valuable skills, providing adequate education and suitable housing, along with developing networks to help abused, lost, stolen and abandoned children." (Another popular mailing list consists, apparently, of the names of people who subscribe to magazines dealing with popular mailing lists. Shortly after I began reading Direct Marketing and Fund Raising Management' I received a piece of junk mail urging me to buy three books by someone named Cecil C. Hoge, Sr.: Mail Order Survival & Success, Mail Order Know-How, and Mail Order Moonlighting.)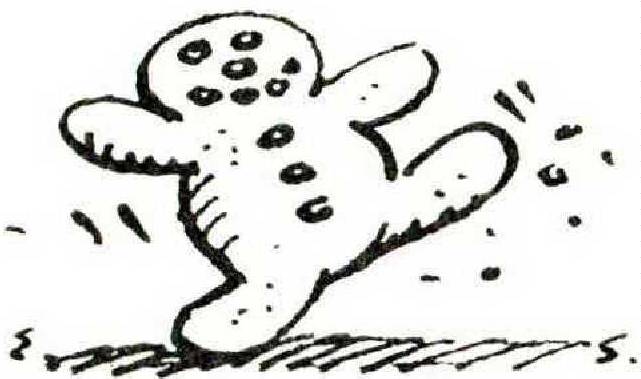 FOR A COUPLE OF SUMMERS WHEN I WAS IN COLLEGE, i worked as a reporter for a trade magazine called Milling & Baking News. Shortly before I took the job, the magazine had come to something resembling national prominence by breaking the story on the famous Russian wheat deal—the Soviet Union's enormous purchase of American grain in 1972. For several weeks that year Walter Cronkite, The New York Times, and the rest of the popular media relied on Milling & Baking News for virtually all their information about the transaction. This information was uncannily accurate. The magazine's editor, Morton I. Sosland, was getting it from an anonymous source, who, Sosland gradually realized, was probably a Soviet official (the source always addressed Sosland as "Mr. Morton," something an American Deep Throat wouldn't do). Excitement about the wheat-deal story had mostly died down by the time I signed on, although work in the office was still occasionally disrupted by a British or Japanese television crew looking for an offbeat American feature story.
As is true of many trade publications, Milling & Baking News has a tiny circulation—just a little over 5,500. Even so, The Wall Street Journal once described the magazine as "indispensable" to its industry. Its influence derives not from the number of people who read it but from who those people are. About a fifth of the magazine's readers are the chief executives of milling or baking companies. Most of these people read every issue carefully, and advertisers pay a premium to reach them. A full-page, full-color ad in Milling & Baking News costs about $2,500. That's not much money in absolute terms, but it works out to nearly half a dollar per subscriber, or about what it would cost to read the ad aloud to each one over the phone. A similar advertisement in Time, in contrast, has a cost per paying reader of less than three cents.
It is a general rule that the more carefully a trade magazine is read by its trade, the more stultifying its content is to outsiders. Indispensable or not, Milling & Baking News is pretty grim reading for anyone who doesn't care deeply about milling and baking. "In the face [of] sharply higher prices last week," begins a typical article in a recent issue,
shortening business was very sluggish. Soybean oil for nearby jumped 2½@3⅛c a lb on the heels of 1¼c gain the previous week. Deferred prices rose 1⅛@3⅞c. Virtually all other oil varieties also were considerably higher. Loose lard finished up 1½@2c and edible tallow gained 3½C. . . .
The magazine can keep this up for pages and pages. Still, trade writing is not without its charms. Milling & Baking News's use of the symbol @ in place of a dash in price ranges is' I believe, unique. The News is also the only publication I know of that consistently uses the word firm precisely. Most business writers treat firm as a synonym for company ox corporation. It is not, in strict usage. A firm, according to Webster's Third New International Dictionary, is "a partnership of two or more persons not recognized as a legal person distinct from the members composing it." Editor Sosland—who once had a brand of flour named after him (Big Boy)—also maintains an idiosyncratic but absolute ban on the word however.
As a summer intern at Milling & Baking News, I wasn't qualified to write the dense grain-market analyses that are the heart of the magazine (I was, though, once allowed to contribute an editorial praising an astronaut who had smuggled a sandwich into outer space). My usual beat was much humbler: obituaries, new-product announcements, rewritten press releases. Most trade magazines depend heavily on press releases, often printing them verbatim. It was a matter of pride at Milling & Baking News that a press release was never run without our at least switching around the order of the clauses and changing all the "he stated"s to "he said"s.
New-product announcements are the most fascinating part of almost any food-related trade magazine. "Ex-Cel, a microcrystalline cellulose powder, adds bulk to food products without adding calories," the January issue of Prepared Foods reports. "When mixed with water, Ex-Cel forms a ribbon paste ideal for low-calorie spaghetti, macaroni and other formed products." Another issue of the same magazine announces "a fluid, oil-based coloring" ingredient that "yields a butter color on popcorn or extruded snacks." Butter color has what the prepared-food industry calls "eye appeal." A closely related concept is that of "mouthfeel," as in "Our formulary explains how to use Avicel MCC [another cellulose bulking additive] to make a coleslaw dressing with controlled flow, cling, and improved creaminess without sacrificing high-fat mouthfeel." (Eye appeal and mouthfeel are often difficult to improve without sacrificing yet another desirable quality—"consumer labeling appeal.")
Some of the most popular new food products are ones that enable manufacturers to replace expensive ingredients. "HOWTO MILK CHOCOLATE," reads the headline on an advertisement in Candy Industry for Durkee's line of "coating fats," "cocoa butter equivalents," and other chocolate extenders and substitutes. A similar product is Viobin Cocoa Replacer, which, according to an announcement in the January issue of Food Technology, "is made from defatted wheat germ and 5% added carbohydrate which is pressure toasted to a rich brown. It is then ground to a fine powder which is similar in color and texture to processed cocoas."
Even better than new-product announcements are patents for new processes and ingredients. Here are a few garnered from recent issues of Food Technology.
U.S. 4,473,592. . . . Process for producing a meatbased product having a meat core of substantially constant cross-section of relatively dense compacted meat and an outer coating of fat which is mobile in the uniform state.
U.S. 4,477,476. . . . Method for converting salmon green eggs into a roe product in which the green egg is agitated in a saturated aqueous solution of salt containing a nitrite to impart a scarlet color, after which the salted egg is dried and agitated in a saturated aqueous solution of a malate containing sufficient nitrite to impart scarlet coloring.
U.S. 4,478,861. . . . Method of preparing a frozen food product in which a plurality of cooked pieces is treated to remove free water to form voids after which food mass is subjected to a freezing gas to surface freeze pieces while leaving some unfrozen moisture thereon. Dry powder additives are then introduced with agitation to uniformly coat pieces, after which they are fully frozen throughout and transferred to a storage container for later reconstitution.
Most people probably think they would never eat a frozen food product in which a plurality of cooked pieces had been treated to remove free water to form voids. But in fact almost everybody cheerfully eats stufflike this. Much of the food that is served in modern restaurants traces its ancestry directly to the patents page of Food Technology. "Pre-cooked," "pre-browned," and "portion-controlled" frozen-food items are "microwaved" and either "plated" immediately or, in the fancier establishments, gussied up with inexpensive "profit-makers" like olive bits or almond slivers before being "menued" as expensive, "signature" entrees. There isn't much need for chefs anymore. Kitchen technology has advanced to the point at which a pre-browned slice of portion-controlled prime rib can be microwaved in a minute or two and then kept in a holding oven for eight hours or more without losing eye appeal.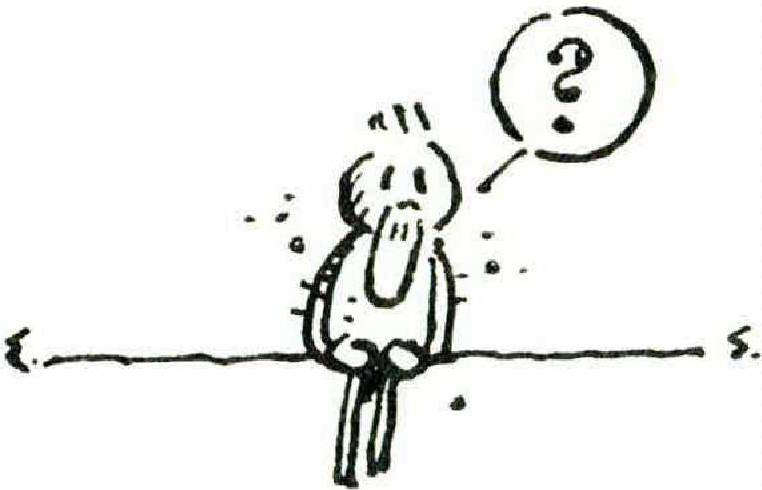 "EYE APPEAL," ACCORDING TO AN ADVERTISEMENT in the January issue of The Director, "is still the main reason people buy!" The ad is for "Aurora's new 18 gauge 1500 shell with accent stripes. . . . This new ACCENT series features a stripe on the top and base moldings that color coordinates with the shell finish. Notice how the interior shade completes this color combination. The striping has been market tested and found to be widely accepted." The ACCENT series also features "adjustable bed, seam welded bottom, metal gimp and material-lined foot end."
Aurora is the Aurora Casket Company, of Aurora, Indiana. The Director is the official publication of the National Funeral Directors Association. Food-related publications are a lot of fun, but for pure, bone-chilling enjoyment there's nothing like a funeral magazine. The Director, Casket & Sunny side, American Funeral Director, Stone in America (gravestones, that is)' Cemetery Management, Morticians of the Southwest, American Cemetery, Southern Funeral Director—if I had to choose a single trade magazine to accompany me into an 18-gauge 1500 shell, it would probably be one of these.
"Silver Taupe with Ash Grey Crepe interior, it does sound exciting, doesn't it?" Gene C. Hunter, the president of the Marshfield Casket Company, asks in a recent issue of Morticians of the Southwest. "More families are wanting caskets with new interior designs that are different and stand out over others."
A modern casket is a remarkable piece of merchandise. It is the single most expensive piece of furniture that many people will ever own, yet its only real function is to be lowered into the ground and covered with dirt. Its numerous optional features serve no purpose except to increase the final bill. With racing stripes, or plain? How firm a Sealy mattress? Should the interior upholstery coordinate or contrast with the exterior finish? Persuading grieving relatives to buy these unnecessary amenities is known to the trade as "loading the casket." It is the mainstay of the funeral business.
Many expensive casket features are seemingly meant to prevent or delay what has already occurred. Batesville caskets are treated with "an exclusive Chemgard coating" intended to provide "additional protection," according to advertisements in various funeral magazines. Marshfield's premium Signature caskets (the Monarch Blue, the West Coast Blue, and the Silver Taupe) offer a "one-piece rubber gasket" and a "50-Year Warranty." Belmont's Bronze Masterpiece caskets are protected by "a lustrous 4-millimeter, twice-baked, hand-rubbed Dupont finish" applied over a generous coat of "Dupont Adhesion Promoting Primer." Batesville's Sapphire, Mediterranean, and Tourmaline models have both inner and outer lids, the better to protect a loved one from—well, from what?
Loading the casket doesn't stop with the casket. Most caskets, even ones with two lids, aren't buried in the ground; they're buried in other caskets, known as vaults. Wilbert's Monticello, Continental, Venetian, and Triune models (with Strentex and Marbelon liners) all provide "the very finest in underground protection." According to an ad in The Director, Wilbert tests these vaults in an "immersing tank" that subjects them to
a side wall force of over 18,000 pounds at a depth of twelve feet. In another test, a freeze/thaw machine takes Wilbert burial vaults to temperatures of 30° below zero. And Wilbert's instrumented burial vault provides accurate technical data from a Wilbert burial vault buried at a normal depth, through sensing devices attached to an external digital readout device.
Sozonian's top-of-the-line vault is made of twelve-gauge steel and "designed like a real I-Beam to give it plenty of self-supporting strength"; optional " 'Electro-Shield' protection" is also available.
Another profit-maker for funeral directors is burial clothing. "A Thing of Beauty, a Joy Forever" is the motto of Willingham Tailoring Company, manufacturers of funeral dresses and jobbers of burial underpants. Morticians can also order the second revised edition of Desairology: Hairstyling for the Deceased.
It's all an elaborate rip-off. And yet these magazines are fascinating, no? The best of them is American Funeral Director, a monthly journal that contains, in addition to advertisements for caskets, vaults, burial clothes, and other paraphernalia (including SnFF, the non-formaldehvde arterial chemical that "has no smell!", and King Tut, the popular cavity fluid from Egyptian Chemical & Funeral Supply), articles with headlines like "LUNG CANCER IN WOMEN UP 152.6% IN TENNESSEE," "FIND BONES IN ATTIC," and "JOB-RELATED DEATHS HIT RECORD LOW IN '83" (I've got some good news and some bad news). A chart in the February issue reveals that Hawaii, Nevada, Rhode Island, and South Dakota suffered no weatherrelated deaths in 1983, while Texas led the nation, with sixty-six. Like all good trade magazines, American Funeral Director is obsessed with its subject; unlike most trade magazines, it has a subject that lends itself to obsession.
Reading the funeral magazines can be a peculiar experience. They make mortality seem simultaneously vivid and unreal: vivid because nothing could be more vivid than a bottle of SnFF, unreal because you can almost begin to believe that the color or texture of the inside of your casket is something that might one day make a difference to you. As Freud wrote, "No one believes in his own death."
That's the other Freud, incidentally—the one who didn't know anything about birds. □