MODEST AND self-effacing, the Hungarian photographer Andre Kertesz has lived most of his life as photography's forgotten man. Although many of his best-known images—his languorously feline portrait of Colette, his eloquently poised studies of Mondrian's studio, his expressionistic series of radically distorted nudes—are frequently reproduced, the name of the artist who captured them may be unfamiliar. His reputation for the pioneering use of the small camera and for a vibrantly personal style of photo reportage is based almost entirely on work that he did in Paris during the productive eleven years from 1925, when he emigrated from Hungary, until his departure for America, in 1936. In Paris his pictures were widely circulated and discussed. Within only a few years of his arrival there he was at the center of an explosion of interest in photography and was revered as an innovative artist. In New York, however, it was a different story. His work was either misunderstood or ignored, and the editors of the major illustrated magazines, such as Life and Look, maintained that his methods weren't compatible with their needs. He claims that one Life editor told him, "You're talking too much with your pictures." With the beginning of the Second World War what had been intended as a sabbatical year in New York became a forced exile. As he said to his friend Brassai, on his countryman's arrival in America, in 1957, "I'm dead. You're looking at a dead man."
Last July Andre Kertesz reached the age of ninety, and there is a kind of poetic justice in the phoenixlike rebirth of his reputation that has occurred in recent years. The revival has continued this spring with a blossoming of Kertesz books and exhibitions. Andre Kertesz: Of Paris and New York, a book of three essays by three critics, is the first comprehensive treatment of the photographer's life and work. It was designed as the catalogue for a major exhibition that was mounted by the Art Institute of Chicago in May and that will be at the Metropolitan Museum of Art, in New York, in December. This spring and summer there will be a sprinkling of smaller shows in galleries across the country. Kertesz on Kertesz, a retrospective selection of pictures from his career, with comments by the photographer, was published in February. This current flourish of activity, which for the first time places the whole range of Kertesz's work before us, makes us feel that a terrible wrong has at last been put right. Yet together with this feeling is one of regret—a nagging sense of too little too late.
KKRTESZ'S PICTL RES of Paris are a lover's portrait, and his separation from the city is like the saga of a great romance abruptly and irrevocably ended, leaving the lovers devastated, inconsolable. In the introduction to one of his collections, J'Aime Paris, Kertesz said, "1 write with light, and the light of Paris is my life's companion." Although Kertesz continued to create great work after 1936, he never fully recovered from the loss of Paris. The city was his great subject, as it had been Atget's, and he photographed it ardently, with passionate delicacy. But if Atget's Paris is the Paris of old age, then Kertesz's is the Paris of youth. Atget's images are saturated with a sense of loss and the heaviness of the past, of time passing, and he seemed to capture them in that magic instant before they vanished forever. Kertesz caught Paris at the peak of its ripeness and vitality, just as it seemed to be giving birth to the twentieth century. His Paris is the Paris of noisy cafes and swirling traffic, of Picasso and the Surrealists—the Paris that is familiar from the novels of Hemingway and Fitzgerald and that for many people will somehow always epitomize that cracked-open moment in life when you feel yourself break away from childhood and emerge for the first time as your own person. This must be something like what Kertesz felt in 1925, when he left his family and his girl friend, Elizabeth Saly (who later became his wife), behind in Budapest and strolled into the cafes along the Boulevard Montparnasse. This feeling of self-discovery is what makes the Paris photographs great. It's as if with each picture we can see him unfolding both as a man and as an artist, becoming more assured, more himself.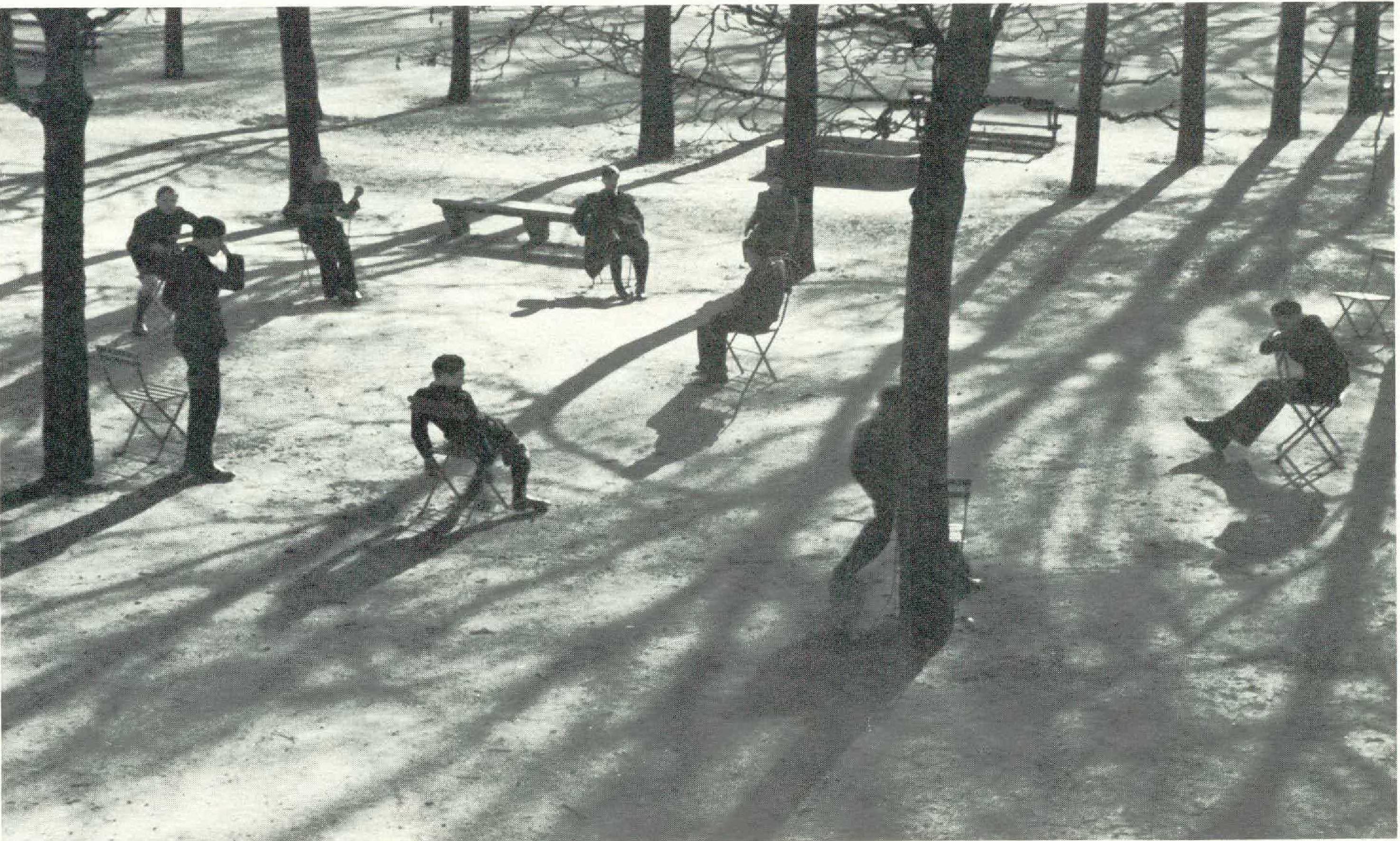 The remarkable thing about Kertesz is how much of the artist was there to begin with. Although the open, unadorned pictures he took before he left Hungary—mostly landscapes and genre studies of peasant life—don't have the formal command or the feeling for abstract design of his later work, they hardly appear to be the work of an unschooled novice. Kertesz, it seems, never went through the period of groping and uncertainty that most artists go through when they're just starting out and still struggling to find themselves. His concerns as a photographer and his ideas about what the camera was best suited for came to him intuitively, full-blown, and he never wavered from them.
These early photographs, which celebrate a natural, casually structured life that owes more to the nineteenth century than to the twentieth, have an impressive clarity and directness. They were taken when photography was for Kertesz still an avocation, during the few moments he could steal from his work on the Budapest Stock Exchange. It was a job he loathed, and the springy exuberance in these pictures seems to result from the release he felt in being able to escape the office and go out into the open with his eamera.
We get this same intoxication with the life around him from his Paris photos. But a tentativeness and moody vulnerability mixes in with the other sensations in these pictures. Many of them are nocturnes, with solitary figures trudging through the mist. The pictures taken right after his arrival in Paris hint at the isolation he must have felt as a young man wandering the streets of an unfamiliar city. There's an unemphatic quality, a reserve, built into Kertesz's photographs. As an emigre, in Paris and in New York, Kertesz slipped naturally into the role of outsider, and, looking at his pictures, we get the impression that his status as a reporter, as someone who stood always a little to the side, recording his observations, suited him; that, in fact, he embraced it as a kind of special distinction that enabled him to take note of things others might have missed.
This is as much an aesthetic choice as an emotional one. Kertesz has an impeccable sense of design, and it gives his photographs a formal strength that is missing from most photojournalism. But Kertesz's pictures are never purely formal. He doesn't use abstraction gratuitously. Examining his Constructivistlike studies of chairs in the Tuileries and the steps at Montmartre, or his many pictures of the impacted New York cityscape, we can feel his interest in shapes and patterns. The influence of the revolutionary aesthetic ideas circulating throughout Paris—which he absorbed firsthand during long hours of conversation in the cafes with Mondrian, Leger, Tristan Tzara, and others—is clearly evident. But Kertesz never made a fetish of these ideas. As Sandra Phillips points out in André Kertesz: Of Paris and New York, his modernism is essentially Hungarian, an expression of his belief in photographic realism as an avant-garde principle. Kertész's way of photographing the world—his method of stepping back to capture the natural relationship between objects within the frame—implies that the shapes and patterns that supply the structure for his pictures are indigenous to the world and to his subjects, rather than imposed upon them by the artist. Kertesz creates a special kind of naturalism and, along with it, the feeling that the things of art are all around us if only we are observant, alert.
IN 1938 William Carlos Williams wrote, "No ideas but in things," and his words describe Kertesz's approach to his work. If Kertesz's photography can be said to have a subject, it is the pure, undiluted joy of looking. His photographs are about the wonder of ordinary, everyday things, like chairs and stairways and streetlights. He is charmed by reflections and shadows and birds in flight in a way that gives them a special intensity, and he looks at inanimate objects—billboards, window displays, clocks, discarded mannequins, and dressing dummies—in a way that animates them and makes them seem like characters in a story.
For Kertész, the present—which is the world of the photographer—is an inexhaustible source of what he once termed "little happenings," and in capturing them he has the photographic equivalent of perfect pitch. His pictures celebrate the pleasures of strolling and browsing and lounging. He likes parks and bistros, anyplace people gather to drink or talk or just relax and thumb through the paper, and nothing seems to make him happier than standing by the window and gazing out over the rooftops and chimneys (or into other windows). But the ease and economy in his photographs is deceptive, and his style is so colloquial that at first glance it may not make much of an impression on us. Kertesz was a dedicated realist, but he had an instinct for the incongruous juxtaposition of details. In his best photographs—such as Homing Ship, Ballet, and Landing Pigeon—there is always a point where realism gives way to fiction, and the arrested moment expresses itself and simultaneously conjures a world of associations. It is his sensitivity to the area where the documentary and the imaginative overlap that gives his pictures their subtle effect and makes them stay with us.
Nothing in his images, although they have a snapshotlike immediacy, indicates that he approached the process of picture-taking as a matter of possibilities (as Garry Winogrand has suggested it is), hoping that the result might be a photograph. Kertész seemed always to know what would be a photograph and what would not. For this reason there is a consistency and unity of spirit in his work.
But as wide open as Kertész's pictures are to the various aspects of life, too many of them strike the same emotional chord, as if somehow his camera were an instrument without the higher and lower registers. Kertesz doesn't present us with the squalid, bare-light-bulb, soiledsheets side of ourselves that photographers like Diane Arbus and Robert Frank expose us to in their pictures. In the way that we begin to grow weary of the exotic, after-hours realms that some photographers carry us into, and feel that they've missed something by leaving out the kitchen-sink aspects of life, we think that something important— perhaps something vulgar and mean but essential to life—has been left out of Kertesz's pictures too.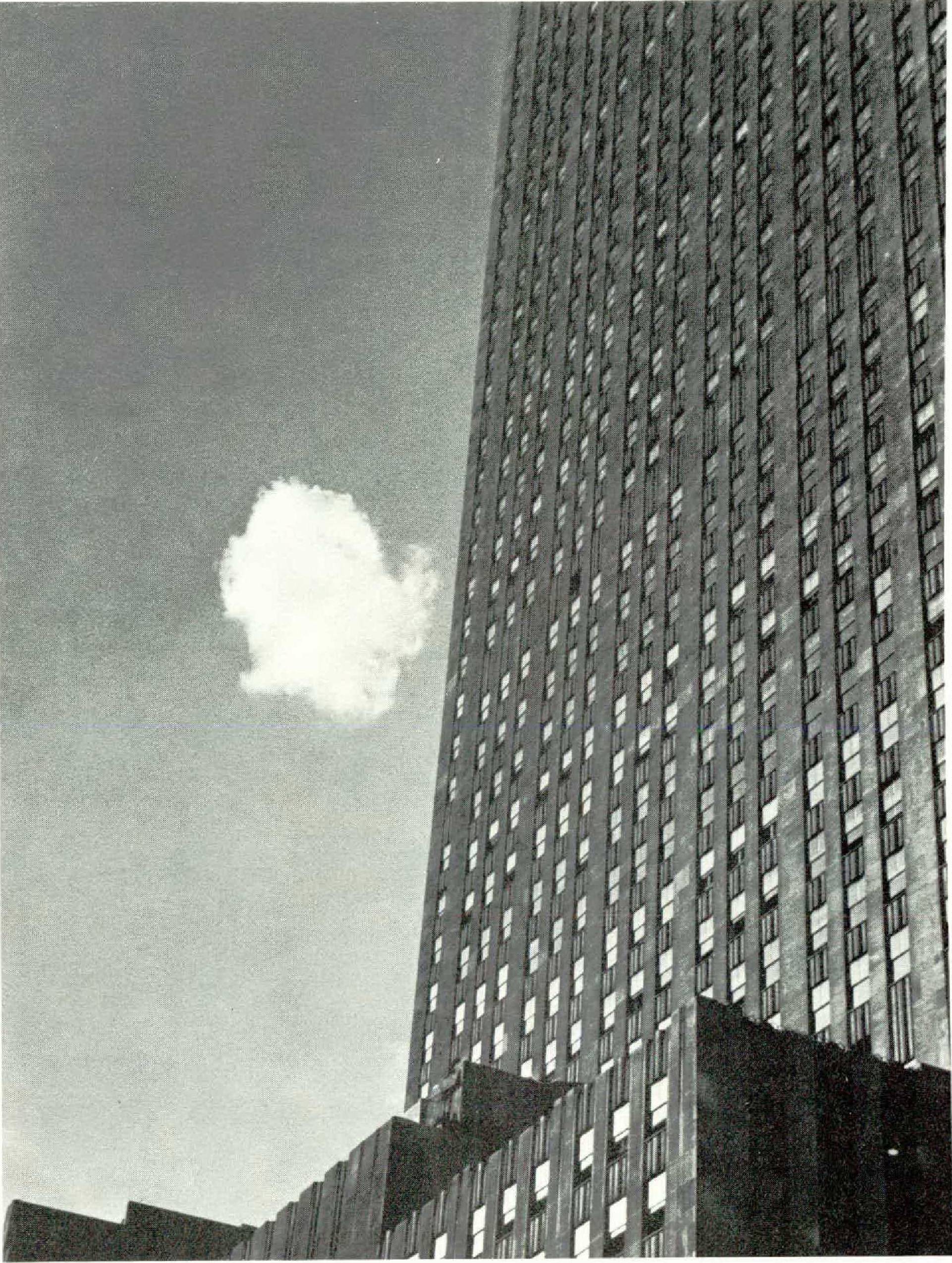 Not only the darker side has been omitted; there is nothing grand or heroicin his pictures either. Kertesz's spirit isn't crabbed or cut back in the drab, washed-in-gray manner that we associate (perhaps too glibly) with Central European art. It may be that the sordid and the heroic just don't have a place in what Kertesz considers to be the "real" world and thus are outside his province as a documentarian. In the pictures he took during the First World War, only the presence of uniforms and guns tells us that there was a war going on. We don't even sense the fighting and death just outside the frame. Although Kertész served on the front lines (and was, in fact, wounded), his pictures could be of an unusually large group of men on an outing in the country.
THERE IS AN almost irresistible innocence in Kertesz's wistful vision of things which draws you in and makes you want to believe in it even when you can't. (Reading Fitzgerald has the same effect.) Kertesz is an admittedly sentimental artist, and some people may find his photographs corny and old-fashioned, even a little Norman Rockwellish. But the emotional richness, and the way he marries sentiment and the formal elements in his pictures, set him apart from other photographers. The importance of sentiment in his work is most noticeable when it's missing, as it is so often in the pictures taken in New York. Kertesz has lived there longer, and taken more pictures there, than anywhere else. In 1944 he even became an American citizen. But Kertesz has never become, as Weston Naef, in Andre Kertesz: Of Paris and New York, claims he has, an American photographer.
Kertesz's stay in this country has been for the most part a horrible one. After his work was snubbed by the major masscirculation magazines, he worked as a free-lancer and frequently had difficulty making ends meet until 1949, when he was able to nail down a position as a staff photographer with House and Garden—a break that allowed him to support himself but that resulted in his squandering thirteen years on what he has called "worthless hackwork." The rancor and disappointment he must have felt almost never expressed itself directly in his pictures. Still, his disaffection shoulders its way into the frame. There is a hardening of the compositions in his New York pictures and a greater reliance on abstraction, and in some of his cityscapes we feel the sharp angles of the modern buildings and the harsh New York light grating on his sensibilities. Although there are refinements and marvelous images among Kertesz's New York photographs, they go over the same ground that he covered in Paris. Only rarely does anything inside Kertesz reach out to his subjects in these photographs, and when it does, this seems to be because the moment reminds him of another like it, in another place. A part of him is absent. T he joy of looking has been eclipsed by the determination to persevere, as if by continuing to examine the things that had brought him joy in the past he might, by some miracle, fall in love again.
The essence of what is missing from many of Kertesz's New York pictures can be found not only in his photographs of Paris but also in those he took of his other love—his wife, Elizabeth. Kertesz didn't make the photographs he took of his wife a major part of his work, as Stieglitz did his portraits of Georgia O'Keeffe. There are only a handful (Stieglitz took nearly five hundred), and most of them—the ones included in from my window, a small book of color Polaroid pictures published in 1981—are about her rather than of her. But with this handful Kertesz accomplishes something that Stieglitz, with all his years of attention, never approximated (and possibly never sought). One image in particular stands out. It was taken in 1931, soon after Elizabeth's arrival in Paris from Hungary, and ir celebrates their engagement to be married. In the picture, which has been cropped from a negative of the two of them standing side by side, Elizabeth's face is bisected by the right-hand edge of the frame so that our attention is fixed on two important details: her right eye, which looks directly into the camera lens, and his hand, which rests gently on her shoulder. The image couldn't be simpler or more straightforward, bur it is perhaps the greatest photograph ever taken of the bond between a man and a woman.
Fifty years later Kertesz reprised this image as a homage to his wife, who died in 1977. The photograph is published on the dedication page of from my window under the inscription "For Elizabeth." Again Kertesz has used the simplest means. The image is actually a Polaroid snapshot of the 1931 picture—but here he has placed a small wreath of thorns around his hand as it sits on her shoulder. T he book also contains a series of snapshots of a tiny glass bust that Kertesz thought resembled his late wife and that he posed by a window of his apartment so that the outside light, and part of the skyline, were reflected in it. These pictures, which are among the most delicately wrought images of mourning in art, represent an old man's withdrawal into the world of his thoughts and memories. They also express everything that lies beneath the surface in Kertész's work. What is most compelling about these photographs is how confidently they assert that photography is as much a medium of emotions as of surfaces, and it is in this assertion that Kertesz's greatness lies. Graceful and elegiac, these fragile images have the soulful texture of a requiem. With them, Kertesz carries photography into the realm of pure feeling. □