BY HOLLY BRUBACH
THE YEAR IS 1969, the occasion a Rolling Stones concert at the Pittsburgh Civic Arena, and my friend and I, in a photograph taken that evening, are wearing the most strikingly chic outfits we own (in order that Mick Jagger, surveying the audience from the stage, will recognize us for the truly with-it women we are, have us plucked from our seats and summoned backstage, and invite us to come along with the band on the rest of the tour). Except for my patchwork madras cap we are dressed identically, in thigh-high white hip-hugger mini-skirts, white go-go boots, white lipstick, and black eyeliner applied with a heavy hand. We look positively ridiculous. Nothing you could do would persuade me to show you this picture.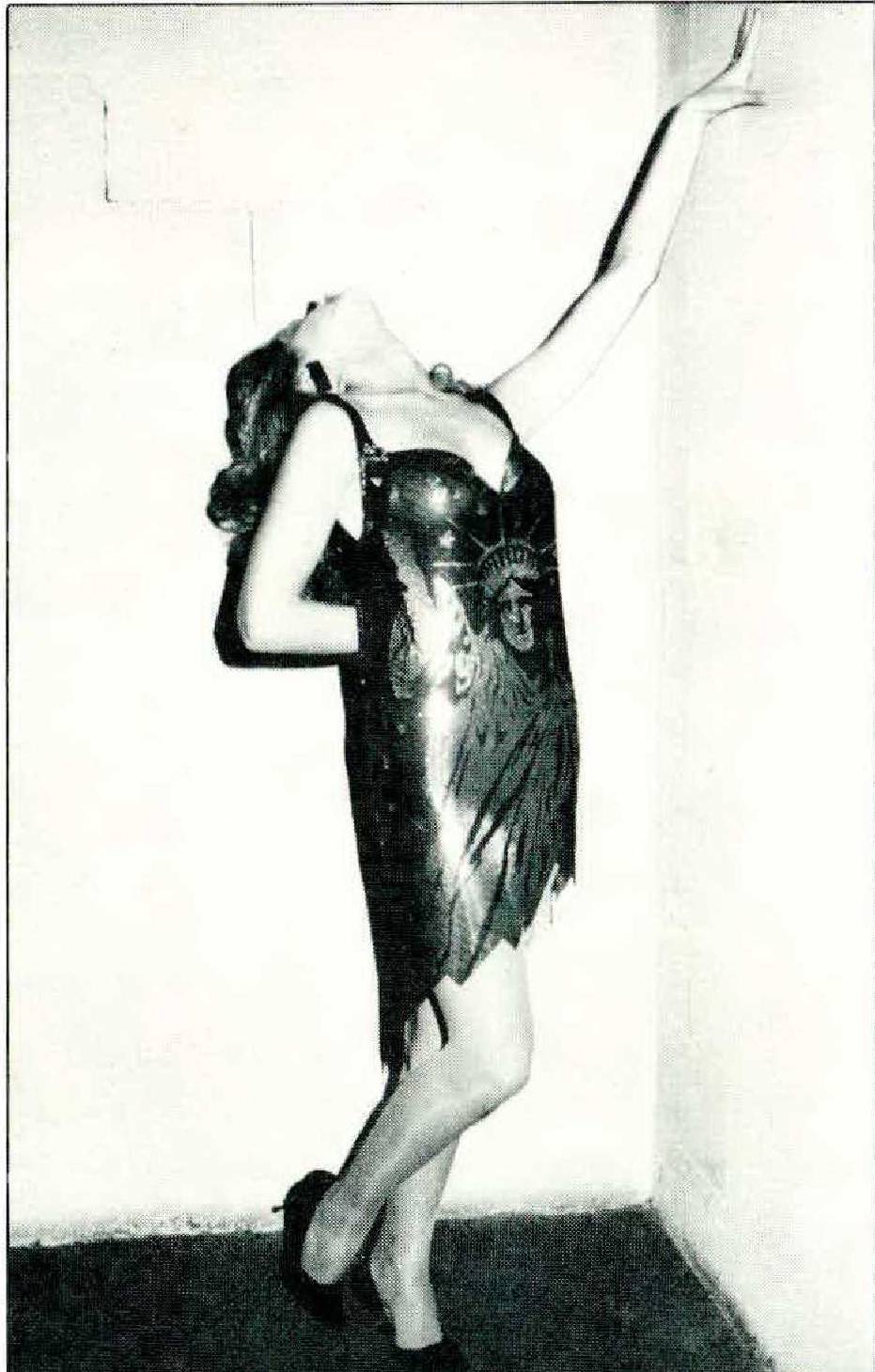 Part of what's so mortifying about being confronted with evidence of the way we used to dress is realizing the desperate lengths we've gone to in order to look as if we belonged, to get attention or solicit affection; fashion at the time this picture was taken was a highly emotional, sometimes hysterical affair, with social acceptance or rejection riding on a hemline. But, we congratulate ourselves, those days are over. Fashion is out, finished. The clothes we wear now are eminently reasonable. In the style we loosely describe as classic, they are guaranteed indefinitely—they will never embarrass us.
But neither will they put us in mind of how vain and foolish we are or make us laugh at ourselves. That's one drawback to life without fashion. The other is that if clothes today are designed in such a way that they will never look old and passé, chances are that they'll never look new and timely, either.
It's admittedly harder for a fashion designer to take the world by storm now than it was in 1947, when Christian Dior introduced the New Look, mostly because the options available within any given season are so many and there's no longer a single prevailing style, a consensus for designers to react to. Our eyes are jaded. Most new clothes not only look as if we've seen them before, they also look as if we saw them just last week.
Ironically, the designers who have made it big enough to be recognized as leaders in fashion are not in much of a position to be innovators. They continue to turn out clothes consistent with the image they've already established, which makes good business sense, after
all. In contrast, young designers struggling to make a name for themselves have everything to gain and nothing to lose by astounding us. Selling at the outset to small specialty stores, they can afford to go in for fabrics that are scarce or unusual, for styles that are daring and too complicated or costly to mass-produce. The height of fashion is, to put it simply, what looks new, and what looked new for a while was the notion that fashion could be done away with. But this is an idea whose time, I think, is nearly gone. Some of the few of us who dress for our own amusement are getting restless. Slowly, stealthily, fashion is making a comeback. Recently I set out to meet some members of the next generation, in the hope that the clothes they design would take me by surprise.
DOUGLAS FERGUSON is a painter, an artist of many sorts but not of the "wearable art" school, which strives to elevate clothes to the status of art by means of crafts—beading, embroidery, appliqué, macramé. While this school has made for a lot of dresses that look as if they've been needleworked to death (and still no art), Ferguson designs clothes that aren't the least bit belabored; the materials they are made of seem destined to take the form he confers on them. He gives the impression of not caring what his clothes are called, of not even caring if anybody buys them. He does not present his designs in staged showings or even group them according to season; he just started selling through stores (everything is made to order); he does not work in cloth. Ferguson designs clothes on a sporadic basis, whenever they occur to him, usually as an outgrowth of his fascination with a certain material.
He started a few years ago with leather, which he painted plaid and made into kilts. More recently he has been working with chain-mail mesh, turning it into "necklaces" that drape and fall in metallic folds over the collarbone, into a silver and white bikini, into a chemise with a shadowy black-and-silver hand-enameled portrait of the Statue of Liberty on the front. These clothes, however brilliant and original, are discrete statements, not the sort that taken together can be interpreted as the embodiment of a single vision. What apparently matters most to Ferguson is his own progress as an artist. And by refusing (so far) to work in fabrics he has conveniently sidestepped the issues that come into play when designers stitch pieces of cloth together and invoke the tradition of dressmaking.
Abel Villarreal, on the other hand, has planted himself squarely in the middle, or perhaps slightly to the left of the middle, of that tradition. Once or twice in a generation a designer comes along who has the gift of cut, and Villarreal, who is twenty-five and lives in Los Angeles, has it. He seems to have studied every inch of the body's terrain, and his clothes, often asymmetrical or on the diagonal, are designed along uncharted lines, making detours around the conventional places for seams. His white cotton rib-knit dress looks from the front like three horizontal bands of fabric separated by stripes of bare skin: a turtleneck collar, bare shoulders, a bandeau across the breasts, bare midriff, and a straight skirt, with the three pieces attached by a diamond-shaped panel in back.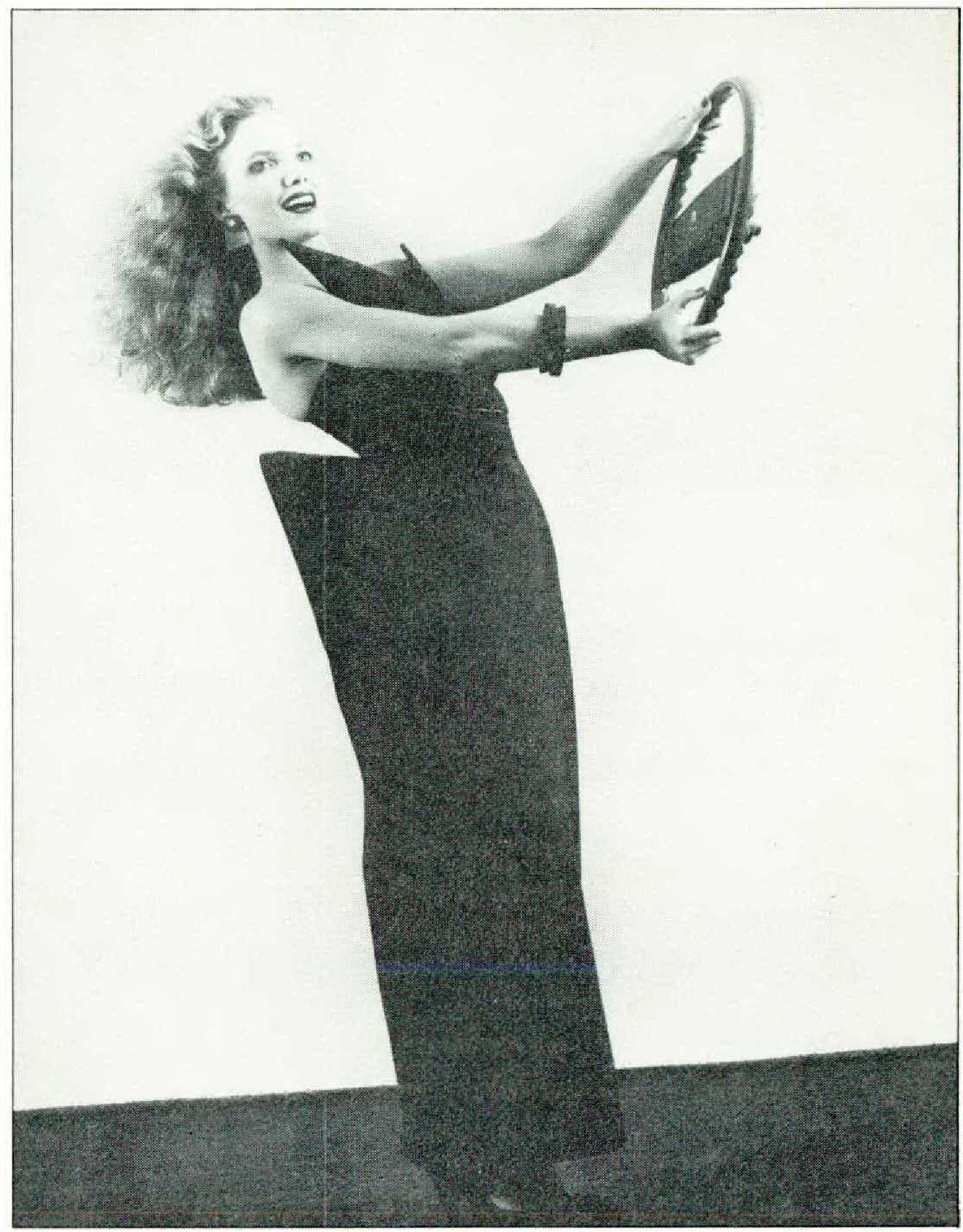 This spring Villarreal has used patent leather, in a tough jacket that, though it is outfitted with plenty of hardware, looks not at all menacing but, in fact, sweet-tempered and ingenuous, because it's white. It is, he says, "what Mary Tyler Moore would wear if she were a biker." The impression Villarreal's clothes often give is one of blithe sexuality. Undoubtedly, this effect is in part deliberate; but a larger part of it, I think, is not. His preoccupation is with the line of the clothes, and if in the quest for a new line he emphasizes a breast or exposes skin that is usually kept covered, well, that's all right, let's see what happens. This season Villarreal has merged his men's and women's lines into a single collection (priced from $60 to $700). He concedes that some of the pieces are better suited to one sex than the other, but not the dresses, which, he matter-of-factly states, are intended for both women and men.
Yeohlee Teng, whose label reads simply "Yeohlee," shares Villarreal's obsessive interest in cut, though she tempers it in the clothes she designs. There are two paths to stardom in this business. The first is the high road, the one Villarreal has taken, hoping that by designing distinctive, imaginative clothes he will attract the attention of the "right" people (certain buyers and the press), who might in turn attract the backing of investors, who would bankroll a more extensive, mass-marketed line, which would in the end sustain his more experimental and probably more interesting work. (This is the way the industry is set up in France, where designers use their ready-to-wear to disseminate ideas initially conceived for their own couture. Lately American designers have followed suit—Bill Blass, Geoffrey Beene, and Perry Ellis, to name a few, have branched out into so-called second lines that enable them to plagiarize themselves and get more mileage out of their ideas.) But whether a young designer has the talent it takes to support a billion-dollar empire is, on the evidence of a small line, however impressive, pretty much a matter of opinion and conjecture. Yeohlee has chosen the other road, straight through the garment industry: she will prove her talent by designing clothes that sell, because in the long run there is no arguing with sales figures.
Among Yeohlee's most successful designs are a fitted dress (in orchid linen, for spring) with an overpanel like an apron bib that covers the bodice, making the shoulders "read" broader and the waist read narrower, and a full-circle hooded cape (in olive-drab rubberbacked canvas, for this season), constructed in such a way that its volume is kept neatly under control. Ordinarily Yeohlee occupies herself with the solving of problems—how to conceal pockets in a skirt (behind an overpanel at the yoke), how to provide enough ease for walking in a narrow leather mini-skirt (with a tiny fishtail)—and her solutions are frequently concise and ingenious. (Her clothes, along with Ferguson's, are included in the Museum of the City of New York's current exhibition "Cream of the Crop: The New Couture," which features the work of seven young designers.) Every so often Yeohlee gives in to the urge to do something more fanciful, as in the group of six black ottoman cocktail dresses that she used to close her show two years ago. These were designs that were never produced, intended for her own and the audience's amusement and as an only half-serious tribute to the great dressmakers who had gone before. One of these numbers, "the Cadillac dress," featured a strapless bodice curved like the hood of a car and tailfins at the hips in back.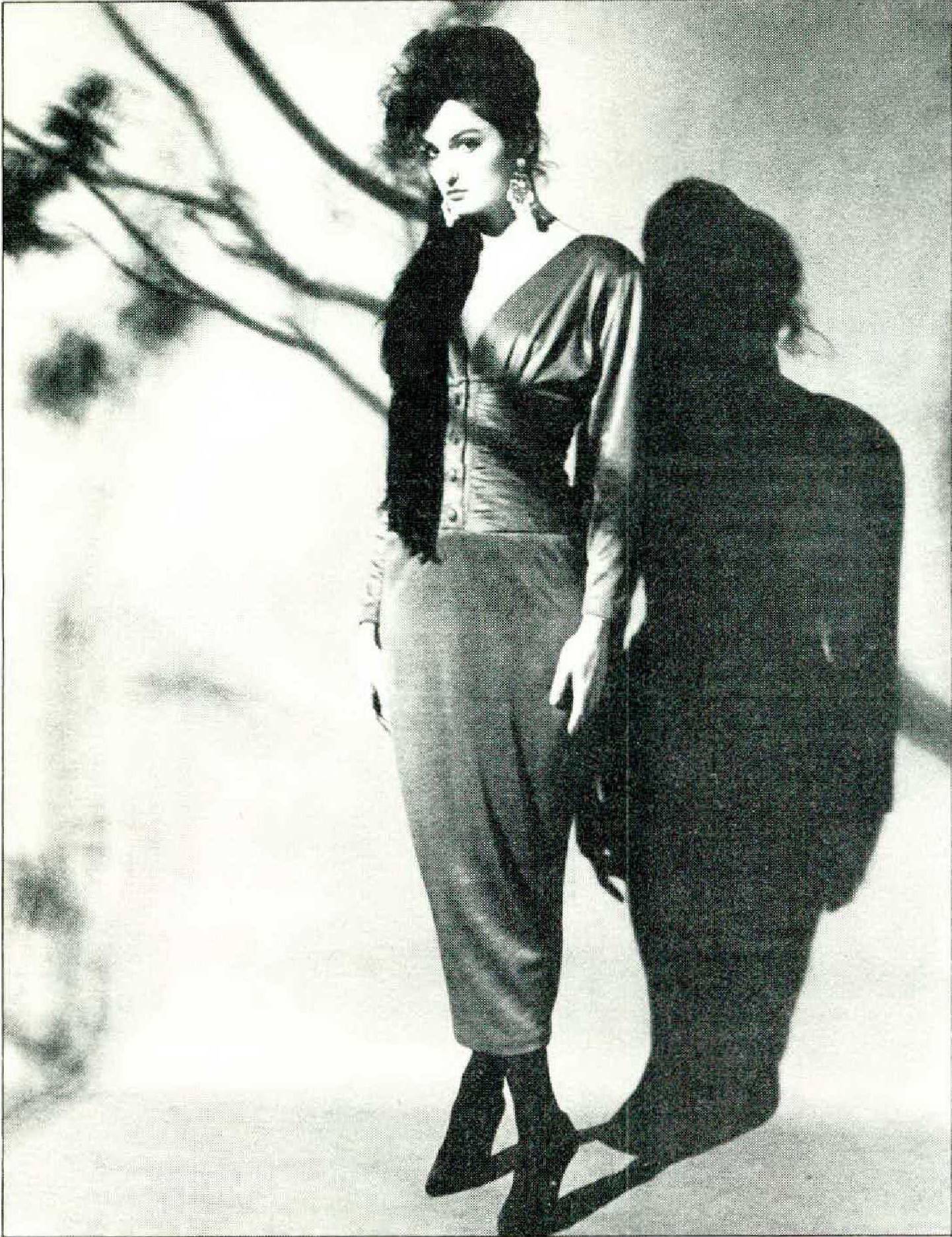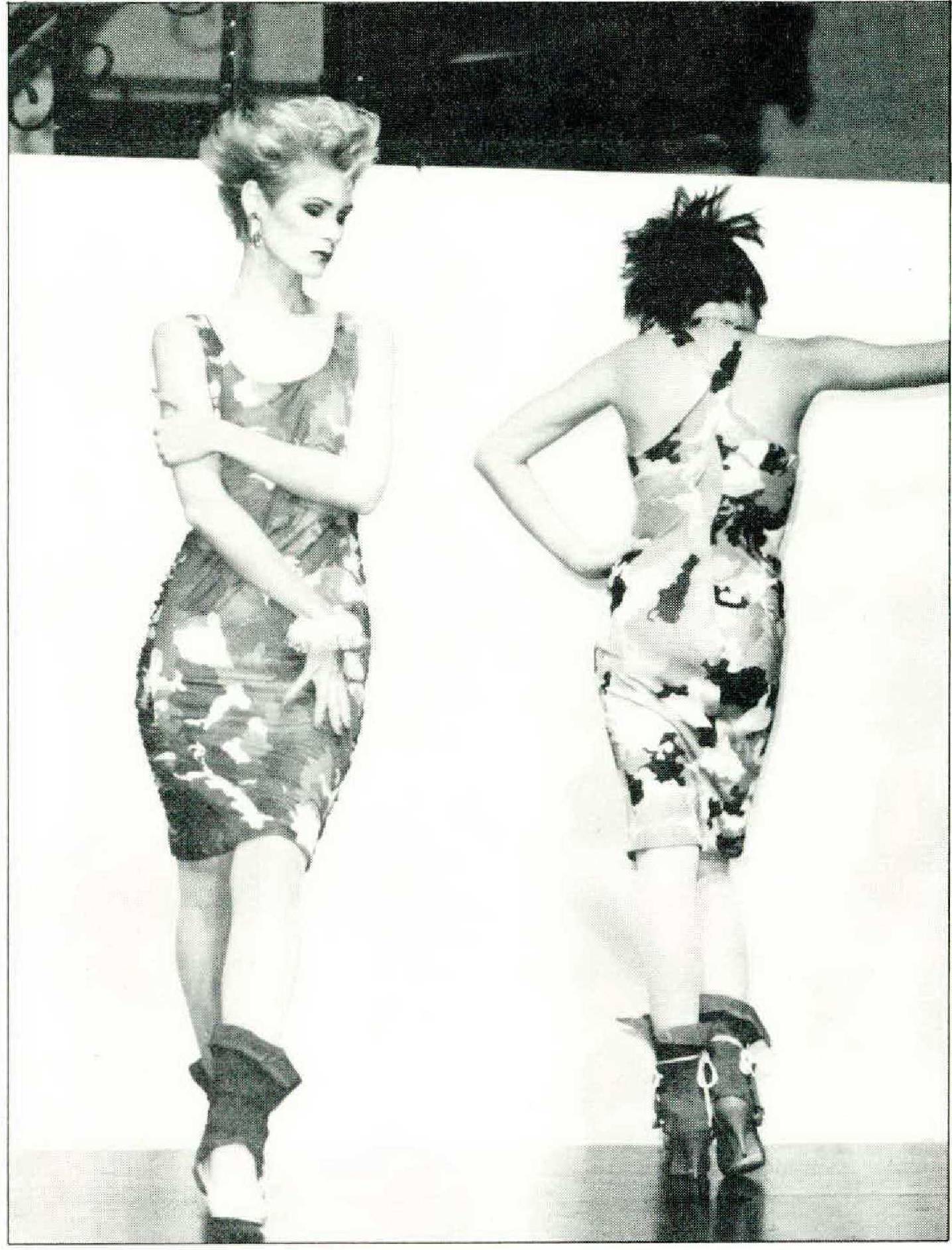 In Steven Stolman's hands the tradition of dressmaking gets picked up where we left it off, before the idea of fashion went out of style. Like Yeohlee, he assumes that a good dress succeeds on its own terms, which in his case are always ladylike and often starkly graphic, almost two-dimensional. For spring he offered a black linen sheath and a hot-pink flared topper spattered with giant black polka dots the size of LP records; a dolman-sleeved, full-skirted jersey dress, divided vertically (one quarter pink, three quarters yellow); and several good "jewelry" dresses, elegant, uncluttered, intended as backdrops for accessories. Stolman is searching for a contemporary version of that effortless, unmistakably American glamour pioneered by designers like Claire McCardell, Pauline Trigère, and Norman Norell. "I want to be the Norell of my generation," he says. He has little or maybe no competition for that distinction.
Stolman has inherited his definition of glamour from his predecessors; Abbijane has deduced hers from the on-screen wardrobes of actresses like Audrey Hepburn, Sophia Loren, and Brigitte Bardot. Abbijane's fall/winter collection was inspired by and dedicated to Holly Golightly (the heroine of the 1961 movie Breakfast at Tiffany's, played by Audrey Hepburn and dressed by Givenchy), but there was nothing slavish or derivative about it. Mostly, the clothes were the sort that one imagines Holly Golightly would wear if she were shoplifting in the five-and-ten today. Abbijane's spring/ summer collection is dedicated to no one in particular, but it's full of clothes you think you've seen on somebody gorgeous in some movie or other: a black linen sheath and matching coat with brass buttons and a sailor collar; black linen slacks and a brass-buttoned jacket with a wide, stand-up boat neck; a turquoise and black dress with a swirl skirt; a long, straight black viscose sheath that buttons down the back, with a pleated flounce at the bottom. Abbijane's achievement lies in taking images that we have stashed away in our memories, refracting them, and bringing their bigscreen glamour to the smaller scale of everyday life, in clothes that are simply constructed, comfortable, offhand, and clearly her own.
BESIDES DESIGNERS like Stolman and Abbijane, who hark back to some bygone golden era or pay homage to the acknowledged masters of their craft, there are others, who, much as they love clothes and the fun of dressing up, can't bring themselves to take fashion and the folderol surrounding it all that seriously. Robert Molnar, for one, will never be an acolyte, though he is perfectly capable of turning out proper-looking, sophisticated clothes—and he does. But he also includes as part of every collection a handful of pieces that challenge our notions of what's taboo, and we get the idea that here is where his heart really lies. On the rack of samples in his showroom, alongside a red cotton knit halter dress, indented at the waist, and an offwhite silk shantung suit with a highwaisted skirt and a cropped jacket— both highly respectable—are a blackand-purple paisley brocade vest and skirt inspired by Prince and palazzo pants and a coat made of silver-and-black flocked lamé, a garish fabric that Molnar likens to "wallpaper in the bathroom" (put up by the previous tenants of the apartment you're renting), with a black velvet bra to match. Okay, Molnar says, where's the limit? Is this hideous, or is it interesting? Molnar has pitched his tent safely within the boundaries of good taste, but now and again he gleefully stages a raid across the border.
As if these matters weren't controversial enough, Molnar has lately taken to making political statements in the clothes he designs—this spring, in a group of camouflage-printed chiffon and cotton jersey sportswear. A closer look at the print reveals that the spotting is in the shapes of countries, each labeled in tiny black letters: Grenada, Ethiopia, Cuba. These are, Molnar says, "the issues we tend to camouflage in our everyday lives." The collection (shown on Election Day last fall) ended, as tradition dictates, with a bridal gown, but had a timely new twist: Molnar's bride came out dragging an MX missile chained to her ankle.
Diane Pernet has a mischievous streak too, and it manifests itself in clothes that are not only beautiful and well made but also disorienting, an effect that is more difficult to achieve. If fashion shows had footnotes, her spring collection might have cited Coco Chanel, Emanuel Ungaro, and Frederick's of Hollywood, but she alluded to them all so lightly, in passing, and scrambled them so deftly, with such deadpan innocence, that they came and went, and in the end it was Pernet herself who remained. She combines fabrics that convention says have no business being seen together, as in a coat of black guipure (a he v, openwork lace) with fake-fur cuff's 1 a fakefur skirt to match. Are bell-bottom pants still "out"? Oh, well. Pernet's, in a double layer of black chiffon, are so fluid and funny that she turns them into a triumph. Her blue linen suit for spring, with its boxy cardigan jacket, purports to be a smart, classic, businesslike suit, and in a way it is; but the skirt, gored to follow the curve of the thigh more closely, gives it a vaguely naughty undertone—an undertone which, in an outfit like her black silk jersey midcalf jumpsuit, cut like a slip, with a black lace carcoat overtop, verges on the deliciously sleazy.
Sometimes Pernet's clothes celebrate a woman's body; at other times they practically advertise it, but always without cheapening the woman wearing them, who comes off as witty, sophisticated, someone who likes feeling sexy. Pernet offered at her spring showing several pieces with draped bodices and fitted yokes that zeroed in on the zone from the base of the ribs to the top of the hips, causing some of us in the audience
to marvel at what a complex and wonderful invention a woman's torso is.
Fashion for most of its history has concerned itself with the way the upper classes dressed. They set the style, and the middle class, in its ever upward climb, dutifully emulated them. What the lower classes wore, nobody cared. In the anarchic heyday of the sixties, all of that was overturned. Suddenly fashion happened in the street, and aristocrats wore blue jeans. That populist sentiment still survives, most vociferously in the clothes of Jean-Paul Gaultier, a French designer who has been the darling of international fashion for the past two years. Gaultier's style is built on an impudent, street-urchin chic, with odd shapes and clashing fabrics, as pioneered by the young people who buy their clothes in thrift shops—the Parisians that Women's Wear Daily enthusiastically labels "the nouveau pauvre." Gaultier takes the ladies who follow fashion slumming in the north of Paris, which, as filtered through his clothes, seems rather picturesque. But Todd Oldham, an American designer based in Dallas, takes the fashion ladies even further afield—to suburbia, the outskirts of the heartland.
Never has fashion stooped so low for its material as in his "Safeway shift" (a big muumuu-style shirt dress in blueand-white cotton jaspe); his "P.E. dress," its bodice cut like a Physical Education uniform; and his Dr. Kildare shirt, in white cotton batiste, which wraps in back like a surgical gown. These clothes are about women who spend all morning cruising the aisles of their local grocery stores and all afternoon watching the soaps, but probably they aren't for those women—Oldham's style suggests someone who's young, rambunctious, smart, quirky, with a gentle sense of humor. For summer he has done a high-chic cotton duster in a pastel floral print, with narrow pink ankle pants underneath; and a sleeveless top, a skirt that buttons down both the front and the back, and slim pants underneath, all in fuchsia cotton voile. This last outfit is, as he says, "something Lucy would wear."
The designers I talked to in writing this article came to fashion by various routes, some of them amazingly roundabout. Pernet went to film school; Ferguson ran an exercise studio; Yeohlee came from Malaysia, where she grew up determined to get to Seventh Avenue the way other kids are determined to get to Broadway. Only Villarreal and Stolman have design-school degrees. Oldham's training was acquired on the job, in the alterations department of the Ralph Lauren store in Dallas, where he learned "how to fix mistakes." But the best story by far belongs to Molnar, who assembled his first collection while working part-time in the plumbing department at Sears, Roebuck, in Detroit.
One Sunday he read an article in the paper about a man who had come from New York City, where he'd been Giorgio Sant'Angelo's assistant, to open a highfashion boutique in Detroit. Molnar went to see him, to ask his advice on how to break into fashion. Design your first collection, the man told him, get samples made, and take them around to the stores. Not knowing that fashion is organized by season, Molnar designed a line that included everything he could think of, ballgowns and bathing suits side by side, and paid a seamstress $40 to stitch up the samples. Then he started making the rounds of the local department stores, introducing himself as a New York designer in town for the day. The buyers he talked to weren't fooled, but one was impressed enough to place an order—Molnar's first sale. He went straightaway to see his mentor, to tell him the news. But when he got to the boutique, it was closed; the man had skipped town. It later emerged that he had never worked for Giorgio Sant'Angelo at all.
When Diane Pernet does a suit that calls Chanel to mind, or Yeohlee a sculptured evening dress in the manner of Charles James, or Todd Oldham an outfit inspired by I Love Lucy, it isn't a direct quote from the past but a comment on it. The past exists for this next generation of designers not as a refuge but as a source of ideas. The best new designers are critics, highly opinionated, with their own points of view, which they exercise in the clothes they make.
The privilege of being alive at any given time brings with it the responsibility to invent a style that in some way testifies to that time, its particular mixture of anxieties and longings. For most of the seventies, however, the trappings of the past looked as good as, if not better than, anything we could come up with ourselves.
Nostalgia for the days when the world was a cozier place to live often seemed the only logical response to the news we read in the papers, and designers accordingly rehashed the fashions of the twenties, thirties, forties, and so on. Like a lot of young women, I welcomed the opportunity to wear styles I missed the first time around—they may not have been new, but they were new to me. Even so,
I had a vague sense that by borrowing styles from other eras I was somehow betraying my own.
Fashion is primarily an urban pastime, a silent conversation between strangers that takes place on the street, at a party, in the lobby of a theater. These exchanges have gotten more spirited lately. What is being said in the clothes we Wear, for the first time in a long time, is that we're ready to come to terms with the moment and make something of it.