Can't Win for Losing
In western Colorado prosperity comes and goes, and the moving vans line up behind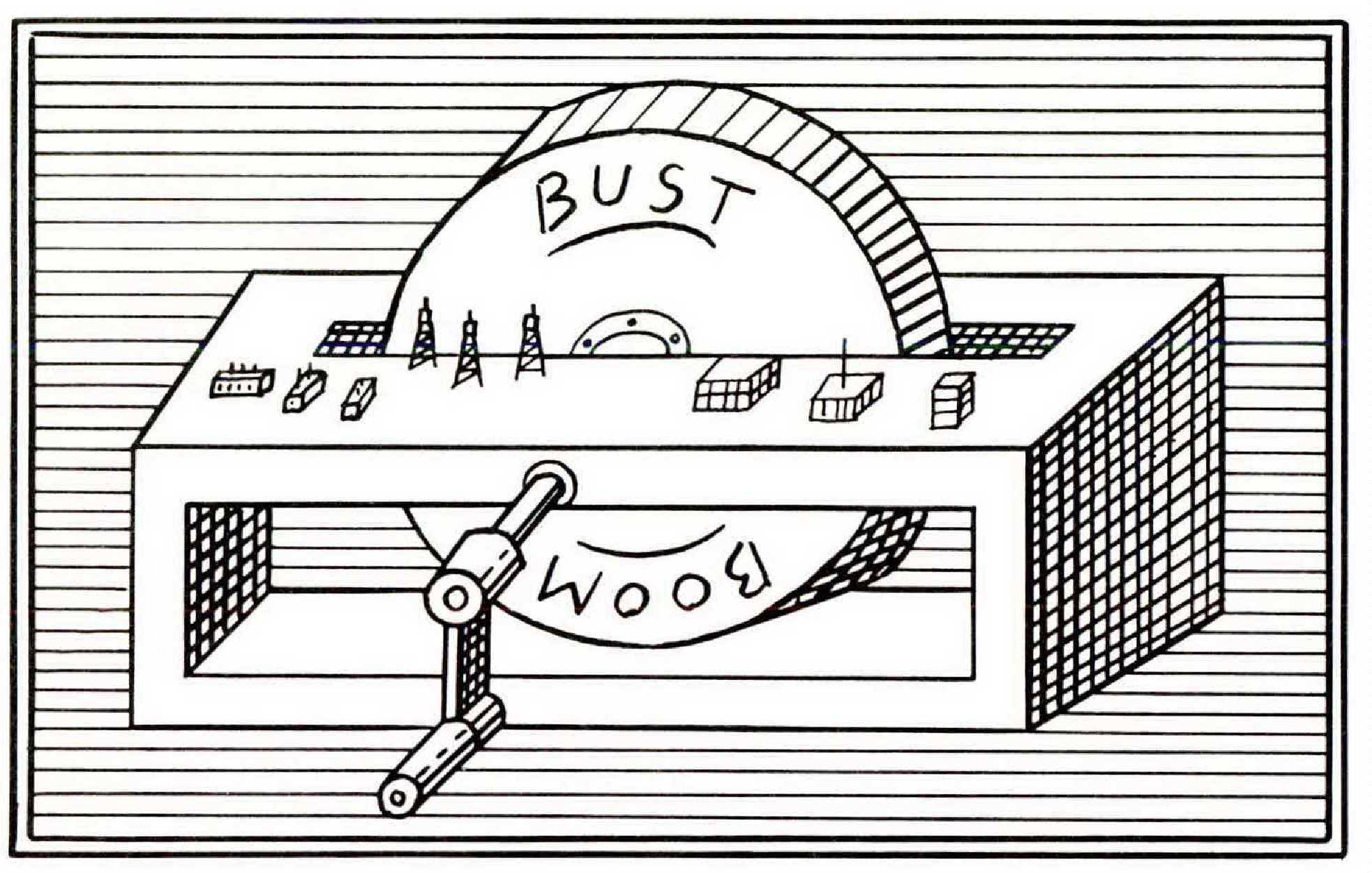 DURING THE past few years there has come into being an archetype of the dying American town, usually a mid-western town where a big manufacturing plant has laid off most of its workers or even closed. There is, though, another kind of dying town in this country right now, one that has not received much notice. just as the golden years of prosperity have ended in the industrial Midwest, so they have ended in those parts of the West and Southwest where oil and gas are produced. At the peak of the good times, in 1981, a giddy sense of boom as destiny pervaded life along a broad swath of the country from, say, Morgan City, Louisiana (a major point of embarkation for offshore oil rigs, and the place where Jack Henry Abbott was apprehended), northwest to Casper, Wyoming, in the Rocky Mountain Overthrust Belt. In Houston, the unofficial capital of the region, there was talk that a thousand people a week were moving to town, and a much-cited emblem of the Zeitgeist was a sign on a freeway that said BUSINESS CARDS IN EIGHT HOURS.
When oil prices began to drop, in the spring of 1982, the boom economy went into a slide that continues, less precipitously, today. House prices plummeted; office towers were left nearly vacant; state and local services were cut back; banks were taken over and auctioned off by the government.
A good candidate for hardest-hit town in the West would be Grand Junction, Colorado. In 1980 the Exxon Corporation bought a majority interest in an oilshale mining-and-refining operation outside the hamlet of Parachute, Colorado, in Garfield County, just over the line from Grand Junction's county, Mesa. Exxon began a vast synthetic-fuels project; of its $5 billion budget, $250 million was to be spent to build a 3,200acre, 8,000-housing-unit company town called Battlement Mesa. Grand Junction, forty-five miles away and, with 30,000 people, by far the largest town in western Colorado, was already booming from oil drilling and coal mining. Now it began to see itself as the Houston of synthetic fuels. On one of my visits to Grand Junction this past fall and winter a banker told me that in 1981 and part of 1982 Exxon had pumped a million dollars a day through the Grand Junction economy; the administrator of Mesa County ruefully showed me a story that had run in the Mesa County Daily Sentinel early in 1981 under the headline 1.7 MILLION PEOPLE TO REGION.
On May 2, 1982, a day now known in Grand Junction as Black Sunday, Exxon announced that it was pulling out. Oil from shale, being expensive to produce, is profitable only when the price of oil is high. In 1981 the spot-market price of a barrel of Saudi light crude hit $39, and there was talk of its going to $50 or even $100. Exxon had been counting on a price of at least $30. That spring the price began to fall. Today it's $28.
The poignant stories that immediately appeared in the press were about Parachute, where 2,000 people had been laid off and T-shirts that said EXXON SUCKS ROCKS could be seen all over town. In Grand Junction the mood remained optimistic, owing to the notion that destiny and the free-enterprise spirit, rather than Exxon, were propelling the town. A new airport was being built to support all the business traffic that still seemed sure to come. On Horizon Drive, the road from the airport to town, two large new office complexes and a number of hotels—a Hilton, a Holiday Inn, a Rodeway Inn, and a Ramada Renaissance, among others—were either going up or about to go up, all with the help of tax-free industrial-revenue bonds granted by the city. Farther in toward town on Horizon Drive work was starting on an eight-story luxury condominium project. West of town Mesa Mall, also backed by industrial-revenue bonds, was being completed. The biggest bank in town, First National, was building a new headquarters. The county was building a new bridge over the Colorado River. Out-of-town finance companies and law firms were opening Grand Junction offices. The school district had just finished building five new schools.
These more or less official manifestations of optimism were accompanied by myriad unofficial manifestations: the thousands of people who came to town, the hundreds who decided to take a flyer with their life savings in order to ride the boom to riches, the dozens of little realestate developments that sprang up throughout the thirty-mile-long valley in the middle of which Grand Junction sits. Without anyone's noticing, it had become impossible for Grand Junction simply to return to what it had been before the Exxon project had come along. People had bet so heavily that they would be taking a long, sweet ride on the economy that the degree of prosperity they had had in 1979 would in 1982 have meant ruin. The banker's optimistic loan would go sour. The carpenter who had moved his family from 500 miles away would be out of work. The doctor who had put his nest egg into building a couple of new homes "on spec" would be unable to sell them. The town had in effect raised the ante on itself.
IN GRAND JUNCTION 1982 was a year of decline slow enough that it was possible to believe that Exxon's departure was only a setback, rather than a disaster. But 1983 was worse: the decline continued, and at a steeper angle. The oil-and-gas business was in bad shape. So was coal mining. The Stouffer Corporation, after carefully considering Grand Junction as a location for a big new frozen-foods plant, announced that it had picked Springerville, Utah, instead. In May the town was shocked to learn that Robert Quimby, the president of the First National Bank and the husband of a former mayor, had killed himself. It was rumored that he had been under intense pressure from his superiors in the bank's holding company because of loans made during the boom which had since gone bad; whether or not that explained the suicide, the timing contributed to the spooked feeling in the town. In June the Colorado River flooded, and there was footage on national television of parts of Grand Junction under water. In the fall a proposed tax increase to improve the county schools lost by a three-to-one margin.
And 1984 was much worse than 1983. The most dramatic sign was the number of foreclosures on home mortgages. In Mesa County in 1981 there were 107 foreclosures; in 1982, 157; in 1983, 465. Last year there were 1,042, and another forty or fifty were recorded this past January only because there hadn't been time to process them by the end of December. Within four years the mortgages on one out of every twenty houses in the county were foreclosed—financial ruin on a scale not seen in most midwestern steel towns. By the end of 1984 the assets of the two biggest banks in town were down by a third from their peak, in the spring of 1982. Retail sales in the county were down by more than a third, and stores were closing nearly every week. The number of building permits issued was half what it had been two years earlier. Over an eighteen-month period four junior high school students committed suicide, the last of them on the day before the current school year began.
In 1984 the new hotels and office parks had occupancy rates below 50 percent. The number of boardings at the new airport declined steadily. The number of oil and gas rigs running in the county, once 350, dropped to thirty. On Main Street buildings that had recently housed the biggest stores—Penney's, Sears, and Montgomery Ward — remained unoccupied. There were 3,000 properties for sale in the valley, and the number of real-estate agents fell from 750 in 1982 to 450 by the end of 1984. Nine of the twelve mortgage-company offices in Grand Junction shut down in the first nine months of 1984. First National scaled its new headquarters down from eight stories to four. An 18 percent decline in Grand Junction's sales-tax revenue led the city to cut its staff and put off the construction of a new recreation center. The county restructured the repayment schedule on its bonds and in 1984 did no maintenance work on the roads. In November of 1984 the unemployment rate for Colorado as a whole was 5.5 percent; for Mesa County it was 9.5 percent, having risen a full point in October alone.
Even those people who still had their jobs were in a state of constant anxiety. Nearly all the homeowners in the valley had seen the value of their houses decline by 50 percent within two and a half years—a crushing loss for the many people who had bought during the boom, and a ride down the roller coaster for anyone who had owned the same house for many years and had seen its value double practically overnight. Everybody knew somebody with a commercial loan or a mortgage who was behind at the bank and getting by on good will and the hope that things would turn around soon. Life was filled with reminders of the bust. Nearly everything new in the valley had an eerie, half-deserted look. The paper seemed to bring more bad news daily: in December and January alone Safeway closed three of its five supermarkets in the valley, a small refinery laid off twenty-six employees, and Union Carbide laid off fifty. Another local burgher, the chief financial officer of a rehabilitation center, killed himself. A real-estate flyer I picked up had headlines like MUST SHELL NOW, TIMES ARE TOUGH, PRICK REDUCED! and NO DOWN NO QUALIFYING NO CREDIT CHECK. Exxon was becoming a distant memory, its departure nearly three years in the past—and still the economy seemed to be just slipping away. When would it stop? At the end of 1984 the most cheerful thing that one city official could say to me was, "I'm usually a pessimist, but I really think we're pretty close to the bottom!" This sentiment seemed to represent the most optimistic position that anyone in Grand Junction was willing to take.
GRAND JUNCTION was founded in l881 by George Crawford, who plied a trade peculiar to the American West—that of the professional founder and promoter of towns. The Colorado River was then called the Grand, and the Grand Valley was a treeless desert. Unlike most towns in the East, Grand Junction was started first and then given a reason to exist through assiduous hustling. People were enticed to the town from distant points by means of propaganda, the railroad was given eighty acres of the town's land outright and a half-interest in the rest as an inducement to send a line through, and irrigation projects were undertaken to create the possibility of agricultural development. Also, there was one mineral boom after another in the area—gold, silver, gilsonite, coal, oil shale (the first shale boom was in 1910), and uranium. In 1946, following the passage of the Atomic Energy Act, the Atomic Energy Commission built a research complex in Grand Junction. The early and middle fifties were the peak years of the uranium boom, with Geiger-counter-toting prospectors combing the hills. The boom went bust in 1958, when federal uranium subsidies stopped. (Vet another of Grand Junction's tribulations today is that because local builders used tailings from the uranium mines as landfill, parts of the town are radioactive.)
The uranium bust is Grand Junction's point of reference for the oil-shale bust: it seems quaint and reassuring, the way most long-ago reverses that have been overcome do. We made it then, the reasoning goes, and we'll make it now. That's the way things have always been. (A historical film produced to commemorate the county's centennial is titled The Boomers of Mesa County. ) The natural result of all of Grand Junction's experiences is a view of the local economy—and, by extension, of life—as wildly cyclical, with the ups and downs riding on long-shot promotional schemes, twists of fate, acts of God, faraway events, and even the weather.
When the gods are so fickle, what can a town do about bad times? Grand Junction's organized response has been pure, faith-healing boosterism. In conversation everyone looks to the Chamber of Commerce (and to its sister organization, the Mesa County Economic Development Council) to lead the town back to prosperity; 700 people showed up at a chamber meeting last summer. After the bust, the chamber hired a new president, who commissioned (for $60,000) a report from the Fantus Company, a Chicago-based consulting firm that had evaluated Grand Junction for Stouffer and found it wanting. Working the other side of the street, Fantus wasn't much kinder. It put to rest one of Grand Junction's dreams of glory, which was that it could become a center of high technology. Undaunted, the chamber commissioned a sweeping "Grand Plan" for development and hired a different consultant to raise from local businesses the $1.5 million needed to implement it.
The Grand Plan makes obeisance to diversification—to the painstaking development of an economic base, in the form of businesses to produce finished goods from local raw materials. But nearly every conversation one hears, after it runs through the part about not being dependent on one big, capricious industry anymore, turns to the possibility of a new boom. The feeling is that the relationship between the town's development efforts and prosperity is a lot like that between prayer and good fortune.
Grand Junction, people say, could steal the package ski tours bound for Vail and Aspen and Telluride away from the Denver airport. It could lure a really major employer. It could become a mecca for retirees, who would find its mild climate, abundance of vacant houses, and large number of doctors and hospital beds attractive. Or perhaps synthetic fuels will come back. While I was in Grand Junction, people were following the machinations of a House—Senate conference committee in Washington, D.C., as it hammered out a budget resolution in the last days before adjournment. The House version of the resolution had invalidated letters of intent issued by the United States Synthetic Fuels Corporation which had pledged subsidies for two multi-billion-dollar oil-shale facilities, to be operated by the Union Oil Corporation, Occidental Petroleum, and Tenneco. Although the Colorado delegation—diehard supporters of synthetic-fuels subsidies—saved the letters in conference, the letters by themselves don't guarantee that the subsidies will ever be paid.
In general the federal government is a far more palpable presence in Grand Junction than it is in eastern towns. It makes itself felt less as an oppressor of the individual or a dispenser of social welfare or the defender of the nation than as another possible conferrer of a boom. Every day the paper carries news about some kind of program that might directly benefit western Colorado: subsidized Amtrak service, military bases, water projects, grazing lands.
A MID THESE ELABORATE, organized efforts to deal with the West's economic vagaries, most people respond to the booms and busts in a much simpler and more direct way: they move.
Census data show that Grand Junction has always had a high rate of in-and-out migration. There are a few prominent old families in town—one owns a savings and loan, another runs a chain of grocery stores—but for the most part, to qualify as deeply rooted in Grand Junction, one need not have been born there. It's enough to have moved in before 1950.
People streamed into town during the last boom, most of them having been a little down on their luck and having heard that there were good times, and hence opportunities, in Grand Junction. During the hottest years average personal income in Mesa County dropped steadily—in constant 1978 dollars it was $8,900 in 1979, $7,500 in 1980, and $6,500 in 1982. For many of the new arrivals the lure was the hope of making money, rather than actual well-paid jobs. "If you screwed up in Denver or Salt Lake or LA, you'd come here," Mark Achen, the city manager, himself just moved from Gladstone, Missouri, told me. Almost all of the foreclosures in Grand Junction have been on second and third mortgages, indicating that the homeowners never really got their heads above water and were living on the easy credit that lenders made available during the boom because they too were hoping to cash in.
With the bust the county's population hemorrhaged. It peaked at about 95,000 in 1982; by mid-1984, the best estimates put it at 85,000, and the talk was that another 10,000 people would leave. The school system lost more than a thousand students between the fall of 1983 and the fall of 1984. Typically, the houses on which foreclosures were made were already vacant by the time the ax fell— the people had just picked up and left. Why not? I met a young man named Timothy Lee, who had been laid off by Safeway. He had bought his house for $48,000 in 1982. He said, "Now I'd be lucky to get thirty—if I could find a buyer. Without a job, it's just a matter of time till they foreclose."
There are no satisfactory data on where all the people who left have gone; the most popular destinations seem to have been Denver, Phoenix, and Colorado Springs, which is enjoying a boom in high tech and defense contracting and construction. There is, however, some information on why people have left. In 1984 the school board surveyed 500 families that were leaving town and found that in fifty the parents were dissatisfied with their jobs, in 350 the parents were out of work because of the oil bust, and in another hundred the parents had moved to Grand Junction without jobs, had never found jobs, and were leaving without having jobs lined up anywhere else.
This kind of mobility is casually accepted as a way of life in Grand Junction. At the office of Club 20, a promotional organization for western Colorado, I talked to Bill Cleary, Club 20's president, and John Vanderhoof, a former governor of Colorado who lives in Grand Junction. Cleary's son had had to go to a suburb of Denver to find work. "My son left too," said Vanderhoof. "He was with Mountain Bell here, and he was lucky to be transferred to the boom in Denver. The migration comes, and . . ." He waved his hand vaguely rather than finish the sentence.
Several times I heard people make impassioned, almost tearful defenses of Grand Junction and then say, well, of course, if things kept getting worse, rhey, too, would have to think about moving—often, moving again. Gary Carr, the community-relations director of the school district, had the most classically western life story that I heard: "My father was a contractor. I went to thirteen schools, all over western Colorado, eastern Utah, Nevada. That's a very prevalent way of life out here. My dad's rule was, anywhere within a 600mile radius he'd bid a job, and then he'd decide where to go based on the schools. He built a uranium mill once in Mexican Hat, Utah, and there was no high school there, so we moved back to Delta, Colorado, without him. He built a gold mill in Carlin, Nevada, during that time. Then we moved to Rifle. Then to Moab. Then to Silt. Several families traveled with us. They'd pack everything in the pickup. No roots."
What keeps this life going is partly mass restlessness but also a constant hope for the big score—or, if not the big score, some kind of score. That's at the heart of the culture of the West, especially the energy-producing West. For most people the big score will never happen, but everybody knows of somebody to whom it has happened. What radical historians call the "false promise" of American life is the shaping force in this social order. The idea of the big score is what has left so many ugly, built-overnight, long-abandoned enterprises—from motels to silver mines to ski resorts to entire towns—all over the West. It's what makes western congressmen continually pressure the federal government to create construction projects and the like, which are in effect petri dishes for the boom culture.
At the same time it's what makes the pose of rugged independence from the government so appealing to westerners. Per capita federal spending in 1983, the most recent year for which the U.S. Bureau of the Census has figures, was higher in Colorado than in Michigan, Ohio, or Pennsylvania. Nevertheless, President Reagan's talk of prosperity, opportunity, and a smaller federal government seems to suit western ears. The states where Reagan drew more than 70 percent of the vote last fall were all in rhe Southwest and West—regions that, on the whole, are not booming. (Mesa County favored Reagan by more than 70 percent, even though he has been no friend to synthetic fuels.) Since 1964, of the nineteen states between the 95th meridian and the West Coast, only Washington, in 1968, has given a Democratic presidential candidate a majority. Less government really isn't in the interest of westerners, and when it's presented to them in the form of cuts in the defense budget. Social Security, or porkbarrel projects, they don't want it. But the mythology of western independence is strong enough to affect the way people vote, and even the way they think about their lives.
BATTLEMENT MESA, Exxon's company town, is tucked, appropriately enough, into the slope of a huge mesa against which it looks pretty but insignificant. Across the interstate highway, along the far bank of the Colorado, sits the town of Parachute. Battlement Mesa is not finished—Exxon completed every building for which a slab had been poured before Black Sunday, and left the rest. What's there is sparsely populated, mostly by workers at Union Oil's shale project, nearby. Using the slogan "The Livable Mountain," Exxon is trying to market the development as a suburb of Grand Junction and of Glenwood Springs, which is forty-five miles away in the opposite direction. "Everywhere you look you'll see the grandeur of the West," the brochure says. That idea seems farfetched, but so, in hindsight, does the idea of a $5 billion oil-shale operation here. Sensible plans do not seem to spring to mind in this country.
Between Parachute and Grand Junction the highway runs next to the river, along the foot of the mesa. Where the mesa ends is the town—village is more like it—of Palisade. It consists of a few blocks of houses in the middle of miles of peach orchards (whose owners insist on calling themselves "peach ranchers"). Palisade is eight miles from Grand Junction, and during the boom developers decided that it could be profitably incorporated into Grand Junction's future urban sprawl, so several shopping centers and subdivisions were constructed in the area.
John Tasker, the finance director of Grand Junction, lives in Palisade, and his description of the bust's effect on his neighborhood was interesting enough to make me want to go see it. He said, "On my street, let's see. One family came here from Wisconsin—he's with a radio station—and they went to Kansas City. One family went back to Texas. One, a contractor, went to Colorado Springs. Another guy, a surveyor, came from California, and they moved to Houston. We had a couple that moved to Holyoke, Colorado—he was a propane-company driver who got laid off, and they moved back home. Another guy, who was a loan officer here, is a chef in Vail. The last house on my block—the guy makes microwave towers—they came from California; they're still here, but I think they're about to move to Salt Lake."
Tasker's street—Elberta Street, after the variety of peach—was one U-shaped block: a tiny development, the easternmost in the valley. The houses were two-story and had little Victorian touches (gables, porches, wooden fretwork) to make them look homey. The grass was just starting to grow in on the front lawns and in the space between the sidewalk and the curb. There was a generous sprinkling of vacant lots, and some of the houses had FOR SALE signs out front. Just around the corner, beside a new house on a thoroughfare called 37.3 Road, a pickup truck sat, the motor running and the bed filled with boxes. In a way it was a stage set, this neighborhood—an outpost of suburbia in the middle of peach orchards and nearly overwhelmed by the looming backdrop of the mesa. Still, it looked as if it could have been home.
—Nicholas Lemann