COMPOUND WORDS
Answers to the six "Compound" clues are not to be entered in the diagram. Instead, solvers must determine the two components of each of these answers and enter them in the diagram. It is left to solvers to figure out where these twelve components belong in the grid. Acrosses and Downs are normal. Answers include an unfamiliar word at 3 Down and five proper nouns.
The solution to last month's Puzzler appears on page 101.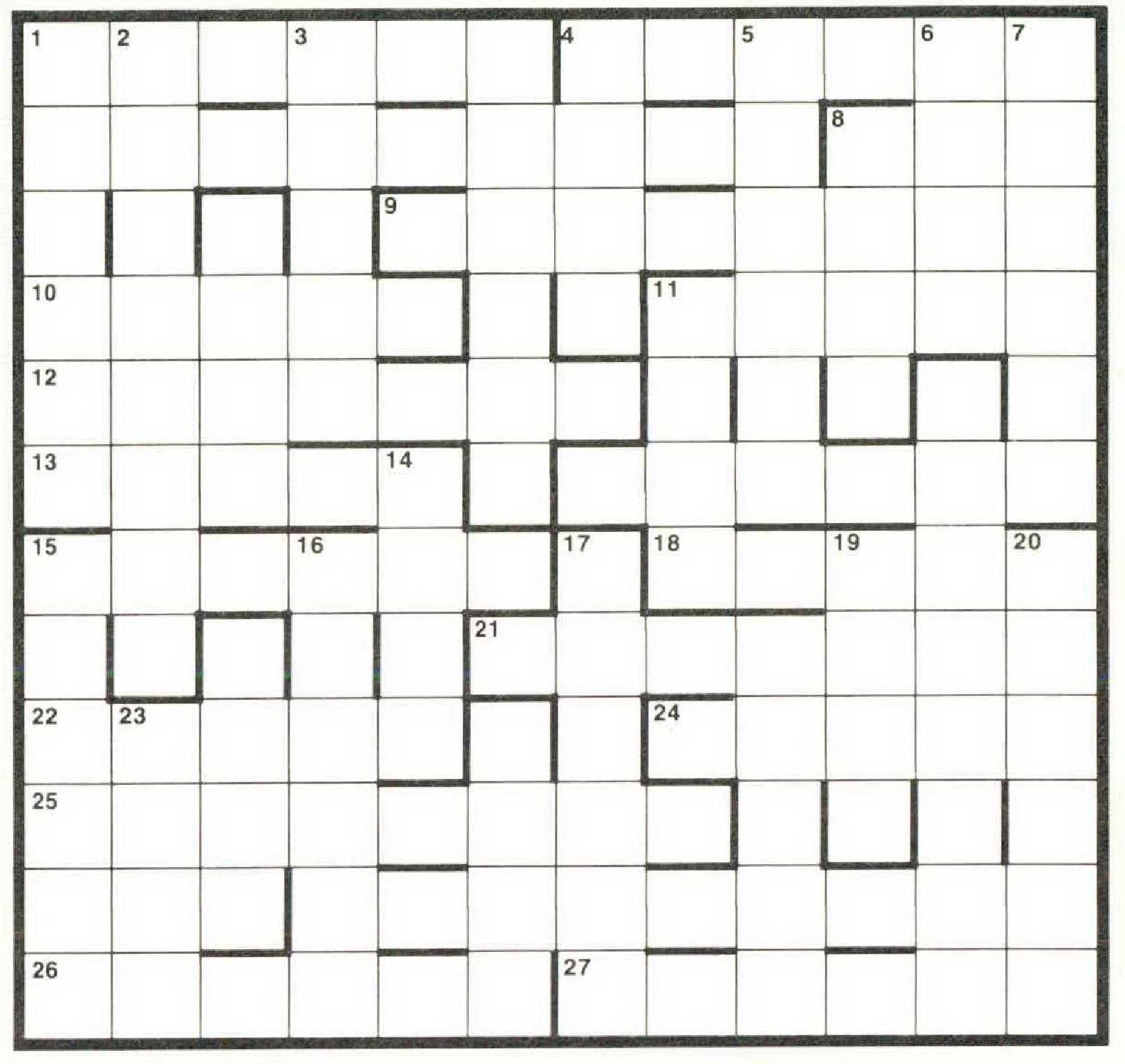 ACROSS
1. Dog has sleeping place in pen (6)
4. Arab, if moving to African land (6)
9. Perfect female criminal (8)
10. Opening one snare gripping squirrel's tail (5)
11. Modernize Descartes on women (5)
12. Wriggling out, I can give warning (7)
13. In conclusion, this writer is correct (5)
18. Dawn expressed sorrow (5)
21. Back cover to Madame Bovary showing predicament (7)
22. Figaro aria is interrupted by cheering (5)
24. Bird with hood on (5)
25. Hurry back with cloth carrier for infant (8)
26. Baseball team holding Simpson back gets order to stop (6)
27. Helps a crackpot with Hebrew letters
(6)
DOWN
1. Segment about USA's first channel
(6)
2. On Monday, motel in California has something spicy (8)
3. Musical hush in E.T. act—phony (5)
4. Research facility uplifted about a Canaanite idol (4)
5. Snake keeps general out (6)
6 Bread's said to react to yeast (4)
7. A distressed wren's echo (6)
8. Guard incline (4)
11. Space in boggy ground turned up (4)
14. Buck is expensive for audience (4)
15. Fictional detective half-gets rework
(6)
16. Mafia's code covers up disaster (6)
17. Jagger getting free in a cab (6)
19. Delivery service carries piece of mail for judges (4)
20. Stakes supporting northern French port (6)
23. Destroy bear, removing the head (4)
COMPOUND
a. Company turned in new ham flavor
(5)
b. Smile about one very loud beast (7)
c. Something aesthetic in tiny drink (7)
d. Sibling has mysterious Zen medal
(6)
e. Fresh, exercising endless energy (5)
f. Fix tacos in such a dish (9)
Note: The instructions above are for this month's puzzle only. It is assumed that you know how t0 decipher clues. For a complete introduction to clue-solving, send an addressed, stamped envelope to The Atlantic Puzzler, 8 Arlington Street, Boston, Mass. 02116.
Answers to the January Puzzler,
"LADDERGRAM"
The laddergram is: START-STARS-SEARS-SEEDS-SENDS-FENDS-FINDSFINIS.
Across. 1. BEDLAM (anag.) 5. S-YRIA (rev.) 9. TO(ADS)-TOOLS 10. SAG-S (rev.) 11.MUKLUK (homophone) 12. REEF (anag.) 13. L(EARN)-ED 14. SLEW (double def.) 19. U(R)SA 21. A(DDE)ND-A 23.SIN-G 25. BU(R)GLE 26.CELL(o) 27. A(DOLE(SCENT 28. NO-NET 29. VERSUS (hidden) Down. 1. B-A-SALT 2. DO-GEARS 3. LASERS (homophone) 4. ADORN (anag.) 5.STU(R)DY 6. Y(OK)ES 7. ROLE (homophone) 8. ASK-EW (we rev.) 15. LIN(D)ENS 16. EAGLET (anag.) 17. FEN-CER (homophone of sir) 18. DAL(L)AS (rev.) 19.(t)URBAN 20. ANGLE (double def.) 22. D(E)UCE 24. IRON (double def.)