PARTY OF EIGHT
This month's puzzle features nine unclued entries. Eight of these have something in common, which is identified by the ninth. (Of the nine unclued entries, one is a two-word phrase and one is a proper noun.) Answers to clues include two proper nouns, a British spelling at 14D, and less than common words at 18A, 19A, and 23A.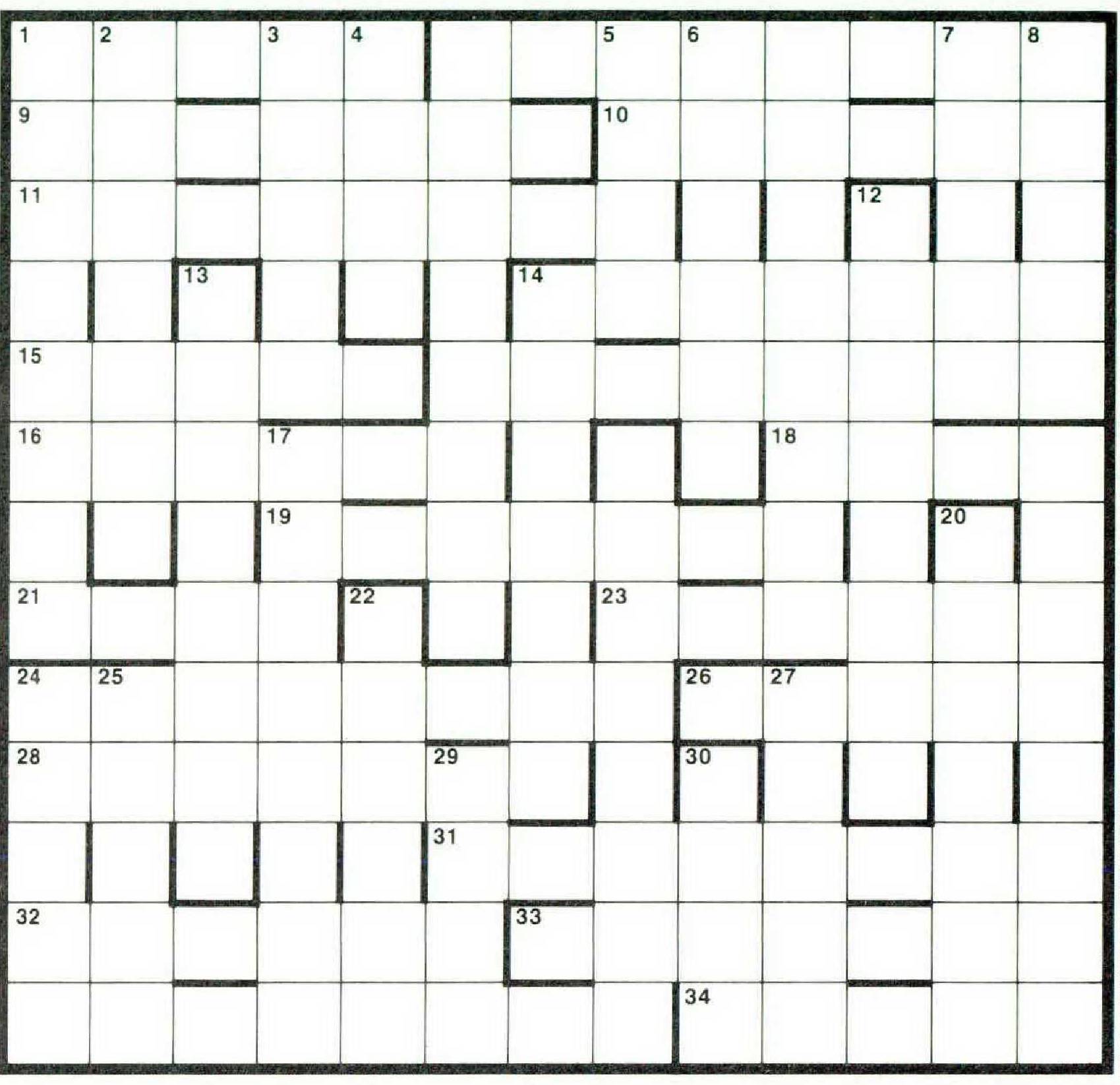 The solution to last month's Puzzler appears on page 149.
ACROSS
1.Smoothly cover great deficit (5)
9.Trusting Ivy Leaguer gets caught in storm (7)
10. After period of fasting, 1 left for food (6)
11. Worry and rage give out (8)
14. British stranger is more drunk (7)
15. "I Love New York" captures bit of raffish wit (5)
16. Chief idol and vessel returned (6) (two words)
18. Rest breaks, formerly (4)
19. A Virginia sailor's divine incarnations (7)
21. Small pale bird (4)
23.A runt I dressed in fur (6)
26. Priest I seated in victory coach (5)
28.Separate operator in one schedule (7)
31. Flying one by one into English river (8)
32. Bill is one who sings aloud (6)
33. Going off after hot fish (7)
34. Spy's ties (5)
DOWN
2. Army division maintaining right restraint (7) (hyphenated)
3. Rinse off horn (5)
4. Pronounced melancholy engulfs one (4)
5. General Grant's foe in elation (4)
6. Regeneration holds back desert (6)
7. Rouge that is going up and down (5)
8. Liberal in USSR snarled insults (5)
12. Churchman's greeting upset unusual church (8)
13. Very quiet detective device returned to singers (8)
14. Dub ape bits out of synch (7)
17.Suspended day fishing (8)
20.I am enthralled by Don Diego's crown jewel (7)
22. Caller again set back (6)
24. Playing Atari "Cow-Catcher" (5)
25. Quaker pretending to be writer (5) 27. Preface from Saint Rose (5)
29. A cad coming back to plantation (4)
30. Disallow second-rate taunt (4)
Note: The instructions above are for this month's puzzle only. It is assumed that you know how to decipher clues. For a complete introduction to clue-solving, send an addressed, stamped envelope to The Atlantic Puzzler, 8 Arlington Street, Boston, Mass. 02116.
Answers to the October Puzzler,
"TRICK OR TREAT"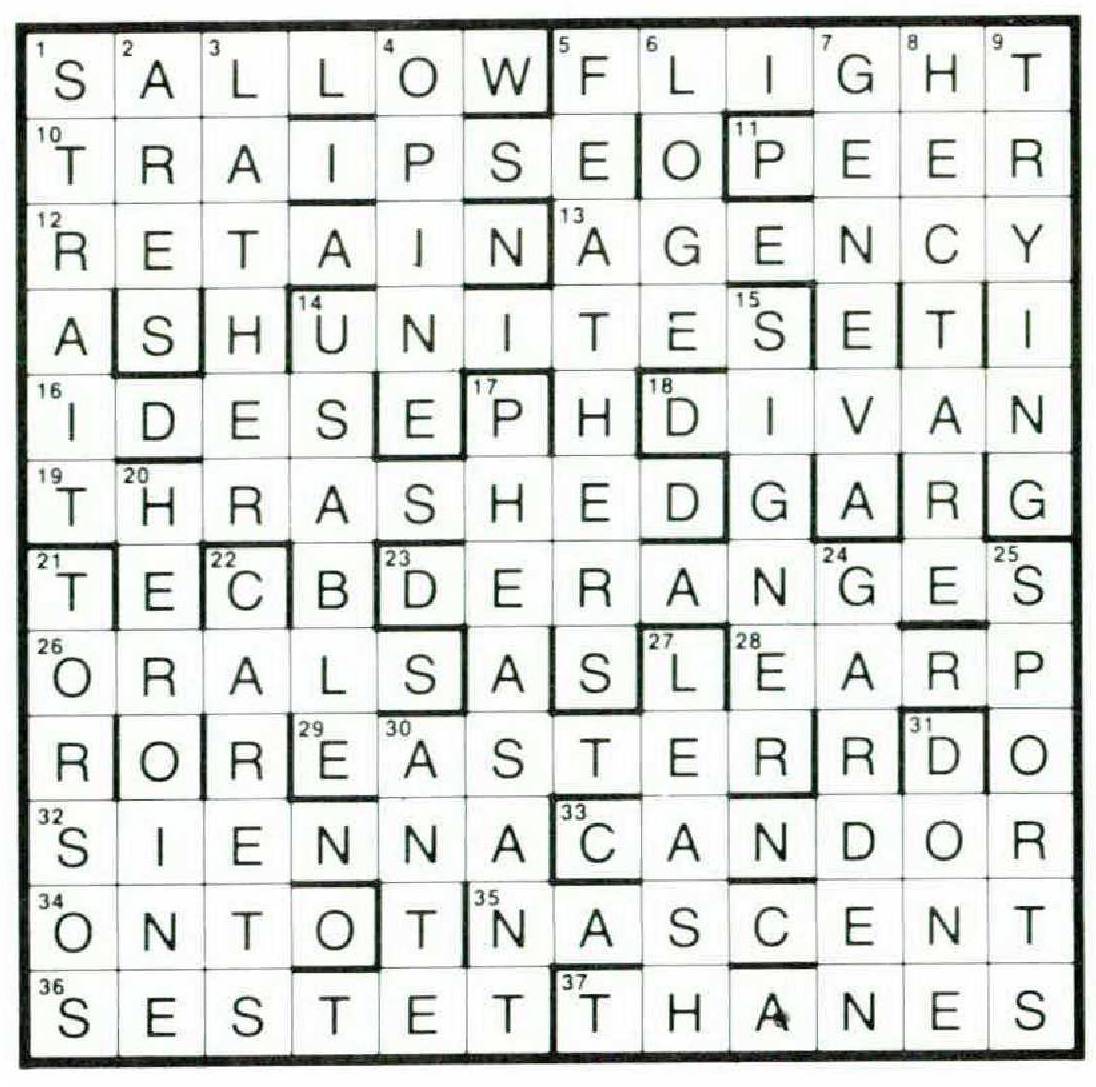 Across. 1. ALLOW (hidden) 5. LIGHT (double def.) 10.P(IRATE)S 11. PER (hidden) 12.TI-N EAR 13.CAG(N)EY 14. UNTIES (anag.) 16. SIDE (homophone) 18. DIVA (rev.) 19. TRASHED (tar anag.) 23. GRAND-EES (see rev.) 26. SO(L)AR 28. PEAR (homophone) 29. ASTER (anag.) 32. 1N(S)ANE 33. DACRON (anag.) 34. ON-O 35. AS-CENT 36. TSETSE (set anag. twice) 37. A(THE)NS Down. 1. A-R(TIS)T (sit rev.) 2. ERAS(e) 3. H-ALTER 4. PIN-E 5. FAT-HERS 6. LOG (double def.) 7.AV(ENG)E 8. TEACHER 9. TYING (hidden) 14. SABLE (anag.) 15. REIGNS (homophone) 17. PEAS-ANT 20. HEROH(I)N 21.ROO(S)TS 22.CA(R)TS 24. ARDEN (anag.) 25.S(POT)S 27. L-ASH 30.NE(A)T 31. DON (double def.)