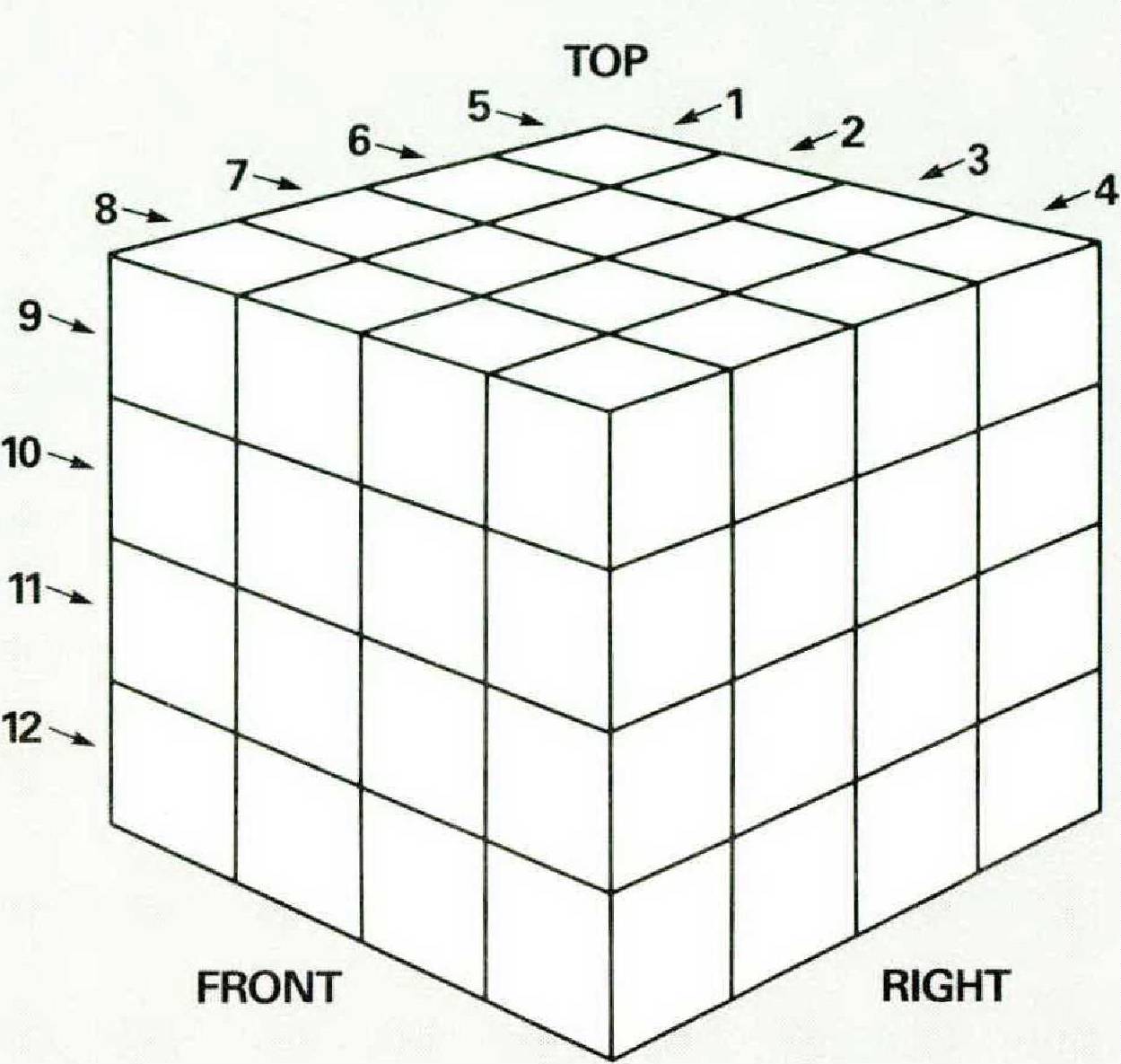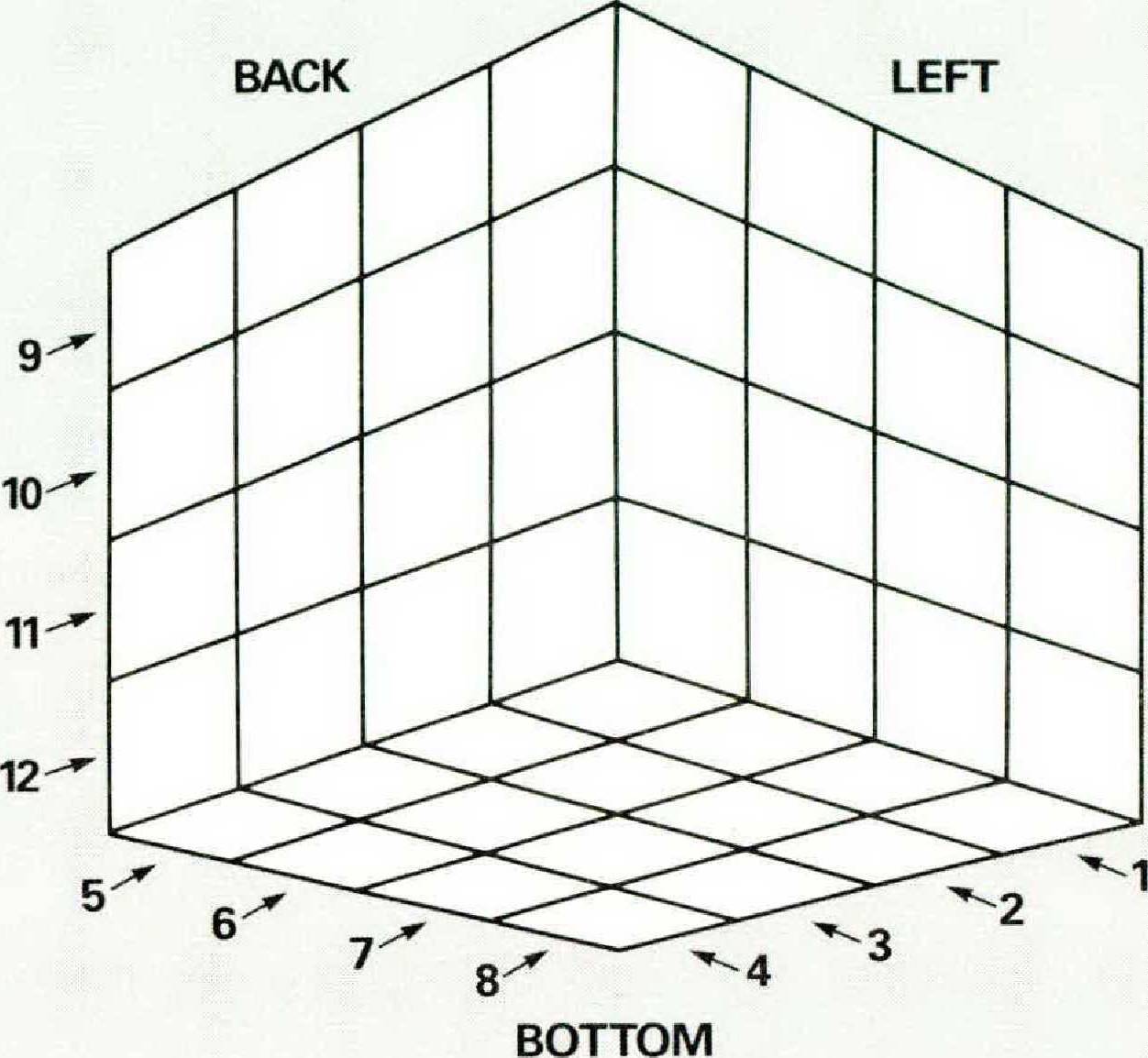 PUZZLE CUBE
This 4x4x4 cube (shown in two views) is crisscrossed by 12 continuous bands of 16 letters each, reading in the directions indicated by the arrows. Clues for each band (numbered 1—12) are given in the order in which their answers appear on the cube; but before you can find where each band begins you must correctly align it with other crossing bands. Answers include a variant spelling at 7b and seven proper nouns.
The solution to last month's Puzzler appears on page 129.
CLUES
1. a. Message in 3-D took a twisted route (8)
b. Short mutt with a sort of bone (4)
c. Audited Lou's place (4)
2. a. Box bobbed in mineral spring (3)
b. Storyteller of a current novel about love (9)
c. Stoic Buddhist circle (4)
3. a. Get more explosive rockets (7)
b. Jug band instrument absorbs monk community in Michigan (9)
4. a. Buck for a Colorado politician (4)
b. Frontal nudity is accepted by moral code of a certain culture (6)
c. Key lime I cut and twisted gently (6)
5. b. a. Chief part of the foot (4)
b. English queen has one ton of cash (8)
c. Essay about old city' in Asia Minor (4)
6. a. Mountains of a chain shifted during shocks (12)
b. College student is bullied heartlessly (4)
7. a. Choose a variable tool (6)
b. Showy horse has Italian food aboard ship (10)
8. a. Furnish more than enough for flying east (4)
b. Cook raspberries with packaged vegetables (5)
c. a. Live in brand-new tower (7)
9. Give money in return for bark (3)
b. Catcher of fish is fortunate (4)
c. Burden I prepare to take off (4)
d. In discussion, modify church structure (5)
10. a. Baby-talks in public school, clutching infant's toy (8)
b. Going after a jolly time, unendingly squirt flower (8)
11. a. Cook has end of plume stuck in chapeau (4)
b. Chop hole in the ground around front of cave (5)
c. Engineer sees about cover leaks (7)
12. a. Much-admired man died king of Palestine (5)
b. Fit teaspoon into bronze drink (7)
c. Sailing ship's beam (4)
Note: The instructions above are for this month's puzzle only. It is assumed that you know how to decipher clues. For a complete introduction to clue-solving, send a self-addressed, stamped envelope to The Atlantic Puzzler, 8 Arlington Street. Boston. Mass. 02116.
Answers to the August Puzzler, "ABC"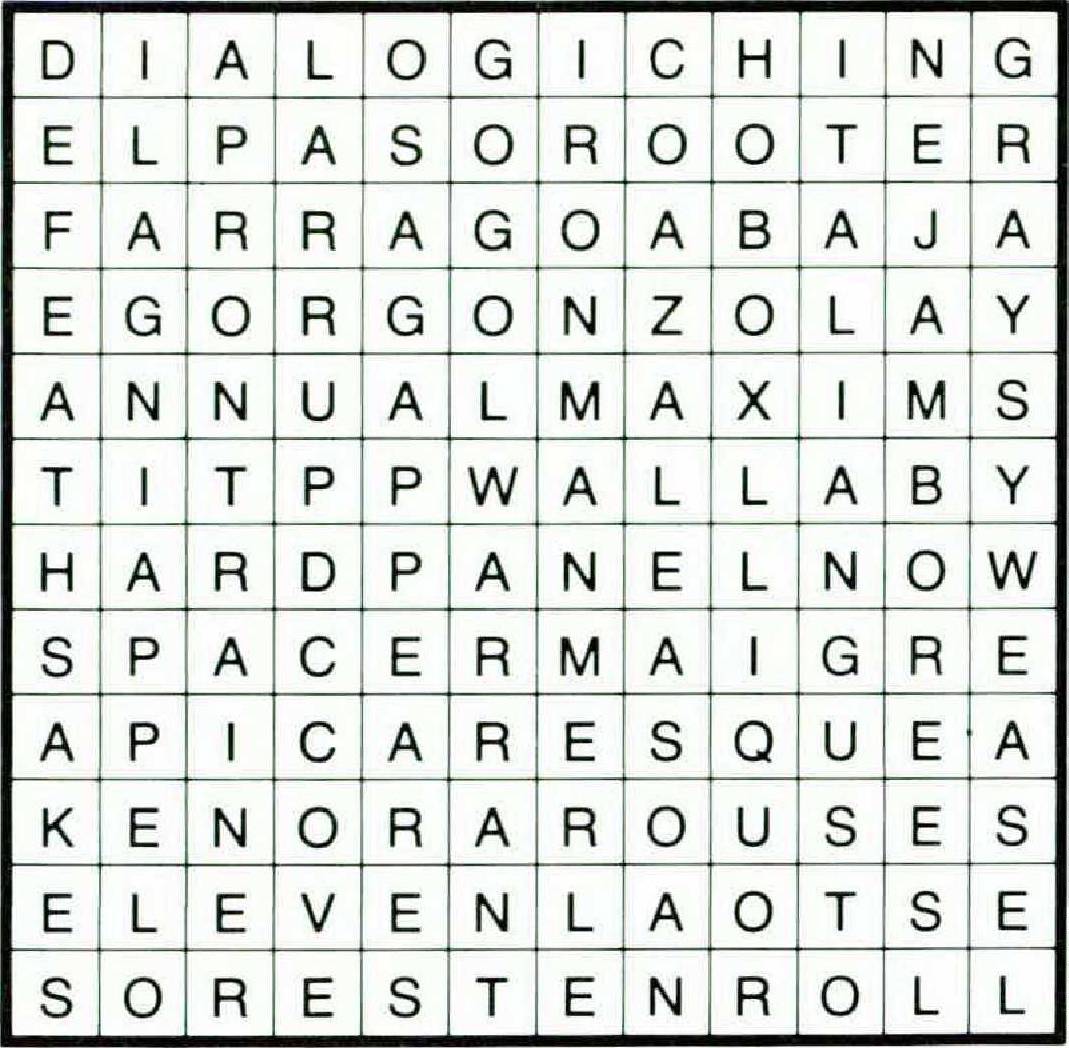 1. COVE (double def.) 2. BAJ-A (rev.) 3. KEN-O 4. HO-B-O 5.GOGO-L 6. SAKE'S 7. GRAYS (homophone) 8. MERLE (hidden) 9. A(PRO)N 10. GUST–O 11. LAOTSE (anag.) 12..ROOTER (double def.) 13.W-EASEL 14. A-P-PEAR 15. MAIGRE (anag.) 16. DIAL-OG (rev.) 17. ANNU(A)L 18. LARRU-P (anag. + p) 19. EL-EVEN 20. A-ZA-LEA 21. ENROL-L (Lorne rev.) 22. LIQUOR (homophone) 23. EL PASO (anag.) 24. MA(X)IMS 25. DEF(EA)T 26.SPACER (rev.) 27.1 CHIN-G 28. SO-REST 29. TRAINER (anag.) 30. FARRAG)0 (Afro anag.) 31.I-T(ALI)AN 32. WALL-A-BY 33.IR(ON M)AN 34. (C)AROI SES 35. HARDPAN (anag.) 36. WAR-RANT 37.LAGNIAPPE (anag.) 38. JAM(BORF.)ES 39. PI(CARES)QUE 40. GORGON ZOLA