What we're building and buying in the eighties
BY PHILIP LANGDON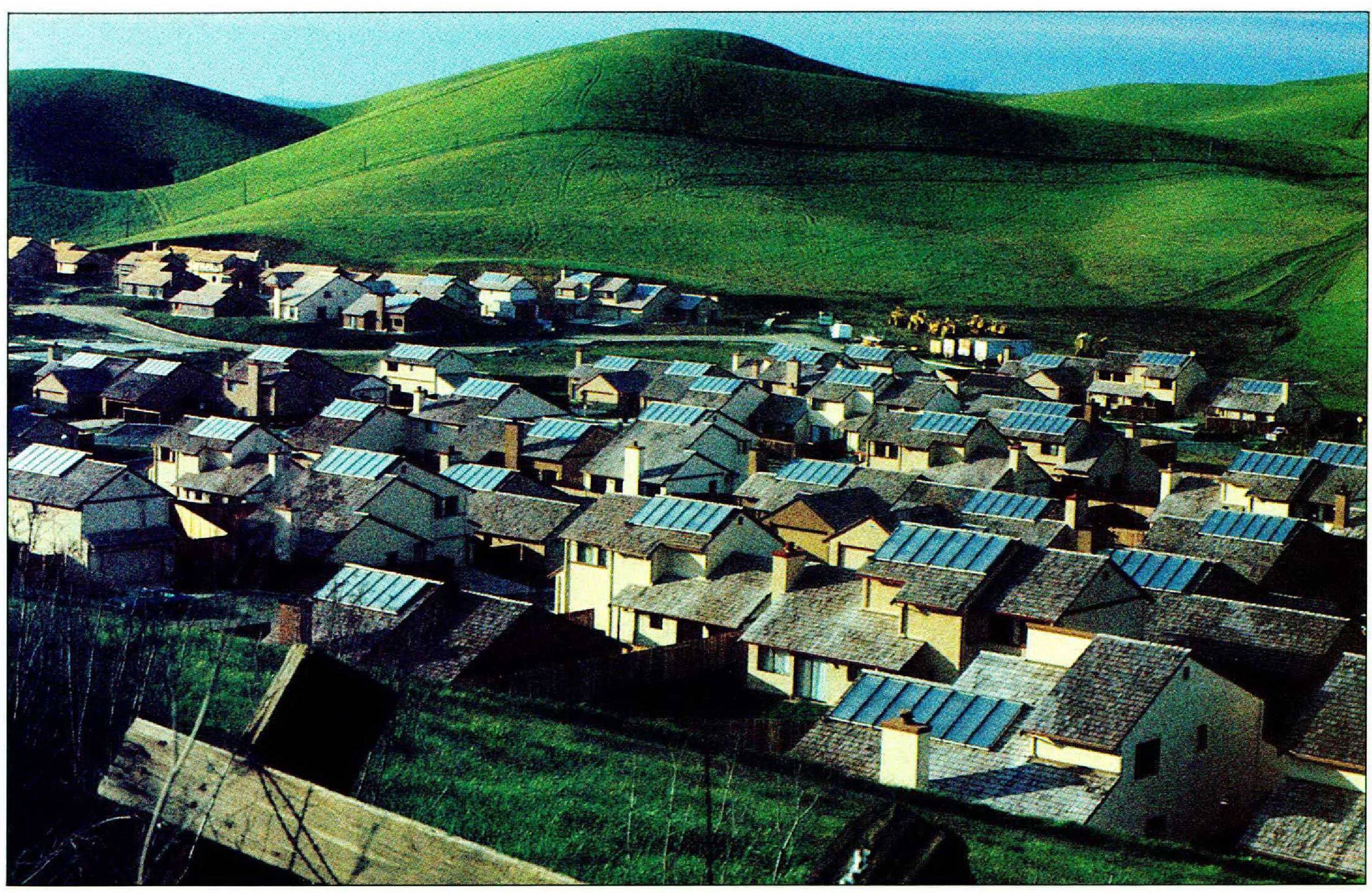 How WELL CRAFTED ARE TODAY'S HOUSES? HOW ENergy-efficient are they? Has housing changed significantly to accommodate singles, working women, the elderly, and other elements of society in the 1980s? In what ways are Americans' houses improving, and in what ways are they getting worse?
I began searching for answers to these questions early last year. My first stop was a national convention of homebuilders in Houston, where construction costs and whirlpool-equipped master-bedroom suites were among the major preoccupations. In the months that followed I checked on 486-square-foot condominiums in Silicon Valley, a house in upstate New York that operates without a furnace, houses on top of an office building, houses embedded in the earth, factory-built houses, solar-heated houses, log houses, and houses of unsurpassed luxury.
Many of the people I talked to said that this was a bad time to look for the new or adventurous in housing: most builders had been more intent on surviving in an uncertain economy than on innovating. As I traveled the country, it became apparent that these cautionary observations were correct in a superficial way: there wasn't a lot of daring being displayed on the exteriors of new homes. Where a new aesthetic was being tried, it usually took the form of a variation on traditional architecture rather than an attempt to evoke a high-tech future.
Those who build houses are reverting more and more to historical styles. After forty years of the back yard as the main place for outdoor relaxation, the front porch has returned, if only for appearance's sake. A revival of Victorian taste has occurred all over the country, in the work of leading architects and ordinary contractors alike.
In California, a state long known for its success with contemporary design, I drove over the hills east of San Francisco Bay and into the tan eastern foothills of the San Ramon Valley. There, 700 houses have already been built in a 5,000-acre development called Blackhawk, where there are planned to be 2,100 houses selling for from $300,000 to more than five million dollars.
As I passed through Blackhawk's landscaped entrance I realized just how effective traditional architectural forms are at showing off newly acquired wealth. At the end of a cul-de-sac bordered by sandbags that had combated the spring rains, I looked up at an enormous neo-Victorian house complete with a tower, many gables, and a profusion of painted white latticework.
Only a few of the houses built so far at Blackhawk are Victorian, but nearly every one makes ostentatious use of traditional architectural elements: sidelights of leaded glass, stained-glass windows in unusual shapes, cascades of roofs with a surfeit of dormers. "Our major costs go into the roof," William DeBene, one of the builders, says. "That creates the uniqueness and appeal of the housing."
What has arisen, and not just at Blackhawk, is a new picturesque movement in domestic architecture. An intricate cleverness marks much of America's newest housing. The architectural features being revived from earlier times are often used with a new twist or with such intensity that the resulting houses look anything but quietly settled. In many expensive subdivisions and in the influential pages of Progressive Architecture the spirit that prevails is "Look at me!"
Designers for the prominent firm Centerbrook, formerly Moore Grover Harper, in Essex, Connecticut, say that by using traditional elements in untraditional ways they have put playfulness into houses. Playfulness seems a peculiar attribute to give something that will stand as long as a house will. It's like telling the same joke day after day: the effect wears thin.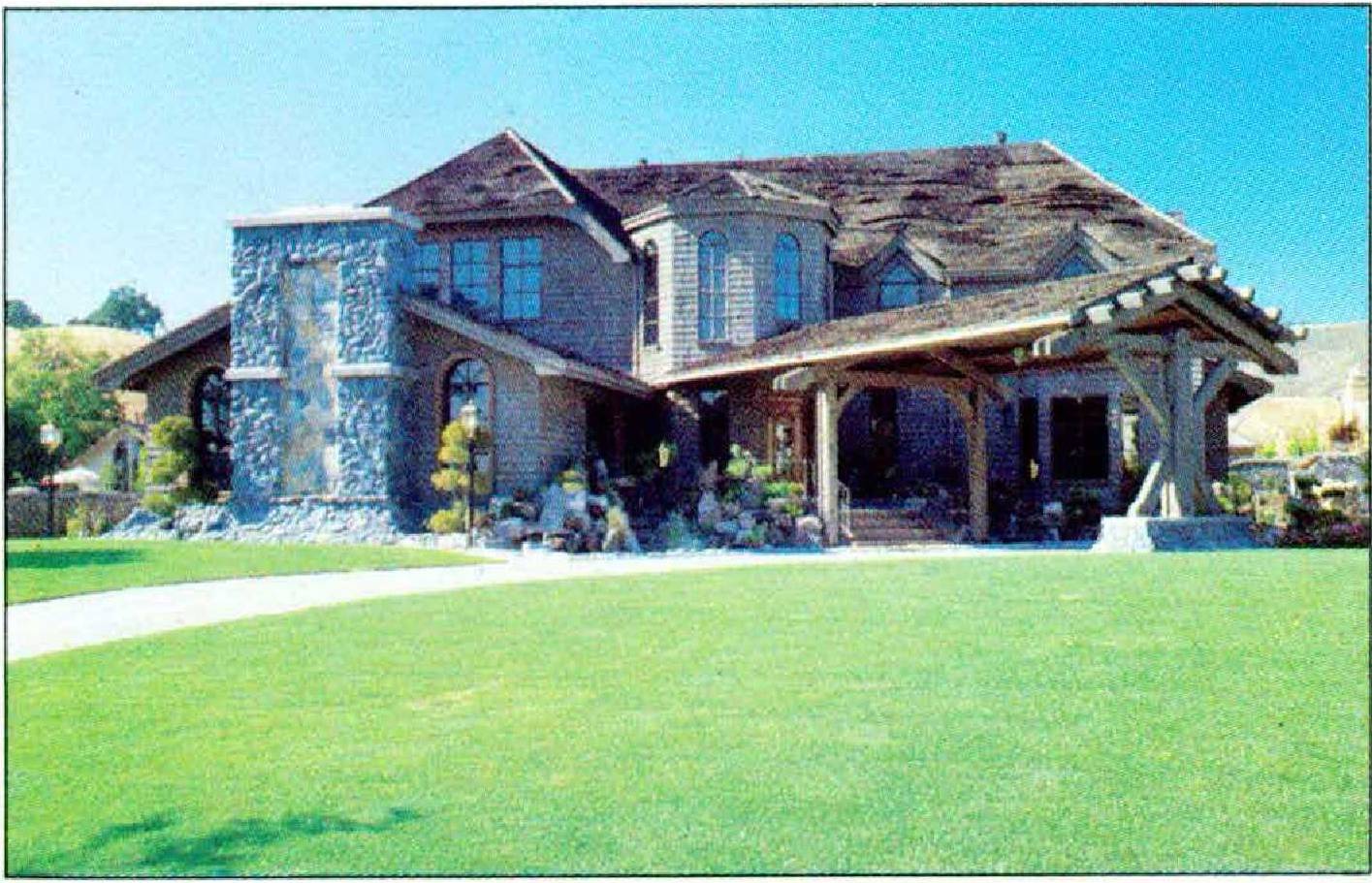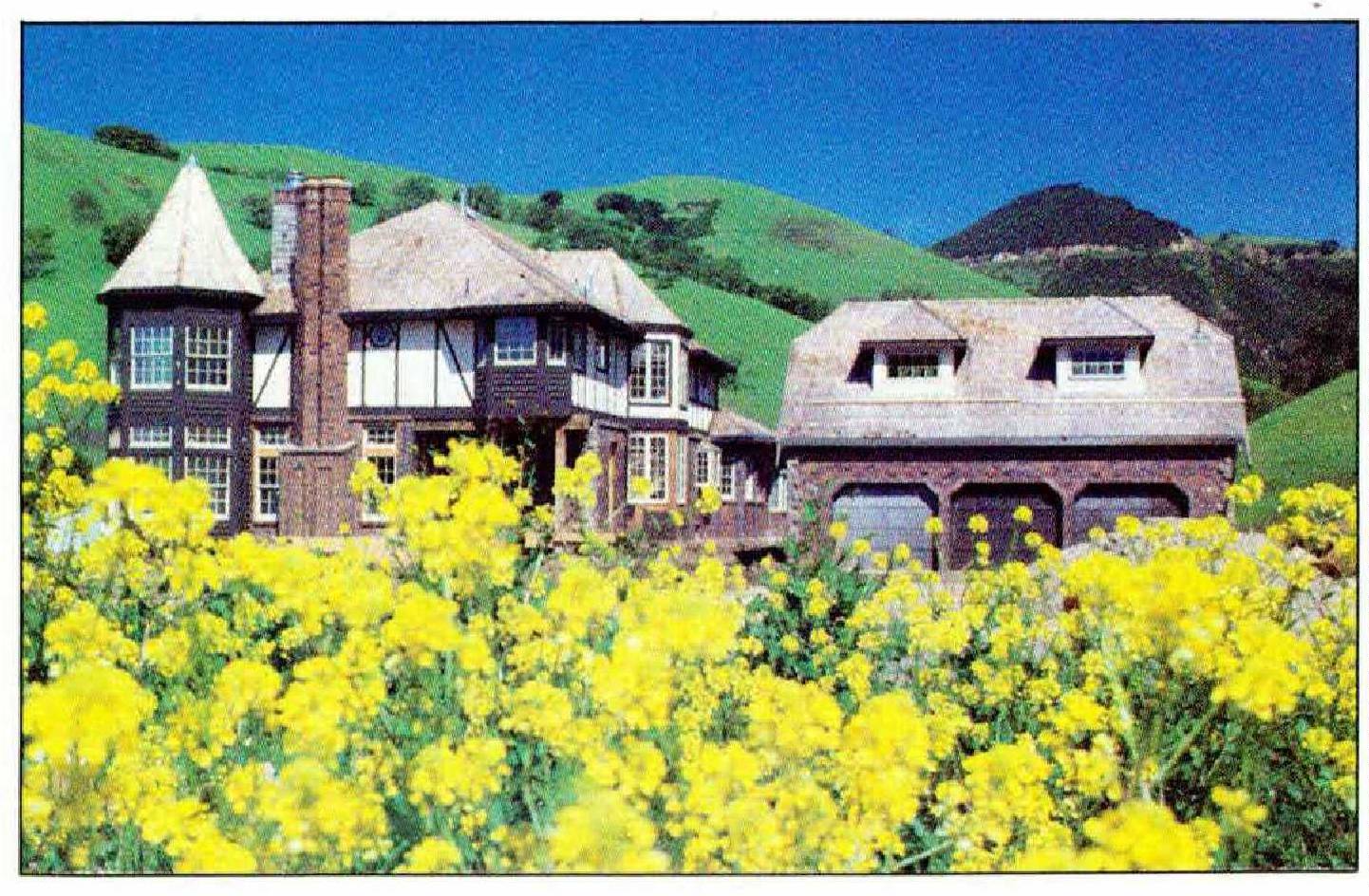 Indeed, outside the circles of high-fashion postmodern architects with a penchant for irony, playfulness does not sell well at all. The intention of the builders at a development like Blackhawk is considerably different: this is straight-faced stuff. "The builders' use of visually complex, traditional forms is meant to convey emotional power, and it does so for the simple reason that an elaborate house seems bigger, more lavish, more expensive.
Neither playfulness nor a lavishness inspired by tradition was supposed to be a fundamental concern of American housing in 1984. When the Arab oil embargo struck the United States, in 1973, a number of architects envisioned a new kind of design: the solar house, built and sited to soak up the sun's warmth through the day and to draw from that supply during nights and cloudy periods. Architects began to make use of the sun the overriding consideration in their designs. In Concord, Massachusetts, Acorn Structures still produces contemporary houses with solar-collector panels on the roof. The panels' fiber-glass top surfaces are wavy, partly to enhance their structural strength but also because the waviness creates a distinctive and conspicuously solar appearance. Even today, some people like their solar obvious.
Most designers, however, have become less enamored of the "solar look."Solar architects showing slides of their work from the mid-1970s frequently act as if they're confronting a period of youthful fanaticism, now cooled. Overall, today's solar homes look much more relaxed about their reliance on the sun. In a house in the Catskills that Paul F. Pietz designed, there is a great south-facing sun space, but its glass is divided into traditional smallpaned windows culminating in an exuberant arch. The shapes and the shingled walls give the house a Queen Anne character. Jefferson B. Riley, of Centerbrook, designed a house at the edge of Long Island Sound in Guilford, Connecticut, whose heat comes largely from collector panels placed at arm's length—on an adjacent wedge-shaped gazebo. Their visual impact is softened by cedar shingles. In the densely suburbanized hills above Benicia, California, north of San Francisco Bay, sits a subdivision called The Village. Houses in The Village satisfy some of their energy needs through active and passive solar design. Indeed, the solar features are so important to the marketing plan devised by the developer, the Southampton Company, that the models are named Mercury, Saturn, Venus, Jupiter, Orion, and Apollo. And yet the designs show an awareness that innovations, especially innovations brought on by scarcity, must not disrupt longheld notions about a home's appearance if they are to be accepted in a mass market. "When you're in a cul-desac, you don't see the panels," Victor Freeman, a partner in Southampton, says. "We don't want to make this look like an alternative-lifestyle development."
A house in Florida has different goals: near Disney World, Roy Mason, a Washington architect, has built "Xanadu," which he unabashedly describes as "the home of the future," a dwelling shaped by technology, distinguished by curves and bulges on the outside and sophisticated electronics on the inside. It was constructed by spraying plastic foam onto large balloons; Mason calls the resulting form "organic." In truth, this is an outdated vision of the house of the future. Odd shapes enjoyed their heyday in the late fifties, when Eero Saarinen could design a hockey rink at Yale with the contour of a whale. Enthusiasm for novel space-age or even organic shapes is virtually dead now.
Note the failure of the geodesic dome to win widespread acceptance. Last spring, as southeastern Pennsylvania was coming into bloom, I followed a winding road outside Philadelphia to the executive offices of U.S. Geodesics, one of the largest of America's approximately twenty dome-home builders. U.S. Geodesics, with a Texas affiliate, turns out about 200 domes a year, a negligible figure in a country that produced 1,062,000 housing units even in 1982, a severely depressed year.
The dome industry remains in a missionary stage. Many of the people who sell domes got into the business because they believed in domes enough to build them as their own homes. They have to convert others from conventional housing, and it is hard to make converts. Even if the unusual look and the unique room configuration of a dome appeal to the prospective buyer, dome houses are not inexpensive. If cost per square foot is your main concern, says John Reshetar, president of U.S. Geodesics, you're better off buying a basic ranch house.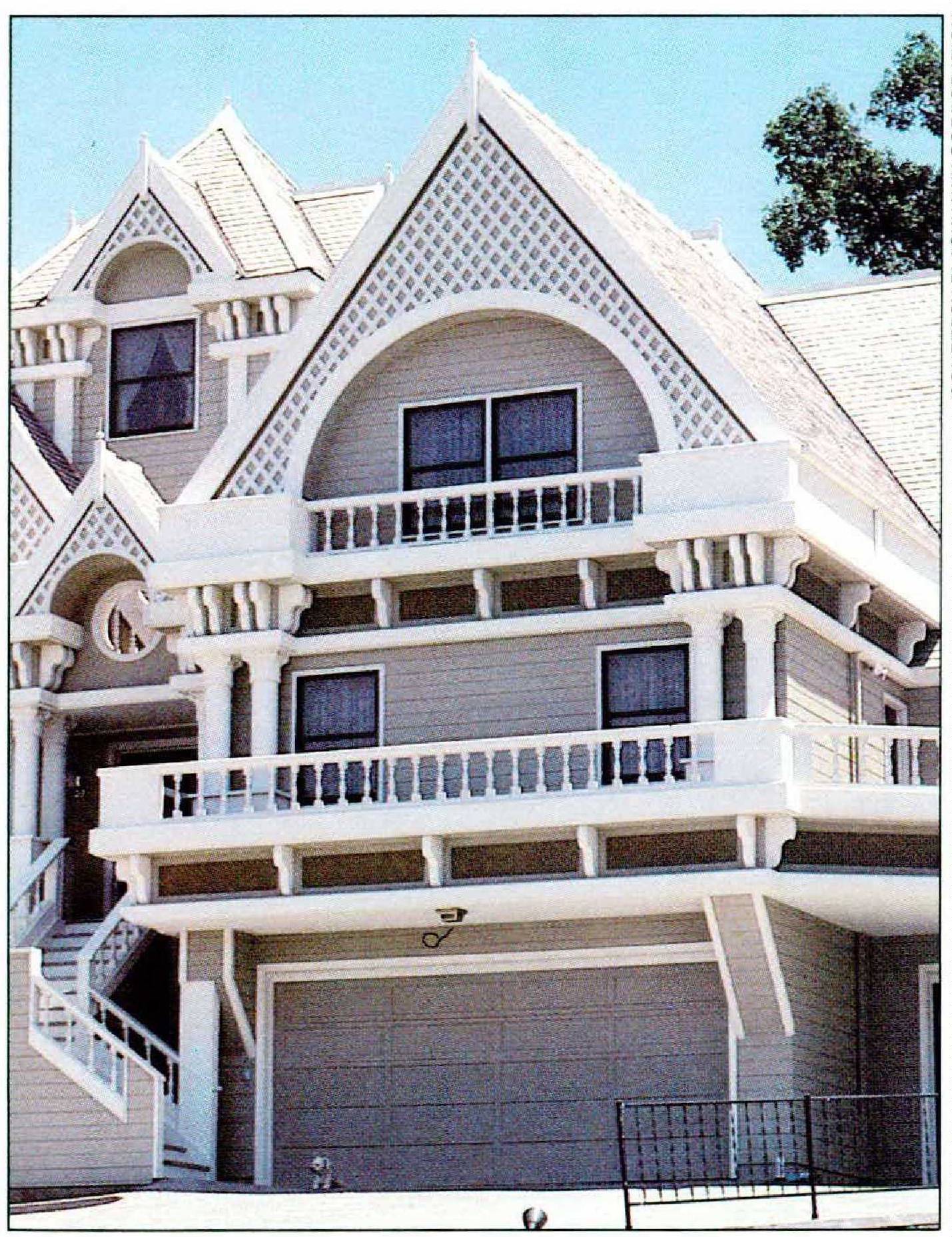 The cheapest of all is the mobile home, which a decade ago was capturing an increasingly substantial share of the market. In 1972 one of every five new homes was mobile; 576,000 were shipped from Indiana, the mobile-home heartland, and from other states. And then the surge ended. In 1983 mobile-home manufacturers shipped 295,000 units—less than 15 percent of America's overall housing production. More than a quarter of them were double-wides, intended to simulate the layout and proportions of a standard contractor-built house. Astute manufacturers are embarrassed by the "trailer look"—the bowed front, the flat metal roof, the narrow sliver of living space. They would rather their product look like "regular housing."
The quest for a conventional-looking factory-made house has come closer to succeeding in modular housing. Typically, a modular factory turns out a series of boxes, ranging from twelve to fourteen feet wide and from twenty-eight to fifty-six feet long, and these boxes are assembled into a house. One of the first things pointed out to anyone who visits a modular-housing plant is how hard it is to tell a standard home built on site from a home put together from components made in forty-eight hours in a factory.
At Contempri Homes, in the blackened, strip-mined countryside near Scranton, Pennsylvania, the storage yards outside the plant are lined with boxes that hold special truss roofs. On the highway the roof remains folded down to pass under bridges, but when it arrives at its destination, it is unfolded and takes the pitch of a typical site-built roof.
At the largest modular-housing company in New England, Continental Homes, in Nashua, New Hampshire, a sales lot near the executive offices displays two furnished models: a ranch-style house and a two-story house with a gambrel roof. A few years ago a one-story house was all that modular manufacturers could produce. Then they mastered bi-level, split-level, and two-story houses. A two-story house is made by joining two boxes side by side and then putting two more boxes on top. Manufacturers are learning how to connect the boxes to form townhouse and apartment projects three stories high. They hope that efforts like these will help modular housing to increase its share of the market above its current four percent. Many hold an unshakable belief that anything that looks unconventional will be regarded as inferior.
MOST FAMILIES ARE PRICED OUT OF THE NEW-HOME market and have been for years. In April the median price of a new single-family house rose above $80,000—an increase of 24 percent since 1979, even though houses built this year are probably slightly smaller than those of five years ago. From 1979 to 1983 the median house size slipped from 1,650 to 1,580 square feet.
During the recession in 1975 there were attempts to bring new houses within the financial reach of more people by eliminating such "frills" as fireplaces. The austere dwellings that resulted were called "back-to-basics" houses; by the time they had been on the market several months, they were also called failures. Perceptive builders learned that rather than buy houses stripped of elements they expected, people put off buying any housing at all. The strategy for the eighties, then, was to reduce the square footage of the house or the land or both without making the final product seem impoverished or peculiar.
No builder has devoted greater attention to this squeezing-down than Barratt, a British company described by its executives as the largest builder of private homes in the world. Barratt began moving into California in 1980, buying established American home-building firms. From England it brought its experience in constructing tiny housing units to be sold to singles and couples—Studio Solo and Studio Duo, the company calls them—who can't afford large ones but would rather own than rent.
There was an unusual amount of opportunity in California. The booming job market in Silicon Valley had pushed up real-estate prices to such an extent that San Jose had become the nation's fourth most expensive metropolitan area for owner-occupied housing. Where were lower-echelon workers to live? Barratt, recognizing that a portion of the housing market was not being served, estimated how much a single person or a couple in their twenties could afford to pay, and designed housing to fit that budget. The result was condominium units in San Jose containing as little as 486 square feet.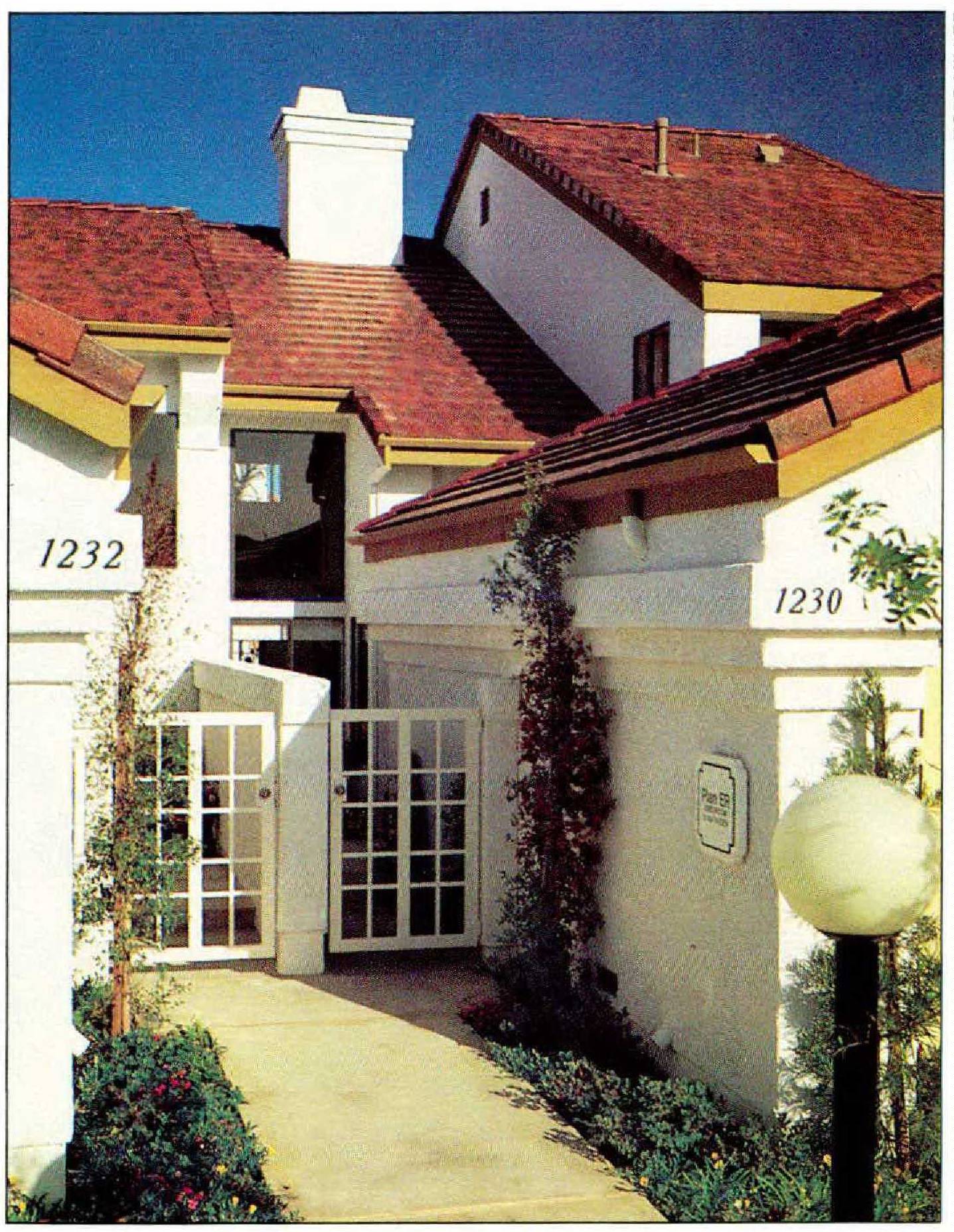 In a noisily commercial area a few hundred yards from the Guys & Dolls Lounge, the San Jose Hotline Thrift Store, and a tired-looking barbecue stand, I walked through one of these condos. It was a short walk; for $49,950, you get to sleep in your living room on a rollout bed. The condo did not feel quite as small as it is. Windows placed so that your attention easily extends outward are a visual antidote to claustrophobia but an only partially successful one, since the vistas consist in large measure of driveways, a drainage canal, and neighboring condos. A chest-high partition is all that separates the kitchen and the living room, so that both rooms feel somewhat larger. Joseph Head, the director of Barratt's Bay Area operations, says, "Four hundred eighty-six square feet for most people is a perception situation rather than an actual situation. You can make it as good as six hundred square feet."
Head says that Barratt's designers asked themselves, What are the hallmarks of conventionality? What features are most strongly associated with homeownership? Thus they called for a washer and dryer in each dwelling rather than the shared laundry room typical of apartment complexes. Appliances are smaller than normal, but closets are not. The bathroom, as well as the tub and shower, is standard-sized. Each unit has a small patio or deck, and a garage underneath: cars are important. Barratt has spent money on overhangs and projections that give the front of the complex (but not the back) some character and soften what would otherwise be a spartan appearance.
Such small condo units outside of a city full of high-rises have to be considered experimental. Yet there is little visible acknowledgment that buyers are participating in something unusual. These tiny units come with all the reassuringly familiar associations that interior decoration can summon up. On the kitchen wall of "The Buckingham,"a one-bedroom, 576-square-foot unit selling for $63,450, hangs a drawing of a kitchen from long ago. In the drawing a curtain blows at an open window. On the windowsill a pie cools. Outside the window is a white picket fence. This idealized slice of domesticity is even dated: a calendar says Wednesday, July 13, 1904. The real view from The Buckingham is nothing like the picture, of course, and even if it were, life within the condo's twenty-bytwenty-nine-foot confines would bear little resemblance to life at the beginning of the century. In this complex, called Castlemont but far removed from genuine castles and mountains, the developer's task is first to innovate and then to disguise the innovation with an atmosphere of pleasant familiarity.
In Fremont, several miles north of San Jose, Barratt has produced condos even smaller: 432 square feet. Within three weeks of the opening, all sixteen units of that size in the project were sold. Other builders and architects have been compelled to watch Barratt's progress closely. Nonetheless, many make jokes. "That's not a house, that's a closet," exclaims Christopher Hanson, of Broadmoor Homes, a northern California builder that has won numerous design awards over the years. Hanson's main objection is, "What will the resale value be?"
It's a widely raised question. Barry Berkus, a Santa Barbara architect who has been involved in designing housing in more than half the states in the country, says, "Buying housing in the U.S. has always been part of the beginning of a proeess of working toward that bigger house on a bigger lot—of moving up in equity. The units that had flexibility sold much better in the resale market. If a builder begins to develop a product that will not resell well, he cheats his buyer." Berkus adds that by selling units in which areas for socializing and sleeping are merged, like some of Barratt's small units, "you're causing people to buy something that over the long run will be difficult for them to deal with."
Richardson Nagy Martin, an architectural firm in Newport Beach, California, has studied the question of how small a unit with long-term livability can be and has come up with the answer of 550 square feet. Rodney Friedman, an architect in San Francisco, has found that the vast majority of developers are uninterested in producing units of less than 600 square feet. At 600 or 550 square feet, there's room for a bedroom, and the cost of building one is considered by many to be insignificant. Bedrooms are uncomplicated and cheap. It's kitchens and bathrooms, with their plumbing and fixtures, that do the most to drive up the cost of a house.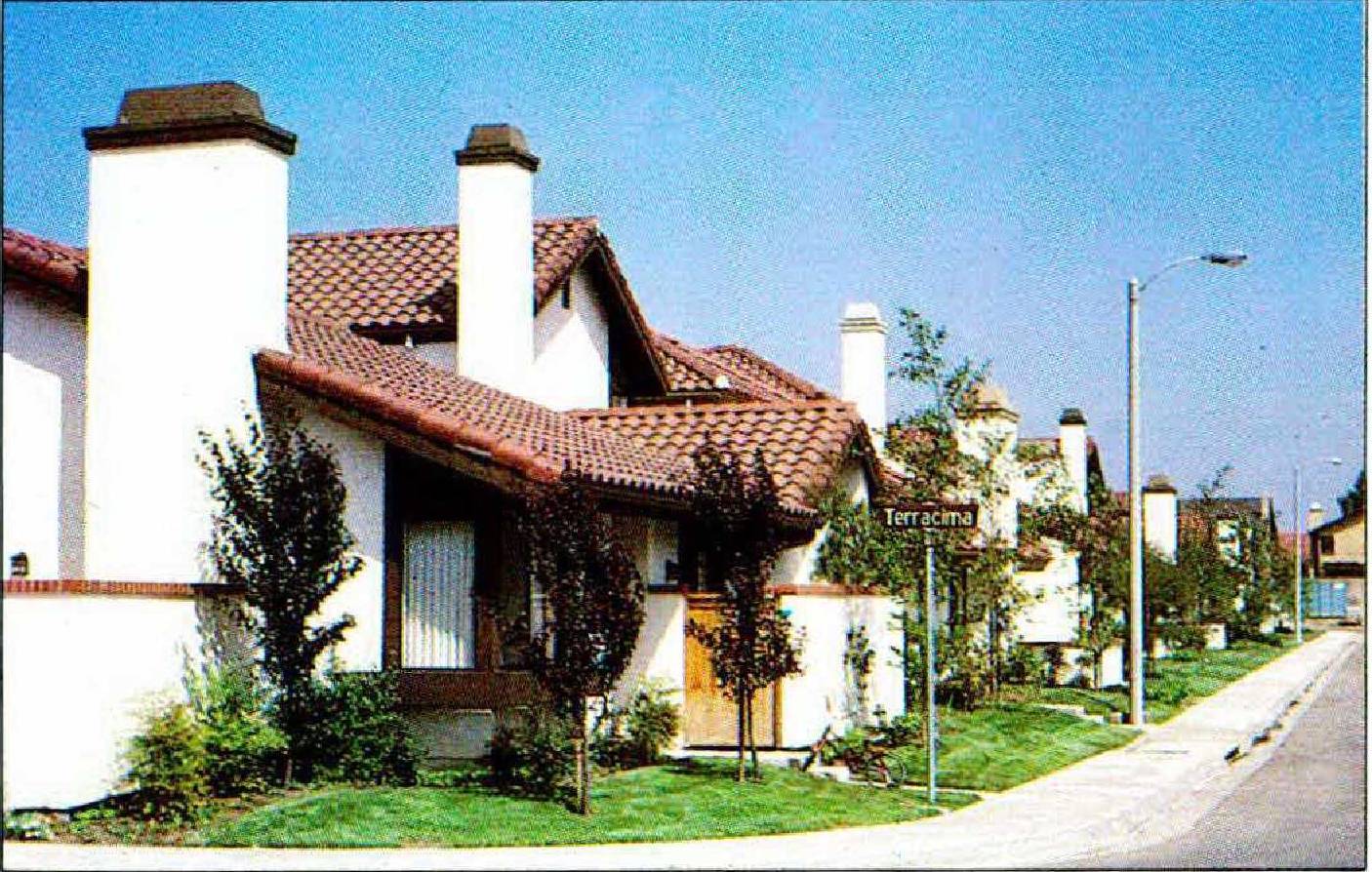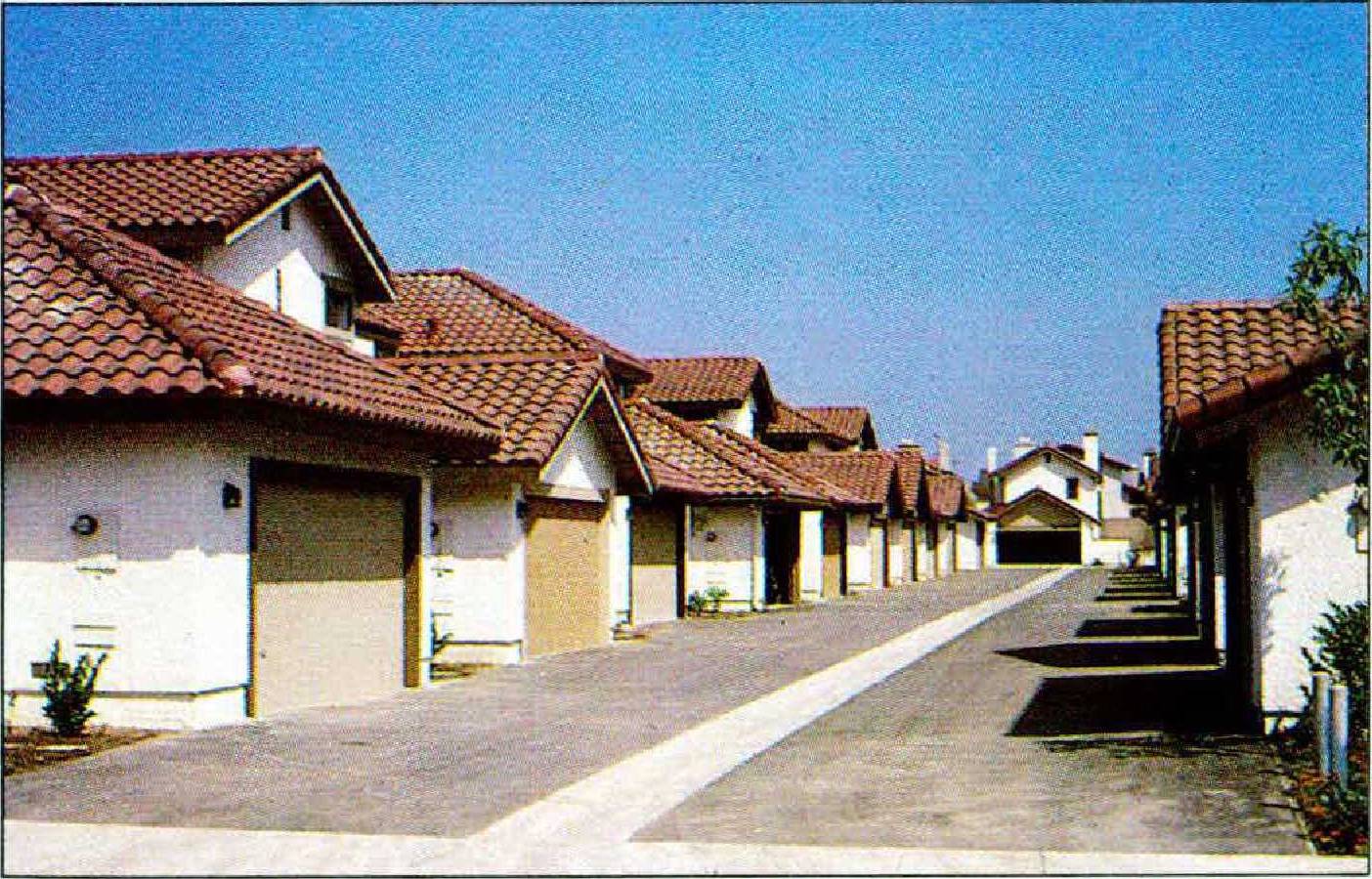 Population growth in the United States is greatest in nonmetropolitan areas, where housing is cheapest. Since 1970 America's rural population has grown at one of the fastest rates in this century. People will live on the edge of the Mojave Desert to get a three-bedroom house on an acre or more of land for $55,000. But among those unwilling to commute long distances, the trend is toward housing that is packed together more tightly. The most advanced thinking on how to accomplish this originates in California. The phenomenal increase in California's real-estate values during the past decade has generated a lot of pressure. In 1973, $72,000 was the price of new 2,800square-foot four-bedroom houses in Turtle Rock, an upper-middle-class section of the Irvine Ranch, an immense suburban development in Orange County, about forty miles southeast of Los Angeles. In 1983 the same houses were reselling for $350,000.
In 1964 Rodney Friedman and Robert Fisher helped draw up the blueprints for some of the nation's first "planned-unit" developments—large suburban tracts built up at more than the customary suburban density, but laid out to fit the terrain and incorporating open space reserved for common use. Local government, as its part of the bargain, freed the developer from highly specific requirements on such planning and zoning matters as lot sizes and street widths. The developer, in return, promised to treat the land more imaginatively than civil engineers seemed capable of doing.
Today Fisher-Friedman Associates is one of the most successful design firms in the United States, having planned or designed 100,000 housing units in the past twenty years—dwellings that have won so many awards that Friedman may well be justified in boasting that they will be remembered as "this century's best housing."
Fisher-Friedman, in San Francisco, Berkus Group Architects, in Santa Barbara, Richardson Nagy Martin, in Newport Beach, and several others are a new kind of professional firm—one that gets involved in the building process early, not just designing the houses but also deciding what form of housing is best suited to a particular piece of ground. The firm's job is to tell the developer what to build and where to build it for both a successful sales program and an environment satisfying to residents. This expanded role, which is still not prevalent in much of the United States, helps explain why many of the new developments in California manage to be highly livable in a suburban manner despite their high density.
Off the Ventura Freeway in Camarillo, about halfway between Los Angeles and Santa Barbara, I walked through Mission Verde, a condominium complex with tile roofs and rough-textured stucco walls, designed by Barry Berkus. Prices are about $100 a square foot, a common figure in California. For $86,500 a buyer would live on the second floor in a unit containing only one bedroom. Yet it would convey a dignity out of proportion to its size. Coming home to your 844 square feet, you would walk up your own outdoor stairway—not one shared with neighbors, as at Barratt's San Jose development. An arched entryway heightens the sense of arrival and avoids the institutional feeling of most large housing developments.
On the exterior of the simplified Spanish Colonial-style complex are decks with walls high enough to provide privacy. You could sunbathe on a second-floor deck without being seen from neighboring windows, Berkus says that the goal is to build housing that is "exciting, flexible, and stimulating enough—not just a filing cabinet, a cube." In many of the units an open staircase leads to a second-story walkway commanding a dramatic view of the living area and entry. Rooms explode upward, using height to compensate for a scarcity of floor space. The attic, recycled, is the hidden resource in today's housing; it is where designers found extra volume to add to the rooms below. One area of the house freely opens into another. The openness makes the small house feel larger.
In Irvine I went through the Woodbridge Summerfield subdivision of cluster houses, oneand two-story dwellings that represent a cross between row houses and detached single-family residences. Cluster homes share some walls with their neighbors, but in the ones at Irvine, the absence of windows on those walls is hardly noticeable because of small outdoor courts that can be seen and entered through sliding glass doors from practically every room.
At Irvine's Vista Filare development, where $133,000 to $158,000 single-family houses have been built on lots averaging thirty-six by eighty-six feet, the yards seem if not generous then at least enjoyable, because the houses have been arranged according to the "zero-lot-line" concept. This means that instead of having narrow, shared side yards on both sides, the houses typically are pushed up against a side boundary. The side of the house hugging the boundary has no windows, so that each house gets a wider side yard that has privacy.
At the Scottsdale Ranch, in Arizona, and at about half a dozen developments elsewhere, Richardson Nagy Martin has introduced the "staggered zero-lot-line," or "sawtooth plotting,"which places each house and its garage at an oblique angle to the street. This plan eliminates long straight views of parallel house fronts and avoids monotonous garage alleys like those behind the Vista Filare houses.
In 1972 a group of progressives won control of the city government in Davis, California. The city allowed a predominantly single-family 260-unit development called Village Homes to be built without the usual underground piping system to dispose of storm water. Graveled or planted depressions to carry off rain on the surface saved about $800 per lot. Much of this was used to pay for planting twelve acres of "edible landscape" of vineyards and plum, peach, apricot, and cherry trees, along pathways and peripheral roads and in open space near the center of the development. The landscape provides some food for residents and some jobs for teenagers during the harvest season. "What I did here flies in the face of everything I learned in school," says Michael N. Corbett, the designer-builder, who explains that he was intent on creating a neighborly and environmentally responsible development. "The traditionally educated city planner and city engineer are stuck on 1950s concepts."
In fact many other communities are experimenting with changes in expensive engineering and development practices. A number of local governments, professional organizations, and private groups, led by the U.S. Department of Housing and Urban Development, are cooperating to build thirty "affordable-housing" subdivisions around the nation, unencumbered by many of the usual regulations. At the Cimarron development, in Phoenix, landscaped retention ponds periodically fill up with run-off from the surrounding mountains and provide open space the rest of the year; it is estimated that $3,700 per housing unit was saved on the drainage system in combination with narrowerthan-usual streets and eliminated curbs. Many other communities are considering allowing similar innovations.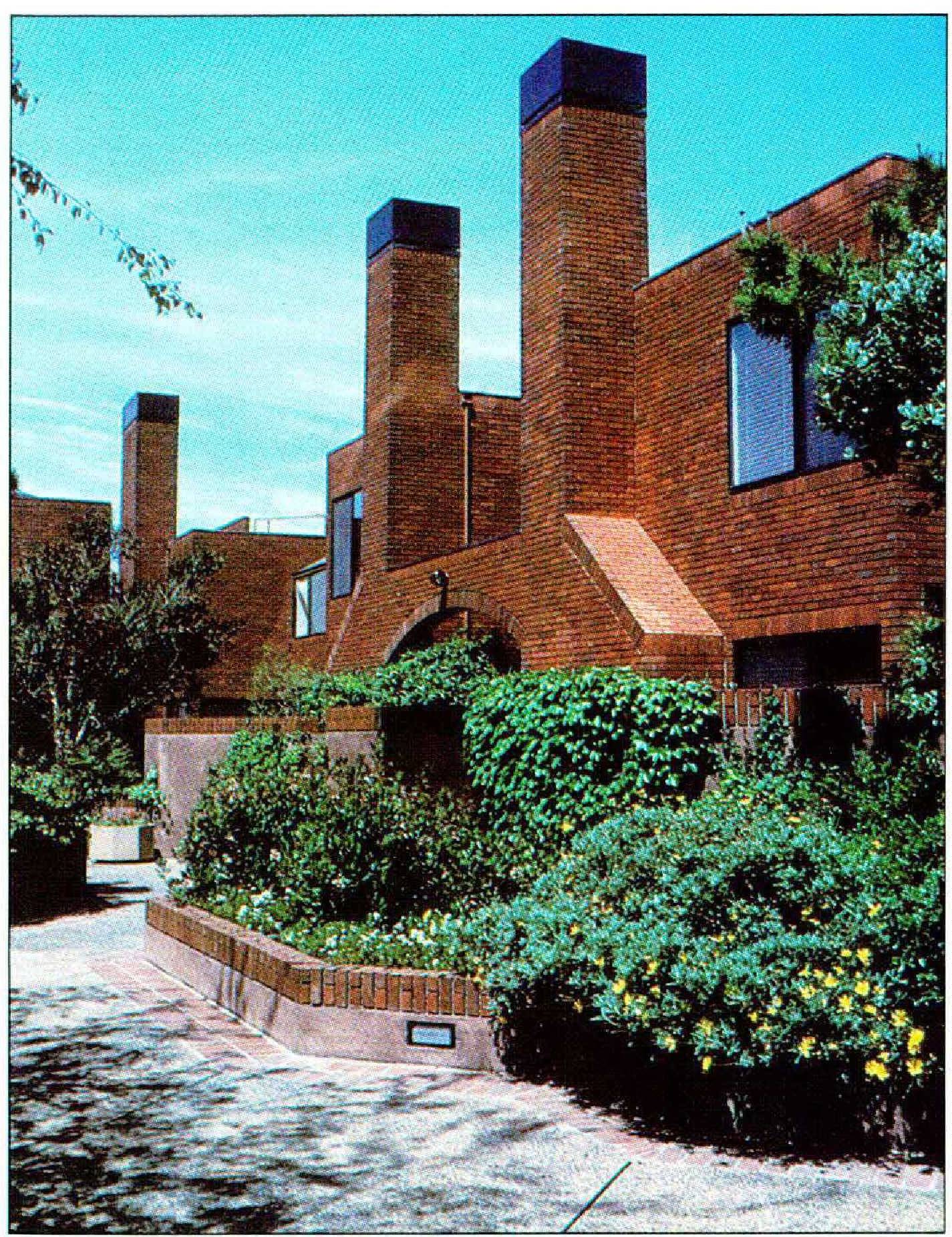 Nonetheless, the single most effective means of reducing the cost of housing is increasing zoning density, and such zoning often runs into opposition from current homeowners. As one official put it, "Nobody who currently owns a house wants the cost of housing to be lowered considerably."
On the edge of San Francisco's financial district three stories of newly built apartments and townhouses sit on top of two stories of offices and shops. A sound wall of brick and glass block had to be built to deflect the noise from the Embarcadero Freeway, nine feet away. Windows are double-glazed with acoustic-rated glass and gasketed for the same reason. The development, Golden Gateway Commons, designed by Fisher-Friedman, offers a vision of what urban living can be for those who can afford it. Inside the blue steel gates that separate the elevated pedestrian walkways of the Embarcadero Center from Golden Gateway Commons is a private oasis of flowers, shrubbery, meandering brick walkways, and secluded patios.
"Remember the three little pigs?" Friedman asks as he passes a brick-veneered townhouse. "The brick house was the one that lasted. People really associate brick with quality, and they're right." But even brick is not as desirable as vegetation. Ivy was planted at the base of the building; on the east side it has already climbed to the third floor. "The idea is to get the ivy growing up the whole building someday," Friedman says. He is intent on promoting a style of urban living free of the common urban harshness. "I want you to stand next to landscaping instead of vertical walls. When they're covered with vegetation, walls become very benign."
Friedman believes that Golden Gateway Commons will be an influential model for successful city development. Indeed, developers and designers in every part of the United States expect housing to be placed increasingly on sites that once seemed too nonresidential in character— sites close to huge shopping centers or heavy traffic or noisy industry. "They need a lot of mitigation on the outside," Berkus says of such housing complexes. "You have to plan them so that they focus inward, so that the buyers live in a park setting."
The use of landscaped courtyards, clubhouses, community swimming pools, and other amenities to overcome the discomforts of the nearby environment comes at a price, of course. One-bedroom, 914-square-foot condos at Golden Gateway Commons sold for $220,000 in 1980, and are already being resold for $300,000.
Developers don't have to provide such splendor, at least not everywhere. In highly desirable sections of Los Angeles one current method of developing new housing is to rip down an old singlefamily house and jam a multiple-unit building onto its site, with just enough room for a walkway on one side and perhaps for a minuscule outdoor sitting area on the other. Such units will sell if people want the location.
"The most underserved are single parents with young children and low incomes," says Mui Ho, an architect in Berkeley, California, who helped design a subsidized development in the nearby town of Hayward so that it would appeal to single women with children. The single-parent family, she believes, has particular needs. Since a single parent doesn't have much time to devote to maintenance, lawns should be small. However, there should be enough land nearby for children to play, and a day-care center. Also, Ho believes, houses should be arranged in clusters, with entrances for, say, five units in a common courtyard, so that people get to know each other and feel confident about asking favors; single parents depend on their neighbors.
Features like these are hard to obtain for those who have little money. The Reagan Administration has sharply reduced federal support for housing for the poor. And even when federal or state governments support housing for people of limited means, they typically go about it with an attitude that subsidized housing should not be too attractive—an outlook that contrasts dramatically with that in Western Europe, where public housing is regarded as a respectable environment for a lifetime. Ho specified bay windows for the project in Hayward, partly because they would serve as passive solar devices, but state housing officials insisted that most of the bay windows be removed, saying they looked "too posh."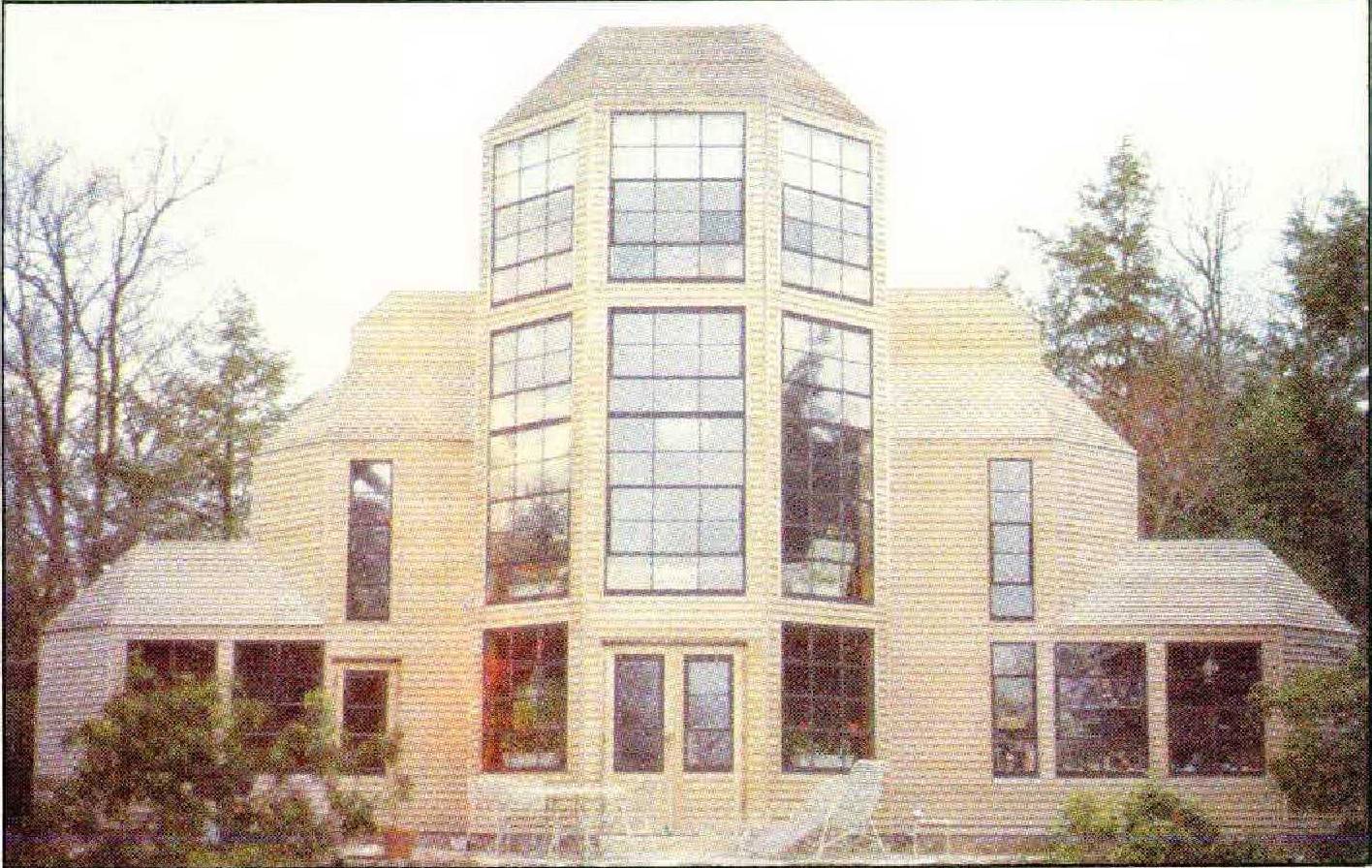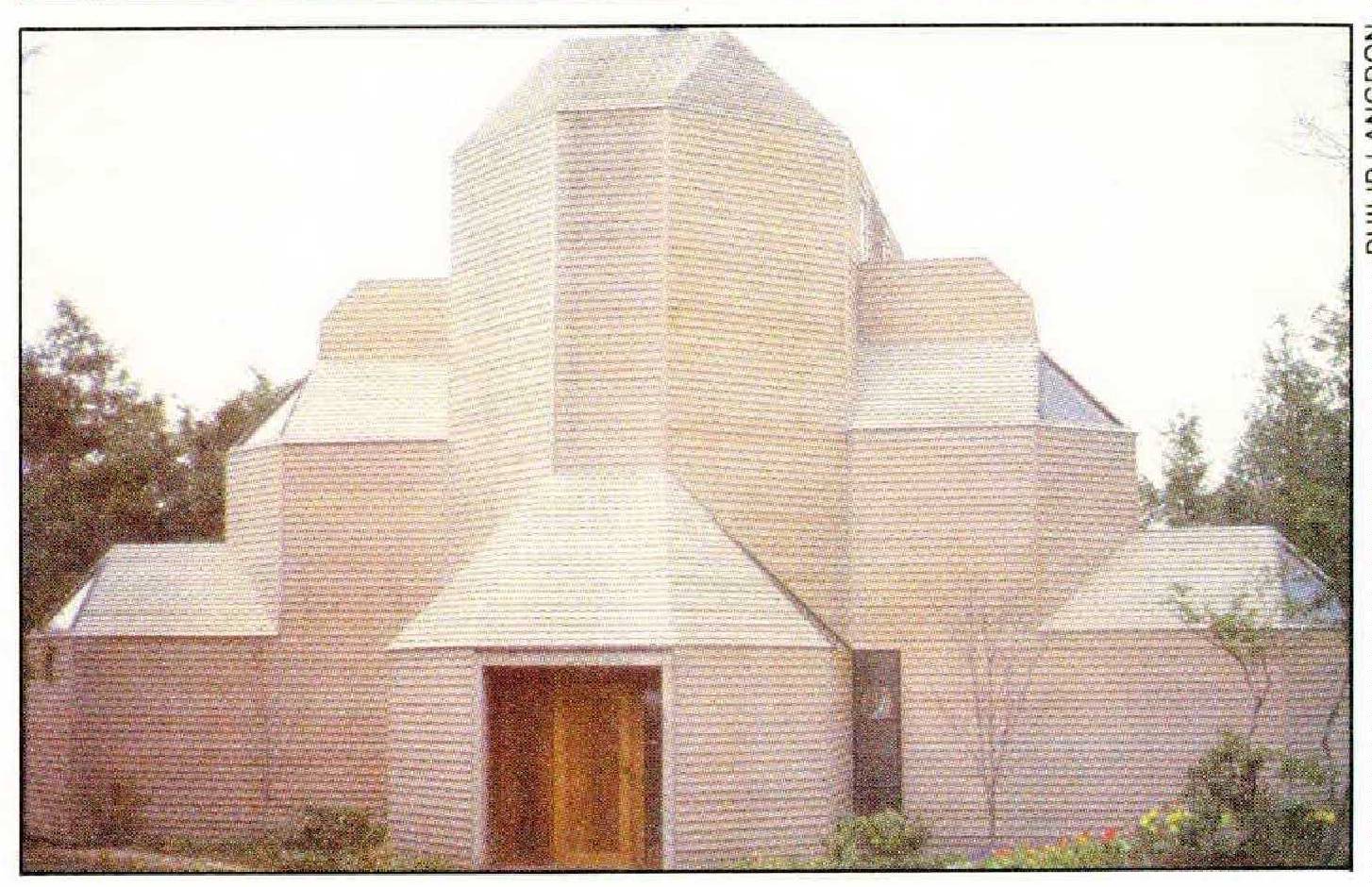 Singles without children fare better. They may not have enough money to buy a home individually, but often they can by joining another person. Many condominium complexes offer "dual master-bedroom suites" and other features to suit two people who are not romantically involved. Kitchen, dining, and living areas are shared, but each person has separate and approximately equal bedroom, bathroom, and closet space. The two suites are often not identical. For example, one may have a truly private bath while the other has a bathroom that is accessible to the rest of the house.
Those who buy these units jointly may sign agreements specifying that each person will continue to contribute half the monthly mortgage payment for three years or so. Without an agreement of some kind, each buyer is in danger that the other person will move out and make continued ownership impossible. After all, the average American moves thirteen times in his life.
CONCERNS ABOUT ENergy have had more impact on house design in the past ten years than in the previous fifty. Solar energy has become an important influence. Housing design that is responsive to the sun, which became a national preoccupation at the time of the Arab oil embargo, has ancient origins. As early as the fifth century B.C. the Greeks began to build cities whose buildings faced due south, even on irregular terrain, and they used porticoes to keep the sun out of the houses during summer and to let it in during winter.
In the United States there was a spate of interest in solar energy in the 1940s, when the introduction of insulating glass was making the picture window a standard component of new homes. In 1947 Libbey-Owens-Ford, the developer of Thermopane, collaborated with Simon & Schuster to publish Your Solar House, a book containing one solar-house design for each of the forty-eight states and the District of Columbia. These were what are now called "passive" solar houses, dwellings that take advantage of the sun without any special machinery.
But fuel did not cost enough to force people to think about glass as a means of gathering energy. Even when allelectric houses proliferated, in the 1950s and 1960s—consuming a form of energy generally two to three times as expensive as oil or gas—the cost of running them spurred no revival of interest in solar alternatives. Thicker insulation and better methods of blocking air infiltration seemed to be sufficient improvements.
When the price of electricity and other conventional fuels skyrocketed, the rush in which solar technology was developed made for rampant problems with the design and installation of new mechanisms. The dimensions of this widespread failure would be better known today if the people who bought solar houses were less reluctant to acknowledge how erratically they performed. According to Donald F. Luebs, of the National Association of Home Builders Research Foundation, rather than admit defeat solar enthusiasts will "wear three sweaters and turn blue." It is, however, largely because of the pioneers' willingness to experiment that the solar houses built today function far more reliably than their predecessors.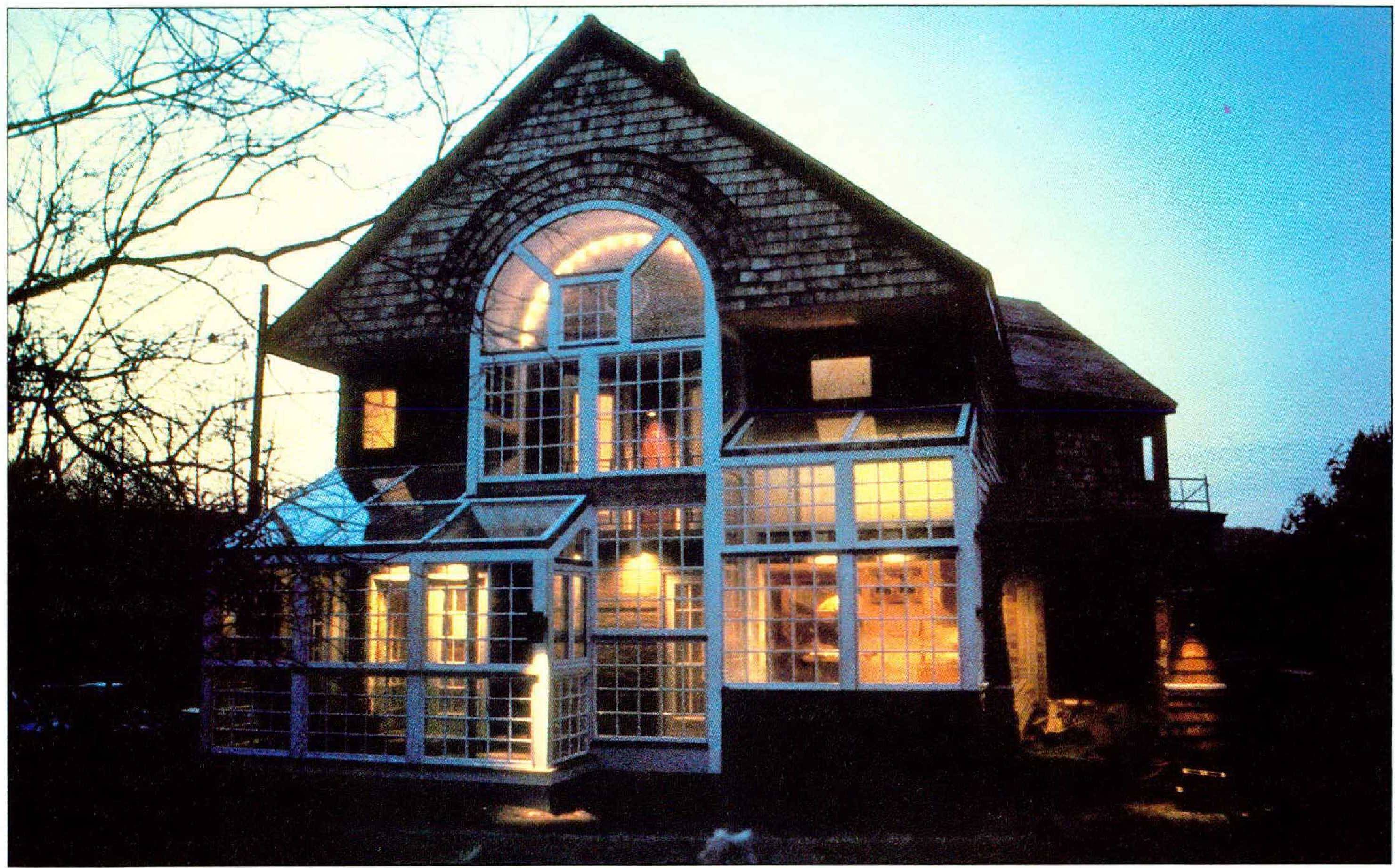 At least half a million houses in the United States now depend partly on solar energy. In New Mexico, Colorado, and Connecticut—states with centers of technological expertise and with either high-priced conventional forms of energy or the auspicious combination of cold winter nights and sunny days—pockets of solar home-building have become well established. In Florida, Arizona, and California, collector panels on rooftops are a common source of domestic hot water.
In contrast to the passion that went into solar design in the 1970s, a much more restrained, cost-conscious approach now prevails. Houses now produced by Acorn Structures, of Concord, Massachusetts, rely on a combination of solar techniques, each of which was chosen for reasons of economy. For example, rather than use three-by-eightfoot collectors, which capture the maximum amount of solar heat per square foot, Acorn manufactures its own fourby-twenty-foot panels, which are somewhat less efficient but much cheaper and consequently a better value.
Many people, including Joseph Sherman, the director of building technology for HUD, now think solar collectors are best limited to domestic hot-water systems. During the 1970s Sherman supervised several thousand installations of collector panels for residential space heating. He saw 40 to 60 percent of them fail. Solar space-heating systems are still too complicated and unreliable for the average homeowner to cope with, he believes. "What happens when someone goes away for a week? The critical thing is that the difference in time between a minor problem, which you may not even know about, and a major failure is an hour. The failures are expensive. If you have a leak and the water drains out, you might have temperatures of four hundred, five hundred, six hundred degrees in those collectors. You've baked them dead. The glass can bond together. I think there's a market for active solar space heating, but it's not a mass market."
Mindful of such problems and of costs, solar designers have been moving away from active systems and toward passive techniques, such as concentrating the house's windows on the south side and installing a six-inch-thick masonry floor, topped with tile or brick, to absorb sunshine and gradually release heat hours later. Passive solar devices are becoming increasingly sophisticated. Trombe walls—thick masonry walls recessed a few inches from an exterior wall of glass— were briefly popular among solar designers, but they interfered too much with views to attract a wide market. Big plastic tubes filled with water to absorb heat have encountered similar resistance because of their obtrusiveness. The favored instruments of solar today demand no aesthetic sacrifice; some even add to the pleasure of the environment. One common device is a fireplace with an enlarged chimney wall situated so that it catches the sun several hours a day. A house in the middle or upper price ranges would have had a fireplace anyway, and a wall of stone or brick adds beauty that no basement rock bin for solar heat storage ever would.
Donald Watson, an architecturc professor at Yale University and an authority on solar energy, notes that builders have learned to sell potentially energy-saving features by emphasizing something beyond energy consumption. Thus the revival of the attached greenhouse or solarium: it can save energy if the homeowner does not pack it with furniture and if he remembers to extract the heat from it on sunny winter days and to close it off at night. But what really clinches the sale is that it's a pleasant place to be in.
Many passive solar houses are long and thin, one room deep, because heat will not travel far without mechanical help. Some houses curve to track the sun from morning to evening; for example, the sleek, sensuous back of a house in Orange, Connecticut, designed by Paul Bierman-Lytle, does this. Interiors are usually open, to help the heat spread, and fans are often installed at the top of solar houses to expel heat during the summer and recirculate it in the winter.
At least four states have already enacted laws protecting the access of buildings to the sun. At the University of Southern California, Professor Ralph Knowles arranged cardboard models on the floor of his architectural studio to demonstrate that with such protection solar housing could be developed comfortably at densities of twenty to forty units an acre. In practice, developers and architects usually abandon solar ideas by the time the density reaches twenty units an acre.
"My best guess is that anywhere from seven to ten percent of all houses built today use some form of passive solar,"says Michael Bell, of the National Association of Home Builders (NAHB). "You don't have a Ryan or Ryland or U.S. Homes [three large conventional home-builders] doing passive solar. I think it's a way off for production-type housing. Most of the builders doing solar do ten to twenty houses maximum a year." When considered in light of the home-building industry's long-standing aversion to change—"Fans and pumps were resisted for more than twenty years, until the turn of the century," Everett Barber, an engineer who teaches at Yale's architecture school, says—the progress in solar over the past eleven years need not be regarded as disappointing. Recent progress is, in fact, impressive, in that it has come in spite of the Reagan Administration's cutback three years ago of federal support for solar projects.
In his book Sun Rhythm Form Knowles suggests that solar could be more than a heating system: "a new source of aesthetic inspiration." It could bring human beings back into the natural rhythms of the changing hours, days, and seasons—rhythms that have been suppressed by the twentieth century's reliance on mechanical heating, lighting, and cooling. Knowles's vision has a poetic dimension. Whether it will be shared by builders and buyers pursuing lower utility bills is another matter.
"Underground" houses are no longer built. Now they are "earth-sheltered" houses. A new name had to be devised if people were to be enticed into houses partly submerged in dirt, and this one has connotations of protection rather than of living in a cave. There were probably 300 such houses in 1979, according to Bill Baker, publisher of Earth Shelter Living, a magazine whose first issue came out that year. "Now there are 4,000 to 5,000 residential structures with an earth roof that we know about, and there may be twice as many," he says. Most have been built in a band of central states from Oklahoma north to Minnesota, which is the state with the most earth-sheltered houses. Generally, they are planted into hillsides or small manmade slopes, facing south so that large windows or greenhouses on the front can let in as much light as possible.
People find it easy to picture sod houses defying the severe winters of the Great Plains, but in fact they combat extreme heat as well as cold. At Village Homes, in Davis, California, several houses with native and Mediterranean plants on their roofs use the earth in which these grow to moderate daytime temperatures that reach the low hundreds in the summer. In Kansas and Oklahoma earth-sheltered houses are valued for being less vulnerable than others to prairie fires and tornadoes. Baker expects them to become increasingly popular with retired people, because of their resistance to break-ins.
Five years ago James Zanetto and his brother Jeff built a 1,000-square-foot earth-sheltered, passive-solar house in Davis for $28,000. The first year there were no leaks, despite a wet winter. The second year the Zanettos unknowingly punctured the roof's moistureproof barrier while putting plants in the eight-inch-deep sod. That winter, water penetrated their north bedroom, and to their distress, nothing could be done until dry weather arrived and they could dig up the leaky section of the roof. "With earthsheltering," says James Zanetto, who is an architect, "it's important that the work be done right the first time."
On a chilly day in late March, R. John Magar and I rode in his pickup across the rolling country southeast of Rochester, New York, on our way to look at a house he had built without a furnace in the rural town of Cuylerville. A westerly breeze of 10 miles an hour or more routinely blows through this farming section of the Finger Lakes, and winters are severe. Yet Magar had calculated that his customers, Carl and Helen Chichester, and their two small children would be able to heat their new three-bedroom, 1,276-square-foot house with the warmth given off by their own bodies and by their appliances and light bulbs.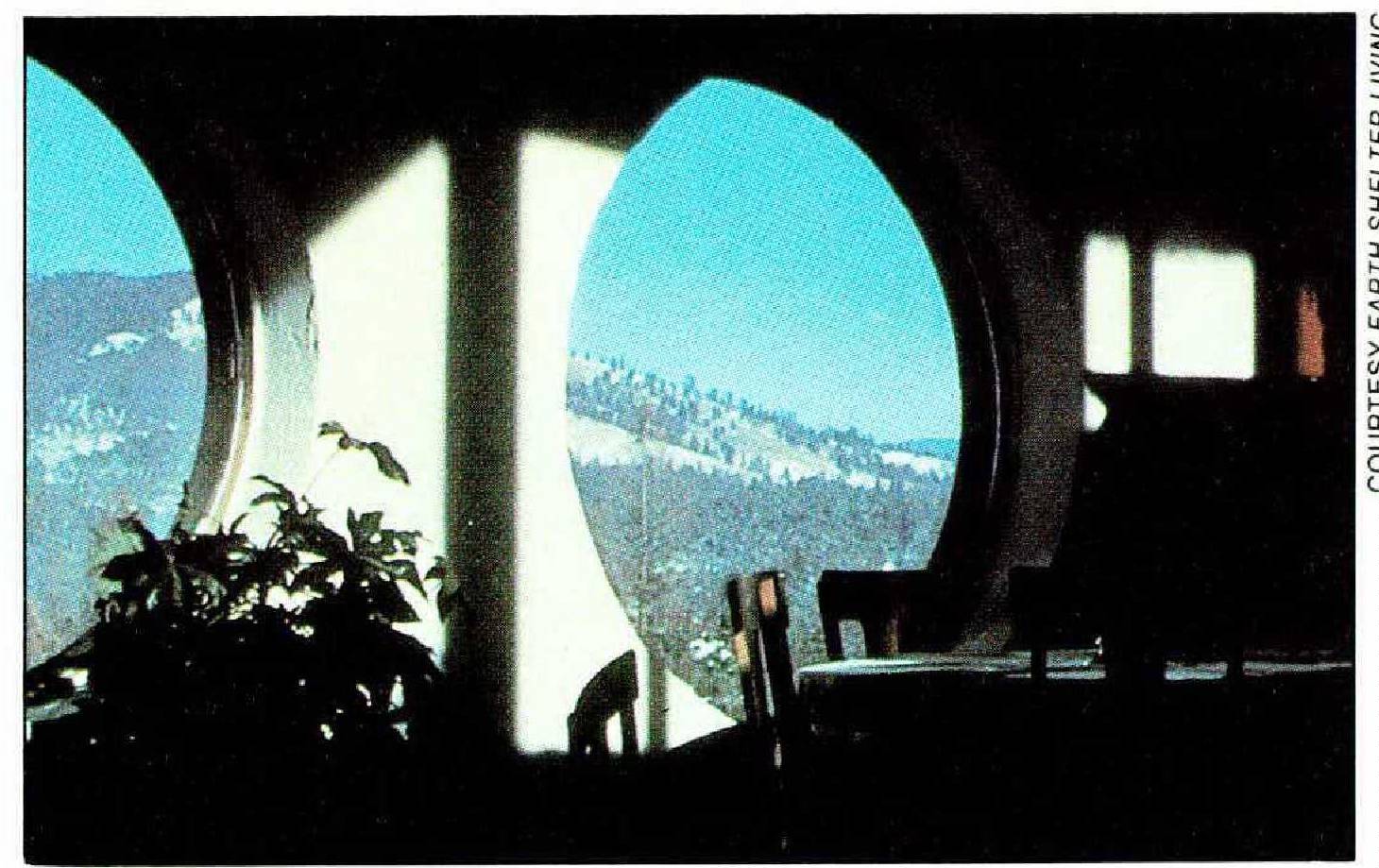 The key is the "double-wall superinsulation" system, which makes the ceiling and walls an extremely effective buffer against the cold. The wall cavities are fourteen inches thick, consisting of a two-by-four framework on the inside, another one on the outside, and a seven-inch space in between. All three layers are packed with cellulose fiber. Hardly any heat can escape. "It's like a thermos bottle," Magar says. A family of four can generate 2,000 British thermal units an hour. The appliances in one kitchen usually generate 1,200 BTUs. Lights and miscellaneous electrical sources give off another 1,000 BTUs. In the typical leaky house this heat is rapidly lost, because, according to Magar, a conventional house has a seventy-two percent air change per hour; he claims that his zero-heat house has a four percent air change per hour. With air infiltration so dramatically reduced, the Chichesters' house requires a mechanical air exchanger— a wood-veneered box mounted high on a wall in the dining area. As the stale air is exhausted, 82 percent of its heat is recaptured and used to warm the incoming fresh air. The system works so efficiently that the Chichesters, who moved in on January 1, 1983, have rarely needed to turn on more than an extra light or two to raise the temperature to comfortable levels, even on the coldest days. Magar supplied a quartz space heater, just in case. By the end of the first winter the family had used a total of sixty-four cents' worth of electricity to operate it, and during the second winter they didn't use the heater at all. "I don't think I've ever put a sweater on," said Helen Chichester. "In the morning, when I get up, I turn on a kitchen light, and within fifteen minutes it's warm." The cost of building this superbly insulated but otherwise ordinary L-shaped house, with a typical number of windows, was $52,000— about $5,000 to $6,000 more than a conventional house of the same size and shape would have cost.
The methods used to produce the zero-heat house were developed in Canada by the provincial government and builders in Saskatchewan in the late 1970s. How well the methods work depends largely on the meticulousness of the builder. Magar used 100 tubes of silicone sealant to plug every tiny opening that could have let cold air seep in. "You've got to care," he says. "Builders can pick up on these things, but if they're in it for the money, it's not going to get done."
Yet an impressive amount of energy-efficient building is being done. Buffalo Homes, in Butte, Montana, is manufacturing a high-quality modular ranch house with three bedrooms which has R-values—measurements of resistance to heat loss—of 38 in the walls and 60 in the ceilings. (The higher the R-value, the better.) The electric bill for heating one such house from February 5, 1981, to February 13, 1982, was $29.98 in a climate so harsh that it is calculated to exceed 8,000 degree-days a year. (In comparison, there are 4,848 degree-days in an average heating season in New York City.)
In every section of the country, houses are much more energy-efficient than they were a decade ago. The NAHB Research Foundation estimates that the overall energy efficiency of new American housing has risen 30 to 50 percent since 1973. The ceiling of the average single-family detached house had an R-value of 13 in 1973; by 1982 the R-value had risen to 24. The average rating of insulated sidewalls increased from R-11 to R-14. The use of insulating glass in windows has doubled. About 1,000 builders, primarily in the northernmost states, have "superinsulated" at least some of their houses—a term that usually denotes a wall R-value of at least 25, brought about by airtight construction, R-30 ceilings are the industry norm in the moderate Washington, D.C., climate. Even in the South, insulation is used much more than it used to be, and so are double-glazed windows. Both materials help keep the house cool in summer. Also, southern homeowners are bringing back into favor the whole-house fan, which pulls cooler outside air through the house during the night, allowing air-conditioning to be used more sparingly.
Such technical developments are accompanied by vehement feelings. When I noticed that there were no windows on the south wall of the Chichester house, Magar at first explained that western New York gets only fifty-two sunny days a year—a reasonable enough response. Then he added, "I didn't want to rely on solar at all. I didn't want people to say, 'You were able to cut the heating costs because of the southern windows.'" J. D. Ned Nisson, the editor of Energy Design Update, a newsletter, says, "The solar people and the superinsulation people aren't talking. They don't invite each other to their conferences."
The advances in sealing houses against the environment have not all been perfected. Cracks may form where interior walls meet the ceiling, because the insulation is doing such a thorough job of keeping heat from getting to the attic. Roof-truss sections in the cold upper portions of the attic absorb moisture in the winter and expand; the comparatively warm truss sections below the insulation may contract, causing cracks in the surfaces of walls. That is purely cosmetic damage—nothing to worry about compared with the potential problem of poisonous gases in airtight houses. Carbon monoxide from furnaces, water heaters, and especially from wood stoves can begin to collect if exhaust fans in the house create negative air pressure. Nisson sees continuous mechanical ventilation as a necessity in superinsulated houses.
A large array of issues like these is beginning to appear. The discovery in the 1970s of the health hazards of urea formaldehyde foam insulation was only the first in a series of controversial incidents suggesting that alterations in the physical characteristics of houses cannot automatically be presumed safe.
"THE HOUSES QF THE EIGHTIES PROBABLY WILL be sized very much like the houses of the forties," says Robert Martin Engelbrecht, an architect in Kingston, New Jersey, who has spent much of his life focusing on the future of housing. "But we're going to just cram them with what we call amenities."
One amenity highly valued, especially by the elderly, is security. At Laguna Hills Leisure World, off the Santa Ana Freeway in Orange County, 22,000 people over the age of fifty-two live behind gates that are guarded twenty-four hours a day by a force of their fellow residents, who are paid. In late afternoons Buicks and LeBarons are backed up onto the access roads while guards amiably check for identification and ask guests to sign the register. Only the larger or richer developments can afford a permanent security force. Many others rely instead on gateposts that open automatically when a resident punches in a code. Or developers construct gateposts and leave them unmanned in the belief that an aura of security is more important than the actual deployment of guards. Those excluded can take malicious satisfaction in the knowledge that walled enclaves are not without problems. In one expensive Detroit-area development that installed gateposts in the late 1970s, residents found teenagers racing their cars with impunity; the kids had learned that municipal police do not patrol private streets.
In theory, a less obtrusive way of deterring intruders is to lay out subdivisions so that they will function effectively as neighborhoods where people know one another and form networks against threatening behavior. However, 57 percent of the families who buy new single-family houses today have two wage-earners, so there are few eyes left to watch over the home grounds during working hours—a problem that security-oriented design can't help. It is not surprising that approximately nine percent of America's homes are equipped with security systems and that the percentage is growing rapidly. In higher-priced houses, burglar alarms are often standard equipment.
Most amenities provide convenience or comfort rather than security. Dishwashers, garbage disposers, trash compactors, and "luminous ceilings," with fluorescent lights hidden behind translucent panels, in the kitchen—these are commonplace features in new houses. The more expensive houses may offer intercoms, central vacuum systems, built-in food blenders, built-in coffeemakers, combination microwave and conventional ovens, downdraft grills for indoor barbecuing, and a tap by the sink that instantly supplies water just below the boiling point. A custom house will typically offer, in addition to the most recent time-saving appliances, cabinets of solid oak and floors that are either the best low-maintenance vinyl on the market or tile or wood with a protective finish. The result is that the kitchen is by far the most expensive room in the house. But even with skylights, a sink island covered with butcher block, and windows designed to hold potted plants, it is rarely the most glamorous. That designation is reserved for the bath.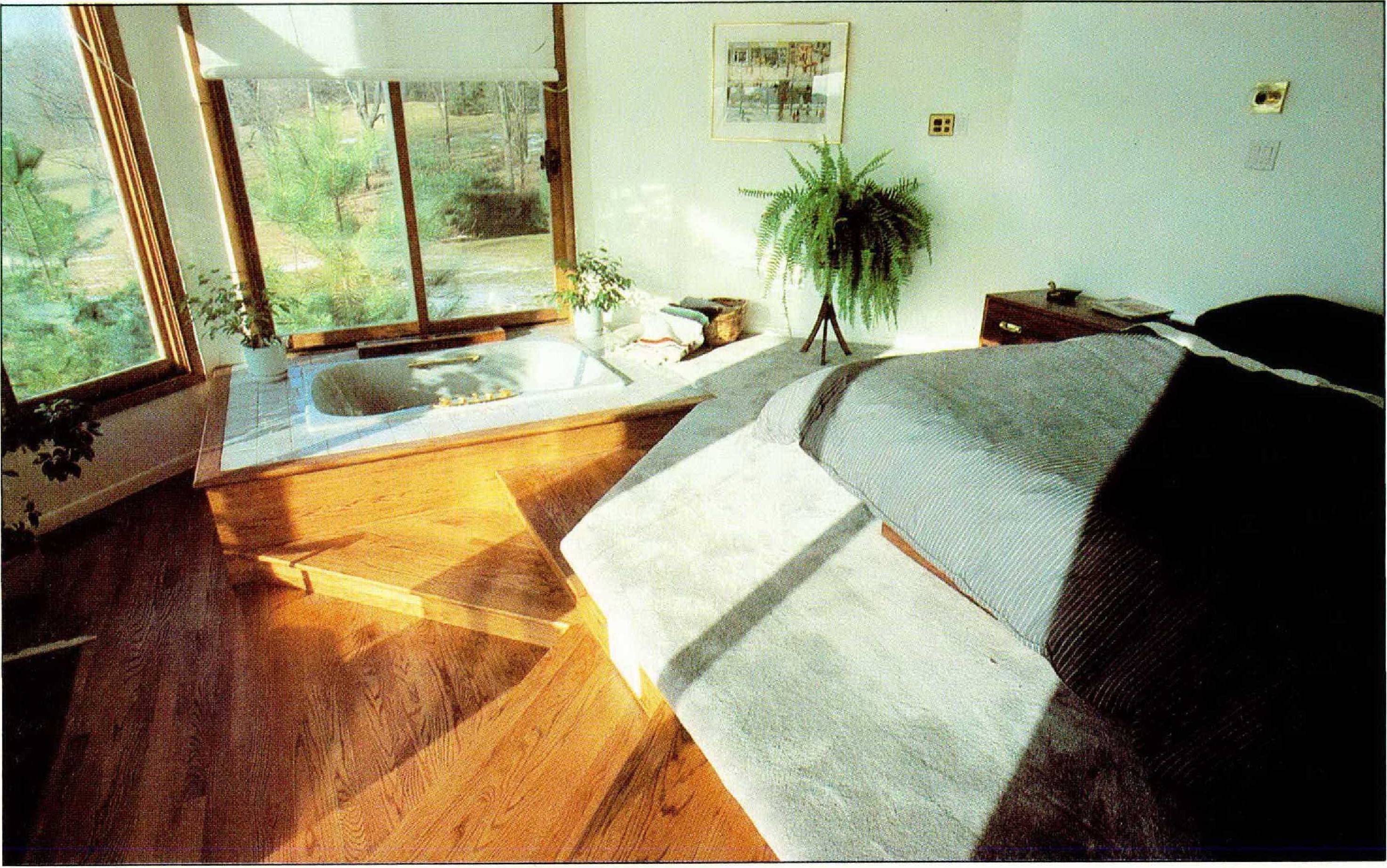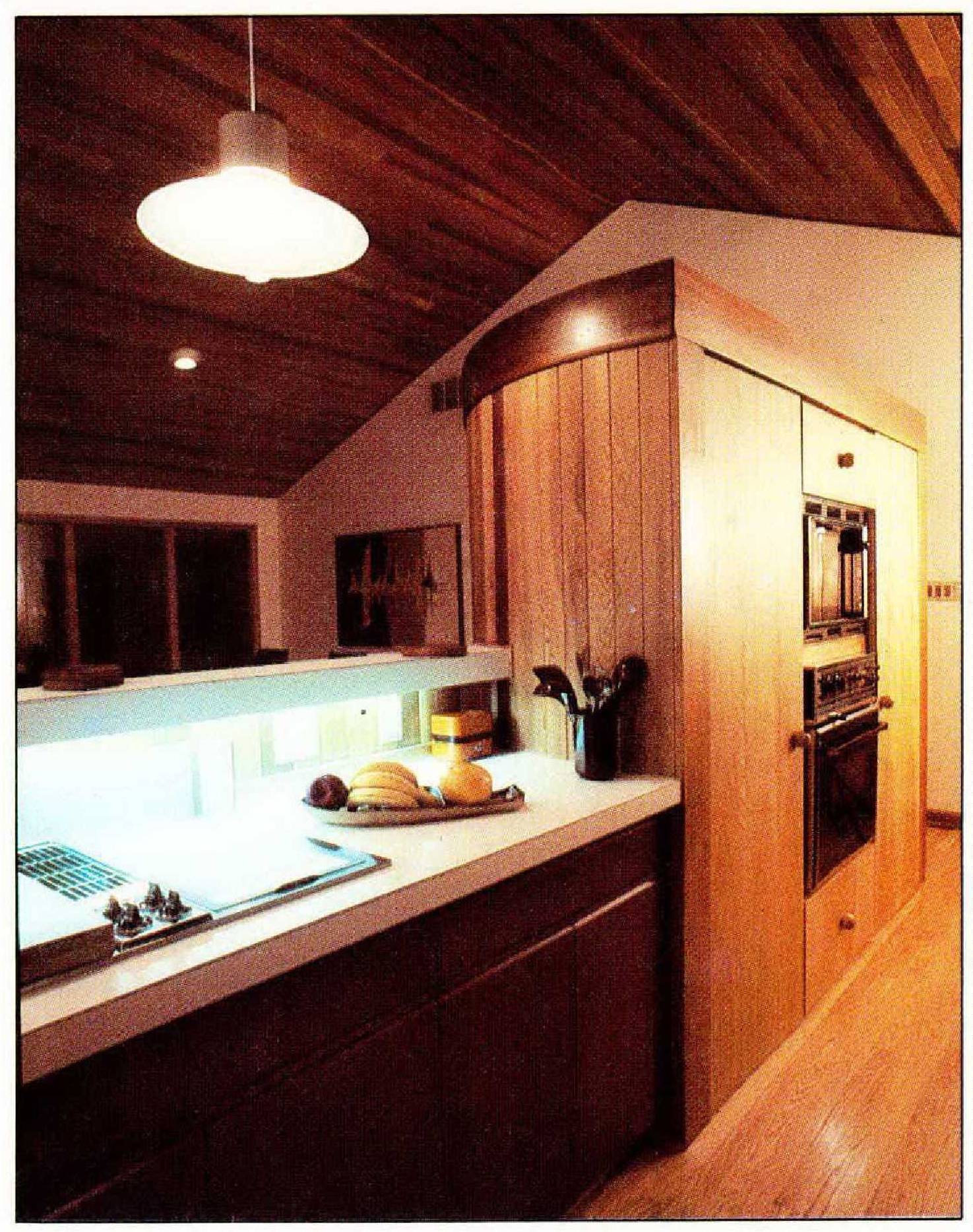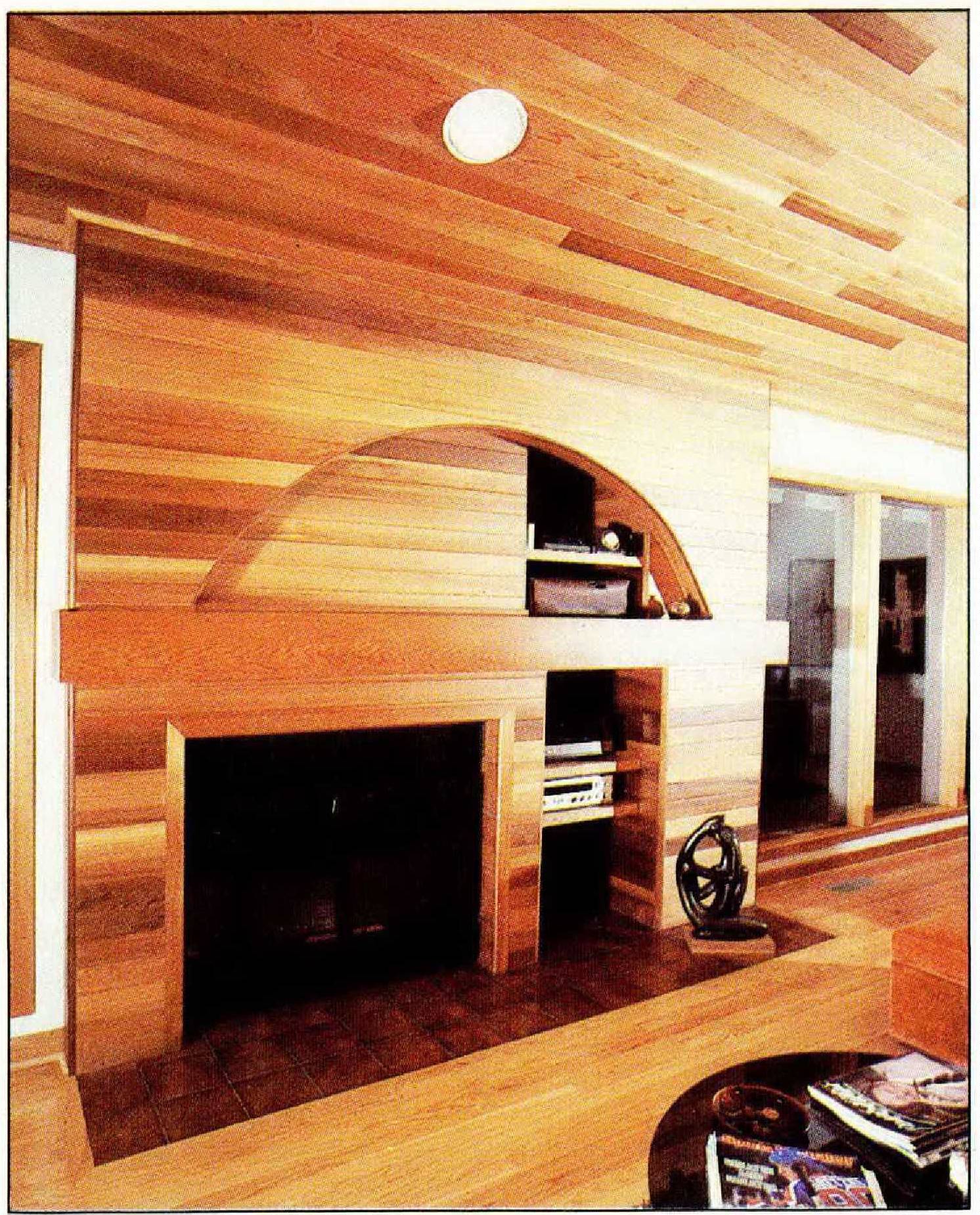 In a rural area of southern New Jersey, I had stopped to see a solar house, but what caught my eye was the bathroom, with its wall of glass block and its abundance of plants. A while later I was in Columbia, Maryland, talking to John McDonough III, a builder of custom-designed $100,000 to $500,000 houses, and he remarked, "Just about every house we do has a Jacuzzi in it." In Atlanta I sat down with John Wieland, a builder who sells more houses than any other non-national home-builder in his region. "I did my first spa bath two years ago," Wieland said. "It's the hottest thing we ever touched." Wieland seemed proud of his ability to put $2,500 to $4,000 spa baths into $100,000 houses.
"People are spending more time at home," Wieland explained. "People are more uninhibited. I'd hate to attribute it to the sexual revolution, but I think that's what it is." Not everyone interprets the proliferation of the spa bath in those terms; an interest in physical fitness is probably another important factor. But the whirlpool in lightfilled. green surroundings is not a brand-new phenomenon. It traces its lineage to California and to the hot tub, a luxury that caught on because it cost less than installing a swimming pool.
Whatever the reasons, it is obvious that the spartan, hygienic bathroom of the past has become unacceptable to a large number of home-buyers. Today there are elegantly styled toilets, bidets, and sinks. The shower has been made into a separate compartment that is as attractive as possible; it is not mounted in utilitarian fashion on top of a tub. One of Wieland's competitors in Atlanta puts the toilet in a cubicle augmented with bookshelves, explaining that in effect "it becomes the reading room." In many houses the bathroom is also served by a walk-in closet. By the time all these features have been fitted in, a bathroom in a custom house may require as much space as a bedroom.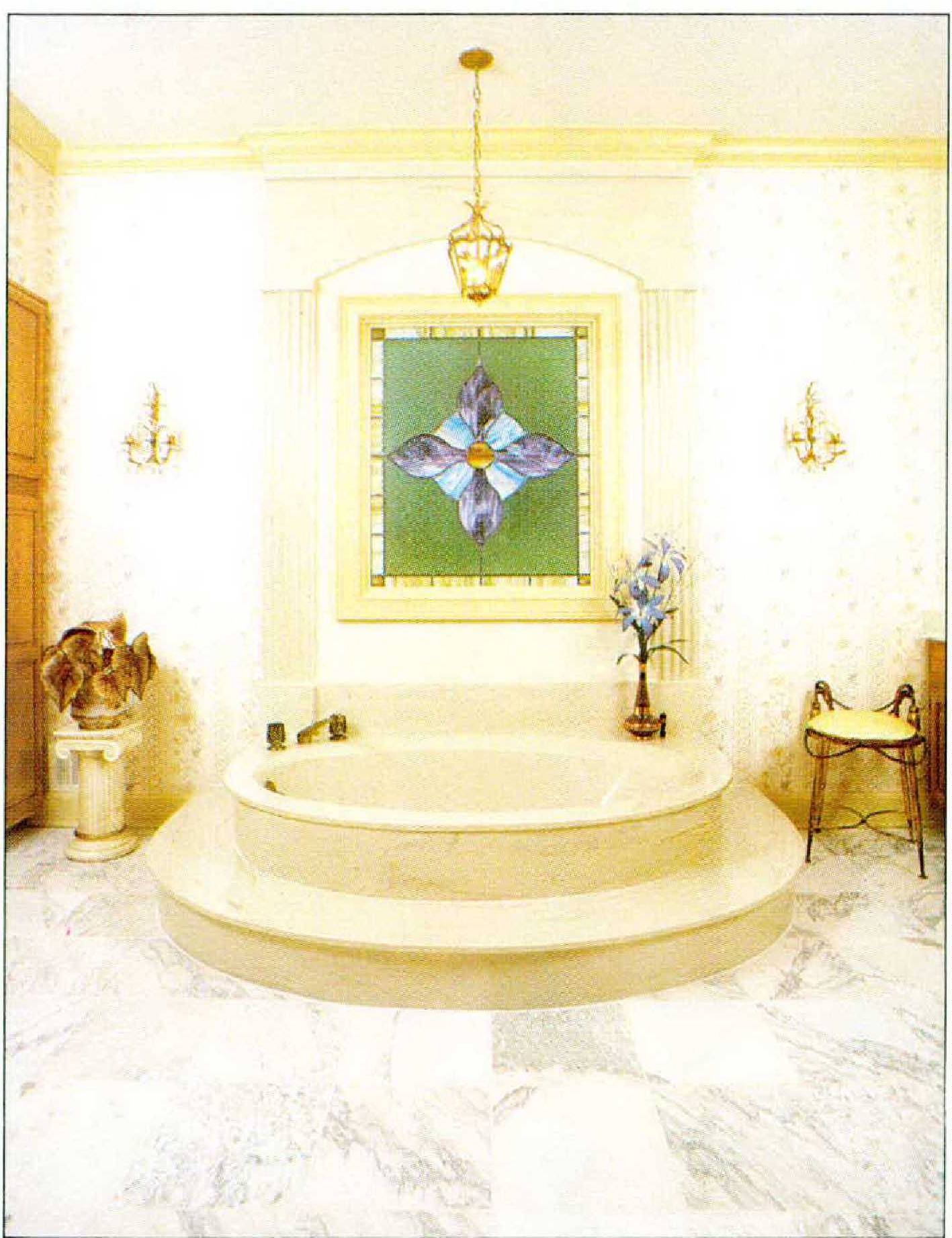 In an expensive house the bedroom may also have a sitting area. The ensemble of master bedroom-bath-sitting area is sometimes referred to as the "master retreat." "This is the 'me generation,'" says Robert Kaplan, an architect in Columbia, Maryland. "They rarely say anything about their kids." It should be noted that there are functional reasons for the rise of the master suite. Since the Second World War the American house has given up so many partitions that when adults want privacy they have little choice but to resort to the bedroom or the bathroom.
A luxury house that Kaplan designed in Simpson Woods, a few miles from Columbia, has a master suite with his-and-hers cedarlined closets, a recessed fireplace and TV, a bed built into a platform, and a small adjoining study. The house has two stories, and the master suite is on the ground floor—a popular preference in relatively expensive houses, especially if they are built for people whose children have grown up or are soon to leave for college. It allows couples to have the pleasure of a big house without constantly cleaning, heating, and walking through all of it. In Atlanta a large proportion of the two-story houses selling for more than $100.000 have two heating and air-conditioning systems so that the systems for the second floor can be shut off when they are not needed.
A prime amenity is space itself—not only the quantity of square footage but also the modulation of it in interesting ways. When you enter The Stockholm, a luxury townhouse next to a sparkling lagoon in Irvine, California, you face a plant-filled central atrium; the living room is two steps up to the left, and the family room, kitchen, and dining room are four steps up to the right. There are refreshing views through the atrium from the kitchen to the entry and from the breakfast nook to the living room. Where floor-to-ceiling partitions were once used to divide one area from another, changes of level are often employed now—differentiating living and dining areas, for instance, without closing them off into separate rooms.
Such changes of level are a mixed blessing. They make a house more interesting, but in a country with a growing number of elderly people they are also a potential obstacle. Housing for a Maturing Population, a set of design guidelines published by the Urban Land Institute in cooperation with the American Institute of Architects, warns that changes of level can make getting around more difficult for people who are frail or handicapped. Watching workmen build a sunken living room at Blackhawk, I mentioned that warning to William DeBene, the builder. "A lot of practical things aren't salable," he replied. "It's the old saying—give me what I want, not what I need."
Variations in ceilings are also used increasingly to give rooms a distinctive character. "Volume" ceilings, or "tray" ceilings, as they are called in Georgia, slope upward from the edge of the room for perhaps three or four feet and then become horizontal. "Escalier" ceilings rise like a step—first horizontal from the edge of the room for two to four feet, then vertical, then horizontal again. These spatial amenities are often associated with expensive single-family houses, but they are becoming standard, making their way down the economic ladder just as dishwashers and wet bars once did.
I WENT TO ATLANTA BECAUSE RECENT STATISTICS SHOW that it is the most vigorous home-building market east of the Mississippi, a metropolitan area that in a reasonably good year can produce 45,000 housing units—more than metropolitan Boston, Philadelphia, Cleveland, Detroit, and Milwaukee combined.
Many of those who build and who buy Atlanta's houses have migrated from other places, but newcomers adopt the housing taste of their new region, as if by some process of protective coloration. In Atlanta they learn quickly to admire traditional styling: the distinguishing features of a medium-to-high-priced house are pilasters and porticoes, quoined corners, and Doric columns—the sort of elements that provide a link with the grand houses of the past. There are dentils under the eaves and decorative shutters next to the nine-over-nine or six-over-six windows. Most of these houses show off the South's favorite building material, brick, which is easy to obtain from the region's clay soils, affordable to work with in a nonunion labor market, and emotionally satisfying in the southern quest for dignity and permanence. Northern builders treat brick as an optional fay ad e adornment. In the South brick is revered: it encases the house in solidity.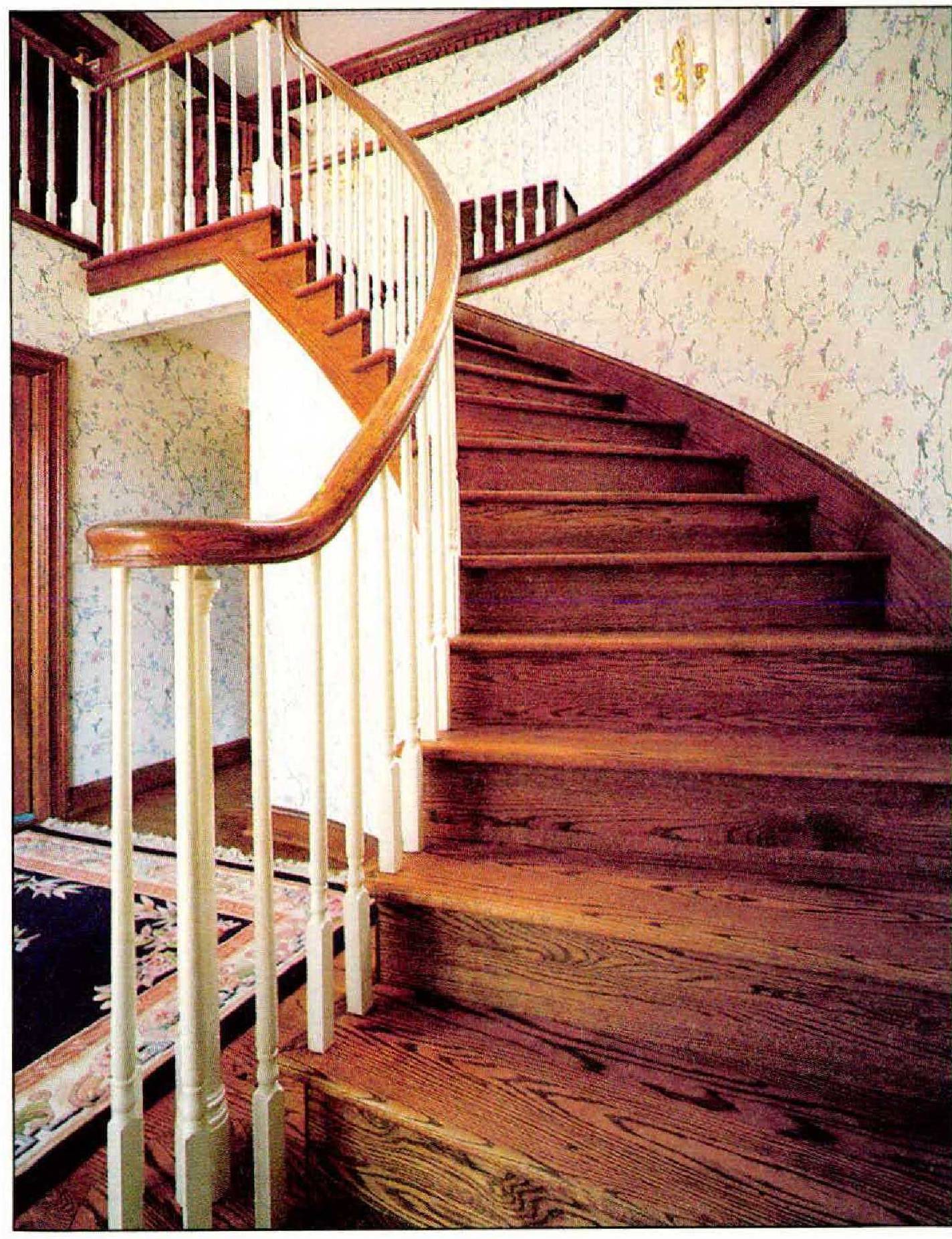 Phis is not to say that Atlanta's classically derived houses look exactly right. Their porticoes often overpower the walls and roofs they are meant to punctuate. The automobile has added to the awkwardness. Turning sixteen feet of garage door to the street is considered unbecoming, so designers in Atlanta (as in much of the rest of the country) with large building lots at their disposal try to give the impression that what they're creating is a residential extension; the garage doors are discreetly positioned to face the side of the lot. In classically inspired houses, whose charm depends in large part on delicate balance, these wings, with their bulky roof shapes, disrupt the composition. This problem afflicts $250,000 houses more severely than it does ones that cost half as much. But it is not a problem that bothers many people. Simplicity and serenity are less important than impressiveness. As at Blackhawk, in California, a multiplicity of roof lines spells worldly success.
I toured expensive new houses in the fastest-growing area of the southeastern United States, the woodsy suburban district forty-five minutes north of downtown Atlanta, with J. David Chatham, who, at thirty-four, heads one of Atlanta's most prestigious home-building and development firms, which he took over from his father.
We pulled up to a $225,000, 3,500-square-foot house constructed by one of the more than thirty builders who work in Chatham Communities subdivisions. Inside there were wide fluted casings on doors, solid-oak cabinets in the kitchen, and three-inch crown moldings in the master bedroom. The dining-room walls were ornamented with "chateau molding," which, I noticed, jogged around an air register and a light switch; the carpenter had failed to coordinate plans with the electrician and the heating contractor. That was the only such error I was to find. Houses came with family rooms outfitted entirely in a glowing birch that Atlantans call "judges' paneling." Many judges' chambers are shabby by comparison. There were winding staircases with handrails made by laboriously bowing and fitting together seven long, thin strips of wood for a single continuous curve from first floor to second.
Finish work of such high caliber is uncommon. An ad in the Los Angeles Times, promising "the ultimate in craftsmanship" in the hills of Glendale, offered an instructive contrast. I climbed a twisting road almost to a fire trail. On the steep slopes a company with the grandiloquent name of Park Ambassador Homes had built 165 houses, most of them selling for $450,000 to $495,000. "There are forty physicians in the development," said the salesman, in a kind of verbal shorthand. The assertion seemed to be that doctors choose well. Certainly there was a great deal of luxury on display. In the house I toured, aside from the extraordinarily ample dimensions of the space itself—more than 4,500 square feet—there were leaded-glass cabinets in the family room, a parquet floor in the entry, oak cabinets in the laundry, and an astounding twenty-one wooden panels in each door of the double-door entrance.
Where the builder had decided that it mattered, money was spent lavishly on materials, and to a lesser extent attention had been paid to how the materials were used. But for nearly half a million dollars the house had disturbingly uneven workmanship. Why were circular pieces of wood used to attach rectangular railings to the walls, except to allow a carpenter to do his job without the pain of precision? When some builders talk about craftsmanship and "quality construction," what they mean is expensive materials used here and there for emphasis, rather than consistently meticulous design and installation of whatever materials are used. The realtors' phrase "curb appeal" means just what it suggests: many houses intent on charming the customer are not meant to be examined close up.
There is also a style—it might be called Contractor Swank—that insists on entrances with double doors but isn't demanding about the quality of the doors themselves. Even builders who advertise economy sometimes try to engage in this impressiveness from afar. In a rapidly developing metropolitan area in California, highway signs advertised homes at dramatically low prices. I exited to a culde-sac of four model homes. On one of them, a 2,450square-foot house selling for $172,500, an extremely competitive price in California, there were improperly assembled wooden double doors with nine panels each. I could see light shining through what should have been solid wood. The façade was an ostentatious mixture of stone and halftimbered stucco with a decorative diagonal insert of brick—but the bricks lacked mortar, and none of this intricacy carried around to the house's other sides. There, all was common California stucco. Inside these houses equipped with wet bars and fireplaces and oak kitchen cabinets were mortar joints that crumbled when touched, walls with their gypsum-board seams showing, handrails with a dangerous couple of inches of give, and salvaged bricks (a popular nostalgic touch) used without regard to whether their corners were broken off.
Black plastic muntins had been glued to the windows to make them look as if they had small panes. In much of the United States builders use either plastic muntins—"pasties," one irreverent California architect calls them—or snap-on wooden muntins to make windows either fancy or cozy. But already these muntins were popping off. The afternoon sun streaming through a bedroom window outlined a trail of glue where the muntins had come unstuck. The light also revealed a hardened bed of glue that had oozed outward from the edges of the muntins that were still intact.
In expensive and cheap houses alike, ceilings are composed of a sprayed-on substance, not of plaster spread on with skill. Plastering has almost disappeared, partly because plaster develops bothersome cracks, but mostly because it slows the building process. In almost every new house the walls consist of a half-inch of gypsum-board over two-by-fours. It doesn't sound the same as dense plaster when you rap on it. It doesn't block the transmission of noise as well. It's like the hollow-core doors that are used on interior doorways: adequate to the purpose but not weighty enough to be reassuring.
There seems to be a discontent in much of America about the quality of trimwork in new houses and about the general quality of construction, which trimwork is felt to represent. The extent of this discontent is difficult to gauge, but responses to it have taken several forms.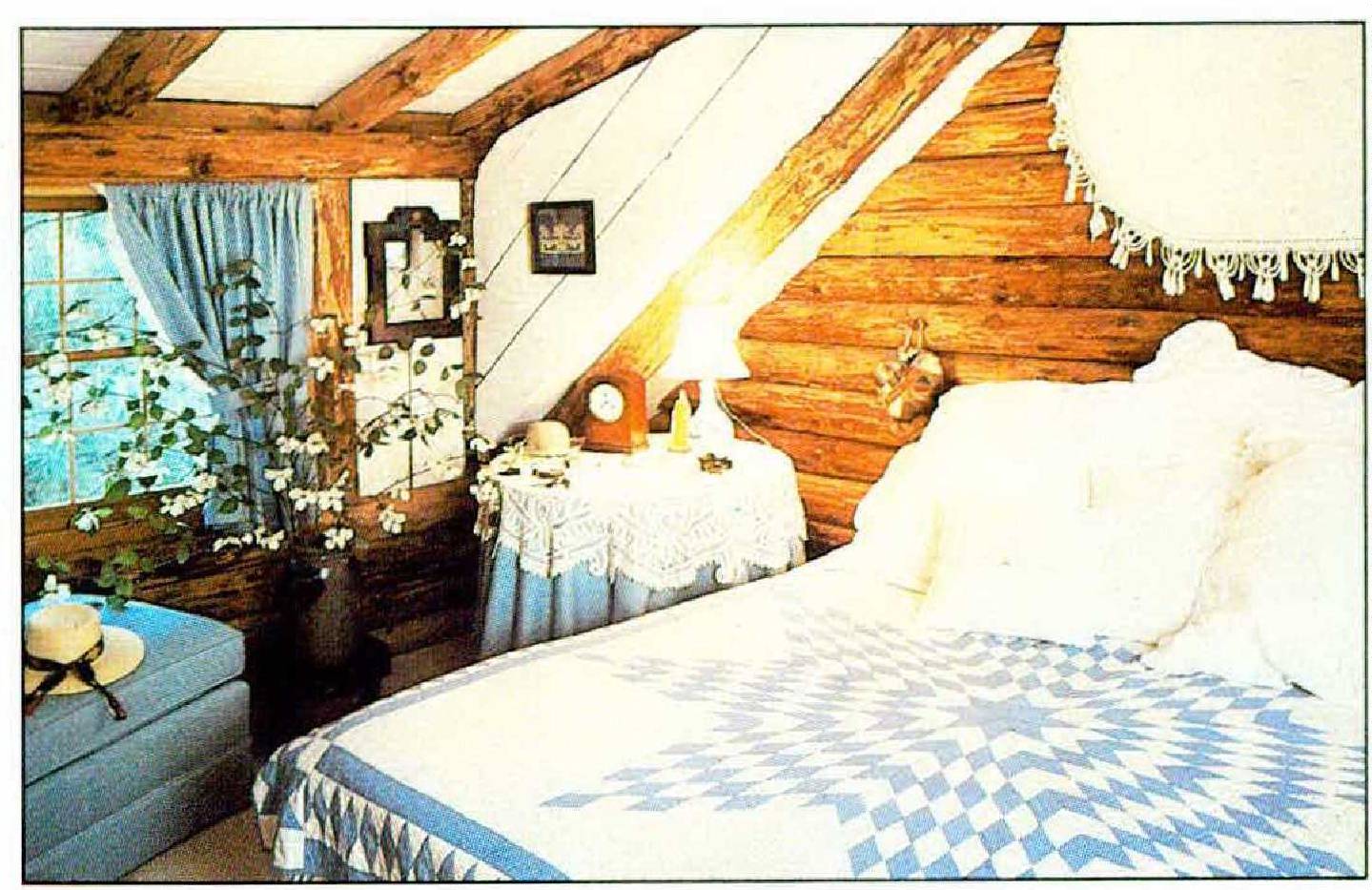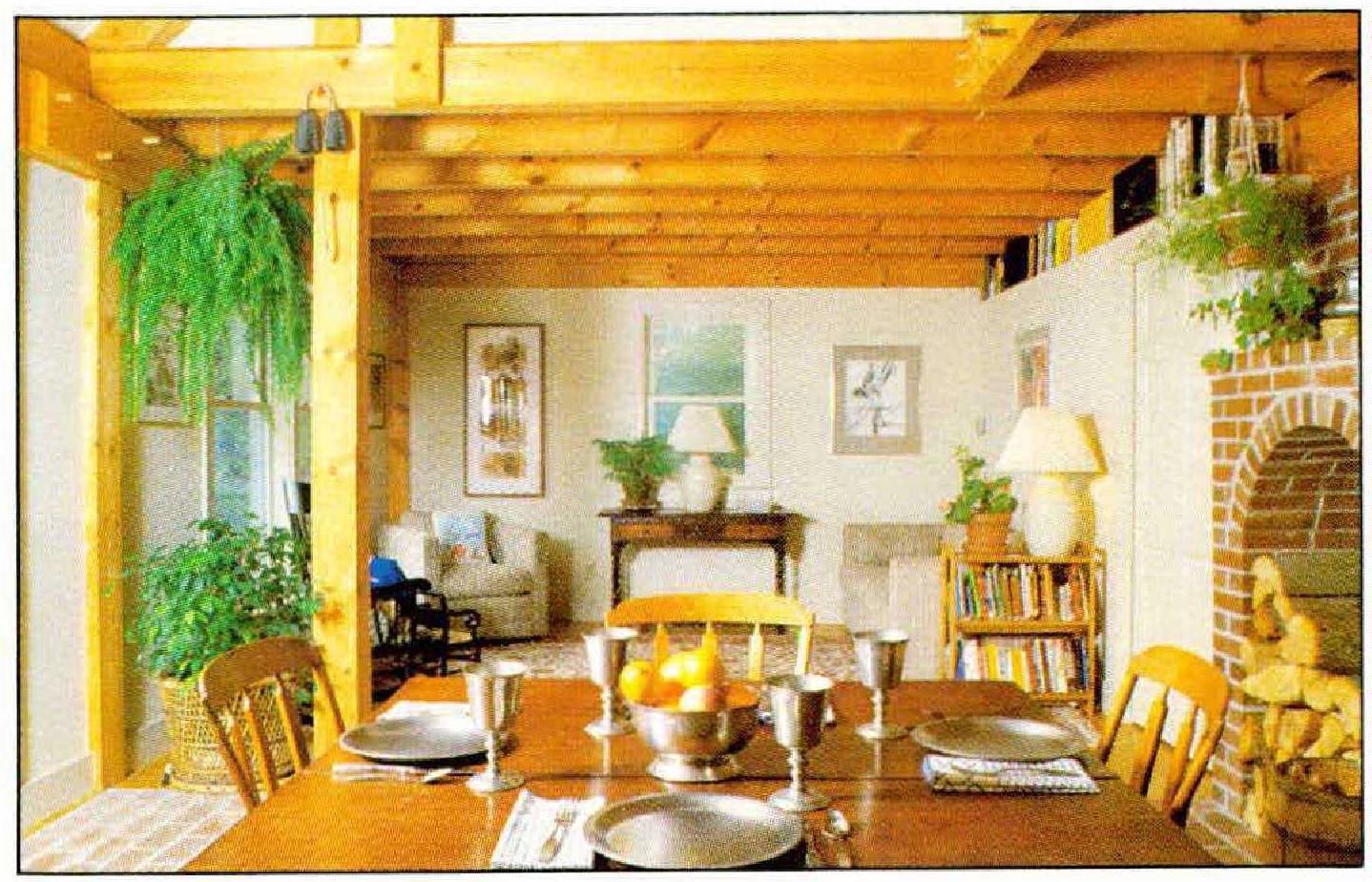 One has been the development of a deliberately heavy appearance—the "fat-wall look," as Doug Taber, an architect in Santa Monica, California, calls it. Instead of using two-by-fours to frame the house, the builder uses twoby-tens or two-by-twelves. They add a little to the cost and they slightly reduce the usable living space, but neither disadvantage matters, since the fat-wall treatment is generally reserved for expensive houses of 3,000 square feet or more. These large framing members create thick arches near the entrance and deep window openings in the public areas of the house, giving an impression of solidity and permanence. But the fat walls are only for show. "Kids' bedrooms nearly always get the thin-wall treatment, while master bedrooms tend to be a bit of a toss-up," Taber observes. "Presumably," he adds, "if the master bedroom and bath have such other allures as triple sinks or a garage-sized bathtub with a built-in hanging fern rack above, a builder could well get away with thin-walling the master bedroom."
But this is Hollywood stuff by comparison with other kinds of responses that have been occurring, particularly in the eastern states. In 1969, when New England Log Homes was founded, it was one of a handful of log-home makers. Today it is a leading member of an industry made up of more than 250 companies producing close to 40,000 houses a year. The log-home revival can be attributed partly to the fact that people can assemble a log house themselves and save money. But much of the appeal lies in the performance and the aesthetics of a log house. It is indeed solid, and its sturdiness is announced with wood exterior walls that may be ten inches thick.
The back-to-the-land movement and the revival of interest in traditional arts and crafts in the late 1960s and early 1970s led a number of people all over the country to rediscover another form of pre-modern construction: post-and-beam, which relies on large wooden rafters, joists, posts, and beams that are exposed on the interior. Post-and-beam was the means by which most American houses were built in the seventeenth and eighteenth centuries, before the adoption in the nineteenth century of the technique of balloon-framing with lighter, more convenient two-by-fours. It has become popular more for appearance than for practical advantages. The Maine Post & Beam Co., the leader in this method of construction, has in the six years since it was formed expanded to the point where it now builds about 450 houses a year, from Maine to the Carolinas. Its unusual production plan, in which the home-buyer can act as his own general contractor (thus cutting costs), accounts for much of the company's success. The construction method—which employs heavy pine beams to carry the house's weight—is a major attraction too, particularly for people who are convinced that many houses are flimsily put together.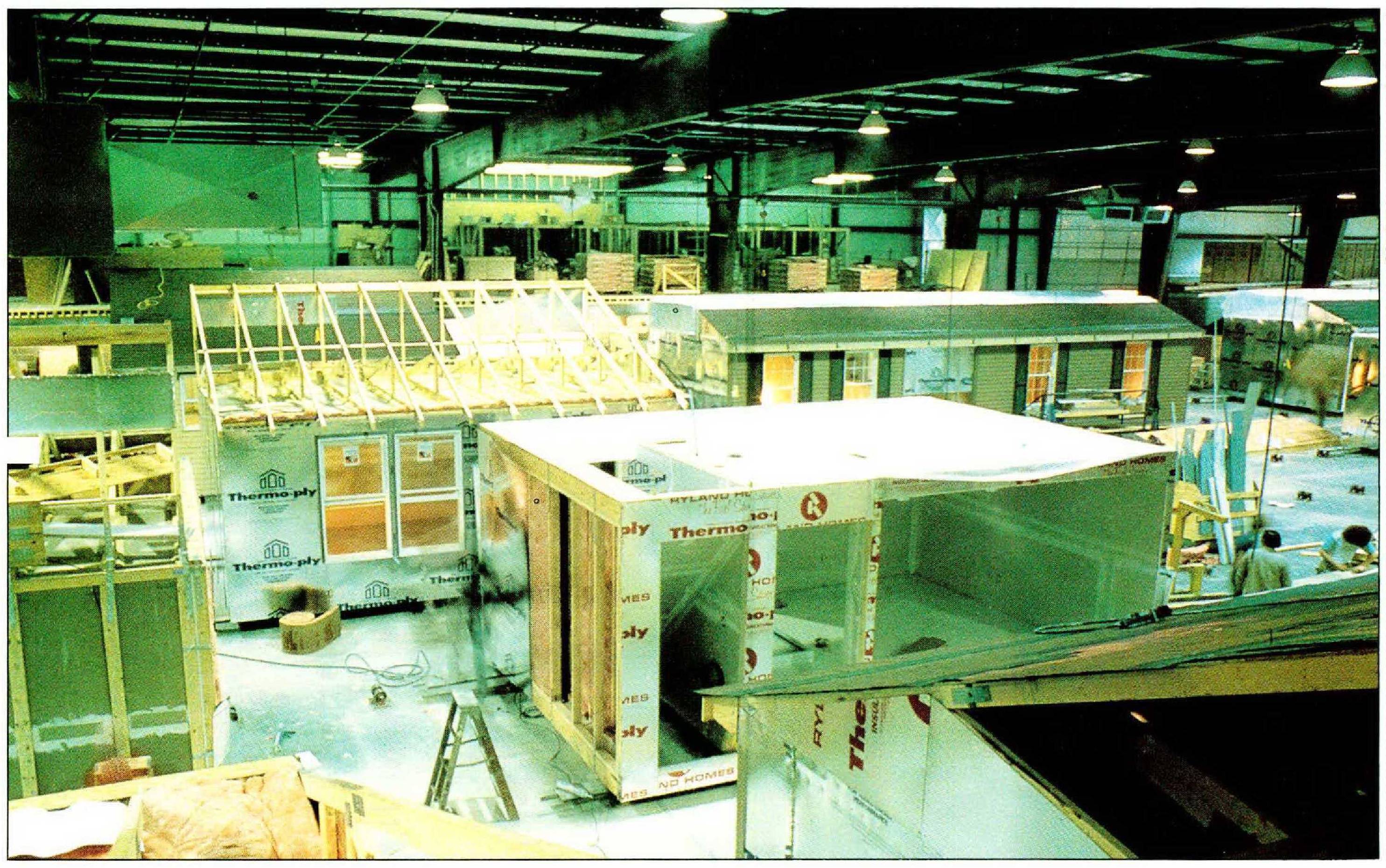 Misgivings about the quality of construction affect nearly every segment of the housing industry. Along U.S. 6 north of Scranton, Pennsylvania, I stopped at a modularhome lot and talked to Frank Bayer, a salesman. "I've had people come in and push on the walls and ask how it is in the wind," Bayer said. The visitors need not have been so doubtful. With effective supervision the construction of modular houses is in fact sturdy. At Pennsylvania's Contempri Homes each house is inspected as it is pushed along lines resembling railroad tracks, and when defects are found, the workers who made the mistakes are required to repair them on their own time.
To make sure that the finished units can withstand being hauled along the highways, modular-home factories typically use more than one method of fastening. Walls are glued as well as nailed. The nails are grooved around their shanks to prevent them from pulling loose. Some sections are secured with metal stitchplates—flat, rectangular pieces of metal with dozens of sharp projections that bite into a piece of wood and hold firm.
Some modular-housing companies go so far as to argue that in quality and workmanship modular potentially has an advantage over construction. Ryland Homes, one of the nation's largest conventional home-builders, opened its first modular-home factory in 1982 in New Windsor, Maryland, and has opened two more since then. Dick Jenkins, a Ryland executive, observes that the housing industry is very cyclical: "when you go through a downturn, people get out of the business." When housing rebounds, quality suffers, Jenkins says, because there aren't enough carpenters and other skilled people to do the work correctly. Factory production backed up by dependable quality-control procedures sidesteps these problems.
What is unresolved is whether modular housing's adequate solidity can be combined with individualized designs and high-quality trim and finish. In Costa Mesa, California, Heritage Homes has used the best aspects of modular—its inexpensively produced, quickly assembled kitchens, bathrooms, and bedrooms—and has relied on conventional methods to add to its houses oak stair rails, octagonal stained-glass windows, attached two-car garages, roofs with complex shapes, and sunken living rooms with cathedral ceilings. The resulting combination, 60 percent modular and 40 percent site-built, has the stylishness necessary to compete in the upper half of the housing market.
But there is a stumbling block: finding reliable modular manufacturers who are consistently able to meet the unusual demands of builders wishing to customize units at the building site. The modular-housing industry, says Duf Sfreddo, vice-president of Heritage Homes, is afflicted with the same problems of organization and attitude that have troubled Detroit's auto industry: it is accustomed to selling its products indirectly, through dealers, and it is not adept at accommodating the varied and changing desires of customers. "When you're building Mustangs and there's an order for eight T-birds, it's a difficult transition to make," Sfreddo says. "They want to tell us what product to sell."
It is likely that the modular industry will increase its share of the nation's housing production beyond its present four percent, and that modular homes will be found increasingly outside of where they are now concentrated: small towns and rural areas where home-building talent and supplies are scarce. But modular housing is just one, relatively minor, aspect of the industrialization that has come into home-building over the past thirty years. In 1952 the metal connector plate that made roof trusses feasible was invented. Today the factory-made roof truss— two-by-fours with metal joints—is used in perhaps 95 percent of site-built houses. In 1970 the floor truss was invented. Today it is used in probably 80 percent of sitebuilt houses, according to Don O. Carlson, the editor of Automation in Housing magazine. Prehung doors and preassembled stairs have become commonplace. Builders are increasingly turning to "panelized" construction, in which an entire wall, complete with windows, doors, wiring, exterior siding, and interior finishes, is produced in the factory and quickly erected at the building site.
Components like these have brought uniformity and predictability to house construction. There is no question that some of the materials used today in houses are inferior to those used in the past. Donald Baerman, an architect who teaches courses at Yale on the problems of building, says, "The quality of wood available for railroad ties a hundred years ago is not available for cabinetwork today. We took the best first."But today there is much more knowledge about how to get the most strength from the least material. A modern house built with two-by-fours that are really only one and a half by three and a half inches and that have been harvested from fast-growing but weak species of trees possesses all the strength that is necessary. It is more reliable than the houses built in the decade after the Second World War, a period in which homebuilders—increasingly large firms that did little to correct their mistakes once a house had been sold—began using components like plasterboard and prefabricated wall panels, components that were in a relatively primitive stage of development.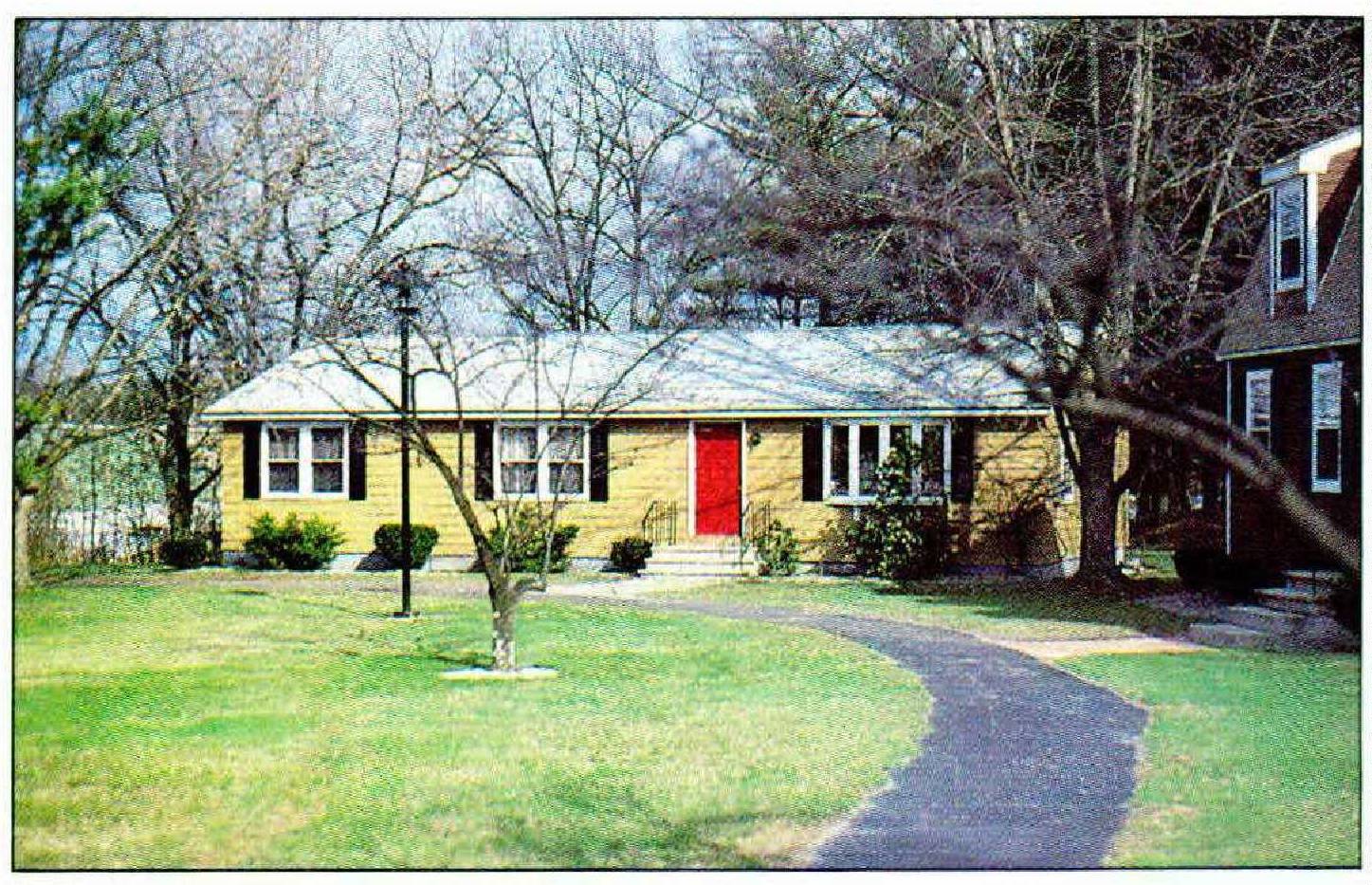 Significant differences remain between the best and the worst builders. Carol Braun, an engineer who designs houses for her husband's suburban Atlanta firm, J. M. Braun Builders, says, "The lumber company will send you an order of floor joists, and some will be good and others will be bad. They have knots or they're warped or not cut properly. A good builder will put those aside and call for some good ones. It slows you up. It's inconvenient, but that's what a good builder does. It's not that they'll crack or buckle, but you'll get sags and creaks. Arches will crack. Tape joints will crack."
"I've seen houses built on filled ground," Carol Braun says, "and it settles, and a year later people can't open and close their windows, and they don't know why." Even poorly constructed houses do not collapse—roof trusses and other components built to computer-engineered specifications to handle the expected loads prevent complete structural failure. Douglas B. Spohn, a former president of the Homebuilders Association of Metropolitan Atlanta, estimates that perhaps ten percent of all home-buyers, even in the Atlanta area—where craftsmanship is widely considered to be above average— will end up unhappy with what they've bought.
THE ULTIMATE AMENITY, THE KEY TO A QUALITY that goes beyond luxurious materials, expensive appliances, or generous size, is the full involvement of a talented architect. Robert Gutman, a sociologist at Princeton, has estimated that architects and engineers have a hand in the design of as much as three quarters of America's new housing, but, he says, their involvement is often brief and superficial—for instance, supplying stock house plans to builders and mail-order customers.
Custom designs by architects are usually reserved for expensive houses, costing perhaps $200,000 and up. And even in this price range the degree of the architect's participation varies widely—as does the cost of the service. Most of the people who buy Chatham houses in Atlanta for $170,000 to $600,000 work with independent architects and get sets of elevations and floor plans—layouts, but neither lists of materials nor on-site supervision—for $500 to $1,000. At Blackhawk, in California, where the architect does more than supply a plan for an essentially traditional house, a fee of $12,000 to $20,000 is common on the houses that cost from $400,000 to $950,000. In some major cities an established architect will charge 10 to 15 percent of the project's cost for full service. The most telling results of incurring the additional expense come from the architect's superior ability to fit the house to its site, to give the house distinction, and to shape the interior and exterior so that they complement the way the occupants live. What follows is a look at five especially successful houses designed by architects working in diverse styles.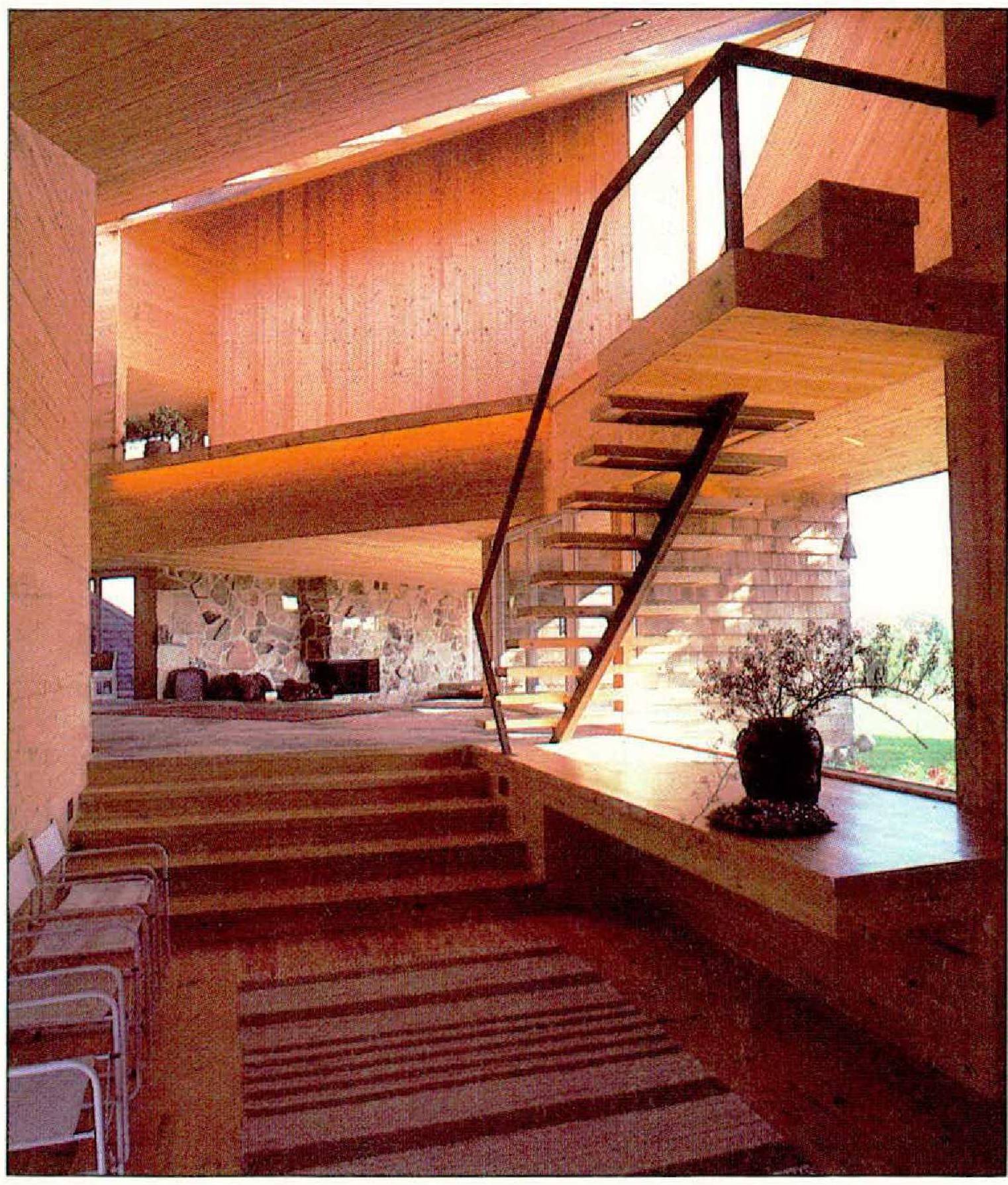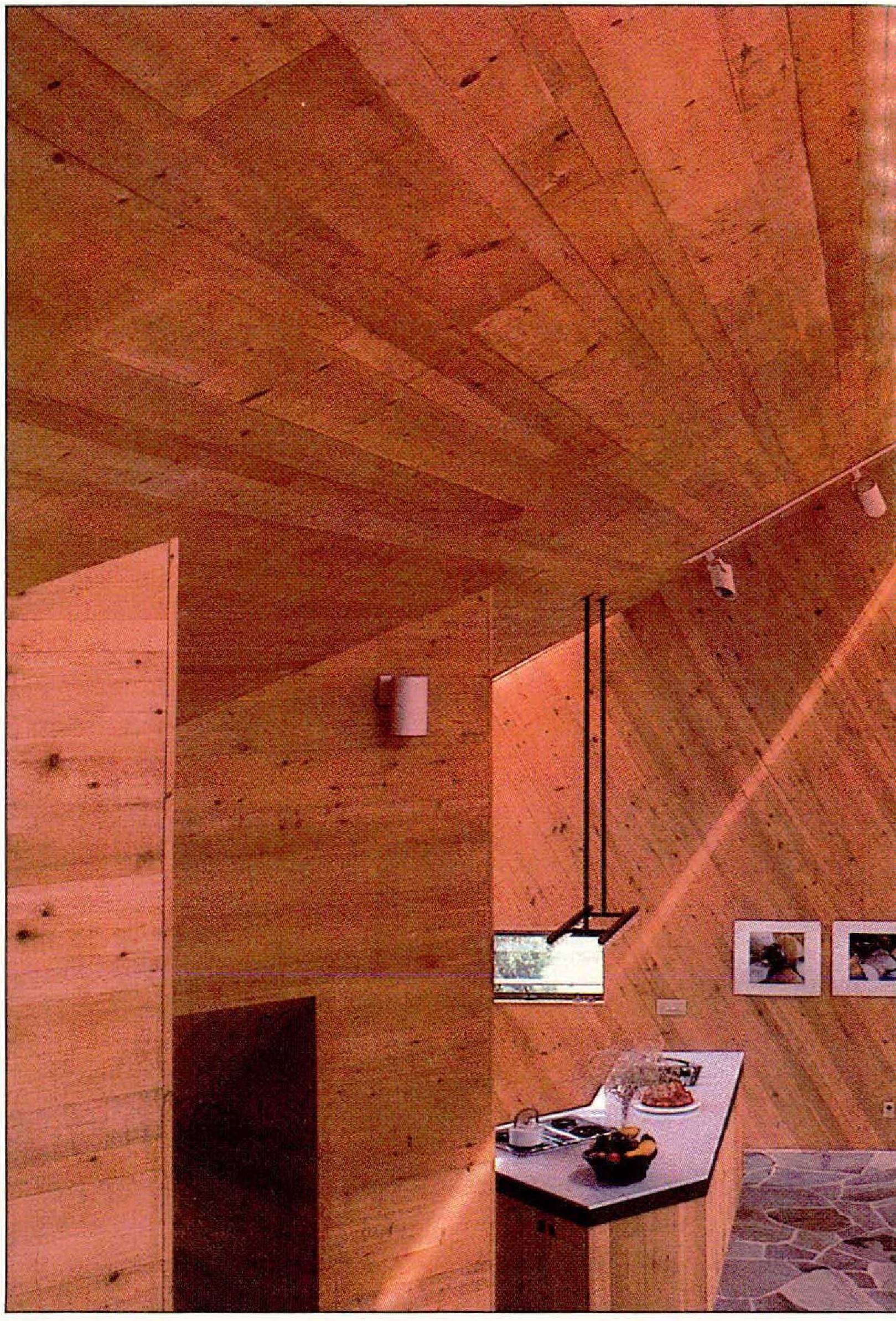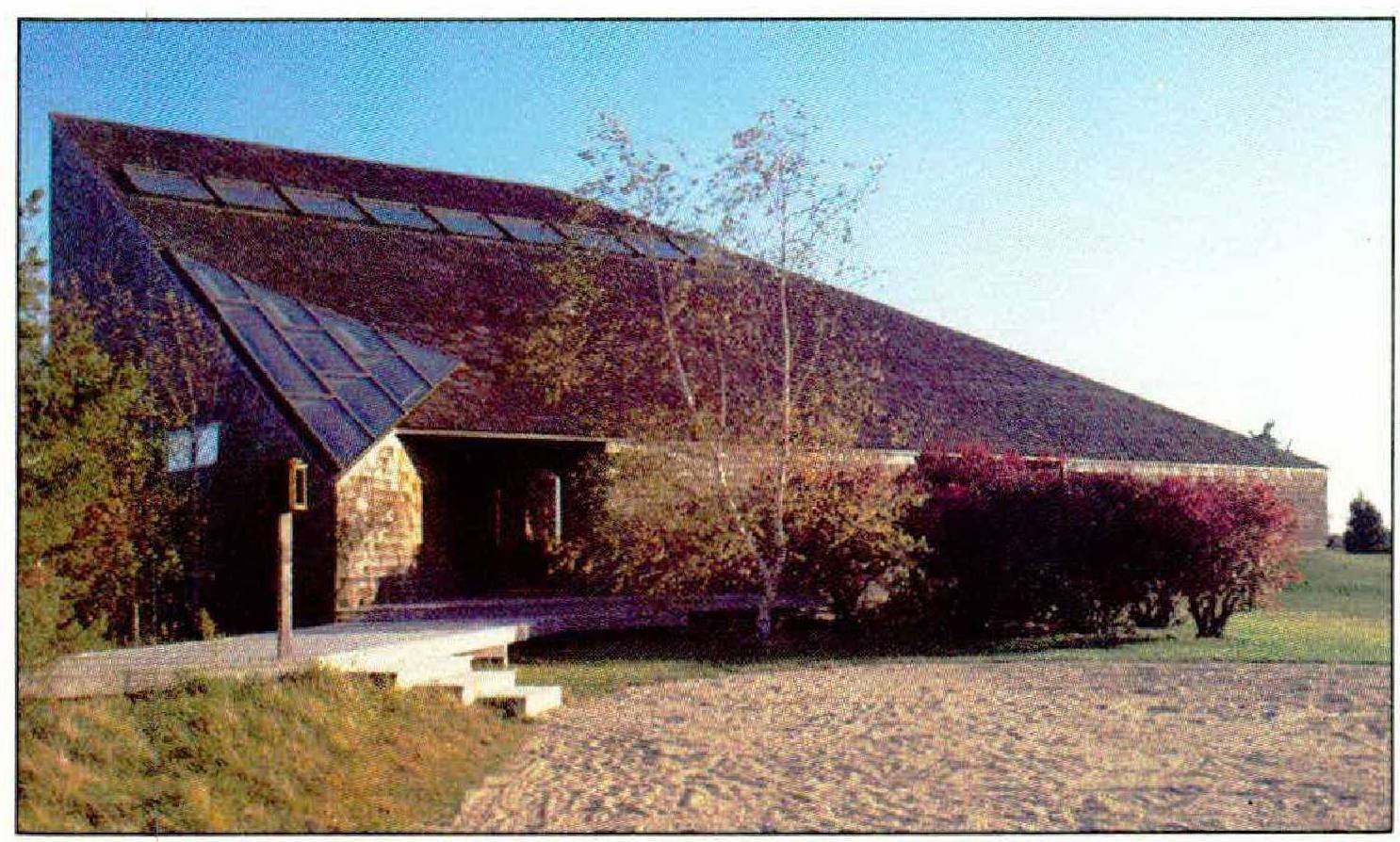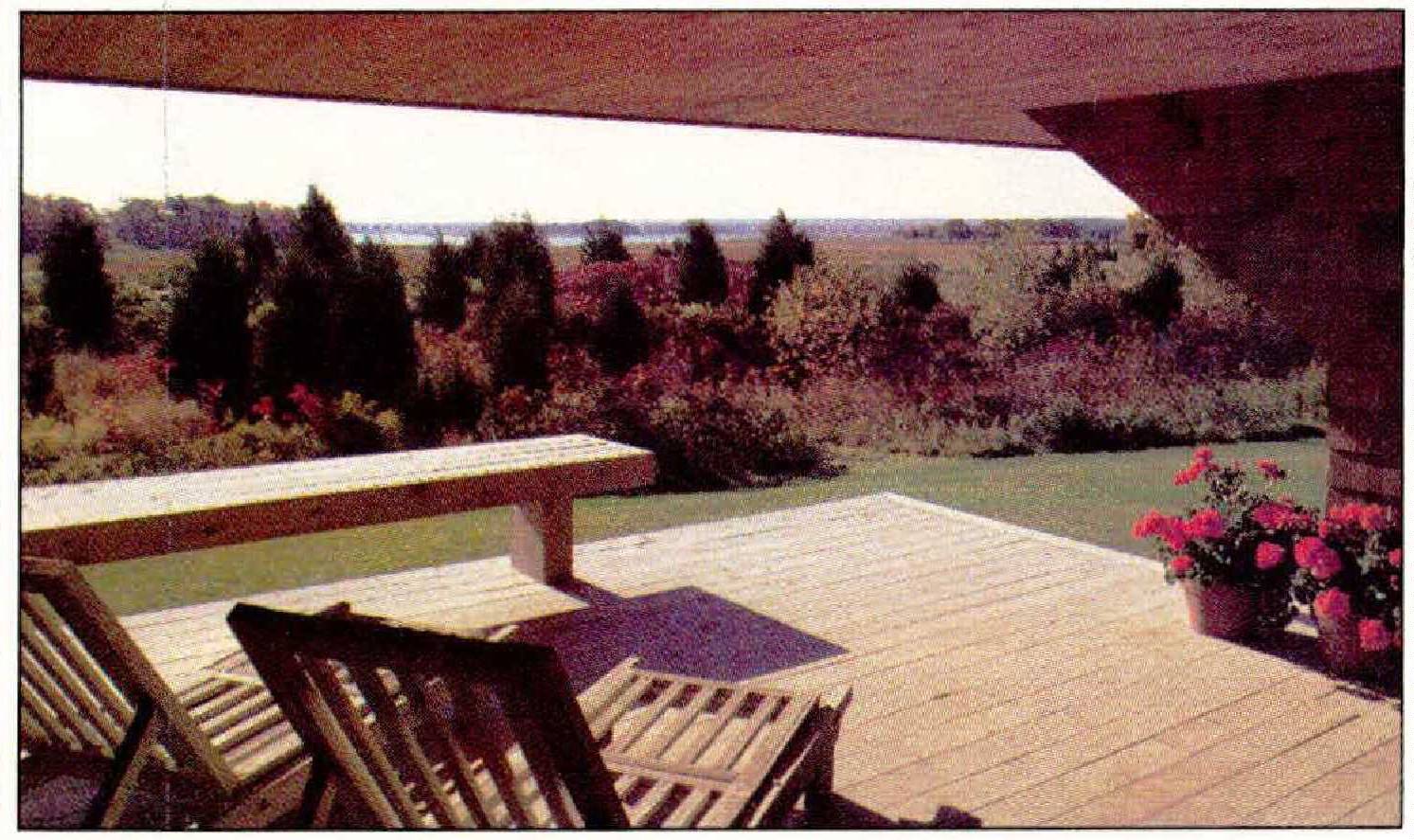 SINCE THE LATE 1960S NORMAN JAFFE, OF BRIDGE HAMPTON, New York, has been designing powerful houses in the sophisticated resort towns of eastern Long Island, sometimes for the famous but almost always for the rich. Jaffe does not believe in reticent buildings. "The little building is an annoyance on God's vast landscape," he says. The recently completed Hillman house in East Hampton, Long Island, is more tranquil than many of Jaffe's houses, and yet the characteristic boldness comes through in the house's angled profile, its big chunks of Delaware River stone in the living room, and its magnificent, soaring ceilings of rough-sawn pine. The 3,000-square-foot house has only two bedrooms—all that were needed for a vacation house—but it also contains a darkroom for Mrs. Hillman's photography, not hidden away, as darkrooms often are, but on the first floor, next to the study. The kitchen is dramatically open to the rest of the house, making it easy for whoever is cooking to remain engaged in conversation. A second-floor gallery displays the Hillmans' collection of paintings. A sunken living room offers some of the intimacy that is lacking elsewhere, and if anyone wants coziness with a view, it can be found on a sheltered exterior deck under a wood ceiling as low as Frank Lloyd Wright could have asked for. The manipulations of space and materials are breathtaking. Jaffe designs houses that stir the spirit. "I try to remember," he says, "that I'm designing with the light. I've gotten up before sunrise to watch the light on a house. It's such a miracle. The light on the rough-sawn pine makes the shadows strong."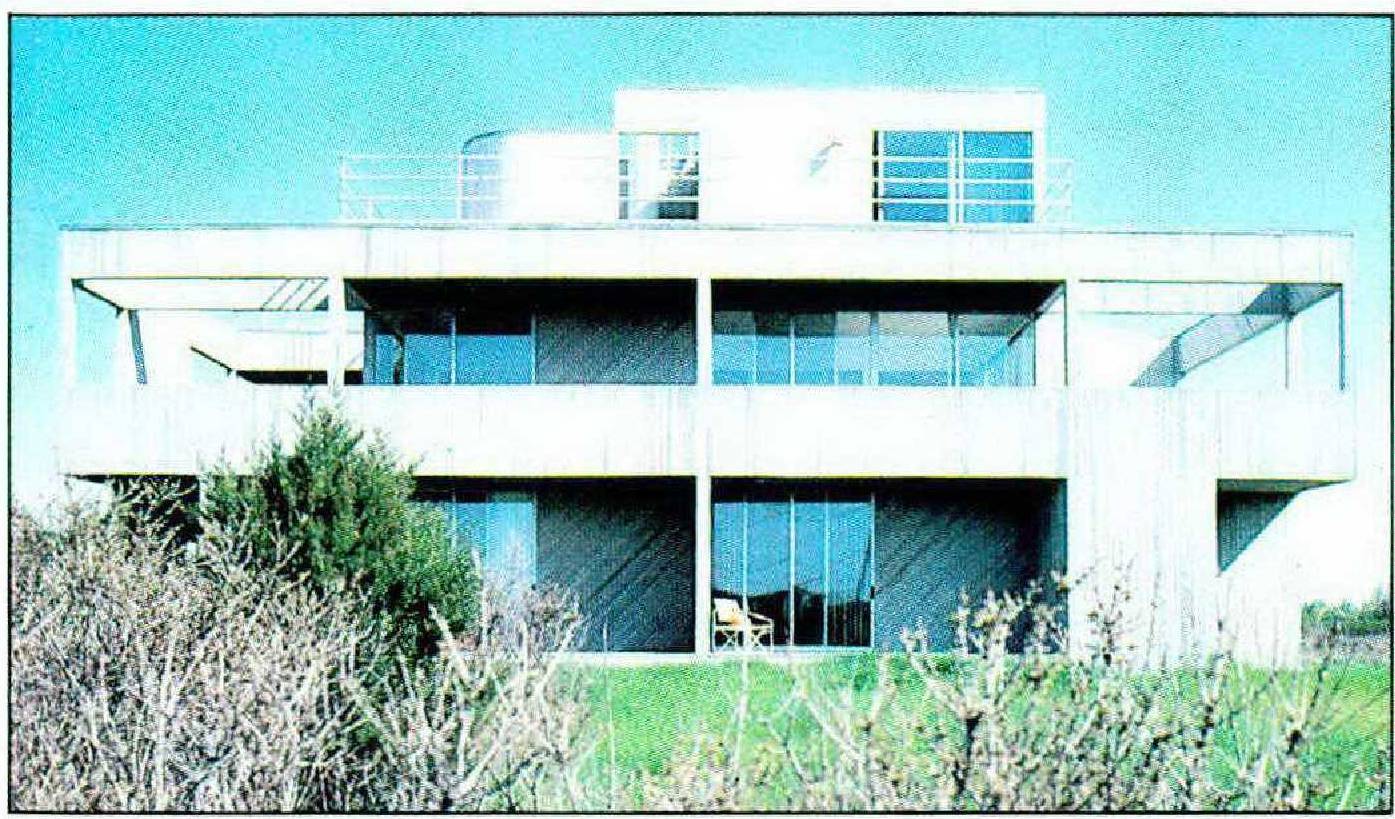 EMBLEMS OF MAINSTREAM MODERNISM ARE CENTRAL TO A vacation house at Sagaponack, Long Island, by New York architects Julian and Barbara Neski. It has roofs as flat as those designed by Le Corbusier, the pioneer of modernism, in the 1920s. Style merges with function. The New York City judge who commissioned the house wanted as much deck space as possible for informal gatherings and for his own enjoyment. Even the highest roof has a deck offering a view over the dunes to the Atlantic Ocean.
Serene, with just enough curves to balance the severe right angles, the house hovers above a low green landscape. Rectangular cutouts in the cedar cladding frame some views; liberal expanses of glass capture others. Between the top of the kitchen counters and the bottom of the wall cabinets a strip of glass eighteen inches high and nine feet long has been inserted, creating a vista of bayberries, beach grass, and wildflowers—where a typical builder would unthinkingly have put gypsum-board.
For all its apparent openness, the house is rigorously zoned. Between the first and second floors is a closed, circular staircase that allows children or guests to be by themselves in the ground-floor bedrooms while others socialize above. On the penthouse is the judge's master-bedroom suite, situated so that he can see the surf while lying down. ON A HILLSIDE ABOVE THE CONNECTICUT RIVER IN ESSEX, Connecticut, sits a retired couple's house designed by William H. Grover of Centerbrook, the Essex firm with a proclivity for using venerable forms in ironic ways. Some of the firm's houses have an arbitrary feeling, a sense of historical elements being forced into uncomfortable shapes for no greater purpose than to display the designer's erudition. Even at the Essex house, the arch over the entry walk feels willful.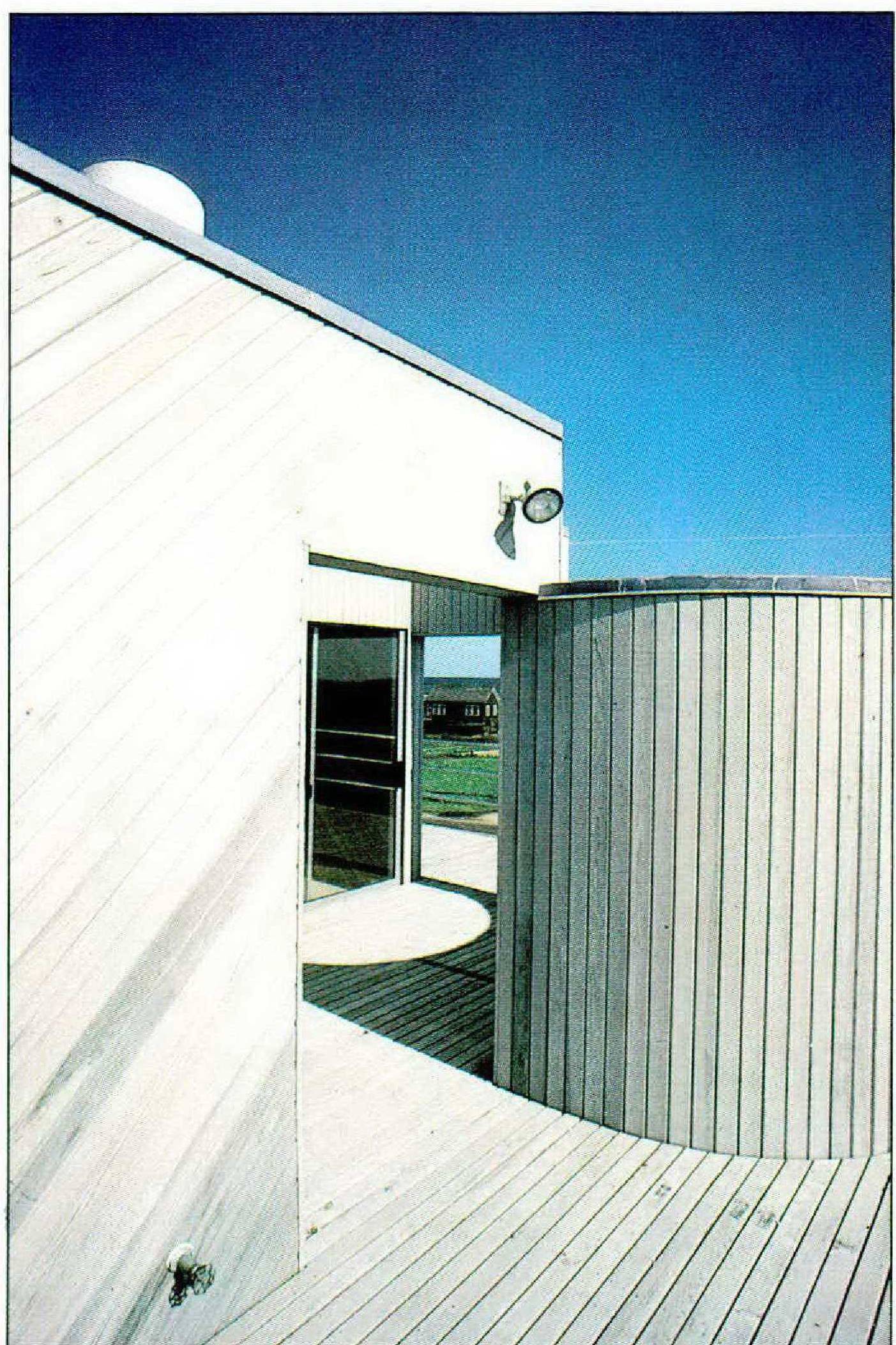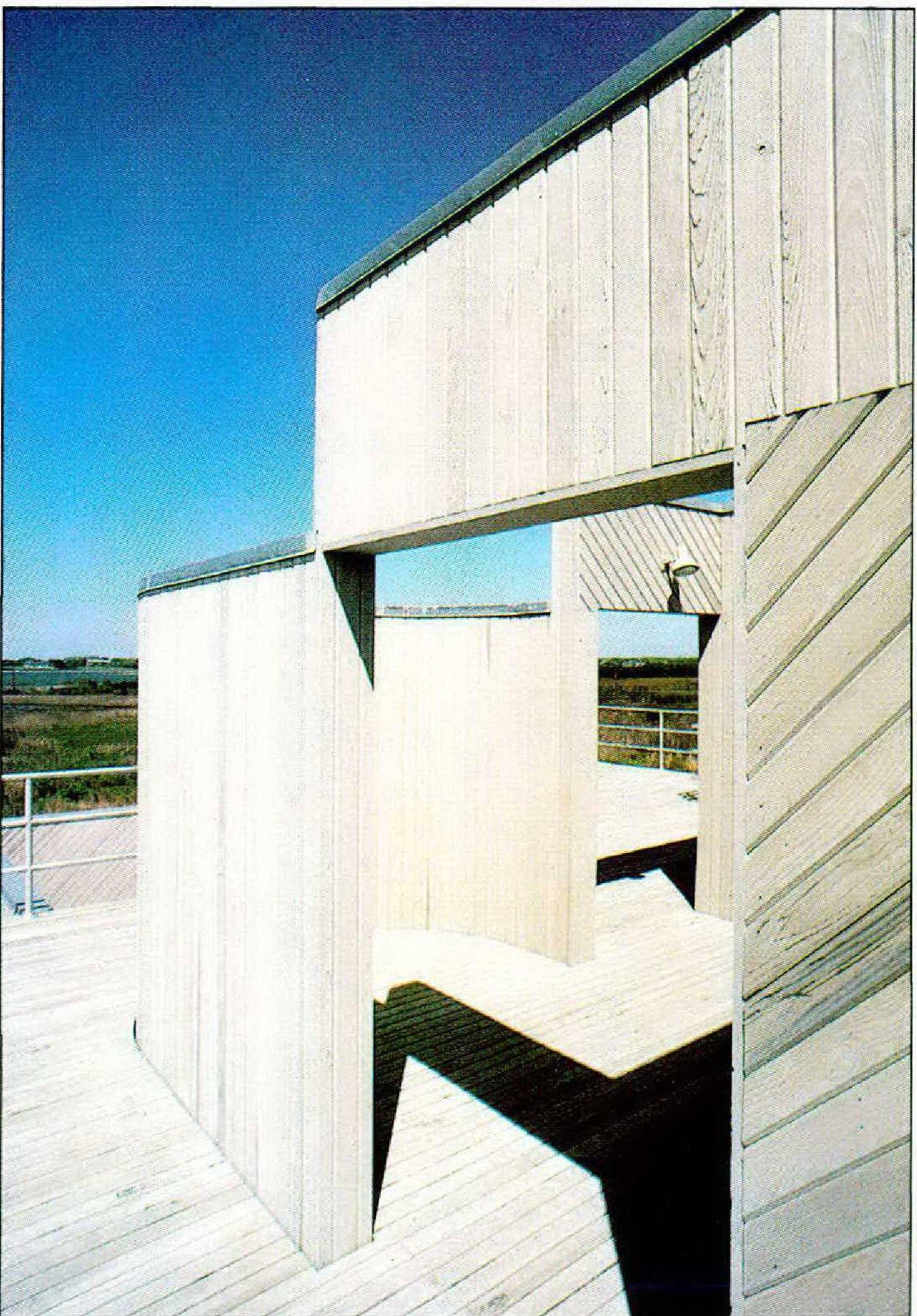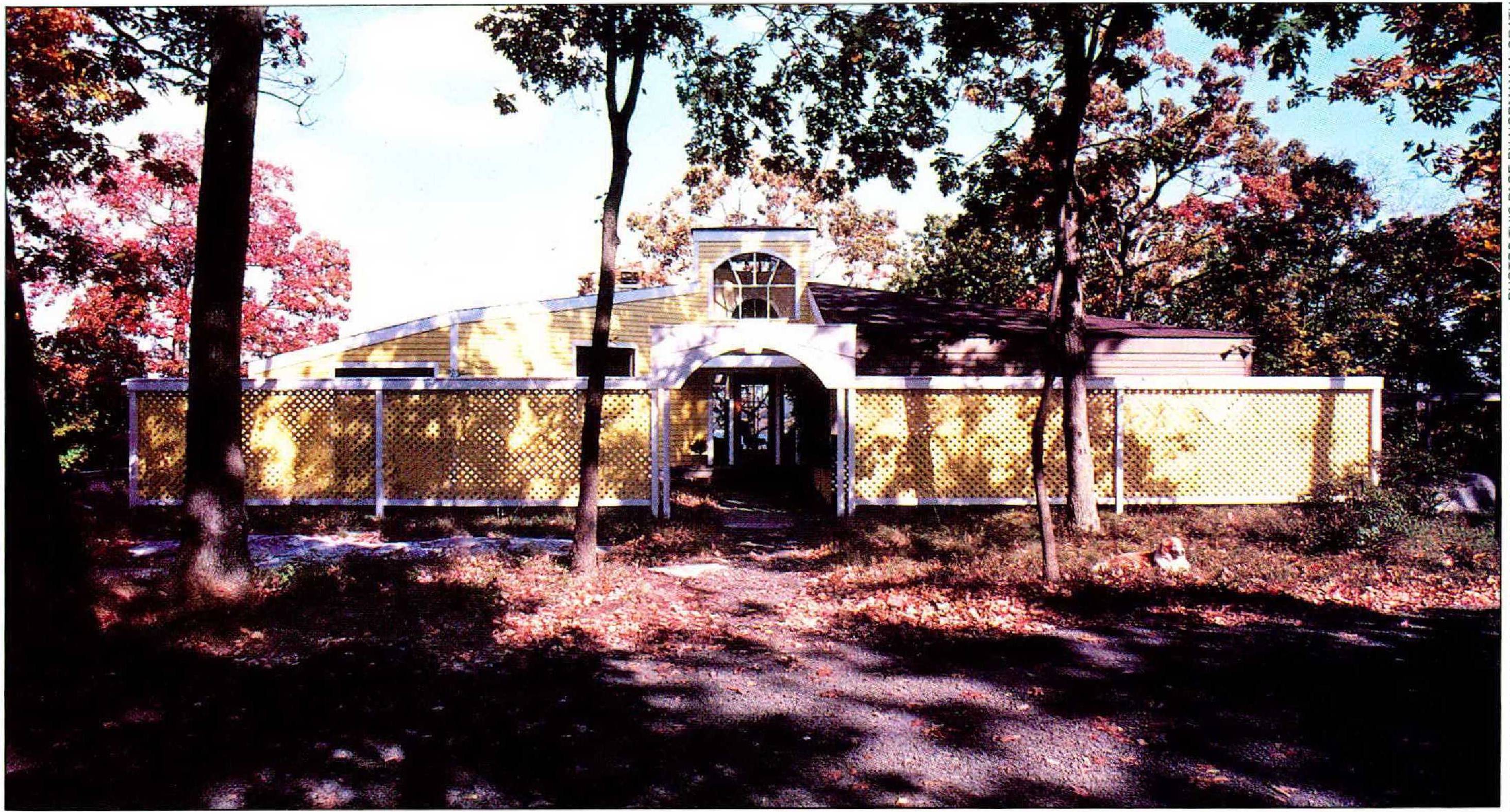 Yet the other aspects of the house are a tribute to Grover's skill in satisfying the needs of both its owners and its environment. The design enables the couple to use the possessions they have acquired over the years rather than requiring them to buy new furnishings to fit the house. Though the house contains only 2,050 square feet, it feels larger, because painted rafters carry the ceiling at an angle, tentlike, from the tall center in the living room to the exterior walls. The sloping rafters, extending through bedrooms and baths, tie all the sections of the house together visually, offering a reminder that even the smallest room is part of a larger whole.
Lattice is used in many postmodern houses, but here it rises above the merely decorative to enclose a sitting area off one of the bedrooms, a place for the woman of the house to be outdoors with a degree of privacy. Colors have been thoughtfully chosen—a cheerful yellow facing a little-traveled road, but a muted brown on the side above the river to avoid calling attention to the house. Even such details as the floor covering in the foyer have received the architect's care: Grover designed sky-blue tiles punctuated with white tiles, echoing the patch of sky visible through a tower he placed directly overhead.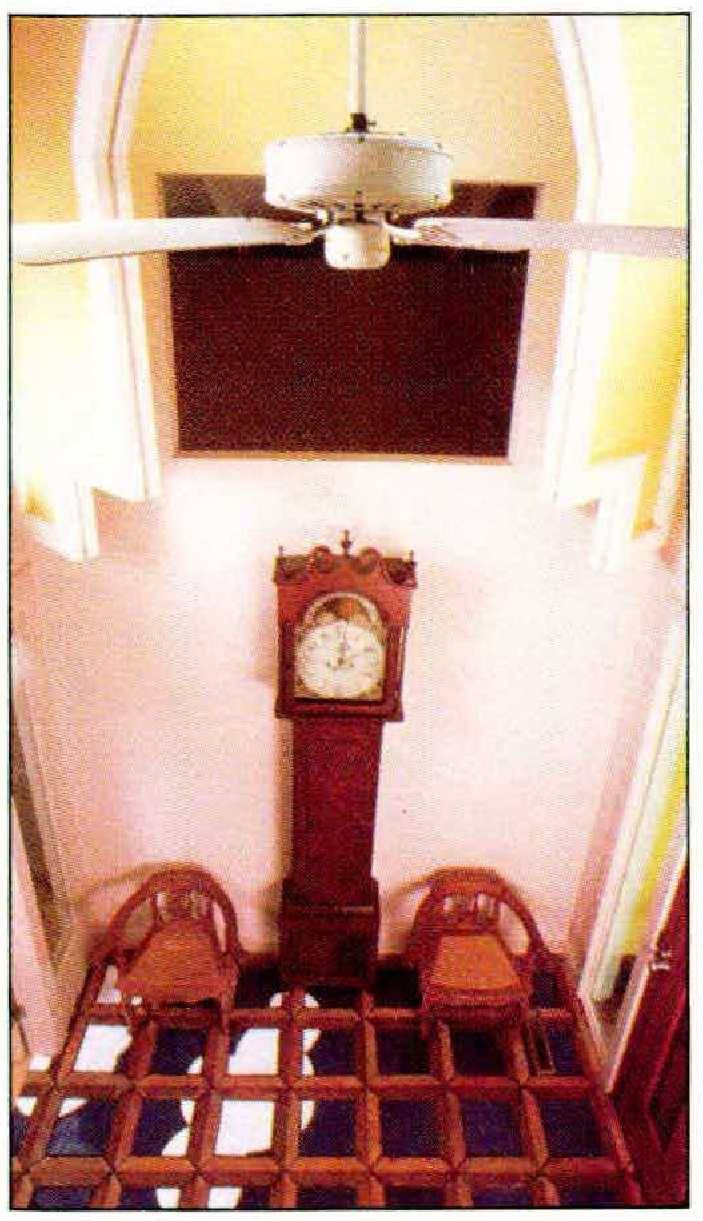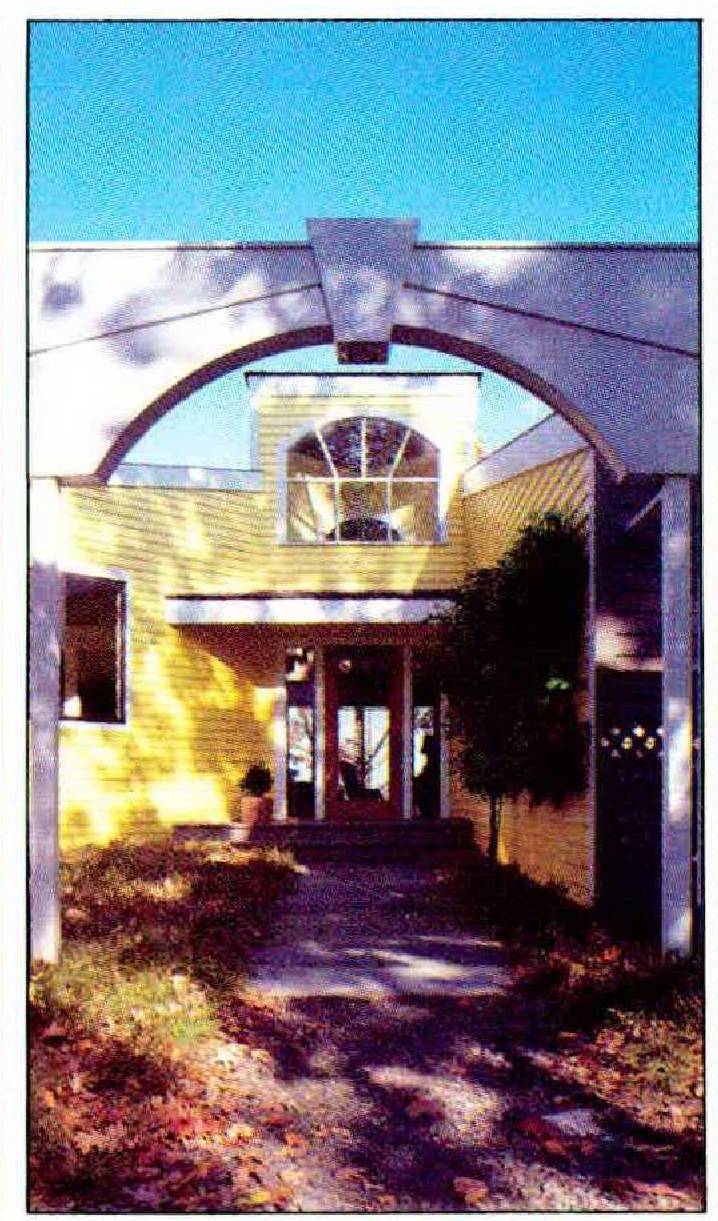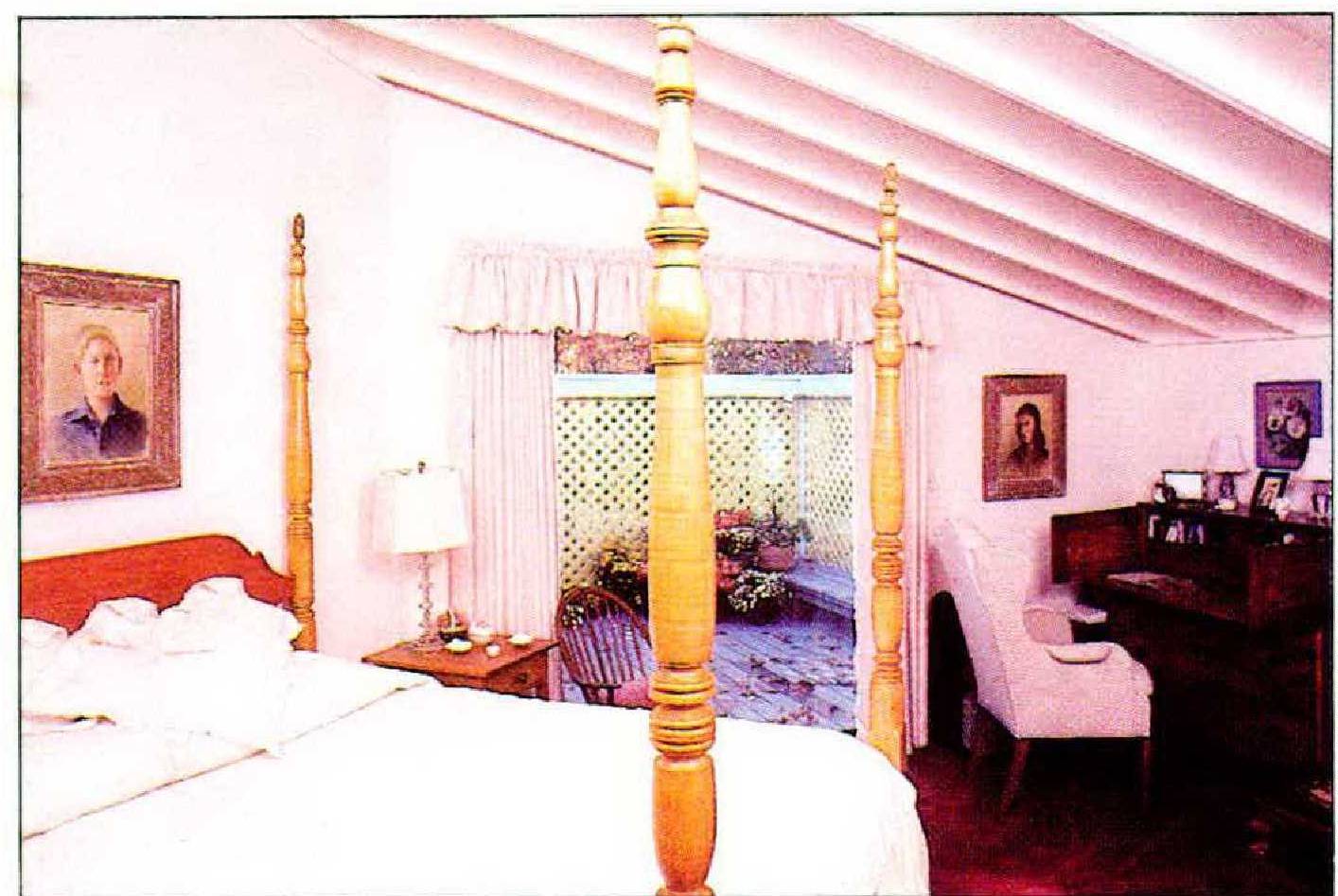 IN THE RURAL HILLS OF MARIN COUNTY, THIRTY MILES north of San Francisco, the Maoli house rises from a steep slope in much the way that villas jut up from hillsides in the Italian province of Tuscany, conspicuous yet in character with the rolling landscape. The exterior of the 3,000square-foot house conveys a degree of tension. Overhangs are tight. The terra-cotta-colored stucco is almost as flat as the cardboard model that the architects, Richard Fernau and Laura Hartman, of Berkeley, constructed in an early stage of the project. Such stringency might have detracted from a simpler house, but here it focuses attention on the rhythms generated by windows, awnings, piers, and gables—rhythms complex enough to encourage sustained looking.
In the Maoli house many different purposes are skillfully reconciled through one aspect of the design—the succession of four gabled projections that push out from the house's long, narrow spine. The gabled projections allow high, pitched ceilings in the four second-story bedrooms and create a unifying visual pattern for a house that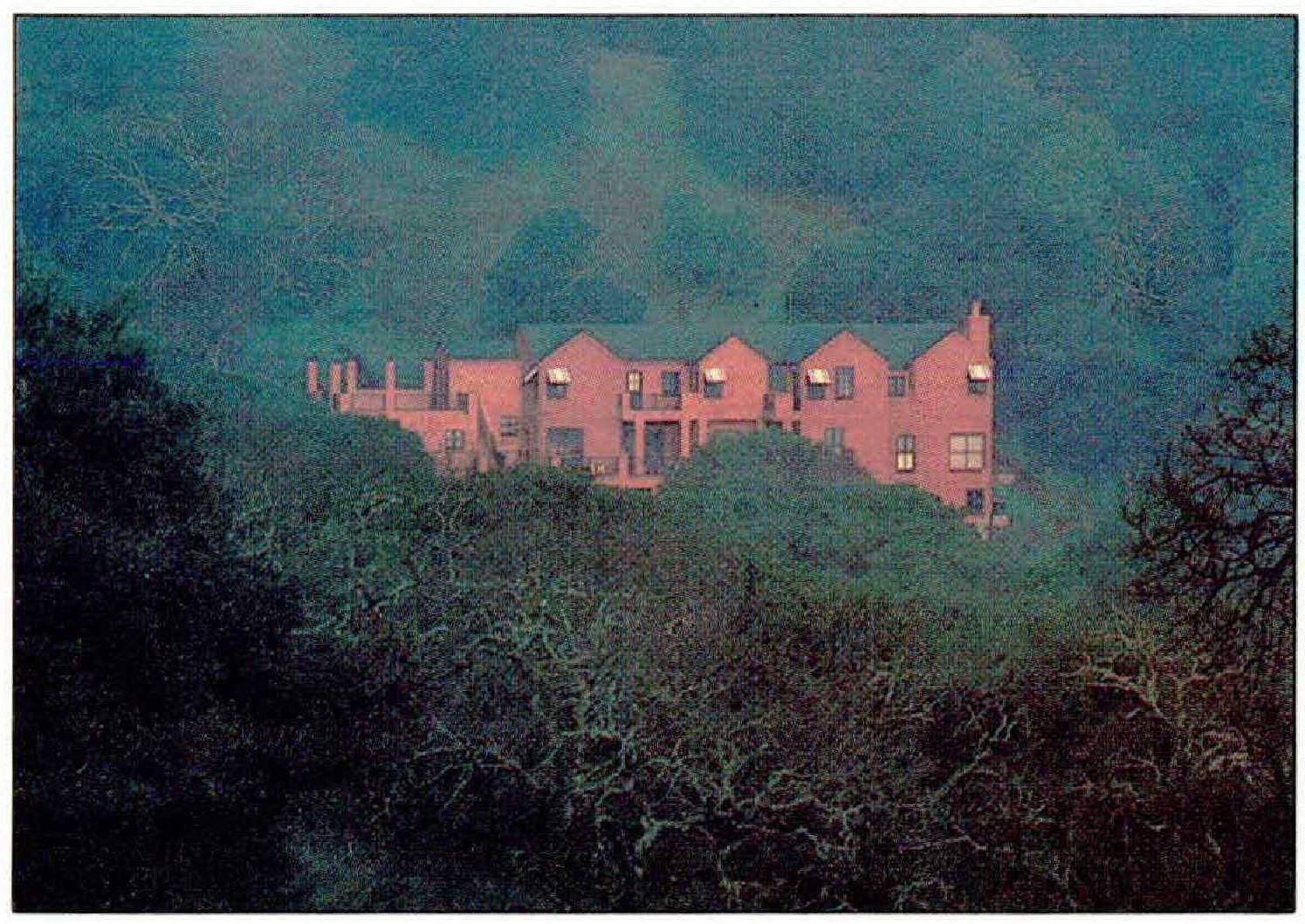 stretches 108 feet from the doors of the two-car garage on the south to the tiled fireplace of the living room on the north. They enable the rooms to catch more of the southern sun, and define a series of terraces—some serving as play areas for the Maolis' two small children, others as places where adults can have dinner or relax outdoors with panoramic views of Lucas Valley.
By breaking the house into a sequence of discrete rooms, the projections and recesses help to organize an alternative to the usual open modern interior. The architects saw that separate rooms offered energy-conservation advantages; warmth can be more easily contained in a room of limited size. Since the house is essentially one room deep, breezes in the summer easily blow in from the valley side and out the back, where a series of high dormer windows on the second-story hall facilitates natural ventilation. The result is a house in which vistas, comfort, low utility bills, and compatibility with the surroundings are intertwined.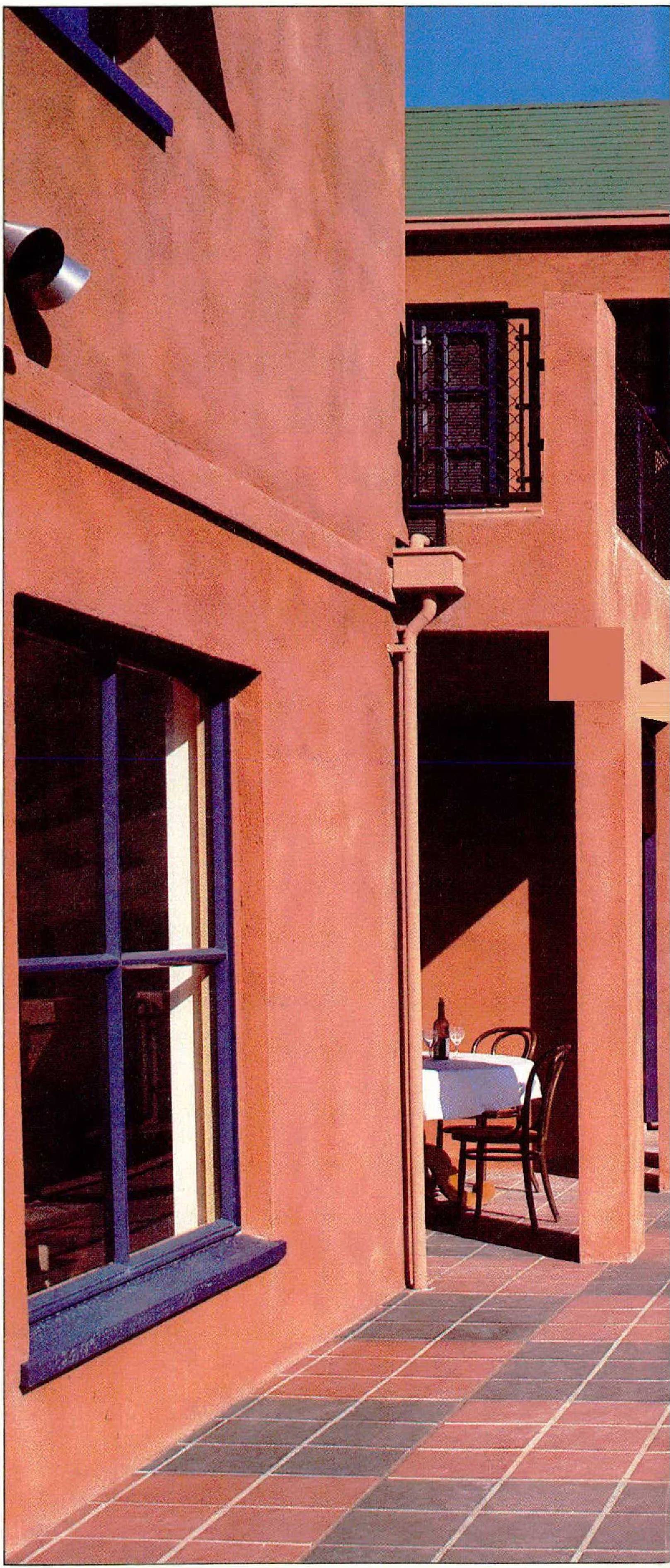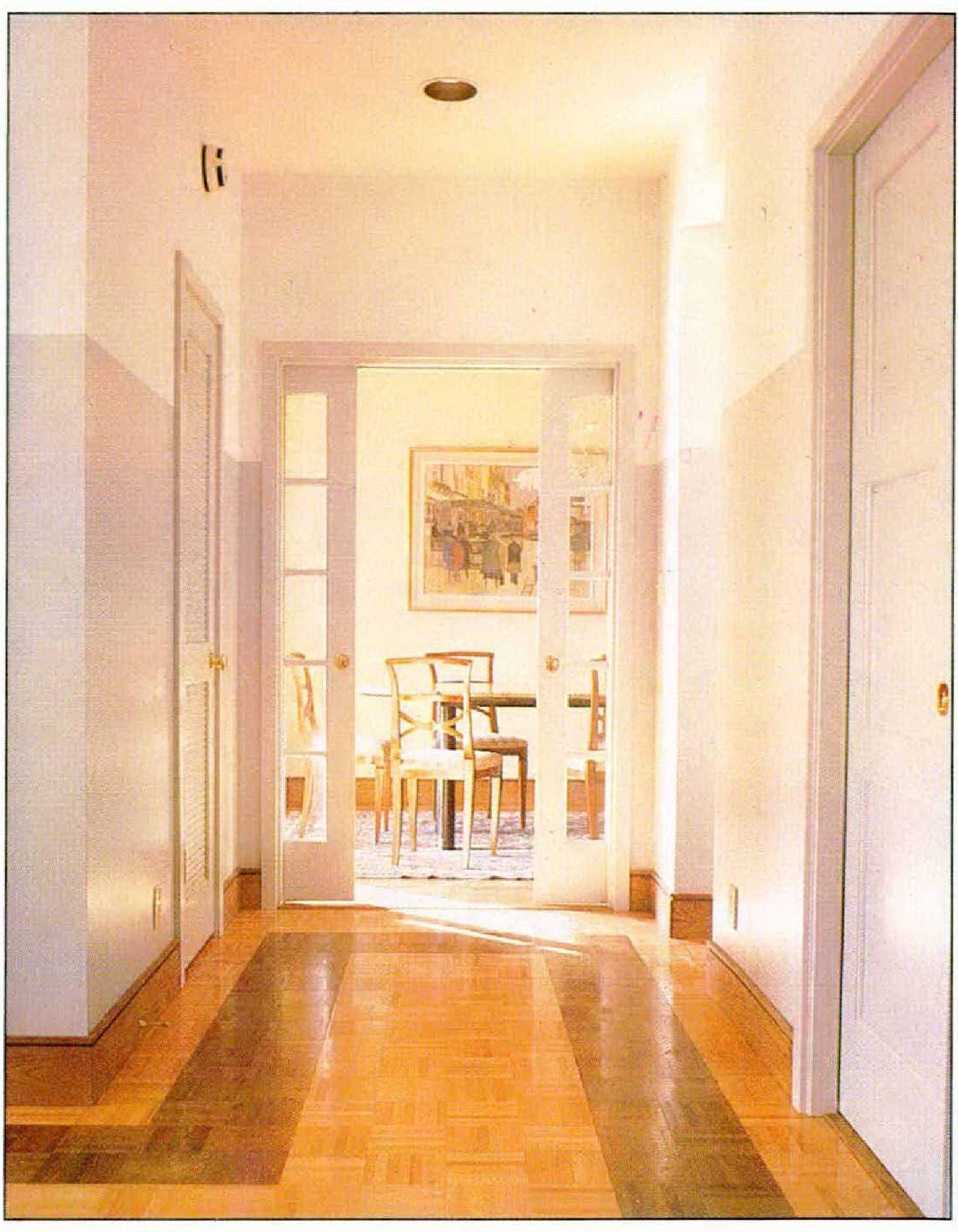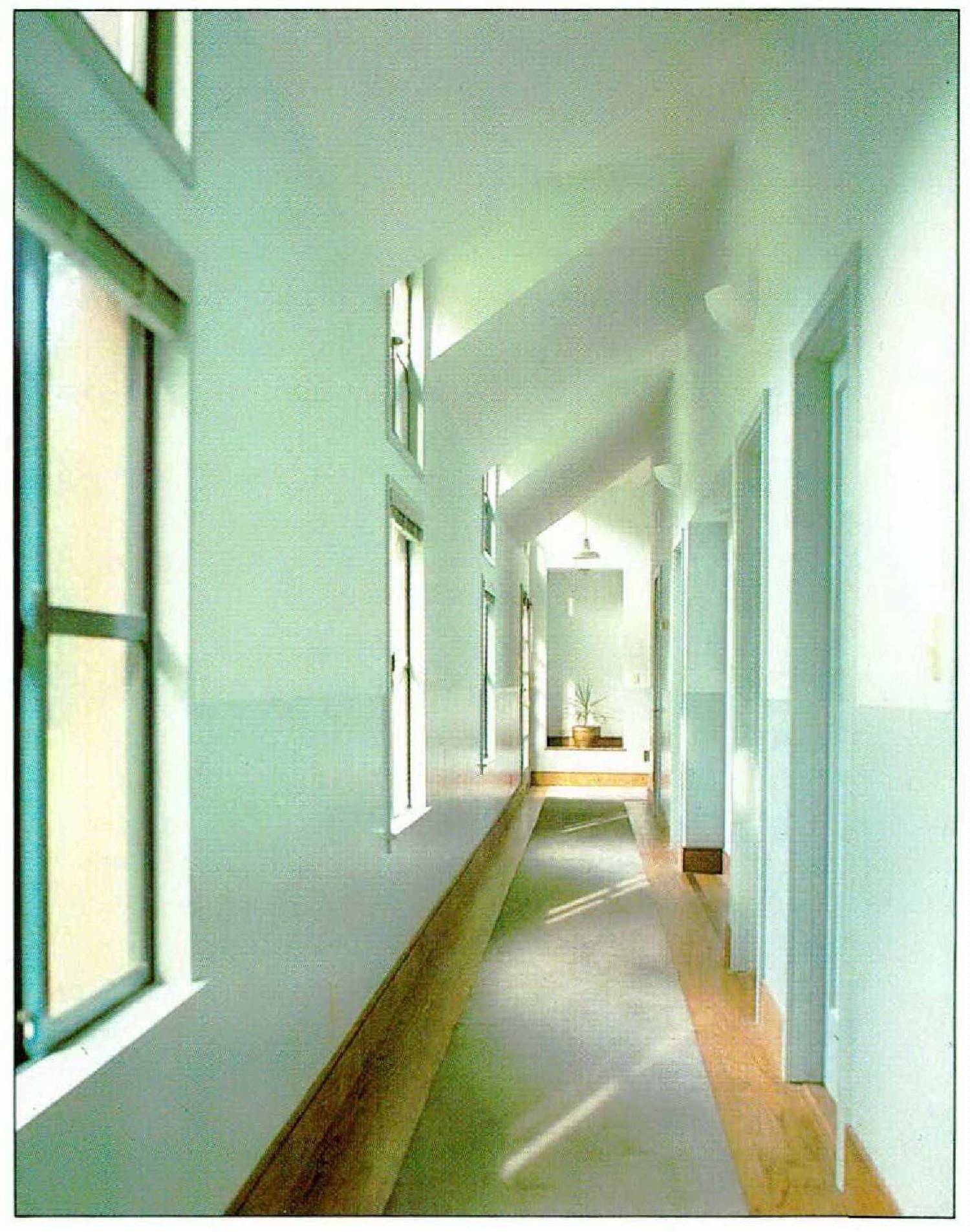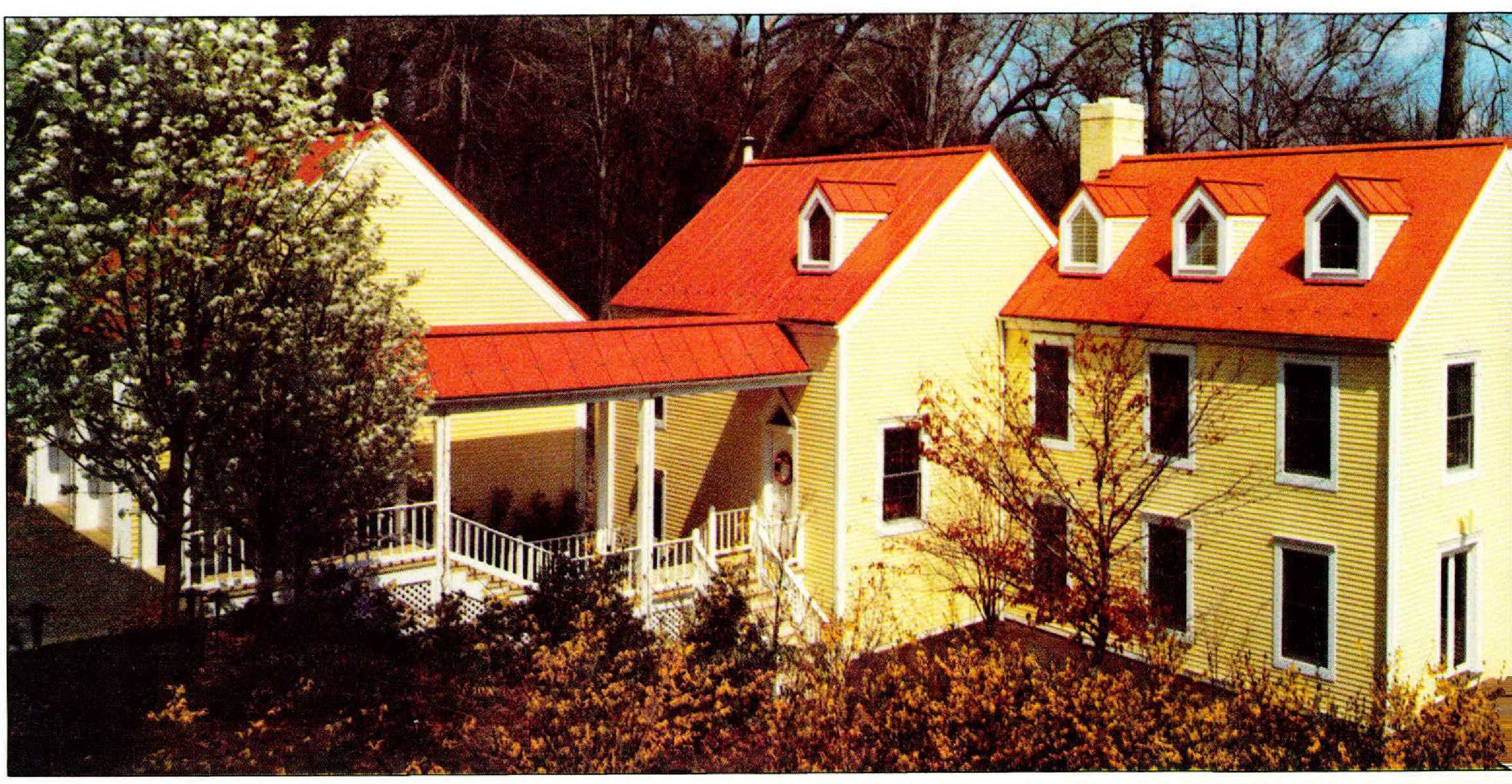 IN MCLEAN, VIRGINIA, THE FOSTER HOUSE, DESIGNED BY the Washington architectural firm of Hartman-Cox, sits on a similarly uneven piece of land, a hillside with a view through the trees to the Potomac River. But the house is twice as large—it is a primary residence of 6,000 square feet—and is an attempt to combine the feeling of a nineteenth-century Virginia farmhouse with some of the simplicity and openness of modern interiors.
By breaking the house into three staggered segments that follow the hillside's contour lines, the architects were able to meet two of the Fosters' main objectives: that all the main living space be on one level, including a central living and dining area for formal entertaining, and that the various spaces be separated enough for privacy.
For a couple whose youngest children are in prep school and college, it made sense to put the children's bedrooms at the opposite end of the house from the master-bedroom suite. In between, on a balcony above the living room, is a study that accommodates the Fosters' book collection and lets light from crisp white dormer openings penetrate to the first floor.
The house's large size is somewhat deceptive. When the children are away and no entertaining is being done, the Fosters can live almost entirely in one end of the house— upstairs in the master bedroom, with its his-and-hers bathrooms, and downstairs in the combined kitchen and family area, with its fireplace and adjacent screened porch. Because the cooking and refrigeration equipment has been carefully placed away from sight lines, the room exudes an old-fashioned atmosphere undisturbed by the metaland plastic-surfaced appliances that turn so many kitchens into exhibits of domestic technology.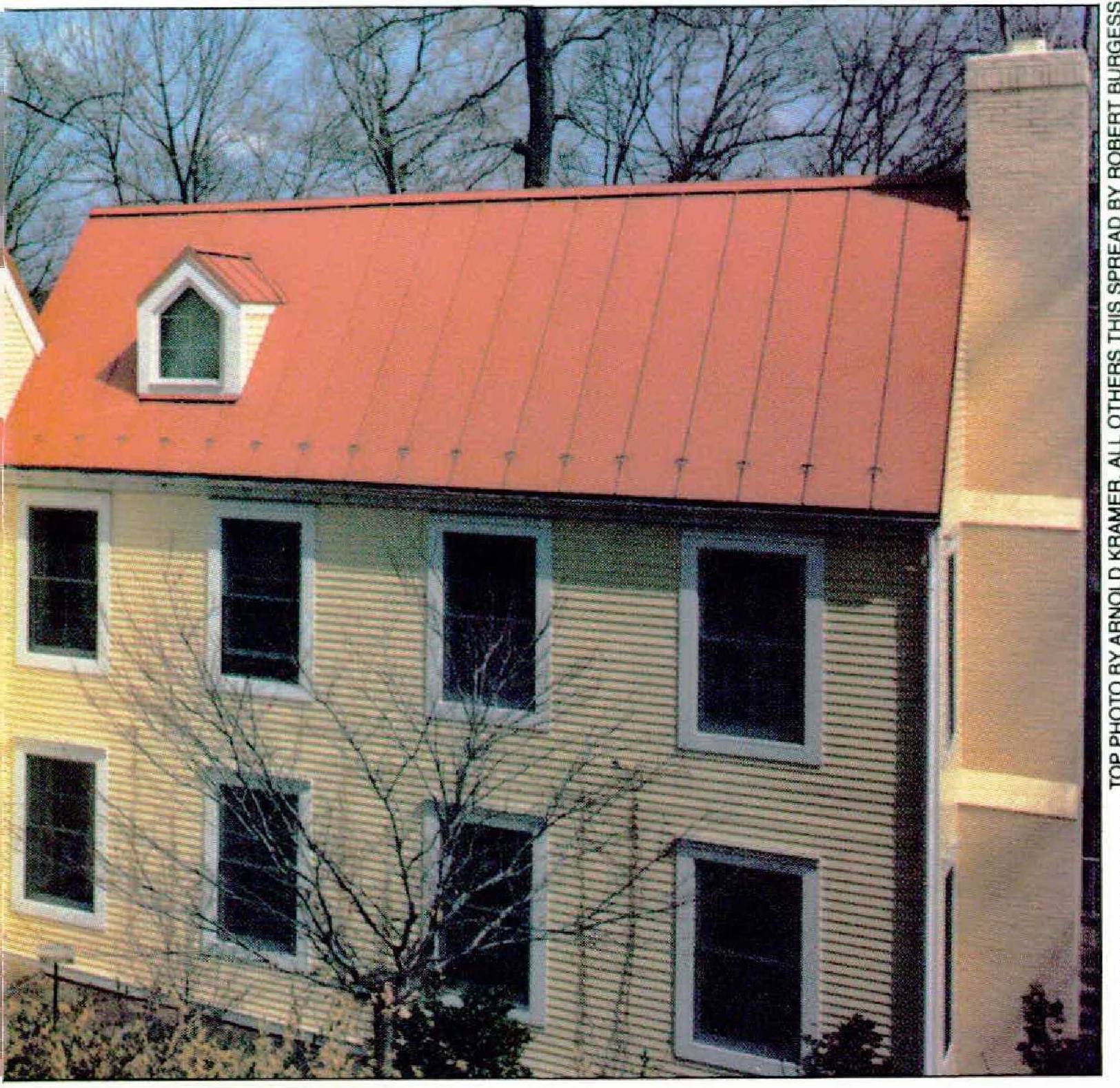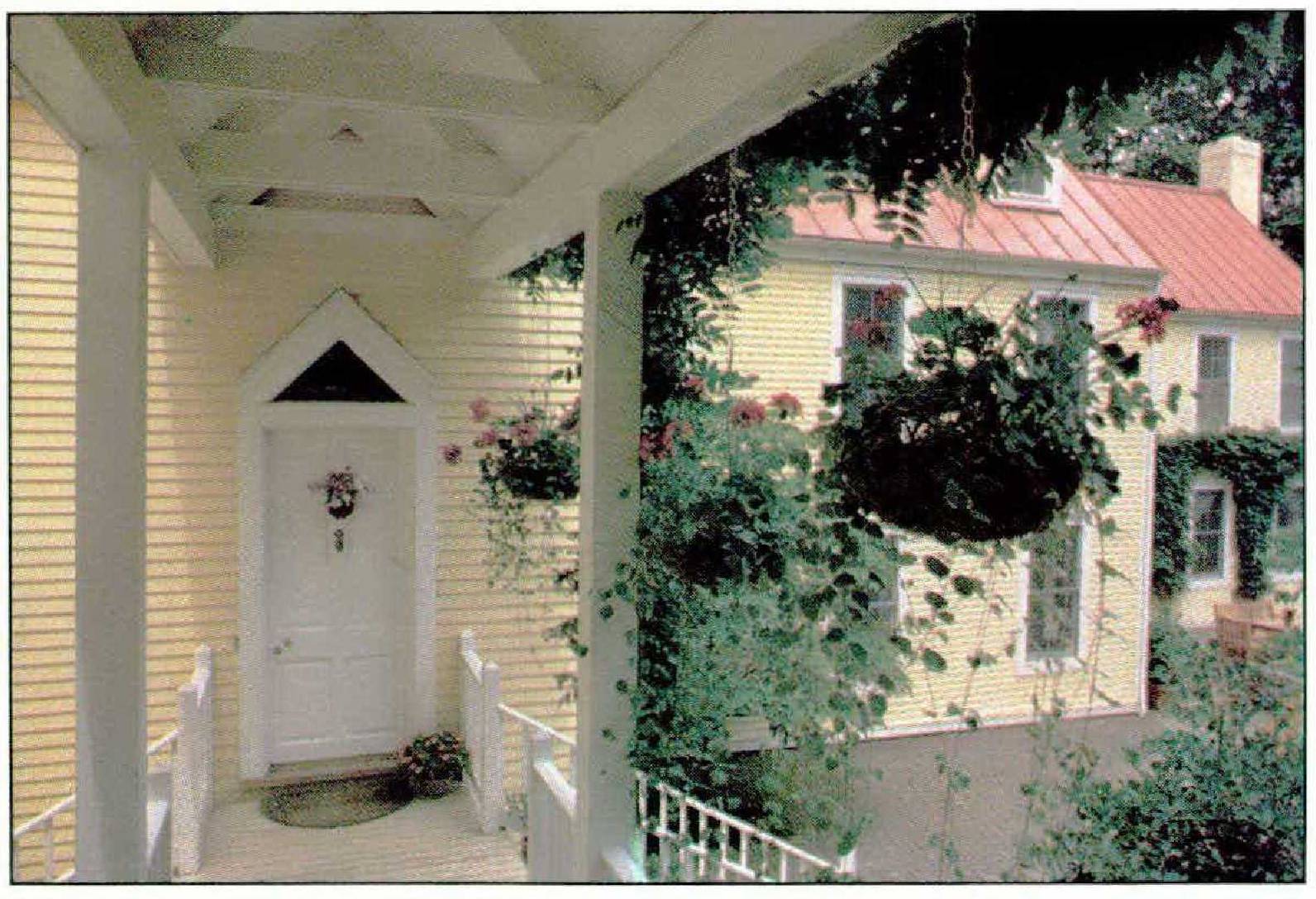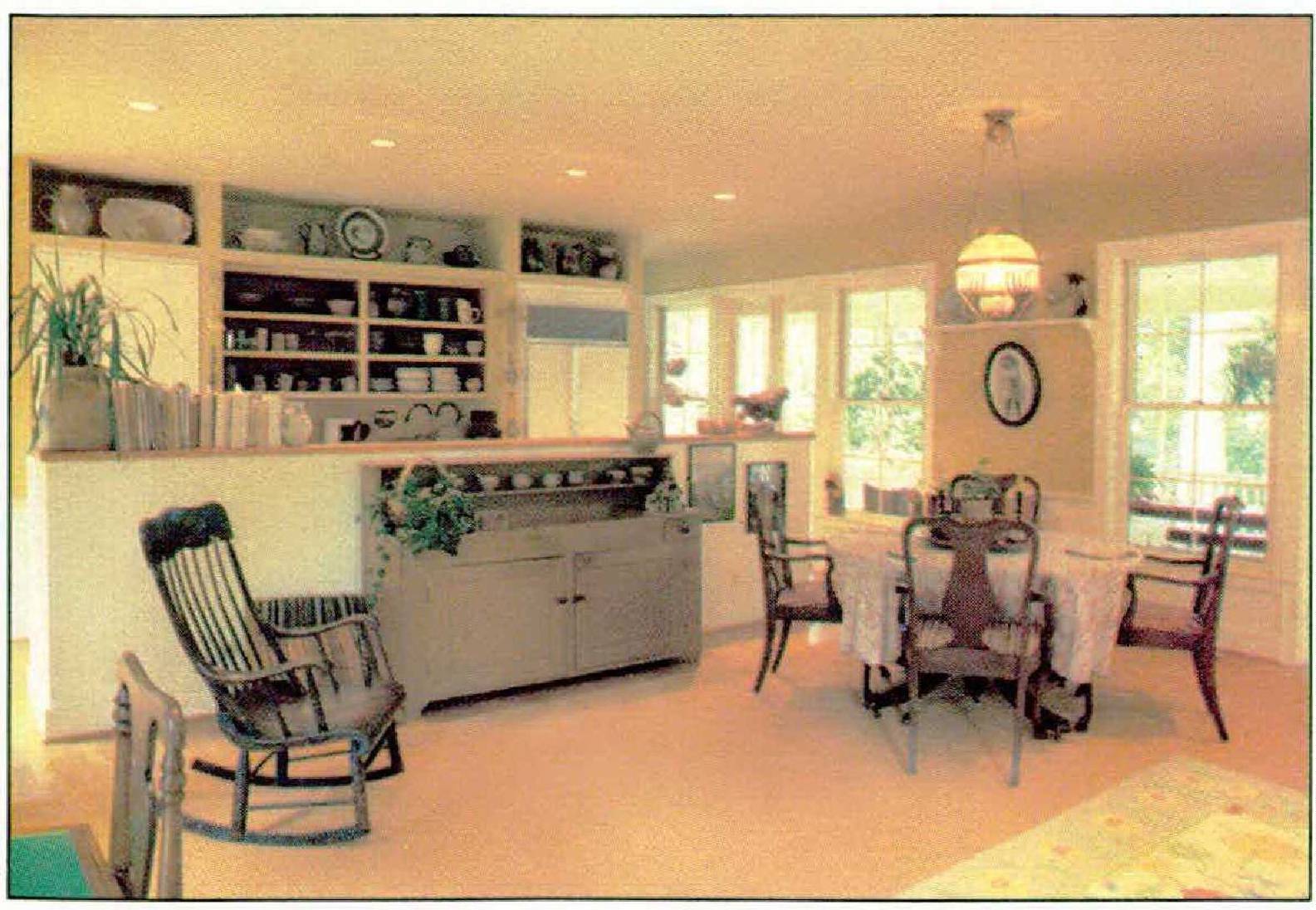 "VIDEOS OR BRICKS."THIS IS HOW DOUG KELbaugh, an architect in Princeton, New Jersey, T characterizes the dilemma in which American domestic architecture finds itself. Bricks: plastering, stone-laying, woodworking, and all the other labor-intensive crafts that give quality and precision of detail to a house. Videos: the electronic systems and mass-produced goods that deliver satisfactions that compete with architecture, and compete all too successfully because they benefit from the economies of the production line.
The rich can have both videos and bricks. Much of the rest of the population decides in favor of videos. Even those who think that they are getting craftsmanship often get only an inauthentic veneer of it. Most of the money goes for more videos: In-Sink-Erators and burglar alarms and refrigerators dispensing ice cubes through the door. The balance within the American home has been shifting away from the pleasure of genuine materials well crafted and toward the satisfactions of mass-produced objects that fit into the family room, the kitchen, and the bath. Thus we can acquire comforts that were once unimaginable, yet complain that houses aren't built as well as they used to be.
But before accepting the notion that mass production has brought the downfall of architecture, we should note two things. First, architecture is not confined to craftsmanship. It is even more importantly the shaping of space in interesting and rewarding ways. Strong evidence can be presented that we are becoming progressively more adept at shaping space. Stimulating, open interiors have pretty much ended the reign of the rectangle. Second, mass production helps make possible this growing flexibility of space. It is our facility with gypsum-board and insulated sheathing, with two-by-fours and new composites—all of them generated by factories and mills—that permits us to obtain these new shapes at prices we can bear.
Mass production cannot be considered an enemy unless we place no value on homeownership itself. The years since the Second World War, years in which home-building has become increasingly mechanized, are the only period of American history in which more families have owned their own homes than not. More than 64 percent of housing units, at last count, were owned by their occupants.
What is remarkable is that homeownership has grown while the social unit presumably best suited to homeownership—the family—has lost its dominance. The country abounds with single people, divorced heads of households, childless couples, and new pairings of unmarried individuals. All of them buy homes.
The 1980s is the first decade in which it is impossible to describe a "typical" American house, the way one would have described the three-bedroom, one-and-a-half-bath, single-family house as typical of the 1960s. There has been an explosion of variety in housing to correspond with the growing heterogeneity of the population. The housing industry has coped. In an era of spa baths and dual master suites, nearly two thirds of America is connected to a conservative, stabilizing institution: homeownership.