FORECASTING THE PATHS that bigband jazz might travel is difficult now that another of its pacesetters has reached the end of his journey. In symbolic terms, the loss of Count Basie, who died last April, a few months shy ot his eightieth birthday and a year away from his golden anniversary as a bandleader, is incalculable. Among big-band leaders only Duke Ellington exerted more longterm influence upon jazz and American popular music. Indeed, Ellington and Basie are often cited in the same breath as exemplifying everything rich and grand and irretrievable in the jazz past— the Duke and the Count, the last of a bygone aristocracy.
Yet Ellington and Basie represented contrasting approaches to the jazz orchestra. For Ellington, the big band was a blank page, upon which he wrote the most enduring body of orchestral literature in jazz history. Basie functioned more as an editor, although his signature was just as plain. Even in the 1930s, when the Basie Orchestra was enjoying its first national triumph with its largely unnotated arrangements (the bulk of them credited to Basie), the leader's piano was less pad and pencil than general-assignment desk, according to the testimony of his sidemen. "Basie would start out and vamp a little, set a tempo, and say 'that's it!"' the trombonist Dicky Wells remarked in his 1971 autobiography, Night People.
He'd set a rhythm for the saxes first, and [the alto saxophonist] Earle Warren would pick that up and lead the saxes. Then he'd set one for the bones and we'd pick that up. Now it's our rhythm against theirs. The third rhythm would be for the trumpets, and they'd start fanning with their derbies. . . . That's how Basie put his tunes together. He had a big band, but he handled it as though it were six pieces.
According to the outside arrangers whom Basie employed with increasing regularity beginning in the mid-fifties, band rehearsals generally found Basie penciling out everything in their scores he recognized as superfluous to the real matter at hand—that ineffable sensation jazz partisans call swing, practically a Basie patent. Although he gave the impression of being a laissez-faire leader—delegating musical authority to deputies, including the alto saxophonist Marshal Royal and the rhythm guitarist Freddie Green—Basie apparently demanded of his sidemen a commitment to basics as single-minded as his own. He seems to have had little tolerance for errant behavior off the bandstand; to judge from what his intimates say, he had no vices or affectations, save for the captain's hat he wore in later years. ("Count Basie! Where'd you park the ship, Count?" an old Kansas City crony asks him in the film The Last of the Blue Devils.)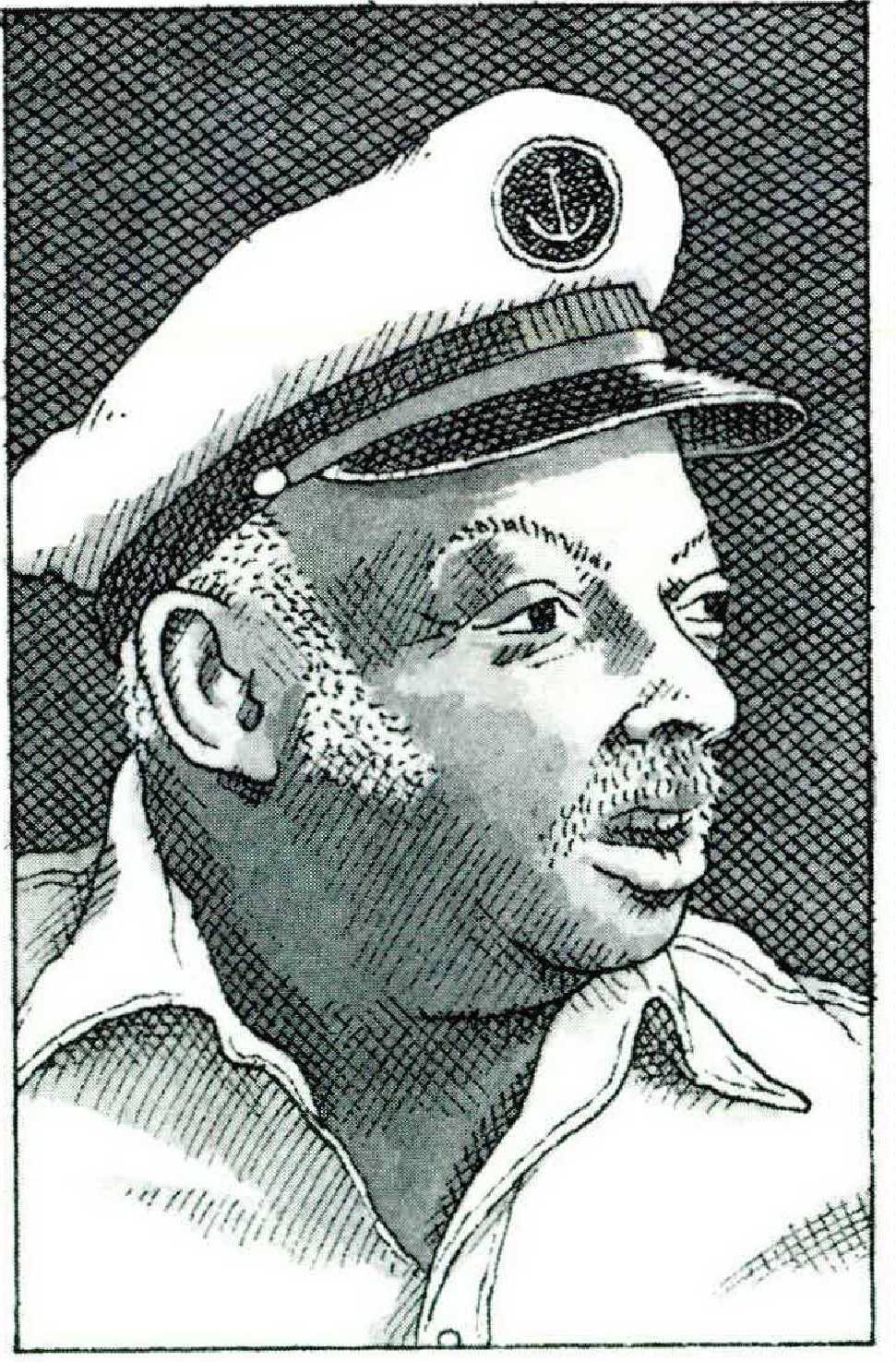 To say that big bands were essentially the domain of composers and arrangers until the arrival of the Count Basie Orchestra in New York in 1936 would be an exaggeration, for there were charismatic improvisers in such "composer's" bands as Ellington's, Fletcher Henderson's, and even Paul Whiteman's. Still, it is fair to say that Basie deflated some of the pomposity that had attached itself to the big-band idiom, by encouraging his men to blow the blues as freely in performance as they might during informal gatherings. Basie deployed the full complement of horns not so much to frame his soloists as to goad them on with escalating call-and-response background riffs that ricocheted from section to section on the greased wheels of a locomotive rhythm section that included Basie, Freddie Green, the bassist Walter Page, and the drummer Jo Jones. A spirit of big-band camaraderie infused the unrefined ensemble passages, and jam-session rivalry fueled the solos, with three pairs of evenly matched opponents (the trumpeters Buck Clayton and Harry Edison, the trombonists Dicky Wells and Benny Morton, and the tenor saxophonists Lester Young and Herschel Evans) locking horns. As if all this weren't excitement enough, Jimmy Rushing stood out front hollering the blues as if trying to shout down the entire aggregation.
This loosening of musical inhibitions was not something the Basie Orchestra, or any other band, accomplished by itself. Nor was it Basie's major contribution to jazz. Amid his band's explosions there were subtleties and divinations. For quite some time jazz rhythm sections had been moving away from a rigidly syncopated two beats to the measure toward a more rippling and evenly accentuated four-four, but it took the rhvthm team of Jo Jones and Walter Page to map the route clearly tor all to follow. Lester Young presaged bop, cool, and even free jazz with his reed-thin vibrato (a contrast to the beefier tone of his section mate Evans), his musings on chord substitutions and passing tones, his peering around bar divisions, and his games of cat-and-mouse with the beat.
This great band remains the standard against which all other big bands have to be measured Duke Ellington's being sui generis), and it is small wonder that most come up wanting. The retooled Basie band of the 1950s was a precision instrument nicknamed " The Basie Machine" by its admirers—a phrase that caught on with the band's detractors as well. Despite the presence of a number of competent soloists, including the cornetist Thad Jones and the saxophonists Frank Foster and Frank Wess, the stars of this band were the arrangers (including Foster, Neal Hefti, Ernie Wilkins, Buster Harding, and Wild Bill Davis) who codified the informal Basie stele into a tight, instantly recognizable sound. Yet if this band was noticeable less freewheeling than the original model, it was no less potent, and judged as an ensemble rather than as a donnybrook among rugged individualists, it may even have been the superior unit. One must turn to Ellington to hear a consummation of brass and reeds as blithe and incandescent as the Basie Orchestra's recordings of Foster's "Shiny Stockings,"Hefti's "Cute," and Davis's hit arrangement of "April in Paris" (a guilty pleasure, this last item—exhilarating despite its pop-goes-the-weasel quotes, fake endings, and Basie's cov exhortations of "One more time!"). The Basie Orchestra of the fifties was a machine whose motor purred; and hindsight reveals that Basie was right in gear with the larger movements of the period. The emergence of hard-bop groups, like the Jazz Messengers and the Horace Silver Quintet, signaled that jazz was returning to basics after a decade of creeping intcllectualism—and Basie, though his music bore scant resemblance to the hard-bop phenomenon, was a man who had sworn by basics all along.
BASIE LEAVES AN impressive legacy. A number of collections bear the title The Best of Count Basie, but only one fully warrants the superlative: the two-record set of the Basie Orchestra's landmark Decca recordings from the late thirties, which includes the original versions of "One O'clock Jump," "Jumpin' at the Woodside," "Swinging the Blues," "Every Tub," "John's Idea," and "Doggin' Around"(MCA 2-4050). Perhaps the best thing about this Best of is that it whets the appetite for more vintage Basie. A good place to start is with the Bennie Moten Orchestra, the outfit that served as incubator for the Basie Orchestra in Kansas City in the mid-thirties. Regrettably, there is not a single domestic collection of Basie's work with Moten now available, but French RCA Victor has released three double albums devoted to that seminal band; Basie figures prominently in two of them, The Complete Bennie Moten, Volumes 3/4 (PM 43693) and Volumes 5/6 (PM 45688). Both Good Morning Blues (MCA 2-4108) and Super Chief (Columbia 31224) are delightful two-record potpourris of Basie's music from the thirties, the latter especially valuable because it includes four numbers with just Rushing, Young, the trumpeter Carl Smith, and the Basie rhythm section. (Super Chief only scratches the surface. The rest of the influential 1936-1939 Basie small-group sessions were last available spread out over the five double-album sets of Columbia's The Lester Young Story, which are now out of print—though all five still turn up in remainder bins from time to time.)
The 1940s were a decade of transition for jazz, and some of the changes were reflected in the styles of the parade of tenor saxophonists who marched with the Basie band following the death of Evans and the defection of Young: Don Byas, Paul Gonsalves, Illinois Jacquet, Lucky Thompson, Warded Gray, and Charlie Rouse. The best compendium of forties Basic is the two-record import The Indispensable Count Basie (French RCA Victor PM 43688), although both Blues by Basie (Columbia PC 36824) and One O'Clark Jump (Columbia Special Products JCL 997) have plenty to recommend them, not the least of which is that thev are comparatively easy to come by.
Basie's output during the fifties and the early sixties was staggering, and most of his best albums from that period remain in print, including April in Paris (Verve 2641), Basie (popularly known as The Atomic Basie; Roulette 59025), Basie Plays Hefti (Emus 12003), and the tworecord sets 16 Men Swinging and Paradise Squat (Verve 2517 and 2542).
The seventies and eighties witnessed no decline in the qualify or quantity of Basie's work. The last decade of his life was the most productive of his career, at least in terms of his own coming out as a pianist. When there is a roll call of the great soloists from the Basie Orchestra of the thirties, the leader's name is usually conspicuous by its absence. Long a reticent soloist, Basie finally began claiming the spotlight for himself, after several nudges in the right direction from his record producer Norman Granz. In addition to documenting the still v ital Basie Orchestra on such fine Pablo releases as Farmer's Market Barbecue (2310 874), Me and You (2310 891), and the recent 88 Basie Street (2310 901), Granz inaugurated a series of small-group sessions that pitted Basie against veteran improvisers of equal caliber. There were memorable confrontations with the trumpeter Dizzy Gillespie ( The Gifted Ones, 2310 833), the tenor saxophonist Zoot Sims (Basie and Zoot, 2310 745), and the blues singers Joe Turner and Eddie "Cleanhead" Vinson (Kansas City Shout, 2310 859), as well as several brushes with fellow pianist Oscar Peterson (including Satch and Josh, 2310 722), and carefree trio dates with the bassist Ray Brown and the drummer Louis Bellson (For the First Time, 2310 712, and For the Second Time, 2310 878). All these records point to Basie's sustained vigor, his telling economy, and his sneaky wit, and they send the listener back to thirties Basie for his bare-bones solos and ad-lib intros. It was always possible to hear echoes of Fats Waller and the grandiose Harlem stride men in even the leanest of Basie's improvisations, but it also becomes possible, in retrospect, to hear premonitions of such modernists as John Lewis and Thelonious Monk in Basie's pregnant silences, the illusory bend of his blue notes, and the dot-dot-dash inevitability of his figurations. At last the cat is out of the bag: Count Basie was one of the masters of jazz piano.
BASIE'S FELICITIES AS a pianist notwithstanding, his name will always be synonymous with big bands. Over the past three decades the Basie Orchestra suffered bouts of inertia, as any institution sometimes does, but it seemed to be on the move again in recent years. A week after Basie's death the Willard Alexander agency confirmed that the Basie Orchestra would indeed soldier on without its leader. A refusal to let go of the past reduces history to nostalgia; aesthetically, ghost bands are sweet cheats, no matter how pristine their intentions. Taking over the reins of the Duke Ellington Orchestra after his father's death, ten years ago, Mercer Ellington promised to blow the cobwebs off some of the masterpieces from the twenties and thirties that Duke had long ignored. But many of the veteran Ellingtonians who had conspired to give the latter-day Ellington Orchestra its distinctive voice had died or were to die within a few years of their leader, and many others had retired. Mercer soon found himself conducting an Ellington Orchestra in name only for audiences eager to hear a nostalgic medley of Ellington's hits rather than obscure but historically central Ellington compositions. (Thus the languors of the Broadway revue Sophisticated Ladies.) Even assuming there can be a Count Basie Orchestra without Count Basie, can there be a Basie Orchestra without his longtime sidekick Freddie Green, himself reduced to part-time status by the infirmities of age?
OnlY a few musicians from the golden era of big bands are still out there on the road. Lionel Hampton continues to put on a terrific show, and the indefatigable Woodv Herman is as vital and amenable to change as ever, even if his band is no longer a spawning ground for great stylists. Buddy Rich fronts a big band whenever he is physically and economically able to, and Artie Shaw—ever the iconoclast—has sent a ghost band on the road, though he's still very much alive. Benny Goodman's poor health makes recurring rumors that he will again enter the fray seem like wishful thinking.
Big bands are an endangered species, if bv big band one means a style of presentation associated with the popular music of the thirties and forties. But within jazz big band also reveals sheer love of size, and big bands in that sense are still plentiful—college lab bands; television talk-show orchestras; busman's-holidav "rehearsal " bands like those that begat the Thad Jones-Mel Lewis Jazz Orchestra in New York in the mid-sixties and the Toshiko Akiyoshi— Lew Tabackin Big Band in Los Angeles a decade later; expanded units of fluctuating sizes and instrumentations led by pantonalists like Sun Ra, George Russell, and Muhal Richard Abrams, protean composers for whom the orchestra promises wider compositional latitude, much as it must have for Ellington.
Still, the downscale economics of jazz, ensure that most rehearsal bands will remain just that, performing before live audiences only rarely. Orchestras like Russell's and Abrams's tend to exist only in the recording studios, save for appearances at European festivals and an occasional week at a New York club. It hardly seems likely that big bands of any kind will ever again enjoy the widespread popularity that the big swing bands enjoyed in the years leading up to the Second World War, when jazz and popular dance music were virtually one and the same. Nothing in jazz is quite as thrilling in quite as many ways as a roaring big band. But the melancholy fact of the matter is that since jazz has evolved into an art music of limited popular appeal, contemporary jazz musicians will have to forgo the luxury of thinking big, except on rare occasions. The loss of Count Basie hits harder for underscoring everything else jazz has lost and figures to go on losing.