THEME AND VARIATIONS
There are twelve unclued entries in this month's puzzle. These include four Theme Words (A, B, C, and D), which are members of a set. Each Theme Word has two Variations—words related to it in some way. For instance, if a Theme Word were STAR, its Variations might be ARTS and TARS (anagrams), or POLARIS and SIRIUS (examples). Clue answers include five proper nouns.
The solution to last month's Puzzler appears on page 125.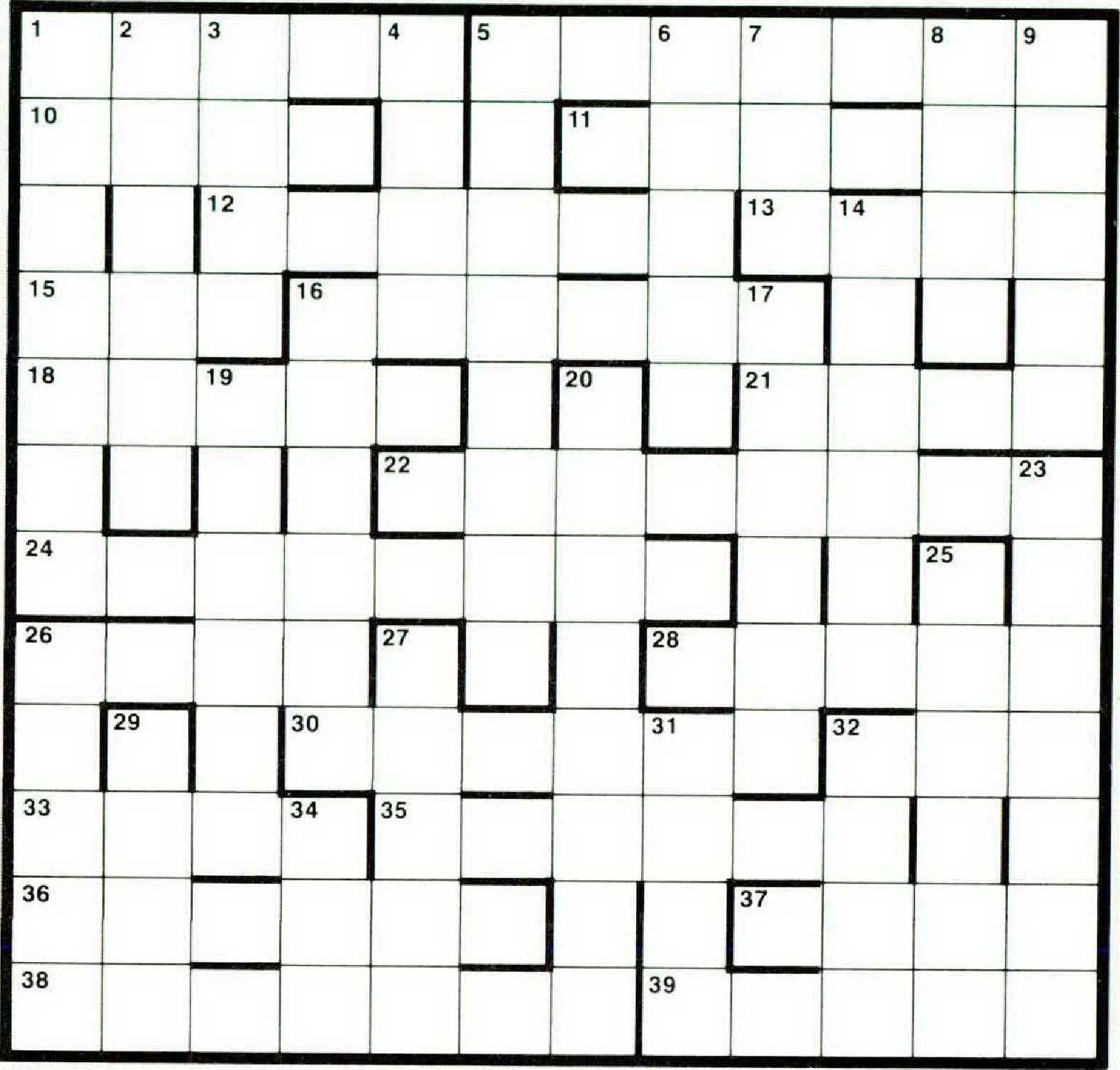 ACROSS
1. Variation on Theme Word A (5)
5. Stormy petrel, bv error, gets stuffed (7)
10. Boy has an abridged dictionary (4)
11. Wheel in through Iowa town (6)
12. Repeatedly errs with glue ingredients (6)
13. Shelter's top goes off and on (4)
15. Variation on Theme Word D (3)
16. Vehicle making lovely sound (6)
18.Note lass that's splendid (5)
21. Masonry construction chief (4)
22. Loudly state, " The end of innocence is past" (8)
24. Sailboat edges backwards in channel (8)
26. Variation on Theme Word B (4)
28. Variation on Theme Word A (5)
30. Wet world having extremes of humidity (6)
32. Theme Word C (3)
33. Theme Word D (4)
35. Sacred figures carry papers (6)
36. False gods can provide sources of illumination (6)
37. Spy is put back in hold (4)
38. City gets turned around by ruler (7)
39. Variation on Theme Word D (5)
DOWN
1. A final character involved in firm's ventures (7)
2. Associates don't start plays lovingly (6)
3. Mister T turns up around the end of prime time (4)
4. Girl embraced in Figaro's arms (4)
5. Check ties loudly in multicolor patterns (8)
6. Posse rolled Mexican dough (5)
7. Variation on 'Theme Word B (3)
8. A pronounced tendency to be knotted (4)
9. Theme Word A (5)
14. Moving van carrying precious metal back to town (6)
16. Kept women outside of large town (6)
17. Sickness invades my century plant (6)
19. Footwear that makes you walk with hesitation (6)
20. Brought up concern about street racer (8)
23. Door keeps halfway open, with total lack of variation (7)
25. In plot, kid did some crooked financial dealing (6)
26. Pole heard making blunder (5)
27. Theme Word B (5)
29. "1050" provided uplifting feature (4)
31. Variation on Theme Word C (4)
32. Lost a $100 bill, you say? (4)
34. Variation on Theme Word C (3)
Answers to the May Puzzler,
"PROCRUSTEAN BED"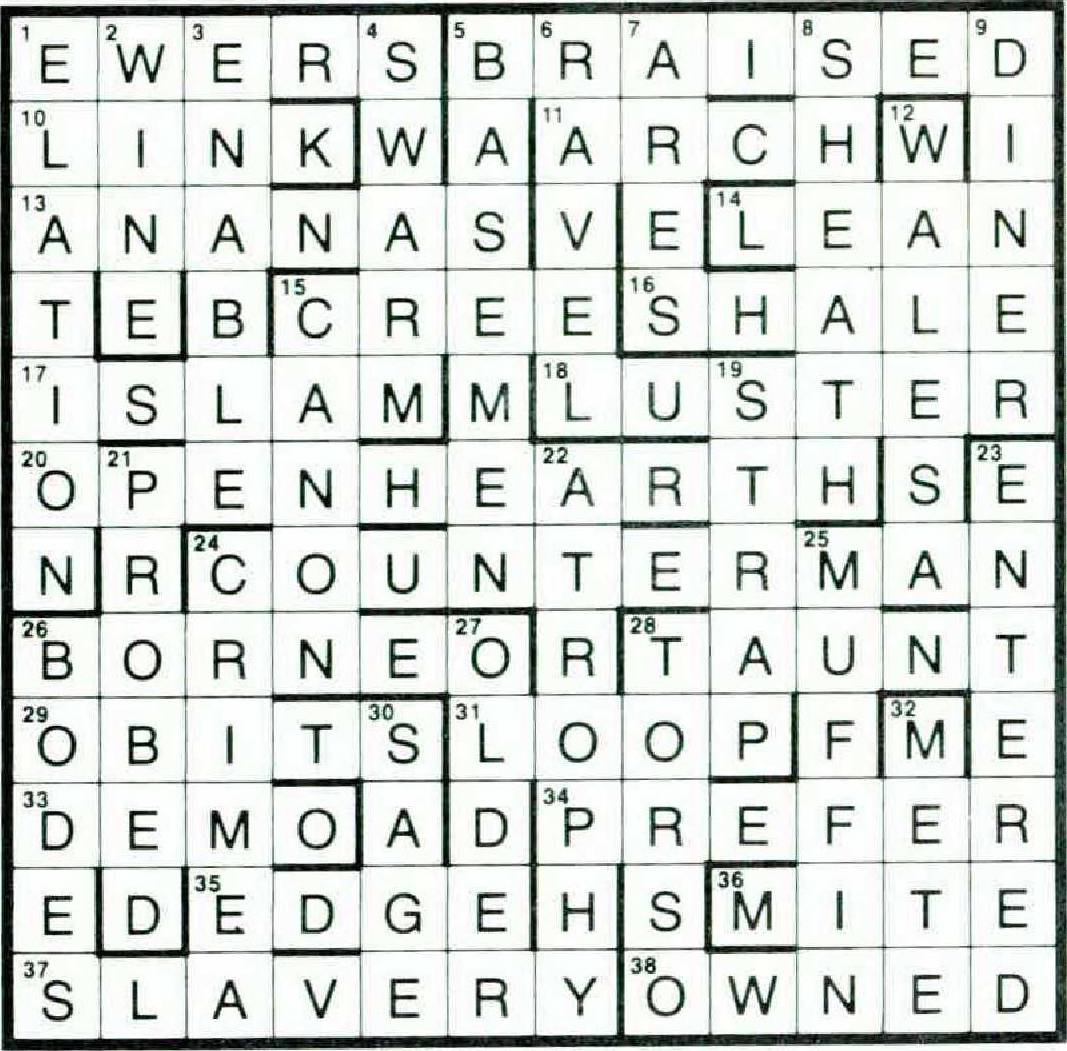 Across. 1.SEWERS (double def.) 5. RAISED (anag.) 10. CLINK (double def.) 11. MARCH (double def.) 13. BAN(AN-A)S 14. CLEAN (anag.) 15. C-REEP (peer rev.) 16. HALE (double def.) 17.S(L)AM 18. C(L)USTER 20. OPE(N-H)EART (operate anag.) 24. COUNTERMAND (anag.) 26. BOR(N)E 28. AUNT (anag.) 29. BITS (double def.) 31. SLOOP (rev.) 33. DEMON (anag.) 34. REF-ER 35.(s)LEDGE 36. MITER (anag.) 37.S(L)AVER 38. DOWNED (anag.) Down. l.R(EL)ATION 2. TWINE (anag.) 3.TEN-ABLE 4. WAR-M 5. B(ASEM)ENT (mesa rev.) 6. GRAVE-L 7. CARES(s) 8. HEAT-H (anag. + h) 9. DINERO (anag.) 12. WALES (homophone) 15. A-N-ON 19.T(R)AP 21. RO(man)BED 22. TROPHY (hidden) 23. CENT-E-RED 24. CRIME (anag.) 25. MU(F-FIN)G 26. A(B)-ODE'S 27. BOLDER (homophone) 28. TORS (anag.) 30. OS-AGE 32.M-ETER (tree anag.)