EVERY ERA HAS an ideal image to which women aspire. The late sixties was the height of our love affair with youth. Movies, magazines, pop music, and advertising extolled the life and the looks of the teenage girl—the prototype was a long-haired, blank-faced, discodancing adolescent, thin as a stick, dressed in go-go boots and a mini-skirt by Courrèges or Mary Quant. Today, most women no longer want to look like teenagers. The new ideal is the woman with both a career and a family. She's older, in her thirties or forties; she has come into her own. She has character— you can see it in her face. She looks womanly now. She is wearing a Chanel suit.
The current resurgence of interest in the clothes Coco Chanel designed is not nostalgia, because they can't transport a woman backward, the way a dress by Poiret or Vionnet can. Her designs are not so much of their time as outside time. Chanel steered clear of fashion, which comes and goes, and formulated a style instead. The virtues of that style are, at the moment, at a premium.
"Classic" is the adjective routinely called on to describe Chanel clothes, and now that most women are no longer willing or able to buy a new wardrobe for the sake of a change, classic clothes have the moral advantage. But besides that, today's woman wears Chanel because it's dignified, unspectacular, elegant. It's both proper and sexy, but the sex appeal is that of a woman who's competent, who knows her way around. The schoolgirlish side of Chanel dresses and blouses with soft bow ties at the neck is deceptive. The woman who wears them would look like a good girl, as if she played by the rules, if it weren't for the costume jewelry—fake pearls, cut-glass cabochon necklaces, giant-sized earrings—piled on, gypsy-style. It's the jewelry that gives the Chanel look a faintly naughty edge, that makes it ambiguous and interesting in a way the clothes by themselves are not. The woman the Chanel style conjures up is self-possessed, wise, and mature—of a certain age, or at least of a certain experience.
The clothes in the Chanel fall/winter couture collection, designed by Karl Lagerfeld, one of the most important designers in fashion today, are along the lines Chanel herself drew up and stuck with until her death, in 1971. Chanel has gone down in history as the originator of costume jewelry, the little black dress, Chanel No. 5, pleated skirts, trousers for women, fur-lined coats, and sunbathing, but she has gone down in memory as the designer of the famous Chanel suit, a style so widely copied, even in her lifetime, that it's practically in the public domain.
There are plenty of suits in this season's couture. At the show I attended in Paris, Lagerfeld offered them in striking color combinations, like fuchsia and yellow or pink and pearl gray, as well as in more standard ones, like black and white or navy and white, in fabrics such as basketweave woolens and jersey ribbed to look like corduroy, set off by silk crepe or mousseline. The jackets are singlebreasted or narrowly double-breasted, edged in braid, with or without collars. The skirts are straight and narrow; slit or kick-pleated. But regardless of its distinguishing features, nearly every suit is according to the time-honored Chanel formula: a cardigan jacket, with pockets at the waist (for cigarettes), and a matching skirt and contrasting blouse. In the ready-to-wear for this spring, the lines of the suits are elongated but not distorted: the jackets are mostly to the hip, the skirts to mid-calf. Several suits look the same as ever from the waist up but with pants instead of skirts below. The colors are mostly pastels and navy blue, and there are a lot of stripes. In both couture and ready-to-wear, the spirit of Chanel is intact, even if the letter at times seems slightly skewed.
THERE IS NO separating the Chanel style from Coco Chanel's life. What she sold was the way she dressed. It seems safe to say that under Chanel's direction her house never produced anything that she herself wouldn't have worn. Her taste was wholly subjective, and for that reason her designs had the ring of conviction missing from clothes by designers who try to satisfy a variety of women.
The illegitimate daughter of a peddler, Gabrielle Chanel was born in the Auvergne in 1883, and was soon after consigned to an orphanage run by nuns. Other than that, the facts are hazy, because in later life Chanel did all she could to obfuscate her past and frustrate anyone trying to write about it. Some of her biographers, for instance, go along with the story that her father nicknamed her "Coco." Another contends that Chanel came by the name during a brief stint as a cabaret singer, with a repertoire of only two numbers: "Ko ko ri ko" and "Qui qu'a vu Coco?" Chanel's explanation was that it was nothing more than a shortened version of cocotte, the French word for "kept woman."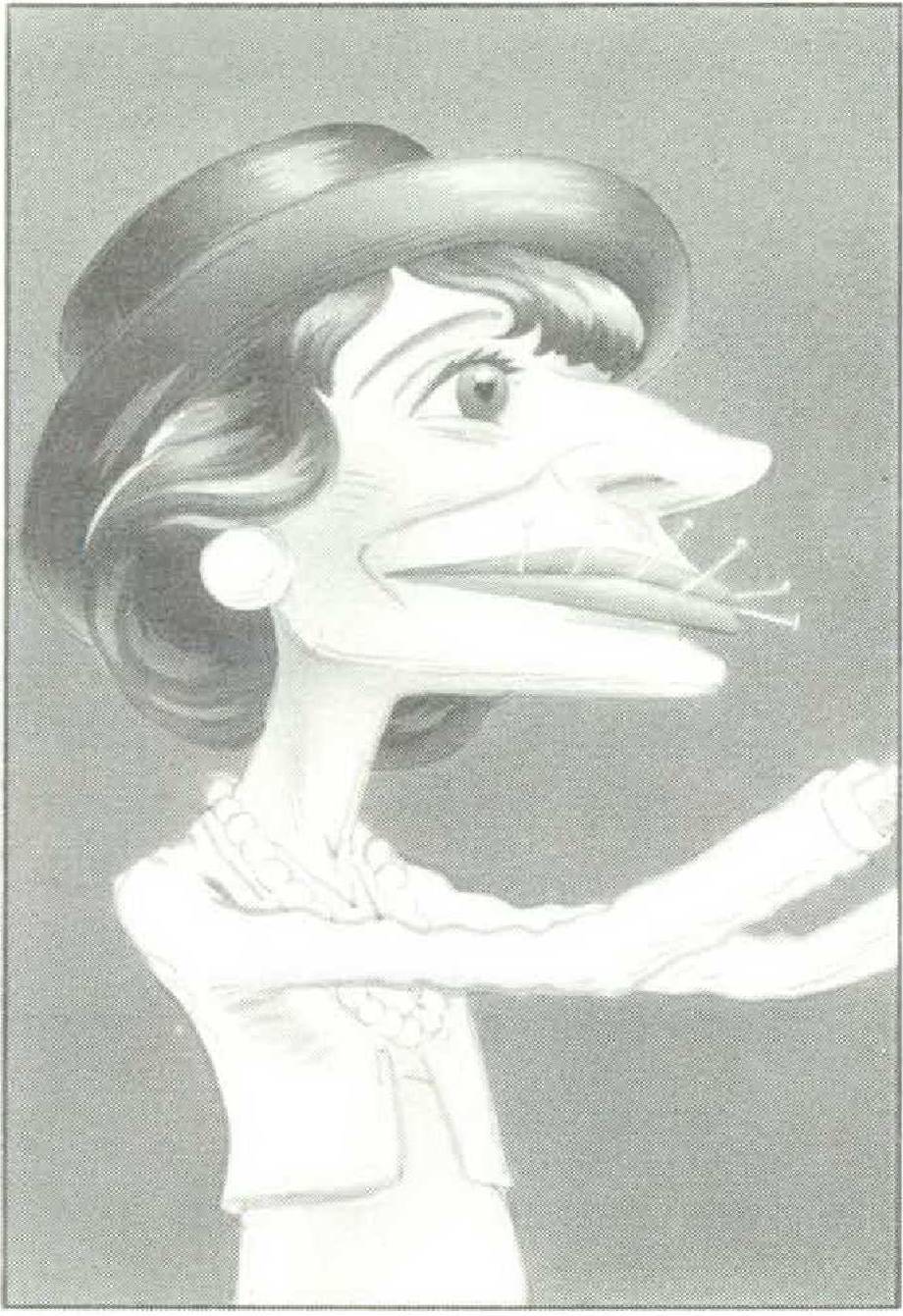 Indeed, Chanel had been taken in at twenty-five by a cavalry officer named Etienne Balsan. But she refused to dress her part, and instead wore plain, darkcolored dresses that put the other cocottes, in all their satin upholstery, to shame. Balsan set her up as a milliner, with her own boutique in Deauville and later in Paris. As her business grew, she began making dresses.
Chanel apparently loved wearing men's clothes, which she freely borrowed from her lovers' closets. Menswear gave her inspiration—for trench coats, sweaters, blazers, and for new uses of materials, like wool jersey, that had never been employed in women's clothes. There is a photograph of Chanel setting out to go fishing in Scotland with the Duke of Westminster, wearing his tweeds. The boots she has on are his clodhoppers. His blazer is too big for her. Looking at this picture, you can't help but be struck by how impudent and chic Chanel looks, and by the pride she takes in wearing her boyfriend's clothes.
Chanel cast herself as an arbiter of taste, a role that would take her higher and further than that of dressmaker. She made friends with Picasso, Stravinsky, Misia Sert—the artsy "in" crowd of Paris in the 1920s—and designed costumes for Diaghilev and Cocteau. When Diaghilev died in debt, in Venice, it was Chanel who paid for his funeral.
Already, Chanel's life has provided material for a Broadway musical, Coco (with Katharine Hepburn), and a movie, Chanel Solitaire (with Marie-France Pisier). The myth that surrounds her life is a fairy tale for our time about a plucky girl who goes to work and earns herself a fortune, who refuses to be tied down to one man in marriage and sails instead from one glamorous affair to the next, who keeps an exotically furnished apartment above her workrooms on the rue Cambon and a bedroom across the street at the Ritz.
The facts are right, but the aggrandizement does Chanel a disservice: her independence seems to have been difficult and complicated in real life. An orphan and a loner, she learned early on, by necessity, how to take care of herself, and then apparently longed the rest of her life for someone to take care of her. Her series of love affairs was not a systematic quest for experience but a string of high hopes and increasingly bitter disappointments. As for her career, she found work that she did well and took relentless pride in doing it. There, if anywhere, lies Chanel's example. She chose to do something when she might easily have done nothing.
IN 1954, AT AGE seventy, Chanel reopened her house, after fifteen years in retirement, with a collection that reiterated what she'd been saying all along. The message was too low-key for the fashion press, which had been expecting something more sensational. But women, especially in America, got the point and overruled the press by buying the clothes. Chanel was a popular success; the critics changed their minds.
From then on, she worked to consolidate her style. She settled on the most flattering proportions for a suit—the jacket to the hipbone, the skirt to the knee. She perfected the suit's construction: the back panel of a jersey skirt was lined so that a woman couldn't "sit out" the seat; jackets were weighted to hang properly, with a gold chain sewn into the hem; the armholes were cut high, so that a woman could swing her arms full circle and the body of the jacket would stay in place. Chanel designed chain belts as jewelry, to drape across the belly rather than to cinch the waist. Buttons were jewelry, too—big brass lion's heads (because Chanel was a Leo) that decorated the front of a jacket. The clothes, even for evening, became simple and concise, the background for lavish accessories.
As a young woman, Chanel had founded her style on her instincts. As time went on, she brought logic to bear on it and refined it to a science. There was nothing mysterious about Chanel's formula, which was anyone's for the taking. Adolfo has built an entire career on it. Yves Saint Laurent works his own variations on it and frankly acknowledges his debt. Adele Simpson, Evan-Picone, and other middle-priced American lines borrow heavily and regularly from Chanel.
WITH SO MANY designers paying tributes to Chanel—tributes selling for a lot of money—it was just a matter of time before the people at Chanel would decide to cash in and turn out the real thing. The couture had coasted along after Chanel's death under the guidance of her assistants. Then, in 1977, it was announced that Chanel would begin producing ready-to-wear. Frances Stein, a former editor at American Vogue and for several years Calvin Klein's right hand, was hired to supervise the Chanel accessories line, which includes jewelry, bags, shoes, and knits. One year ago, Karl Lagerfeld was brought in to design the couture.
So far, this new regime's policy has been to authenticate each collection by reprising in it some of Chanel's designs. In this season's couture, there was a strapless black velvet evening dress, with a black chiffon mantle to veil the shoulders, much like a Chanel dress from 1956. A sleeveless black crepe dress with a heavy white lace bolero overtop in this year's ready-to-wear cruise collection is a direct quotation from a 1937 design.
Of course, a big-name designer like Lagerfeld hasn't been brought in just to reissue another batch of golden oldies every year. His task—and Frances Stein's—is to take the Chanel style and extrapolate from it. Stein does this skillfully, picking up where Chanel herself left off and, by some sort of creative empathy, turning out clothes that look like what Chanel would produce if she were alive today. This winter, Stein brought out the basic Chanel suit in black-andwhite cashmere sweatering—an ingenious crossbreed of the tailoring that Chanel was famous for and the soft comfort that makes knits so popular now. The pastel-tinted pearls that Stein is introducing for spring, in pale pink, green,
coral, yellow, and gray, look like a good, inevitable idea Chanel never got around to. Stein reaffirms Chanel's principles; her new accessories line is a clear vote of confidence in all Chanel stood for. Lagerfeld, however, seems to be hedging.
It's no wonder. His attitude toward fashion is one that probably can't be reconciled to Chanel's, if the past is any indication. Fashion in Paris during the 1930s was an ongoing clash between Chanel, the friend of the Cubists, and Schiaparelli, who was a Surrealist at heart. With her "chest of drawers" suit and her necklace of aspirin, Schiaparelli made news while Chanel made clothes.
But the difference between Schiaparelli and Chanel wasn't merely the difference between humor and the lack of it. There's a whimsical aspect to Chanel's designs, too, at least to many from the twenties and thirties. The Costume Institute at the Metropolitan Museum has in its collection two surprising Chanels: one, a black-and-beige day dress from the twenties, has clouds and rain embroidered on the skirt; the other, a long black tulle-over-crepe evening dress from 1938, is patterned with bright-colored sequin fireworks. A twenties black chiffon chemise, in a sale last month at Sotheby's, is appliqued with 3-D fabric pinwheels. Each of these is a one-shot dress, but taken together they are evidence of a lightheartedness that is surprising in the sober, upstanding woman who masterminded the suit. So Chanel was no stiff, but unlike Schiaparelli, whose clothes today look like little more than a series of one-liners, she always subordinated the idea of a dress to the image of the woman wearing it.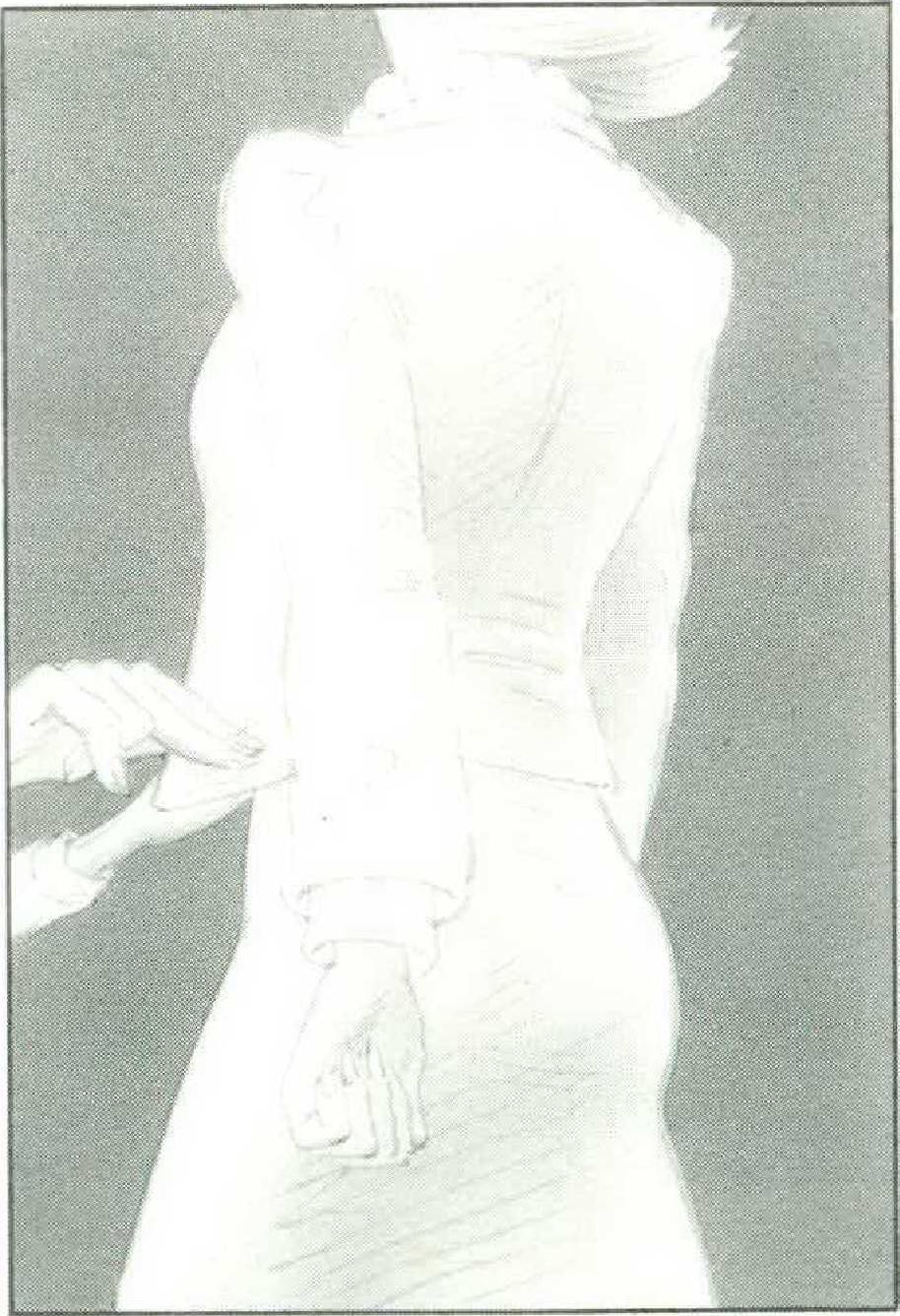 Chanel and Schiaparelli, or at least the positions they took, still exist in fashion today: Chanel is Yves Saint Laurent and Schiaparelli is, oddly enough, Lagerfeld. In his recent collections for Chloé, there are echoes of her jokey sensibility—evening gowns decorated with trompe l'oeil rhinestone shower heads, brooches as spigots, dresses in the shape of electric guitars, and piano-keyboard bracelets. You get the idea that Lagerfeld can't quite bring himself to take fashion seriously. Neither, for that matter, could Coco Chanel, but at least she chose to design clothes instead of facetious commentaries on the changing state of fashion. Lagerfeld seems contemptuous of clothes. In the furs he designs for Fendi, and even in his more wearable numbers for Chloé, he makes "fashion statements," and often important ones. Chanel's clothes, however, were understatements.
YOU CAN'T HELP but wonder whether the people at Chanel got the wrong man for the job. In this season's readyto-wear, which takes its cue directly from Lagerfeld's couture, there's a white satin evening gown with a trompe l'oeil Chanel suit outlined in sequins on the front, a blouse made of fabric patterned with bottles of Chanel No. 5, and big rhinestone 5s to be worn as earrings. I've got nothing against irony, and I can see it in the fact that the style invented by Chanel, who eschewed fashion, has now become all the rage. But I'm not sure that an evening gown or a blouse or even an earring is the right place for another designer to remark on that turn of events. In the collections he has designed for Chanel, it's as if Lagerfeld can't make up his mind whether to carry on the tradition or send it up.
Lagerfeld's position at Chanel is unprecedented and ultimately, I think, unenviable. No other house in the history of fashion has, on the death of its founder, brought in another designer with a large reputation and a distinctive style and expected him to work within the confines of its own well-established tradition. Whether or not this is possible is a good question; why Lagerfeld would want to do it is another. The style Chanel set down is so narrowly defined that, if his new designs are going to be in keeping with it, Lagerfeld's hands are tied. After two collections, he still hasn't figured out how to make his mark on the Chanel style without in some way defacing it.
The hoped-for meeting of the minds has turned out to be a polite exchange of views, with Lagerfeld and Chanel taking turns. The most successful numbers in this season's couture were those in which he put his own ideas aside and paraphrased hers: an ivory-and-white wool bouclé suit edged in red, white, blue, and beige; a lapis-blue tweed suit with a long jacket, with closings like brooches and gold chains draped like watch fobs across the front; a fuchsia chiffon evening gown with a train that flows like liquid. Lagerfeld's two cents came in a group of overkilling evening jackets inspired by eighteenth-century furniture and Meissen snuffboxes, festooned with cherubs, gold-encrusted scrollwork, marquetry, and sable. At these prices— $15,000 to $50,000 for the evening clothes, $5,000 to $15,000 for the day wear—most women would expect to get something that would last them the rest of their lives.
Women who bought a suit designed by Chanel had the assurance that it would be timeless, but today's suits look timely instead. The models for the collection wore three-inch-high heels and skirts cut narrow enough to hug their rumps. Presumably, Lagerfeld thinks that touchups like these will make the Chanel style look young and racy without drastically altering it. In the end, though, they undermine it. Chanel didn't make clothes to fit snugly or to show a lot of skin. There's a staunch sense of propriety to everything she designed, even her evening gowns, and a faith that what is most attractive about a woman is not the motion of her hips. Lagerfeld has taken the Chanel standard and souped it up. He recognizes the style's integrity, but he doesn't seem to trust it or to think that it's enough. From the looks of this collection, he believes that, in however small a way, a woman has to endear herself to the world.