IN 1969, THE YEAR the drums of the rock counterculture beat their wildest tattoos, Frank Sinatra turned fifty-four. Pop music's "chairman of the board," whose rightward-tending politics and friendship with the youth-baiting Vice President Spiro Agnew made him a symbol of establishment cynicism to the Woodstock generation, enjoyed his last Top-40 hit for the next eleven years that spring, when "My Way," a surly roar of self-satisfaction, reached number 27 in Billboard's Hot 100. In 1980, Sinatra returned to the Top 40 with the equally feisty "Theme From New York, New York," from Trilogy, his monumental three-disc album.
It was with Trilogy that Frank Sinatra began to gain the attention of the previously disdainful rock press. Rolling Stone ran a review of a Sinatra concert soon after the release of the album which offered the ultimate in rock-critic flattery, comparing Sinatra's singing to that of John Lydon, the Sex Pistols' screaming punk moralist. Instead of being viewed as an enemy of sixties radical-liberal communalism, Sinatra began to be viewed as a kind of proto-punk rocker, spitting at the world with pugnacious arrogance.
More than three years after Trilogy, Sinatra's reputation as a pop artist for all cultures—post-counter and post-punk as well as old-guard—has continued to build. In 1982, RCA Records released the complete Tommy Dorsey-Frank Sinatra sessions in three double-album sets. This month, Twyla Tharp will mount a dance piece called Nine Sinatra Songs at the Brooklyn Academy of Music. Linda Ronstadt made a hit album of torch songs, What's New, with Nelson Riddle, Sinatra's most gifted arranger-conductor. It included three songs that Sinatra and Riddle had recorded together twenty-five years earlier, on the album Only the Lonely.
Mobile Fidelity Sound Labs, the Southern California company that in 1982 released a fourteen-disc, $325 Beatles collection, with the discs mastered at half-speed and pressed in Japan, followed it up last fall with a $350 boxed set called Sinatra. The collection includes sixteen albums that Frank Sinatra recorded for Capitol Records from 1953 to 1962, when he was at the peak of his artistry. Each record comes with the original Capitol artwork and detailed information about musical personnel and recording dates. Cuts that had been deleted when Capitol reissued the records have been restored, and the set's aural quality is excellent. Beautifully clear and balanced monaural sound on the earlier discs gives way to crisp, deep stereo on the later ones, which, like many stereo albums of the fifties, widely separated the orchestral voices.
Sinatra isn't as complete as the advertising for it implies. Left out are Capitol's first two collections of Sinatra's singles—This Is Sinatra and This Is Sinatra, Volume 2—which contain such crucial hits as "Young-At-Heart," "Learnin' the Blues," and "Hey! Jealous Lover."And the three later collections of singles that are included—All the Way, Look to Your Heard, and Sinatra Sings . . . of Love and Things!—are cluttered with junky novelties and second-rate movie songs that no singer could redeem. Another omitted album is one of Sinatra's last for Capitol, Point of No Return, on which he teamed up again with his regular arranger-conductor from the forties, Axel Stordahl. Also left out are a Christmas album and soundtracks from Sinatra's movies.
The thirteen core albums, however, constitute a body of pop music conceived for the LP record which, in its scope and consistency, has been matched only by the work of the Beatles. Oddly, the music on Sinatra is in some ways more pertinent than that of the Beatles—at least at the moment. Sinatra has, after all, outlasted many of the formidable pop phenomena that were supposed to depose him. Elvis Presley is dead, and his biggest posthumous hit, ironically, is an eerily nervous and out-of-breath rendition of "My Way." The Beatles died with John Lennon. Bob Dylan resurfaces periodically, an erratic bohemian voice in the wilderness, out of phase with Reagan-era realities.
Frank Sinatra is in phase—socially, as a Reagan family friend, and artistically, as a hardy individualist. At sixty-eight, he still gives concerts and makes records the old-fashioned way—with a live orchestra, eschewing rock rhythms and fancy overdubs. And his ubiquitous new signature song, "Theme From New York, New York " unabashedly glorifies worldly success. In today's trend-crazed world of pop music, Frank Sinatra is not simply the ultimate survivor but the ultimate victor.
IT WAS IN 1953 that Sinatra, who had spent the previous decade at Columbia Records, moved to Capitol. He was thirty-seven, an age at which all but the most enduring rock acts have lost their followings. Sinatra was not a big star when he made the move—in fact, some considered him a washed-up crooner.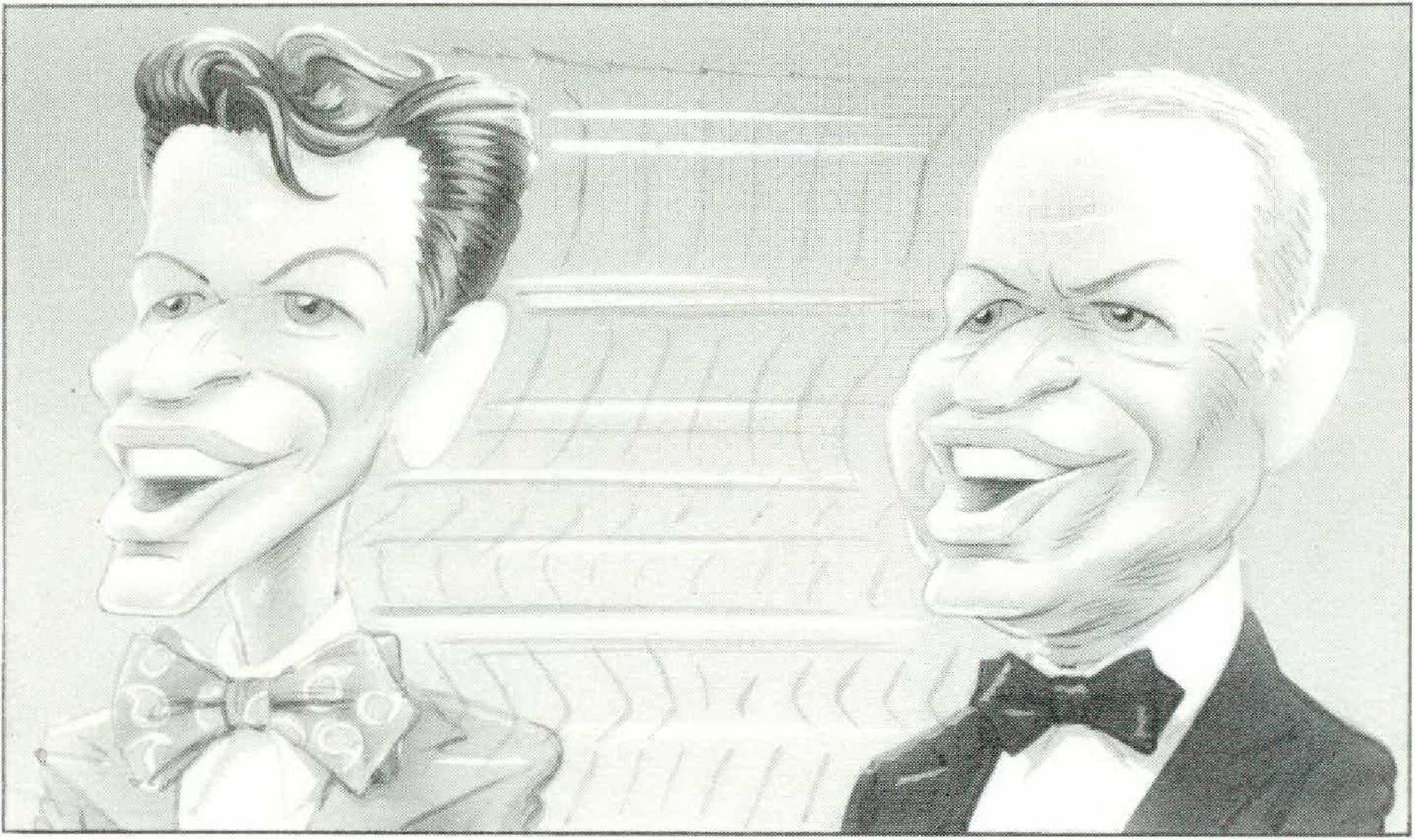 But in winning an Oscar that year for his portrayal of Maggio in From Here to Eternity, Sinatra made one of the most dramatic comebacks in Hollywood history. The following year, his recording career was rejuvenated as well, as the single "Young-At-Heart" became his first top-five hit in eight years.
The aura of cocky self-assurance in Sinatra's Capitol albums suggests someone who has arrived safely at adulthood having just barely survived an irresponsible and foolishly romantic youth. This posture hasn't changed significantly since, even as the voice has coarsened and darkened with age. The mature Sinatra is a lapsed romantic. While capable of great tenderness, compassion, and joy, beneath the surface he is always reflecting on his loss of faith in the quasi-religious romantic ethos that engulfed movies and pop music in the forties and early fifties. In that ethos, ineffable sexual ecstasy inside marriage was supposed to be everybody's reward for sexual postponement; "true love" was the happy ending everyone was coaxed into anticipating. And, despite a great deal of evidence to the contrary, it was supposed to last "forever."
Sinatra's voice had embodied this dream in the forties with a fervent intensity that no other singer has matched. With his rounded baritone, suggestive of the trombone at its most purringly lyrical, he conjured a fantasy world of tender rapture, at once virile and delicate. Sinatra's bel-canto phrasing turned the most flowery lyrics into plainspoken, believable outpourings of emotion. Faith
in romantic love as a possible and permanent salvation seemed built into his voice, which lent a compelling spiritual conviction to the love songs that he recorded in the forties—"The Girl That I Marry," "How Deep Is the Ocean," and "I Concentrate On You," for example. If Bing Crosby, Sinatra's great forerunner, projected a comforting hominess, in which eroticism had its cherished but modest place, Sinatra exalted the erotic with a dedication that made it a world unto itself. Axel Stordahl exquisitely orchestrated Sinatra's best Columbia singles like aural valentines, trimmed with lacy violins and tinkling bells.
It wasn't until the Beatles' psychedelia, exemplified by "All You Need Is Love," that a vision of love was again so thoroughly and successfully captured in pop music. But the love the Beatles conjured was a communal and polymorphously exploratory utopia of peace, cuddly sex, and eternal youth; Sinatra's love had been a yearning daydream. Both visions were rooted in carefully distilled concepts of musical beauty that had been established in late-Romantic European music.
BUT BEAUTY HAS a way of evaporating, and Frank Sinatra arrived at Capitol at just the moment when his voice had begun to lose its spellbinding loveliness. The lapsed romantic had to rebuild his world from inside himself instead of trusting to magic and looking to heaven. In defining his adult self, Sinatra made the first real "concept" albums, in the rock sense. One after another, Sinatra's records explored different styles of adult love and alternatives to love, as the singer tried out different roles: flippant roué (Swing Easy), warmly reflective companion (In the Wee Small Hours), optimistic, fun-loving hedonist (Songs For Swingin' Lovers), happy globe-trotter (Come Fly With Me), mysterious loner (Where Are You?), jaded sensation-seeker (Come Swing With Me).
While at Capitol, Sinatra favored three arranger-conductors: Nelson Riddle (nine albums), Billy May (three albums), and Gordon Jenkins (two albums). With Gordon Jenkins, who used heavy strings and French horns arranged into a tortured Wagnerian chromaticism, Sinatra made the introspective albums Where Are You? (his first stereo release) and No One Cares. In Where Are You? the singer summons the ghosts of old flames with a formal, almost operatic intensity enhanced by a bleating twenty-two-piece string section, In No One Cares, made two years later with the same orchestration, Sinatra's voice is frayed and his phrasing hesitant; he "acts" songs like "Stormy Weather" and "I Can't Get Started" as a dark night of the soul.
With May, Sinatra made his toughest, hardest-swinging records. Their third collaboration, Come Swing With Me, is a musical fistfight in which two enlarged brass sections throw punches at each other while Sinatra socks out angry, anti-romantic remakes of ballads he recorded in the forties, like "Day By Day" and "That Old Black Magic." This swing has to it almost a rock harshness. Billy May also arranged and conducted one of Sinatra's more mellow albums, ComeFly With Me, a spirited travelogue that blends ballads with the swinging numbers.
It was with Nelson Riddle that Sinatra struck his most consistent balance between toughness and angst. Songs For Young Lovers (1954), Close to You (recorded in 1956, with a string quartet), and especially In the Wee Small Hours, which may contain Sinatra's warmest ballad performances, sustain a mood of quiet intimacy and reminiscence. In Songs For Swingin' Lovers (1956), the quintessential Sinatra-Riddle mediumtempo album, Riddle expanded the orchestra to thirty-five pieces to achieve the optimum hybrid of swing band and Hollywood studio orchestra. "I've Got You Under My Skin," which Sinatra and Riddle jauntily syncopated against a light, finger-snapping beat, becomes not the sophisticated yet abject confession of love that Cole Porter's lyrics imply but the fond tribute of one sensualist to another. In the song's climax, Sinatra admits that for the moment he's a smitten fool, and this exhilarating expression of a perfect balance between intoxication and wry knowingness may be the apex of all his "swinging" music. As Fred Astaire's graceful courtliness transformed Cole Porter's musical sophistication into a dancing style that seems to be the purest kind of pleasure, Sinatra's artfully casual readings of Porter embody a comparably enviable ideal of grown-up fun.
Sinatra and Riddle achieved another peak in Only the Lonely (1958), a reflective album that avoids the sepulchral gloom of the Gordon Jenkins records by putting Sinatra musically in the world instead of in a room by himself at 3 A.M.; the cautious bounce of jazz-inflected rhythms and the impressionistic foliage of brass and woodwind choirs in Riddle's forty-six-piece ensemble prompted performances from Sinatra less solemn than those with Jenkins's ghostly strings and horns. For Nice 'N' Easy (1960), their last great collaboration, Riddle pared the orchestra back to thirty pieces. All but one of the twelve songs are standards that Sinatra had recorded between 1940 and 1950. Riddle's smoothest arrangements for Sinatra enhance his cool mastery of ballad phrasing. Sinatra stopped acting songs; the album is above all a demonstration of technique.
Sinatra's Capitol years ended when Warner Bros., then a nascent corporate giant, offered Sinatra his own label, Reprise, in 1961. Unwilling and probably unable to come to terms with rock's technology, he continued to sort through his past, as he had on Nice 'N' Easy. While Sinatra's Reprise catalogue is rich, it's spottier than his Capitol output, and the explorations of mature aspirations are frozen into patterns. Sinatra the symbol rose above Sinatra the interpreter.
IN THE SIXTIES, when the rock-androll culture wrested the airwaves from pop traditionalists and made the rock LP album the musical art form of a generation, Sinatra seemed to have no place in the revolution, which in the end turned out to be more technological than cultural. Today, as we look back, very little of the billions of dollars' worth of corporate merchandise marketed as artistically worthy rock seems to have any enduring value.
In 1969, the turmoils and victories of people reaching middle age were of no concern to a generation so contemptuous of its elders that it cherished Pete Townshend's sneer "Hope I die before I get old." But to those of us who are still alive, the "chairman of the board" no longer looms as a disapproving surrogate parent; he has become an adult role model for how to make it to the top and stay there.
If "true love"—epitomized by Sinatra crooning "All or Nothing at All" or "Nancy" or "Dream"—was a false salvation for the parents of the Woodstock generation, the sexual revolution has proven just as false an ideal. The rock generation may have won the opportunity to prolong adolescent pleasure-seeking for as long as it liked, but it didn't anticipate the complexity of middle-age desires.
What, then, is there to pursue? The albums explore every avenue of possibility except religion: knowledge, reflection, friendship, travel, "swinging" in most of its manifestations, and, finally, accomplishment and power.
One wouldn't ordinarily expect a singer to communicate so much lived experience. But Sinatra's greatness is his ability to lay bare the emotional facts. These albums are about continuing, and not only continuing but trying to get better in spite of the realities of aging. They are heroic feats of self-generation, of finding more with less and gaining in the struggle a reason for going on.