The Jamaica Experiment
The Reagan Administration intends to use Jamaica as a development model that will demonstrate to the Third World the superiority of capitalism to socialism
BY MICHAEL MASSING
A LOT IS RIDING ON THE FUTURE OF JAMAICA. IT IS playing a critical economic and political role not only in the Caribbean but in Latin America and, indeed, the Third World. The Reagan Administration has made Jamaica a fulcrum of its national-security plans for the Caribbean Basin. Even more significant, it has selected Jamaica as the site for a high-stakes experiment intended to demonstrate the superiority of capitalism to socialism, the free market to state control. The result of that experiment will have important implications for the future of U.S. foreign policy, as well as for other Third World countries that, like Jamaica, are seeking to solve the mystery of development.
Jamaica entered center stage with the election of Edward Seaga as prime minister on October 30, 1980—five days before Ronald Reagan's own victory. Seaga, a conservative white in a country that is 80 percent black, replaced Michael Manley, a "brown," or mulatto, who had sought, over the previous eight and a half tumultuous years, to build socialism at home and a new world economic order abroad. Manley drew close to Cuba and frequently denounced U.S. imperialism, severely straining relations between Washington and Kingston.
Jamaica's move leftward under Manley, and uncertainty about its political future, contributed to Reagan's growing concern about developments in the Caribbean Basin. War in El Salvador, insurgency in Guatemala, Marxism in Nicaragua and Grenada, refugees from Haiti—instability was increasing everywhere along America's "third frontier," as the region was being called. Nearly half of U.S. imports and exports pass through the area, as do two thirds of all our imported oil and more than half of our imports of strategic minerals.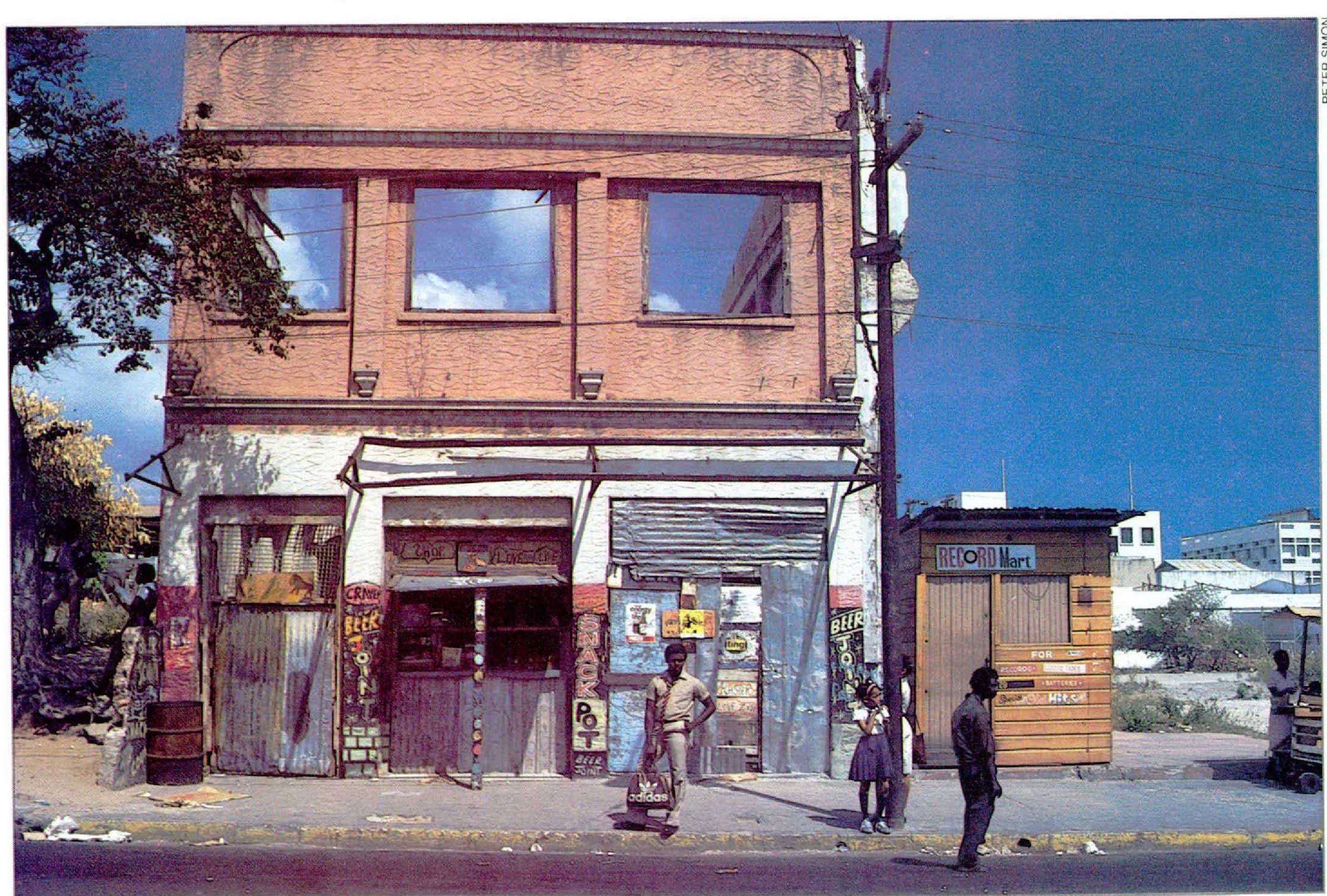 To Reagan, Edward Seaga seemed a godsend. Here was a Third World leader who spoke unabashedly of the private sector as the engine of growth—who, in short, spoke the language Ronald Reagan liked to hear. In January of 1981, Seaga, born in Boston, raised in Jamaica, and educated at Harvard, became the first head of state invited to the Reagan White House. The two hit it off at once, and at the end of their meeting, Reagan promised that Seaga could "count on American support for his objectives, especially in his efforts to expand his country's private sector."
Seaga proposed that Reagan formulate a sort of Marshall Plan for the Caribbean, in order to help rescue its faltering economies. That idea became the Caribbean Basin Initiative. Introduced in early 1982, the CBI included large-scale aid for El Salvador but pointedly excluded Cuba, Nicaragua, and Grenada. It also articulated a whole new approach to foreign policy, much favored by Reagan. Traditionally, U.S. assistance to the developing world has consisted of grants to governments; the CBI provided only $350 million in direct assistance for the entire region. It sought, for the first time, however, to use public policies, such as tax and trade incentives, as a way of enlisting the private sector to help achieve U.S. objectives abroad. American companies were to receive tax credits on their investments in the region, while Caribbean businessmen would prosper through duty-free treatment of their exports to the U.S. The CBI, said Reagan, would enable Caribbean and Central American countries to "make use of the magic of the marketplace" in order to "earn their own way toward self-sustaining growth."
Jamaica was at the heart of the new approach. Even before Reagan introduced the CBI, the Seaga administration had received about $100 million from Washington; this year, Jamaica, a country of 2.2 million people, is the fifthlargest per capita recipient of U.S. assistance. Although the trade and tax sections of the CBI were held up in Congress, Jamaica has been favored with a number of special tax breaks and tariff concessions. In the first year of the Reagan Administration, the U.S. Agency for International Development (AID) expanded its office in Kingston, with a mandate to increase its links with Jamaica's business community. The Commerce Department established a Caribbean Basin information center to promote Jamaica and its neighbors as attractive places for investment. And missions of businessmen were organized to visit the island.
Reagan asked his friend David Rockefeller to pitch in, and Rockefeller obliged by creating the U.S. Business Committee on Jamaica, in order to promote investment in the country and advise Seaga's government on the policies necessary to attract it. The committee included some of the biggest corporations in the U.S., among them Gulf & Western, General Foods, Hilton International, Eastern Airlines, Alcoa, and Atlantic Richfield.
Finally, the White House saw to it that the International Monetary Fund and the World Bank, the two giants of international finance, would share the President's interest in Jamaica's well-being. Both institutions became involved in the economy of Jamaica to an extent unprecedented there.
All in all, it was an unusually ambitious effort—matched by an equally ambitious goal. As Alexander Haig, then the secretary of state, summed it up at the time of Seaga's visit to the White House: "We feel strongly that the future of Jamaica is not only of vital importance in its own right but also as an example for the entire Caribbean Basin, a region where so many newly formed nations and peoples are facing the alternatives of authoritarian solutions and economic determinism, or a market economy and democratic process. We are all vitally concerned that Jamaica succeed."
More than secure borders and shipping lanes, then, was at issue; free-market capitalism itself seemed at stake. Reagan has designated Jamaica a front-line state in the global struggle between East and West—but in this case, the conflict is not military, as in El Salvador, but material and even moral. After nearly a decade of political turmoil and economic decline under Manleyite socialism, Edward Seaga is receiving the means necessary to show that unleashing the private sector can promote growth in a democratic framework. In short, the Reagan Administration hopes to make Jamaica a model for other Third World nations.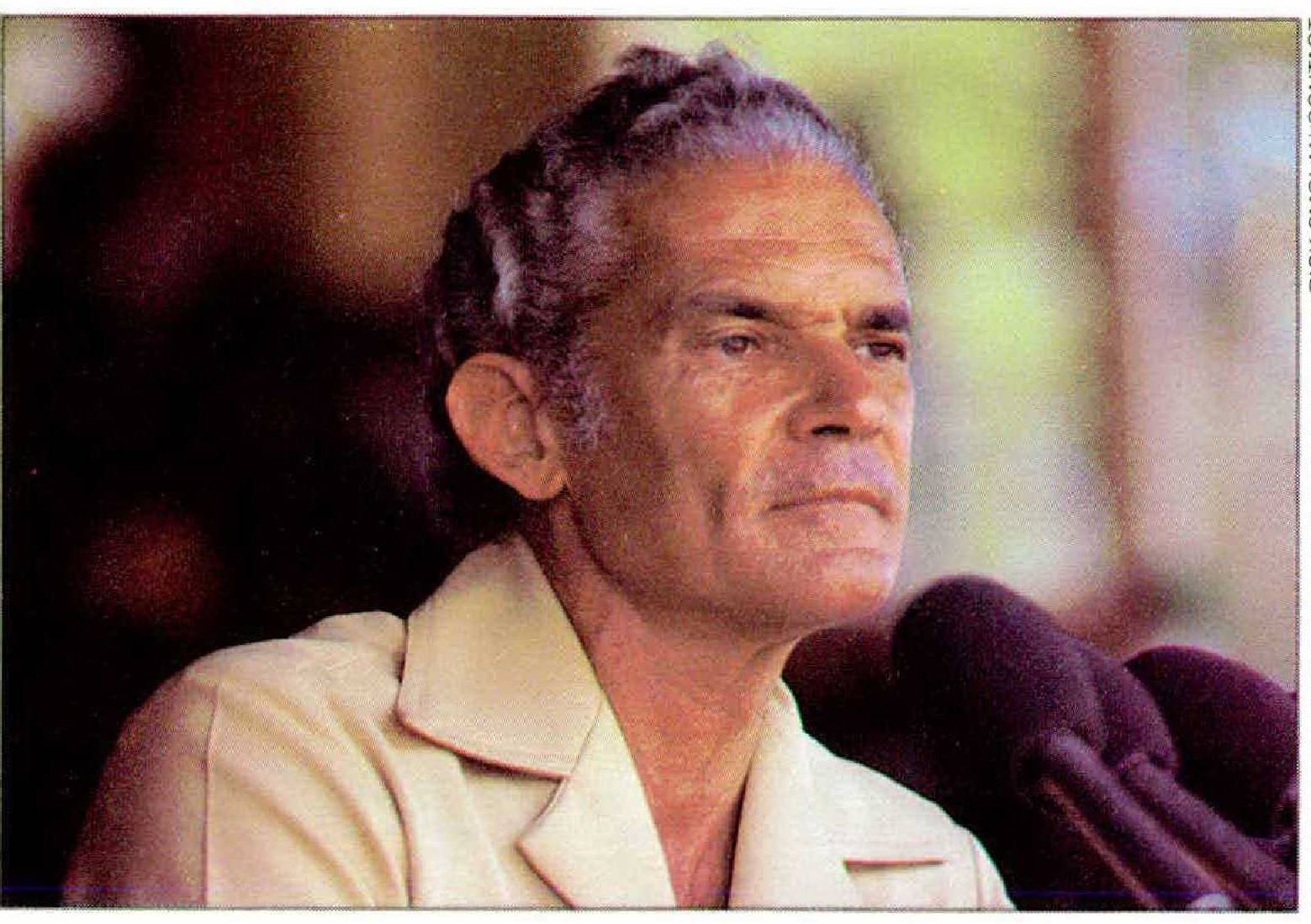 I DECIDED TO GO TO JAMAICA RECENTLY FOR A LOOK AT how the model is faring. Prime Minister Seaga's public-relations firm in New York had laden me with glowing accounts of the turnaround of the Jamaican economy. I had met with members of the Rockefeller committee and. in Washington, with officials at the Departments of State and Commerce; all said they were pleased with the progress Seaga was making.
When I arrived in Kingston, the capital, I quickly found much that seemed to bear out their optimism. The streets were crowded with shiny new Mercedes-Benz, Toyotas, and Hondas. Building cranes hovered over new office complexes rising in Kingston's modern business sector. The Daily Gleaner, the powerful national paper, was filled with stories about investment projects and a healthy tourist season. At the Pegasus Hotel, I saw a tour bus pull up to the front entrance and disgorge a score of Japanese businessmen, arriving to expand their holdings in Blue Mountain coffee, a popular item in Japan.
The real seat of power in Jamaica these days, in fact, is not Jamaica House, the prime minister's office, nor Parliament, nor the central bank. Rather, it is the Pegasus, a modern, deluxe structure that rises eighteen stories in the center of Kingston. Here gather economists from the World Bank and the International Monetary Fund; officials from the U.S. government; investors from Kansas, Israel, and Hong Kong; bankers, diplomats, journalists, and consultants with expertise on everything from exchange rates to water pumps.
At a reception held for a group of visiting American businessmen at the residence of William Hewitt, the U.S. ambassador. the mood was upbeat. In attendance were top staff members from the embassy, AID executives from Washington, the executive director of the Rockefeller committee, representatives from corporations like United Brands and Control Data, and the cream of the Jamaican political and economic establishment.
"Under Manley, the city was dirty, and people didn't want to work," I was told by a distinguished-looking Jamaican in a dark suit. I later learned that he was the head of a major private-sector organization. "He succeeded in destroying the country's social fabric, especially with his rhetoric, which seemed intentionally aimed at alienating people. Government representatives would come to business functions with their shirts open to the waist and hair bristling out. Now, at least, government people wear blazers and ties." The comment captured the tone of the evening: things were back to normal, discipline had been restored, profits waited to be made.
There were signs, however, that not all was well. At my hotel (not the Pegasus), the power went out almost every day, and the water stopped running every night. The bauxite industry, the country's largest, was in its worst slump ever. And the powerful trade-union movement, relatively quiescent after Seaga's election, was issuing one strike threat after another.
Most ominous, unemployment, at 27 percent, was rising, and the sense of expectancy that had welcomed Seaga's victory seemed to be giving way to something darker. Visiting a crafts market soon after I arrived, 1 was accosted by one of the many drug dealers who prowl the area. I turned down his offer, but we began to talk. "Seaga's no good for the people,"he said angrily. "He's brought all the capitalists down here with their money. But we don't see any of it. No one has any money."
"At first, you get the impression that things are better here," a Jamaican journalist told me. "But it's just a veneer. Underneath, there's the same level of unemployment, the same disadvantage, the same seething. The ghettos are still there. If you scratch the surface, you find the same feeling of resentment."
Kingston is a tense, divided, politicized place. Its very topography provides a lesson in the country's social stratification. The city slopes gently upward from its stunning blue harbor, the seventhlargest natural harbor in the world. Then, at its midsection, the city begins to rise sharply to meet the foothills of the Blue Mountains, which form a dramatic, dark backdrop to the city's life.
In the flat, low-lying section are the mean, smoldering black shantytowns of West Kingston, which bear names like Trench Town, Lizard Town, and Concrete Jungle. It is a place of "burnin' and lootin'" and "weepin' and wailin'," in the words of Bob Marley, whose reggae anthems capture the explosive nature of life in Trench Town, where he grew up. Here families of six, eight, or twelve live in ramshackle houses with corrugated zinc roofs and concrete walls. Children run about shirtless and barefoot, alongside chickens and goats that pick at the littered streets. Unemployment in these ghettos can run as high as 80 percent, and survival usually means hustling—peddling, stealing, playing the black market, or dealing in "ganja," as marijuana is known.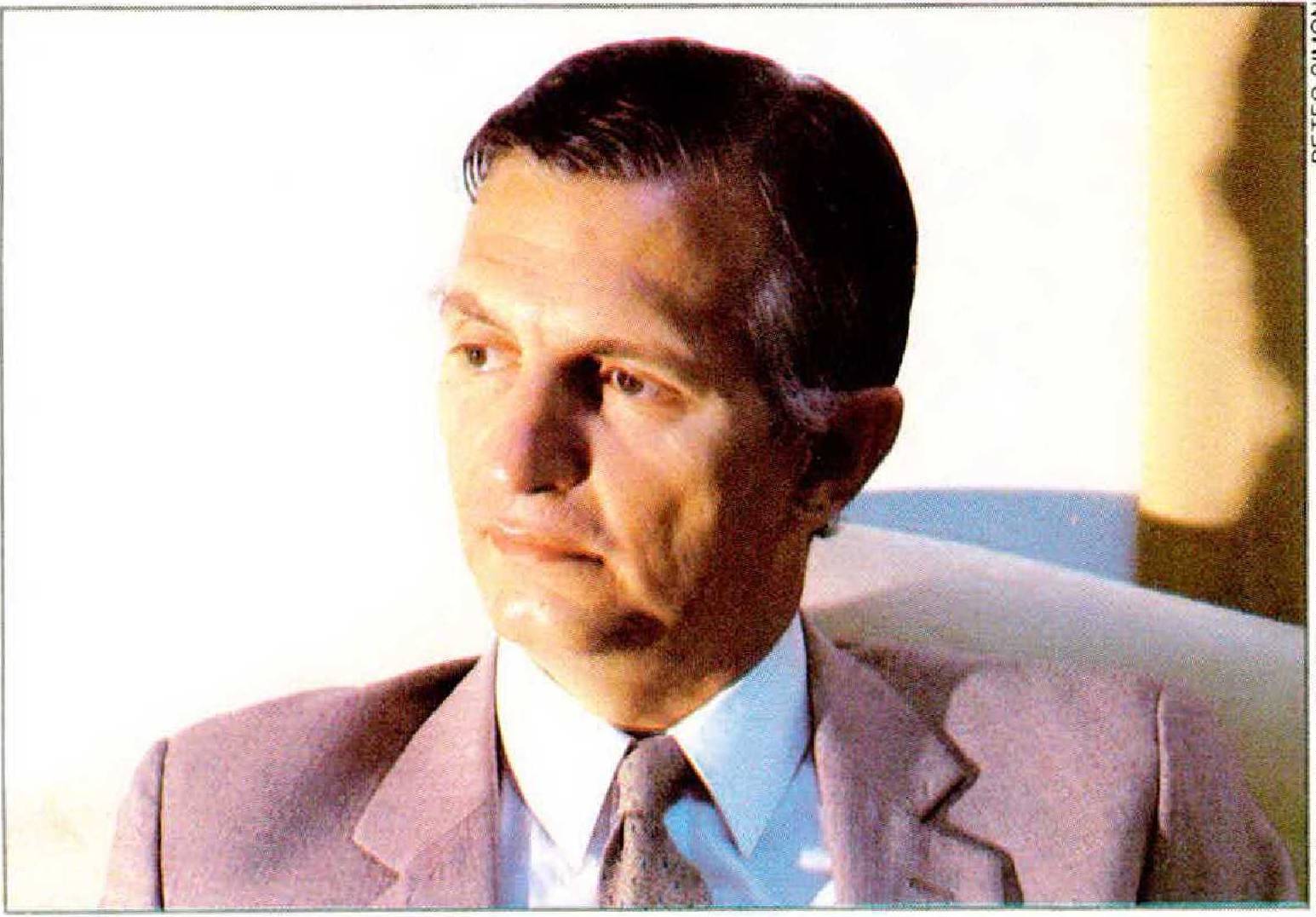 As the city's altitude rises, so does its standard of living. Jamaica's small non-black population—scions of British plantation owners, Syrians, Chinese, and Jews, and upwardly mobile browns—lives in the hills. Here the neighborhoods have names such as Beverly Hills, and the air of country clubs. Elegant mansions are set far behind high concrete walls topped with barbed wire; at night, guard dogs bark ferociously at the slightest rustle. Many yards boast satellite dishes, which pick up American TV programs. These enclaves are visible throughout Kingston; the mansions of Beverly Hills can be seen from Trench Town.
The political divisions in Kingston run as deep as the social ones. National debate breaks along the fault line separating the two major parties: Seaga's Jamaica Labour Party (JLP) and Manley's People's National Party (PNP). The two clearly demarcate right and left, but allegiances often seem to defy logic. West Kingston is a patchwork of political turfs, in which party control changes with the street or neighborhood. Loyalty is enforced by armed gangs, each linked to one of the parties. In Parliament, Edward Seaga represents Denham Town, a poor, tough neighborhood that regularly gives the JLP 95 percent of its vote. PNP supporters do not show themselves here; instead, they stick to their own area, in the next neighborhood over. Every election year, West Kingston's slums erupt into violence, as gangs raid the strongholds of their rivals, eager for the favors a victory for their party would bring them.
Politics in Jamaica seems to touch everyone in deep, personal ways, often splitting families and rupturing friendships. For instance, an interview with Anthony Abrahams, the minister of tourism, began as a rather bland affair, focusing on hotel occupancy rates, tourist arrivals, and the like. Then, in passing, Abrahams mentioned that he had been Manley's director of tourism until 1974, and I asked how he had made such a change in loyalty. Suddenly growing impassioned, Abrahams began nervously pacing his office, and spent the remaining fifteen minutes denouncing Manley with all the fervor of a disillusioned believer.
One day, while sitting on the veranda of my hotel, I fell into conversation with one of the front-desk clerks and her boyfriend. The talk immediately turned to politics, and within minutes, the two of them were shouting at one another about the 1980 election, she defending Manley, he Seaga. Soon another clerk, hearing the uproar, came out and joined in. They were still going at it ten minutes later, when I excused myself to make a telephone call.
Politics was not always such a divisive business. For years after World War II, the two parties agreed on the path Jamaica should pursue: the island's economy, dominated for centuries by sugar plantations, needed rapid industrialization. Inspired by Puerto Rico's Operation Bootstrap, which seemed to have brought instant prosperity, Jamaica's leadership in the 1950s courted foreign investors with promises of liberal tax breaks, cheap land, and a disciplined work force.
The strategy was successful in many ways. More than a hundred new factories were built, many of them by such companies as Kellogg, Goodyear, Colgate-Palmolive, Pillsburv, and Esso. Hilton, Ramada, and Sheraton, captivated by the beauty of the North Coast and the hospitality of the government, built luxury hotels in Montego Bay and Ocho Rios, and tourism became a major source of revenue.
No industry, however, played quite the role that bauxite did. The rust-colored mineral, the principal raw material in aluminum, was critical to the world's expanding automobile and aerospace industries, and Jamaican soil contained rich deposits of it. Reynolds and Kaiser, among other aluminum companies, began digging huge pits in the Jamaican countryside, and by the late 1950s, the island had become the world's biggest bauxite producer.
In the decade after independence from Britain, beginning in 1962, the gross national product grew by an average of 6 percent a year. But that growth was highly skewed. In the push for industrialization, agriculture was neglected. Sugar began a relentless decline. Peasant farmers were forced to look for work in Kingston and beyond—in New York, Toronto, and London. According to one study, Jamaica in the mid-1960s had the most unequal distribution of income in the world. The sight of rich Americans sipping rum punches under the palms heightened the deprivation felt by blacks, who were effectively barred from hotels and beaches. This inequality fueled the growth of black protest groups and of Rastafarianism, a religion that preaches black superiority and radical social change. By 1972, social tensions had reached a boil.
During the election campaign that year, the PNP, under Michael Manley, called for a transformation of Jamaican society. Manley, a charismatic young labor leader and a son of Norman Manley, the party's founder, campaigned on slogans like "Better must come." He took 56 percent of the vote—a clear mandate, he felt, for fundamental change. Jamaica, Manley told the opening session of the new Parliament, was to become a "land of social justice.'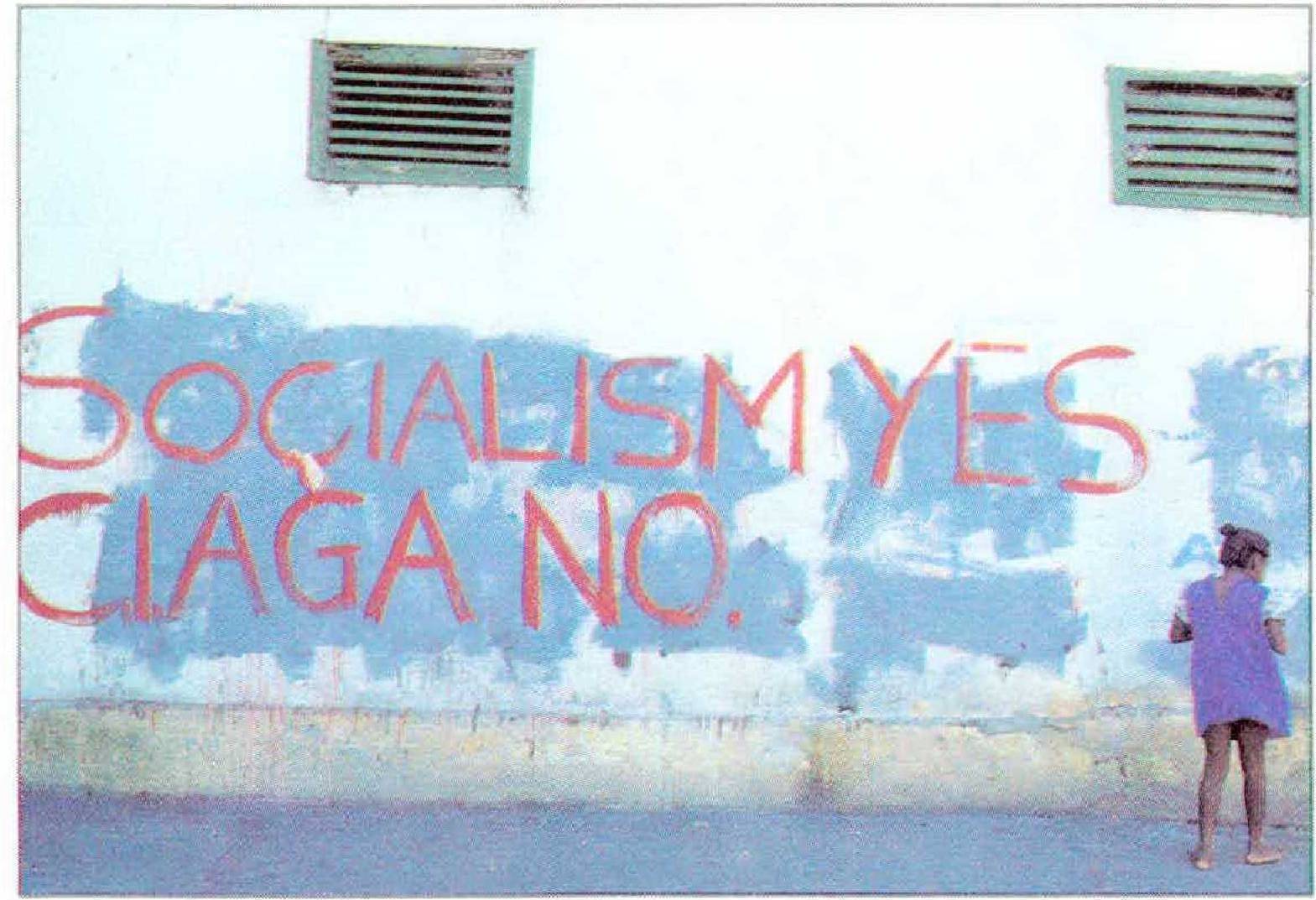 As Manley recalls in his recently published assessment of his term, .Jamaica: Struggle in the Periphery, his government sought a "third path," a "non-capitalist path of development to distinguish experiments like ours from the neo-colonial capitalist model of the Puerto Rican type and the Marxist-Leninist model of the Cuban type." Manley writes that he wanted to create an economy "more independent of foreign control and more responsive to the needs of the majority of the people at home," and to build an "egalitarian society" in which "people felt that they were of equal worth and value." This was to be accomplished by reducing foreign ownership of industry and agriculture, reining in the local oligarchy, increasing state control of the economy, and fostering grass-roots participation in national decision-making. The PNP prepared to make a radical shift in the country's balance of power.
The new government passed laws establishing maternity leave, severance pay, and a minimum wage. It expanded access of the poor to education, initiated a literacy campaign, and opened rural health clinics. A new national housing agency began building thousands of low-cost units. The government established an ambitious jobs program to combat unemployment, and, when that proved inadequate, expanded public enterprises in order to accommodate more employees.
Using revenues from new taxes and levies, the state took over important sectors of the economy, purchasing the country's largest utilities, its only cement plant, several banks, and nearly half the large hotels. It bought all foreign-owned sugar estates and the mills situated on them. And, in the biggest test of all, the government in 1974 decreed a new levy on the bauxite companies, which, in one stroke, multiplied Jamaica's bauxite revenues six times. The government also nationalized 51 percent of Kaiser's and Reynolds's local mining operations.
Manley instituted a number of measures intended both to stimulate balanced growth and to promote equal distribution. He passed a law forcing idle farmland into production and leased much of it to small farmers. He set up sugar cooperatives on the newly acquired plantations. In line with his belief in economic nationalism, he sought to strengthen local manufacturers, providing them with special credit facilities, tax rebates, and accelerated depreciation rates. The PNP adhered to a policy of "import substitution" introduced in the 1960s, by reinforcing tariffs and import quotas in order to protect factory owmers against foreign competitors. Manley also encouraged domestic manufacturers by giving them incentives to export their goods.
Nevertheless, the economy entered a decline. The 19731974 oil crisis and ensuing world recession crippled the island, w'hich remained heavily dependent on trade and thus especially sensitive to developments abroad. Jamaica's oil bill tripled overnight, and the price of bauxite fell. This exacerbated the problems caused by Manley's domestic programs. The sugar cooperatives fared poorly, as a result of inadequate support and poor management. A rise in crime, reported in the U.S. press in such detail that Manley suspected malice, kept many tourists away.
Most important, the government became engaged in a costly war with the private sector. Its redistributive policies, which included passage of new taxes on wealth and property, unsettled many members of the middle and upper classes. Their insecurity was heightened by the government's rhetoric, especially after 1974, when it declared its commitment to "democratic socialism." The PNP issued frequent denunciations of capitalist exploitation, and domestic investment dried up. At one point, Manley reminded disgruntled members of the elite that five planes a day left for Miami; thousands took his hint, flying away with their money and their appreciable skills.
By the middle of Manley's term, banking windows in the West had closed to the PNP. Foreign reserves fell so low that the government imposed a variety of austerity measures, including strict controls on imports and higher taxes on luxury goods, but nothing seemed to help. In 1977, the government went hat in hand to the IM F, setting in motion a confrontation between one of the Third World's leading anti-imperialists and the premier financial institution of the capitalist world. The IMF placed increasingly stringent conditions on loans; the Jamaican economy kept deteriorating. Finally, in 1980, the PNP resolved to go it alone. It broke with the Fund and called a general election as a referendum on its decision.
Jamaica has still not recovered from the viciousness of the 1980 campaign. Manley accused the JLP of conniving with the CIA to destabilize his government; the JLP, under Edward Seaga. denounced the PNP as a cabal of communists. As the campaign lengthened, goods became increasingly scarce, and by the end of it, people literally fought over what little food was left on supermarket shelves. Throughout the campaign, Kingston's rival gangs did nightly battle, their M-10 rifles creating a staccato accompaniment to the bitter charges exchanged by the two candidates. By election day, 750 people had been killed.
It is a tribute to the durability of Jamaica's democratic tradition that the vote took place as scheduled, on October 30. A full 87 percent of the electorate voted—58 percent of them for Edward Seaga. He took office the next day, promising to undo the strife and decline of the previous eight years.
The economy was in dismal shape. Inflation was running at 27 percent. So was unemployment. The country's GNP had dropped a cumulative 20 percent over the course of Manley's term. It was estimated that 18,000 Jamaican professionals and managers had left the island, most of them for good. The country's three chief foreign-exchange earners were in crisis: bauxite was hit by world recession; sugar was continuing its steady decline; and tourism had been depressed by election-year violence. A badly shaken public looked to Seaga to make the country whole again.
A year later, it seemed that he had. Inflation went down sharply, to only 5 percent. Construction grew by 4 percent, reversing a 30 percent decline of a year earlier. Tourists began coming back. The country was swamped with foreign-investment proposals. Unemployment, though still high, showed signs of going down. In 1981, the economy overall grew by 1.8 percent—an impressive figure, compared with the 5.4 percent drop in 1980. Washington's investment seemed to be paying off.
HOW HAD SEAGA PULLED OFF SUCH A DRAMATIC change? His first priority upon taking office was to restore a sense of calm. He pledged a crackdown on crime and violence. He called for a return to discipline and, as an example, reinstated the jacket and tie as official attire, in place of the informal bush-jacket look Manley had popularized. Seaga unceremoniously ordered the Cuban ambassador off the island; Cuban doctors and technicians soon followed him.
They were quickly replaced by advisers from the capitalist world, as part of Reagan's plan to make Jamaica a showcase of free-market growth in the Third World. AID expanded its office in Kingston to sixty-eight members. Scores of consultants arrived to conduct time-and-motion studies in Jamaica's factories, to formulate organizational reforms for its bureaucracy, and to assess the condition of its sugar mills. The government hired a British manager to run the national power company and a Canadian to head the railway system.
Soon, money—lots of it—began flowing into the country. At a March, 1981, meeting of the Caribbean Group for Cooperation in Economic Development, composed of representatives of major Western donor nations, Jamaica received pledges of $350 million in grants and loans for the coming year. The World Bank put up an additional $95.8 million, and the IMF $698 million over three years—the maximum amount Jamaica could receive under the Fund's quota system.
The World Bank loan was, in many ways, the most important. In return for it, Jamaica agreed to implement a new Bank program called "structural adjustment." The program called for a transformation of the Jamaican economy over a five-year period. The role of the state was to be cut back, the economy deregulated, foreign investment solicited, and exports promoted. Jamaica was to undergo what Seaga described as "perhaps the most fundamentally ambitious redirection of the economy ever undertaken by a Government of Jamaica."
A divestment committee was appointed to sell companies that had been state-controlled under Manley. Some thirty to forty enterprises were to be offered for sale, ranging from a small dairy processing plant to the Jamaica Daily News, a newspaper founded by the PNP government. Top priority was given to eight luxury hotels that the PNP had bought when their owners threatened to dose them during a tourism slump brought on by the 1974 recession. Their condition had deteriorated under state ownership, and Seaga now welcomed bids from the private sector.
As part of Jamaica's agreements with the IMF' and the World Bank. Seaga sharply cut public spending and began phasing out many of the price controls that Manley had imposed on necessities, especially food products. Controls were lifted from butter, biscuits, cheese, sugar, infant foods, evaporated milk, and packaged rice. The government eliminated rent-control ceilings, which the Manley government had strictly enforced in order to help protect tenants; to Seaga, such a measure represented interference in the marketplace. The JLP set a low priority on public housing construction, preferring that the private sector take the lead. Building applications came pouring in, and deluxe apartment complexes began to rise in rich neighborhoods.
Seaga sought to deregulate the country's import-licensing system, which Manley had introduced as a means of conserving scarce foreign exchange. For Jamaica, foreign exchange is a precious commodity. Manufacturers need it to pay for the raw materials and machinery they import for their production processes. As investment dried up and loans failed to materialize in the mid-1970s, Manley began rationing foreign exchange in an effort to make sure that it was used for productive purposes only. Commercial banks were prohibited from dealing in foreign exchange. To bring goods into the country, an entrepreneur had to obtain a license from the government, which allocated him the hard currency to pay for them. Many luxury items were banned altogether. Though well-intentioned, the licensing process was time-consuming, cumbersome, and, in the end, riddled with corruption.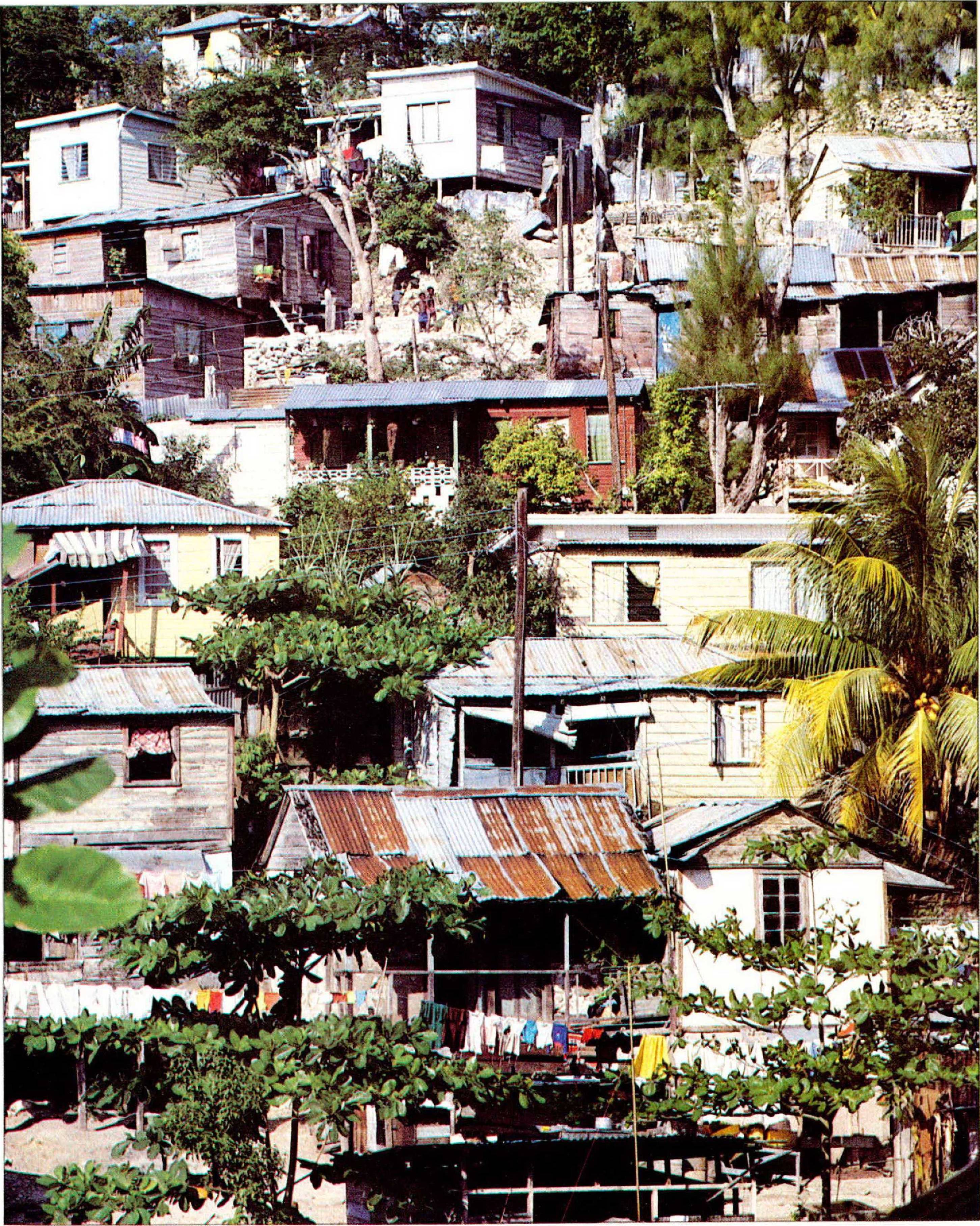 Foreign exchange continued to be in short supply under Seaga, because of drops in earnings from bauxite and sugar. While still barring banks from buying or selling foreign exchange, Seaga issued licenses to importers without providing them with currency; in effect, he sanctioned the use of black-market American dollars to pay for goods abroad. He also removed many items from the prohibited list. Further, customs agents were advised to relax their vigilance, making it easier to bring in goods illegally. Before long, the country was flooded with imports of everything from cheap food and cigarettes to videotape players, color TVs, and expensive cars. One result was a sharp drop in the cost of living.
Nothing received more of the government's attention than the drive for exports. This represented a sharp turn away from the "import-substitution" policy of the Manley years. That strategy had succeeded in building up a diversified industrial plant, but by the late 1970s, its limitations had become obvious. Jamaica offered too small a market to sustain consistent industrial growth, and besides, protection against foreign competition allowed local companies to become sluggish and inefficient, forcing consumers, in effect, to subsidize them through higher prices.
There was an alternative, as demonstrated by the striking success of the so-called newly industrialized countries of East Asia. During the late 1960s and the 1970s, Singapore, Taiwan, South Korea, and Hong Kong achieved phenomenal growth by mounting an aggressive strategy called export-oriented industrialization. Low wages enabled these countries to manufacture light goods far more efficiently than could the industrialized West. As a means of spurring local companies to look to foreign markets, import barriers were lowered and liberal export incentives established. To obtain the capital needed for expansion, the governments lured foreign investment with generous tax holidays and the promise of cheap labor.
The high growth rates that resulted turned the heads of many Third World politicians, not least members of the Jamaica Labour Party. Anthony Johnson, a high-ranking official in the Ministry of Industry and Commerce, explains that during the 1970s, his party "had the opportunity to look at the countries of the world to determine which were succeeding and which failing." He said, "We saw that those countries with open economies and an export orientation did the best. The closed models, on the other hand, experienced a falling standard of living, high unemployment, high inflation."
So the Seaga government set about converting Jamaica into a Caribbean Singapore—a country that frequently comes up in conversations with JLP officials. Seaga began preaching exports at every opportunity, and he put domestic manufacturers on notice that the easy life was over— their protective covering was to be dismantled. The JLP declared that import quotas would be phased out beginning in early 1982; within a mere five years, 364 restricted items were to be decontrolled. The government hoped that the competition from abroad for local markets would force Jamaican companies to become more efficient in producing goods for export. In setting export priorities, the government concentrated on the same labor-intensive sectors— shoes, garments, electronics—that had proved so successful for the Far East.
As Singapore and its neighbors demonstrated, exportoriented industrialization requires considerable infusions of foreign capital, and Kingston's pursuit of it was dogged. It hoped to attract assembly factories along the MexicoU.S. border leaving because of concern over Mexico's economic future; light-manufacturing plants leaving Singapore and South Korea, which are moving into the production of steel and semiconductors; and U.S. garment and electronics companies seeking lower labor costs.
The government dispatched trade missions to California and Asia, conducted investment seminars abroad, and bought special advertising sections in prestigious American publications. Seaga himself was everywhere, traveling to meet corporate executives in New York, Atlanta, the Silicon Valley. In orders to field queries and assist investors, he established a new agency, called Jamaica National Investment Promotion Ltd., a one-stop investment center modeled after the agency in Puerto Rico that had spearheaded Operation Bootstrap. Chase Manhattan sent a banker to help JNIP get off the ground, and AID drew up an elaborate organizational plan for the next five years.
All in all, it was a year of intense activity, and a bravura performance by Edward Seaga. He could be excused for sounding boastful when he described his government's achievements. "The economy has reversed its course from the degeneration of the middle period in the 1970's ami is definitely underway in the restoration of a path of consistent growth leading to the expansion of new development opportunities for employment,"he stated an April, 1982, report titled "Jamaica's Economic Turnaround." He added that "standards of living will once again rise in the 1980's." Growth for 1982 was projected at percent.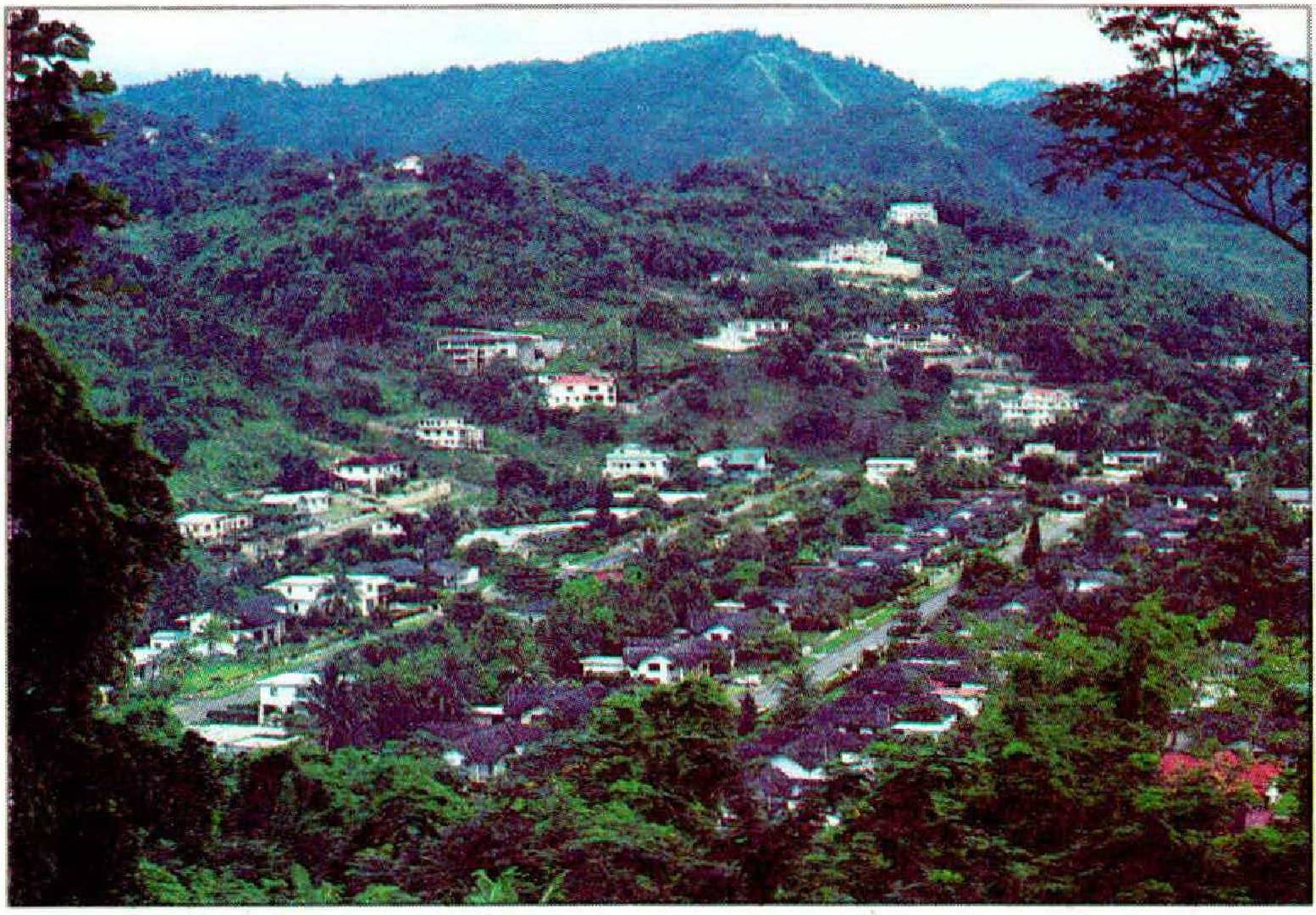 Before long, however, the marketplace began to lose some of its magic.
I noon SPENT in AN Kingston AFTERwandering around Coronation Market, a hot, dirty, soulless place that sprawls through the heart of the capital. Women from the countryside sat wearily behind meager piles of yams, mangos, cassavas, and ackees (an exotic-looking fruit that is the national food). Young men propelled produce-laden handcarts through the narrow, crowded streets. Mounds of refuse were everywhere, attended to only by Hies and stray dogs. And on side street, an itinerant preacher held an impromptu revivalist meeting, the sound of tambourines and psalms momentarily injecting a note of hope into the torpid afternoon.
I visited the market at a time when the government's price decontrols were starting to take effect. In the last weeks of 1982, the price of sugar had risen by 30 percent; the price of condensed milk, a Jamaican staple, soon followed. With the phasing out of rent controls, landlords had raised rates to two, three, even four times what they had been when Seaga took office. Though the 1982 inflation rate of 8.4 percent remained low by past standards, it was hitting the poor with disproportionate force.
Walking down one vendor-lined street, I passed a woman who sat beside a small food stall, a vacant look on her face. I asked her how things were going. "Do you really want to know?" replied the woman, who appeared to be her early thirties. "I'll show you." She gestured to her three-by-five-foot kiosk and said, "This is where I sleep." looked inside and saw neatly arranged cylinders of peas, beans, pimentos, flour, and rice, some canned goods, and, to one side, a small space. "I was living in a building," she explained in a numbed tone, "but it was sold, and I was given notice. I've been living here since August. I pack up the place every night and go to sleep in it."She is joined by her two children, aged seven and eight. "It was better under Manley," she added. "You could at least afford to get somewhere to live. Now, if you can't afford to pay $200 or $300 a month [$110 to $165 in U.S. dollars], they put you out."
As we talked, a crowd of twenty or thirty people gathered around us—a white visitor is rare in Coronation Market—and others came forward with their own hard-luck stories. I learned that many had been forced to take up residence in this dispiriting place. All complained of skyrocketing prices. "The times is terrible," said a gentle-looking older man who wore a sailor's cap. "They never been like this before. People can't get jobs. Many have to thieve to survive." He concluded bitterly: "Politics—that's just a matter of some able to eat and others not. All I say is, if there's a cake, let some of the smallest morsels reach us."
Another result of Seaga's changes was on display at the nearby higglers' market, located in a spacious, warehouse-like building on the city's main square. Inside the ill-lit structure were row upon row of small fenced-in cubicles, each bursting with shoes, skirts, hats, sunglasses, pocketbooks, cosmetics, appliances—all the items one might find in American stores. That, in fact, is where most of them came from. Every week, hundreds of Jamaican higglers boaixl planes to Miami or Panama, fill suitcases with consumer goods, and return to sell them in Jamaica. Although the travel and the use of black-market dollars jack up the price, the items are snapped up quickly, since most Jamaicans shun locally produced goods as inferior.
The higglers began operating under Manley, when the imposition of import controls made smuggling profitable. But they came of age with Seaga and his relaxation of import restrictions. Seaga admired their entrepreneurial ingenuity, and he had promised the middle class that he would make the scarcities of the Manley years a thing of the past. So, even though many of the goods brought in, like shoes and clothing, were still technically prohibited, Seaga tacitly gave the higglers his blessing on taking office. The tide of cheap imports that resulted made the middle class happy.
At the same time, however, it had a devastating effect on local manufacturers. Suddenly, after years of protection, they found themselves up against efficient companies abroad; many simply could not compete. To compound the problem, the government's attempts to liberalize the licensing process had backfired. Factory owners were outbid by the higglers and others for black-market currency, making it hard for them to obtain the foreign exchange they needed to buy raw materials and capital goods; manufacturers still had to wait months to get their licenses.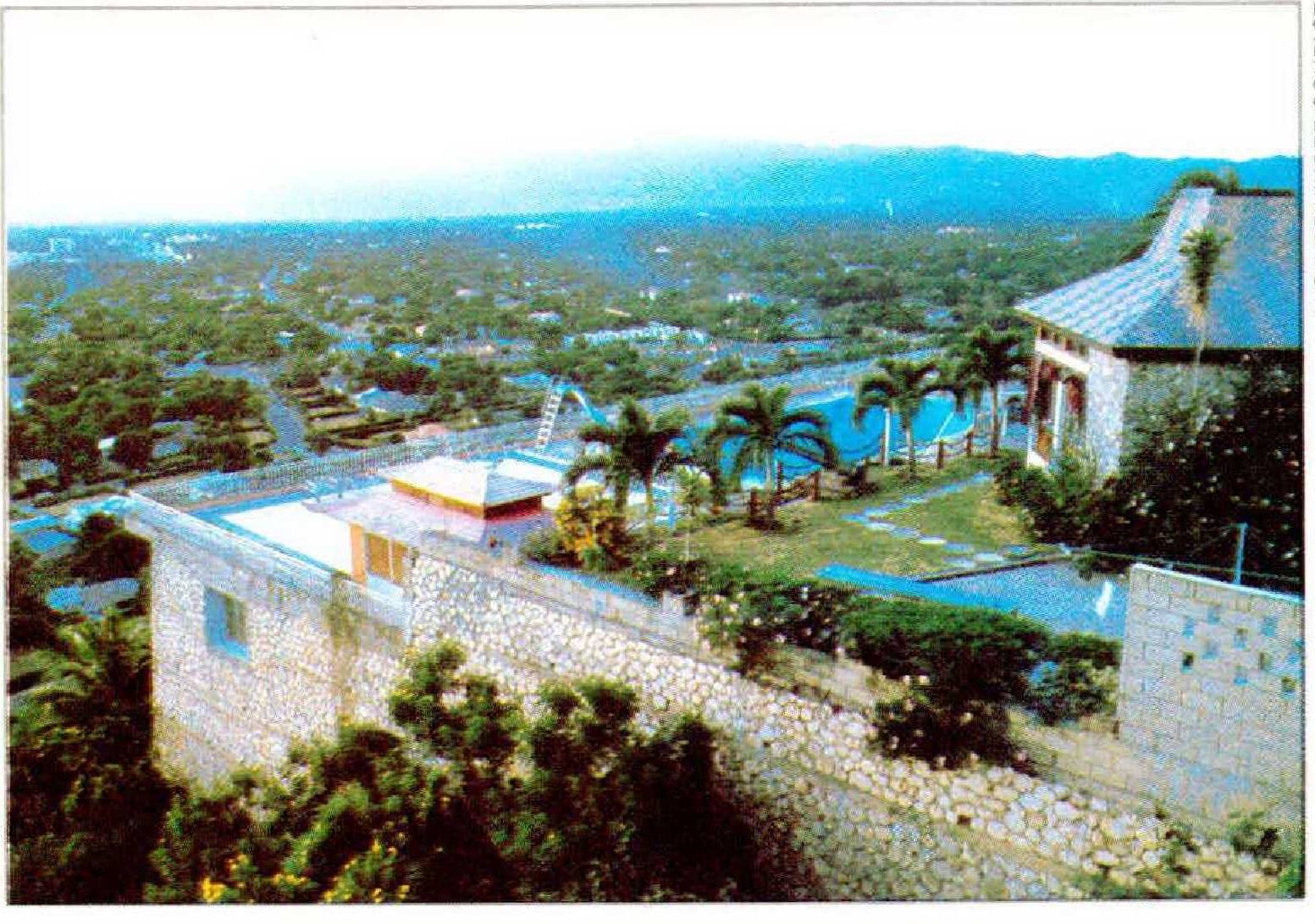 "Deregulation has so far meant considerable losses for many of us," Anthony Williams, president of the powerful Jamaica Manufacturers' Association, told the group last summer. According to JMA figures, government policies had forced thirty-three factories to close, throwing thousands out of work. By mid-1982, the private sector was in revolt. Businessmen protested that they heard of policy changes only through the news media.
The Ministry of Industry and Commerce, expected to represent the interests of manufacturers, became one of their chief targets, as a result of its high-handed industrial policies. Shoes and garments were particularly hard hit. "Shoe Industry on Verge of Collapse," the Daily News declared in a February 11, 1983, banner headline. It reported that the industry was "collapsing at a rapid rate" owing to competition from 750,000 pairs of shoes that had been illegally brought into the country by higglers. Half-a-dozen factories had gone under, and nine others had laid off employees. Eleven garment plants had also gone out of business.
"Jamaican manufacturers desperately needed a threevear breather, instead of going immediately into structural adjustment," says Paul Thomas, deputy president of the JMA and owner of a large shoe company. Instead, the IMF and the World Bank "demanded structural adjustment in one year," he says. "It has been put in place before industries have had a chance to put their infrastructure into place. Remember, this is a country that, over eight and a half years, suffered tremendous setbacks. Many of our factories were run down and had to be retooled."
Thomas hastens to add that he, like most Jamaican businessmen. supports the government's export drive. Exporting has helped his company grow by 400 percent since Seaga took over. But Thomas feels that the way the drive was implemented has caused unnecessary dislocations. "What we are talking about is pace and coordination," he says. "It's in the coordination that the World Bank and IMF aren't getting down to realities."
At the same time, the JLP's projections for foreign investment have proved to be overly optimistic. Consider, for instance, the group of businessmen feted at the U.S. ambassador's residence last January. Their visit was sponsored by the Overseas Private Investment Corporation, a U.S. agency that has been actively promoting investment in Jamaica as part of President Reagan's Caribbean Basin strategy. The fourteen delegation members were a diverse lot, ranging from a Kansas popcorn packager to the owner of a physical-fitness resort for executives in Palm Springs. Accompanied by a retinue of OPIC aides and AID officials, the investors became virtual celebrities during their weeklong stay, attending luncheons with leading businessmen, briefings by government officials, and a private meeting with the prime minister himself.
Despite the special attention, the businessmen did manage to glimpse some of the costs of doing business in Jamaica. During a fancy lunch at the Pegasus, for instance, the lights suddenly went out—a rude introduction to Jamaica's undependable power supply. The group heard a great deal about Jamaica's vocal labor movement, its high shipping rates to the U.S., and the prospect of Michael Manley's return to power. For at least one investor, a manufacturer from Hong Kong, it was all too much; he told me that he had decided to locate his plastics plant in the Dominican Republic instead.
The majority of the visitors, however, were impressed by the hospitality shown them. "I sense a very upbeat, organized, 'We want to help you do business' attitude in Jamaica," said Gary Bechtel, head of a data-processing company in New Jersey. Like others, Bechtel was heartened by President Reagan's interest in the island. "Given what Reagan is trying to pull off here," he said, "I could make a lot of money before worrying about getting clobbered politically"—if Manley returned. Bechtel is now moving ahead with his plan to set up a keypunch operation in Jamaica. Many of the other OPIC delegation members are also seriously considering investing in Jamaica.
Most of their businesses, however, are quite small. Bechtel's, for instance, would represent an outlay of less than $1 million and, initially, only about sixty jobs. Thus far, very few large corporations, including the titans represented on the Rockefeller committee, have shown much interest in Jamaica. The recession is partly responsible. "Whereas in the past an IMF agreement was a seal of approval for investors," a prominent banker in Kingston says, "the tap is now dry." Since Seaga took office, foreign investment has generated only a few thousand jobs, representing a reduction of less than one percent in the country's unemployment rate. In short, l .S. capital is proving no panacea.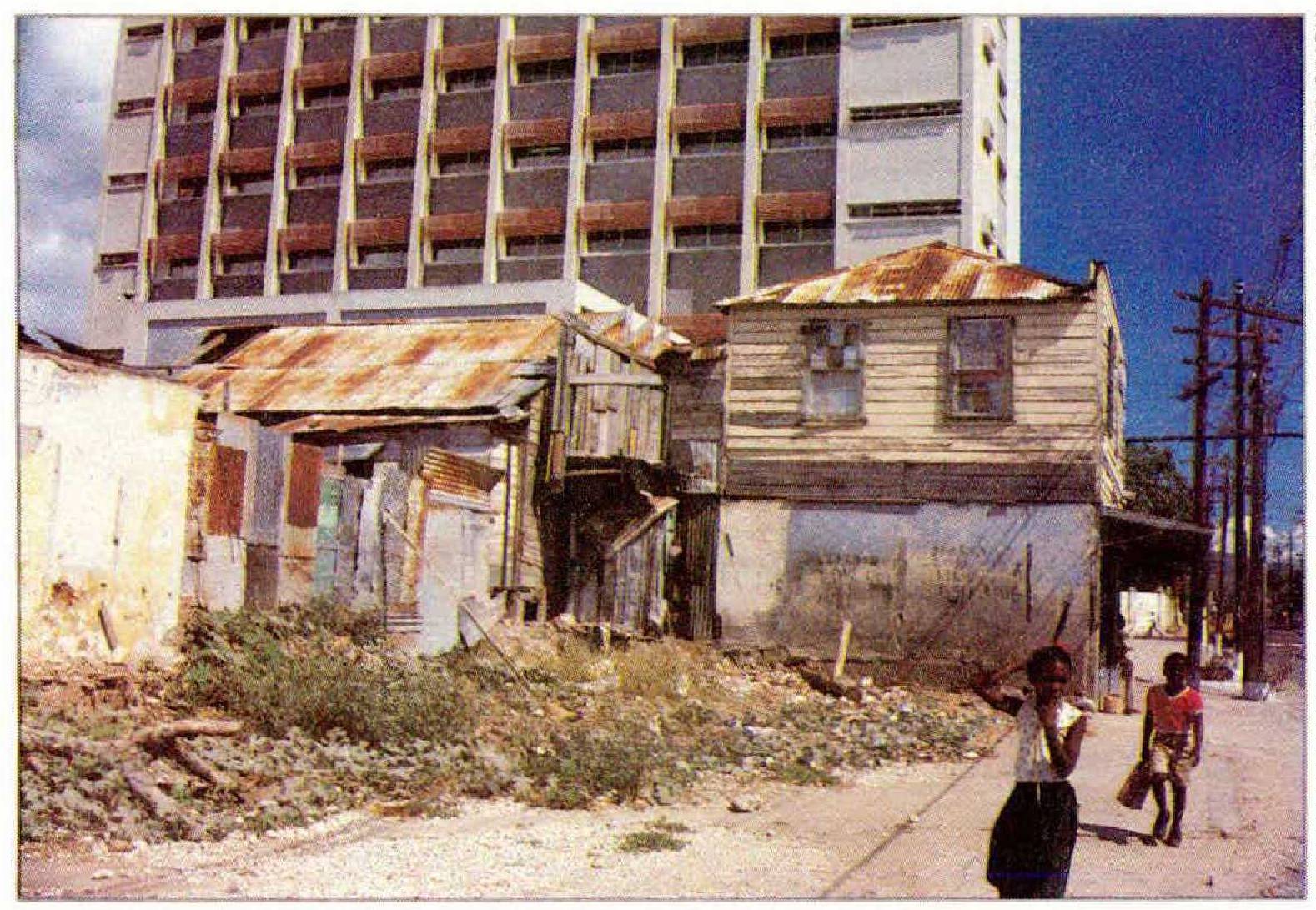 Nor has the JLP's divestment program lived up to advance billing. Continuing uncertainty about the tourism industry resulted in exceedingly modest bids for the eight hotels on sale. Rather than settle for deflated prices, the government decided to retain ownership and lease the hotels, and by the beginning of this year it had arranged such deals for most of them. Seaga made it clear that he had no intention of selling off the public utilities Manley had nationalized. Midway through its term, the Seaga administration had divested only a handful of trifling enterprises and shut down one, the Daily News.
It did, however, significantly expand its holdings. Last September, Seaga dismayed the private sector by buying the Esso refinery in Kingston, the country's only such facility. Seaga said that Jamaica could no longer afford to have a foreign corporation set prices for the country's petroleum products. "The government is still buying things that we think should be in the private sector," says Neville James, director of a leading private-sector group. "Governments like ownership, and this one is no different in that respect."
Divestment is only one of the areas in which the Seaga government has had to change course. The growing explosiveness of the housing situation eventually persuaded the JLP to introduce a rent-restriction act, which reinstated controls. (It passed Parliament last March.) And, recognizing that housing construction could no longer be left exclusively to the private sector, the government announced that it would step up the pace of public building this year.
Seaga also conceded that the structural-adjustment program was not proceeding exactly as planned. Customs procedures were tightened up. The higglers, those models of free enterprise, were made subject to import quotas. The biggest change came in a major economic address made by Seaga last January. Admitting that there had been a "breakdown in the issuing of licenses," he introduced a new system that, as under Manley, would allocate foreign exchange to each manufacturer for the purchase of essential goods. In an acknowledgment that the government had not properly taken the needs of the private sector into account, the Prime Minister introduced a new array of export incentives. Finally, in the most significant move of all, Seaga announced that the country was going on a dual exchange rate that would make Jamaican exports more competitive abroad and imports (except essentials) more expensive.
Seaga insisted that the new exchange rates did not constitute a devaluation—an understandable position, since he had persistently criticized devaluations under Manley as evidence of economic mismanagement. But many bankers and economists felt that the dual exchange rate was a devaluation by another name. As the Daily News said, Seaga's speech was "reminiscent of those given by former Prime Minister Michael Manley in the final years of his administration when economic problems were mounting."
In all, 1982 was not kind to the Seaga government. Industrial capacity dropped even lower than it had been under Manley. The country's trade deficit increased. Unemployment began to rise again, from 25.7 back to 27 percent. The GNP fell 0.2 percent for the year.
The government attributed the economic decline to the world recession. The recession undoubtedly played a role, as in the 30 percent drop in bauxite production. But the JLP's own free-market policies were clearly culpable as well. The phasing out of price controls had caused serious hardship for the poor. Rent increases had compelled introduction of new controls. Deregulating the economy had proved disastrous for many manufacturers. Curbs on government spending had produced a deadening effect on the economy. Penally, the Seaga government, like its predecessor, had discovered that public ownership has its place. The Jamaican "model" was proving far different from what Washington had intended.
ONE AFTERNOON, I set out to visit a farm started by two Israeli investors in central Jamaica. The "Israeli farm" had been mentioned time and again by government officials, who assigned it a key role in the JLP's agricultural program. I was particularly eager to see it, because of my growing sense that the success of any government in Jamaica hinges on how it meets the challenge of the countryside. The rural sector is the island's biggest source of employment, providing jobs for 37 percent of the population. But it contributes only 8 percent of the gross national product, making it the most inefficient sector as well. Jamaica, an all-year greenhouse, must import much of its food.
Here, differences between Seaga and Manley seem particularly sharp. The JLP has invited in large foreign companies. To Manley, their very names evoke the plantation system, but the government claims that it will be setting the terms for their activities. It has signed a joint-venture agreement with United Brands, for instance, the successor company to the infamous United Fruit, to plant more than 2,000 acres of high-quality bananas. Seaga quickly disbanded the sugar cooperatives so dear to Manley, and, under the structural-adjustment program, promised to shut down two of the country's most inefficient sugar mills and lease four of the remaining five to private concerns. Among the candidates to take them over are Gulf & Western, a Rockefeller committee member with enormous sugar holdings in the Dominican Republic, and Tate & Lyle, a British company that once owned plantations in Jamaica. The government hopes that such measures will increase sugar output from the 200,000 tons produced in 1982—the lowest level in decades.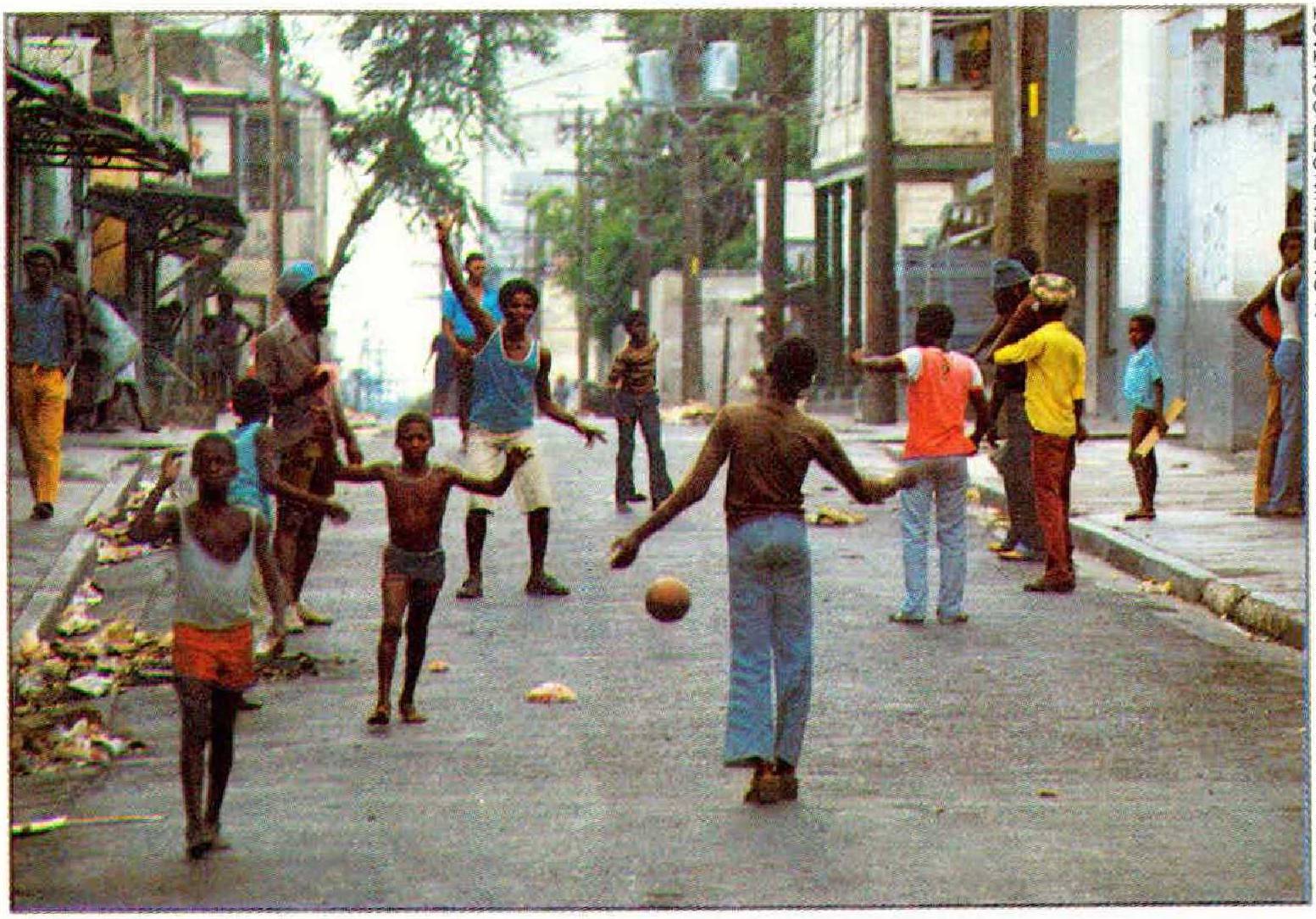 Even if production rises, sugar, an industry suffering from the popularity of artificial sweeteners, will never play the dominant role it once did in Jamaica. Seaga is strenuously promoting exports of nontraditional products such as flowers, honey, and vegetables. The Israeli farm represents an intensive effort to show that Jamaica is ideally suited to produce vegetables for the lucrative winter market of the northeastern United States.
The farm is on 200 acres of prime land about fifty-five miles west of Kingston. I flew there with one of the Israelis, Eli Tisona, in a helicopter lent us by the Jamaican armed forces—an indication of just how much the government has riding on this project. Arriving in mid-morning, we found the farm dotted with women stooping among the symmetrical rows of tomatoes and green peppers. They placed the ripe vegetables in baskets that, when full, were picked up by tractors and transported to a nearby packing plant.
"Three months ago, there was nothing here but a rundown farm," said Tisona, who, with another Israeli, has put up about half of the farm's $2.5 million cost. (The government has contributed much of the remainder.) "Already we're sending two shipments a week to New York. We bring in 747s to fly out the produce. It arrives on the streets of New York within forty-eight or seventy-two hours of being picked."
The farm employs about 250 Jamaicans, most of them earning the equivalent of $6 to $8 a day. "Everybody warned us about the employees," said Tisona, an ebullient man who is eager to impress the farm's frequent visitors. "They said the Jamaicans are lazy, you're going to lose all your money. But most of these people haven't had jobs in the last five years and are eager to work. Everything's worked out perfect."
Notwithstanding that assessment, there have been substantial obstacles, not all of them overcome: power failures can ruin vegetables under refrigeration; all equipment must be imported; transportation can break down; and, as Tisona says, "the bureaucracy is terrible." Many Jamaicans doubt that the farm will ever show a profit. "I can count fifteen or twenty winter-vegetable projects in Jamaica that have not worked out," an official associated with the project admitted to me. "This one looks good so far, but we still need to see how it comes out."
While the government has lavished its attention on the Israelis, what of Jamaica's hundreds of thousands of peasant farmers? Traditional agriculture was the one economic sector to prosper under Manley, growing by an average of 7 percent a year during his term. He had leased land to small farmers, guaranteed them good prices, and protected them against imports.
Seaga, on the other hand, put free-market principles to work. He began phasing out the price-support program and removed restrictions on food imports. Jamaica was inundated with cheap food. The results were catastrophic for small farmers. Domestic food production dropped by 19 percent in 1982; potatoes fell by 40 percent, and cereals by 57 percent.
Shortly after my visit to the Israeli farm, I made another, quite different excursion into rural Jamaica, to a small farming village in the Blue Mountains called Woburn Lawn. Here, an hour east of Kingston, peasants cultivate primitive twoor three-acre farms of scallions, gungo peas, yams, and beans. I was greeted with tales of severe unemployment and plunging incomes brought on by the government's policies. One farmer, Anabelle Crosdale, told me, "Most of last year was bad. We couldn't make a profit—we were just able to feed ourselves." Crosdale, who at sixty-two still climbs the side of a mountain each day to reach her farm, explained that "the imports had a great effect on our scallions and red peas." She added that the state marketing facility was paying "too cheap" prices. "If they set up a better marketing system, people would do more farming," she said.
Last year, the country's food-import bill was $200 million—a surprising sum for a country as fertile as Jamaica, and one that eventually forced the government to change course. It reinstated import restrictions on many crops grown domestically. Then, last spring, it introduced AGRO 21, a "bold new program" to help peasant farmers. Described as "more far-reaching in concept than anything ever before designed," AGRO 21 predictably stressed exports, promising incentives tailored specifically to small farmers. What was striking was the role carved out for the state. "The government," Seaga explained in a speech, "will be the organizer of capital, land, and skills for the private sector. It will help to find the market outlets and the technology with the objective of beginning a new era in our lagging agricultural sector."
So, halfway into its term, the JLP had at last begun to grapple with the immense problems of traditional agriculture. The neglect of the marketplace had proved anything but benign. Seaga discovered that state intervention here, as elsewhere, might not be such a bad thing after all.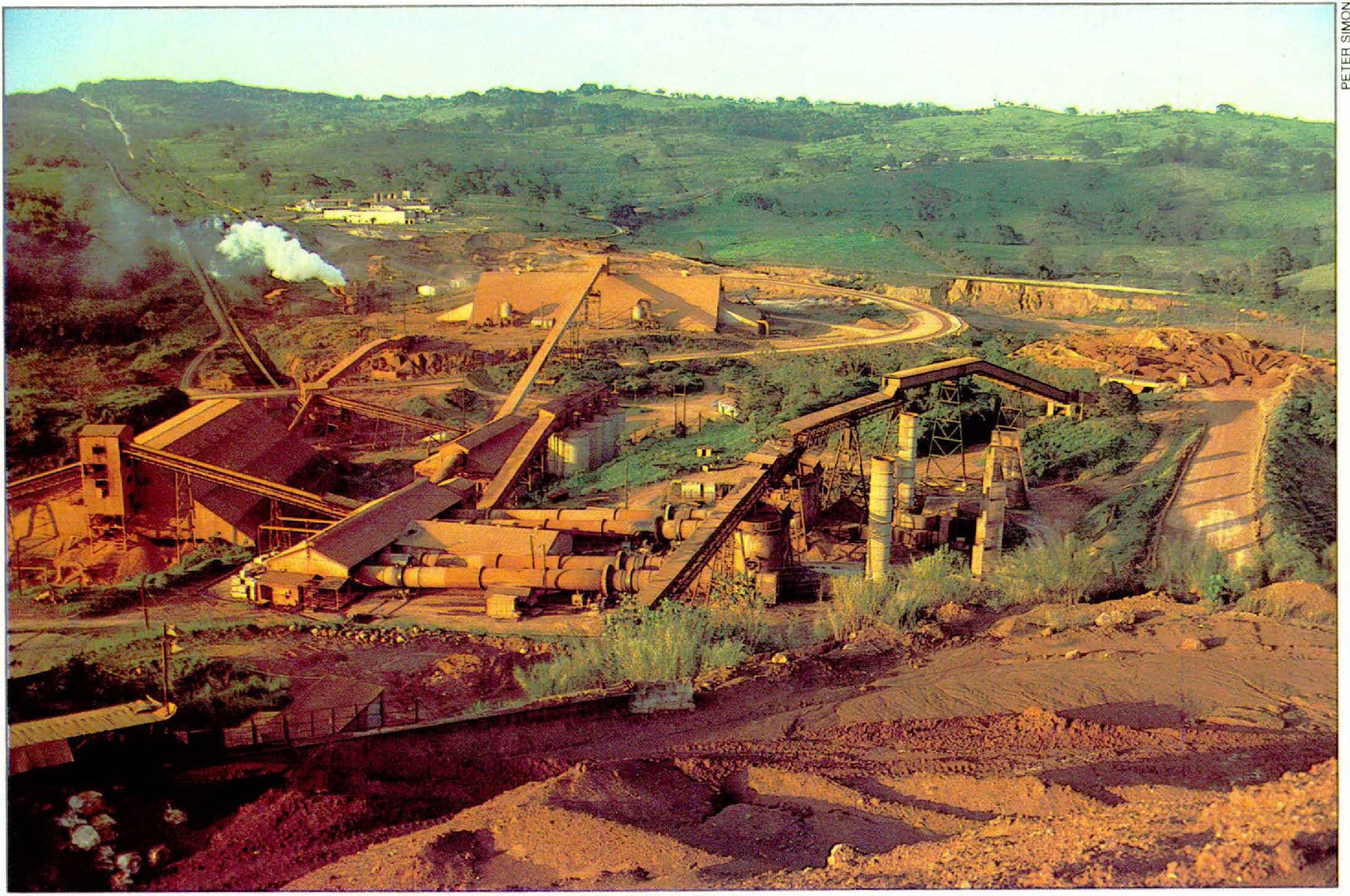 ON MY LAST DAY IN KINGSTON, I HAD THE OPPORTUnity to interview both Edward Seaga and Michael Manley. Each was true to his reputation. Seaga was aloof, dispassionate, precise, his responses studded with sums, percentages, and projections. Manley was smiling, outgoing, emotive, his talk at once grand, discursive, philosophical. The contrasts in style were paralleled by differing perceptions of Jamaica's present and prescriptions for its future.
On the performance of the JLP government:
Seaga: "First of all, we have managed to restore tourism. It had virtually died under the previous government, but we're now one of the most actively growing tourism areas in the world. We have restored the construction industry, which had declined to the levels of the 1950s. It grew 26 percent last year and is projected to grow 20 percent this year. The manufacturing sector got off to a slow start. It showed no growth in the first year, but at least not the declines of the 1970s. It grew by 4 percent last year, and is projected to grow 5 percent this year. Both sugar and bananas, our two main export crops, are on the way back up. We're expanding cocoa, citrus, and so on. Furthermore, we're now entering a period of production of agricultural products never before tried in Jamaica, like horticulture and winter vegetables."
Manley. "Seaga did something extremely dangerous— he took the lid off the Jamaican austerity program we had put in place and settled his debts with the middle classes by committing extravagant amounts of foreign exchange to consumer satisfaction, through imports. In the course of doing that, he played havoc with domestic agriculture. He undermined small-business development by opening the floodgates. He was depending on flows of foreign capital to provide for the necessary foreign exchange, but of course it didn't come in the quantities expected. Seaga, facing this, seems to be beginning to back away from the belief that the pure Puerto Rican model can save Jamaica. Therefore, one is seeing him begin to revert to more reliance upon state action than he contemplated at the start, and which he criticized us for."
On the sugar industry:
Seaga: "This year, sugar will show a gain. The last government didn't fertilize the fields, because they had no foreign exchange. And they didn't have the machines to take the cane out with. They handed the estates over to cooperatives, which went into debt for $80 million. The productivity of these estates was destroyed. We have disbanded the co-ops and put them back under the control of the [government-managed] sugar mills. Productivity is rising."
Manley: "We're very disappointed they've dismantled the co-op program. It's true that we made mistakes, that we failed to understand the need to lay the proper base for them. But we were hoping to use them as a model of how to resolve the conflict between economies of scale and workers' participation. Disbanding them is a strategic retreat. You can't go on with peasant farming; do you instead turn everything over to Campbell's, Tate & Lyle, and United Fruit? Where else is there to go but back to the old plantation relationship, which is itself at the heart of Jamaica's social crisis?"
On the fortunes of the shoe industry:
Seaga: "The demise of the footwear industry has been in the cards for the last ten or twelve years. There have been losses of jobs, but that's inevitable, regardless of the structural adjustment of the economy, because of their own lack of adjustment. No small country can produce the range and styles of footwear preferred by people who are sophisticated in dress, like Jamaicans. We want to pick one or two or three items and concentrate on them and gear the whole footwear industry to producing them [for export]. We want to do the same thing with the six or seven other sectors we've targeted."
Mauley: "Seaga really just opened the floodgates, virtually wiping out the shoe industry. A very high price has been paid. Once you improve exports at the expense of an internally based economy, you're swapping a black dog for a monkey [a Jamaican expression equivalent to "cutting off your nose to spite your face"]. What an economy like ours needs is to identify areas where you see a chance for exports, and go for broke there. But don't sacrifice your base. With proper planning and the use of carefully modulated protective walls, you could have saved the local shoe industry." On Singapore, Puerto Rico, and models:
Seaga: "Singapore and ourselves were not far apart in the 1960s. The difference is that Singapore expanded in the 1970s, while we went the route of political adventurism, twisting Jamaica into the mold of Cuban society. In the 1960s, our gross domestic product grew 60 percent; in the 1970s, we lost 20 percent. The model we started with in the 1960s was adapted from the importsubstitution model. But that has only so much life in it. Our intention in the 1970s was to have begun to shift gears and move to an export orientation on a gradual basis. But that didn't happen. The government started screaming 'Export or die,' but it was too late. So we've had to pick up at double the pace to restructure the economy in the direction of exports."
Manley: "Seaga during the campaign committed himself to a resurrected Puerto Rican model. He didn't like to use the word 'Puerto Rico,' because it's been discredited, so he preferred to talk about the countries of the Far East. But essentially the model is the same. In Puerto Rico, after the most massive foreign-investment program in the world over the last thirty years, it has produced 25 to 30 percent unemployment, with 50 percent of the people on food stamps and a massive migration to the U.S. The model does what all models of a colonial nature do— it increases dependence. Seaga began with the very essence of a dependent capitalist strategy of development—consumer satisfaction, massive foreign capital, deregulation of the economy. We believe completely in the reverse, in inviting people to face self-restraint so as to provide the internal basis for a self-reliant economy. The main question is, How do you develop the capacity to develop yourself? You can't develop if you depend on someone else."
One small country, two conflicting philosophies regarding the course it should pursue. Seaga's Jamaica is a machine in need of proper maintenance—investment, export incentives, good management, social discipline. Manley's Jamaica, on the other hand, is founded on first principles— social justice, economic sovereignty, and, above all, self-reliance.
BUT WHAT DO these differences mean practically? "The rhetoric of the present administration is no less thick than in the former one," says Rex Nettleford, a prominent Jamaican sociologist. He hastens to add, "You have to get beyond the rhetoric to see what they're actually doing. The PNP didn't go around expropriating people's property. Similarly, the current government can't deregulate everything. Maybe the polarization is a false one, more perception than reality." Indeed, an American who spends any time in Jamaica quickly learns to look beyond the images and mythologies that have attached to Seaga and Manley like clouds around a mountain peak.
Consider, for instance, the common perception of Seaga as a throwback to nineteenth-century laissez-faire capitalism. In fact, he has an activist past. In his maiden speech to Parliament, in 1962, he inveighed against the gulf separating the haves and the have-nots. In Denham Town, the constituency he represents, Seaga set up a community complex that continues to be widely admired in Jamaica as a model of progressive welfare. As finance minister in the JLP government of 1967-1972, Seaga established such a reputation as a tax reformer and strict regulator that during the 1972 election it was he, not Manley, whom the business community most feared.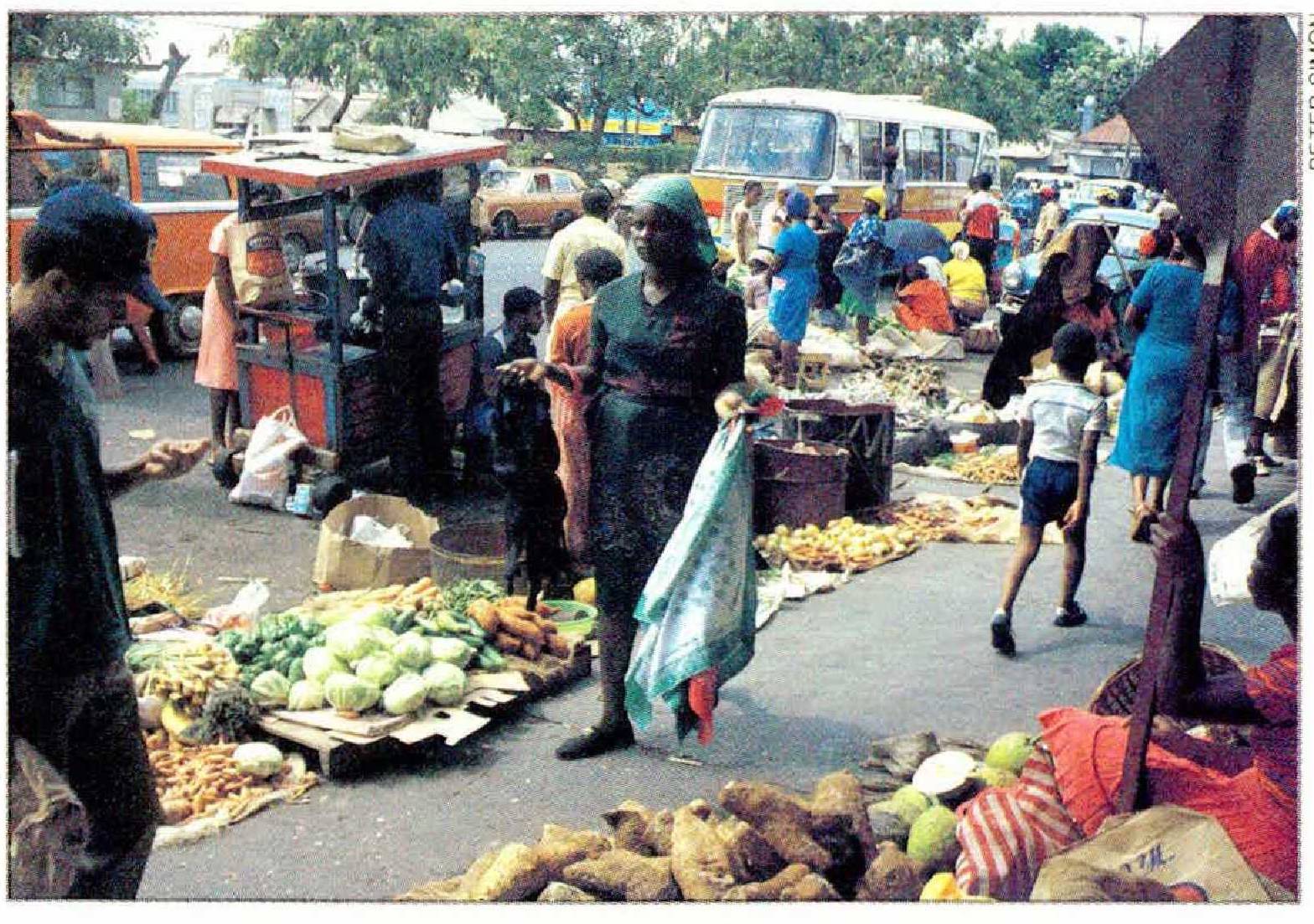 "There's no doubt that Seaga's commitment is to state capitalism and regulation of the economy," a leading Jamaican executive told me. "He's no different from Michael in that respect. But Seaga is more likely to screw business, because if he says he's going to control something, he'll do it." A high U.S. official in Jamaica was frank in venting his frustrations: "Seaga really has a blind spot about markets and prices. He's in favor of the private sector, but he doesn't really trust it. He sees the need for government policy to shape it, to make it do what is right."
Conversely, Michael Manley's nationalist policies won him the support of many Jamaican businessmen. "A lot said about Manley is pure, unadulterated political propaganda," a food manufacturer told me. "Certainly, he was left of center, but so was Harold Wilson, and so is Mitterrand, and a number of other Western leaders. Manley provided a tremendous number of incentives for the private sector that no previous government had provided. And he believed wholeheartedly in exports." It was the PNP government that set up the Jamaica National Export Corporation in order to stimulate exports—a function it continues to perform under Seaga. And it was Manley who created Jamaica's first "export free zone," an enclave where foreign manufacturers can operate virtually free of regulation. Today, Manley recognizes the importance of remaining on good terms with the private sector.
Regardless of who is at the helm, Jamaica presents some inescapable realities. As Rex Nettleford says, "Look at how Seaga has been forced to go back on his statements. It's not because he's silly, but because the options open to developing countries are very limited." Seaga, like Manley, has had to confront suffocating shortages of foreign exchange, a lack of managerial talent, the sluggishness of Jamaica's private sector, and utilities forever on the verge of breakdown. From one perspective, Seaga's term can be read as an extended lesson in how such circumstances mandate vigorous state intervention.
The power of rhetoric to obscure is perhaps nowhere more evident than in attitudes toward foreign investment, an emotionally charged topic that has traditionally divided left and right. As Manley told me, "We see foreign investment as a desirable addition to, but not the heart of, our economic program. You need to identify the areas where foreign capital can genuinely assist you, but never see it as the linchpin, as Seaga does." Manley's view, however, is not all that different from Seaga's. Far from constituting the "linchpin" of the JLP program, foreign investment is expected to make up only about one seventh of total investment. Nor is Seaga promiscuously welcoming all investment applicants. For example, the government almost called off the OPIC mission last January, because the types of companies represented on it did not square with the sectors the Prime Minister had set as priorities. As for Manley, he states emphatically in his book, "Make no mistake about it: we wanted foreign investment, and in the end this was one of the areas in which we failed most completely."
Even on an issue as divisive as foreign relations, one detects convergence. Time, Manley embraced Havana and accused Washington of destabilizing Jamaica; Seaga did the reverse. Under Manley, visits by the IMF set off loud street demonstrations; in the first two years of Seaga's administration, they barely rated a mention in the national press. In both cases, however, reality intervened. For Manley, that reality was money, and the fact that a country like Jamaica needs enormous sums of it. Most of it is controlled by Washington and comes with conditions, which often makes proclamations about economic independence seem empty. Of course, there are alternatives. One is to look to the East, as Cuba did, but that entails its own form of dependence. The other is to go broke. This is, in effect, the option the PNP pursued by deciding to break with the IMF in 1980, but it hardly proved satisfactory.
Seaga has played the Washington connection brilliantly, and many Jamaicans consider that his greatest achievement. But, as he has learned, his deal with the West is something of a Faustian bargain. Since he took office, policy for Jamaica has been formulated as much in Washington as in Kingston; a high official at the U.S. Embassy remarked: "We're undergoing a joint education process. We learn how Jamaica ticks and how Jamaicans believe, while we provide them an education in the free market."That education has proved costly for many Jamaicans, among them shoe manufacturers, small farmers, and the poor.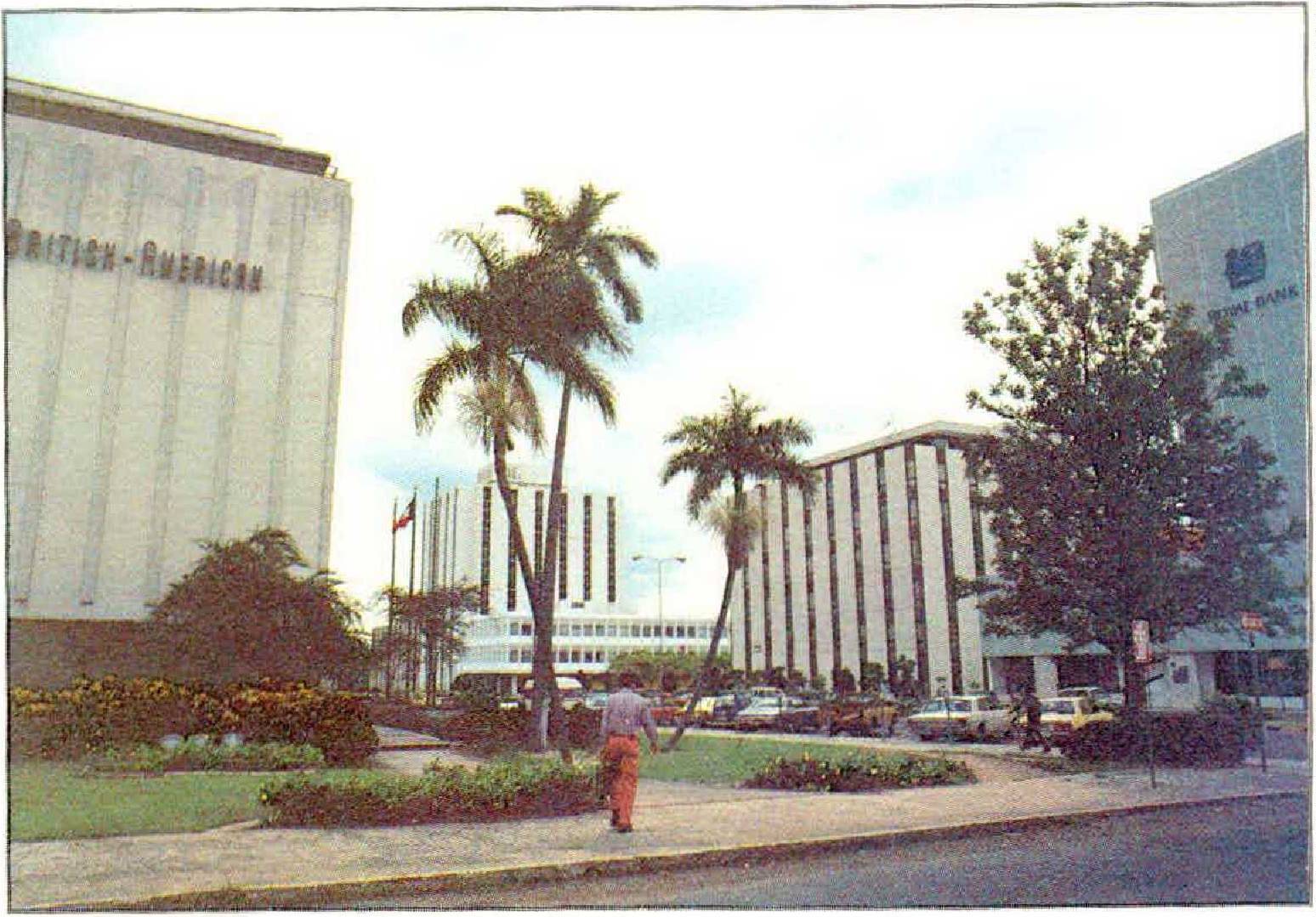 Of late, Seaga seems to be putting some distance between himself and his benefactors. His pronouncements on the world economic order have become more militant in tone. Last March, the government threatened to break off talks with the IMF over new demands for budget cuts. In a complaint eerily recalling the previous government's experience, the JLP said that agreeing to them would throw an additional 10,000 Jamaicans out of work. (A compromise with the IMF was eventually worked out.)
Criticism in Jamaica of the international lending institutions is no longer limited to the left but comes from the highest reaches of the establishment. For instance, Carlton Alexander, the country's most prominent businessman, and head of Jamaica's counterpart to the Rockefeller committee, told me, "With all due respect, people at places like the IMP1 don't understand how Jamaicans live, think, react to things. What is needed is real, in-depth understanding of this country. How much time do all these consultants spend with the people?"
IN A SENSE, THE WHOLE NOTION OF ECONOMIC "models" flies in the face of people—their history, traditions, and needs. Jamaica's structural-adjustment program is a good example. It is adapted from a World Bank formula that was developed only three years ago, in the wake of the 1979 oil crisis, when soaring interest rates, bloated fuel bills, and crushing debt burdens seemed to doom developing countries to self-perpetuating poverty. The Bank's sister institution, the IMF, was limited by its charter to dealing exclusively with short-term balance-ofpayments problems, and its medicine—budget cuts, wage freezes, and tight monetary controls—seemed inadequate to deal with the deep-seated problems that were emerging.
So the Bank, which is more concerned with long-term development needs, began devising an economic program that, by requiring structural economic changes over a fiveor six-year period, would result in self-sustaining growth. It adapted many of the components of East Asia's exportoriented industrialization, fashioning them into a comprehensive package of recommended reforms. Thus was structural adjustment born. In return for a sizable loan from the Bank, countries agree to transform their economies in the export mold. The Bank is now aggressively pushing structural adjustment throughout the developing world; Jamaica is the twelfth country to sign on.
As applied there, however, structural adjustment seems almost a caricature of the East Asian experience. For instance, the forced pace of Jamaica's march toward an open, export-oriented economy—to be accomplished within a mere five years—contrasts greatly with the gradual strategy pursued in Asia. There, import restrictions were removed selectively, according to the evolving needs of the countries' economies. In South Korea, for instance, the proportion of imports automatically allowed into the country grew from 50.4 percent in 1967 to only 52.7 percent a decade later.
Likewise, the single-minded championing of the marketplace by the Bank, the IMF, and the Reagan Administration bears little relation to the record of these countries. To cite one example, Singapore's high growth rate was due in no small part to the active role played by its government in setting production priorities, shaping industrial incentives, and allocating capital. It is somewhat ironic that Washington is prescribing a marketplace strategy for a country like Jamaica at a time when industrial experts in the U.S. have finally awakened to the central importance of state regulation in Japan's enviable economic record.
The success of mixed economies has made believers of countries on the other side of the political divide. In recent years, for instance, both India and Egypt have backed away from highly centralized economies, which had clearly demonstrated their inefficiency. Both have taken to encouraging their private sectors—within the context of considerable state ownership and regulation.
In the socialist world, it is common knowledge that soon after the Sandinistas took power in Nicaragua, Fidel Castro admonished them not to repeat Cuba's mistakes, chief among them abolition of the private sector. The Nicaraguans have since committed themselves to a mixed economy. So, too, has the socialist government of Grenada, where the private sector retains over 60 percent of the economy—a proportion not too different from Seaga's Jamaica. Furthermore, Nicaragua, Grenada, and, for the first time, Cuba have all recently issued investment codes intended to attract foreign capital.
Nowhere has model-making caused more harm than in agriculture. The literature of Third World development is rife with examples of how failure to resolve structural weaknesses in the countryside can stymie all efforts at modernization. In both Mexico and Brazil, land reform was neglected in the rush to industrialize. As a result, the gap between the urban and rural sectors widened, undermining domestic food production, spreading misery among peasants, and setting off torrential migrations to the cities. And, to take a "model" country, Puerto Rico's social problems today can be traced in large part to its callous treatment of peasant farmers: agricultural production declined from 21 percent of the GNP in 1947 to only 4 percent in 1977, and employment in the sector dropped to a fifth of what it had been.
Seaga told me, "Our agricultural program will have the biggest impact on unemployment. That's where the main unemployment centers are." Unfortunately, however, it looks as though agriculture is destined to continue to be the poor stepchild of the Jamaican economy. Reflecting the biases of the World Bank, the structural-adjustment program for Jamaican agriculture is founded on increasing exports, largely through promoting cash crops on large, modern farms. A few morsels are thrown the way of small farmers, in the form of programs to promote soil conservation and prevent praedial larceny (an archaic Caribbean term for crop theft). But these don't begin to tackle the real problems of traditional agriculture, which include the impracticality of small plots, backward cultivation techniques, inadequate technical and financial assistance, and poor marketing facilities.
"The export-oriented economy will never be on in the Caribbean," says Carl Stone, a sociologist at the University of the West Indies, in Kingston, and Jamaica's most respected political analyst. "You have to push exports, but in combination with land reform that can secure a base for small agriculture and domestic food production. You need import substitution for industry and agriculture in the short run, accompanied by a timetable for becoming efficient."
Manley's recognition of this represents one of the principal differences between him and Seaga. Manley was deeply troubled by the divide separating the traditional Jamaica of machete-wielding peasants and the modern Jamaica of bauxite companies, sugar estates, and manufacturing plants. His agrarian program was an effort to attack agriculture's weaknesses at their source. The fact that he ultimately failed attests to just how intractable the structural deficiencies in Jamaican agriculture are.
THE CONTRASTING APPROACHES TO THE COUNTRY - side finally point up what is perhaps the chief, irreducible difference between Jamaica's two world views. It has to do with distribution. For Manley, Jamaica's inequality and mass deprivation constituted a glaring social problem demanding direct government action. Tackling it was a simple matter of "conscience," as Manley said in his interview with me. And, as his criticism of the Puerto Rican model shows, he believes progress cannot be measured by growth rates alone, but must also take into account a multitude of social indicators.
Seaga, too, is disturbed by Jamaica's poverty; contrary to the predictions of his political opponents, he has retained many of Manley's benefit programs, and has even introduced some of his own. But Seaga's top priority is clear—economic growth. Achieving it is expected in and of itself to alleviate the plight of the poor, even if distribution becomes more unequal in the process. In short, though he bristles at the term, Seaga's program is very much a "trickle-down" one.
Manley's approach failed. Will Seaga's fare any differently? The Prime Minister says that if the U.S. economy revives, Jamaica's is sure to rise again too. Both investment and trade should pick up, especially if the full Caribbean Basin Initiative ever passes. Manufacturers are beginning to respond to export incentives, and both tourism and construction seem buoyant.
Even if Seaga does get Jamaica moving again, however, it will not be according to the prescriptions written for him in Washington. Far from demonstrating the superiority of the marketplace, Seaga's term has shown just how damaging such a conviction can be. Yes, growth requires a strong private sector. But in a country like Jamaica, it also requires an activist state willing to undertake considerable regulation and public ownership. While promoting exports is essential, it should not come at the expense of domestic manufacturers and small farmers.
In any case, Seaga faces a monumental task. Bauxite shows little prospect of an upturn; sugar must ultimately be phased out; protectionist sentiment is growing in the West. Even with a dangerously high foreign debt, Jamaica is $2 billion short of the amount it needs to meet its basic development requirements. Because of the continuing shortfall in capital, the government was forced in June to impose strict new austerity measures, in what Seaga called "tough measures for tough times." Most serious of all, unemployment remains exceedingly high and shows few signs of abating. As a result, social tension is building once again, and pressure for change is mounting.
In a repressive country, such developments might not matter. But in Jamaica, which is intensely political, displeasure with JLP policies wall be registered at the ballot box no later than 1985. According to recent polls, the PNP has taken a sizable lead over the JLP. Ironically, one result of the Reagan Administration's great interest in Jamaica may be to propel Manley back to power.
Would he have any better luck the second time around? Jamaica's recent history does not leave much room for optimism. Seaga's term in office has showm just how heavily the odds are stacked against a country like Jamaica. Even with one of the most intensive aid efforts in U.S. history, the island seems little better off than it was before. In the greatest paradox of all, the Jamaica experiment may help demonstrate what Michael Manley has claimed all along— that change in Jamaica is impossible unless preceded by change in the world economic order. Until commodity markets are stabilized; until the terms of trade between North and South are equalized; until technology is made more widely available; and, above all, until small nations are allowed to determine their destiny independent of East and West—until then, countries like Jamaica seem condemned to a deepening spiral of misery and despair.