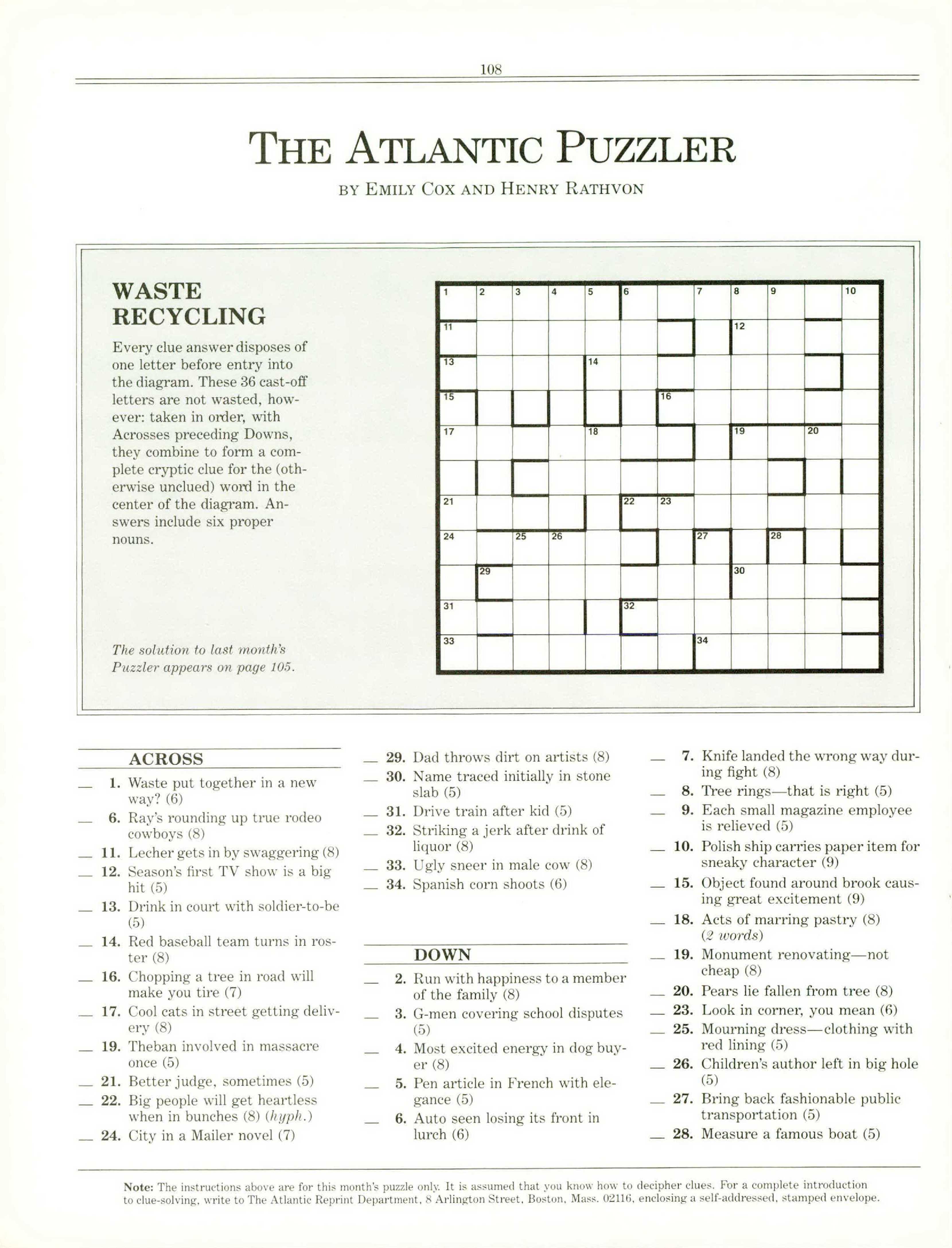 WASTE RECYCLING
Every clue answer disposes of one letter before entry into the diagram. These 36 cast-off letters are not wasted, however: taken in order, with Acrosses preceding Downs, they combine to form a complete cryptic clue for the (otherwise unclued) word in the center of the diagram. Answers include six proper nouns.
The solution to last month's Puzzler appears on page 105.
ACROSS
1. Waste put together in a new way? (6)
6. Ray's rounding up true rodeo cowboys (8)
11. Lecher gets in by swaggering (8)
12. Season's first TV show is a big hit (5)
13. Drink in court with soldier-to-be (5)
14. Red baseball team turns in roster (8)
16. Chopping a tree in road will make you tire (7)
17. Cool cats in street getting delivery (8)
19. Theban involved in massacre once (5)
21. Better judge, sometimes (5)
22. Big people will get heartless when in bunches (8) (hyph.)
24. City in a Mailer novel (7)
29. Dad throws dirt on artists (8)
30. Name traced initially in stone slab (5)
31. Drive train after kid (5)
32. Striking a jerk after drink of liquor (8)
33. Ugly sneer in male cow (8)
34. Spanish corn shoots (6)
DOWN
2. Run with happiness to a member of the family (8)
3. G-men covering school disputes (5)
4. Most excited energy in dog buyer (8)
5. Pen article in French with elegance (5)
6. Auto seen losing its front in lurch (6)
7. Knife landed the wrong way during fight (8)
8. Tree rings—that is right (5)
9. Each small magazine employee is relieved (5)
10. Polish ship carries paper item for sneaky character (9)
15. Object found around brook causing great excitement (9)
18. Acts of marring pastry (8)
(2 words)
19. Monument renovating—not cheap (8)
20. Pears lie fallen from tree (8)
23. Look in corner, you mean (6)
25. Mourning dress—clothing with red lining (5)
26. Children's author left in big hole (5)
27. Bring back fashionable public transportation (5)
28. Measure a famous boat (5)
Note: The instructions above are for this month's puzzle only. It is assumed that you know how to decipher clues. For a complete introduction to clue-solving, write to The Atlantic Reprint Department, 8 Arlington Street, Boston, Mass, 02116, enclosing a self-addressed, stamped envelope.
"Keep these lands free from intruders."
Thus,the King's command centuries ago. And once each year, men and women of the Scottish Borders ride the "marches,"the boundaries of their common lands.
If only to be on the safe side. The good things in life stay that way DEWAR'SWhite Label nevevaries.
Authentic
The Dewar Highfander
BLENDED SCOTCH WHISKY - 36 8 PROOF £ 1983 SCHENLfy IMPORTS CO., til V, NY
Answers to the May Puzzler, "CRYPTIC PING-PONG"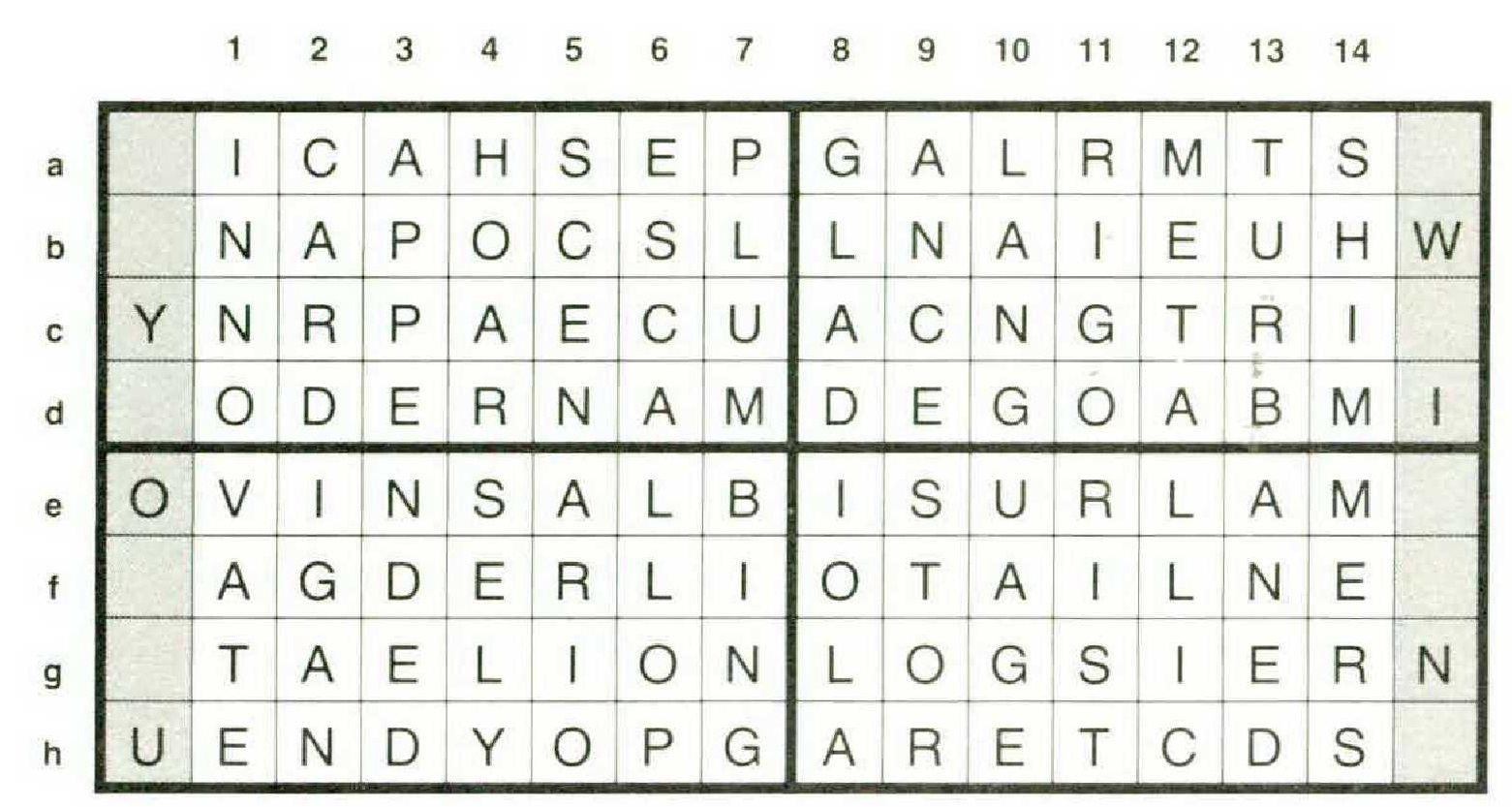 Across, a. MASS-AC(R)E; P-LIGHT b. PU(NI)SH (in rev.); A-L(LOW)ANCE c. CUTE; RAY (double def.); P(RAN-C)ING d. DI-ADEM (made anag.); BOOMERANG (homophone) e. V(AN)ILLA; BUS'S; MIRO (hidden) f. REAL (double def.); A-DO; LIGNITE g. O'NE (TR)ILL-ION; SAGE (double def.) h. P(ROD)UCE; GE(N)T: DAYS (homophone) Down. 1. INN-OVATE 2. CARDIGAN (anag.) 3. A-P-P-ENDED 4. HOARSELY (anag.) 5. SCENARI-O (anag. + o) 6. ES(CALL)OP (pose rev.) 7. PLUMBING 8. GL(A)DIOLA (anag. + a) 9. A-N(C)ESTOR 10. LANGUAGE (anag.) 11. R(IGOR)IST (stir anag.) 12. METALLIC (anag.) 13. T(URBAN)ED 14. S(HIM-MER)S
o TEACHERS...
Use The ATLANTIC in your classroom this year for only 91c per copy
You enjoy reading The Atlantic. So why not turn your reading time into lesson-preparation time. Teach with The Atlantic every month. We do everything possible to make The Atlantic a powerful teaching tool. Each monthly issue during the school year comes with a free copy of Classroom Notes—filled with suggestions, questions, projects . . . already prepared lessons!
FREE SAMPLE OF CLASSROOM NOTES
TEACH WITH US!
MAIL THIS COUPON TODAY TO: The ATLANTIC Education Program
8 Arlington St.
Boston, MA 02116
I want to look into THE ATLANTIC EDUCATION PROGRAM.
Send me full details and this issue's Classroom Notes.
Instructor Mr/Mrs/Ms _
School/College_Dept.
Address
Zip
683