Quebec: Language Problems
René Lévesque's Parii Québecois struggles to rid the province of anglophone influences

QUEBEC HASN'T BEEN quite the same since the separatist Parti Québecois, led by René Lévesque, surprising themselves more than anybody else, rode into power in the election of November 15, 1976. Shrewdly choosing not to run on an independence platform, promising un uroi gouvernement, they trounced an unpopular and arrogant Liberal government, winning seventy seats in the provincial parliament out of a possible 110. Considering that the PQ had been formed by Lévesque only in 1968, and that a few years later his nemesis, Pierre Elliott Trudeau, the nation's prime minister, scornfully dismissed it as not so much a party any more but a particle, it was an amazing accomplishment. Exhilarating, too. For many in Montreal who opposed the PQ were pleased to see them take control of the provincial government, if only because it meant that the long and wasting quarrel between two founding peoples of Canada would be settled one way or another at last. Or so it seemed.
Furthermore, fair-minded federalists had to allow that Quebec was apparently going to get an honest government, something of a departure in this traditionally patronage-ridden province. The new administration would be led by intelligent social democrats, some of Quebec's brightest and best, among them graduates of Harvard, Cambridge, and the London School of Economics. The new team would include the immensely popular Lévesque, Jacques Parizeau, Claude Morin, and Jacques-Yvan Morin. Lévesque was magnanimous in victory, immediately reassuring English-speaking Quebecers that they were still welcome in the province, an integral part of its history. His government, he said, would be judged on how it treated its minorities.
Early legislation introduced by the PQ was very good indeed: for instance, a government-backed, no-fault automobile-insurance program and an enlightened land act to protect arable green areas from rampaging developers. Quebecers were promised a referendum in which they would respond to a clear-cut question on whether or not they wished to separate from the rest of Canada. And then along came Bill 101, vengeful and mean-minded in its particulars, overseen by Camille Laurin, then the minister of cultural development. Dr. Laurin, a lean and soft-spoken psychiatrist who dyes his hair black, immediately antagonized English-speaking Quebecers, lecturing to them in the most condescending fashion in one public hearing after another. "The English in Quebec [are] like a fox in the hen coop." What they needed, he said, was a shock.
They got it.
In Ottawa, Prime Minister Trudeau was arguing eloquently, and not without real political risk in the western provinces, for a bilingual Canada, an outward-looking society, a country where French Canadians could feel at ease from sea to sea; in Quebec the rug was being pulled out from under him. Bill 101, which runs to nearly forty pages in the statute books, declared French the only official language in Quebec, reducing with a stroke some 20 percent of the population to second-class status. The bill put an end to a 200-year-old convention in Quebec, which gave equal legitimacy to English and French; it also violated Section 133 of the British North America Act, which guaranteed the use of English in both the courts and the legislature in Quebec. It ruled that any company with more than fifty employees would in future require a "francization" certificate to prove that it conducted all internal business in French, even if not one French-speaking employee was on the premises. As a result, some companies cut off employment at forty-nine and then hastily incorporated another label. In other companies—the owners Jewish, the workers Jewish, Greek, or Italian—the pressers and cutters still yell at each other in an admixture of unofficial idioms, but once a week a woman comes in to write out the company minutes in French, to make things seem kosher for the language inspector.

Bill 101 led to the creation of the Commission de Toponymie, which promptly began to rename towns, rivers, and mountains, especially in the Eastern Townships, a region hard by the Vermont border, first settled by United Empire Loyalists and then by Scottish and Irish immigrants. So, Tea Table Island was reborn Ile Table a The; Bunker Hill became Colline Bunker; and Molasses Lake became Lac à la Mélasse.
Bill 101 also meant that by 1981 all English or even bilingual signs would be illegal.
In January, in the little border town of Dégelis, motel-keeper Louiselle Laforge was ordered to appear in court in Rivière-du-Loup for displaying English signs. "Please," she protested, "let me keep my three small English signs to attract tourists from Maine and New Brunswick. I promise you that no one will be hurt if they see the words Office and Bar Open on my motel."
Inspectors from the Commission de Surveillance de la Langue Francaise had already dismantled a $4,000 sign whose three-foot-high letters winked LICENSED DINING ROOM. A spokesman for the commission stated that Ms. Laforge's faith in the English sign was a delusion, "a typically Quebecois reflex" that had no basis in reality. American tourists in fact preferred French signs.
To appreciate the enormity of Bill 101, consider that a similar bill legislated in Ontario or Nova Scotia to preserve the purity of English there would mean that no more Chateauneuf-du-Pape or Pouilly-fuisse could be imported unless it was labeled in English. A restaurant menu could no longer legally offer pate or filet mignon. Nouvelle cuisine would be "new cooking," and croissants would be called "crescents." There would be no boutiques. The language would be cleansed of such impurities as tete-a-tete, parvenu, and chemise.
Bill 101 ruled that wherever a child came from—abroad, or even from another Canadian province—he or she had to be educated in French, unless one parent had been to an English school in Quebec. In some cases, the children of English-speaking parents who had been educated outside Quebec were allowed a three-year period of adjustment before plunging into French schools. This, however, did not apply to the children of Greek or Italian immigrants in Montreal, and soon an estimated 1,400 children were illegally attending English schools. Yet another clause of Bill 101 compelled all non-francophone professionals who wished to practice their professions in Quebec to take French proficiency tests, which led to a cause celebre, i.e. a celebrated case.
Between July of 1976 and April of 1981, 532 nurses and 265 registered nursing assistants (RNAs) failed, without arousing comment, a language-proficiency test that required an ability to comprehend literary and metaphysical French. Then, late in 1981, Joanne Curran, a bilingual, working-class woman, scored 85 percent on the oral exams but failed the written test by eight points. She lost her job as an RNA at Santa Cabrini Hospital. But the scrappy Ms. Curran, who hardly fit the PQ stereotype of "white Rhodesian"—of anglophone riches and arrogance—took to the French TV talk shows, arguing her case fluently. Fair-minded French Canadians were outraged. For the first time, apparently, they grasped the real iniquities inherent in the details of Bill 101. Lysiane Gagnon wrote in La Presse, "I'd bet a year's salary that a good number of francophone Quebecers would flunk this test."Even Pierre Bourgault, a well-known separatist intellectual, called the tests "stupid and inhumane, a scandal." A far-fromcontrite Camille Laurin haughtily suggested that the Office de la Langue Francaise might lower the passing mark for RNAs, "because they have less schooling than nurses who take the same exam." Furthermore, he noted, Ms. Curran hadn't scored 85 in the French oral test, as she claimed, but only 82.
Ms. Curran, who had only begun to fight, published an open letter to Dr. Laurin in the Gazette. Setting out that she was for the predominance and protection of the French language in Quebec, she claimed, nevertheless, that she was a victim "of the most pure and narrow-minded of bureaucracies. I am a victim, Dr. Laurin, of what I consider to be racial discrimination. I am a Quebec citizen who, like thousands of others, must now prove that she belongs in Quebec society."
In May of 1981, sixty-seven-year-old Marie-Marthe Larose died of cancer after a two-month stay in the intensivecare unit of St. Mary's Hospital in Montreal. Following her death, her husband praised the competence of the St. Mary's staff in a letter to Dr. John Keyserlingk, who was in charge of the unit. Dr. Keyserlingk, incidentally, is a graduate of Collège Brébeuf; he is married to a French Canadian, and the first language of his two children is French. But eighteen months after the fact, the late Mrs. Larose's daughter, Huguette, filed a complaint alleging that her mother "did not die in French." Consequently, the doctor and three nurses, also bilingual, were summoned to appear before a closeddoor hearing of the language commission. When the commission finally handed down its ruling, in March of this year, it declared that Mrs. Larose had not, in fact, been properly treated in French, because she had spent 34 percent of her last months in the care of nurses who spoke "little or very little" French.
What was singular about this episode was not the charge, or the ruling, but that the doctor in the case actually knew the name of his accuser. For it is in the nature of Bill 101 that, in true Star Chamber tradition, anyone can file a complaint anonymously. The accused has no right to confront his accuser.
Even so, no substantial modifications of Bill 101 are at all likely, Premier Lévesque has said, because requests for change reflect a "nostalgia for the privileged past,"a failure of those dubbed anglophones—or les autres—to adapt to the "new reality of Quebec." Approximately two thirds of Quebec's 706,000 anglophones live in Montreal; in fact, les autres make up something like 25 percent of the population (1.8 million) of that once charming but now sadly diminished city. Bill 101 will remain in place, according to Premier Lévesque, until such time as the real Québecois "have more security in our own institutions."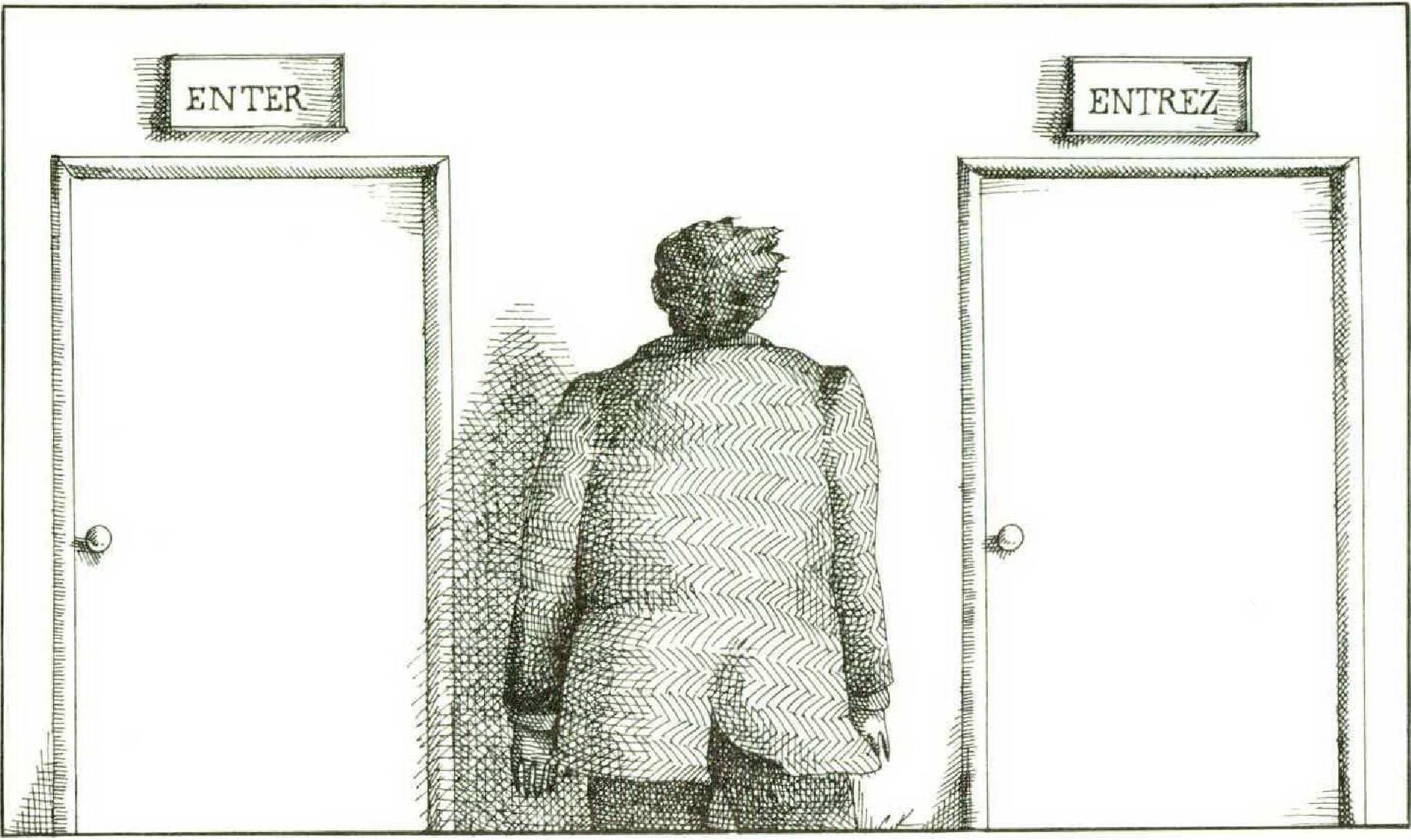 Meanwhile, the government has not been idle. Confronted by more than 200,000 people without work in Montreal, unemployment running to 14.7 percent in the province as a whole (the highest in Canada after traditionally impoverished Newfoundland), it has surfaced with an ideologically acceptable make-work program. It has ordained that as of January 1, 1988, the estimated 200,000 "Stop/Arrêt" road signs in Quebec will be replaced by signs that read "Arrêt" only. This, even though as recently as 1977 Premier Lévesque pronounced just such a plan ridiculous, saying, "It would make us a laughingstock."
Even before Bill 101 became law, the Sun Life Insurance Company—never a model citizen of Quebec, its investment in the province minimal—abruptly announced the removal of its head office, a Montreal landmark, to Toronto. Other corporations, emboldened, sniffed the wind, and were soon tripping over each other in their eagerness to flee Montreal. Between 1976 and 1981, according to Reed Scowan, a Liberal, an estimated 100 major head offices quit town, accounting for a loss of 14,000 jobs and, incidentally, a virtual collapse of the realestate market. In the same period, the anglophone population of Montreal dropped 11.8 percent, some 94,565 people, many of them recent university graduates, driving down route 401 to Toronto or points further west. For the most part, however, English-speaking Quebecers were quiescent on the introduction of Bill 101. Anticipating rules not yet in place, many rushed to oblige, old and long-established firms dropping compromising apostrophes like hot coals. Eaton's, for instance, sanitized itself, becoming Eaton; and Steinberg's, one of the largest supermarket chains in the province, was reborn Steinberg. Such ready compliance, both public and private, was prompted by at least some good will, but, for the most part, by a strong sense of guilt.
Though Bill 101 was unarguably repressive in some of its particulars, French Canadians were not acting vengefully without cause. For years, they had been treated as second-class citizens in their own country and even in their own province. Before the emergence of Trudeau, very few French Canadian or even bilingual civil servants worked in Ottawa, and the Frenchspeaking were obliged to deal with their own federal government in a language many of them didn't understand. In downtown Montreal, unilingual clerks in Eaton's and other department stores were often gratuitously rude, imperiously demanding that French Canadian customers speak English or do without service. Montreal, the largest Frenchspeaking city in the world after Paris, offered few positions in the higher corporate reaches to French Canadians. Or partnerships in the most influential law firms. Or seats on the stock exchange. St. James Street, once the most important financial center in the country, was a closed WASP preserve, its movers and shakers retiring in the evening to mansions in suburban Westmount. Typical of Westmount suburbanites in 1970 was David Molson, a scion of the famous Montreal brewery family. When I interviewed Molson shortly after the October Crisis in 1970, at a time when his family owned le Club de Hockey Canadiens, and he was serving as president, he assured me that the Molsons had been untouched by the troubles. "Of all the old WASP families in the province," he said, "ours has always been closest to the natives."
Was he bilingual? I asked.
"We have a French maid in the house and the children are taking advantage of it. They're learning."
That same year, a Montreal friend of mine, though thoroughly bilingual, testily attempted to book a flight in French at the Toronto airport. But absolutely nobody at the Air Canada desk could speak the language. Finally, the help of a Dutch immigrant porter was enlisted and my friend was led onto the airplane grasping a form that declared the following disability: SPEAKS FRENCH ONLY.
Even earlier, in the late 1960s, reaction to this sort of thing had already occurred in at least two notable ways. An upsurge of nationalist feeling led to the formation of the RIN (le Parti Républicain de Québec). There were terrorist incidents. In response, a rich but then unknown law professor, Pierre Elliott Trudeau, and seven other French Canadian intellectuals issued a manifesto, denouncing both French and English nationalism as sterile and retrograde. Soon afterwards, Trudeau, Jean Marchand, a union leader, and Gerald Pelletier, a journalist (known as the Three Wise Men) went to Ottawa as Liberal MPs. René Lévesque, on the other hand, a former TV news analyst who had already served with distinction in the provincial Liberal cabinet, quit the party in disgust, hung out a separatist shingle, and formed his own Parti Québecois. French Canadians, suddenly led by two champions, both of whom they cherished, were now being encouraged to ride off in totally contradictory directions. Trudeau was urging them to come out of the backwoods and claim Canada, a freshly minted bilingual Canada, as their inheritance. Lévesque, by contrast, insisted that Quebecers were a conquered people and would retrieve self-respect only through independence. French Canadians, with a certain perverse glee, heeded the advice of both. They voted overwhelmingly for Trudeau as prime minister, installing French Power in Ottawa, and later they thrust Lévesque into office as premier of Quebec. Then, the fuses lit, they settled back to enjoy the fireworks.
ACCORDING TO A study published in 1981 by the Office de la Langue Franacaise, in 1970 anglophone males in Quebec who could not speak French earned, on average, 21.1 percent more than francophone males who could not speak English. In 1977, the PQ published a white paper maintaining that French was still the language of the hewers of wood and the drawers of water. By 1978, even the Office de la Langue Francaise admits, the difference in income between francophone and anglophone had all but disappeared. The PQ was fighting a battle already won. A new generation of French Canadians, many of them graduates of Montreal's Ecole des Hautes Etudes Commerciales, were ready to take charge of the provincial economy.
Though anathema to English-speaking Quebecers, Bill 101 undoubtedly has helped to bolster a still-fragile French Canadian pride. The midnight flight of many head offices from Montreal, a drain on the economy mourned by the Englishspeaking, has been a source of joy to many French Canadians, not all of them separatists. Of course, to militant separatists the departure of so many maudits its anglais from Montreal is not only a pleasure but also a real political advantage. In the future, they feel, they will be able to point out to those timorous French Canadians who argue that Quebec separation would provoke a disastrous run of English capital from the province that the English and their money have already departed. Many of the French Canadians who consider René Lévesque a dotty romantic, and the economic policies of the PQ deplorable, are secretly pleased. And why not? Thrust aside for years, they now have been given an edge. Suddenly, traditionally closed WASP brokerage and law firms are stumbling over each other to recruit French Canadian partners. Suddenly, the largest brokerage house in the province is entirely French Canadian: Geoffrion, Leclere Investments.
Possibly, a Jewish analogy would best serve to explain the situation.
Many Jews in Israel and the Diaspora who find Menachem Begin's policies insufferable, his claims to what he calls Judea and Samaria specious, nevertheless experience a secret gut pleasure when that hot, uncompromising old man reminds the President of the United States, "The Jews bow only to God."
Similarly, French Canadian businessmen in Montreal who take Camille Laurin to be a zealot, and Bill 101 an affront to individual liberty, are still pleased to have somebody shaft the English. Which is what Dr. Laurin, Quebec's cultural ayatollah, did in a long-awaited report that preceded the referendum.
A Cultural Development Policy for Quebec, published in 1978, starts out by cheerfully dismissing the rest of Canada as an entity "which sometimes claims to be a 'nation'," and goes on to divide Quebecers into racial categories: the authentic Québecois, Anglo-Saxons, and ethnic or neo-Quebecers. A crippling Canadian presence, it complains, imposes upon Quebec "restrictions that become shackles when it attempts to develop its own values and cultural endeavors." This, incongruously enough, at a time when the prime minister of Canada was a Quebecer, as were the minister of finance and the governor-general; and when hardly a separatist theater group, painter, composer, or writer in Quebec wasn't on a Canada Council grant or fettered to such federal cultural institutions as RadioCanada and the National Film Board.
Any reference in the report to "socalled" Canadian culture is pejorative, describing it as pseudo-American, or without "cultural personality"—which is to dismiss arbitrarily the work of Robertson Davies, Northrop Frye, Alice Munro, Margaret Atwood, Christopher Plummer, the late Glenn Gould, Mavis Gallant, Margaret Laurence, Morley Callaghan, and, come to think of it, Bobby Orr and Wayne Gretzky. But, happily, the report finds that the indigenous stuff amounts "to an outpouring of works of art that is proof of Quebec's genius."
The report, pondered and debated for months by the brightest minds Dr. Laurin could gather in conclave, abounds not only in chauvinism but also in banalities and bromides. Both sex and age, we are earnestly told, are the result of natural laws. "We do not choose our sex, we do not choose to grow old." Women, we are assured, "are people," but this daring notion is not qualified by any scientific data. In Quebec as elsewhere, the report claims, children make great demands on adult energy. And again, without documented support, we are asked to swallow whole the notion that "adolescents make up a large proportion of the population."
All these "brief yet thought-provoking" pensées came in Vol. I. The real illuminations were saved for the heftier Vol. II, which reveals that "books have been one of the most important vehicles of culture for centuries, and will continue to play this role for some time."
TWO WEEKS BEFORE the 1980 referendum, Prime Minister Trudeau spoke out at a dinner in Quebec City. For thirty-six of its first hundred years, he pointed out, Canada had been governed by French Canadian prime ministers from Quebec. In the tradition of Sir Wilfrid Laurier and Louis St. Laurent, he added, he had gone to Ottawa to insist on the right of Quebecers to play their larger role in Canada. "We have resolved to say NO to those who wish to tear down the house, to those who want to uproot us from this country which is ours, this country we discovered, colonized, and explored. . . . We want to say NO to those who think Quebecers are not smart enough... to defend themselves both in Quebec and on the national scene."
The referendum question, alas, did not ask Quebecers whether or not they wished to be independent. Instead, after being extensively tested for acceptance in private PQ polls, it argued for the nebulous concept of sovereignty-association. The question ran:
"The Government of Quebec has made public its proposal to negotiate a new agreement with the rest of Canada, based on the equality of nations; this agreement would enable Quebec to acquire the exclusive power to make its laws, levy its taxes and establish relations abroad—in other words, sovereignty—and at the same time, to maintain with Canada an economic association including a common currency; no change in political status resulting from these negotiations will be effected without approval by the people through another referendum. On these terms do you give the Government of Quebec the mandate to negotiate the proposed agreement between Quebec and Canada?"
The PQ was willing to say good-bye if the rest of Canada would guarantee both its currency and its passports.
When the people finally went to the polls, on May 20, 1980, 59.5 percent voted no and 40.5 percent voted yes. Separatists failed to win a yes majority even among French Canadians in the province. PQ supporters, who had thrown themselves enthusiastically into the campaign, working long hours without pay, were understandably depressed. The government, shorn of its primary purpose, began to drift.
Soon after their defeat in the 1976 election, the all but discredited provincial Liberal Party had elected a new and surprising leader, Claude Ryan, a highly respected intellectual who was a former editor of Le Devoir. The fastidious Mr. Ryan led the no-vote forces into the referendum campaign, and after his triumph it was assumed even by many a disconsolate PQ supporter that he would certainly be the next premier. But in the next election, on April 13, 1981, Quebecers, having admonished the PQ, reelected the still immensely popular René Lévesque to office, providing him with eighty seats, the Liberals with only forty-two. A little more than a year later, Ryan resigned and was replaced by an interim leader, Gerard D. Lévesque, who was appointed to serve until a new leadership convention could be held.
The second PQ government, forewarned by the electorate to put aside its dreams of separation, began to come untracked rather early. To begin with, it was forced to contend with proliferating economic problems not entirely of its own making but clearly exacerbated by an administration made up of ideologues, many of them former academics, whose stance was snobbishly anti-business. And then the PQ became accidentprone. Suddenly, les autres, quiescent for such a long time, turned very hot indeed, their anger fed by an accumulation of irritating and unnecessary affronts: the issue of the signs; the Joanne Curran case; and, without warning, the elimination from the Montreal telephone directory of all English-language listings of provincial government services, a hardship for many old people. Even more ominously, the dreaded Camille Laurin was preparing an education bill that threatened to shut down some Englishlanguage schools and shift the control of others into French hands. Foolishly, the PQ had cashed in and spent a valuable emotional resource: anglophone guilt. Now they were working on a large overdraft. Only six years in office, they had demonstrated that, given a chance, they could be far more intolerant than the English had ever been. Moderate anglophones, once inclined to give the PQ the benefit of the doubt, now saw the government as prejudiced and irrational. But if the mood had changed, fundamental disagreement remained over what the real issue was. As far as the Englishspeaking were concerned, they had a democratic right—after all, they were Canadians as well as Quebecers—to conduct their affairs in their own language, to post bilingual street signs, to run their own schools. To the French, however, the use of English, far from being a civil right, was a privilege. A minority privilege. Even Claude Ryan, then still leader of the Liberal Party, warned, "Those who continue to hope for equal status for those languages [English and anything else other than French] are dreaming."
Lévesque, responding to a brief put to him by the Alliance Québec, the newly constituted if somewhat muted voice of English Quebecers, turned down every one of their requests for moderation. Alluding to what he saw as the continuing vulnerability of the French language in Quebec, he noted that he did not share the group's apprehension about the future of their community. But the justification for Bill 101, a concern that because of the declining French birthrate the French language was threatened, was not borne out by the evidence. In 1961, the mother tongue of 64.9 percent of Montrealers was French; in 1981, the percentage had grown to 68.4. In the province as a whole, over the same period, it had moved upward from 91.4 to 93.4 percent. Furthermore, a 1982 federal study, written for the Office of the Commissioner of Official Languages, noted that since 1976, the proportion of Montrealers whose mother tongue was English had shrunk from 22 percent to 18 percent—from 607,505 to 520,490. One in seven anglophones had left Montreal since the PQ came to power. In the province as a whole, the number of those whose first language was English fell from 800,680 to 706,115—from 13 percent of Quebec's population to 10.9 percent. That "the risk of oblivion is not negligible" for anglophone Quebecers was the verdict of the author of the study, Gary Caldwell, a member of the Quebec government's own institute for cultural research and a long-time supporter of the PQ.
Jewish Quebecers, uneasy with the new nationalism, have begun to quit the province in considerable numbers. By 1981, the Jewish community, once 119,000 strong, had been reduced by at least 15,000, some say by much more. Among the first to pack their bags were young university graduates, most of them bilingual. They felt unwanted. Mel Himes, a political-science professor at Dawson College, in Montreal, said, "The Jewish community is . . . dying. [It] still hasn't come to grips with the trauma of its young people leaving."
It didn't help matters when the most rigid defender of Quebec's nationalist flame, the St. Jean Baptiste Society (SSJB), asked that something more be done to honor the memory of one of its philosophical progenitors, the late Abbé Lionel Groulx. In his day, the Abbé was an enthusiastic admirer of Mussolini. "Happy," he once wrote, "are the peoples who have found dictators." He also fancied himself an expert on the Jewish psyche. But, speaking in his defense on French TV, a spokesman for the SSJB argued that the Abbé, far from being anti-Semitic, merely noted well-known characteristics of Jews—among them those outlined in a letter written in 1954: "We must also consider his innate passion for money. A passion often monstrous and one that removes all scruples from him. He will do anything for money. And so we find him at the bottom of every shady affair...."
Last November, a Toronto Star reporter uncovered a PQ list, labeled "confidential,"of 750 ethnic community leaders and 250 ethnic organizations, mostly Jewish, Greek, or Italian. Compiled in 1979 and used as a guide in the heat of the referendum campaign, it was really, on balance, not so much sinister as silly, but both sides overreacted. The list, charged a Liberal member of the legislature, Harry Blank, "smacks of the KGB," while Lévesque dismissed the fuss over the issue as "a tempest in a teapot."
Notes on the names featured in the ethnic list ran from "right-wing extremist,"through "fanatic," to the ultimate calumny—"opposed to Quebec nationalism." Religious belief or racial origin was attached to each name. In my case, for instance, the tag read "of Jewish origin," which certainly let the cat out of the bag. The Gazette ran the complete list under the head "Who's Who on the Government's List of Quebec's Ethnic Leaders," and any prominent Montrealer who was not included felt slighted. Michel Beaubien, author of the document, denied that it was meant as a blacklist. Rather, he said, as if to resolve any doubts about his own foolishness, it was "designed to expand awareness of the milieu, especially on the socio-political level." Lévesque, on reflection, conceded, "In some ways, it's a rather repugnant work."
An obviously weary and short-tempered Lévesque now had more important problems to cope with. He had been badly outmaneuvered in the seemingly endless constitutional bickering between federal and provincial governments, a debate that finally ended with the patriation of Canada's constitution, the symbolic severing of the last lingering colonial cord. In the process, Lévesque lost something cherished by every previous premier of Quebec, the province's traditional de facto veto on constitutional matters.
Canada's new constitution came complete with a Charter of Rights and Freedoms. The Canada Clause, Section 23 of the constitution, ruled that anyone who has been educated at the primary level in English or French in Canada may send his or her children to school in English or French. This ruling, which contradicted Bill 101, was swiftly tested in the Quebec Superior Court, where it had already been ordained contrary to Bill 101. In a landmark ruling, last September 8, the Quebec Superior Court pronounced again, this time in language that roused the flagging spirits of all English-speaking Quebecers. Chief Justice Jules Deschênes ruled that the Canadian Charter of Rights and Freedoms took precedence over Bill 101. In fact, he said, the Quebec government's argument to the contrary "demonstrates a totalitarian concept of society to which the court cannot subscribe. The human person is the highest value we know, and nothing should be used to help reduce the respect it is due. Other societies put the collectivity above the individual. . . . This conception of society has not yet taken root here—even if certain political initiatives seem at times to be courting it dangerously—and this court will not honor it with its approval. Every individual in Canada and Quebec should enjoy his rights in their entirety, be he alone, or a member of a group; and if the group has 100 members, the hundredth has as much right to benefit from all his privileges as do the 99 others...."
The court ruling actually had an immediate effect on no more than an estimated 200 schoolchildren, but, even so, Education Minister Camille Laurin said that the Cabinet might consider withholding subsidies from schools that accepted pupils not eligible under Bill 101. A week later he decided to appeal the decision. Judge Deschêne's legality, he said, is one that "takes precedence over legitimacy, rights, and collective interests of a people."
BY THE END OF 1982, the PQ had trouble, trouble everywhere. Forced by ever-worsening economic conditions to legislate a rollback in the wages of civil servants who had done so much to thrust the party into office in the first place, the government was threatened with a long and wasting succession of illegal strikes. One of these strikes, by 70,000 teachers, provoked a brutal back-to-work law late in February of this year. Bill 111 called for union leaders to be fined $10,000 for every day the strike continued; furthermore, the accused were to be presumed guilty unless they could prove their innocence. Individual union members were to be fined as much as $100 a day, and the unions themselves faced a penalty of from $5,000 to $50,000 a day. Outraged, and swearing vengeance against the PQ, the teachers drifted back to work.
A poll taken at the end of last year revealed that if an election were held immediately the PQ would lose, even if it were confronted by a Liberal Party led by an interim leader. Six years after the PQ originally came to power, 42 percent of Quebecers said they would vote for it again, while 51 percent said they would back the Liberals. In the last election, held in April of 1981, the PQ had won 49 percent of the vote, the Liberals 46 percent.
Another poll showed that 58 percent of all Quebecers no longer believed that Lévesque and the PQ were capable of solving the province's economic problems. Only 32.9 percent expressed confidence in Lévesque's leadership.
But René Lévesque, even if he was just possibly on his way out, had already achieved something like de facto separation for Quebec. Repressive language laws, once in the statute books, were unlikely to be revoked even by a Liberal government, terrified of being labeled the running dogs of the English-speaking minority. Head offices, once uprooted, will never return to Montreal. The young, having set themselves up in Toronto or the west, will be coming back only for funerals. English-speaking Quebecers will continue to quit the province. The most ambitious of the new immigrants will naturally want their children educated into the North American mainstream (that is to say, in English), so they will settle elsewhere in Canada. Montreal, once the most sophisticated and enjoyable city in the country, a charming place, is dying, its mood querulous, its future decidedly more provincial than cosmopolitan.
—Mordecai Richler