Nadia Boulanger's Lessons
Her aim was to reveal the life present in the basic materials of music
BY ALLEN SHAWN
DURING THE 1920S, THIRTIES, AND FORTIES-THE period when classical American music, long dominated by European traditions, came into its own— nearly every important American composer, and a large number of performers, as well, went to Paris to study with Nadia Boulanger, a teacher of theory, composition, conducting, and performance. Aaron Copland, Virgil Thomson, Roy Harris, and Elliott Carter are among those who have written of her catalytic effect on their musical development. Theodore Chanler, David Diamond, Irving Fine, Walter Piston, Marc Blitzstein, and Roger Sessions also studied with her. Boulanger's decisive influence on the course of American music is incontestable. Unlike Arnold Schoenberg and Paul Hindemith, the other great composition teachers of the time who left behind devoted disciples, Boulanger was not a composer herself, and therefore — despite her marked stylistic predilections—she had no specific musical manner to pass on. Because she was female and French, and most of her students were male and American, she was usually able to avoid competitive relationships and to look at the possibilities inherent in American music with dispassion, creating an environment in which they could be realized.
Boulanger died in 1979, at the age of ninety-two. For the last twenty-five years of her life, though she cut down on the appearances as conductor, pianist, organist, and lecturer that had made her known to a large audience, her teaching career continued unabated. In 1970, when I was twenty-two, I went to Paris to study composition with her, and stayed for two years. At that time, she was still receiving about thirty students a year.
Lessons and classes were given at Boulanger's home, as they had been since the 1920s. It was an intimate setting, especially when compared with the furnishings of the average American university classroom—bare, green walls, grand piano, blackboard, Formica table, and metal chairs. The library of old music in the back rooms of the apartment was supplemented in the front hallway by a vast collection of pieces by former students, wrapped in brown paper and labeled in Boulanger's hand. One awaited lessons in a sitting room decorated with flowers, seashells, rocks, figurines, and small sculptures (among these a bust of Boulanger's younger sister, Lili), photographs of her friend the writer Paul Valery, and, on the door to the living room, where we were taught, a print of Picasso's Boy Leading a Horse. Perhaps this image of a boy guiding his horse by invisible reins was meant to suggest something of the way the owner of the house would lead us—by a combination of severity and magic—toward our musical goals.
In the room itself, which also served as Boulanger's parlor, there were two grand pianos, a large pipe organ, and more pictures and mementos. The samovar from which Boulanger's mother had served tea at classes and musical gatherings in the twenties and thirties stood on a table by a phonograph. Delicate landscape watercolors and religious icons were hung next to photographs of Hindemith, Bartok, Dinu Lipatti, Stravinsky (playing cards), Georges Enesco, Lili, and a panorama of the Parthenon.
When I walked into this room for the first time, Boulanger stood up to greet me. Dressed in one of her gray wool suits (the only other color I ever saw her wear was black), a white blouse, and black shoes, she looked like the archetypal "old woman." Her cheeks were sunken, her gray hair was quite thin, and she had few teeth left. Nevertheless, she gave an impression of physical strength, and her face, with its eyes clouded by cataracts but animated all the same, and her vivacious, welcoming expression, was beautiful. Whatever apprehension I had felt vanished. Here was someone so manifestly decent and direct as to make any intimidating thoughts of her past accomplishments irrelevant. I played some of my pieces, and she listened with affection but also with detachment, as if she were looking toward a time when these pieces would seem like primitive first steps (or so I hoped). Her comments were encouraging and sobering at the same time. She explained that while she would advise me on my own work, we would spend most of our lessons studying harmony—a subject that all of her students, regardless of their goals or experience, began with. About this she would be very strict, she said, while in my own work I should forget the exercises and be free.
By 1970, Boulanger's weak eyes had failed to the point where she could see only vague forms and shapes. Bright lights had always pained her, and she kept her rooms dim. Boulanger's "reduced" schedule consisted of group classes in harmony and analysis and up to ten hour-long individual lessons a day. No longer able to read at sight a student's scores or to play critically through the harmony and counterpoint assignments, she now sat at the student's right, prodding both verbally and physically, groaning in mock agony at thoughtlessly written harmonies or clumsy voiceleading, mimicking the student's musical behavior, and sometimes—with apologies—eating her lunch. (Her attempt to adapt to dentures had been a failure. Though she tried to accustom herself to soup and other soft foods, more often she stubbornly ate meat and vegetables without chewing them, and her digestion suffered as a result.) From time to time she would play with celestial clarity in the upper reaches of the keyboard. Music students always know their teacher's hands, and Boulanger's were exceptionally beautiful: precise and white, as one imagines a nun's hands to be, but also as silky and elegant as Dietrich's legs. These hands produced, at the drop of a hat, musical examples spanning five centuries: Lasso, Monteverdi, Victoria, Faure, Chabrier, Stravinsky—always bringing out the voice-leading.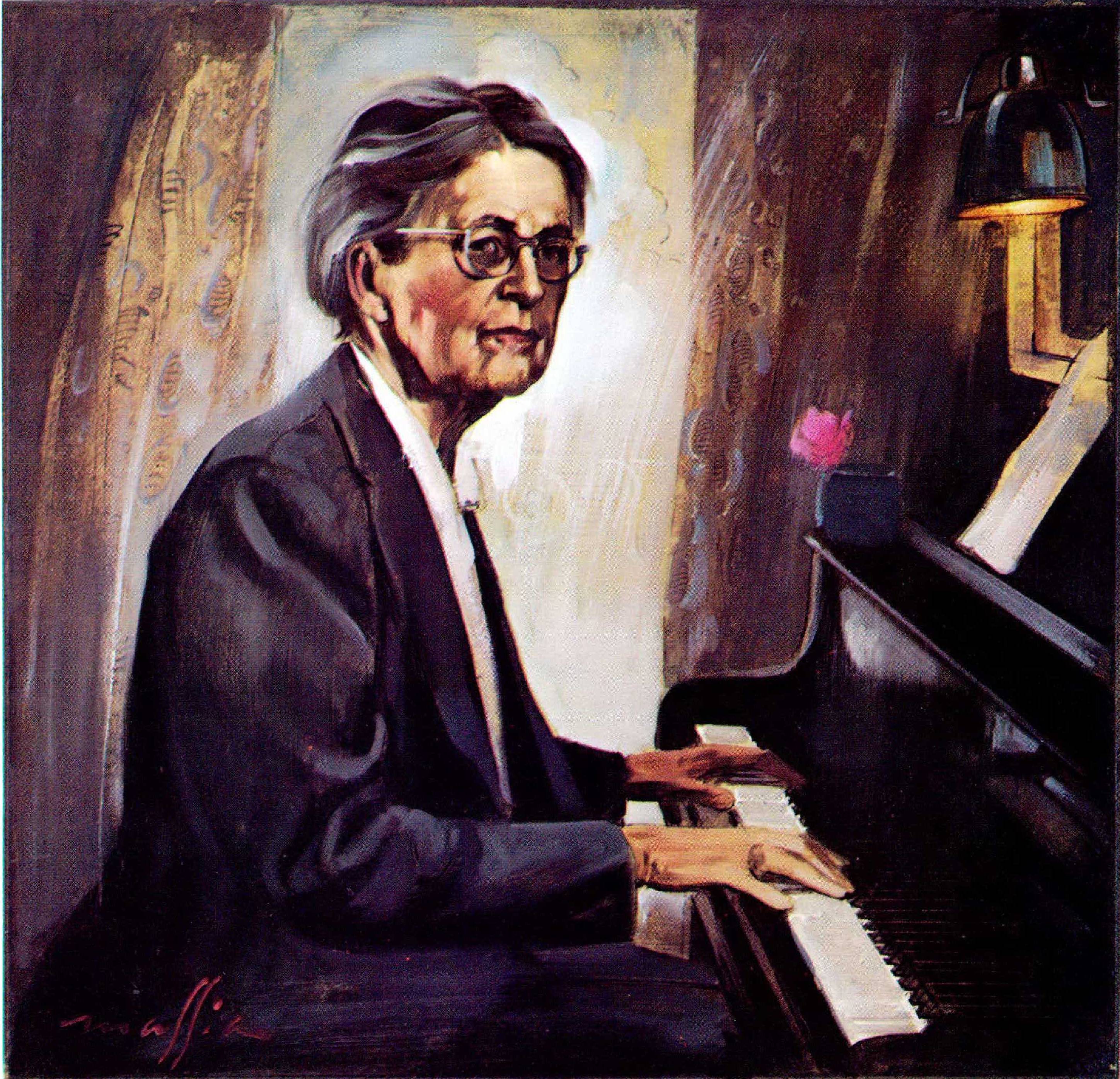 Although she could be stern, Boulanger did not inspire nervousness or self-consciousness—at least not in me. She operated at a level of candor beyond embarrassment. I was sure that if I complained of a knot in my stomach she would tell an apt and profound story about anxiety that would make me completely forget my difficulty. She had stories for all occasions. In one of my pieces, a slow section contained a bit of faster motion that seemed to come out of nowhere and lead nowhere. To illustrate how this struck her, she did a marvelous rendition of a circus sketch she had once seen: a clown demurely eating dinner, napkin tucked in his collar, aristocratic, fastidious; then madly juggling everything on the table with a wild expression on his face; then, just as abruptly, quietly eating. Boulanger also liked to joke about her age. When I made a mistake she would grip my arm suddenly, saying, "A hand from the grave!"
THE ESSENCE OF BOULANGER'S MUSICAL THINKing was motion: motion from the beginning to the end of a piece (the "grand ligne"); motion from one harmonic point to the next within that larger context; motion and direction in each contrapuntal strand. This related to the "long line" of one's life as well. "I wish you could meet [the composer and pianist] Jean Franqaix," she said. "He has remained himself. His life has been one long line. He is happy in spite of his troubles."
She tried to develop in her students a sense of dynamic, muscular rhythm—rhythm that could be flexible because it was based on absolute firmness and steadiness. Correct rhythm without inner vitality and direction is as meaningless as correct but isolated tones. Watching us conduct, she would groan in dismay ("You are killing me!"—a favorite phrase) at the lifeless way in which we would direct a three/four or four/four beat. For her there had to be an elastic tension between the beats; a pulse, slow or fast, should be a drama in itself. "When Stravinsky counted," she would say, "you waited for the next beat with excitement."
Boulanger had an uncanny ear for sonority, and would pick out unsuccessful dispositions of chords or troublesome doublings in the most difficult of our compositions. She respected the evidence of a fine ear in the most far-out music, and she always had examples at hand from older music of freshly heard sonorities, moments such as the opening of Chopin's F-major Ballade, the last chord in Stravinsky's Symphony of Psalms, or the chord voicings in the Sarabande of Debussy's Pour le piano. In spite of this, she taught harmony entirely by way of melodic lines, which combine to make vertical sonorities. The idea of "chords" as things in themselves was foreign to her approach. Fourpart harmony exercises were written on four staves. Each voice was sung, as one played the other three. The voices were personalized: "this poor little tenor sol-fa-mi." She approached all music as if it were vocal music, and played it that way. Debussy's rich parallel-ninth chords were not a series of chords but the vertical results of parallel melodic lines, each one of which was distinct and beautiful—"each a cello."
Our harmony exercises were to be written in as many versions as we could think of, with successive examples taped one on top of another. Sometimes these were corrections or improvements, but in most cases they were simply alternatives. We were meant to keep what we had done— not to erase—and thus to see all the possibilities inherent in a simple chord progression. We could then apply the same methods of seeing, hearing, and imagining alternatives to other aspects of our study and to composing. With Boulanger, these exercises were doorways that led to discourse on every aspect of life, public and private, and seamlessly back to the music at hand. Her aim here, as well as in the study of large-scale works, was to reveal the life present in the basic materials of music, to show the beauty and shape of small as well as large structures. She seemed to be saying that one can build living organisms only from living cells.
Wednesday-afternoon group classes were devoted, as they had been for fifty years, to the study of selected works. In my first year, we went through four Masses: Bach's B-minor, Beethoven's Missa Solemnis, Josquin des Pres's Pange lingua, and the Stravinsky Mass. In my second year, we examined the Mozart C-minor Fantasy and the C-minor Piano Concerto, the Stravinsky Concerto for Piano and Wind Instruments, several Bach cantatas, the Liszt Piano Sonata, the Schubert Wanderer Fantasy, the Schumann Fantasy, the Mussorgsky song cycle Sans Soleil, the Debussy cycle Le Promenoir des deux amants, Schubert songs, and various works related to these. Boulanger had a way of unlocking the secret beauties of these pieces so that they seemed flooded with light. References to poetry, plays, philosophy, history, religious writings, and other music and her own poetic comments made these works part of a vast associative world. Primarily, though, she illuminated them with her passionate sensitivity to the smallest details and nuances in the music ("it is the details that make a masterpiece"), to the rhythmic phrasing and the simplest melodic turns. Alone of all the music teachers I have ever had, she made her students sing and play every line of what they studied. She tended to be more severe in these group meetings than in private lessons. Our emotional limitations in the face of great experiences were tested. We sometimes had to perform for our peers. I remember attempting to play in class the accompaniment to Borodin's "Berceuse" with the simple gravity it requires, and to play and sing (what patience she must have had!) Schubert's forlorn song of early manhood, "The Wanderer." Working with me on the Schubert, she coaxed a round and expressive tone out of my hands that surprised me. I felt the presence of the music outside myself and was moved by it. Playing and listening merged.
On these Wednesday afternoons, we saw how the skeletal harmonic structures we were perfecting in exercises became large-scale musical works; we understood with our ears, and not just theoretically, how simple progressions could be stretched to the length of a full symphony. The skeleton of a Ravel, Chopin, or Bach work could be essentially the same, "just as we are all so different from each other, and yet all have the same skeleton," she would say. (Later, I read in Valery: "Man is only man at the surface. Remove his skin, dissect, and immediately you come to machinery.") We were also trained to question continually the depth of our understanding. The Benedictus from Beethoven's Missa Solemnis led to a reading of Aldous Huxley's essay "Music At Night." We spent two hours with the opening of the Mozart C-minor Concerto, playing, singing, analyzing, and discussing. I knew the piece by heart already, having played it with my high school orchestra; now I was overwhelmed by its beauty.
Boulanger hated self-indulgent playing. Her preferred artists—Lipatti, Yehudi Menuhin, Artur Rubinstein, Sviatoslav Richter—were musicians with a natural, spontaneous, unaffected style, and a sense of the wholeness of a musical work. "I doubt that Horowitz studied counterpoint," she would say, referring to his tendency to underline certain moments in the music at the expense of the natural flow of each line.
We had the opportunity to see her put together a concert program in February of 1971, just before she entered the hospital for an eye operation (a "rest" during which she had a friend read her all of War and Peace). She recruited us to sing a few choral numbers. Among the works we learned was the beautiful Bach chorale "Wer hat dich so geschlagen, mein Heil" ("Who was it, Lord, did smite thee"), using the hymn's original text, "O Welt ich muss dich lassen" ("O world I must leave thee"). She taught us to sing easily, without strain, and managed to shape an exquisitely simple, hushed rendering of the piece. Angels who were not us seemed to have taken over our voices.
In rehearsing the rest of the program, which contained music by Bach, Faure, Charpentier, and Rameau, she created an atmosphere not unlike that of one of her classes. She told stories, worked on phrasing, urged the musicians to forget that they were "professionals" and to play the music as if for the first time. This experience revealed to me that Boulanger was a teacher in whatever situation she found herself. Though she had conducted many large-scale works at one time or another, her programs characteristically consisted of short, often unfamiliar pieces spanning all musical periods. The selection and order of the works served to emphasize for the listeners the emotional and stylistic characteristics that she wished them to notice: in a sense, these concerts were her compositions. In the articles of music criticism that she wrote in the teens and twenties, she drew lessons from a performance, and her aim was not to pass judgment but rather to educate readers. For this concert, she taught the musicians as she would later teach the audience. What resulted was playing that had freshness and great vitality, and the expressiveness of devoted concentration. People played as if their lives, not their careers, depended on it, but without any overt emotionalism. (Copland once wrote: "I hate an emotion-drenched voice.")
Sentimentality, romantic self-absorption, and hysteria were not part of Boulanger's emotional repertoire. She was devoted above all to God, and to the idea of music not as the monument of an individual but as mankind's monument to God.
TWO ACCOUNTS OF BOULANGER'S LIFE ARE AVAILable: The Tender Tyrant: Nadia Boulanger, A Life Devoted to Music, by Alan Kendall, and Nadia Boulanger: A Life in Music, by Leonie Rosenstiel. The Kendall, while less detailed in its rendering of Boulanger's life than the Rosenstiel, is more informative about her teaching methods. But a teacher's gift, like that of a priest or psychoanalyst, is difficult to document. It consists neither in curriculum nor in precepts. A teacher has no oeuvre other than the accomplishments (and, in turn, the teachings) of students. These biographers, neither of whom studied with Boulanger, can't help but slight the interchange between Boulanger and her students that was the crux of her life. Still, the life story that these books provide is an inspiring one for any musician, as well as for anyone interested in the fate of women artists in our time.
Nadia's grandparents on her father's side were both musicians. Her grandmother, Marie Julie Halligner (1786— 1850), was a popular opera singer at the Opéra-Comique, and her grandfather, Frédéric Boulanger, was a cellist and a composer who has left at least one published song. Nadia's father, Ernest Boulanger (1815-1900), was a composer, primarily of operas, and a teacher of voice at the Conservatoire. He won the Prix de Rome in 1835 for his cantata Achille. Nadia's mother, Raissa, was a Russian aristocrat who saw Boulanger conduct and became his voice student. Born in St. Petersburg, either in 1856 (the date on her passport) or in 1858 (the date she herself gave), she was at least forty-one years younger than Ernest when she married him. Nadia was born in 1887, and her sister, Lili, in 1893; by then, Ernest was an old man. (Robert Craft has commented, "The effect of these vast age differences on Nadia should not be minimized.... To mention only one difficulty, a father of a great-grandfather's age was surely too old to communicate emotionally with a child.") Four years after Ernest died, the family moved to 36, rue Ballu, their home to the end of their lives.
Madame Raissa Boulanger taught herself harmony and became her daughter's first music teacher. Nadia knew the fundamentals and read music by the age of five. She developed into a remarkable pianist and organist, and she also composed music. (In 1908, she won second prize in the Prix de Rome competition for her cantata, La Sirene. It was rare for a woman even to enter the contest.) As Nadia learned music, she passed on her knowledge to her sister. Lili sat in on many of the music classes that Nadia took at the Conservatoire, and in 1913, following Nadia's example, she entered the Prix de Rome competition. She was the first woman to win first prize—the same prize her father had won seventy-eight years earlier. Lili was always frail; nevertheless, by her death in 1918, at the age of twentyfive, she had composed a body of work good enough to be regularly performed today. It shows the influence of Mussorgsky, Faure, and Debussy, but has a strong personality of its own, at once sensual and spiritual.
Before he died, Nadia's father told her to look after Lili, and she fulfilled that obligation. Her devotion to her sister seems to have instilled in her a habit of service that endured. Early on, Nadia gave up composing (in a harmonically exquisite style comparable to Lili's), because, she said, her pieces had no real originality or "use." Instead, she spent her life nurturing the talents of musicians in their twenties. Starting in 1921 with Aaron Copland, Virgil Thomson, and Melville Smith, the three American students who made her famous, she eventually became what Thomson called a "one-woman graduate school" for musicians of all nationalities, though primarily for Americans, in the future of whose music she passionately believed.
Nadia's mother, who lived until 1935, and sister were the great influences in her life. She held a memorial service for them each year and expected the students to attend. The memory of her father always seemed less important to her. She would ask each of us frequently, "How is your mother?" but never "How is your father?" Ernest bequeathed to Nadia the legacy of his profession of composer (he had worked in a style that, as a girl, she found somewhat trivial), but it was her mother's religiosity, discipline, and determination that formed her character, and that, in turn, impressed her students. Childless herself, she was prepared to be a spiritual mother to every young person she taught. That this tendency was sometimes accompanied by extreme possessiveness and manipulativeness, especially toward her women students, has been observed by many. It was my experience, however, that in her later years she was far less curious about her students' lives than she is said to have been earlier.
Particularly in the decades between the two world wars, Boulanger experienced almost every aspect of musical life from the inside. She was the first woman to conduct the Royal Philharmonic (1936), the Boston Symphony (1938), the New York Philharmonic (1939), and the Philadelphia Orchestra (1939), among others. She appeared as an organ soloist and as a concert pianist and played in chambermusic recitals, programs of two-piano music with Dinu Lipatti and Jean Frangaix, song recitals with Gérard Souzay, and memorial programs of her sister's music. She conducted many choral concerts and introduced the public to a world of pre-Baroque music that had scarcely been glimpsed until then. The recordings she made in 1937 of Monteverdi madrigals and instrumental pieces—some of the first recordings of Monteverdi—are still available. She was a crusader for the re-examination of familiar music, and championed unfamiliar and neglected work: the lesserknown Bach cantatas and suites and Schubert songs and the works of Rameau, Mendelssohn, Bizet, Faure, Chabrier, Mussorgsky, Scarlatti, Heinrich Schütz, and others.
In the thirties, her ties to America were strengthened by several important tours, during which she lectured, played, and conducted coast to coast. In her 1939 American tour, she gave 102 lectures in 118 days. She was the star of countless gala symphonic concerts, but with many major orchestras, most notably the Boston Symphony and the New York Philharmonic, she had to overcome the open rudeness of resentful male musicians. Her sex was always an issue with the press, as well. "I've been a woman for a little over fifty years and have gotten over my initial astonishment," she told one reporter.
After the occupation of Paris by the Germans in 1940, she decided to settle in the United States until the war was over—an "abandonment" of her home country for which she always felt guilty. During her stay here, she taught primarily in Boston, New York, and Washington, and spent her summers teaching in a Dominican convent in Sinsinawa, Wisconsin, with occasional visits to Santa Barbara and Lake Tahoe.
Boulanger's friendship with Stravinsky was her deepest musical bond, and she was his unswerving ally. She arranged for the commission of his Dumbarton Oaks Concerto and conducted its premiere, on May 8, 1938, in Washington, D.C. Through her, many students came to know Stravinsky personally and to see him as the living exponent of Boulanger's musical ideals.
Although Boulanger disapproved of Schoenberg's aesthetic point of view and the concept of serialism—she felt that it was a dead end that eliminated the possibility of tension and relaxation in music—she attended the premiere of his chamber work Pierrot Lunaire, and studied the twelve-tone works of Berg and Webern. (When the score of Berg's opera Wozzeck was first published, she had her students practice both the voice and the orchestral parts.) With Stravinsky's embrace of serialism in the 1950s and the arrival of a new generation of composition students, Boulanger's attitudes became more flexible. She was conversant, when she was in her eighties, with the music of Messiaen, Berio, Xenakis, Boulez, Stockhausen, and Penderecki, and acknowledged its importance, but in her classes, she seemed to concentrate on giving her students the grounding they would need to develop their own styles, and no longer involved herself so much in the styles themselves.
THE FACT THAT BOULANGER WAS NOT A PRACTICING composer but had spent her life on intimate terms with composers—her father and sister, Fauré (her teacher), Debussy, Ravel, Stravinsky, Hindemith, Prokofiev, Poulenc, Honegger, and the many students who became her colleagues—gave her a unique perspective and enthusiasm. She possessed an attitude toward past and future, freedom and restraint, that was both liberating and rooted in tradition. She believed in order and discipline, was a devout Catholic and a monarchist, but saw these beliefs as ways of making life exciting and free. And she considered carnival time, when the rules are suspended— in life and in music—to be very important. As a child she had been allowed one hour a week when she could run wild, "let the bathtub overflow, throw the keys out the window." During the rest of the week, her mother would ask her, "Have you done all you could do?" Boulanger liked to ask her students this question too.
In her old age, her teaching methods doubtless became more anecdotal and did not preclude frequent repetitions of the same story. "If you've heard this, you should hear it again," she would say. These stories were parables; her musical examples were tonal and harmonic talismans. Exercises, melodies, chord progressions, and formal devices could not be heard and examined too often. Committed to memory, they would form a foundation upon which we could then be free—throw the keys out the window, so to speak. Sometimes this foundation was musical, sometimes it was aesthetic or spiritual. Anything musical, aesthetic, or spiritual that she touched upon was intended as part of our lesson for the day. "The eternal silence of these infinite spaces frightens me," she would say, quoting Pascal. The sentence would hang in the air, her eyes opening wide, her face blank. The student would be left to digest her references, anecdotes, and views as best he could. One had to be careful to distinguish between those of her judgments that were based on analysis and those that were based chiefly on stylistic prejudice. Her aversion to music that she considered "hysterical" or "chaotic" amounted to a moral stand, and the objects of her distaste included Mahler, Milhaud, Strauss, Menotti, Messiaen, and Schoenberg, among others. What if Strauss represented one's musical ideal? "Strauss's Elektra is so consistently intense that one is unmoved by its most tragic moments,"she said. And of a Schoenberg concert she once remarked, "I came home and played a C-major chord on the organ. How much more beautiful it was than the music I had just heard." If one disagreed, opposition to such a powerful force either strengthened one's opinion or threw one into confusion. A short piano piece of mine resembled Schoenberg's music. I considered it something of a stylistic breakthrough, but Boulanger said, "It isn't you. You are more direct than that." In her terms, the music lacked the "naturalness" of my usual style and seemed to explore a more unstable, inner world—the "neurotic" world, which she believed music ought to conquer and from which one does not learn how to live. But then she used the piece in one of her evening concerts, in which music by students was interspersed with works by Chopin, Debussy, and Baroque composers (a format I can't help wishing would find favor at American universities, in place of "all new music" student programs).
If one was strong in one's convictions and taste, Boulanger could make one freer and stronger. She had the ability to see at once where the uniqueness of a composition lay, or to see why it was not achieving what it could. It was Boulanger, for example, who made the young Copland aware of his special feeling for rhythm, and who gave him the confidence, the sense of the "long line," to compose his ambitious Symphony for Organ and Orchestra, which she commissioned for her American concert tour. She believed in character and personality, and considered apathy one of the great sins, but she was a devout and in some ways impersonal woman who preferred some kinds of character to others. "I would not have liked to be Leoncavallo," she remarked once. She did not like self-aggrandizement or self-pity. She believed in principles and an afterlife. "You stand up for what you believe in; you are taken out and shot. And so what?" She once said, "The Duke of Windsor was ridiculous. You are king, you take a mistress, fine. But you cannot abdicate." Another time she told me this story: "After the premiere of Stravinsky's piano and wind concerto, I met my friend in the hall. He said, 'What a disappointment,' and I said, 'What great music,' and of course did not speak with him for many years after that." For her, one's ultimate duty was to the music, not to one's "personality." In one of her essays in Le Monde Musical, she wrote:
The force of analysis, the facility for writing, originality itself, as necessary as they are, become detrimental when they are put in the foreground, since the point of departure and the final result ought to be one and the same, without anything breaking the logic that demands that the means express the music, and not that the music express the means.
Perhaps for her students—and the list includes composers as different as Roy Harris, Philip Glass, Burt Bacharach, Thea Musgrave, and Jean Francaix—this sense of duty and faith that she imparted was crucial. One's duty was to do one's best and be one's best, and not to worry about history, fashion, or received notions of profundity. Where skill and authenticity of expression were present, she believed that a piece of work had an intrinsic value that need not be compared with that of the masterpieces of the past. Boulanger believed in a God who would approve of one's best efforts, whether they were earthshaking or simply attractive, and she did not think that one could make the final judgment oneself. When I complained that a just-completed piece of mine seemed trivial, she paraphrased Ecclesiastes: "Eat your bread and be satisfied." She believed in music that would be "in eternity," but she believed also in a "daily music": "After all, we cannot live in the Symphony of Psalms every day." Kendall quotes her as saying, "The art of music is so deep and profound that to approach it very seriously only is not enough. One must approach music with a serious rigor and, at the same time, with a great, affectionate joy." She was highly accepting of a style that seemed, for the time being, derivative: "You are young, and, of course, you imitate." But she also cautioned: "Remember that there is only one man, alone. One little man." (Here she would hold up a finger.) "There is no other." And she was not in the least fazed by a popular style, including rock, if it showed grace, imagination, and skill. She had very happy memories of Gershwin, who had come to her for lessons and whom she had turned away, for fear of tampering with his instinctive genius. Perhaps the unpretentious clarity and melodic freshness of Gershwin (or of Michel Legrand, who did study with her), while not leading to religious revelation, could point, all the same, to a life where praise, hope, and joy are still possible. She once commented that Schoenberg's music did not "give energy"—a revealing phrase.
Boulanger's concept of education was platonic. She believed that our character and even our technical knowledge lay inside us waiting to be drawn out. "Everything I am going to teach you you already know, but it would be good to get it in more logical form," she said. She treated us as if our mistakes were the result of bad training, which had compelled us to distrust our own instinctive understanding. "Try to be stupid," she would implore. Reading the notes I took after my first lessons, I am struck by Boulanger's faith in us, and in the continuity of basic artistic principles. She spoke to us as if we were members of a community of artists past, present, and future:
—"Freedom and limitations go together. Counterpoint is free within its strictness."
—"This phrase doesn't translate into English; it loses its concision, comes out like an over-long macaroni."
—"I don't know if every day you make your prayer, but you should get down on your knees and say, 'Lord, you have given me my love of music and my ability to hear, be blest.' "
—"Is it enough to be very gifted? I don't think so. Talent without genius is talent, but genius without talent is nothing. You know the sonnet form. Villon wrote not only sonnets but a sonnet to a woman with the woman's name spelled by the right column and his own, Francois, by the left; and no one asked him to do this."
—"One must write a lot when one is young, like a tree bearing apples. Teaching little Jean Francaix, I would leave the room for a moment and when I returned I would find a little trumpet or violin tune on the piano. I still have these."
—"A composer must train his memory. You may know what I play while I am playing it, but when you try to write it down you forget it as you write it. The other night I was trying to think of what to say to Copland on his seventieth anniversary—and here is a man I deeply love for many profound reasons. In my bed I thought of a sublime sentence that would show him my depth of feeling and all that I remember. In the morning, when I tried to write it down—'Terrible, nonsense . . . ridiculous . . . this isn't it, this isn't the sentence.'"
—"Sex is important, but it's not the only thing we live for."
—"Some things you don't have time for, like having an aesthetic discussion. I'm sure Stravinsky never sat down and had an aesthetic discussion. When he has finished a piece he plays Chinese checkers or cards with a passion; the aesthetic is in the music."
—"This is not an error. You must know what is an error and what is not. What you have avoided here is not forbidden. So what is a priest for? He watches for the false mystic, and for the man who thinks that taking a little piece of candy is a sin. The priest says, 'But you may eat candy. I myself eat a little candy. This is not a sin. Your sin is to see sin in everything, so that you no longer know what is virtue.' "
—"Poulenc wasn't ahvays good but he was always himself."
—"Everything must start with desire, impulse." (Valery: "Do not enter without desire.")
Paul Valéry came up frequently in her comments. She described her dinners with Stravinsky and Valéry together as giving her the feeling of being "at the core of things," a feeling she herself also gave. When I try to explain to myself how I could have been so comfortable with her despite such a gap in our ages and experience, two of her quotations from Valery come to mind. From his play Mon Faust: "You must have fear before no man"—implying that only God and the Devil should intimidate us, never other human beings. Boulanger would elaborate; "One has done great things, written symphonies—so what? We live now, not in our accomplishments, and we really know nothing." The second quote is from Valéry's essay on Leonardo: "Nothing was without interest to his great intelligence." The linking of intelligence to interest was an important concept to her. She considered the intelligence to find meaning in ordinary things to be an act of will. Therefore intelligence was a moral force. I recall arriving early for my lesson and hearing through the living-room door the morning paper being read to her: ". . . 400 kilos of heroin were discovered by police in the back of the van." Boulanger's voice, involved: "Four hundred kilos!" She seemed prepared to take an interest in almost anything. I remember her telling about a recent trip to a provincial music school founded by a former pupil. She had gone to listen to a handpicked group of teenaged clarinetists, but when she realized that there were fifteen more disappointed clarinetists, she listened to each one of them, too. She was devoted to the idea that the world is fascinating if one has the courage and inner fire to take an interest, but boring if one makes no effort. This is a hopeful view, because it puts the burden on us and our willingness to aspire. The world itself is boundless. Of all the teachers 1 had, she was the only one who seemed to approach music from below; as if she and we were barely worthy of it.