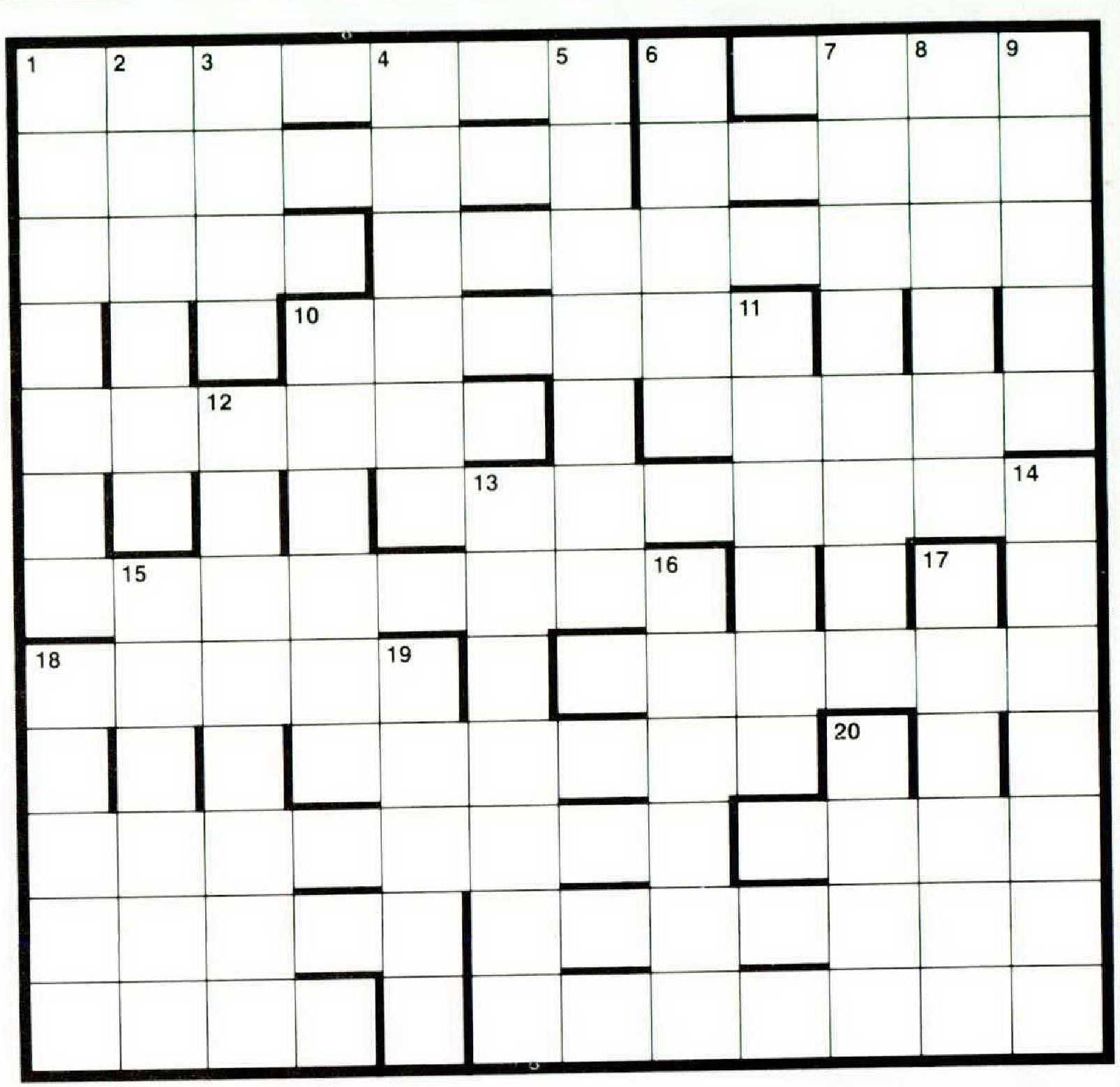 CLASSIFIED ADS
The listing below, which purports to show a selection from the classified ads of a newspaper, actually consists of the 20 Across clues to this month's puzzle. The clues are strung together in haphazard order; solvers must determine their placement in the diagram by using the Down answers as guides. Answers include three proper nouns. Punctuation, especially in the ads, may be used deceptively.
The solution to last month's Puzzler appears on page 171.
ACROSS
WANTED
Gentleman involved in doing experimental test— must consume alcohol.
Quiet, drab Spanish man must have nose fixed.
Right college graduate needed for complex lab chore.
Psychic people—must have time to be guides.
FOUND
Speckled jewelry. Call after one: 1001500.
Tart pie. Squashed.
LOST
Ape. Male. Isn't trained.
FOOD-ENTERTAINMENT
Great time will be had around Maine
Street, the 4th of November (Wednesday). Food prepared about break of day.
PERSONAL
Army man looks for curviness in dates.
If it's excitement you're looking for, try rolling in a cot.—Lois.
Wanton, dirty, 100, miss being intimate.—John.
TO RENT
Housing: one new barn east of dump halfway from city.
DOWN
1. Newspaper features ad penned by press cryptically (7)
2. Chief makes newspapers outspoken (6)
3. Love to write animal talk (4)
4. Bill's holding rings and bars (6)
5. Cleared out, say (7)
6. Firm up the woman's color (5)
7. Fall all over in thicket (8)
8. Lover that is betrayed internally (6)
9. Radical turned up near race (5)
10. Out of shape, dieter rowed (6)
11. Upset, emperor keeps composure (6)
12. Trolley track all around terminal (8)
13. Tavern in the capital of Denmark grew less rich (7)
14. Struggled with suds let loose (7)
15. Bird (e.g., teal) is flying (6)
16. Assist altering stagnation (6)
17. Queen has big hole in fur (6)
18. Face of grinning girl in mirror (5)
19. Parties in litigation contrived ruses (5)
20. Arab in space, rising (4)
Note: The instructions above are for this month's puzzle only. It is assumed that you know how to decipher clues For a complete introduction to clue-solving, write to The Atlantic Reprint Department, 8 Arlington Street, Boston, Mass. 02116, enclosing a self-addressed, stamped envelope.
Answers to the October Puzzler,
"DUAL COMMITMENT"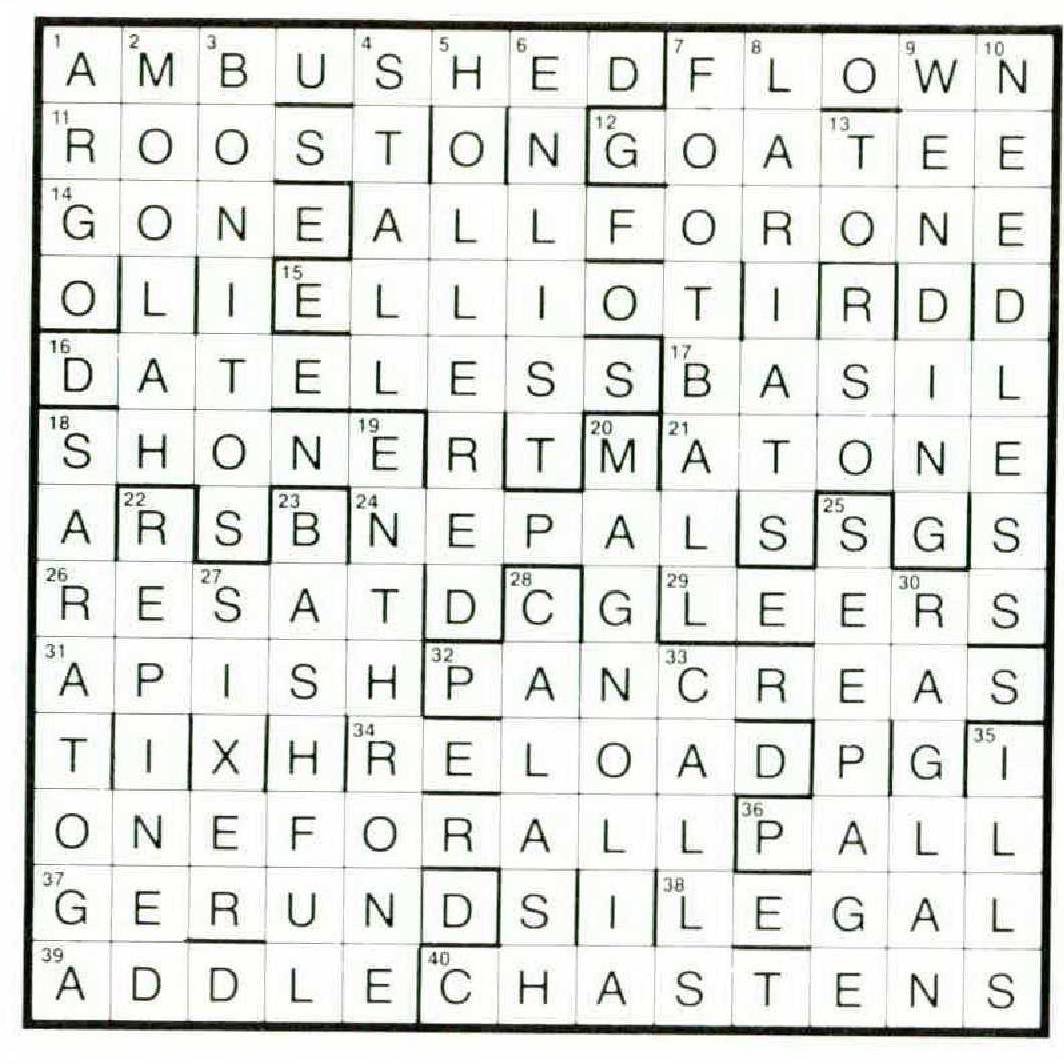 Across. 1. AM(BUS)-HE'D 7. FLOW-N (wolf rev.) 11. ROOST (hidden) 12. goAT-(t)EE(n) 14. GALL (homophone) 15. ELLIOT (anag.) 16. DATELESS (anag.) 17. B-A(SI)L (is rev.) 18. S-HALL 21. A-T ALL 24. NE-PAL 26. RESAT 29. LEERS (homophone) 31. A-PISH 32. PAN-CREAS(e) 34. R(EL)OAD 36. PONE (anag.) 37. GERUND (hidden) 38. LEG-AL(I) 39. AD-DLE (led anag.) 40. CHASTENS (anag.) Down. 1. A-R-GO 2. M-O-OLAH (halo + o rev.) 3. BON(I)TOS (anag. + i) 4. STONE (anag.) 5. HOLLERED (anag.) 6. ENL(a)I'S-T 7. FOOT BONE (anag.) 8. LA-RIATS (stair rev.) 9. WENDING 10. NEEDLE-SS 13. TORSO (homophone) 18. SA(RAT-O)GA (far rev.) 19. ENTHRALL (anag.) 20. MAGNOLIA (anag.) 22. RE(PIN)ED 23. BASHFUL (pun) 25. SEE-PAGE 27. SI-XER (rev.) 28. C(A)LASH 30. RAG-L-AN 33. CONES (C + anag.) 35. IL-L-S