BY JAMES ATLAS
BECH IS BACK
WHEN LAST HEARD from, Henry Bech, the author of two novels, a novella, and a miscellaneous collection entitled When the Saints, was loitering through his middle years, still a bachelor living in a "shabby large apartment" on Riverside Drive, in New York. Bogged down in a novel, susceptible to spiritual crises and bouts of angst, he was going nowhere at a leisurely pace. "His working day was brief, his living day was long"—long enough for trips to Russia and Romania, summers on the Vineyard, visits to college campuses, unsatisfactory love affairs, and desultory correspondence with a few stubbornly loyal fans. Still, he had acquired enough of a reputation to be invited to join a venerable institution, never named but clearly identifiable as the American Academy of Arts and Letters, "He had made it, he was here, in Heaven," concluded Bech: A Book. "Now what?"
For Bech's creator, that has never been a problem. With zealous, even compulsive, industry, John Updike has kept to his stated goal of producing a book a year, and we now possess twenty-six volumes in honor of his rigorous contract with himself (though some of them—collections of light verse and a volume feebly entitled Assorted Prose— barely qualify). Whereas other novelists remind the world of their existence every few years with another installment of autobiography, Updike is always on the scene, reviewing books in The New Yorker one week, publishing a story there the next, scribbling occasional verse, or weighing in, as he did last May, in his "Reflections" on Melville, with the sort of ambitious scholarly reappraisal not seen in this country since the death of Edmund Wilson. Whatever the individual merits of these contributions— and very few of them are minor or dashed off—collectively, they have made Updike, at fifty, a dominant presence in American literary life, the public embodiment of the tradition to which he has apprenticed himself.
The reputation of Updike's dilatory Jewish hero is more problematic. "Though Henry Bech, the author, in his middle years had all but ceased to write," begins the sequel to Bech: A Book, "his books continued, as if ironically, to live, to cast shuddering shadows toward the center of his life, where that thing called his reputation cowered."Strangers call Bech in the middle of the night to discuss his work; colleges besiege him with invitations; the State Department sends him all over the world. But his new novel, Think Big, remains hopelessly stalled. The plot is vague, the characters elude him, the "tiny hints" offered up by the novelist's unconscious are not getting through. Idling in his apartment, a "bored bachelor" waiting for inspiration, Bech hears only a hum, a faint intimation of his theme: "The hum, the background radiation to the universe he was trying to create, was, if not the meaning of life, the tenor of meaninglessness in our late-twentieth-century, post-numinous, industrial-consumeristic civilization, North American branch, Middle Atlantic subdivision."
But meaninglessness is a subject for philosophers, not novelists, and it is only when Bech succumbs tardily to marriage and moves to suburban Ossining that the novel gets written. Convinced that he has lost his freedom, he recovers it in his imagination, dwelling on memories of his early days in New York, his erotic adventures, his Brooklyn relatives—the familiar lore of certain postwar American novelists. In conformance with the Zeitgeist, he changes the book's title to Easy Money and sends it off to his publishers, who flack it (a new verb I've been hearing) into a big best seller.
UPDIKE HAS A GENIUS for making the most of his experience by recycling it through several characters whom he uses over and over. Rabbit is the author's ordinary, Middle American persona; the Maples, a more sophisticated, suburban replica of his life; and Bech, out of stock since 1970, the novelist's literary version of himself. That Bech is a Jew is largely incidental. Though Updike gets off some good satire on the type of the Jewish intellectual, with his wiry "blob" of "frizzing" hair and heavy jowls, "testimonial to companionable bourbon taken in midnight discourse with Philip Rahv," there is little feeling here for the nervous, bantering, claustrophobic sensibility characteristic of Updike's Jewish confreres in the novel business. And Bech's marital problems have nothing to do with the fact that his wife is a shikse. In the Holy Land, in the suburbs, in bed, they bicker about religion, but their disputes are lackluster, contrived; they have none of the "energy and irony" Bech identifies as Jewish traits—only a sit-com heavy-handedness.
Bech is Updike, just as Malamud's Dubin is Malamud. Bellow's Herzog is Bellow, Roth's Zuckerman is Pioth. A taciturn, bemused aloofness, a melancholy awareness of aging, and a susceptibility to theological crises belong to every Updike protagonist, from Piet Hanema in Couples to Richard Maple and Harry ("Rabbit") Angstrom. What distinguishes Bech from Updike's other fictional incarnations is his experience of life as farce. There is nothing solemn or tragic about this rumpled caricature, a buffoonish version of his creator. Bech Is Back makes fun of a world that Updike elsewhere finds ominous or sad. The dark suburbia of Couples and Rabbit Is Rich is nowhere evident in this frothy portrait of Ossining ways; the children— his wife's by an earlier marriage—are innocent, giggly shadows of the guilty, furtive, troubled adolescents who usually lurk in Updike's novels. Sex, that disturbing, ambiguous event brooded over with such obsessive fervor in his work, is depicted here as a casual, faintly comic pastime. Bech's women are a source more of annoyance than of grief.
Updike has always managed to display his sensitivity without having to write about characters who are artists or writers. Rabbit is limited, ignorant, even dull, a linotypist who graduates to a Toyota dealership; Piet Hanema is a building contractor; Richard Maple doesn't seem to do much of anything. Yet they are graced with a capacity for deep feeling and subtle insight that we associate with the literary imagination. Why is it, then, that Updike's only novelist is such a boor? On a world tour, Bech mocks Korean poets and African scholars with philistine xenophobia, getting a cheap laugh out of their accents and poor English; he baits his wife with surly persistence, alert for signs of anti-Semitism; he condescends to a gallery of implausible New York types. It's as if Updike hoped to avoid the charge of solipsism by refusing to take his own protagonist seriously.
This sullen, deprecating manner pervades the novel, which shuffles from episode to episode at a lazy, insouciant pace. Bech's travels to Ghana and Tanzania, Australia and Venezuela, are the barest vignettes; there is an impression of haste about them, and none of the close observation that made Bech's earlier journeys, behind the Iron Curtain, so memorable. Only his visit to the Holy Land inspires Bech's sardonic eye, and even there the best he can manage is a cursory glance, disparaging the commercialism of Jerusalem—"Kodachrome where Christ stumbled, bottled Fanta where He thirsted"—and noting the tough, unsentimental scrappiness of the Israelis, Bech may be back, but the decade he was away has told on him. made him saturnine, world-weary, cold.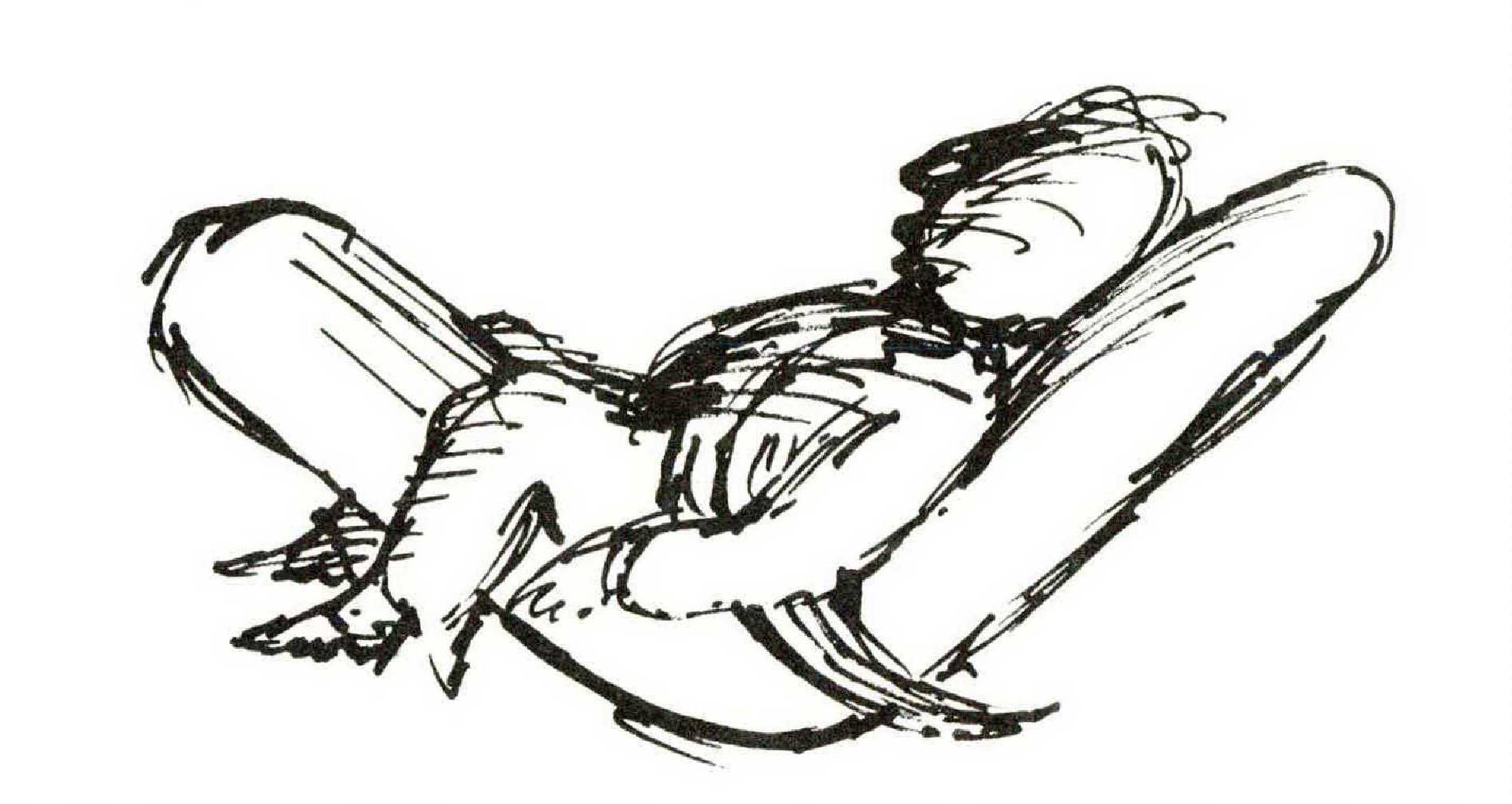 Still, even this modest offering has its joys. However languid, Updike is never dull. Time and again, his sly, superior wit breaks through the torpor of his narrative. Interrogating his wife about why her first husband sent their children to an Episcopal church, Bech quips: "Rodney wanted the kids brought up in the upper middle class." Reading his work at the New School, he gazes out at "the terrible tide of the up-and-coming, in their thuggish denims and bristling beards, all their boyhood misdemeanors and girlhood grievances still to unpack into print . . . When Bech finally wins a literary prize, it is the Melville Medal, "awarded every five years to that American author who has maintained the most meaningful silence." Updike's prose is still a marvel of ingenious accuracy. Bech remarks upon the "sudden dry death of ballpoints"; a Lexington Avenue highrise reminds him of "the lacteal white of ersatzivory piano keys"; getting off the train in Ossining, he notices "the grudged wattage of the station platform." An awkward image that comes to Bech as he imagines a scene for his novel—"Taxi horns twinkle far below"—is amended some twenty pages later (lest anyone suppose Updike has been careless), so that "car horns—don't say 'twinkle'— bleat ever more urgently ten stories below. "
Yet what comes through this intermittently inspired prose is a feeling of boredom. Bech has lost interest in his career, in the vicissitudes of his reputation—and so, one suspects, has Bech's creator. Updike's chapters on the New York literary world (or publishing industry, to identify it for what it is) have a querulous tone; his portraits of editors, publicists, minor novelists, and hangers-on are drawn with ponderous contempt. The dialogue is breezy, forced, full of archaic idioms that even vulgar Manhattan types wouldn't use: "You're top of the line": "The public is a conservative animal. . . . They like the tried and true"; "Gad, it's good to press your flesh."
Of course, the publishing world is inbred, self-important, parochial, smug. But there is something of a private joke about Updike's references to names well known in New York as harbingers of literary celebrity. The parody quotations from Alfred Kazin, John Leonard, and other influential brokers in the stock market of literary reputation, who pronounce on Bech's long-awaited novel, are clever but mean. Success is predictable, this rude satire of the literary life implies, and I can imagine (though not without some effort) how tedious it would become to have one's novels receive the same dreary, platitudinous praise year after year. But it's a little arrogant for Updike to invoke the names of actual reviewers, flattering them even as he puts them down.
If only Updike had really addressed the issue of celebrity in America. Our uncontrollable curiosity and longing for intimacy with the great compel us to discover all we can about their lives, yet for the novelist who wants only to be read, such invasions of privacy are intolerable. Perhaps this is why our best novelists aren't out sampling life but are off in Connecticut or somewhere writing about themselves. Once his novel has made a splash, Bech can't even take a publicist to lunch without being asked for his autograph. "The world, by one of those economic balancings whereby it steers, had at the same time given him success and taken from him the writer's chief asset, his privacy." Short of holing up in the woods like Salinger or going incognito like Thomas Pynchon, novelists have no choice but to ride out their fame, exposing themselves to their voracious audience and suffering the consequences. Now that would have made a good novel!
Yet despite the distractions of celebrity, Updike has managed to get substantial work done—and without going fifteen years between books, like his blocked protagonist. Indeed, his sense of literary purpose has deepened over the years. Almost without our noticing it, he has become perhaps the most serious, hardworking reviewer we have in this country, and his essays on Hawthorne and Melville are masterly, erudite summations of American literary careers that he must in some conscious way be measuring against his own. (The essay on Melville balances a thorough discussion of the work with a worldly, shrewd appraisal of Melville's earnings and how they would have compared with those of a contemporary novelist.) By design no less than talent, Updike has made himself a man of letters in the tradition of his great nineteenth-century precursors, so we might as well forgive him the indulgence of Bech Is Buck. Besides, one does continue to wonder about Bech: What next? □