ROCK-AND-ROLL has become so thoroughly sophisticated, so calculating, that to hear the music done with simple enthusiasm comes as a shock. Techniques of performance and production have been refined to a point where most singing sounds slick or contrived. In a mocking response to this condition, New Wave rockers now affect a cool, detached, disembodied voice. To show passion unfiltered by layers of irony or contempt is considered almost foolish.
Under the circumstances, it is surprising that anyone would have the nerve to resurrect the rock-and-roll of some twenty years ago, music that delivers its feelings in a direct, unpretentious way. Two ambitious attempts of that kind have appeared in albums released this year. One of them is a series of five records on the Ambient Sound label, a showcase of forgotten vocal groups of the 1950s and early 1960s. The other is the debut of The Blasters, a band whose startling innovation is to do old-fashioned rockabilly with flair and integrity. Not at all the dreary "oldies" send-ups of Sha Na Na and other screwballs, these are ingenious revivals showing how rock can grow old gracefully as a set of living traditions.
The Ambient Sound albums were the idea of Marty Pekar, a young New York advertising copywriter. Pekar set out to find rock groups who had scored hits twenty years ago and then faded from sight. He looked for singers whose voices had held up, who still cared about their music, who hadn't fallen victim to drugs, poverty, or show-biz bitterness. Eventually, he located five still active, still healthy "doo-wop" ensembles—The Harptones, The Capris, The Mystics, The Jive Five, and Randy and the Rainbows—and, with the backing of CBS Records, gave each a chance to record.
The recipe followed in these sessions is sensible. Rather than ask the groups to do remakes of their old tunes, a policy that has generated dozens of horrible rock restorations, Pekar insisted that each outfit prepare a set of new material. Songs could be original or taken from rockers of a more recent vintage. All of the numbers, however, were to be done in ways that captured the spirit of the group's classic style. Instrumental backing was provided by a capable yet unobtrusive studio band that Pekar had assembled in a recording studio in Queens. As he describes the format on the record jackets, "There are no rehearsals between the recording group and the musicians until the time of the session. After a few run-throughs, the vocalists are evicted from the studio to take their places at microphones set up in the studio storage room. This large room is not soundproofed in any way, but it has great natural acoustics. A giant speaker is set up in the storage room so that the group can hear the band without headphones."
These preparations were supposed to create, according to the label's ostentatious motto, "The Sound of Human America."To my surprise, the result turns out to be five very good albums.
Love Needs, by The Harptones, is the gem of the lot, a collection of gentle, unabashedly romantic ballads sung by a quartet whose central figures, Willie Winfield, a tenor, and Raoul Cita, a songwriter and the group's musical director, have been playing together for nearly three decades. During The Harptones' heyday, in the middle 1950s, Winfield was known as the most elegant and melodic of doo-wop lead singers, a reputation he still deserves. While his voice has mellowed with age, it has lost none of its range or delicate power. He sings of love, its hazards and fulfillment, leaving no doubt that his feelings are genuine. The spartan recording method employed here provides Winfield with a perfect backdrop. The Harptones' ideal has always been unembellished affection expressed in a modest, straightforward manner. What a pleasure to hear them so cleanly recorded, singing in a manner that has, if anything, improved with the years.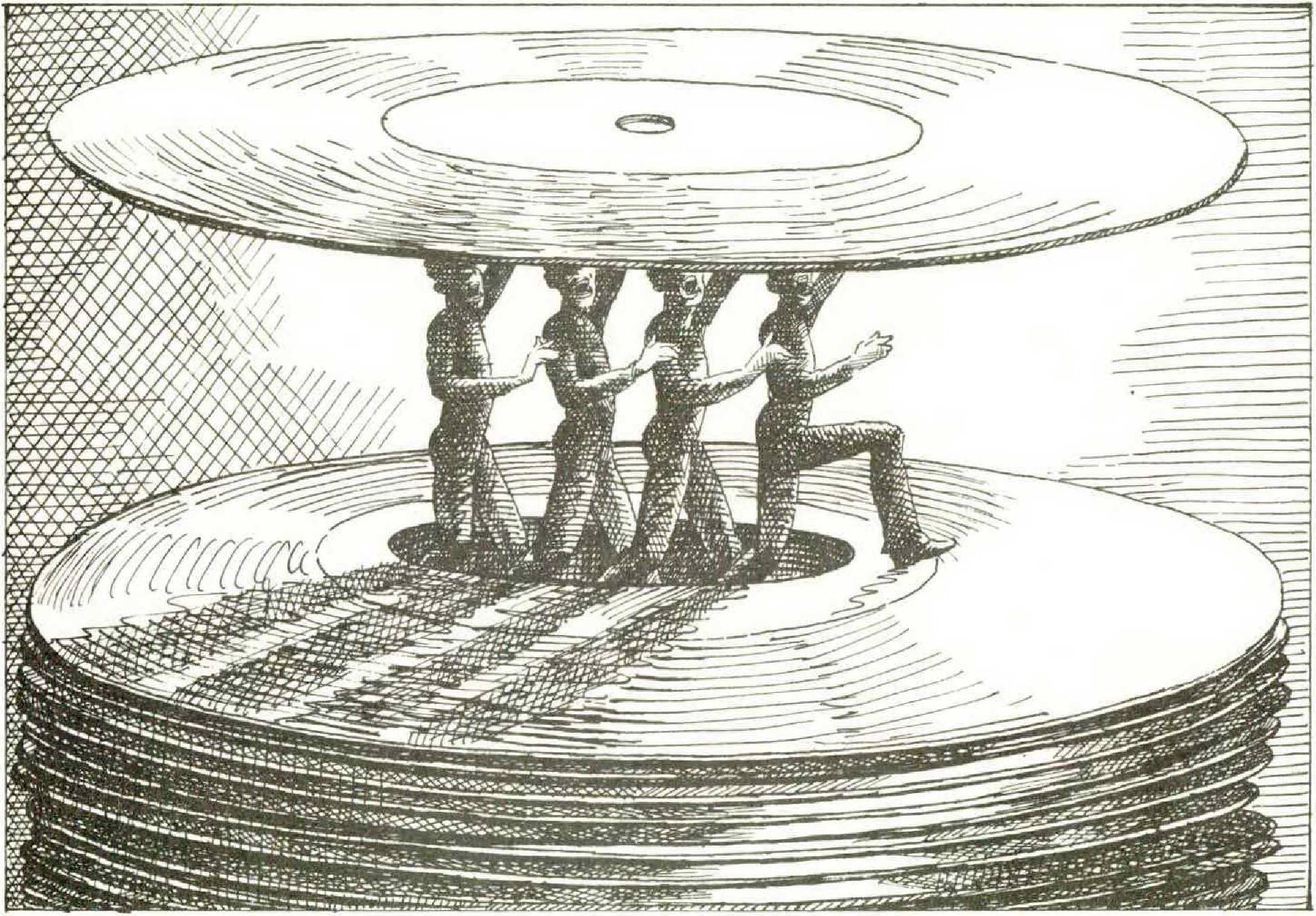 Another superior volume is Here We Are! by The Jive Five. A higher-energy, less tightly disciplined group than The Harptones, they had their first moment of fame with the 1961 hit "My True Story." Despite the band's long neglect, Jive Five prime mover Eugene Pitt retains his boyish zest for rock-and-roll. He sings as if permanently assigned to delight passersby on street corners in Brooklyn, his hometown. The dozen slow-rocking and up-tempo tunes here recapture a transitional stage in the evolution of rock, a time when black, urban doo-wop and rhythm-and-blues were becoming the soul music of the sixties. Pitt and his colleagues offer these songs not as fossilized remnants but as examples of a kind of music that continues to flourish despite the fact that its historical moment has passed and it no longer attracts a large audience.
True, it is not all that uncommon for older musicians—bluesmen, for example—to survive in obscurity for decades and then suddenly reappear for a final creative outburst. In the late 1970s, just before he died, the marvelous New Orleans R&B pianist Professor Longhair did several albums that count as his best work ever. Three of the Ambient Sound records, however, restore an American oddity that few would have expected could live much beyond its initial brief appearance: late-fifties Italian/American rock crooning. Who would have guessed that the likes of The Mystics, The Capris, and Randy and the Rainbows would have anything left to say?
Have they been slowly perfecting their art in Holiday Inn cocktail lounges all these years? Or is there a secret Smithsonian Institution program for the preservation of "Dit, Da Dit, Dit" that we haven't been told about? Whatever the case, these fellows are still belting out melodies of the stripe crucial to the success of every senior prom a quarter of a century ago. None of these groups had more than one hit. The Mystics did "Hushabye" in 1959 and dropped off the charts; The Capris were successful with "There's A Moon Out Tonight" in 1961 and were not heard from again; Randy and the Rainbows sang "Denise" in 1963 but had no follow-up success. These musicians and others like them were left stranded by Motown and the British invasion of the middle sixties. But here they are on these new albums—The Mystics' Crazy for You, The Capris' There's A Moon Out Again, and Randy and the Rainbows' C'mon Let's Go— singing away as if it were the last ladies' choice of the evening. Dreamy lyrics, rudimentary harmonies, rock nonsense syllables—it's all there. I'd given up expecting to hear a male rock falsetto that wasn't a sick joke. These records are filled with sincere falsettos that recall how delightful that high-pitched distortion can be.
The artistic success of these albums is all the more astonishing when one remembers how often similar attempts have failed. There is nothing more pathetic than typical rock revivals that cart out tired old troupers for their last gasp. And think how many great singers of yesterday have embarrassed themselves and their audiences by trying to play "what today's kids want to hear." Because they play without parodying themselves, and because they so joyfully seize this new opportunity, the Ambient Sound groups are able to transcend nostalgia. What might have been an irrelevant or purely reactionary project is instead a mirror held up to the contemporary music business.
In its most prominent forms today, rock-and-roll is the stuff of mass spectacle. Records are produced by enormous transnational entertainment conglomerates that seek to promote a handful of artists into colossal "platinum acts." Concerts take place in huge sports stadiums in which bedazzled crowds stare through the glare of strobe lights and the haze of smoke bombs at fantasies enacted on the stage. The "stars" are exactly what the astronomical term implies: distant, glittering, in a totally different galaxy from the audience. Of course, popular music has always included its share of star worship. But never before has the need to maintain the distance between artists and audiences been so strong a force in the economy of the business. Companies seek big hits and disregard lesser possibilities; what's lost in the process is none of their concern.
The Ambient Sound experiment restores a possibility that the wealth, bureaucracy, and hoopla of today's music industry tend to obscure—the possibility that rock-and-roll might again become the property of ordinary people. In its origins rock is the music of neighborhoods like those in which members of The Harptones, The Jive Five, The Mystics, and others still live. In that context, performers are not all that different from the audiences they entertain. Only later is the music removed (not that many musicians object) to the domain of tours, publicity, high finance, and mass adulation. This step from the neighborhood bandstand to the world metropolis is probably an unavoidable result of success. But the question arises: Can popular music flourish in settings that systematically destroy place, time, and cultural reference? And what is an artist to do who suddenly looks around and discovers that his music has no real home?
FACED WITH THE exhaustion of contemporary rock styles, The Blasters, a band from Los Angeles, have begun another kind of rock revival, rehabilitating a powerful idiom from an earlier period. Rockabilly, the music of Jerry Lee Lewis, Carl Perkins, Buddy Holly, and a host of other mid-fifties players, arose almost simultaneously in a number of towns in the South and Southwest. It was neighborhood music that grew up to become one of the foundations of rock-and-roll as a commodity of the world metropolis, a story best illustrated in the rise of onetime rockabilly singer Elvis Presley. Rockabilly in its original form, however, has not been prominent in rock's mainstream for a long while. A rich encyclopedia of ideas, it was ripe for exploitation. The Blasters studied the old text and used it to fashion one of the year's liveliest and most ingenious albums.
As countless rock parodies and advertising jingles make clear, it is not hard to do this music poorly. This band knows how to do it well. Their album The Blasters begins by treating the ancient rhythms and melodic textures with scrupulous care. The interaction of guitar, drums, piano, and bass is tightly controlled but always animated. In "Marie Marie" and "Border Radio," lead singer Phil Alvin observes the conventions of classic rockabilly vocals without being subservient to them. Ingredients from other styles—a dose of New Orleans R&B, a dash of New Wave, even a sprinkling of the style of East Coast rocker Freddie Cannon (of all people)—are thrown into the mix. But a remarkable feature of the record is that the musicians understand where copying stops and their own initiative begins.
The Blasters has already moved high on the list of top-selling albums. Its audience seems composed primarily of New Wave listeners, the same people likely to enjoy records by The Police or Talking Heads. Indeed, one consequence of New Wave musical fashions has been to strip away the fans' desire for much of the sonic fluff that littered pop music in the 1970s. This has helped make room for the clean, sparse, energetic textures of rockabilly, enabling a new generation of listeners to hear the music as something fresh and up-to-the-minute.
Having achieved quick commercial success, The Blasters have triumphed where the Ambient Sound groups, in all likelihood, will not. Although distributed by a corporate giant, the five albums have evidently been consigned to sales oblivion. I found them in a large record store already stuck away in the oldies bin with dozens of dusty reissues. By contrast, The Blasters sat in huge stacks next to the cash register.
The Japanese have a wonderful practice of designating certain artists and craftsmen "Living National Treasures." Those elected to this honor—old masters of pottery, painting, and such—receive government support and continuing national acclaim for having carried on a precious national art. If such an institution were transplanted to the United States, and if craftsmanship in popular music were included in its categories, among my nominees for Living National Treasures of rock would be the likes of The Harptones and the other Ambient Sound performers. They have continued an American tradition in a graceful, loving way, without much attention and certainly without great material reward.
Witness to the importance of sustaining older styles of popular music is the fact that rock occasionally grows stale, badly in need of replenishment. Historically, the best sources of replenishment have come from the past, from exemplars such as Little Richard and Chuck Berry restored and transformed by, for example, The Beatles and The Stones in the 1960s. More recently, The Blasters and, in a different vein, The Go-Go's have helped themselves with rock revivals in miniature. It is too early to tell whether such attempts will generate a new vitality or become a kind of rockand-roll gentrification. □