ONE-ARMED BANDIT
(Acknowledgments to Apex of The Listener)
Solvers are offered ten turns (lettered a-j) at the slot machine. A turn may result in three different four-letter words, a two-word combination of four and eight letters, or a twelveletter jackpot word. Whim two or three words result, their clues are strung together in random order with no overlap and no intervening words. Down clues are normal. Answers include two proper nouns and a variant spelling at 18D. Punctuation may be used deceptively.
The notation to last month's Puzzler appears on page 79.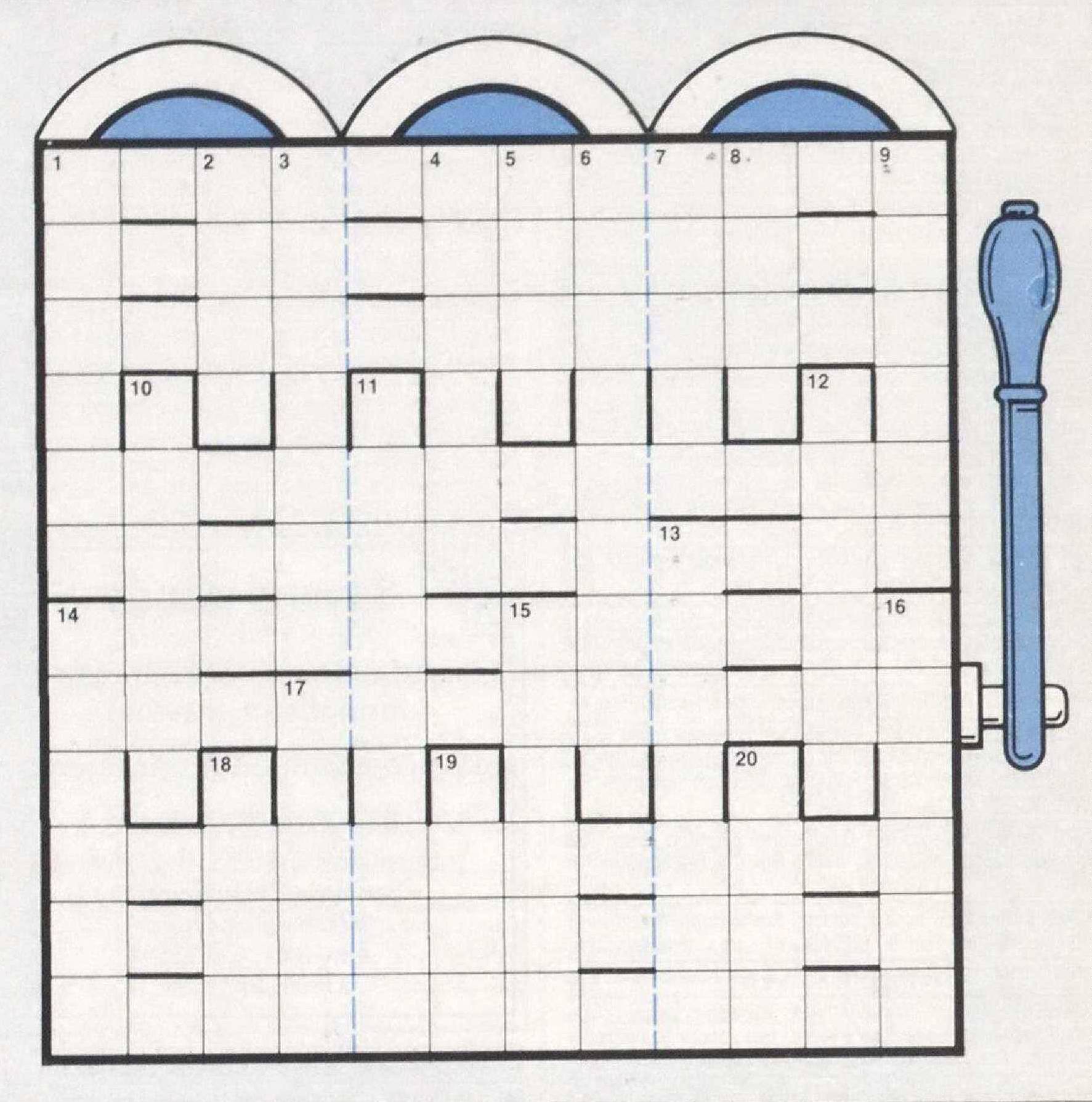 ACROSS
a. Turn is up to try luck with spinning toy fruit
b. Screwball riot with the likes of The Three Stooges, uncouth rascal, and cowboy?
c. Combination of salt with iodine — an operation utilizing seawater
d. Heartless scoundrel and lecher wantonly use a Biblical man made dizzy from alcohol
e. Rifleman with good aim notes owl
f. Poe's turned in, sound asleep across cushions of antique couch
g. Arrange for a certain outcome when Ruby wears favorite fur
h. Hatter and hole-digger, taking sick, shut up with circus barker?
i. Lady who's mounted search in lake at three points
j. Upright, well-bred male, being curious, sees girl's requests
DOWN
1. Unemployed, wearing shortstop's sneaks (6)
2. In leaps, Evel vaulted part of a church (4)
3. Daring display in underwear— topless fur shown in Virginia (7)
4. Tree found in no southern states (6)
5. Split money from users (4)
6. Cross up in carriages for some magicians' helpers? (9)
7. Complete Coast Guard boat with no front (5)
8. A pupil may be seen in this bloomer (4)
9. Rodney's flying over there (6)
10. Gray material that's mined on land (6)
11. At first, measurement in rum recipe is approximate (9)
12. Governess expected Ms. Landers back (6)
13. Penetrates ciphers by a prophet (7)
14. Straightened up mess from discharges (6)
15. Streep unexpectedly fades (6)
16. Set broken leg, having guidance (6)
17. Do almost without rations (5)
18. Swing around swamp (4)
19. Bugs tans poorly (4)
20. Furnished a period of penitence (4)
Note: The instructions above are for this month's puzzle only. It is assumed that you know how to decipher clues, For a complete introduction to clue-solving, write to The Atlantic Reprint Department, 8 Arlington Street, Boston. Mass. 02116, enclosing a self-addressed, stamped envelope.
Answers to the February Puzzler, "COUPLES"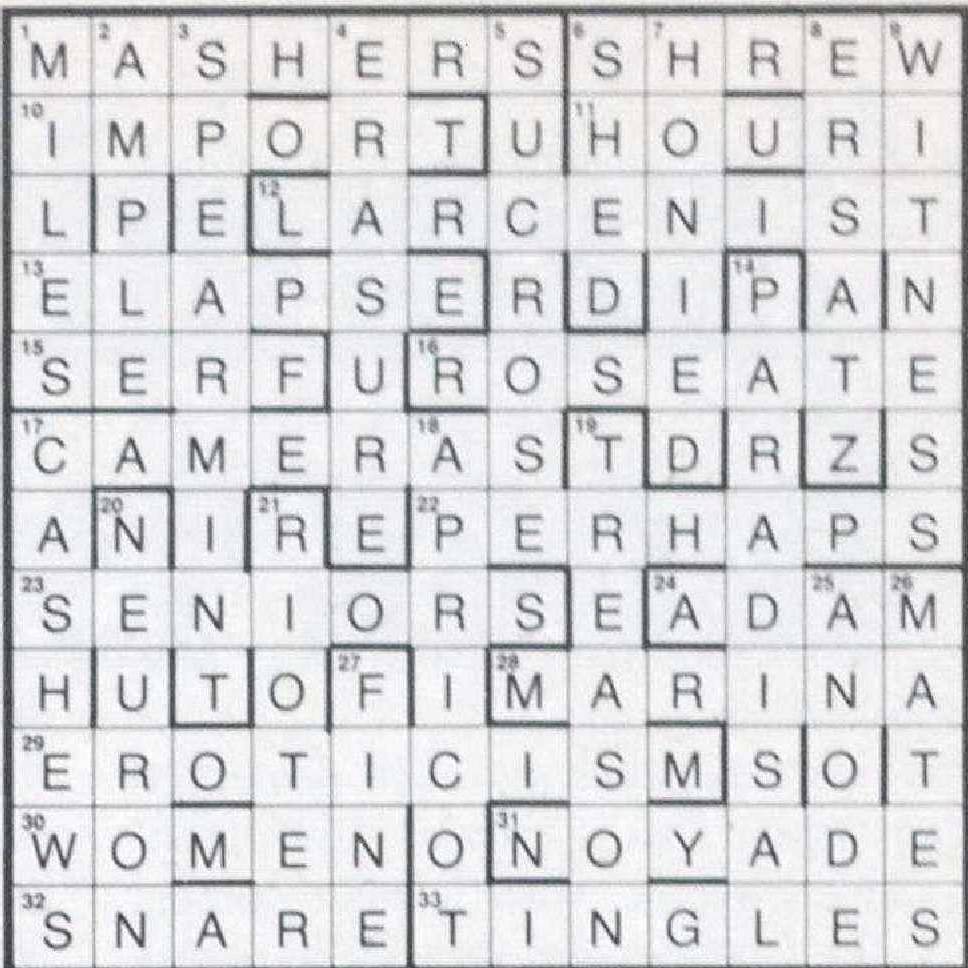 The couple spelled out is Robin Hood and Marian. Answers ore gieen iu the order of their appearance in the clues, hut with their proper numbers assigned.
Across. 1. MAS-HERS 33. TINGLES (hidden) 6. SHREW(d) 32. SNARE (anag.) 31. NOYADE (anag.) 10. IM-PORT 30. WO(ME)N 11. HOUR-I 12. L(ARCEN)1ST (Caren anag.) 29. EROTICISM (anag.) 28. MARINA (anag.) 13. ELAPSE (anag.) 15. SERF (hidden) 24. A-DAM23. SENIORS (anag.) 16. R(O)SEATE (anag. + 022. PERUDAPS (anag. + h) 17. CAMERAS (anag.) Down. 2(>. MATES (anag.) 1, MILES (double def.) 2. AM-P(L)E 25. A-NODE 14. PARAD1SAL (anag.) 3. SPEARMINT (anag.) I. ERA-SURE 19. T-REASON 18. A-PRICOT (a 4anag.) 5, SUCROSE (anag.) 6. SHE'D 27. FINE (double def.) 7. HONIED (anag.) 21. RIOTER (anag.) 8. ERSATZ (hidden) 20. NEURON (anag.) 17. CASH-EW-S (we rev.) 9. WITNESS (anag.)