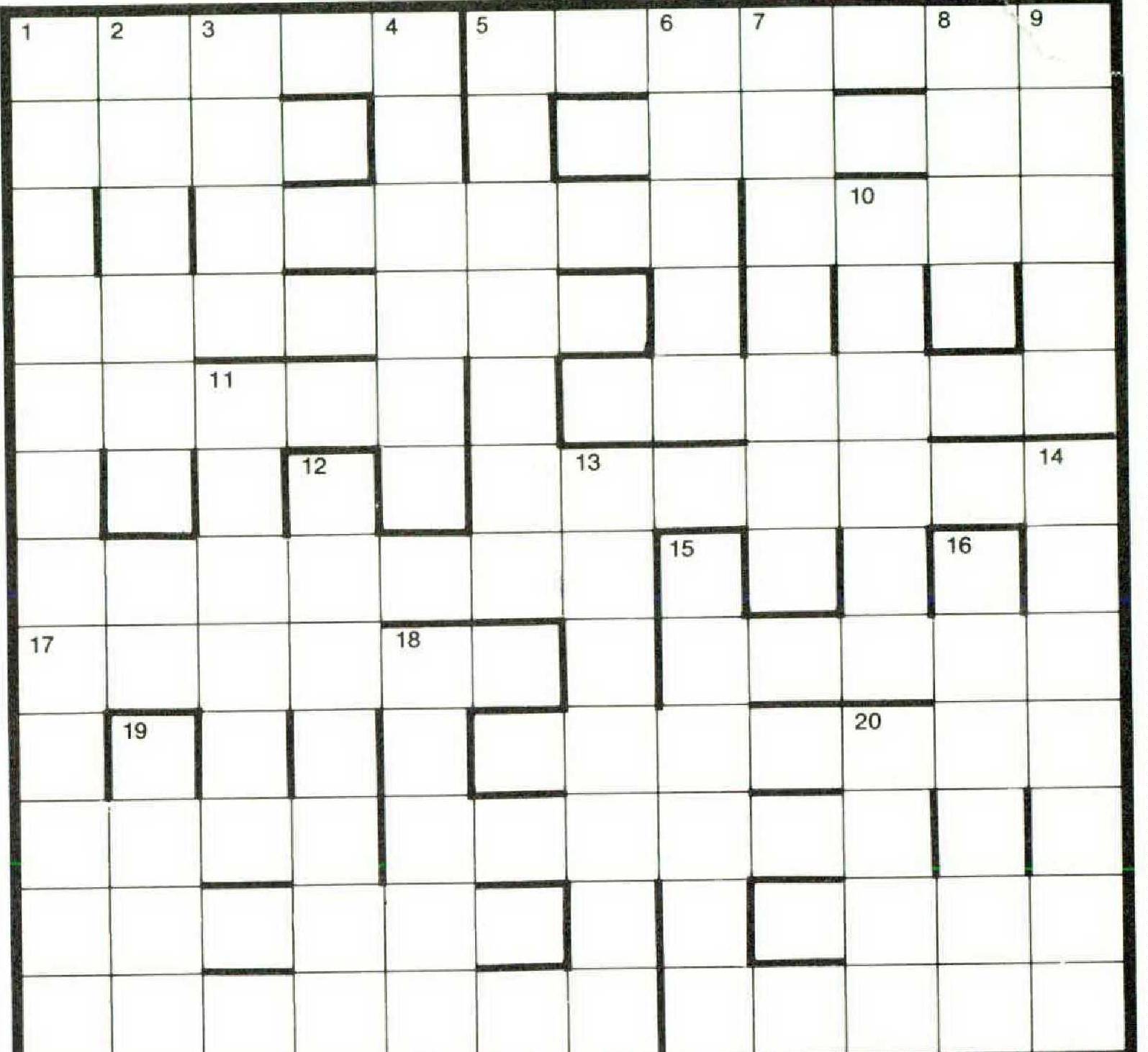 TV GUIDE
The listing below, purporting to show one day's selection of TV programs (some old, some new), actually consists of the 20 Across clues to this month's puzzle. The clues are strung together in haphazard order; solvers must place them in the diagram using the Down answers as guides. One of the Across answers and 14D are variant spellings; 16D and 19D are unfamiliar. Punctuation (especially in the TV listing) may be used deceptively.
ACROSS
WORSHIPER (program's "Genesis") FARMER: "Growing Things Takes Time"
PROPHET (coming from the East Church)
LITTLE RASCALS ANIMALS' ANTICS ROCKY
CASPER: "Ghost Trips"
BUGS: "Hare's Last Tale"
DAFFY DUCK
STUDIO TALKSHOW (hosts scrap outline and mime—cut short)
GET SMART GREEN ACRES (R)
THE EDGE OF NIGHT GAME OF CHANCE FORTUNE (also cut short)
RUNNING DOE MERV
GONE WITH THE WIND GENERAL HOSPITAL (section
pieced together)
MASH
NEWS
FOREIGN REPORT: "Man in Rome" HEE-HAW
PREMIER OF BOB AND RAY STREET TALK: "To Secure Money" POLICE DRAMAS (about a gambler's last bets)
JINX (gangster loves young women in SDS; lame caricaturing)
DOWN
1. Broadcast alters about fifty of the stars (7)
2. From bottom to top, visit favorite abodes(6)
3. People's channel (4)
4. One in factory makes plastic (6)
5. Communist member written up in secret communication (7)
6. Difficult question for a model (5)
7. Law enforcers' Southern control (7)
8. Lines from quarrels (4)
9. Device used by ships on a river? (5)
10. Compass in former dwelling? (6)
11. Leader of Trojans following Priam stealthily to a hollow (6)
12. Dog with one broken claw (7)
13. Call home (7)
14. Tiers of shops surrounding yard (7)
15. Left inside crate—spilled wine (6)
16. Pillars with a steel base (6)
17. Brittle $100 bill rips apart (5)
18. A seaman comes up with one form of rope (5)
19. Acquire a tree (4)
20. Certain ruse goes amiss (4)
Note: The instructions above are the special instructions ior this month s puzzle. It is
assumed that you know how to decipher clues. For a complete introduction to clue-solving, write to I he
Atlantic Reprint Department, enclosing a self-addressed, stamped envelope.
The solution to last month's Puzzler appears on page 99.
Answers to the January Puzzler, "SCHIZOGRAMMATA"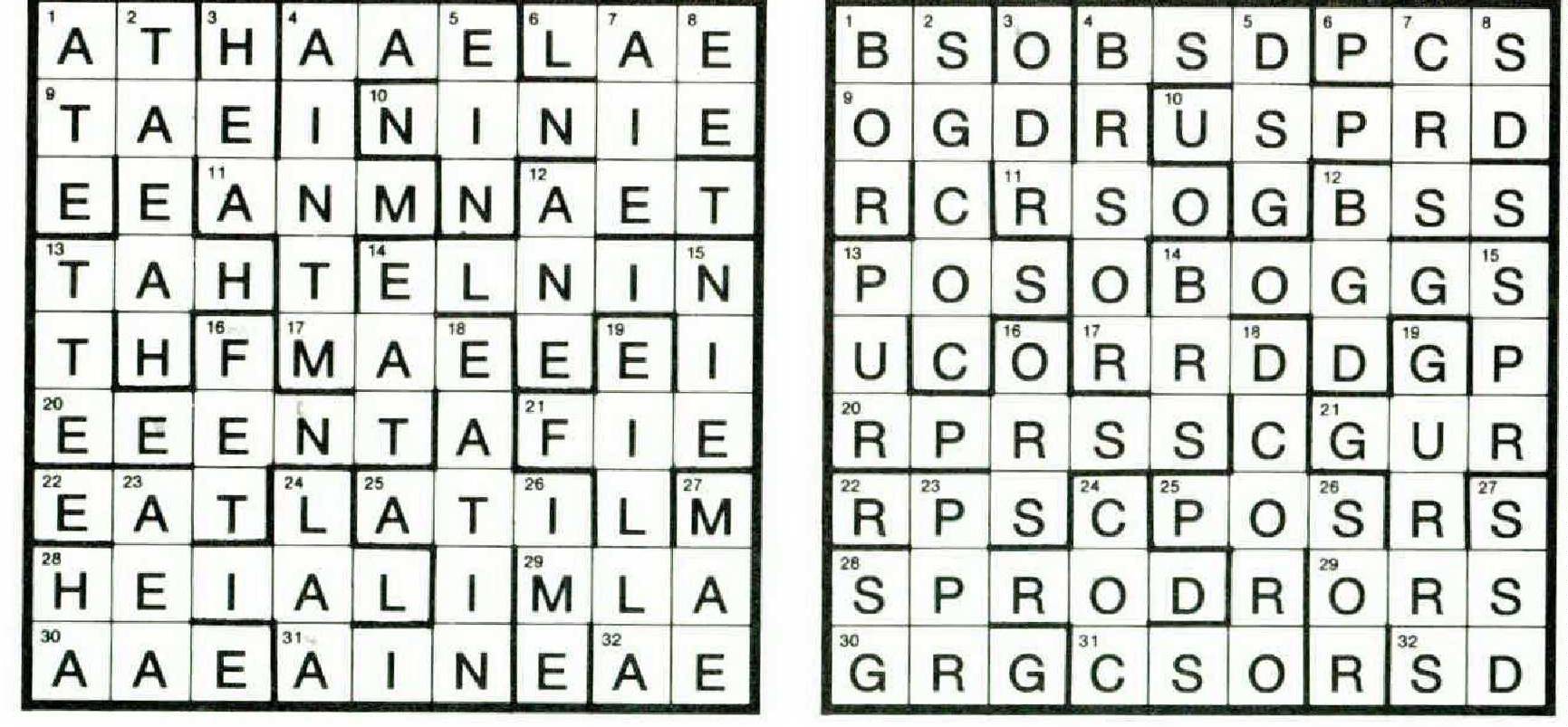 Letters in the left-hand diagram are made entirely of straight lines; letters in the right-hand diagram are those featuring curves.
Across. 1. BATS (double def.) 4. ABASED (anag.) 6. P-LACES 9. TOGAED (anag.) 10. UNINSPIRED (anag.) 11. R(ANS)OM 12. B(ASS)ET 13. POT-ASH 14. BE(LONG)INGS 17. MARR(i)ED 20. REP-RESENTS 21. FIGURE (anag.) 22. RE-PAST 25. PAT-0-1S 28. SPHEROIDAL (anag.) 29. MOLARS (anag.) 30. GA-RAGE 31. CASINO (anag.) 32. SAD-E Down. 1. BOIA-T)ER 2. STAGE-COACH 3. OH DEAR (anag.) 4. B-RAINSTORM 5. DESIGN (anag.) 7. CAR(IE)S 8. SEE-D 12. BA(N)GED (anag. + n) 13. PUTTER (double def.) 14. BREAS-T (anag. + f) 15. SNIPE-R (anag. + r) 16. FORE-ST 18. DECORATION (anag.) 19. GUERRILLAS (homophone) 23. A-PP-EAR 24. CLOA-CA (coal anag.) 26. ISOMER (anag.) 27. MASSED (homophone) 28. SHAG (double def.)