ALPHABETICAL DELETION
Each of the thirteen rows and thirteen columns of the diagram has a different letter of the alphabet deleted from its entries. Solvers must determine which letter is banished in each case. Numbers in parentheses refer to the lengths of the final diagram entries only. Answers include four proper nouns and two uncommon words (31A and 37D). Punctuation may be used deceptively.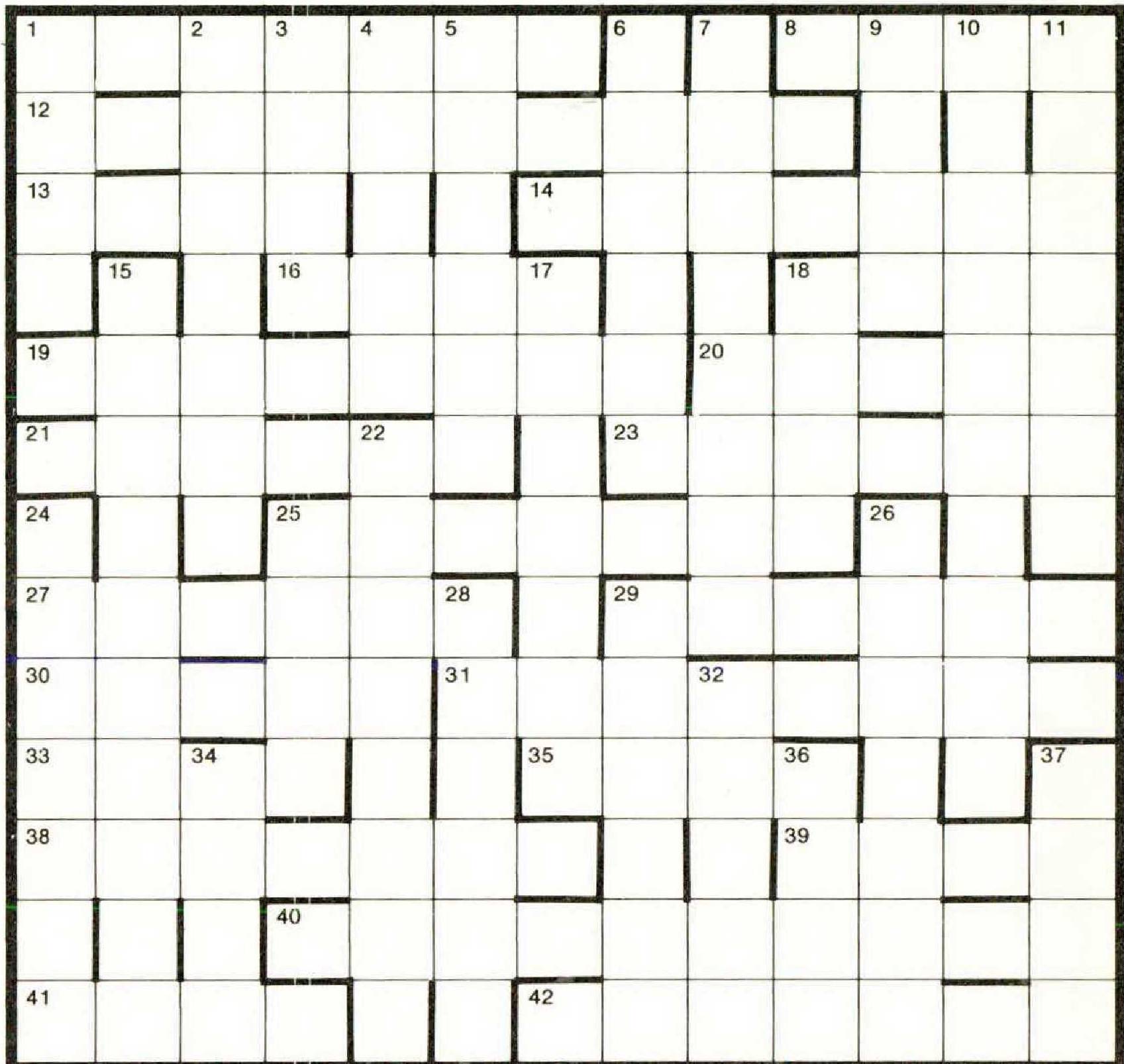 ACROSS
1. Notice the absence of composer's letters (7)
8. Kick out misbehaving civet (4)
12. Getting sleepy from this drifting lemon fragrance (10)
13. Call for quiet in public (4)
14. Misleading specifications including promise of payment (7)
16. Run-down watch has 24 hours minus one (4)
18. Country of unstable type invaded by general (4)
19. Develop badly mired zone (8)
20. Said to stop moving wall decoration (5)
21. Doctor of Divinity having East Indian ordained (6)
23. Mark carrying people back from speedway attractions (6) (two words)
25. Jonathan's pierced by most of spine from flowers (7)
27. Husband seen in gutter is finished (6)
29. Expelling unhatched bird out of nest I disturbed (6)
30. Joining family in most of meditation (5)
31. A warden's occupation in Ireland, in part of a castle green (8)
33. In Honolulu, auspicious occasions? (4)
35. Titan spills pollute (4)
38. Pig shed he constructed, working rapidly (7) (hyphenated)
39. Horticulturist's first row—yellow and white (4)
40. Educational aid place turns over about $1000—go back (10)
41. Eccentric with freckles? (4)
42. Poet's extravagant sonnet about New York (7)
DOWN
1. Prophet depicted on the sides of mosques (4)
2. Drown crackers in gravy with herb (7)
3. Fortune in selective service openings (4)
4. Part of some cigarettes is oral aphrodisiac (5)
5. Squeeze in travel with time off from work (6)
6. Seducer's target finally trapped by passion (6)
7. Fine, fanciful story incapable of being expressed (8)
9. Penning in ruler (4)
10. Combining forces for ocean trip, go sailing (10)
11. Most delicious wine in sample (7)
15. Quarreled without other, better consideration (10)
17. Having eaten most of calamary, selection of food brings unrest (7)
18. Persian king's relations with Latin king regressing (4)
22. Plant in bog—center of huge stink (8)
24. Conforming to convention, pen lady one last letter (7)
25. Water birds' quacks (4)
26. In my act I fake thorough knowledge (7)
28. Although present, was outside (6)
29. Abstract form of pie, in my view (6)
32. Kindly begin turning north (5)
34. Dislocate horseshoe with false step (4)
36. Poison bull with ring of metal (4)
37. Fabulous animal appearing in skyline (4)
Note: The instructions above are the special instructions for this month's puzzle. It is assumed that you know how to decipher clues. For a complete introduction to clue-solving, write to The Atlantic Reprint Department, enclosing a self-addressed, stamped envelope.
The solution to last month's Puzzler appears on page 109.
Answers to the August Puzzler, "MIXED DOUBLES"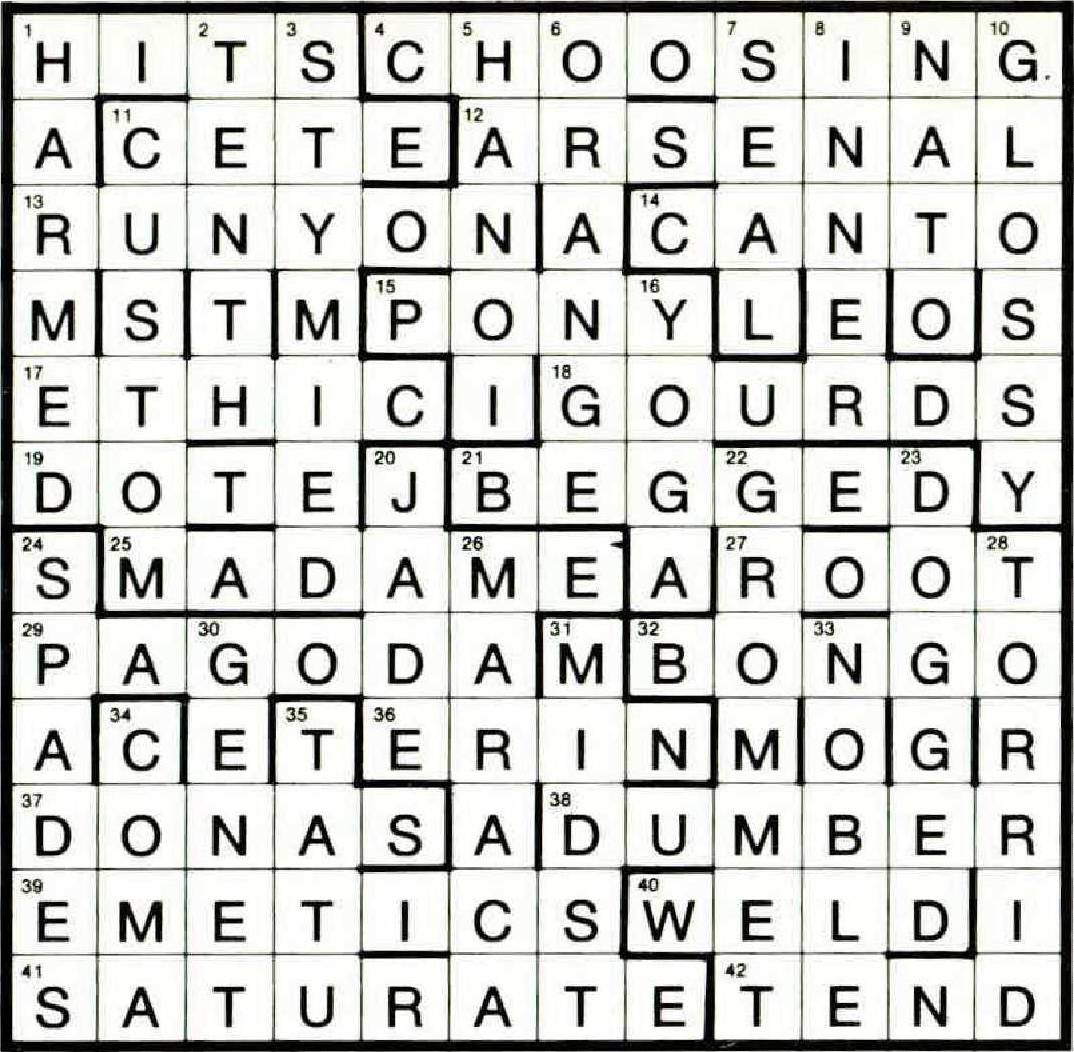 Across. 1. HITS (anag.) 4. CHOO(choo-sing)SlNG 11. CETE (hidden) 12. A-RSENAL (anag. + a) 13. RUN-YON 14. CAN(can-to)TO 15. PONY (double def.) 17. E-THlc(k) 18. GOURDS {ground anag. with s instead of n) 19. DO(dote )TE 21. B(EGG)ED 25. MAD(A-M)E 27. ROOT (double def.) 29. PAGO(pagoda)DA 32. BON(bon-go)GO 36. ER-TN 37. DON-AS 38. DUM(dum-ber)BER 39. EMETICS (anag.) 40. WELD (homophone) 41. SATUR(n)-ATE 42. TEND (double def.) Down. 1. H-ARMED 2. TENT-H 3. STY-MI-ED 5. H(A-NO)i (on rev.) 6. ORANG-E 7. SEAL (double def.) 8. (w)lNNER 9. NATO (anag.) 10. G(LOSS)Y 11. CUS(cus-tom)TOM 16. YO(yo-ga)GA 20. JADE (double def.) 22. G(RO[t])M-MET 23. DO{GGE)D (egg rev.) 24. SPADES (anag.) 26. MA-RAC-A (rev.) 28. TOR-RID 30. GENET (double def.) 31. MI(D)ST 33. NOBLE (double def. ) 34. CO(co-ma)MA 35. TA(ta-tu)TU