Who He Slept By: An Atlantic First
by Linda Svendsen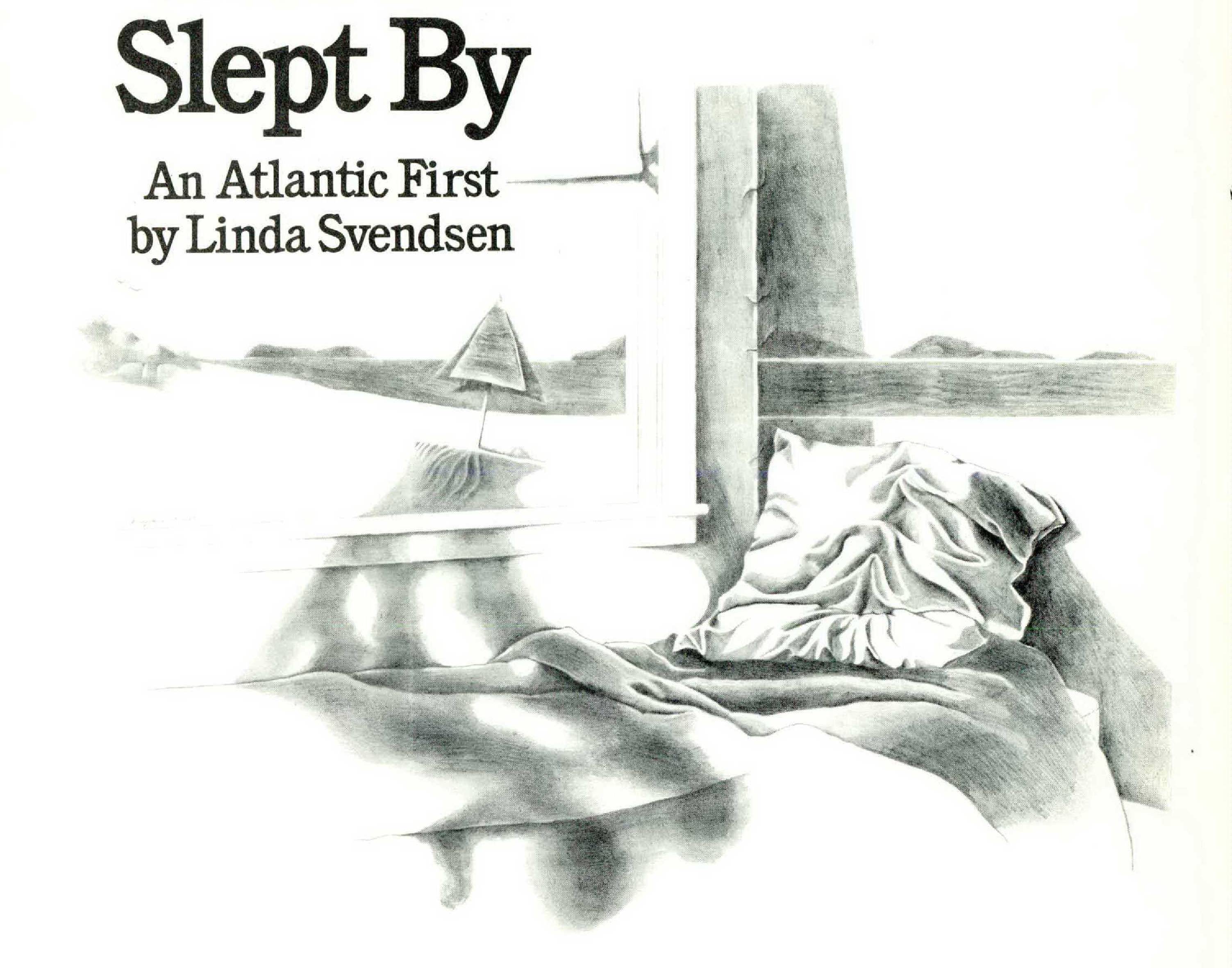 First our mother, although I can't swear. Some summer afternoon, hot in Montreal, after a cool wipe and a quick caress of talcum, she might have lain down beside him on a blanket in shade, or in some dark room in the house, venetian blinds tight. Anyplace that would ease the chafing. Ray's eyes would close and she'd talk to her baby. Who's a muggy boy? Who's my sticky? Who's a little heat wave? She wouldn't nap; with her tongue, she might worry an ice cube into a suggestion of snow, and study Ray and wonder if he'd contract rashes she'd never heard of or seen. She was constantly on the lookout for treachery, crawling or flying or freakish.
The coolest spot may have been under the grand piano. After placing Ray below its platform of strings, she would practice her winter repertoire. Softly, "Silver Bells," "Frosty." (When I was a child she did this too, exerting a maternal power over climate. Listen, I'll put a bite in the air. And after the concert, the room seemed somehow lighter, chillier.) Ray might have glimpsed her foot nodding on the pedal. Maybe this was when he acquired a predisposition for feet and ankles, and later, when he could view the keyboard, for fingers and flexible wrists. "Watch her tickle those ivories," he'd say when he was older.
Ray's father prospected for asbestos. When he was away, staking claims, our mother probably carried Ray into their wide double bed. She would watch him breathe; she said she could watch her babies breathe for hours. Anticipating their eventual arch, she would trace his eyebrows with a finger dampened by saliva and look for her husband's bones. Even if I was blind, she'd say, I could pick my baby out of an orphanage. She could honestly assert this, not only because she could recognize Ray's shape and weight, but because her scent upon him was implicit, perfect.
They would sleep facing each other, a human palm apart. If dreams leave the body in breaths, as evil spirits enter in sneezes, who knows what his gentle inhalation drew.
I don't know; in 1940 I was not alive. When there are no early memories, I invent them or go without. In Ray's case, my brother's, I do a little of both. When I was six, he was twenty. I turned twenty, he was thirtyfour. He had always been old enough to invent me.
Our mother believed what little she read. When she first moved to Quebec, before Ray's birth, she noticed that all the bridges were named Pont. On the West Coast a different name existed for every crossing— Lion's Gate, Capilano, Patullo. She thought it must be so disorienting for the French with this Pont Bridge, Pont Bridge everywhere.
Ray and I learned to humor her.
Then, at a somber birthday celebration, a few years ago, our mother mentioned the report of an American doctor. She urged this newspaper filler into the realm of premonition and hindsight through her tone of voice. She altered its impact the same way she had influenced seasons, raised and lowered temperatures, when we were children. "He says that who you sleep by determines your dreams. That's something to consider." Then she presented Ray's lit cake and asked him to make a wish.
In 1959, Ray was nineteen, two fathers wiser, and working on the spare board of Vancouver Wharves. His first girlfriend, Velma, worked in a beauty parlor doing manicures and shampoos. One Sunday they went to Spanish Banks and our mother sent me along. She must have read that sibling responsibility curbed passion.
As soon as their towels kissed sand, they sent me on errands. After delivering their fish and chips, I made a separate trip for each condiment. Salt, ketchup, vinegar. They sent me for 7-Up, straws, ice cream, and extra napkins, for the transistor radio baking on the dashboard.
"Go look for shells," Ray said when I came back from the parking lot. "Go dig a hole to China."
Velma was usually very friendly. Skinny and quiet, she would bring spoils from the salon: Adorn, nail hardeners, hairnets that would strangle goldfish. She would let me hold the heated towel while she shampooed Ray's hair; this act usually took half an hour. She moved her hands every imaginable way, assuaging with fingertips and knuckles, tapping, tugging, scratching his scalp as if she wanted entrance. She sought roots; hands glided among the short strands, in and out, like scavenging birds. And then rinses. Egg yolk, flat beer, lemon rinse for highlight, baking soda for manageability, and vinegar for purity. She wrapped the towel around his head and they shuffled to his bedroom to use our mother's hairdrier. Velma would leave me with a new shade of polish and instructions. Always stroke away from yourself, she told me.
At the beach that day, I squirmed closer to her oiled body and thought, When I grow up, I want to dye my hair her color.
"Go pick up litter," Ray suggested. "Make yourself useful to society."
"Raymond," said Velma.
He handed me a dime. "Treat yourself to the trampolines."
"Where?"
"Across from the concession."
"I don't want to jump."
"I'll make you want to jump."
I bounced with children who were splotches of scattered color in the air. At the peak of every jump, I scanned the beach, trying to distinguish Ray and Velma from the other sunbathers. I didn't see them and soon stretched out on the trampoline. Through the straps, I stared at the puddles below and knew that the ocean was quietly escaping. Then the proprietor yelled that my time was up.
Velma was pushing back Ray's cuticles with a coffee stirring rod when I returned.
"Back already?"
I didn't answer him.
"Want to be buried in sand, Adele?" He used my name when he meant business.
"No."
Velma suggested that we all go in the water, but Ray said that I should remain on shore to frighten beach burglars. I started to cry. Some teenaged girls, two towels over, volunteered to guard our site and Ray said, "Okay, Adele, but stay in the shallow part."
I stood in water up to my knees, listlessly filling a bright yellow pail with the waves I met, then emptying them out.
They went far beyond my depth. Velma hoisted herself onto Ray's shoulders, her thighs clenched around his neck, and he sang "Blow the Man Down," something nautical. They laughed and splashed, Velma shielding her hair with a free hand, protecting a recent tint. I saw Ray toss Velma into the water and push her shoulders under the surface. Then her head. Everything suddenly seemed silent, as it had when I'd looked below the trampoline, and then Velma emerged, gasping, and started paddling toward me.
"You dink," she called to Ray.
Ray floated on his back.
When he joined us on shore, afterward, Velma looked up at him. "What gets into you?"
He said he was only teasing, couldn't she take a joke, didn't she know he was the Purple People Eater?
They didn't talk. Ray turned his face in the other direction, toward the Pacific Ocean. I packed wet sand into my pail, turned it upside down, and eased out castles. I dug narrow moats around them until I was bored.
I thought Ray was asleep. Velma's hand rested on the small of his back, her nails bright as the buoys bobbing in the distance. Crouching beside him, I avoided his cheek and then carefully lifted the eyelid; I wanted to see his eye drifting and vulnerable. But his eye, unmoving, gazed directly at me. He wasn't really asleep; he was pretending.
A mermaid cupping her blue breast: Ray and our cousin Jackson had identical tattoos on their forearms. They also longshored together. After rinsing cargo sulfur from their eyes and showering, they spent their evenings fishing for diversion. They parked on mountaintops for optimum shortwave reception and once tuned in Hong Kong. Witnessed demolition derbies and sometimes crossed into Washington, where bars served until dawn. They met sullen Haida sisters at hotels near the harbor, loved them rude and slow, and asked for Indian burns. Ray saved brassieres that he and Jackson identified by cologne and sweat rings—"Sue in October. C." He kept the collection in his glove compartment.
The winter of 1964, Ray and Jackson sat home with girlfriends and cheezies to watch hockey. After the playoffs, Jackson became engaged to Pat and decided to enlist with the RCMP. "Jackson's going to be a Dudley," Ray commented. "A Do Good."
At Jackson's wedding, that April, Ray acted as usher. He was supposed to be the best man, but Jackson's brother had pulled the longer straw.
Ray started drinking before the ceremony, bracing his breakfast juice with white rum. After our mother and stepfather departed, he offered me a taste. "You're old enough to be corrupted."
"I like it," I said.
"Drink up."
On our way to pick up Ray's date, Nadine, I honked the horn indiscriminately and Ray made a few U-turns. He turned the tightest U's. We had devoted the previous afternoon to folding Kleenex into frail blossoms, and attaching them to the car as if they grew there naturally. I climbed over the seat when Ray opened the front door for Nadine. Do something about those rolling bottles, he told me, and I placed my white patent shoes upon them. Nadine never complimented our floral efforts; she spoke in serious tones about her Arabian's fetlock.
Nadine lived in Shaughnessey, the rich section of Vancouver, and worked for a travel agency, Funseekers. Twice a year, she holidayed in Waikiki. Twice a week, she performed her equestrienne routines. Ray attended her events at the Agrodome and would sometimes allow me to come. Free admission for children under twelve.
I liked listening to Ray watch her. He predicted her moves, her strategies, with doting accuracy. Watch her bite flank with that spur. Now she's neck reining. She knows how to thrust her weight. The horse responded to the slightest suggestion of her thigh; Ray was correct. Even her tongue moistening her lips seemed to indicate a specific command— I could sense that. She wore boots and her nails were as blunt as her conversation, and she kept them that way intentionally; if they were longer, they would hamper grooming. She always seemed to be looking ahead to the next obstacle, past it.
When the judging was concluded, Ray met her at the stables. Once he had pushed a finger, sideways, across her mouth. "Chafing for a bit?" he'd asked.
She had slapped his hand. "Smarten up." Then smiled, apologetically.
She smiled often at the reception; congratulated Jackson and Pat. In the receiving line, Ray usurped the position of best man and stood beside Jackson, embracing every woman. "Ray the Ush," he introduced himself. Nadine politely joined my parents and me. I asked her opinion about a television series starring a talking horse; she said she had never heard of it. Smiling vaguely, she stared at Ray.
Ray waited until the second chorus of "Telstar" before cutting in on Jackson and Pat's first dance as newlyweds. He spun the laughing Jackson across the floor and then they returned to Pat, giggling and pale, enfolding her in their arms. The three clung to each other in the spotlight.
Later I saw Ray and Nadine attempting the beerbarrel polka; she led. I wanted to twist with my brother, who had taught me, but he declined. "Got to save my strength for the garter," Ray said. "Ask a fat uncle. Or a dead one."
When Jackson tossed the garter and Pat her bouquet, neither Ray nor Nadine was present. I hoped: elopement, riding lessons under Nadine's expert guidance, saddle sores I would never mention. At the gift table, I was appraising three toasters, deciding which ones I'd return, when my mother accosted me.
"Where's your brother?"
We searched the building; our parents knew he was not in exemplary driving condition. Exhausted, they chose to assume that Nadine had commandeered the wheel and that the couple were safely at home, sipping coffee and comparing test patterns. Nothing else.
Ray's car was not parked outside our house.
I couldn't sleep; I knew where they were. At the stables, measuring each other's height in hands, or snuggling in straw and being nuzzled by long-nosed horses with white stars or blazes. Except for his socks, they probably had taken off all their clothes, hung them on nails, and kissed. I fell asleep picturing a soft foal watching them, whinnying, and forgot to slide the wedding cake under my pillow.
Jackson called in the morning. He told us that Ray had spent the night with him and Pat, at their apartment, and had just left. He said that they had fried eggs and talked until five, about women, the waterfront, unions, and then passed out on the living room floor, side by side.
Twelve years later, Jackson stood as godfather to my son. He wore the distinctive red jacket of the Mounted Police. We reminisced about our weddings and he mentioned Ray's impromptu visit, how understanding Pat had been. Jackson laughed. "Ray just wanted to talk. He wanted to talk about how hard it was to be a man." Then he looked at me, sober, as if for corroboration.
Ray spent two weeks in southern California and peripheral Mexico, a town called Dos Reales, early in 1966. Although he had just earned his forklift operator certificate, he was restless and discontented at the piers. His friends persuaded him to travel and so he worked weekends, night shift, double time, time and a half. He saved.
I still have his postcard of Alcatraz, obscured by fog, with some scribbled message about the Birdman. And I clearly remember his tan, next to our winter skins, making him seem like a strange guest when he returned.
We were looking at my slides of Europe, a few years ago, when he mentioned this trip. Ray and I were thirty-five and twenty-one, old and comfortable enough to talk openly. I had just admitted that the true story wasn't revealed in the photographs, and told him about fucking a stranger on the hovercraft between England and France. He listened, then asked if I wanted to hear about south of the border.
Dos Reales: he breakfasted at the poolside, tequilas, and decided to walk to the main part of town. He was amazed that donkeys still carried sacks of avocados, amazed that poinsettias grew wild.
A procession of twenty women, veiled in black, crept by him. Hands stroked rosaries, and their knees must have been scratched raw by the rocky paths and highway. Somebody explained that it was Lent and that these women had traveled miles on a pilgrimage of repentance. Ray was amazed that people still practiced devotion.
In town, he browsed for souvenirs—a poncho for our mother, a sombrero for our stepfather. A young boy no older than fourteen, whose voice had just begun to change, asked Ray if he would like to converse with his sister. Hesitantly, he added, ten American dollars. Very pretty tits.
"Mañana," Ray replied, and strolled away. But the boy persisted and soon Ray thought that some Mexican pussy might not be a bad idea. The market was crowded and hot; it had been a while.
Ray understood that they would go to a hotel or the back of some cantina. Instead, the boy took him to a squat adobe house, near the beach, and introduced him to Capulina.
"Gracias, Mister Ray," she said.
She was only twelve, with hair falling below her waist, hiding tiny moles on her back. She invited him into her bedroom and he noted the sagging cot, the crucifix over the door, a pastel of the Virgin on Capulina's trunk. She got on her knees.
He told me that he stayed with her all that afternoon, woke and ate a late supper with her aunt and brother, then spent the entire evening. She wanted to learn English, he said. So he counted numbers on her slender fingers and he taught her nouns—earlobe, hard, cutoffs, bruise.
He marveled at the tininess and tirelessness of her hands and mouth. He watched her bathe his feet and slip her tongue around the toes and soles. And during the night she slept on top of him, a full smaller shadow.
Months after that, he worried that he might have caught something incurable: a desire for skilled little girls.
I shut off the projector and we sat there.
"It was great." Then he reminded me. "You were twelve years old then too, Adele."
Ray married Bonnie, who did not deliver the promise of her name. Bonnie of the backcombed hair, who teased herself into an optical illusion six inches taller and wore slippers so fuzzy that her feet looked shocked. She worked at the stationery store and her envelopes arrived as frequently as advertising fliers. While Ray seduced her, she courted our family. Greetings from Bonnie, forever. Just a note to say, From Bonnie's abode to yours. Cards with sickly elves and pictures of wheat bending in the wind. She made me skeptical of good intentions.
Who He Slept By
Bonnie bore this thoughtfulness and legibility into the bedroom. I knew Ray had slept with her because her name would be generously written, if not all over him, somewhere. Where the watchband had been, Bonnie, or on the jugular, Bonnie, or on the big toe, cautiously.
He loved her; it was obvious. He spent evenings folding sheets with her at the laundromat, making corners meet perfectly. He visited a butcher with her and bragged about pricing cuts, the economics of freezing. While she struggled with sit-ups, he secured her feet and watched her unfailing chin rise toward him. Paid for her fillings, stopped screwing other women, and worked steadily, after a drinking suspension of three months. The kitchen table in his apartment was strewn with Bonnie snaps, and there were a select few by his bed, signed.
Ray slept with Bonnie for five years, 1968-1973, more in sickness than in health. Early in their marriage, he must have made the mistake of tactless or embellished confession. Perhaps, after a brisk shower together and a slower drying out, when talk comes easily, she had inquired about the aquatic woman nestled on his arm. The past. And Ray, confident in her sympathy, had told her about Velma, little Capulina, the skittish horseback rider. About Jill at Hertz; Faye, whom Bonnie had focused upon in our parents' movies of a New Year's Eve. Weights, textures, techniques— inventive, intuitive, or the idealistic blend.
Consequently, Bonnie convinced herself of his infidelity. An excursion for cigarettes indicated a cheap trick. Lilacs, and he was cultivating a part-time florist. The waterfront raised possibilities: stowaways, Japanese sailors, hardhats, and warehouses. At noon, she delivered his lunch to the docks, sandwiches and a cold beer, sniffed his clothes, and kissed him.
To pacify her, Ray stayed home and watched television; she became jealous of soap women, and accused him of fantasies. Once she thought she caught him jerking off to an erotic commercial.
One night he hit her; knocked her across the kitchen and against the stove. She called the police and Ray was arrested for assault. Disheveled and quiet, she bailed him out the next morning and dropped charges. Ray guessed that she suspected the policewomen, their hard boredom.
During the next year, Bonnie innovated a series of terminal illnesses that demanded Ray's time and sobriety. He chauffeured her to x-rays, EKGs, blood tests, and checkups. Brain tumor, varieties of cancer, acute murmurs. The doctors were indefinite; she gave herself six months every three months, until her pregnancy.
I visited Ray and Bonnie for a weekend and helped them prepare the baby's room. We painted the walls an undersea hue, muted aquamarine, and sanded the floor. Diapers, rubber pants, a white basket holding ointments and pins—Ray showed me these as if they were rare discoveries. Bonnie taped pictures into albums, dated them, and showed us how she would pant during labor.
She miscarried. I don't like to think how or why. Ray didn't sleep in their bedroom while she was in the hospital; he stayed in what would have been the child's room, wrapped in a sleeping bag.
When she was released, Bonnie didn't call Ray as they had arranged. She took a taxi home instead, dropped off her suitcase and gathered some things, then proceeded to Ballantyne pier.
It was a drizzling Vancouver day, and Ray was driving a tractor in the huge hold of a ship, the Argo. He leveled hills of salt, pushing them into the loading apparatus.
Bonnie ignored the signs, the foreman, and walked up the gangway, then along the deck to Ray's hold. She screamed to him, sixty feet below, and when he didn't answer, because of the motor noise and conveyor belts, she unpacked her bag and pitched the layette into his line of vision. She threw diapers, powder, bibs, a rattle, and terry-towel animals.
He quickly shut off the engine and asked her what in hell she was doing.
And she wept, because he wanted her pregnant so he could screw other women, because her baby had gone to Limbo.
Ray met Maria at a hotel near the grain elevators. She was a barmaid. She gave him free rum, soon followed by room and board.
I saw them together only once, at a dinner our parents served for Ray's birthday. I was majoring in anthropology and studied Ray and his paramour with the biases of a 1974 sophomore—I studied them as I would have a class-assigned tribe.
Ray emblemized discount chic: he wore a shiny polyester shirt with a design suitable for a customized van. A staggering sunset. Maria wore some sort of baseball cap and a neck brace, because of an old car injury. She also wore pastel corduroy overalls. They repeated the phrases "Hang loose" and "Don't be so uptight [Adele]."
Ray blamed his lethargy on a dose of mononucleosis that had lasted thirty-four years. Sooner or later, he expected compensation. "I live on her tips until then."he said. "I live on her cupcakes," he said to me, conspiratorial. I gradually came to believe that my brother might be an asshole.
Maria spoke to me in the basement, where I was killing time stacking coasters. She put her hand on my arm: her nails were chewed halfway to the moons, and the skin that should have been exposed to the air was painted with gloss. She was blond and Portuguese and her voice was husky from years of cigarettes.
"You're a smart girl, your brother tells me. He's very proud of you. Do you care for your brother very much?"
She ran her sentences together and I nodded.
She told me that she loved Ray very much and that soon they might put a down payment on a trailer home, but she was worried about him. She didn't want to disturb our mother, who was growing old very quickly, didn't I think? Maria said that she'd been taking Somas for her neck muscles, since the accident, and that the pills were disappearing. She hoped Ray wasn't stealing them. He was so tired lately. He couldn't even get it up anymore, said his penis was crooked from birth.
I stopped nodding. "I don't want to hear this."
She took a step back from me. "Oh, you're so funny." Laughed. "Soon you'll be seeing men."
"I already do." My tone was too defensive, revealing the boys' limits: awkward and goal-oriented sex.
"Good for you, Adele. Have fun." She went back upstairs, her head balanced like a cup.
Unashamedly, I added Ray to a list of long-term projects: read books outside field, defrost fridge monthly, call brother biweekly. Sometimes I invited him for lunch and sent out for pizza.
I was up late studying for finals when Ray phoned from Maria's apartment. "Adele," he said. "I can't wake her up."
I'm living in Osoyoos now, a village in the interior, and expecting my second child. Up north, my husband works on the DEW—Distant Early Warning—Line for two months at a time. He tracks the sky for the unexpected: a missile, satellites precarious in their orbits, space debris.
Ray visits occasionally; it's only a day's drive from Vancouver. Whenever he disagrees with Gretel, about every six weeks, he arrives with three cases of beer and says, "Know any smart teachers? Any practical nurses?" By Sunday afternoon, he's anxious to reconcile with his so-called kumquat. I have never met Gretel; she supposedly was a champion swimmer, butterfly stroke, and Ray threatens to bring her Commonwealth medals to prove it. She works in a delicatessen now and keeps their larder stocked with sausage and cheeses. He never mentions Maria.
Ray and I discuss the waterfront, how boring the job is and what little it means. I try to make him part of an international scheme, show him his place in the promise of Canada, how he implements motion: the potash and sulfur from the prairies fertilize Japanese fields, wood chips from our forests provide paper for China, coal runs steel mills in South America, and grains feed the drifting continents. I worry about being condescending and don't even convince myself.
He changes the subject. "You have it good," he begins. "A good house, credit ratings, the bright kid."
He loves Graham.
The last time Ray stayed, a few weeks ago, he wanted to take Graham, who is two, and me back with him to view an air show. He had seen it the previous year and described all the loops, spins, and formations. Riding on the wing. Sky diving.
"Adele, you've got to see the Blue Angels."
"I know."
"And you should see the Snowbirds, too. They're Canadian, you'd like them."
He mentioned that admission was ten dollars per car, so the more bodies the better. Gretel would steal sandwiches.
I had to make an excuse, because I couldn't tell him that I was too frightened to drive with him. He drives recklessly; Graham is two; I'm expecting. And I thought, How can I let him down?
We stayed up late and watched the pornographic French films on the CBC. Staying up late with Ray; it was something I had always begged to do as a child. I had faked nightmares and coughs, inflicted wounds, anything. Now his companionship was a given. After the last television kiss, I went to bed. I called goodnight.
I heard him pull out the hide-a-bed. "Sweet dreams," he said.
I slept by my brother once. When I was thirteen and he was twenty-seven, we drove to Medicine Hat to visit Jackson and his wife. Our mother insisted that I accompany him; I could read maps and watch for careless deer. Plying Ray with the companionship of a little sister, she protected him from dangers: night driving, night drinking.
The first hundred miles, we sang jingles together, about Brylcreem's "little dab" and the Polaroid Swinger: "It's not like a camera, it's almost alive." Ray took a picture of me by a model of the Ogopogo, a monster in Okanagan Lake. After that, when mountains stood in the way of radio, I read, and read by glaciers. Rocky Mountain goats, and foothills; I missed all the natural phenomena. We spoke at gas stations and burger stands. In Calgary, while searching for access to the Trans-Canada, Ray said that his father, now an oilman, might live there somewhere.
Who He Slept By
At chapter breaks, I counted how many pages to the end. At the end of a book, I estimated the distances between stops.
On the return trip, we were caught in a prairie storm. Hailstones the size of watch faces pelted the car and Ray couldn't see more than a few feet beyond the headlights. We checked into a small hotel in a town where the power had failed, two separate rooms. We had requested a double with single beds but that wasn't available.
I didn't undress. I looked out the window at the new lightning—sheet lightning, I found out later—and wondered if I was grounded. People who were struck by lightning often disappeared, I knew.
I knocked on Ray's door.
"I'm scared," I said.
Ray had already been asleep. He was wearing only his shorts, and his face was creased from the pillow. "Crawl in," he said.
Pulling up the sheet, I lay on top of it and settled the other blankets, those on my side, over me. I wanted to maintain our respectful distance. Ray was too tired to notice this peculiarity. He turned over on his stomach and was soon breathing evenly.
I watched the flashes outside the window, each one a shock, illuminate his ribs, spine, the globe of his head, and I saw the town suddenly light up again in familiar neon. I heard the thunder, moving east, and I slept soundly. Safely. □