POST MORTEM
Solvers are to determine the identity of the diagram's center by performing the following operation: sixteen clue answers (8 Acrosses and 8 Downs) should have one letter deleted before they are entered in the grid; in the order of their occurrence (Acrosses preceding Downs), these sixteen letters should be entered from top to bottom in the four columns of the center, starting at the left.
Numbers in parentheses refer to the lengths of the final diagram entries only. Answers include one proper noun; 13A is a form not found in Webster's. Punctuation in the clues may be used deceptively.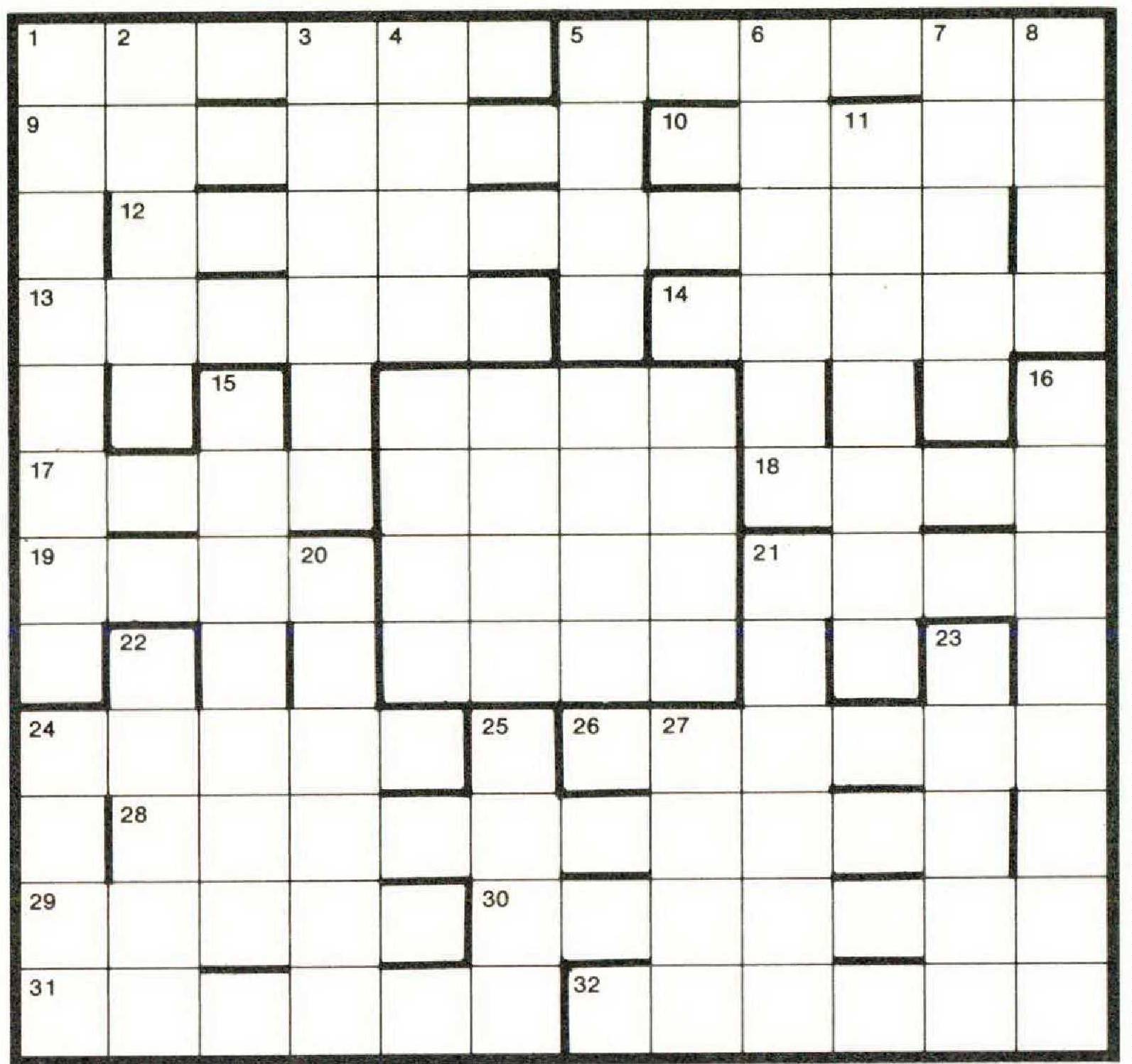 ACROSS
1. Occult art shows carriage going by wing (6)
5. Plain on the outside, salt and pepper on the inside (6)
9. Storekeeper with toupee wearing low-grade essence (7)
10. Something electric having unknown source of current produces shine (5)
12. Clearly flowing calligraphy (10)
13. Hume, sir, reformed an educational method (6)
14. Sings improvisationally and leaves in haste (5)
17. Become motionless upon hearing discharges (4)
18. Fist breaking screen (4)
19. Ordered rest and quiet for a throat problem (4)
21. Exhaled audibly, being sad (4)
24. Not quite establishing depression (5)
26. Girl's origin has her family in a pickle (6)
28. Animated cartoons including light opera singers, perhaps (10)
29. Agitated and angry about fuel (5)
30. Instrument of steel forged in California (7)
31. Unusually sprucy island (6)
32. Santa Maria's rocket keeps back pirate (6)
DOWN
1. Draft animal has demolished orchestra (8) (2 words)
2. Prophet is a sort of guru (5)
3. Con with a gun holding men in office (6)
4. Spill unendingly over edges (4)
5. Container for stew is cast iron (4)
6. Demands for former laws (6)
7. Surreptitiously eye pot and hallucinogen (5)
8. Sell off lengths of cloth (4)
11. Victor imprisoned in a cell, breaking bone (7)
15. Spray paint, e.g., a Greek god on two parts of Olympus (7)
16. Harsh on someone who's kept to the rear (8)
20. Finger tip (6)
21. Last of freight should go in emptier truck (6)
22. Settle for $100 provided in recompense (5)
23. TV is a dismal prospect (5)
24. Union member of odd-job local (4)
25. Cars overturning in curves (4)
27. Greetings from the Dickens' home, with love (4)
Note: The instructions above are the special instructions for this month's puzzle. It is assumed that you know how to decipher clues. For a complete introduction to clue-solving, write to The Atlantic Reprint Department, enclosing a self-addressed, stamped envelope.
The SOlution to last month's Puzzler appears on page 127.
Answers
to the
March
Puzzler,
"DREAM
ANALYSIS"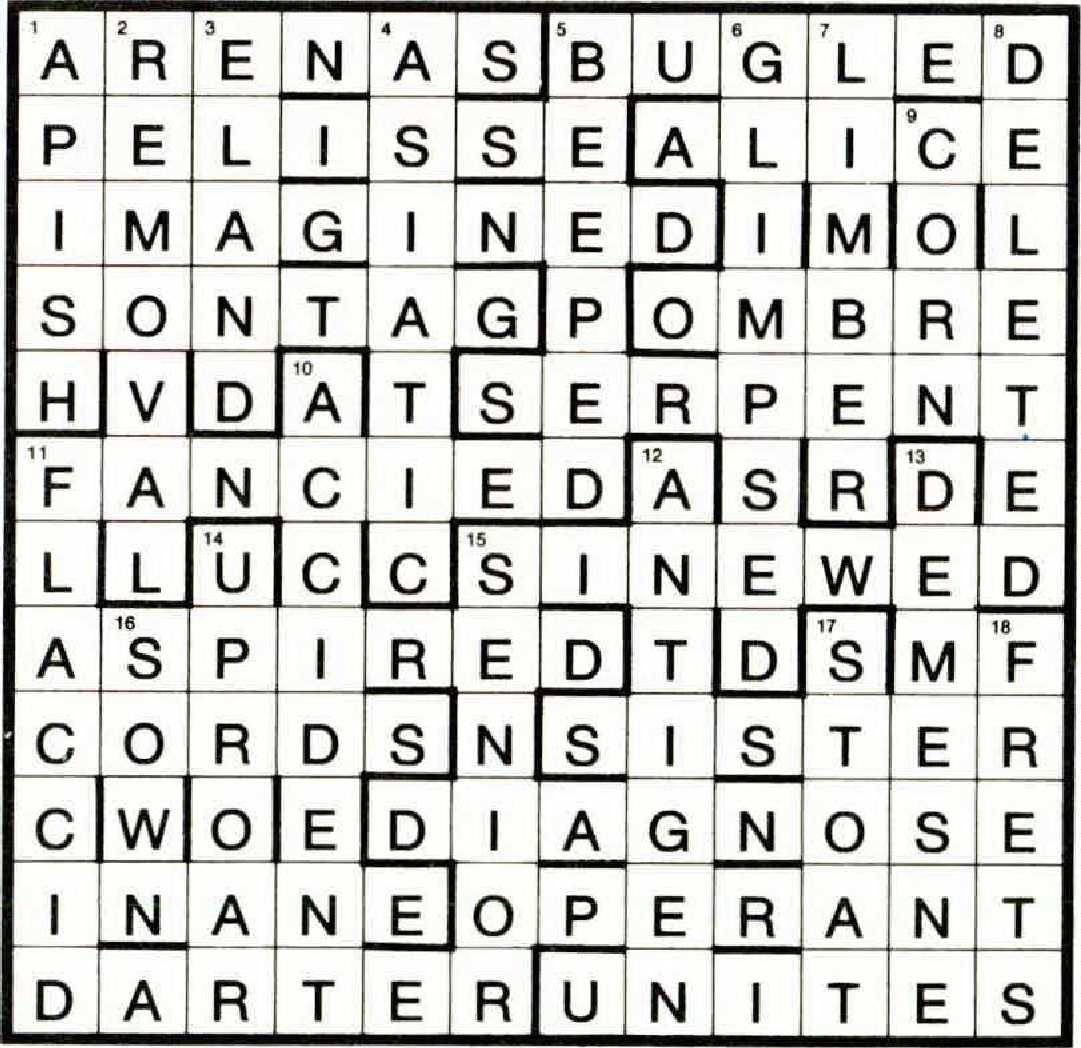 Across answers are given in order of their appearance in the narrative.
Across. 1. A-LICE 2. BUG-LED 3. UNITES (anag.) 4. F-ANC(I)ED (dance anag.) 5. S(0)NTAG (anag. + o) 6. SINEWED (anag.) 7. SI(S)TER (anag. + s) 8. OMBRE (hidden) 9. PELISSE (anag.) 10. DARTER (anag.) 11. ARENAS (anag.) 12. SERPENT (anag.) 13. CORDS (homophone) 14. IMAGINED (anag.) 15. I-NANE (anag. + i) 16. OPERANT (anag.) 17. ASPIRED (anag.) 18. DIAGNOSE (anag.) Down. 1. A-PISH (anag. + a) 2. R.E.M.-OVAL 3. E-LAND 4. ASIATIC (anag.) 5. B(EEP)ED 6. G-LIMPSED (anag. + g) 7. (c) LIMBER 8. DE(LET)ED 9. COR-N (roc rev.) 10. ACCI(DEN)T (cacti anag.) 11. FLAC CID (calf rev.) 12. ANTIGEN (hidden) 13. DE(ME)SNE (dense anag.) 14. UP-R-OAR 15. SENIOR (anag.) 16. SOWN (anag.) 17. STOAT (hidden) 18. FRETS (double def. with pun)