A Dinner for Six
Casaba Melon Chicken Soup, Mock Quenelles Veal Olives Thorndike Potatoes Fried Eggplant, Julienne Tango Salad Pimento and Cheese Fritters Pineapple Bombe
It was Fannie Farmer's last public lecture on dinner parties. A week later she returned to the platform to demonstrate "Breakfast and Sandwich Breads," but it must have been a mighty effort of will, for within a few days she was sick enough to be taken to the hospital, and ten days later she died. "Her illness was due to neuritis," claimed the Boston Evening Transcript in a front-page story on Friday, January 15, 1915, but a look at that dinner party menu today might prompt us to blame her departure on Pimento and Cheese Fritters. ("Drain canned pimentos and wipe dry. Insert in each a 1/8 inch slice of American factory cheese. Sprinkle with salt and cayenne, dredge with flour and sauté in butter until thoroughly heated and cheese begins to melt. Serve on pieces of toasted bread.") Nonetheless, her enthusiastic commitment to just such novel arrangements of carbohydrates, fats, and "proteids" won Fannie Farmer an enormous following. By the time of her death the cookbook that was to keep her name a familiar one for over eighty years had been a best seller for two decades; the lecture hall at Miss Farmer's School of Cookery was filled twice every Wednesday for her public demonstration series, and hundreds of women signed up each October and February for regular classes in cookery.
The 1896 Boston Cooking-School Cook Book went through ten printings even before its first revision in 1906. The book has never gone out of print, and more than 3 million copies have been sold since the day the thirty-eightyear-old redhead carried the manuscript to Little, Brown and Company, the proper Bostonian's publishers, and agreed to pay production costs herself because the company considered the venture too risky.
Last fall, with a great deal of fanfare, Knopf produced the twelfth edition of the Fannie Farmer cookbook, entirely rewritten by West Coast cook Marion Cunningham.
Cookbook shelves are crowded to the bursting point these days, and it would be hard to imagine a 1979 Fannie Farmer from California making the same impact on the lives of American women as the 1896 cook from Boston. The original cookbook emerged at a time —not very different from our own—when women's lives were undergoing enormous changes, when fresh and dazzling possibilities clashed with traditional beliefs, and when all women felt the trembling of the earth under their feet even if they never left their kitchens. Fannie Farmer's cookbook represented a reassuring, even stimulating, way for a woman to understand her life at home. Miss Farmer believed women's responsibilities were significant ones, and she honored those tasks not with simpleminded obeisance to traditional roles, but with respect, thoughtfulness, and imagination. Her cookbook, and her career, embody a solution to social turmoil that thousands of women found compelling at the turn of the century, and which continues to draw us to the kitchen.
In 1857, when Fannie Farmer was born, industrialization was transforming people's lives in every way and with considerable chaos. It was becoming a sign of success and respectability for a wife to remain at home in decorative idleness. At the same time, however, the most fervent energies were engaged in quite worldly pursuits: almost daily leaps of progress in science and technology, and the growth of American business. "Scientific" became the most popular adjective of the day, and the concepts of "scientific motherhood," "scientific charity," "scientific management," and "scientific eating" took hold of the public imagination. It was still important for a woman to commit herself to domesticity, but domesticity itself was turning into more than a sacred calling; it was becoming a fullfledged profession. Cooking and sewing were introduced into the public schools, female college students took their degrees in "home science," and texts and manuals for housekeeping poured onto the market. "The animal tears at his food," warned the Boston CookingSchool Magazine, the school's popular domestic monthly, "and history teaches that, the nearer the approach to barbarism, the less care people manifest in the preparation of their food and in the manner of partaking the same."
Fannie Farmer took up her domestic career in 1887 when she enrolled in the Boston Cooking School. She grew up in Medford, just outside Boston, had been stricken with paralysis as a teenager, and spent several years as an invalid, never graduating from high school. Thirty years old and with a permanent limp, she could hardly hope to marry, and the friends for whom she worked urged her to train at the cooking school, which didn't require a high school diploma. She did so well that when she completed the two-year course she was asked to stay on to assist the principal of the school, and a few years later she became principal herself. As soon as she was in charge she began revising the school's basic cooking text, published to acclaim in 1896 as The Boston Cooking-School Cook Book; the sales enabled her to open her own school in 1902.
Her school appears to have thrived from its first day. Fannie Farmer taught Irish immigrant girls who needed employment how to run an American kitchen; she taught newly affianced young ladies how to make fires, bake potatoes, stuff turkeys, and issue the right orders in their future households; she taught doctors and nurses the principles of dietetics; she taught matrons of institutions how to feed a hundred children decently and cheaply; and she demonstrated the techniques for plain and fancy puff paste in front of women's clubs far and near. For ten years she wrote up recipes and menus every month for the Woman's Home Companion, and she traveled to New York and the Far West to cook and eat and lecture. Toward the end of her life she taught from a wheelchair, but her phenomenal energy seems never to have failed her.
Fannie Farmer started off her cookbook with a characteristically brisk definition—"Food is anything which nourishes the body" —and then marched into a succinct review of the main points of nutrition. The serious study of cooking, as the domestic scientists stressed over and over, was only secondarily concerned with cakes and gravies; its primary purpose was to inform the homemaker about the chemistry of foodstuffs, the processes of digestion, the effects of heat on carbohydrates, fats, and "proteids," and the assembling of balanced menus.
Except for the identification of vitamins, which didn't take place until 1916, many of the major elements in nutrition science had been discovered and circulated by the 1890s, and Fannie Farmer's best-known contribution to the practice of scientific cookery concerned method rather than theory.
American cooks had always measured ingredients the way Europeans still do, by guesswork or by weight. "A piece of butter the size of a walnut" was a typical instruction, or "a rounded spoonful." An apocryphal story has it that one day, when Fannie Farmer was working as a mother's helper, the little daughter of the family asked her what such an instruction meant. Instantly the young domestic saw the need for standardized measurements, and a new perspective on the art of cookery was on its way toward immortality. Half-pint tin measuring cups and regulation measuring spoons were available in 1896, but Fannie Farmer was the first authority to insist on their use. "A cupful is measured level, " she wrote. "A table-spoon is measured level. A teaspoon is measured level. "No longer would cooks haphazardly pile baking soda into their spoons: Fannie Farmer showed exactly how to level the cup or spoon by passing a knife along the top.
The notion that a person could rationalize and control the process of cooking was not entirely novel—Count Rumford, the eighteenth-century American expatriate who introduced a standard economical beef soup into Bavaria as a way of feeding the poor en masse, was a legend among reformminded domestic scientists—but it took on special credibility in newly industrialized America. If the home was a woman's place of industry, then it made sense for her to run it like a factory, using standard methods to achieve predictable results. The sense of being in control of her kitchen, her household, and her life must have been very precious to a turn-of-the-century bride, who probably set up her first home far from her family and friends, the traditional sources of advice and confirmation. The Boston CookingSchool Cook Book quickly became known as "the bride's bible," for the authoritative Miss Farmer not only spelled out the rules for preparing three meals a day but assumed that a woman would direct her whole heart and mind to the task. After spending an entire afternoon organizing and decorating a display of Neapolitan Baskets (little sponge cakes with the centers removed, filled with chocolate cream and garnished with candied cherries and angelica) or laboring to perfect the famous Parker House rolls, what young housekeeper could bring herself to doubt the importance of her calling?
Despite her commitment to human betterment through scientific cooking, Fannie Farmer was never among the most narrowly laboratory-minded of the domestic scientists, and she offered her recipes in the spirit of good eating as well as good health. It's true that she rarely allowed herself much sensual enthusiasm in print, and a virtual outburst on the subject of French soups— "It cannot be denied that the French excel all nations in the excellence of their cuisine, and to their soups and sauces belong the greatest praise" —is quickly diverted to honor the digestive process: "The hot liquid, taken into an empty stomach, is easily assimilated, acts as a stimulant . . . and prepares the way for the meal which is to follow." Nevertheless, her nationwide popularity as a lecturer, not to mention the sheer abundance of recipes she turned out, suggests a hearty appetite and an easily communicated love for food. She did not have a particularly light touch with flavors and textures—her roasts were dredged with flour, her seasonings heavily dependent on cayenne, parsley, and tomato—but she was painstaking with many of the French and American basics. "Miss F. says if a cook can make a good crm cake, B.P. biscuit & creamed codfish, she can cook almost anything," one of her students scrawled in a now dog-eared notebook.
Miss Farmer's predilection for what the ladies' magazines called "dainty" cookery appeared early in the 1896 book, when she noted under Russian Tea that the Russians add a preserved strawberry to each cup. "We imitate our Russian friends by garnishing with a candied cherry," she explained ingenuously; and the unabashed frivolity of similar refinements was to prove inordinately appealing to both the cook and her devotees. The books, lectures, and magazine articles that followed over the next twenty years produced ever more fanciful construct ions of food, culminating in her final dinner party lecture. Here the Thorndike Potatoes were potatoes mashed with bananas and stuffed into banana skins, then sprinkled with Parmesan; and Tango Salad consisted of avocado slices cut like horseshoes and studded with truffle "nails," interspersed with orange slices, then drenched in a dressing made of flour, orange juice, condensed milk, sugar, and cream.
After Miss Farmer's death, her sister revised the cookbook twice, simplifying and abbreviating many of Miss Farmer's elaborate menus and instructions but remaining faithful to the recipes and personality of the original. The edition of 1930 was the first to be written by Wilma Lord Perkins, and it turned "Fannie Farmer" into a new book, streamlined from top to bottom and leaving no room for the distinctive voice of an old-fashioned cook. Explanations were cut to a minimum and the recipes were modernized, often drastically. Cooking sherry made its first appearance in this volume, and sweet potatoes met their immortal companion, the marshmallow. The staples of the American cafeteria tray—a chunk of iceburg lettuce laden with Russian dressing, for example, or a mound of overcooked hamburger and noodles known as "American Chop Suey"—all found a home in this text. In 1936, Mrs. Perkins changed the recipe for Eggplant Turque, a rich preparation of stuffed eggplants which had been in print since 1912, to call for canned tomato soup instead of Fannie Farmer's tomato sauce. It was a portent. In her own copy of the 1936 edition, Mrs. Perkins attached notes for a Quick Coconut Cream Pie and a Quick Chocolate Pie, both featuring Royal pudding.
Convenience foods sank deeply into subsequent editions, and when the eleventh edition was published in 1964, it offered a "Quick Fondue" made with evaporated milk, and equally speedy "Eggs en Casserole" in which canned cream of celery soup was poured over stuffed eggs. A few of Fannie Farmer's classics remained, but her consistency and dependability had been replaced by a witless precision ("For a more piquant flavor, dot the hamburgers with prepared mustard") or mere carelessness ("Beat as long as possible").
In revising the eleventh edition, Marion Cunningham went through the book ruthlessly, testing every recipe, discarding many, and overhauling the ones that remained. She developed dozens of new recipes as well, including the quiches and tacos and bean sprout salads that have become as characteristic of American eating as creamed codfish and gingerbread used to be. This "Fannie Farmer" shares with the original a rigorous concern for good, fresh ingredients, sensible methods, and high standards; a personality and a specific culinary point of view are here restored to a cookbook long dominated by institutional blandness.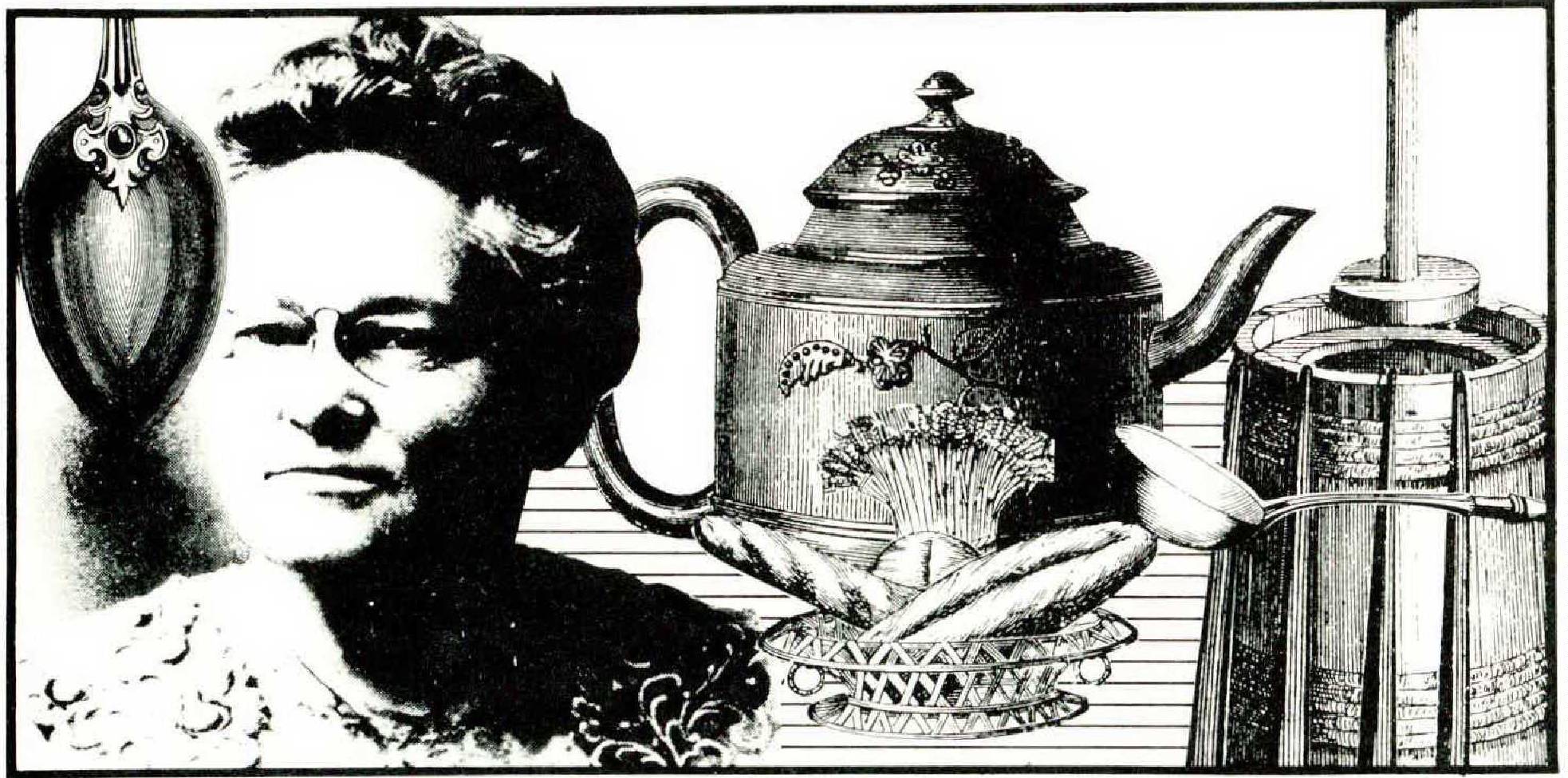 Fannie Farmer delighted in a kind of cookery that is out of fashion now, but she was a confident authority and she was true to her audience. The carefully composed dishes she set forth under the name of scientific cookery affirmed in their own way the possibility of being both wife and scientist, both ladylike and productive. In the beginning of her 1896 text, she quoted Ruskin on cooking and womanhood: "Cookery . . . means you are to be perfectly and always ladies—loaf givers." The quote was left out of later editions, which were designed to bring Fannie Farmer "up to date" and therefore concerned themselves with little more than the efficient acquisition of something respectable for dinner. The compilation of recipes, as the real Fannie Farmer wrote in her preface, was not her only purpose in preparing the cookbook; it was her wish to inspire "deeper thought and broader study of what to eat." For Fannie Farmer, the most important element of any recipe was the woman in the kitchen.