"We used to have a stampede, but we stopped that." Dean Krakel, the director of the National Cowboy Hall of Fame in Oklahoma City, Oklahoma, was describing his art show, not his rodeo. Originally, prices were posted under the paintings and sculptures of contemporary artists, and the art was sold on a first-come-firstserved basis. When the doors opened, there was a mad rush to buy.
"Now we have a raffle instead," Krakel explains. "We have a box under each painting where people put cards with their names on them. Then we draw the winner: the person who gets to buy the painting or sculpture. We've had as many as ninety bids for one $30,000 painting." Every June the annual show of new art sells out; this year's sale on June 8 brought more than half a million dollars in three hours. "It's kind of like a cattle sale," says one collector.
The National Finals Rodeo, held every December at the Cowboy Hall of Fame, is also a sellout. The art show and the rodeo generate the same kind of excitement, and Dean Krakel uses one to reinforce the other. "We find the best people in each field to compete in Oklahoma City," says Krakel, "in both the art show and the rodeo." Rodeos are the fastest growing spectator sport in America. A top rodeo rider earns $100,000 a year. An oil painting by a popular western artist can bring over $30,000, and a mail order house based in Colorado recently offered a polished bronze bust of an Indian chief for $25,000, including home installation by the sculptor. "We award the Prix de West for the best work of art at the NAWA [National Academy of Western Art] show," says Krakel. "It includes a cash prize of $30,000, a silver trophy, western clothes, and an all-expensepaid twenty-one-day trip to Europe for two. The best rodeo cowboys make the finals rodeo. Out of 4000 bull-riders, fifteen qualify." Rodeo prizes include trophy saddles and buckles, and the R. J. Reynolds Company has donated funds for a portrait of each year's rodeo all-around champion.
Krakel has found a way to connect almost all the activities at the National Cowboy Hall of Fame with his own love of western art. The artists in his show are members of the National Academy of Western Art, an association sponsored by the National Cowboy Hall of Fame. Their works record traditional scenes of the old West: Geronimo in war paint, mountain men trading with the Indians, bronco busting. Both the rodeo and the art symbolize the American West, with its promises of space for expansion, independence, opportunity, unlimited wealth, and a place for the discontented. Krakel believes those promises, and he has capitalized on them to make the National Hall of Fame flourish.
The art that is sold in June remains on view during the summer as some 150,000 people visit the Hall. A large part of the exhibition space is given over to reconstructions of teepees, chuck wagons, and trading posts, art and artifacts having to do with western history and legends. This is one reason that members of the Taos school, a group of eight eastern painters who went west in the 1930s to paint "the bright blue sky, the red clay mountains, the pretty aspens, and the Pueblo Indian," as one collector describes them, are not strongly represented in the art collection. These artists saw the West as landscape: Krakel sees the West as legend, with the cowboy as hero.
When Krakel became director of the Cowboy Hall in 1964, it was a bankrupt, unfinished series of pavilions. "A group of people had gotten together in the fifties and decided that there was a need for a shrine to the ordinary cowboy. He has been maligned by books written by easterners saying that cowboys were hard-drinking criminals who slaughtered Indians and buffalo. Those books try to take away our pride in our history. The Cowboy Hall of Fame is rectifying these misconceptions."
The Cowboy Hall had no mandate or theme in 1964. "I used to say that it was an unorganized organization run by unknowledgeable people," Krakel says. "They knew they wanted to have something about the cowboy, and something about ranching, and something about rodeo. Art wasn't very high on their list." Building an art collection became his first priority. He had done graduate work in history at the University of Denver, taught at the University of Wyoming, and worked for a museum development program at the United States Air Force Academy. From there he became the director of the Gilcrease Institute in Tulsa, Oklahoma, a museum founded by Thomas Gilcrease, a Creek Indian oilman who had become interested in art when he was living in Paris in the twenties. Returning to America in the thirties, Gilcrease decided to collect western American art, a new and specialized field, but one that had already attracted a few other collectors, including Amon Carter, C. R. Smith, and Gordon Gund. Gilcrease's museum now houses one of the most important collections of western art in the country. While at the Gilcrease, Krakel bought American art—cheaply and in bulk. At the National Cowboy Hall of Fame, he continued to buy wholesale as long as he could, acquiring the entire work of artists such as Charles Schreyvogel. He has also been able to buy a major group of Charles M. Russell's paintings, and he still travels around the country on the trail of good Frederic Remington bronzes. But 1964 was already late to begin collecting; only a limited amount of high quality western art was available. One critical Dallas collector speculates that because of this, the Cowboy Hall had to begin promoting contemporary artists as well. "They set up the Academy to create an illusion that they have the best artists working for them," he says.
This assessment is not completely accurate, although there is no question that the National Academy of Western Art enhances the reputations and prices of its artists. Many members were born in the West and made their reputations there, including the painter Wilson Hurley, whose work shows the influence of the nineteenth-century landscape painters Moran and Bierstadt, and of the sculptor Glenna Goodacre. Others had already established a wider following. Harry Jackson, a sculptor, shows at the Kennedy Galleries in New York. His finely detailed bronze works—for instance, one casting at Kennedy of a stampede of cattle and another of the burial of a cowboy called The Plantin'—possess great energy and humor. The portraitist Bettina Steinke, who executes many Cowboy Hall commissions, also has a national reputation.
Viewed as pure art, much of contemporary western painting seems anachronistic, out of the mainstream of nineteenthand twentieth-century art. Some of the paintings and sculptures— David Hallbach's prospectors and Kenneth Riley's Indian chiefs in feather headdresses—are technically excellent, but appear at first glance melodramatic and sentimental. Context, however, is crucial. According to one eastern curator, "When you see them in a western house, they're very exciting. They provide roots and background from the romantic past. And they look great in Houston, where there still are huge cattle ranches. They give history to the place." Roy Coffee, a Dallas lawyer and collector of western art, explains, "Westerners are proud of their history. I'm a native Texan. I have barn siding in my office. My bar is made out of two stagecoach doors. That kind of thing fits in around here."
Many of the great nineteenthand early twentieth-century western artists were primarily illustrators, chronicling an era of westward expansion. "The early artists like Catlin and Miller knew that they were painting a scene that would soon disappear," explains Krakel. "When they first went west, they explored the rivers and got as far as the upper Missouri. The Indians were friendly and cooperative; the plains were full of game. These men were going places where no white man had ever been. They showed people what life out west was like."
The next wave of artists focused on the cowboy as the hero of the West. "The cowboy was a product of Texas," Krakel says. "He came after the Civil War. During the war, enormous herds of cattle had been let loose to run on the prairie. These thousands of longhorns had to be moved north from the poor South to the rich northern markets. Cowboys drove the herds to cattle towns like Dodge City and Abilene. They were shipped from there to the stockyards in Chicago." The works of Remington and Russell, the two bestknown cowboy artists, form the core of the Cowboy Hall of Fame collection.
Born and raised in Wyoming, Krakel is deeply suspicious of eastern technology and the federal government. The West's distrust of the East has a long history, Krakel explains, going back to the days when individual Europeans, not eastern American banks, financed development in the undercapitalized West. Although America's natural resources are in the West, and westerners possess a large share of the wealth in this country, "the land is controlled by people living in Washington, and the eastern population has changed so much that the Fourth of July doesn't mean anything to most of them anymore," says Krakel. "The East has more people," he continues, and therefore more votes, an injustice that he suggests could be corrected by allotting votes according to the amount of land a person owns.
He is only partially joking. Control of the land is key. The paradox is that in the beginning the land was too vast to control, but now the technology that has harnessed the West's riches also defaces the land. "For example, the West has changed rapidly with the development of large-scale coal mining. High-power electric wires have been run and dams have been built," says Krakel. "It's not like it was, even ten years ago."
Nostalgia, in part, is causing the boom in western art. "There is a great demand for the subject matter," says Rudolf Wunderlich, the president of the Kennedy Galleries in New York, one of the largest dealers in American art. "The settling of the West was one of the most romantic periods in American history. People buy the contemporary painters in the hope that their value will go up. The old painters aren't available. A good Remington or Russell, say an oil twenty-four by thirty-six, is almost impossible to find, and it will go for $200,000. There is more than a regional market for this art; there is national interest."
"It's a macho thing," says a Texas collector. "The big thing in Texas is for all the wealthy politicians, like John Connally, to have fabulous collections of western art."
The first page of the guidebook to the National Cowboy Hall of Fame declares that the Hall receives no federal funding; it is entirely self-sufficient, "operating in full faith and belief in the free enterprise system," supporting itself on admission revenues and private contributions. "There are too many restrictions with federal funds. You can't do what you want to do. It's not efficient. You have to hire people whose job is just to keep track of what you're supposed to be doing," says Krakel.
Krakel prefers to raise his own funds. He conceives of his projects on a grand scale, sets them in motion, and worries about the money later. In 1976, he discovered in Visalia, California, an eighteen-foot-high clay model of a statue by James Earl Fraser, The End of the Trail. Fraser and his wife, Laura, were, according to Krakel, "the greatest husband and wife team in the history of American sculpture." Fraser designed, among other commissions, the Indian head nickel. The End of the Trail portrays a defeated Indian astride his exhausted pony. "If the West has a Pietà," says Krakel, "it's The End of the Trail." Krakel persuaded the town of Visalia to trade their deteriorating clay for a new bronze model that Krakel and the National Cowboy Hall of Fame would supply at their own expense. He carted the delicate statue from California to Oklahoma, arranged to have it restored and the bronze cast in Italy, and then raised the $400,000 to pay for all the moves.
Krakel has induced lots of people to help finance his projects. His argument is that "thousands of people die everyday leaving fortunes and no wills, and the government takes it all. If they give it to us before they die, they can watch what it does; they can enjoy it. They can see it's doing good. People want to help. They want to be a part of what's going on at the Cowboy Hall."
In addition, the museum has a board of trustees whose members come from seventeen western states and include businessmen such as oil magnate J. B. Saunders, bankers and ranchers such as Jasper Ackerman of Colorado Springs, and the cowboy movie star Joel McCrea. Krakel involves his patrons in the search for art too, and he assures them immortality in a more tangible way: a large Founders' Hall contains a bronze bust of every donor who has given $25,000 or more to the Hall.
These techniques have paid off. In
the last fifteen years, Krakel has been able to acquire Thomas Moran's Mountain of the Holy Cross and Bierstadt's Emigrants Crossing the Plains. In addition to his Russells and Remingtons, he has bought entire collections of Nicolai Fechin, Charles Schreyvogel, and Carl Link. In fact, classic cowboy art continues to be Krakel's real passion. He says that contemporary painters, many of whom are excellent draftsmen, don't interest him as much. "They know they can make $200,000 a year turning out paintings," he says. "They're in it for the money." However, one collector points out that it is in Krakel's interest to keep prices high since the Cowboy Hall gets a percentage of each sale of its art.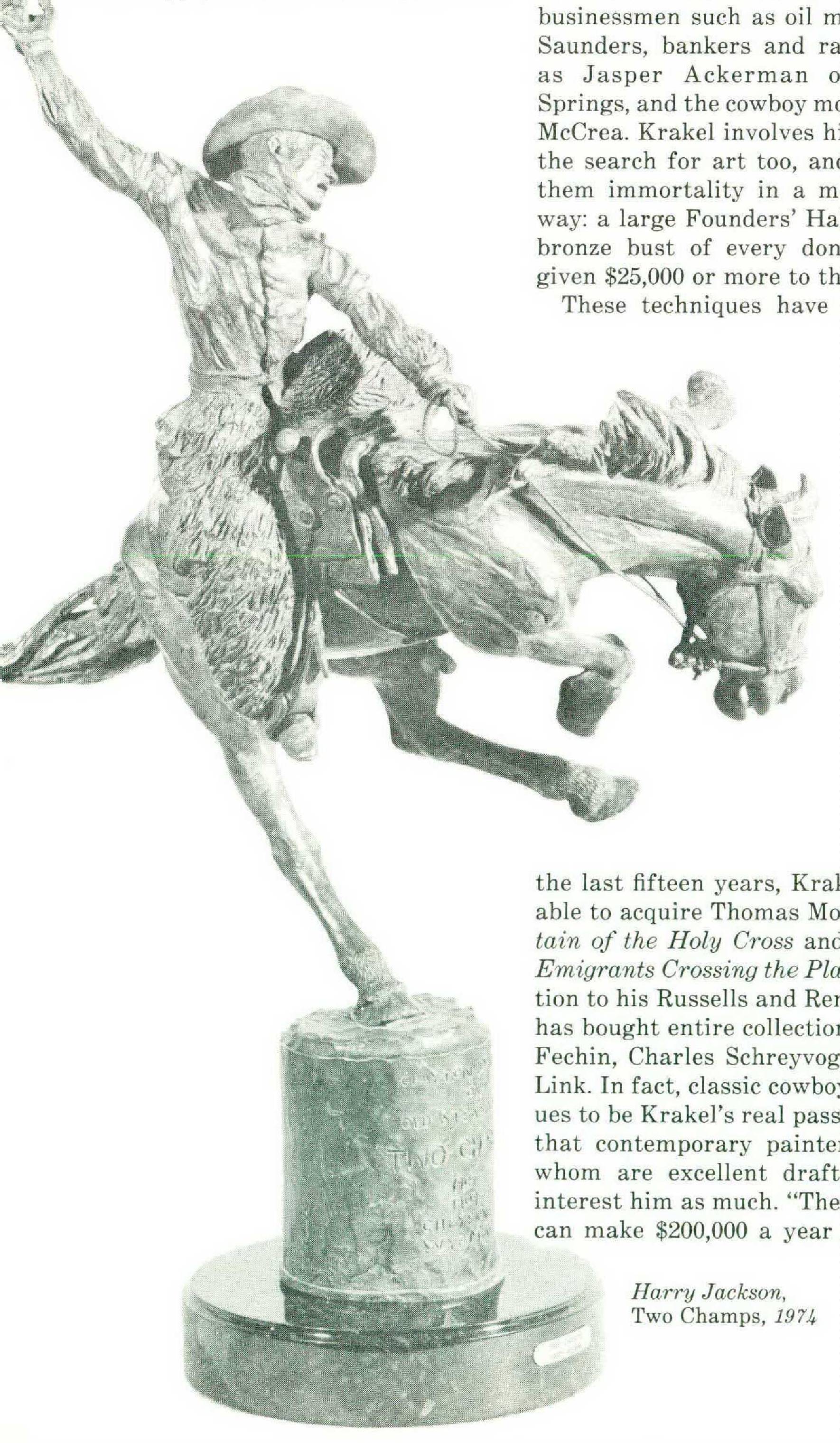 The National Academy of Western Art show is indeed profitable, but Krakel continues to look for new ways to expand the Hall of Fame. Cowboy movies are one of his pet enthusiasms; they "helped keep the legend of the West alive," he says. One westerner explains, "the same phenomenon that goes on with western movies makes people like western art. They like their heritage." As for heritage, since 1960 the Cowboy Hall has been giving annual Western Heritage Awards to stories and movies celebrating the romance of the West, and it has established the Hall of Fame of Great Western Performers. There one may see portraits of Walter Brennan, who also served as a trustee, Gary Cooper, Jimmy Stewart, Barbara Stanwyck, John Wayne, and Gene Autry. Many of them have even given their boots and saddles to the Hall.
In order to make movies a still greater part of the whole complex, Krakel wants to build a theater and gallery showing a film of great moments in cowboy movies. He is working with architects, Cambridge Seven Associates of Cambridge, Massachusetts, and with an expert in western movies, Jim Silke of Los Angeles, and he has developed elaborate plans and models for the theater. Funding is a problem, but in his travel between the east and west coasts, between the architects and potential Hollywood donors, he has managed to keep excitement high, though no contracts have been signed. At the moment the project has stalled, but Krakel is confident that he will soon be able to move again. He believes in what he does, his enthusiasm is infectious, and he generally succeeds.
Like the West itself, Krakel is paradoxical. He speaks slowly and in a drawl, choosing his words carefully. "He never says an extra word," says an admiring colleague; "he knows when to stop." An acquaintance adds, "He can talk a dog off a meat wagon," for the fact is that though he pretends to be naive, he is expert at putting together a complicated deal. He deplores the industrialization of the West, but oilmen and industrialists have been generous supporters of the Cowboy Hall. He is respected as a man highly knowledgeable about western art, but he doesn't mind recasting Remington bronzes for rodeo trophies, although he knows that this could further complicate the touchy question of which Remingtons are authentic and which are later castings.
He loves the land and its history and legend, and he fears that technology and development will alter its special character. "We're becoming more and more socialized," he says. "We're losing our identity." He believes that the National Cowboy Hall of Fame safeguards America's western heritage. If the country is indeed in a decline, if its ideals are eroding and its power and stature diminishing, then western art will continue to be a touchstone for those who defend the old values.
The cover of the National Cowboy Hall of Fame guidebook is a reproduction of Emigrants Crossing the Plains. The pioneers' wagon train is dwarfed by the grand vertical cliffs of the Rockies rising in the distance. The scene is washed in a luminous golden-red sunset. A sense of boundless space and discovery and hope pervades the painting. "Why, Washington even wants to change us over to the metric system," says Krakel. "They're trying to make us forget our history. This country moved west by the inch, by the foot, by the mile. Along the way, we buried our dead six feet under."
While Krakel would resent any government agency's telling him that he can't calculate his back forty in acres any longer, conversion to the metric system for him represents far more than an effort to standardize measurement. It is a betrayal of his past; he knows how easy it is to wreck a symbol.
Krakel smiles. "Now, tell me, wouldn't I feel foolish wearing a tenliter hat?"