Metropolis: Supertown
The parking meters are painted red, white, and blue, symbolizing truth, justice, and the American way. The local newspaper is, of course, the Planet, and visitors to the self-proclaimed "Home Town of Superman" go away with souvenir chunks of kryptonite. In June the whole town, and all the visitors it can attract, will celebrate the Caped Wonder's birthday.
Chances are if you walk into a small town anywhere around this country you'll find it's famous for something. Ask why there's a statue of Popeye the Sailorman in the Crystal City, Texas, town square, and folks will tell you right off that you're standing in the middle of the Spinach Capital of the World. Try Greenville, Ohio: the birthplace of Lowell Thomas and Annie Oakley, and the Pork Capital of the United States. Ms. Oakley is buried there, too. Sauk Centre, Minnesota, advertises itself as the birthplace of Sinclair Lewis, whose 1920 novel Main Street used Sauk Centre as a model for the pettiness and meanness of small-town life. It also earned Lewis the vilification of family and friends for what seemed like life ever after. Boosterism is as much a part of small-town America as gossip, American Legion baseball, and the town drunk.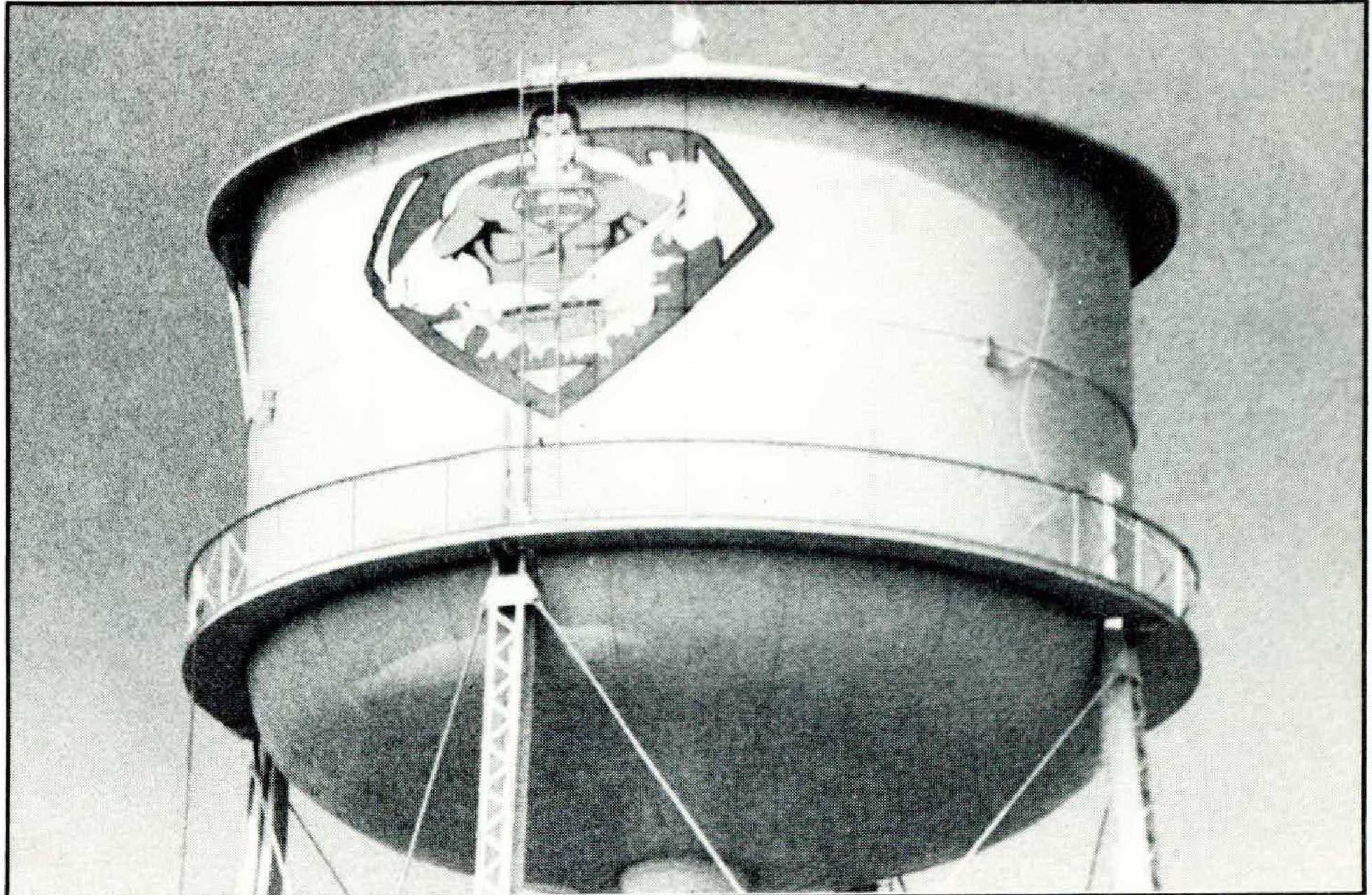 The latest entrant in this GeorgeWashington-Slept-Here Sweepstakes is called Metropolis, the only place so named in the United States Postal Directory. It lies at the southern tip of Illinois, just across the Ohio River from Paducah, Kentucky. Now that the film Superman is a box-office success, folks in Metropolis are going whole hog to promote their town as the "Home Town of Superman."
The excitement hits before you even get there. After passing a row of motels and a reconstruction of an eighteenthcentury fort, the visitor confronts a 100-foot-long billboard of Superman zooming through thin air. Drive a few more blocks, turn a corner, and a water tower comes into view. It's like most other midwestern water towers except for one thing—a painting of the Man of Steel ripping off his shirt, smack in the middle of the bowl a couple of hundred feet above the ground. Metropolis has gone Supermanic, from the Superman décor in one of the burger joints to the posters hanging from the counter in the auto parts store. The red, white, and blue parking meters symbolize truth, justice, and the American way; the local newspaper is, of course, the Metropolis Planet, and the town plans a Superman birthday party, probably on the second weekend in June.
"I like the hell out of all this," says Clyde Wills, the normally low-key editor of the Planet. "It gives people a pride in the community, a pride you can see already. Besides, Superman could bring more tourist business to town, and we certainly could use it. I don't think Metropolis will become a giant Superman Mecca, but we'd like to be able to have people come here, spend money, and maybe leave with a souvenir or two. Besides, it's all a hell of a lot of fun."
Metropolis was settled in 1839, long before anybody started reading comic books. Before the invention of Superman, the only thing Metropolis bragged about was that Aaron Burr was in the neighborhood when he started hatching plots against the federal government in 1805. That's hardly road sign material.
Metropolis is a sleepy river town of about 7000 souls, a good number of whom get flooded out every spring when the Ohio overflows and catfish can be caught in the street. It lies closer to Jackson, Mississippi, than to Chicago, and its accents and attitudes— southern and Protestant—are more Dixie than industrial north. For generations, Metropolis and its far downstate neighbors have voted solid prairie Republican.
The rich farmland in surrounding Massac County accounts for part of the income. What the land doesn't support, the five major industries do. They range from production of enriched uranium, cement, and gloves, to the world's largest manufacturer of wire hangers and flyswatters. Eastbound coal comes in by rail from Wyoming and gets offloaded onto barges in Metropolis for the long trip up the Ohio. Even so, regional unemployment regularly runs about five points above the national average.
Although Superman has been around for over forty years, no one in Metropolis thought to boost the town's favorite son until about eight years ago. An outsider, Bob Westerfield, a halfback with the Green Bay Packers and Cleveland Browns in the late forties and early fifties, started kicking around the idea a couple of years after he moved to Metropolis from Kentucky in 1969. By his own admission, Westerfield is a promoter and a huckster. Were he not one of the town's dry cleaners, he would probably have become a carnival barker or a circus ringmaster.
He first proposed a Superman promotion to the Chamber of Commerce in 1971, and the notion caught on. Over the course of the next two years, Westerfield and a group of other businessmen incorporated themselves and sold $250,000 worth of stock. Two local entrepreneurs bought $84,000 worth; 820 other Metropolitans bought the remainder, for an average cost of about $202 each. Truly a grass-roots effort.
The corporation bought licensing rights to the name "Superman" for $50,000 from National Periodical Publications, a division of Warner Communications. They had a grand vision of a Superman museum, a million dollars' worth of comic book art, and a Disneyland-style theme park called "The Amazing World of Superman." But the whole plan went bust.
"We were real excited," Westerfield remembered recently. "It was kind of like romancing a girl —the farther along you get the bolder you get. To make a long story short, we kind of went too far."
The energy crisis of 1973-1974 kept, tourists off the roads. And though Metropolis is in the middle of no place, it's on the way to a fair number of spots. A major thoroughfare, Interstate 24, zips by only five miles from the center; Interstate 57 is but thirty miles to the west. The town fathers were counting on traffic headed for Chicago, St. Louis, Nashville, and Memphis to divert into Metropolis, But the traffic dwindled, and not much of it stopped. Most of the $250,000 the town raised went to expensive feasibility studies, lawyers' fees, and the basics of tourism—T-shirts, banners, posters, and stickers. By mid1974, "The Amazing World of Superman," on the banks of the mighty Ohio, was nothing but a bitter memory.
"We didn't last too long, but we had a pretty good time of it," said Westerfield. "We even got the Baptist minister dressed up in George Reeves's old Superman suit. The thing had never been washed and, boy, was it rank. One other time I took a college kid over to St. Louis on a promo tour, got him all dressed up in another Superman suit, the whole works. Took him over to a couple of shopping centers and after we'd been there a while I glanced over to see how he was doing. The kid was signing autographs, except he was signing his name 'Supperman.' To make a long story short, not too much of what we did worked out right."
But the most recent incarnation of the Caped Wonder might bring Metropolis, Illinois, back on the map. Great Krypton knows the folks are going to give it another try. Superman's portrait on the water tower got a new coat of paint. The immense sign at the edge of town had all the rough spots removed and the peeling paint chipped off and now glistens in the sun. A fresh batch of "Superman of Metropolis" award certificates, proclaiming the bearer an official superman and resident of Metropolis, has been printed up. Bumper stickers touting "Metropolis, Ill., Home Town of Superman" fill several drawers at the Chamber of Commerce. Phyllis Harris, the chamber secretary, dispenses Metropolis window stickers and decals, too. She also reads the story of Superman to visiting children and then directs them into the talking phone booth. For twenty-five cents, you can hear the Man of Steel say he's proud to be a citizen of Metropolis, "a town known for its coveted and unique Superman of Metropolis Award." The voice then thanks you for dropping by and cautions you to drive safely on the way home. Phyllis packs you off with a smile, a wave, and a souvenir chunk of kryptonite. You get your choice of red or green.
"One of our main objectives is to promote tourism here in Massac County," says chamber president. Jack Wilkins, who doubles as town postmaster. "We're in back of all these efforts to get us back on the map 100 percent. I can see it starting to snowball."
Superman boosterism has taken an individualistic turn in Metropolis, quite aside from all the roadside hoopla. Wilkins promotes Superman —and his home town—at Postal Service meetings. Not long ago he took a generous sampling of the chamber's memorabilia to the Illinois state convention of postmasters and distributed it among the 400 other postmasters. He also wears a Superman T-shirt under his dress shirt at these meetings, and gives anyone who wants one a peek.
Metropolis Planet editor Wills—also the principal reporter—reasoned last year that a paper called the Planet would have to have a Clark Kent on the staff. He wrote to a handful of clearinghouse sweepstakes as, naturally, Clark Kent of the Metropolis Planet. Wills has several mailing-list IDs to prove it.
A student, or group of students, at Southern Illinois University in nearby Carbondale apparently felt the urge to get Clark Kent enrolled with a full course of study. Clark Kent, home town: Metropolis, enjoyed a brief electronic life on the registrar's computer until he was discovered and summarily erased.
Superman posters and memorabilia hang in the windows of stores along the town's main streets, but the real winner in the commercial overkill department is the Burger Queen restaurant on 10th Street. Owner Bud Watts remodeled the interior in Superman Modern late last year. Blowups of comic book panels decorate the walls, along with a giant "S" logo and a full-color picture of the crime-fighter launching himself into battle. Smack in the middle of the joint is a telephone booth, and striding forth from its recesses is the jutting-jawed Man of Steel.
School kids and a few workers on lunch break sat around the Burger Queen apparently oblivious to the surroundings. Not all Metropolitans have joined the Superman craziness. Ironically, the most unimpressed are the young people. The schools have not experienced an upsurge in Superman theme parties and teachers are not confiscating contraband comic books by the armload. High schoolers have not petitioned to change the nickname of an athletic team to "The Supermen" as they once did in Pekin with "The Chinks." Metropolis Supermania seems reserved mainly for adults.
Mike Souders plans to move his pharmacy down the street into a bigger building, and he, too, wants to redo his store in Super-chic. Pending negotiations with National Periodical Publications, he wants to have a Superman painting all along the façade of his new 100-foot-long building; he'll do the interior walls in powerful locomotives, speeding bullets, and tall buildings.
"It's a matter of civic pride," says Souders. "I'd like to give people something to see when they drive through. People aren't going to take an exit off Route 24 to buy aspirin; they're going to come here to see some Superman, and there it will be. Metropolis is doing well, but it can do better, and this is a public project, not a private one."
"More and more people are becoming enthusiastic about it all," says Goldie Bremmer, head of the local retail merchants association. "Some people feel that we got taken before by a bunch of big city folks, but, believe me, people are starting to come 'round. They can see there's a lot of new blood running things and that we've learned from old mistakes."
One might expect E. A. Sullivan to harbor some resentment. He lost $34,000 on the project six years ago. But he's surprisingly upbeat about the way things are going now. "If they plan a sensible new venture, I'll be in on it," he says. "Just as long as they don't get carried away like they did the last time, I'll be willing to donate some money. I think this county and this town should be promoted."
The current promotion group, made up of Chamber of Commerce officials and a dozen businessmen, intends to move ahead with concrete plans soon. The chamber and the city council have been holding public meetings to air ideas and explain the financial scope of the promotion projects. The plans will call for far less than the quarter of a million dollars spent in 1973, and any projects will be financed through city funds and public donations.
Jack Wilkins has contacted the Postal Service about permission to manufacture a special Metropolis cancellation stamp. Also in the wind is a plan for Superman traffic signs—regular triangles and octagons, but with Superman holding out his hand and saying "Stop" and "Slow Down, School Zone Ahead." The boosters also want to erect billboards on Route 24 outside town. They would say something like "Visit Metropolis, Home Town of SupermanExit Five Miles." It's an idea tried by other towns, Holiday Inns, and Burma Shave, and it seems to work.
The mention of Interstate 24 generates elaborate flights of Superman fancy in Metropolis. One scheme, about which the Illinois State Highway Department might have something to say, proposes the construction of an immense Superman colossus straddling the highway outside town. Another proposal is to rig a cable across the interstate and zing a giant model of Superman back and forth at various times during the day.
"Set him off at ten, two, and four, just like Dr. Pepper," says Westerfield, who is in on the planning this time, too. "I'd love to see it: traffic backed up for miles and miles, just to see that big sucker zippin' and zappin' back and forth across the road. Whoo-eee."
Most of the ideas are only that right now. Some local dreamers still hope Warner Communications will want to build a kind of Disneyland in Massac County. But Warner doesn't seem to be planning any such extravaganza. Most eyes in Metropolis look ahead to the birthday party in June, and more decals, bumper stickers, and T-shirts have been ordered.
But if it all falls flat on its face—for a second time—chances are civic pride won't be crushed. There is, after all, only one Metropolis. Besides, if worse comes to absolute worst, Metropolitans can always draw on the fame of another of their number—and this one's for real. Robert Stroud, better known as the Birdman of Alcatraz, is buried in Metropolis. Now, maybe . . .
RICHARD MANNING