by Emily Cox and Henry Rathvon
THEME AND VARIATIONS
(Acknowledgments to The Listener)
Nine lights (i.e., diagram entries) are unclued. These include three Theme Words, A, B, and C, a familiar group (one of them a two-word entry). Each Theme Word has two Variations— words related to it in some way. For instance, if the Theme Word is Reindeer, its Variations may be Comet and Cupid, two examples, or rain and dear, homophones of its component parts. Each Theme Word is related to its Variations in a different way.
Clue answers include one proper noun. Punctuation in the clues may be used deceptively.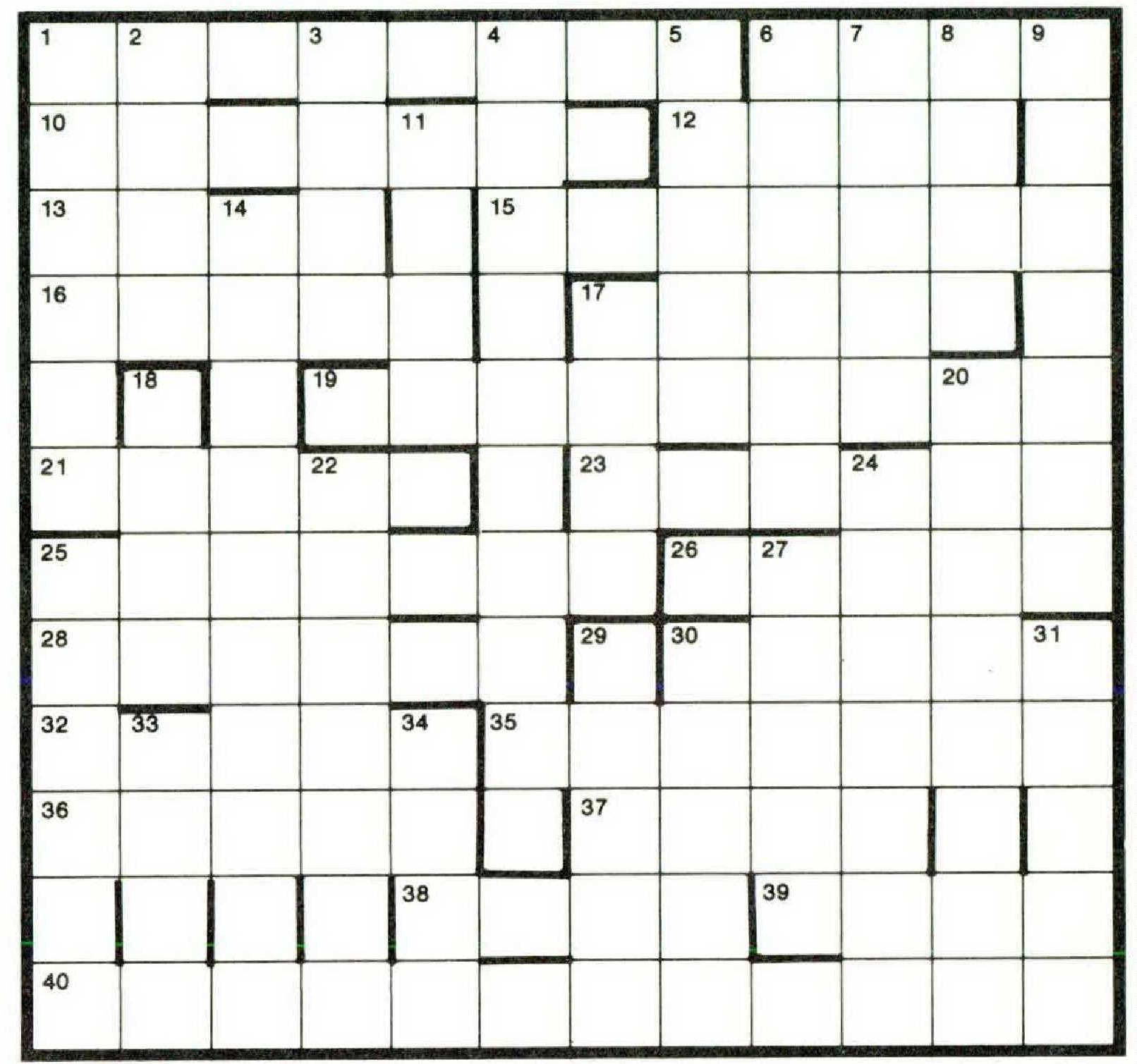 ACROSS
1. Thinks, eats, wraps present (8)
6. Theme Word A
10. Period in macaronic poet's work (7)
12. Spike can puncture at the end (4)
13. Helping a couple of Mexicans with pronunciation (4)
Spiritual mediums with little craft losing face (7)
Variation on B
President in '50 died highly regarded (5)
It might be Winston Churchill's primary target—i.e., maneuvering (9)
Light's counterpart (5)
Variation on C
Sailor, unassisted, gets sea creature (7)
Crass wound marks (5)
Take journey around the middle of December (6)
Theme Word B
Variation on C
35. Someone with self-discipline may have skill in bridge (7)
36. Herod misrepresented in mass (5)
37. Right sort of dessert food (4)
38. The opposite of melancholy in spirit! (4)
39. A free desert (4)
40. Taking again of tinted camera shot (12)
DOWN
1. Variation on A
2. At company this would be promised discount (4)
3. Ready to run—get up and go outside (4)
4. Sign tossed out for lack of imagination (10)
5. Excitement about a way to get high (5)
6. Variation on A
7. In brook's mouth (5)
8. Born and died in poverty (4)
9. Grotesque scab covers messy, skinless wound (7)
11. Opposing view in The Atlantic (4)
14. Theme Word C
17. Bind fifty-one (4)
18. Child born to Abraham (4)
20. Double portion of salt and one cup of a mineral substance (8)
22. Odd clue is not clear! (7)
24. About one pound, bird is light (7)
25. Someone who's like Cupid or more mischievous? (6)
27. About 101 car crashes (5)
29. Take up canvases, get fish (5)
30. Variation on B
31. Positive side to a poem (5)
33. Pointless worship? (4)
34. Appear in meeting place with speech (4)
Answers to the March Puzzler, "CROSSWORD PUZZLE"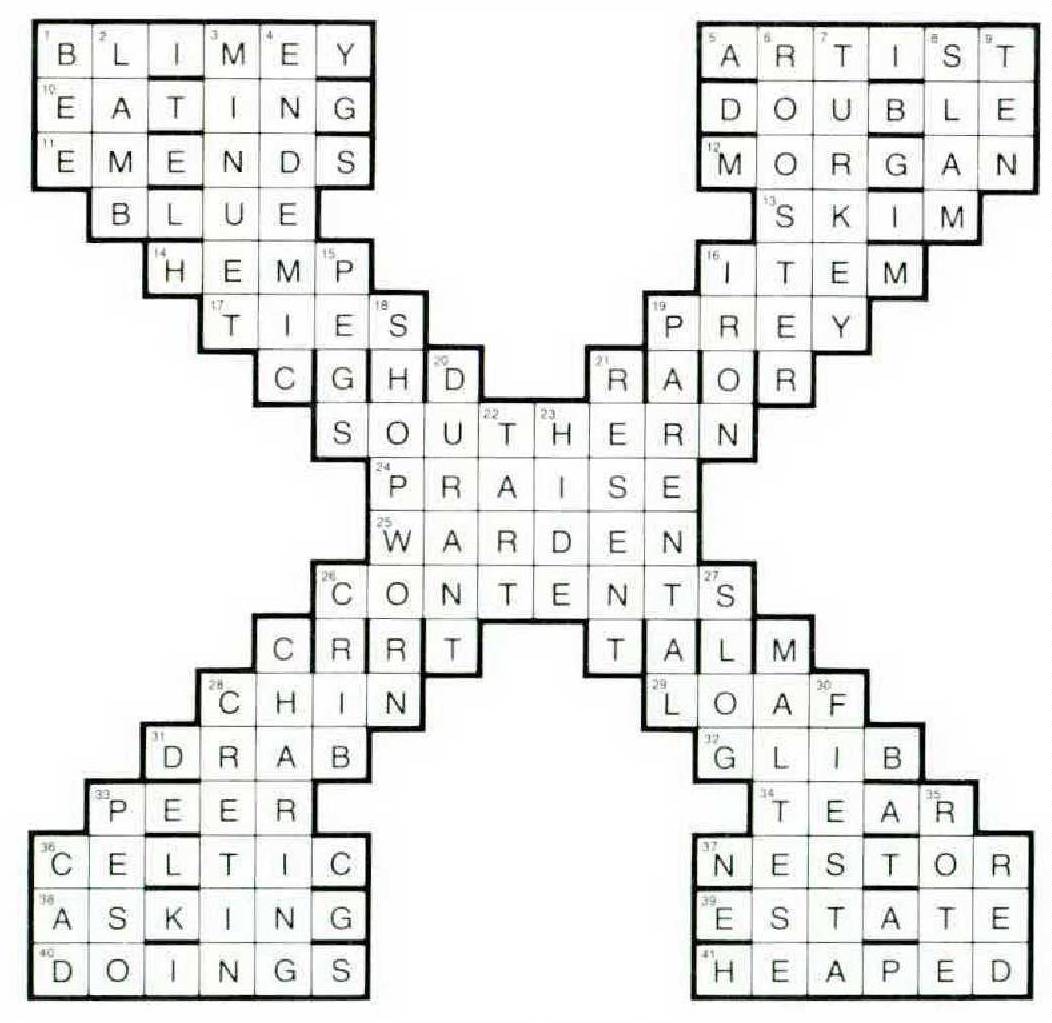 Unclued lights are words that go with "cross": Double, Blue, Southern, Celtic, Iron, Charing, Maltese, Red.
Across. 1. B-LIMEY (pun) 5. ARTIST (anag.) 10. (h)EATING 11. E(ME)NDS 12. MORGAN (double def.) 13. SKI-M 14. HEM-P 16. ITEM (anag.) 17. TIES (odd letters intoilets) 19. P-REY 24. P-RAISE 25. WAR-DEN 26. CONTENTS (double def.) 28. C-HIN(t) 29. L-OAF 31. DRAB (double def.) 32. G-LIB 33. PEER (double def.) 34. TEAR (double def.) 37. NESTOR (anag.) 38. AS-KING 39. E-STATE 40. DO(IN)GS 41. HE-APEDDawn. 1. BEE (double def.) 2. LAMB (homophone) 3. MI-NUET(tune anag.) 4. END-EMIC(mice anag.) 6. R(0)OSTER 7. TUR(n)KEY 8. SLAM (double def.) 9. TEN (rev.) 15. PEGS (double def.) 18. S(HOP)WORN 19. PARENTAL (anag.) 20. DU-RANT 21. RE(SE)NT 22. TART (double def.) 23. HIDE (double def.) 26. CRIB (pun; double def.) 27. SLOG (fromslo[w]) 28. CRETIN (homophone) 30. FIESTA (anag.) 33. PESO (hidden) 35. ROTE (double def.) 36. C-A-D