CANADA
March 10: 75TH ANNIVERSARY OF ST. JOSEPH'S ORATORY, Montreal, Quebec. Famous shrine.
March 17-25: CARIBOU CARNIVAL AND CHAMPIONSHIP DOG; DERBY, Yellowknife, Northwest Territories. Igloo-building contests, Indian wrestling, and other events. Race is for three days for 150 miles on Great Slave Lake.
March 26-30: BLOSSOM FESTIVAL, Niagara Falls, Ontario.
March 26-April 1: AURORA SNOW FESTIVAL, Churchill, Manitoba. Ice and snow sculpture, winter sports, and carnival events.
Late April-May: TOONIK TYME, Frobisher Bay, Northwest Territories. Ice fishing, dog races, and various winter sports as well as dancing and singing.
May: SPRING BREAK-UP DRAMA FESTIVAL, Dawson City , Yukon Territory. Celebrates the break-up of ice in the Yukon River through original plays keyed to turn-of-the-century themes.
May-June: HERITAGE PERFORMING ARTS FESTIVAL, Vancouver, British Columbia.
May 1-July 28: SUMMER SHOWCASE, Banff, Alberta. Music, art, and drama at Banff Centre.
May 1-October 31: SAILING RACES, Conception Bay, Newfoundland.
May 13-21: FESTIVAL OF SPRING, Ottawa, Ontario.
May 20-June 3: FOLK ARTS FESTIVAL, St. Catherines, Ontario. Concerts, arts, crafts, foods, parades.
May 22—September 30: SHAW FESTIVAL, Niagara-on-the-Lake, Ontario.
June 1-September 30: FRANTIC FOLLIES, Stratford, Ontario. Shakespeare and other plays in repertory.
June 21-September 3: MAN AND HIS WORLD exhibition, Montreal, Quebec.
June 22-30: METRO INTERNATIONAL CARAVAN, Toronto, Ontario. Ethnic celebrations.
June 22-30: RED RIVER EXHIBITION, Ottawa, Ontario. Music, Shakespeare, and opera.
June 28-August 12: INTERNATIONAL GATHERING OF THE CLANS, throughout Nova Scotia. Held in various locales.
July: SUMMER FESTIVAL, St. John's Newfoundland. Music, art, drama, and sports.
July 1-August 14: NORTHERN PIKE FESTIVAL, Nipawin, Saskatchewan, Competition.
July 6-8: FOLK FESTIVAL, Winnipeg, Manitoba. Music, song, dance, crafts at Birds Hill,
July 6-15: CALGARY EXHIBITION AND STAMPEDE, Calgary, Alberta. Top rodeo.
July 18-28: KLONDIKE DAYS EXHIBITION, Edmonton, Alberta. Reliving gold-rush days.
Late July: ANNUAL BATHTUB RACE, Nanaimo, British Columbia.
August 1-19: FESTIVAL OF THE ARTS, Banff, Alberta. At Banff Centre.
August 2-5: NATIONAL UKRAINIAN FESTIVAL. Dauphin, Manitoba.
August 3-4, 10-11, 17-18: six NATIONS INDIAN PAGEANT, Brantford, Ontario. Reenactment of area's early Indian history. Authentic Indian dances, crafts. At Forest Amphitheater.
Mid-August: INTERNATIONAL AIR SHOW, Abbotsford, British Columbia.
August 15-September 3: CANADIAN NATIONAL EXHIBITION, Toronto, Ontario. Largest and oldest Canadian fair.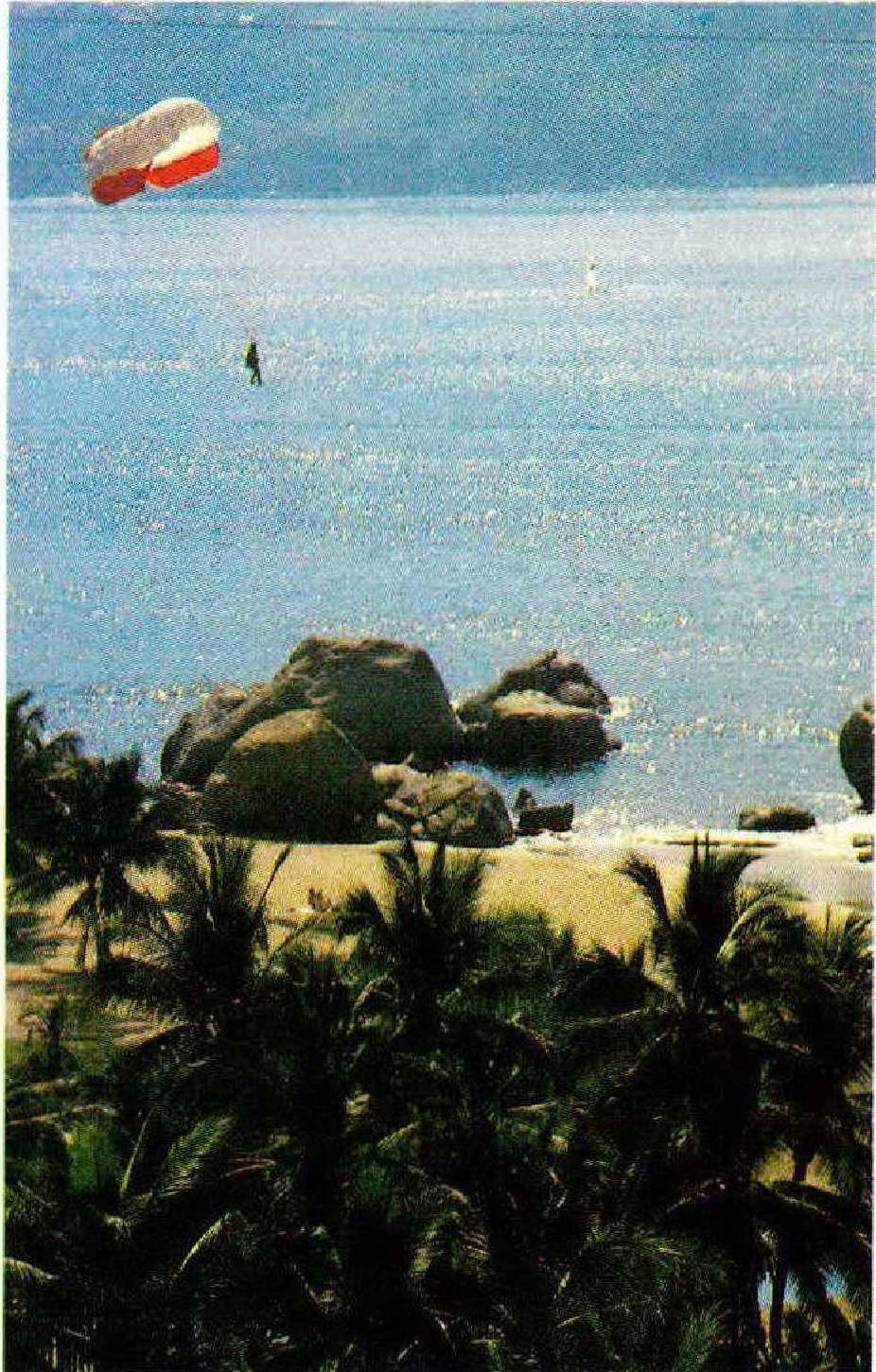 August 17-20: BRITISH COLUMBIA SUMMER GAMES, Penticton. Sports.
August 18-20: DISCOVERY DAY CELEBRATION, Dawson City, Yukon Territory. Commemorates the discovery of gold through pageantry.
August 24-26: WORLD CUP OF TRACK AND FIELD, Montreal, Quebec. At the Olympic Stadium.
August 31-September 1: EGMONT BAY 75TH AGRICULTURAL EXHIBITION, Mt. Carmel, Prince Edward Island.
August 31—September 2: FESTIVAL ACADIEN, Oyster Bed Bridge, Prince Edward Island.
September 7-16: WESTERN FESTIVAL, St. Tite, Quebec. Rodeo and fair.
September 21-30: NIAGARA GRAPE AND WINE FESTIVAL, St. Catharines, Ontario.
October 5-13: OKTOBERFEST, KitchenerWaterloo, Ontario. Well-known beer festival.
November 9-17: ROYAL AGRICULTURAL WINTER FAIR, Toronto, Ontario.
MEXICO
March 21: JUAREZ'S BIRTHDAY, Oaxaca. Fair and fireworks.
April: THE CERVANTES FESTIVAL, Guanajuato. Films, orchestras, dance groups from all over the world.
April 8-15: HOLY WEEK, nationwide. Vacation for Mexicans.
April 23-May 6: ST. MARK'S DAY CELEBRATION AND CARNIVAL, Aguascalientes. Bullfights, charros, and lots of music.
April 28-May 5: "SUN TO SUN" REGATTA, Cancun.
May 5: BATTLE OF PUEBLA. Recalls a successful battle against the French.
May 30-June 28: ARTS AND CRAFTS FIESTA, Tehuantepec. Displays, sales, and demonstrations.
Mid-July: COUNTRY FAIRS, Oaxaca, Reynosa, San Juan Teotihuacan, Saltillo, and Campeche.
July 23-30: MOUNTAIN FESTIVAL, Oaxaca. Folkioric dances and songs.
August 13: ASSUMPTION OF THE VIRGIN MARY FIESTA, San Juan de Los Lagos, Jalisco. Religious pageantry,
September 1: LABOR DAY HOLIDAY.
September 8: AZTEC FIESTA, Taxco. The battle between the Lord of Tepostlan and other chiefs is recalled through a ritual dance drama.
September 15-16: INDEPENDENCE DAY CELEBRATION, nationwide,
September 16-November 11: OCTOBER FESTIVAL, Guadalajara. Art, handicrafts exhibits, films, music, and dance.
October 1-December 10: 11TH INTERNATIONAL MUSIC FESTIVAL, Puebla. Guest artists.
November 1-2: DAY OF THE DEAD. Villagers put food and drink on the graves of their departed kin.
November 20: ANNIVERSARY OF THE MEXICAN REVOLUTION, throughout Mexico, Parades.
November 24-December 2: 42ND NATIONAL SILVER FAIR, Taxco. Cultural events and displays.
December 12: FIESTA OF OUR LADY OF GUADALUPE. Impressive religious rites throughout the country.
BERMUDA
April 1-21: BERMUDA COLLEGE WEEKS.
April 4-May 2 (Wednesdays): BERMUDA HOMES AND GARDENS TOURS.
April 19-21: AGRICULTURAL EXHIBITION, Paget. At the Botanical Gardens.
May 1-November 30: 37TH ANNUAL GAME FISHING TOURNAMENT.
May 11-13: DOG SHOW, Paget.
June 11: QUEEN ELIZABETH'S BIRTHDAY OBSERVANCE. Hamilton.
August 2-3: ANNUAL CUP MATCH CRICKET FESTIVAL, Sandy's Parish.
THE BAHAMAS
April 19-21: 26TH ANNUAL OUT ISLAND REGATTA, George Town, Exuma.
April 25-27: BILIFISH TOURNAMENT, Walkers Cay.
June 15-18: SMALL BOAT FISHING TOURNAMENT, Walkers Cay.
July 4: I2TH ANNUAL GREEN TURTLE CAY REGATTA, Abaco.
July 8-13: BAHAMAS BILLFISH CHAMPIONSHIPS, Chub Cay.
July 10: INDEPENDENCE DAY CELEBRATIONS, all islands.
September 22-23: FOURTH ANNUAL NASSAU CITY GOLF CHAMPIONSHIP. Nassau.
October 12: DISCOVERY DAY, San Salvador. Columbus's first port of call in 1492.
November 14-18: AMATEUR OPERA, Nassau. Twentieth year for the Nassau Amateur Operatic Society.