The Art Market: Investors Beware
Buyers are bullish on art as an investment— but the art world is a wild and woolly place, where practices that would land a stockbroker in jail are just business as usual.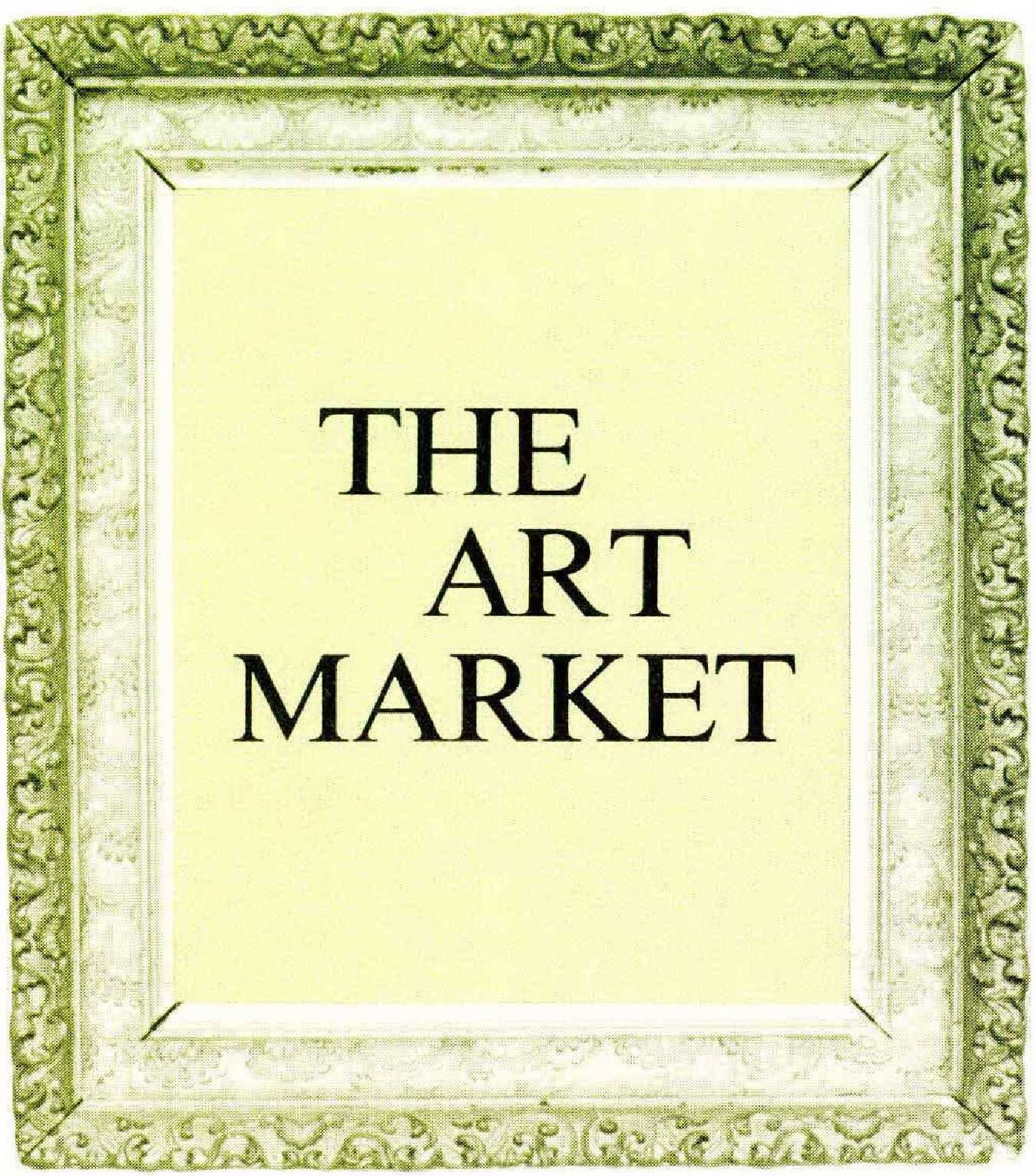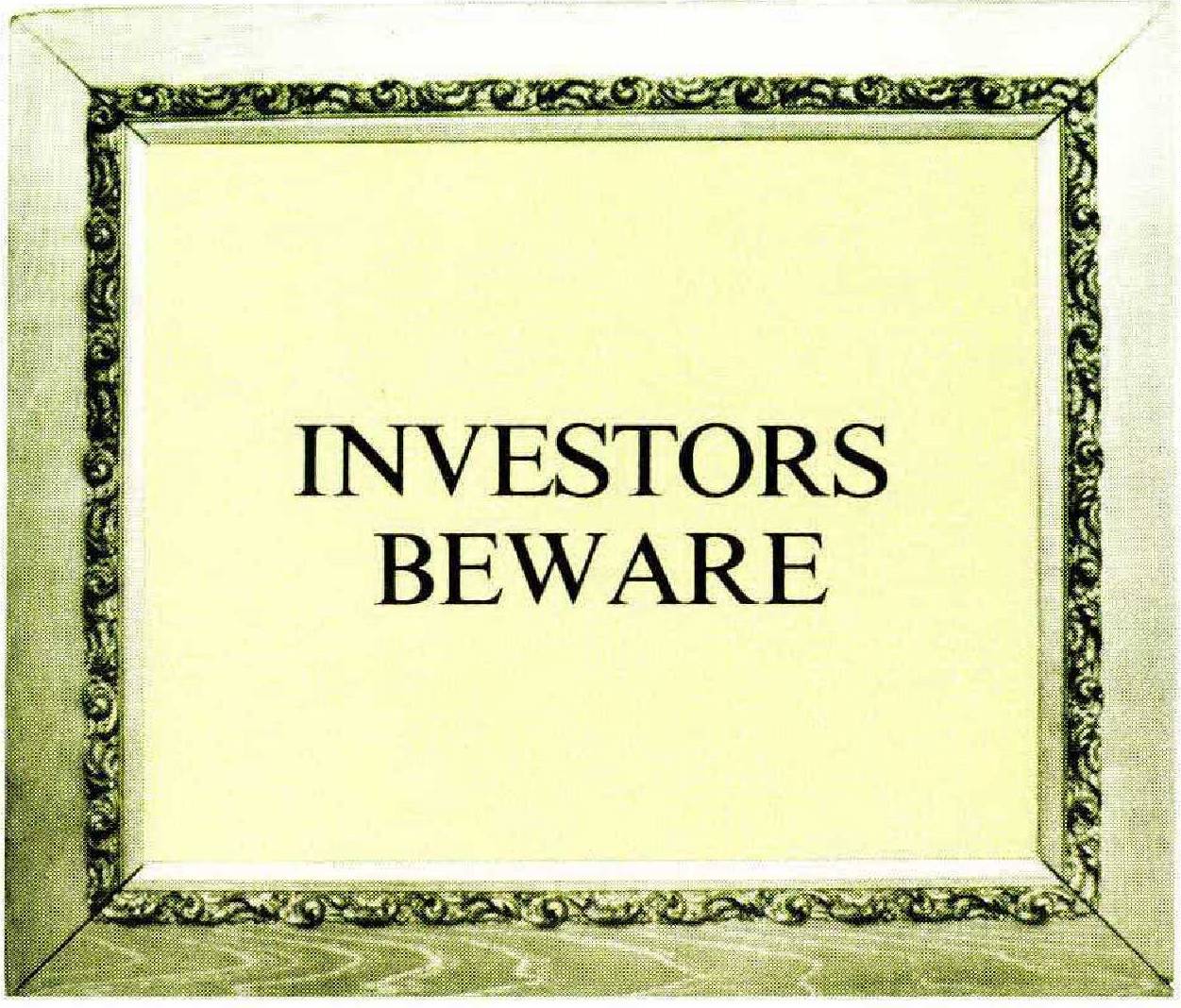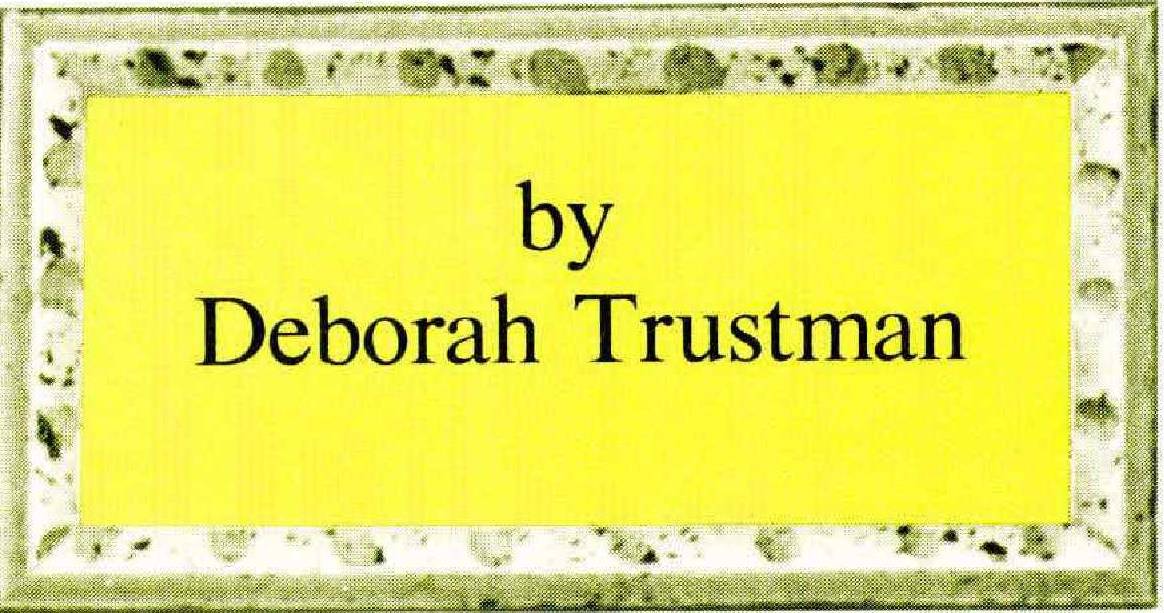 Art is big business. More and more, people are treating objects of art as vehicles for investment. Sotheby Parke Bernet, the international auction house, last summer announced sales of $112 million for its 1977-1978 American season alone, an increase of $32 million over the previous year. In June, at the London auction of the estate of the German-born merchant Robert von Hirsch, two medieval enamels believed to have been made for Emperor Frederick Barbarossa were bought by a consortium of German museums for more than $2 million apiece. Great art—work generally acknowledged in this century to be first-rate—has for many years commanded enormous prices, but a new kind of market and buyer is emerging. The British Railway Workers Pension Fund successfully bid $1.5 million for a twelfth-century English gilt attar candlestick at the Hirsch sale. This was not an instance of a museum buying a work of great historical significance, or a private collector out to snare a jewel for his collection; this was a union pension fund making a fiduciary investment.
More Americans have become wary of inflation and its impact on the stock markets, commodities, and the currency and have begun putting more capital into works of art. This is a good time, therefore, to start asking how growth and new investors might affect the art business and whether the art buyer is in need of protection. Until now the market has been small enough to be self-regulating, and art buyers have been well aware of how it operates or rich enough not to have to care.
The magazine ARTnews has compiled an "Investor's Guide to the Art Market" and issues a biweekly newsletter highlighting trends in auction prices, changes in tax law, new legislation, and other topics of interest to investors. International art funds claim to be able to return significant dividends. The Securities and Exchange Commission is investigating tax shelters involving fine-arts prints to determine whether such investments should properly be deemed securities offerings.
Whereas the securities market is highly regulated, the art market is wide open and susceptible to manipulation, price-fixing, conflict of interest, misuse of insider information, misuse of public institutions, tax fraud, excessive promotion and pools, and excessive commissions. Ironically, practices that would be questionable in a securities transaction may be normal in the art business. For example, a dealer invests in an artist by giving him shows, publishing catalogues, and arranging for publicity. If a work by that artist comes up for auction, "I stand to lose my entire investment if it goes for nothing,"explains a dealer in New York. "The artist might not have caught on with the public yet. The low auction price will make the market go soft, and it will take a lot more time and money to build the artist's reputation again." To protect his stake, the dealer attends the auction and bids up the artist's work to insure that the price reaches the level of retail prices at his gallery. If necessary, he buys the work himself. Such price-fixing is usually illegal under the securities laws. It is common in the art world.
Many questions of real or potential conflict of interest focus on museums. A museum is an important consumer of art, through outright purchases and as the beneficiary of tax laws encouraging donations of works of art. Museum personnel frequently establish the authenticity, quality, and value of an artwork. What could more clearly enhance the reputation of an artist than having his work bought by a museum?
The art world is a small, interlocking network of artists, dealers, museum curators, trustees, scholars, critics, and collectors, most of whom fall into more than one category. Moreover, each depends on the others. An artist relies on a dealer for promotion. A collector relies on dealers to give complete and honest answers to questions, but a dealer's source of supply may stipulate that he withhold certain information as to a work's provenance. A trustee who lends an object to a museum might sell it later as a result of that loan, which in effect has accorded it the museum's imprimatur of authenticity and value. A scholar's opinion also can influence the price and salability of objects in a dealer's stock, and his willingness to share his expertise can affect the price he himself pays for objects from that dealer. "It is the only business in the world where objects worth hundreds of thousands of dollars change hands with no legalities except a handshake," says one curator.
While some individuals probably do on occasion exploit professional and fiduciary positions for their own self-interest, those cases are seldom clear-cut. The appearance of conflict of interest is built into many situations, but when it does occur there are often mitigating circumstances.
In response to congressional concern that collectors were claiming outrageous tax deductions for estate gifts and donations of works of art, and charges from the art world that regular Internal Revenue Service personnel with no expertise were inadequately appraising art, the IRS ten years ago established an Art Advisory Panel. This group, consisting of twelve independent experts, meets several times a year to examine charitable donations of works of art valued at $20,000 or more. Decisions by members of the panel—respected museum directors, curators, dealers, and art historians—are not binding, but the IRS generally abides by them.
The panel does not deal with current market values because works of art usually come up for review three or four years after a tax credit has been claimed. The panel's action reflects what the market did, according to one of its members. A valuation, he continues, is based upon market values of the year in which it was donated. The committee is provided with extensive information regarding the sale that year of similar objects. Its function is to assess the quality of particular works of art. The monetary assessment is "an intuitive judgment that a group of people arrive at" through open discussion. The government does not go strictly by the book, continues the panel member. The IRS recognizes that value and desirability can depend on such aesthetically irrelevant factors as the existence and size of specific regional markets. The length of time that passes between the donation and the review insures a degree of objectivity, even though the members of the Art Advisory Panel are intimately connected with the art business.
Knowledgeable disinterested parties would be hard to find in the art world. A curator might agree to exhibit an artist if the artist's dealer sells him a picture at a favorable price. If an institution is thinking of "deaccessioning"—removing works of art from its collection by trading or selling them—a trustee or museum official might bring in a dealer who has given him a few breaks. On the other hand, a perfectly legitimate arm's-length transaction need not be suspect merely because the people involved are friends.
In 1972 the Metropolitan Museum of Art in New York sold several paintings to the Marlborough Gallery and exchanged several others for contemporary works of art, including a sculpture by David Smith, considered by many people to be the most important postwar American sculptor. It was unclear whether the museum had the right to sell some of those paintings, and the resulting uproar precipitated an investigation by the New York State attorney general's office, leading to strict new procedures for deaccessioning. Although the Metropolitan Museum issued a convincing report describing why the Marlborough Gallery was selected to handle the paintings, some people continue to question the relationship between Marlborough and museum personnel.
Many galleries and auction houses have branches in several countries. International situations of this sort suggest opportunities for self-dealing and secret payments. At some point in a negotiation, even with the most reputable dealer, a client is likely to be asked whether he would prefer to pay or receive payment through the Geneva branch. This suggestion could be entirely for the customer's convenience, but, unfortunately, the structure of the business lends itself to the suspicion of ulterior motives.
In a securities pool, dealers and investors bid up the price of a stock, frequently selling back and forth to each other, creating an atmosphere of frantic excitement. When the pool is broken, the insiders sell first, and the price falls drastically. In the art business this practice is easy to disguise, and prices seldom fall, since the devalued works of art will almost certainly disappear from the market into collectors' attics once the promotion dies.
Members of the art world tell the story of an American dealer and a European dealer who some years ago bid up to an all-time high the auction price of a painting by a well-known artist. Shortly thereafter the European dealer sold the painting to a collector at a price made possible in part by the record-breaking auction sale and its attendant publicity. The two dealers split the profits. The incident caused talk: one dealer, not one of those involved, says that the collector should have paid more attention to current prices, and there is general agreement that the collector deserved what he got. What the dealers were doing was not illegal; it may or may not have been unethical. No one can prove how often this occurs, and there is a fine line between wrongful market manipulation and legitimate influence on or anticipation of the changing taste of the public, since many factors affect what museums or private collectors will buy. "Art critics have a great impact," says Noelle Scaler, director of European paintings for the Knoedler gallery in New York. "People like art, but they are afraid of it and they need to be told what to think of it."
Promotion sells art. It can be extraordinarily intense, involving exhibitions, scholarly reviews, magazine articles, lavish books, publicity, and advertising. In 1977 the Whitney Museum of American Art in New York staged a retrospective exhibition of the work of Jasper Johns, who paints familiar objects and symbols such as the American flag, targets, and maps, transforming them into mysterious and suggestive images. The opening of the exhibit was marked by articles and pictures in magazines such as Vogue; Philip Morris Inc., which sponsored the show, launched an elaborate advertising campaign. A number of galleries mounted concurrent shows of Johns's works, which were, of course, for sale. In the securities business such activity would cause the SEC to postpone an offering, but it is commonplace in the art market. Securities are sold at relatively small commissions; brokerage fees of 10 to 12 percent are considered high for a difficult new underwriting. In the art world, partly because of the costs of promotion, commissions of 40 to 50 percent are usual and in many instances justifiable.
Despite the potential for abuse in the art market, there have been few scandals. Those that have occurred, however, have been sensational; the Metropolitan Museum of Art's deaccessioning in 1972 of major paintings by Van Gogh, Picasso, and others; the Boston Museum of Fine Arts's smuggled, spurious Raphael in 1971; and the suit brought by the heirs of painter Mark Rothko against the trustees of his estate, including Francis K. Lloyd, the owner of the abovementioned Marlborough Gallery.
From these well-publicized incidents the art business has achieved notoriety, but the public has not been made aware of the corrective measures that have been taken. Reforms have occurred partly because of the scandals, but also because of the rising interest in consumerism and the increasingly close scrutiny of the management of public institutions. For example, dealers are now not permitted to sit on the boards of many museums, including the Museum of Modern Art in New York, where there was some controversy about the propriety of having dealer-trustees a few years ago. But there is a delicate distinction between a dealer and an active collector who is continually upgrading his collection. To avoid the suggestion of collusion and tax fraud, the Boston Museum of Fine Arts will not give valuations of proposed gifts; instead, it refers the prospective donor to an independent appraiser. It also will not guarantee that any object it borrows from a private collection will be illustrated in an exhibition catalogue.
As the market has grown, dealers, auction houses, and museum personnel, conscious of areas of potential abuse, have become increasingly careful. Parke Bernet formerly published in its catalogues a disclaimer of responsibility for works sold which turned out to be fake. In 1962 a lawsuit challenged that position, and the auction house has since been required to take back any object proved to have been misrepresented in the sale catalogues. The Art Dealers Association of America has issued a code of ethics, as has the American Association of Museum Directors. Says one lawyer involved with the arts, "My mother used to say, 'First you get on, then you get honor, then you get honest.' "
Collecting art is one way to achieve social standing and a reputation as a cultured person. But the rewards don't stop there. There is also tremendous gratification in recognizing the real worth of a painting in a junk shop, or in buying the work of an artist who makes it big a few years later. Allan Stone, a dealer who runs an eclectic gallery in New York and often shows the works of young artists, recalls his excitement at the discovery of a valuable painting by Jackson Pollock on the back of a weathered board that had been used as a signpost.
Hugh Hildesley, vice president of Sotheby Parke Bernet in New York and head of its appraisal department, says that the art market is booming largely because of the exposure the media have given the arts. He cites a series like Kenneth Clark's Civilisation on public TV. "Art, linked with money, is frequently in the news," he says. He compares New York today with seventeenth-century Amsterdam: both of them cities with a mobile, newly wealthy middle class, curious and adventurous and eager to spend money.
Auction sales establish general retail price guidelines, which are accepted by the IRS as verification of the value of works of art taken as deductions. At the Hirsch auction, for instance, a Venetian Renaissance bronze nude sold for over $100,000, while a dealer down the street offered another model of that figure for one fifth that price. The Hirsch sale had been highly publicized; it attracted most major art dealers. The figure was illustrated in full color in the lavish catalogue, and the German government had provided its museums with virtually unlimited funds for bidding. The nude in the sale was a superb casting. The patina was lustrous and the modeling of the figure was beautifully defined. The other statue was cruder, less finished, though superficially the models were identical.
But what is the real value of a work of art? Is it the appraisal figure, the auction price, or the price the owner can expect to net from a private sale? Modarco, a Geneva-based art fund which sells shares over-thecounter in the Geneva stock market, realized that it might have to spend 40 percent of a painting's appraised value on commissions and dealer discounts in order to sell its holdings, and merged its operations with the Knoedler gallery in New York. According to Noelle Scaler, Modarco found it "better to have more outlets, which are galleries," to facilitate sales. Other stock funds, such as Artemis, have also become associated with galleries. The 40 percent discrepancy between private and auction selling prices is normal. No exchange where investments can be quickly traded, thus insuring liquidity, exists in the art business. "You have to hold a work of art a long time for it to appreciate," says Ms. Scaler. To produce a profit, a piece has to increase in value enough to absorb the difference between the retail price the investor paid and the wholesale price he is likely to receive when he sells.
Works of art of good quality will generally increase in value if the owner is willing to wait long enough. As masterpieces become scarcer and disappear from the market into private collections and museums, prices soar, and the range of objects considered valuable and marketable changes dramatically. Two decades ago, nineteenthand early twentieth-century American paintings were ignored by most collectors in favor of works by French artists. The American painters were superb technicians. They had studied abroad with French masters, and their works were very popular during their own lifetimes. Later, their paintings were ignored, and the prices declined. Now that works by the French Impressionists have been priced out of the market, paintings by Americans such as J. H. Twachtman and J. Alden Weir, two of The Ten—who until recently were considered pale imitations of the real French thing—have been reevaluated and sell for tens of thousands of dollars.
American art is being rediscovered decade by decade, according to Theodore E. Stebbins, Jr., curator of American paintings at the Boston Museum of Fine Arts. William Paxton, an artist of the generation after The Ten, has recently been catalogued and widely exhibited. His rich, enamellike paintings of sentimental figures, which used to bring $1000 or $2000, now sell for as much as $35,000. Last winter a painting by George Caleb Bingham sold at Sotheby Parke Bernet for $980,000, setting a record for an American work of art. The intrinsic quality of these paintings has not changed, but their appeal has. In the opinion of one English dealer, "Americans are growing affluent enough to be able to afford to look for their roots."
The contemporary art market, however, is the speculative end of the business. Cycles of taste are fickle and short-lived, and it is difficult to predict future values. For example, the price of paintings by Jules Olitski, a Color Field painter who veiled canvases in thin washes of paint, peaked about ten years ago and has remained steady ever since. On the other hand, figurative art now sells better than abstract art. The New York school of Abstract Expressionism, except for a few masters like Rothko, may be losing popularity. A New York dealer predicts that paintings by Jackson Pollock—one of which was purchased by a museum in Australia for $2 million—will be practically valueless by the end of the century. Art must maintain its connection with craft, with draftsmanship, and with the conscious ordering of space, he feels, and canvases composed of random splashes of paint will not endure. And yet, in another century they may be rediscovered. The public today tends to accept as art anything that claims to be art. Is an event, for instance, or a photograph of that event, a work of art? A dealer in New York points to a lithograph hanging in his office, by a well-known contemporary American artist. "A client comes in and wants to know what that's worth," he says. "I'll tell him $2500. If he asks me why, the real answer, the bottom line, has to be 'because I say so.' "
The art market functions well for those who know what to ask and what to look for. Will it change radically enough to require regulation? Who will the new buyers be? Will they continue to be the young professionals, the high-salaried lawyers and business executives whom Sotheby Parke Bernet has identified in a study of the current market, or will they be others, who cannot afford to pay the price, in terms of time and cost, of a few mistakes made in order to learn the business? Will the trend toward institutional investment in art continue? Should there be regulation, and if so, what should it regulate?
About the only sure thing is that no set of laws can protect a buyer from his own bad taste or ignorance. A woman recently came to a curator with an American primitive painting she had just bought for a considerable amount of money. It was the first work of art she had ever owned. "The dealer told me that this painting was very rare because it has a square cow," she told the curator. The painting, rough even for a primitive, featured a boxcarlike spotted creature. "Tell me," the lady continued, "is 'square cow' an art term?" No, it isn't, but clearly the bull market is upon us. □