Dream Town in the Wilderness
Alaskans are on the brink of building themselves an idyllic state capital on a pristine site. The new city would be a "model of urban order"—but is urban order what this lusty, last-frontier state really wants?
I. Frozen Brasilia
Sixty-five thousand barren Alaska acres, snowcovered and freezing half the year, swamp grass and mosquitoes the rest, may in twelve or sixteen years be the setting for a model American new town, costing one, two, or three billion dollars.
Then again, they may not. On November 7, Alaska's voters will make up their minds by accepting or rejecting a $966 million bond issue designed to get the whole project under way.
On the surface, it all looks straightforward enough. In August 1974, Alaskans voted (46,659 to 35,603) to move the state capital from Juneau to Somewhere Else. In terms of the initiative they were voting on, that somewhere else had to be "west of the meridian 140° west longitude"—which ruled out Southeastern, the narrow Inland Passage tail of Alaska that runs along the edge of British Columbia. And the new capital couldn't be in Anchorage or Fairbanks, Alaska's no. 1 and no. 2 cities. The drafters of the initiative specified a site at least thirty miles away from either one, in order to establish a truce between the two rival boom towns just long enough for them to do in old Juneau.
Governor Jay Hammond (who had opposed the initiative) appointed a nine-member capital site selection committee, which spent a year looking for available sites, and settled on three—all located within eighty miles of Anchorage. Of these, the state's voters chose in November 1976 (to no one's surprise) precisely 65,699 acres of state-owned land just beyond the thirty-mile limit north of Anchorage, as the whitetailed ptarmigan flies.
Although Anchorage itself is a sprawling, all-American mess of a city (population about 200,000, nearly half Alaska's), its outskirts drop off to wilderness very quickly. The airstrip nearest to the chosen site adjoins a hamlet called Willow, where the 1970 census-taker counted twenty-four houses (fourteen with toilets), nineteen summer cabins, and thirty-eight year-round residents. Most people in Alaska, even those who hope the city is never built, have taken to calling the proposed new capital Willow too. The population is now over 300, and available space there is going for $10,000 an acre.
Seven months after the voters made their choice, Governor Hammond appointed a nine-member capital site planning commission to come up with a design plan for a new capital city on the Willow site, and to advise the state how it might be brought into being. The state legislature—most of whose members liked the idea of moving about as much as the Governor did—added to the commission's chores by insisting that it cost out a city of no fewer than 30,000 people. ("We may have to get ropes to lead 30,000 people to Willow," one commissioner complained.)
The commissioners hired as their executive director Morton Hoppenfeld, forty-nine, the cool and candid chief planner of Columbia, Maryland (the most successful new town of any size in the lower forty-eight states), and engaged a score of separate consultants. A year ago last summer they invited inquiries, and attracted 160 from firms all over the country. They invited eleven design firms up to Alaska in September, heard the cases of those who came (including Skidmore Owings & Merrill, the nation's largest), and eliminated all but five. In October, repesentatives of these five were helicoptered out for their first look at the site.
For a month the five finalists1 could only twiddle their thumbs and reflect philosophically. By the time the detailed maps and program requirements finally arrived, they had less than a month (and a fee of $16,000) to come up with their concepts of what the new city might be. Hoppenfeld insists that all he wanted was "ideas" and "concepts," but each of the five firms worked around the clock in a fury of overachievement, attempting to create the winning plan.
Last December, they were all flown back to Anchorage and given an hour apiece to present and defend their plans—with video replays for Juneau and Fairbanks.
After a week of debate, the judges settled on the low-key, distinctly nonmonumental dream capital of two small San Francisco firms (Bull Field Volkmann Stockwell, architects; Sedway/Cooke, planners). BFVS/SC were given another $120,000 and sent home to translate their ideas into a finished city plan.
The commission, meanwhile, had set its various consultants to work (including Hoppenfeld's old Columbia, Maryland, colleagues) to put together the required financing, implementation, and "impact" details. This was done by early February, in the form of an inch-thick, spiral-bound, yellow book, thirteen supporting documents, and a 17,000-word bill they hoped to see turned into law—a package they offered to the state legislature at Juneau in March. On Easter Sunday, a twenty-eight-page color insert describing the dream town was tucked into fifteen Alaska newspapers as a supplement.
The bright brochure, like the yellow book and the 17,000-word bill, are all wishful thinking, though, four years after the voters' mandate. "When is a mandate not a mandate?" Paul Nussbaum of the Anchorage Daily News once asked. "A mandate from Alaska's people is a mandate to Alaska's government when it's politically expedient. The rest of the time, it's closely akin to spitting in the wind."
A lot of powerful people in Alaska are still trying to keep the move from happening, initiative or no initiative, design plan or no design plan. And a lot of other powerful people in Alaska— including those who have now written and paid for three separate capital move initiatives (in 1962, 1964, and 1974)—are determined that it will happen. Between them, this war has been going on for almost twenty years.
From March through June of this year, the legislature in Juneau argued over the intricate financing and governance plans drawn up by Hoppenfeld and his consultants. They fretted and fussed, caucused and dealt, and tossed this political hot potato from committee to committee.
But in the end, the figure voted out by the Alaska state legislature was exactly the one proposed by the capital site planning commission in February: a grand total by 1994 of $3.5 billion, of which $966 million would be paid for with loans taken out by the state over the next fifteen years.
Reading twenty years of hyperbolic editorials, listening to bitterly partisan city fathers, trying to sort out quarterand sixteenth-truths from the self-serving rhetoric of politicians, the outsider is tempted to dismiss the whole affray as a messy internal affair: a war of one chamber of commerce against another in an oversized, underpopulated, nouveau riche state.
But one ought not to dismiss it too quickly. What they're arguing about up in Alaska is one of the most provocative, thoughtfully designed American cities ever proposed. What they may (or may not) risk is an attempt to impose a pattern of ordered urban civilization on a monster state that has been the quintessence of untrammeled free enterprise, both corporate and private; a state that doesn t know what urban order means, and maybe doesn't want to.
II. Designing a Capital
After Mort Hoppenfeld phoned them on December 9 and told them of their victory, architects John Field and Henrik Bull and planner Tom Cooke flew up to Alaska again for a long, private look at the site. They are all expert skiers, trim and athletic men. Bull and Field, both forty-eight, were raised in Vermont and northern Minnesota respectively, and have earned an impressive reputation designing buildings in western winter resorts. But they had some trouble negotiating the deep drifts of powdery snow after their helicopter left.
They had trouble getting their bearings as well. For four hectic weeks the team had worked ferociously trying to plan a city center for a place they had seen only once. Poring over maps, photos, models, and reports, they had finally settled on the "perfect site" in the whole hundred-square-mile terrain, a narrow ridge running east and west between the ravines of Deception Creek and Lilly Creek, about a mile and a half south of the Mt. Bullion dome.
This ridge, they decided, would form the spine of their town center. Houses, apartments, shops, offices, restaurants, terraces, and promenades might look out over the lakes they would carve out of existing "muskeg," or swamps; or across Knik Arm toward the Chugach Mountains; or into the standing forests of spruce and birch. But the great glass-walled capitol lobby and the northside street corridors intersecting Main Street at acute angles were designed to focus dramatically on the Mt. McKinley massif, looming up splendidly ninety miles to the northwest.
On this solitary trip, the three men floundered about in the snow on cross-country skis, to take possession for the first time of their new town. They climbed to the top of their ridge and looked around. No Mt. McKinley. After an hour's panicky reconnoitering, they realized they had climbed the wrong ridge. Retracing their steps, they tried another slope. To their relief, America's highest mountain was, indeed, right where it belonged—right where they had drawn it.
All five finalist groups spent last October reading everything they could find about Alaska, and brainstorming generally on new towns, state capitals, long winters, and snow. It wasn't until November that they were each sent the needed carton of materials from Anchorage: aerial base maps and photomosaics; a 1:6000 scale topographic site model in urethane foam; weather patterns; moose migration studies; legal and financial analyses; a list of government space requirements; a sociological profile of Alaskans; rules for solid waste disposal; and—most important—"Draft Program Components for the Alaska Capital Plan," the commission's summing-up of what their new city would require.
In addition to housing much of the state government in "energy-efficient" buildings of two million square feet, the planners had to design the rest of the city, and this document pretty much told them what kind of a city to build.
Somehow related to the town center of offices, shops, apartments, and places of business and entertainment was to be a major community campus, its facilities used around the clock by townsfolk as well as by high school and junior college students. The commissioners wanted a hotel at least as big as the 218-room Baranof in Juneau, plus a resort lodge, a dormitory, and a park for 200 recreational vehicles.
Away from the center were to be two or three satellite districts, each built around a supermarketshopping "precinct" and a junior high school, whose fields, halls, and library were to serve as the district's public places as well. Reaching out from these, to form one of those neat snowflake or molecular model designs urban planners always use, were cozy residential neighborhoods, each with its own elementary school (to which every student could walk), and its own playground, church, and general store.
Safe walking (skiing, bicycling) paths were to connect all of these through the trees. The whole program was a reflection of its godfather: Columbia, Maryland.
There were, however, Alaskan variations written into the program. For one thing, the designers had somehow to cope with or plan for the state's dreadful burden of behavioral illness: alcoholism, drug abuse, mental disorder, broken and beaten families, suicides and murders, all (according to the social scientists) related to the unique, everyday rigors of living in Alaska—the awful weather, the immense spaces, the dreadful isolation, the indiscernible angst of white sensory deprivation and cabin fever.
Cabin fever [wrote the consultants] is a term used to describe the effects of isolation and confinement in rural areas associated with darkness and the long winter. Boredom, a lack of motivation, decreased ability to concentrate, excessive use of alcohol and drugs, intense need for privacy, anxiety, tension, marital and parent/ child conflict leading in extreme cases to child abuse and other acts of family violence, mental and physical breakdown, including suicide, are common signs of cabin fever.
So they were to build more indoor recreation centers, more playgrounds, more village restaurants and "teen centers." The original BFVS/SC sketches showed Willowites actively flailing away in heated indoor handball and squash courts, just like swinging San Franciscans. They were to design school buildings that could be kept humming around the clock with community activities. Benjamin Thompson & Associates of Cambridge, one of the five finalists in the competition, went so far as to fantasize a Willow housewife ("Linda Larsen") of 1988, writing to a deprived friend somewhere else:
Unlike the old days, I no longer hang around home all day. I wind up my housework and cooking by noon, in order to bike over to the Spruce Village Center, where loads of things are happening. . . . I'm doing pottery right now in one of the workshops. My friends are learning to hook rugs, upholster furniture, cook Japanese, and speak Russian.
No cabin fever for Linda.
They were told to cluster homes together for intimacy and security; to vary things; use boardwalks, not concrete; keep it alive. Colors were to be warm and bright, illuminated interiors kept full of plants, to contrast with the near-sunless seven-month winter. This was, indeed, existential architecture.
The multiplicity of religious denominations—a legacy of the state's missionary past—explained the need for plenty of churches: ten, in the original program, soon grew to thirty. (The current Juneau phone book lists twenty-six, for a town of about 20,000 souls.) Rationalist architects protested: such a waste of square feet.
Aim everything possible toward the south, they were told, to drink in as much of the sparse sunlight as possible. Shelter everything from the northern winds, from the snow. Don't totally exclude the hostile subarctic nature behind log walls and narrow windows. Just respect it, adapt to it, keep it visible behind glass, or tolerable under shelter. Light up the city everywhere possible, reduce as much as you can the gloom and terror of those long nights that drive Alaskans to drink.
The whole town had to be designed for snow, of course: roof slopes, road grades, sheltered sidewalks, ski racks, "mud rooms," outlets to plug in car-engine heaters, spaces for snowplows (and plowed snow). Willow, "moderate subarctic" at 500-1000 feet, can expect 80 inches of snowfall a year, and mean winter temperatures of 10°F. The existing forest was to be left: no hardwood over twenty feet was to be moved, no conifer over ten. "Garbage cans should be placed to discourage dogs and bears."
Beyond that, "Design of the new capital city should itself be an expression of the diversified culture and artistic heritage of Alaska." The diversified culture, so far, has been a prime source of racism and economic exploitation. The artistic heritage, apart from native crafts, is one of catch-as-catch-can frontier funk, the world's largest McDonald's, metal sheds, rusting trailers, and Do-It-Yourself. As John McPhee wrote, in Coming into the Country:
When you drive along an old back road in the Lower Forty-Eight and come upon a yard full of manufactured debris, where auto engines hang from oak limbs over dark tarry spots on the ground and fuel drums lean up against iron bath tubs near vine-covered glassless automobiles that are rusting down to the soil, you have come upon a fragment of Alaska. The people inside are Alaskans who have not yet left for the north.
They're different folk, these Alaskans, the architects were warned. They escaped from somewhere below because they disliked what was there—high densities, congestion, the dominance of technology—and they don't want to turn the most spectacular Wide Open Space in the United States into that.
They distrust all government, the planners were told, and despise Lower-Forty-Eight (or Sierra Club) intrusions. They dislike change. They may hate "technology," but they depend on their transportation machines (cars, trucks, float planes, RVs, boats, snowmobiles) far more than mere outsiders. However and wherever they live, they fancy themselves easygoing, independent outdoorsmen and pioneers. So whatever you build, "keep it Alaskan in character: open, expansive, informal, oriented to outdoor life."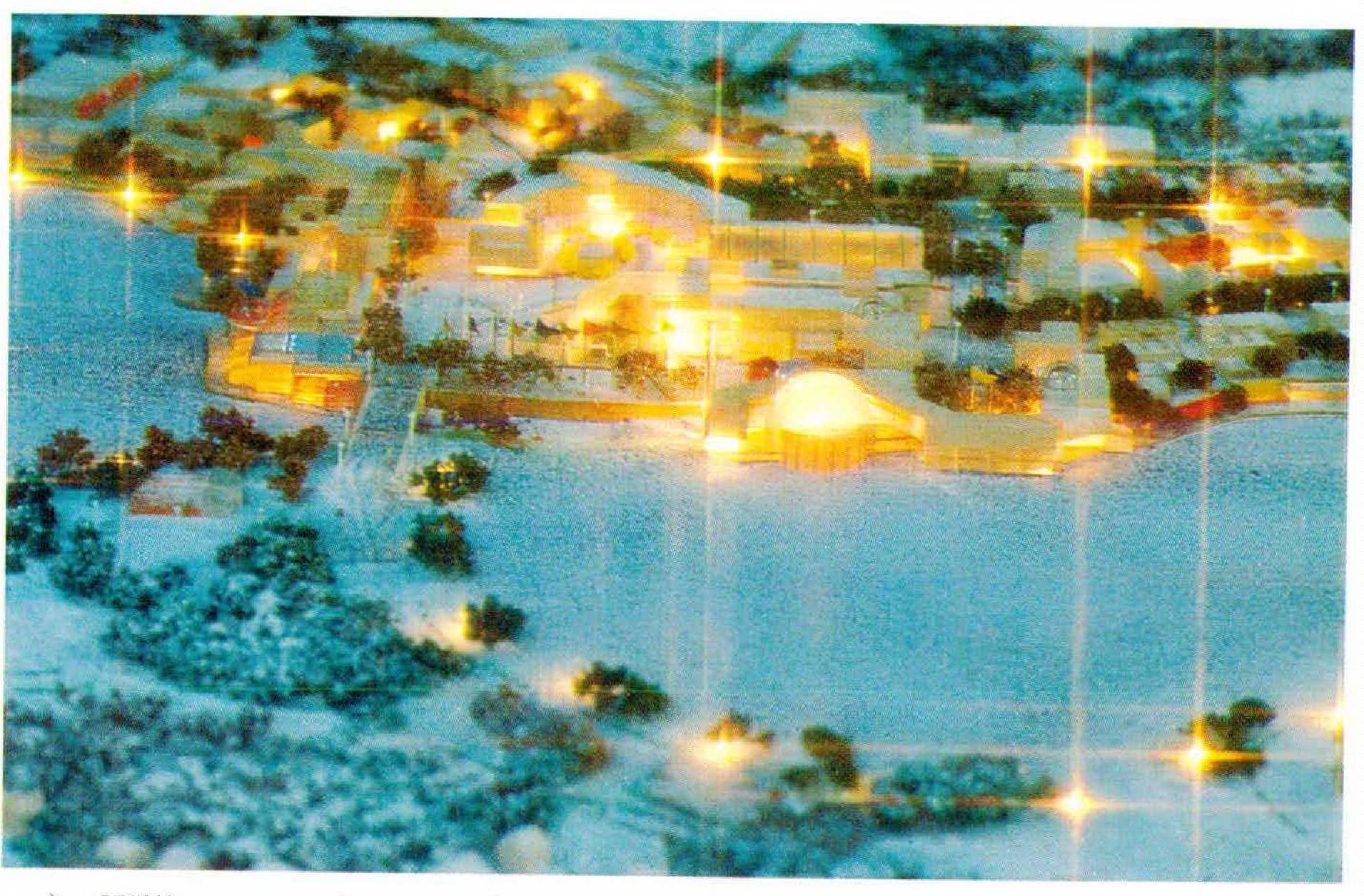 Commissions can propose, and their consultants elaborate, for pages on end. But it takes keen insight and analytic skill to skim through all those contour lines and parameters and decide what matters most; what should really determine the shape of the city-to-be.
Maynard-NBBJ had put its city center south of Deception Creek, with two residential villages looping east and west like Mickey Mouse cars, and a single bridge spanning the creek. Their plan contained all the right things—public transit loops, "cogeneration" heating plant, "Utilidor" ducts. But it seemed hurried and incomplete: scattered, simplistic, unimaginative.
The flashy series of L-K-P/Pereira drawings began, in good Los Angeles style, with a new airport, from which an entry boulevard led straight to the central ring road. Their city center straddled the deep creek with three separate bridges, and set shops, hotel, and government buildings on its steep northern slopes. Planning errors alone may have killed this entry's chances—it ignores Mt. McKinley and the problems of bridging the ravine, worries far more about civic building than about housing. But even more damaging, from the local judges' point of view, may have been the fact that their capital complex ended up looking very outer-spacey, rigidly geometric, with long, glazed, airportlike "pedestrian spines" reaching out to satellite buildings. Distinctly not Alaska.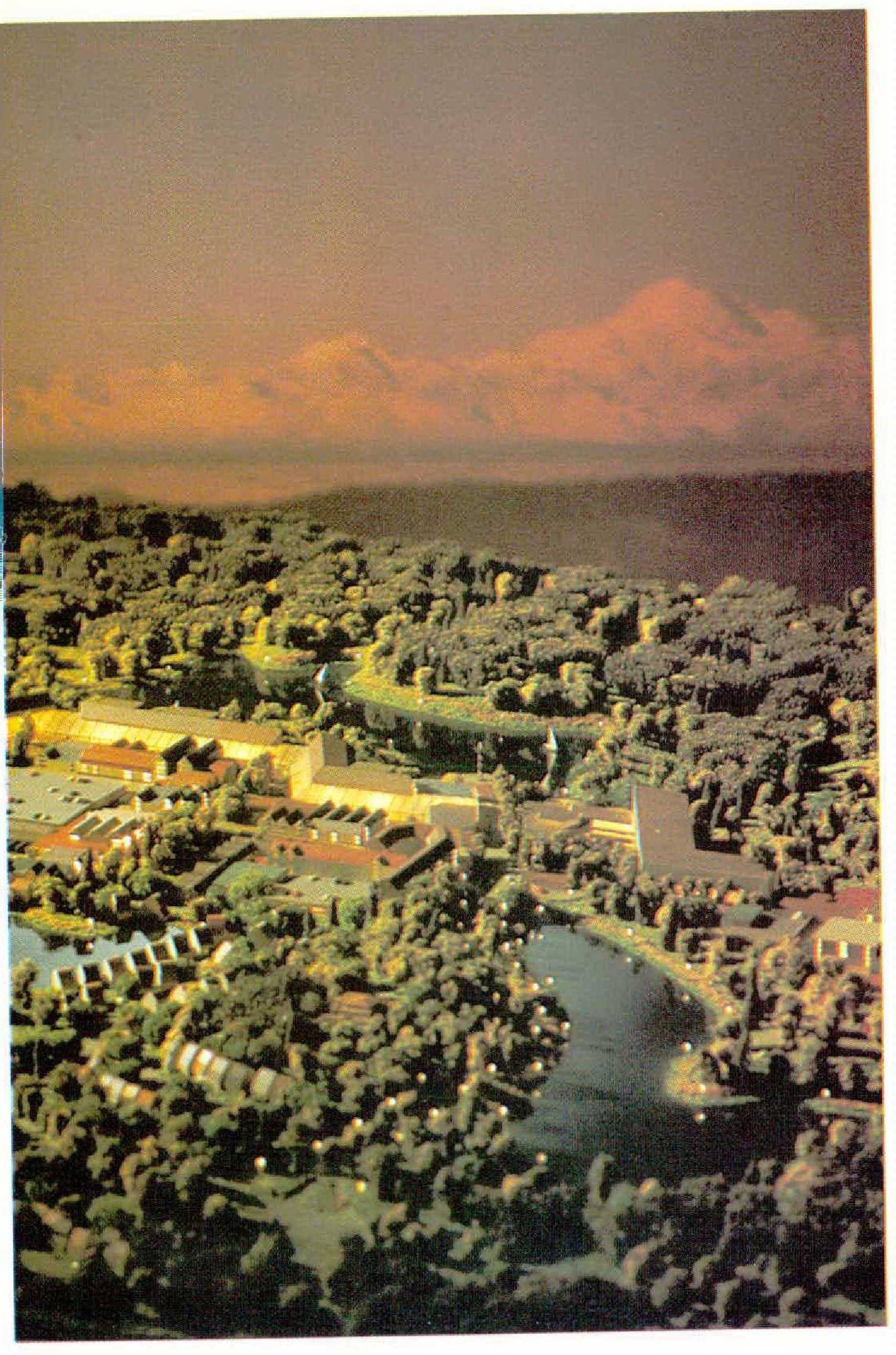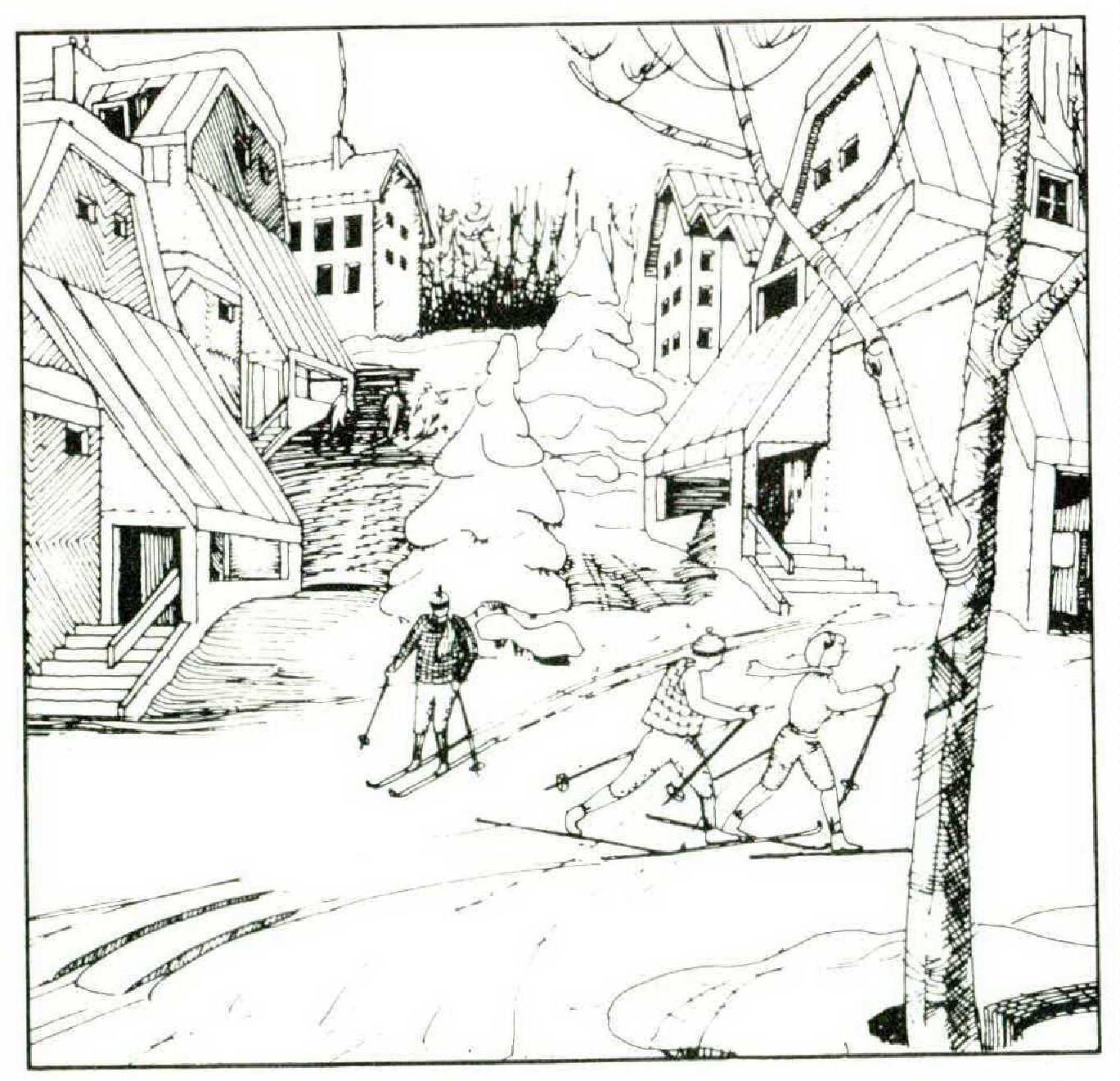 Sasaki Associates tried very hard (they presented twenty-seven panels of sketches and plans), and thought the whole problem through with meticulous logic. One of their men dazzled the judges in Anchorage by projecting a color slide of the site on a screen and then drawing in their proposed city freehand with a red felt pen: very impressive. But by adding function to function with impeccable common sense, Richard Galehouse (their chief designer) had come up with a government center almost overpoweringly huge. Vast bureaucratic blocks reach out for a thousand feet on either side of a great central glass "tent." These grow three more huge arms to the south; then it all connects to federal building, high school, hotel, on and on in a mile-long megastructure that forms an alltoo-honest image of Alaska's ever-expanding state government.
The runners-up in the competition, Friedberg/ Thompson, had avoided the megastructure concept of other designs in favor of smaller-scale, "organically" clustered buildings. They had also invested a small fortune in a huge model of their city, romantically illuminated by hundreds of softly glowing lights, with tiny people and flags spotted around spacious plazas and turquoise lakes.
"We had (if I may say so)," wrote Jane Thompson, "the most spectacular model ever made." A good part of their four weeks must have gone into building it. One spellbound juror begged the commission to vote for their entry, "Go with genius," was the way she put it. "I am convinced in my heart that this plan is superb." But the final vote was five for BFVS/SC, three for Friedberg/Thompson, one absent. Hoppenfeld (who didn't vote) favored the San Franciscans too.
The Friedberg/Thompson plan is truly a fantasy city—an effort to imitate the charms of such festive places as Piazza San Marco, Tivoli Gardens, Ghirardelli Square, Disneyland, the Thompsons' own remodeled Quincy Market in Boston, and to superimpose them onto an actively functioning new town of 6000 state employees and their families in Alaska. "I love Piazza San Marco," John Field said, "but it doesn't belong in Alaska."
The winning plan may also be dangerously idealistic. One of its notable distinctions was its effort to spare Willow the horrors of the polluted ice fog that plagues Fairbanks, by making it easier to get around the city without a car. BFVS/SC persuaded Hoppenfeld and his commission not only to let them ban all machines except the town's minibuses up and down the zigzagging Main Street (it's only three quarters of a mile long) but also to let them build a separate, uncurbed, twenty-four-foot-wide lane, connecting all the neighborhood centers, reserved entirely for their forty little buses—and for people, of course.
Jane Thompson is convinced her firm was done in by this pedestrian Main Street. "I was horrified when I saw it,"she told me. "The whole mall idea is hopeless, artificial. Everyone knows that. Everyone except Mort. I thought he knew better, but he's obviously still a mall-man."
There is an auto loop as well in the winning plan, and plenty of space for Willowites to park all their beloved machines. But separating cars and buses, the planners hope, will enable them to guarantee transit riders a much faster trip by bus—something Columbia, Maryland, never managed to pull off.
In the end, the two San Francisco firms decided to let the distant prospect of Mt. McKinley rule their design. The only way to give it maximum exposure, and at the same time to get maximum sunlight, was to erect nothing at all between the town and the mountain; to concentrate the whole town center along that single uneven ridge south of Deception Creek; to create broad lakes—both north and south—to ensure year-round access to sunlight and views; and to design their compact, contour-following town in such a way that every wide, intersecting street downtown pointed either northwest, to the 20,320-foot spectacle of Mt. McKinley, or dead south, to the low winter sun.
The deep ravine of Deception Creek would remain 100 percent unbuilt. Everything north of it is to remain a recreational greenbelt, a moatlike barrier to sprawl. The creek should stay pollution-free, clear, and full of trout. Hoppenfeld called it "a stroke of genius in design"; none of the other finalists ventured as much.
Like all the others, BFVS/SC were planning a town, not designing buildings—not yet. But the structures they drew into their renderings define a very approachable, human-scale place, in contrast to the immense, futuristic megastructures of rival plans—"a city for a client who doesn't like cities." They combine steep mountain-cabin roof lines, San Francisco-style bay windows, a great variety of storefronts and elevations, lots of church steeples, arcaded sidewalks and glasscanopied street bridges, and one of Henrik Bull's trademarks: diagonal natural-cedar siding and elegant wood details. They even insist they can live with a few of Alaska's rusty trailers and tar-paper shacks.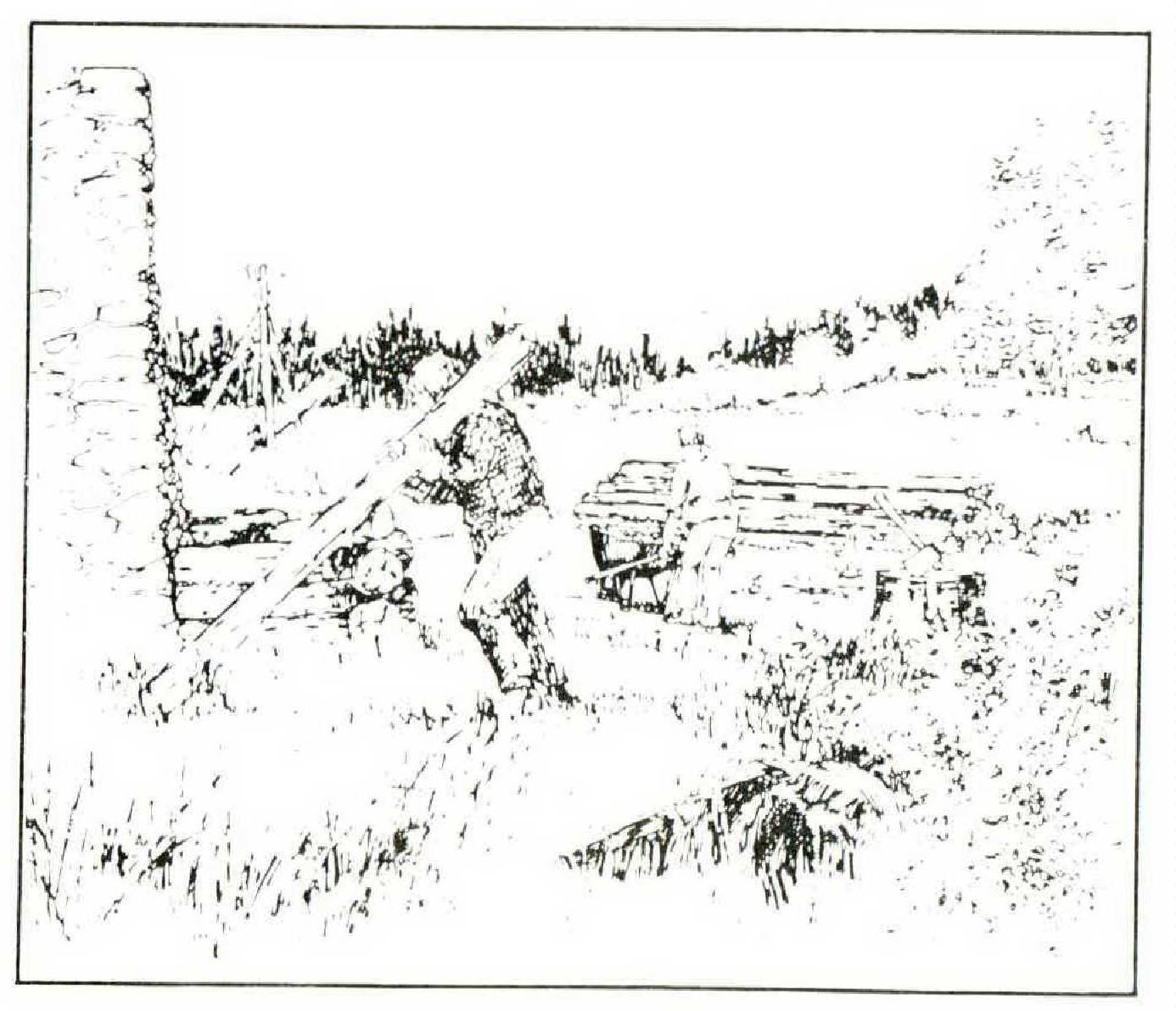 At the final presentations in Anchorage last December, all five teams (interestingly enough) came up with similar ideas for replacing the old marble capitol dome and rotunda: lofty, glass-walled lobbies (or commons, or wintergardens) at the intersection of the three branches of government, all sprouting tall totem poles and hung with bright banners, where tourists and civil servants, lobbyists and politicians, are expected to mingle happily among vivid and changing displays, stare at their mountain, eat and drink, ice skate, talk to all the indoor plants—and, one presumes, go about their business.
Whether the capital will be able to attract any residents except the families of state employees who are ordered to move there, lobbyists, and the business people who will serve them remains an open question. At the moment, Willow lives in its plans and projections as a one-industry Company Town. The designers' hope, of course, is that it will end up so livable, so practical, so handsome and well-designed a place, that even nonpolitical industries and Alaskans will want to make it their home.
III. Look at the Pipeline!
Basically, the controversy over the capital is a war between two cities. Those with entrenched interests in Anchorage are for it; those financially dependent on Juneau are against it. But anyone who starts asking Alaskans for their opinions will end up with a great tangle of reasons for and against. Some seem honest and authentic. Others are probably cover-ups for less noble, even unconscious motives. Reduced to a kind of order, the reasons most commonly given for not moving the capital are these:
1.The people were tricked into voting for the move, without being told its costs or implications.
2.It's much too expensive. The state is already heading for bankruptcy by overspending so insanely on its great expectations. We should worry first about the poverty and deprivation of most of rural Alaska.
3.It's all a plot to enrich Bob Atwood (publisher and editor of the Anchorage Daily Times, and for twenty years the loudest advocate of a capital move), his banker brother-in-law, and other Anchorage land speculators.
4.A new capital at Willow will ruin a virgin valley, and encourage the development of one long Californiastyle slurb from Anchorage to Fairbanks.
5.New cities are bound to be sterile—especially totally artificial company towns peopled entirely by bureaucrats. Look at Canberra. Look at Brasilia.
6.No voter needs to travel personally to his state capital to participate in government or look after his interests nowadays.
7. A capital so near to Anchorage will only tip the scales further toward that city's total hegemony over Alaska. "Everybody in Alaska hates Anchorage."It is, one is told, a gluttonous, greedy, sprawling, un-Alaskan city—unlike dear old Juneau.
8. Juneau will "shrivel and die."
The arguments in favor of the move seem to come down to these:
1. Juneau is remote, isolated, and inaccessible. It's virtually not Alaska. (But then, if Anchorage isn't Alaska, and Juneau isn't Alaska—what is? Point Barrow?) Legislators are too far away from their constituents to be responsive or trusted. The only way to get there from Anchorage is by plane, at $170 a round trip. And then you might not be able to land, because of the dreadful weather. And once there you might not be able to get out. (One is told—often—of the four days in January 1960 when heavy fog encircled Juneau and stranded legislators on a nearby island. State business "ground to a halt" until the governor sent a ship out to fetch them.)
2. A capital at Willow, on the other hand, would be within driving distance of 70 percent of the population. Most legislators could drive home, if not nightly, at least on weekends.
3. The real arguments in favor of Juneau, one is told in Anchorage, have nothing to do with the welfare of Alaska. It's just that the moneyed interests based there want to hold on to their power. Lobbyists (who count for a great deal in so resource-rich a state) find it easier to manipulate an isolated legislature deprived of other distractions. And the legislators themselves are too lazy to change their ways. "The one thing I can tell you is that the bulk of the legislators don't want a move. But that's a normal human failing—most people don't want to move; they prefer the familiar to the unfamiliar,"said Senator Clem Tillion of Halibut Cove.
4. Juneau has for decades exercised a malign and selfish influence, depriving the rest of the state of its due.
5. An attractive new capital, nearer to the action, could attract a better class of legislator.
6. There's an inherent excitement in the very idea of creating a model new town. Even Representative Sally Smith of Fairbanks (who called the idea of moving "repulsive") admitted, "There is something appealing about the opportunity to start from the beginning and do it the way we feel it should be done."Look at Canberra. Look at Brasilia.
7. The whole state's going to be filthy rich soon. Why not use some of that money on a beautiful new capital?
8. "The people have spoken."
Another body of opinion hates all state governments, period, and wishes a plague of giant Alaskan mosquitoes on both houses. This group doesn't care where the capital goes, so long as it isn't where they live. Still another group favors putting the capital in Anchorage, which does make a certain amount of sense.
The November vote, however, will probably be decided on the basis of dollar figures more than anything else. The citizens of Alaska read and hear with tiresome regularity of billions and billions of dollars. A while ago, such sums might have inspired a heady euphoria, a sense of unlimited futures. Today, they are more likely to arouse only suspicion and distrust.
"Look at the pipeline!" wrote a woman recently to the editor of the Anchorage Daily News, protesting the capital move.
It cost many times more than the original estimate, the same is true of the federal building in Anchorage, the North Slope Haul Road, recent hotel construction, even an average split-level house . . . .
For a while, you could get almost as many and as wildly varying assessments of the cost of a capital move as you could of building a pipeline. "Various preliminary studies have placed the cost of building a new capital at between $100 million and $2 billion," wrote the Alaska Advocate in May 1977. The early, $110 million figure used by the Anchorage Daily Times just before the 1974 election represented not the cost of building and moving to a new capital city but only the difference in cost—to the state— between staying in Juneau (where a vastly enlarged state government would probably have to be accommodated in any case) and moving somewhere else. Frank Harris, chairman of the capital relocation committee in 1974, went even further. He told the Los Angeles Times that year that it wouldn't cost the taxpayers anything to make the move, "since land sales would more than cover building costs."
Early this year, a senator from Ketchikan guessed for me "several billion dollars." Mayor Bill Overstreet of Juneau came in with $3.5 billion. Three and a half is the current working figure, though it hovered at $4.4 billion for a few weeks.
Where would that money come from?
The master plan divides it up simply enough: the state would borrow $966 million—the sum that will appear on the November bond issue—between now and 1994, half of it during the last six years. It would pay the rest, including interest on these loans—$1,363 billion—out of its regular annual revenues.
Can Alaska afford the price?
Optimists will remind you not only of current oil revenues but also of all the fortunes yet to come: that great $10 billion gas pipeline project; billions of barrels of untapped offshore oil; 200 (or 400, or 500) trillion cubic feet of natural gas; more coal deposits than the rest of the states combined. Copper. Nickel. Molybdenum. Tungsten. Fluoride. Zinc. Gold. Uranium. "With thoughtful planning," wrote James P. Roscow, in 800 Miles to Valdez, "the long-range benefits of what was getting underway today might still be multiplying for Alaskans well past the year 2000, as the state's vast natural wealth is converted into a broad natural affluence."
What some optimists forget is how hard, how nearly impossible it may be, both politically and technologically, to get whatever may be there out. (The current national controversy over Alaska's so-called "d-2," or lederally protected lands, is obviously involved in this.) And few Alaskans except the current governor seem to remember that even the Prudhoe Bay oil will run out in twenty to thirty years, with all those bonds still to pay off. "When those tubes go dry," Jay Hammond warned three years ago, "we'd better still have some timber on the slopes and some fish in the seas."
Pro-movers will argue that state income is bound to go up, so why worry? "The state has money it doesn't know how to spend," insisted Hanrahan and Gruenstein in Lost Frontier: The Marketing of Alaska. "At a time when states and local governments throughout the nation are beset by fiscal woes, Alaska stands in the unique position of trying to figure out what it will do with surplus money." In the year after the first valves were opened in June 1977, 256 million barrels of oil have run through the Alyeska pipeline. The state's oil and gas income (severance and property tax plus royalties) for the past fiscal year totaled $422 million.
Estimates of state wealth to come from oil and gas are anybody's guess. Before the pipeline was built, oil production taxes hovered at about $30 million a year. A legislative report of 1974 guessed future state oil revenues at half a billion a year. In June of that year, GOP Governor Egan foresaw a "three to five billion dollar surplus" by 1984; he was seconded by the manager of Exxon-Alaska, protesting against higher oil production taxes. A U.S. Department of Labor report of 1975 predicted a 1980 peak of $1.1 billion. The state Department of Revenue talks about $1.5 billion, from oil and gas taxes, by 1985.
If they're right, the capital-move share of the state's total revenues will be only 3 percent of the total up to 1990, according to University of Alaska economists.
Anti-movers insist, though, that—however much money the state has—buying a new capital will mean not buying other things. And other things, they remind one, are what the state needs a lot of, primarily in the Bush (the northern, western, and interior rural areas). Outside the southern fringe Alaska is astonishingly underdeveloped for an American state. Governor Hammond talks of "a village poverty scale which points up by contrast the affluence of Appalachia."
IV. Fat City Values
The fifty state capitals of America may by now seem fairly well settled, but for a hundred years they were shuffled to and fro according to the political and economic power of different regions and warring interests in almost every state. There is not a single issue raised in the Alaska capital controversy today that has not been the subject of legislative harangues in half-a-dozen other states.
Alaska is the largest U.S. state and was, until recently, the least populated. (Oil pipeline immigration pushed it past Wyoming a couple of years ago.) It has the population of Toledo, Ohio, spread over the space of Mongolia—except that Alaska's people refuse to spread. A population density map (or a tour of the country) shows Alaskans clustered around the sprawling, utterly graceless boom city of Anchorage.
Far below Anchorage stretches the damp, isolated claw of Southeastern, where everybody (everybody non-native) used to live, which is why the present capital (now one-twentieth the size of Anchorage) was placed there in 1906. Three hundred and sixty miles north of Anchorage is Fairbanks, a grungy, unplanned frontier town whose population almost doubled during the pipeline years—the jumping-off place for the rest of Alaska. The rest is as empty, as overwhelmingly impressive, and as potentially rich as . . .as Siberia.
The rest is silence, mostly: the white, metaphysical silence of glacier and tundra, where winter-long nights shroud empty pipeline compounds and the metal shanties of native villages; the silence of mountain ranges and ice plains beyond the imagination of anyone living in a city down below. Through it all, from north to south, worms an oil pipeline four feet wide and four and a quarter million feet long, which took three years to build, cost more than $7 billion, and threw the state into a turmoil that has not yet subsided.
But the pipeline represents only one of many local wars. Alaska has had far more than its share of rancorous controversies in the last twenty years—all piled on top of frantic inflation, the highest cost of living (and the highest per capita income) in the United States, unemployment that has reached 14 percent, a huge burden of bureaucracy, persistent ill-feeling between natives and whites, a drastic decline in staple industries (lumbering, salmon fishing), and the most inhospitable distances, topography, and climate in the country.
The capital-move controversy has brought to the state another divisive and emotional issue. Between now and Election Day, crude insults, shabby rhetoric, and false figures will fly through the Alaska air. But the bottom-line dollar figure is the one most voters are likely to respond to, whether they understand it or not. "If I lose sleep over anything," Mort Hoppenfeld admits, "it's over whether we were right to be so superconservative." Determined to avoid the slightest taint of the pipelines' absurd underestimates, he and his commission tried to reckon in every possible expense, every possible thing that might go wrong. They ended up with a figure that, however honest, is easy to misuse and misinterpret, and may frighten the state away from its own best future.
Alaskans can't be blamed for a certain apprehensiveness about dollars. But there are other things involved in this project besides politics, problem-solving, and large-scale financing.
The ideas of Hoppenfeld and his wiser commissioners in Alaska, of BFVS/SC and their associates in San Francisco, are sensible, humane, civilized in the most genial sense. Their sketches are handsome.
The reality wouldn't be like that. It never is. Low bids might come in for giant costand energy-efficient office blocks, and the city development corporation could cave in. The tidy town houses might not sell; some Anchorage sharpie could take them over and try ticky-tack instead. Those virgin slopes north of the creek could become too valuable not to sell for fancy estates; so much for the trout. A new bridge over the Knik Arm of Cook Inlet could put the capital only half an hour out of Anchorage. People might insist on driving downtown.
But even if no more than 50 percent of the designers' ideas were realized, Willow would still be the most tolerable and human city in the state. "Alaska has its share of ugly cities,"Mort Hoppenfeld reminded his employers, places that may well have helped to nurture the state's Fat City values. ("You can talk to me all you want about the last frontier. To me it's just plain Fat City." —Pipeline worker to reporter, 1976.)
It might be nice, just for once, to try to create a man-made setting for the more substantial Alaskan values. Along with all the get-rich-quick types, the state still manages to attract outsiders who seem more in tune with the better possibilities of Alaska. For every Fat City exploiter, there may be a person in Alaska like the British Petroleum geologist who tried to give words to the state's potential better self:
There's always a mystique attached to the Arctic . . . the remoteness, and the relatively unexplored quality of the area, and people's ideas of the cold and privations that you must endure in an environment like this. You feel that in some way it ought to produce finer feelings in people.
Bull Field Volkmann Stockwell and Sedway/Cooke, of San Francisco; M. Paul Friedbergand Partners of New York, with Benjamin Thompson & Associates of Cambridge; Sasaki Associates of Watertown, Mass., with Quadra Engineering; Maynard-NBBJ Alaska (the Anchorage representative of an international firm); and LaneKnorr-Plunkett of Anchorage and San Francisco, with William Pereira of Los Angeles.↩