If I were to see, in the New York Times, "Now is the time for all good men to come to the aide of the party," I would conclude not that the Times had been guilty of a misprint but that it was talking about Bill Brock of the Republicans or John White of the Democrats. For the Times, aides make up a large part of the population of the United States. The Times gives the impression that young people enter college with the intention of qualifying for this increasingly popular status:
"And when you have graduated, my boy, what would you like to be?"
"An aide, father. It is an honorable calling, and a necessary one."
No edition of the Times is complete without a batch of aides. Indeed, no front page is. Almost as ubiquitous as aides is aid, which has a much longer history as a headline word and a bit of governmental jargon. Sometimes they come together.
From the New York Times, March 31, 1978:
"Washington, March 30—Ronald Reagan's political action committee, Citizens for the Republic, will not give money to candidates who oppose Republican incumbents in primary elections no matter how conservative the challenger or how liberal the incumbent.
"Lyn Nofziger, the group's executive director, said that the policy was decided on even though it would mean denying aid to Jeffrey Bell, an aide to Mr. Reagan in his Presidential campaign in 1976 who is running for the Republican Senate nomination in New Jersey against Senator Clifford P. Case, a liberal."
Deny aid to the aide? Unthinkable, I thought, thereby thinking the unthinkable. I was wrong. Aides don't receive aid. What aides do is report, thus: "Aides Report Carter Bans Neutron Bomb" (April 4). Aides who report are then spoken of: "Aides Are Said To Seek Delay" (April 5). Having reported, sought, and been spoken of, aides explain: "Aides Say Pressure From Congress and Allies Not To Scrap Weapon Contributed To Latest Step" (April 7).
Seeing themselves written about, aides naturally have opinions about the quality of the reporting: "Carter's Aides Evaluate Coverage" (April 13). When asked, they offer these opinions to the President himself: "Washington, April 13—President Carter has summoned his top aides and Cabinet members to join him this weekend at Camp David for a two-day stocktaking, an unusual move that seems to reflect a general concern with the Administration about its battered public image" (April 14).
Aides don't want aid. They don't have time to use it. They have more pressing worries: "Aides Voice Concern Over Cuban Combat Activity In Ethiopia." "Aide Sees Age Bias By Panel On Aging." They go places and do things: "Carter Sends Aides To Turkey For Talks." When not sent anywhere, they hang about inner circles, so that they can make aidelike comments: " 'It was clearly not a final decision,' said one aide who was closely involved." Sometimes, usually on weekends, the inner circles are moved a short distance from Washington and the aides move with them: "Washington, April 14 — President Carter is expected to ask senior White House aides and members of his Cabinet to develop ways to centralize in the White House the Government's procedures for long-range decisionmaking.
"That is the purpose of a two-day conference at Camp David in Maryland beginning Sunday to which the aides and Cabinet officers have been summoned, according to a senior White House aide."
Some aides take roles in the give and take of presidential decision-making, thereby becoming role aides: "The sources suggested that Mr. Powell had overreacted to the President's normal practice of challenging proposals given to him and having his aides defend them." But it isn't all work and no play. Aides are, after all, only human: "Jane Wales, Aide at White House, Wed to Lawyer."
All of those mentioned so far are presidential aides, and considering how many matters they already influence, it is probably as well that their number is not to be increased: "Washington, April 4—With gibes at President Carter over his campaign promise to cut the White House staff, the House today rejected legislation to fix the staff's size at 354 and almost double the number of aides at the top salary levels."
Aides not at the White House do other things. They shape policy: "Young Aide Shapes Defense Policy." They raise doubts about their competence: "In recent days, some White House officials have been privately complaining to some journalists about the ability of Mr. Vance and some of his aides to deal with the Russians." They even raise doubts about their attitude: "Asian Workers Cite Abuse In Guam; U.S. Aides Are Termed Indifferent."
What else do governmental aides do? They react calmly (which may be why they are sometimes termed indifferent): "Antitrust Aides See No Need To Split Up Oil And Coal Sectors" and "Antitrust Aides See No Oil-Coal Conflict." Now and again, aides, possibly indiscreet ones, complain: "'They said that's just the way things are—you cannot do anything about it,' an aide to Mrs. Harris complained about the White House people." They speak after the fact: "The interview, an aide later said, took place on March 22, at San Clemente, Calif." They occupy places in hierarchies: " 'A lot of the money being raised by the business-oriented political action committees is going to the freshman and sophomore Democrats who are opposed to many of the policies of the leadership,' said a senior House aide." Becoming a senior House aide takes time and attendance at congressional committee meetings at which witnesses are questioned. Those who do this are, in a manner of speaking, hearing aides.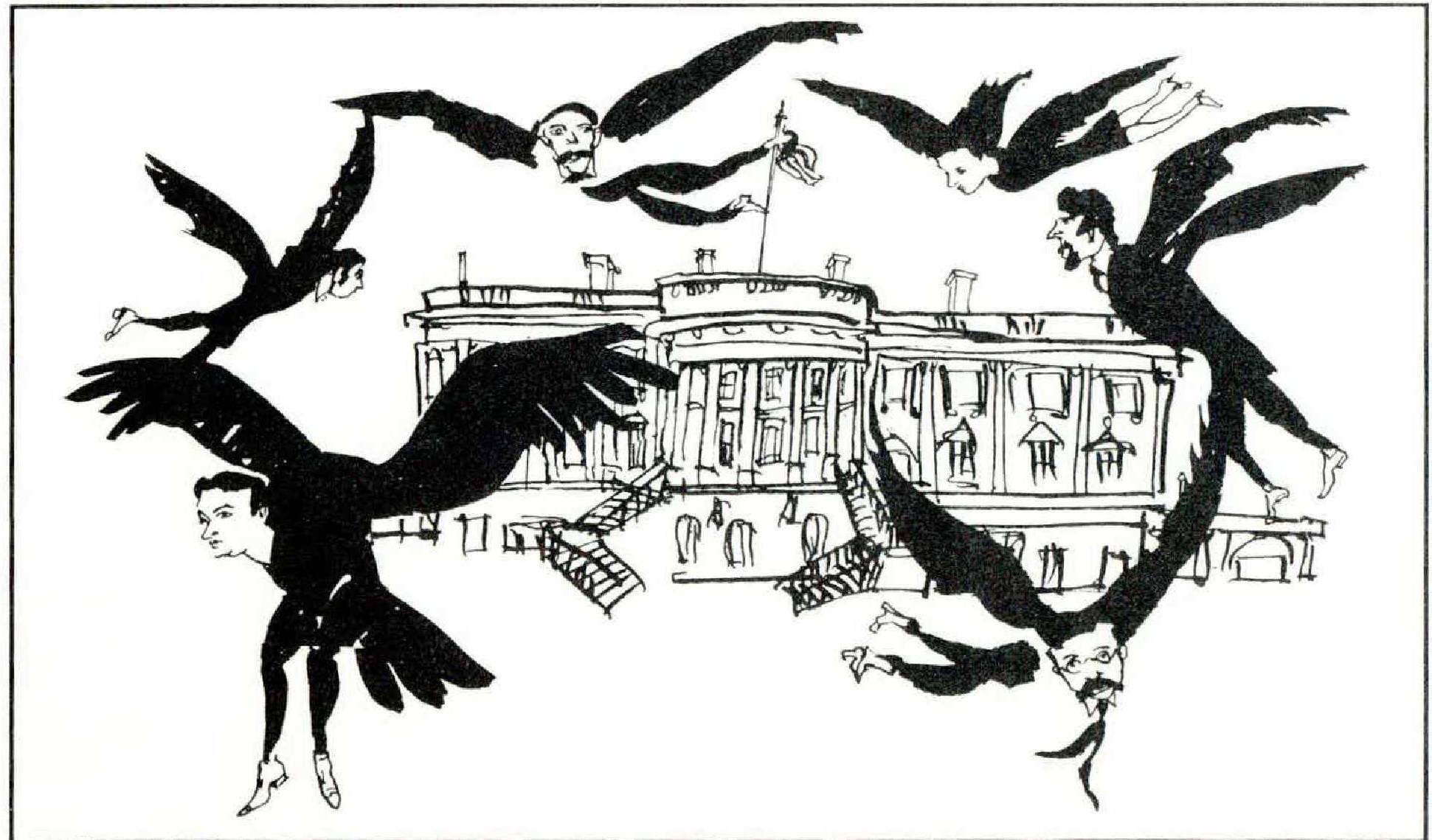 Some aides may be found working for counties: "Social Service Aides Back L.I. Allegations." Some work for states: "Lefkowitz Takes Stand To Defend His Role In Case Against 4 Aides" (March 30). "Judge Acquits Lefkowitz Aide In Perjury Case, Citing Lack Of Motive" (April 1). Some work for cities: "Koch, An Opponent Of Westway, Now Telling Aides It Is 'Inevitable'." City aides may botch things: "Pact Came Close To Slipping Away After The Entry Of Koch And Aides." Sometimes, they make visits: "Koch And Aide Visit FireScarred Block," and on these occasions and in sufficient numbers, they constitute an entourage and are used as evidence of good intentions: "To prove it, he instantly assigned his entourage of aides to take care of things amiss that were pointed out to him."
Here and there, unfortunately, aides are accused of wrongdoing: "San Francisco Traffic Aides Held In Parking Meter Inquiry." This also happens on the federal level and to those no longer in service: "Gray And 2 Ex-F.B.I. Aides Indicted On Conspiracy In Search For Radicals."
No aide is entirely safe from such charges, even those in private enterprise: "Aide Of ITT Denies Lying On Chile Role"; or those formerly in private enterprise: "Olin And 3 Ex-Aides Indicted On Dumping Mercury In Niagara"; leading, in the latter case, to mystification among private enterprise aides still serving: "Olin Aides 'Baffled' By Mercury Claims." Nor is a private enterprise aide serving someone no longer in private enterprise immune: "Aide To Ex-G.M. Executive Defends Change She Made In His Insurance."
Aides are not a peculiarly American phenomenon: "Cairo Aide Defends Peace Effort Against Demands It Be Cut Off"; "Key Argentine Aide Is Slain, and Leftists Claim Responsibility"; "Soviet Citizen, Waldheim Aide, Defects At U.N."; "West German Aide Quits Over '36 Pro-Nazi Thesis"; "P.L.O. Will Hold Fire In Lebanon, A Top Aide Says"; "Chinese Aides Visit U.S. As Tourists." On reflection, perhaps the Times was naive about the Chinese. Maybe they were tourists visiting the United States as aides. It's a way to be written about.
I began by saying that aides do not seek aid. Aid is for others: "Carter Offers Rise In Aid For Farmers"; "Pan Am Says Koch Will Aid In Keeping Offices In New York"; "Budget Pact In Albany Raises Aid To Schools With Problem Pupils"; "Lebanon Pleads For Refugee Aid To Avert Catastrophe"; "Met May Lose 'Tut' Show Aid"; "$55.6 Million In U.S. Aid Is Pledged For South Bronx"; "Ohio Prepares Aid Plan For Schools In Cleveland"; "Carey To Offer Aid For Transit If Koch Will Back Westway"; "Board of Education Loses Ruling On Aid For Bias In Hiring."
Standing alone is "Aiding A Vision In Portugal." It is not easy to aid a vision, which is likely to slip away or even disappear just when you're approaching it with outstretched hand, but editorial writers—this was on the editorial page—may know how to do it.
The "aides" and "aids" I've cited are a sampling of those that appeared between March 24 and April 16. The peak came in a story written in Washington on April 11. In three quarters of a column, it told of an influx of aides, several White House aides, top White House aides, a relatively new White House aide, an aide familiar with some of the changes, aides with more diverse backgrounds and broader experience, campaign aides, additional staff aides, and top aides.
The Times should drop aide—and give it back its original military application—and it should drop aid, as well, and a few other journalistic clichés. Perhaps it could be done with one great heave, one great headline:
AILING AIDES ASSAILED ON AID TO AGING
If the ailing aides were in Adelaide, Australia, and the aid was to be distributed in Aden, the picture would be complete.
Aides cannot wither nor custom stale? They can.