Railroads: Aboard the Ghost Trains
Long-distance rail travel in America will soon be changed completely, but a few of the old trains (often nearly empty) still roll across the prairies.
RAILROADS
Early this spring, Paul Reistrup, the president of Amtrak, announced that he was quitting. His decision seems another landmark in the decline of American passenger trains.
As recently as the mid-1950s you could still travel almost anywhere in the United States on a train, and usually do it in comfort, arriving on time. But in fact, intercity passenger trains were in deep, long-standing trouble. The causes were as obvious as highways and airplanes and as obscure as the accounting and marketing practices of the New York Central Railroad.
Within about fifteen years the once vast and efficient national passenger system was a ruin. The government took over what was left. In 1971 the old romantic names—such passwords to travel as Atchison, Topeka & Santa Fe, Illinois Central Gulf, Milwaukee Road, Southern Pacific—disappeared from the sides of coaches and most of what was left of intercity passenger trains fell under the hegemony of the publicly financed corporation called Amtrak. This could have been the name of a new luncheon meat or CIA project. In fact, it represented the worst passenger railroad in the industrialized world.
Mismanaged and inadequately financed, Amtrak was forced to rely for maintenance, operating crews, and tracks on private railroads, several of which were in decline while others were hostile toward this federal interloper. Some of the best private railroads tried hard to make Amtrak's trains respectable in their own territories. But over most of the system, battered equipment, demoralized crews, and ruined tracks made for slow trains, late trains, trains bossed by rude conductors, trains that broke down, trains that pitched as if at sea.
Reistrup became president of Amtrak in March 1975. It seemed possible that under him Amtrak might succeed after all. An experienced railroad executive in his mid-forties, Reistrup was known for ingeniousness and competence and for a quality rarely found in managers of railroads: he is fond of passenger trains. In the fall of 1975 I took a trip with Reistrup. Afterward, I wrote an article ("Trains in Trouble," August 1976 Atlantic) about him and his dream of building a fine new passenger service for America. "There's a lot to be said for a train, for improving the quality of life," he told me one night, while sitting in a club car that was passing through Kansas. And I thought to myself, Reistrup will save the trains, if anybody can.
But no miracles followed to cure the problems of deteriorating track, of Amtrak's growing $.5 billion-a-year operating deficit, of archaic union work rules and long-lamented featherbedding. Congress and the Administration continued to disagree about policy toward Amtrak, and the government did not come up with the large capital grants that Amtrak needs if it is ever going to work properly. None of that was really Reistrup's fault, though on occasion he was less than politically adept. When he announced his resignation, Reistrup complained of the government's indecisiveness, and of the nearly constant interference by Congress and the Administration in Amtrak's affairs. He called the situation "impossible." Even his detractors could sympathize. A member of the curious and passionate organization called the National Association of Railroad Passengers told me, "I think rail travel fans have grown generally disenchanted with Reistrup, but it may just be that it's an impossible job."
On June 1, Alan S. Boyd, former president of the Illinois Central Gulf Railroad and the first secretary of transportation, will take over as Amtrak's third president. What can he hope to accomplish? Can enough Americans be lured back to the rails to justify a high public investment? There will never be a completely satisfactory answer to that question unless the government makes the investment and service is greatly expanded and improved. However, a few guesses are possible.
Some trains do have obvious promise. Most transportation experts agree that swift new Amtrak coaches, operating in a rebuilt northeast corridor between Boston, New York, and Washington, would attract a host of riders and might even turn a profit. Reistrup hoped that a new northeast corridor would be the catalyst for the rest of his new national railroad. Yet the corridor could as easily become all there is of the railroad. Fast trains traveling on short schedules through other busy regions may prosper. But I fear that graveyard runs await the trains that I like best— the few remaining "long hauls" that ramble across the great American distances towing real bedrooms, real restaurants, and real lounges equipped with easy chairs. They are little towns on wheels. In some petroleum-starved future, those trains might win back large followings, but today they are less convenient than buses and cars, slower than airplanes, and very unprofitable. If the government starts pruning routes, long-distance trains should be the first to go.
Whatever happens, travel by railroad in America will soon be completely altered, either modernized or greatly reduced or both. For those who want to recollect or imagine what American passenger trains used to be, it is time to obey the conductor's venerable command and climb aboard.
Not long ago I went traveling on trains again. One afternoon late last October, while walking through a woods near my small New England town, I came upon an abandoned stretch of railroad track. I balanced on one rust-caked rail awhile. Birds were flocking. Woodsmoke hung in the air. When I got home, I spent the afternoon gazing at the yellowed map of the United States on my wall.
The best way to go would be south, like the birds. I could catch the Transcontinental Sleeping Car when it was hitched to the Southern Railway's Southern Crescent. I found the necessary instructions, in fine print, inside my Amtrak timetable: "Thru passengers may occupy the Transcontinental Sleeping Car during overnight layover in New Orleans." What a good idea! Two days out of Washington, D.C., at roughly 8 P.M., I'd ride into New Orleans on the sleeper. There I might climb off and eat some gumbo. The following noon I'd be back in the coast-to-coast sleeper when it departed for Los Angeles, attached to the Sunset Limited.
In many places in the United States, the world of the passenger train lies hidden, behind shabby, neglected facades, in abandoned parts of cities and towns. This time I entered through South Station in Boston. It was dank and gloomy. Men leaned in corners clutching bottles wrapped in paper bags. One could catch a glimpse of a grand old building under the grit, behind the various plywood partitions. All along the route the scene was the same: pillared, porticoed, generously marbled stations, now empty and unkempt, with neat little Amtrak ticket counters off in the corners near the pinball machines.
I rode down the northeast corridor to Washington first. One vision, widely shared, fancies this stretch of railroad completely reconstructed and populated with dozens of new 120-mph trains. Inside, the seats would be filled with bankers from Boston, ladies from Baltimore, and New Yorkers with attache cases open on their laps. Through the windows of those speeding trains, one would see blurs of traffic jams on the so-called expressways, while overhead jet planes would circle as usual, waiting for their moments to land.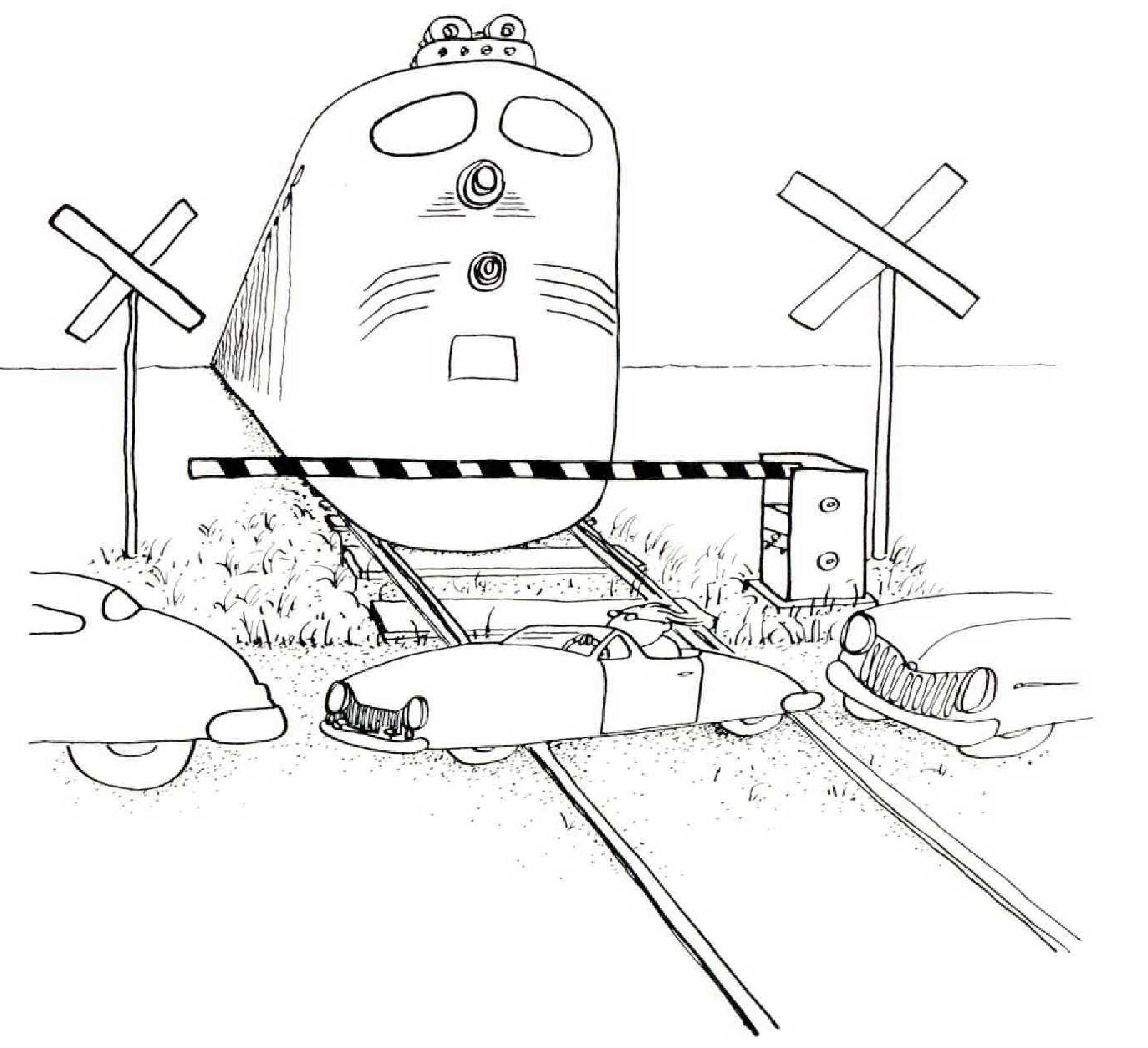 Work on this dream started in the spring of 1977, after many delays. Nagging problems have cropped up: how, for instance, can Amtrak's fast trains share track with slow commuter ones? But Amtrak PR men claim that the vision will come true by 1981, and they may be right, for Congress has appropriated almost $2 billion to build that shiny new corridor.
I could see the change beginning. Although my train to Washington ran the old slow schedule, over tracks yet to be repaired, the equipment was brand new. It was a train of freshly minted "Amfleet" coaches. I didn't like their tiny windows, a legacy from Amtrak's first president, who was "an airlines man." The stand-up diner served prepackaged food from which all taste had been expunged. And I missed the sound of the conductor's voice singing out the stops; a public-address system has usurped that function inside the Amfleet cars. Yet the new cars were clean and their motion smooth. They did represent a great improvement over the filthy, dimly lit, rocking-rolling train that I had suffered on two years before, between Boston and D.C. If Amfleet was the future, it seemed acceptable.
I was instructed in this point of view by a well-informed stranger whom I met on board. A mechanical engineer in his fifties, enamored of obsolete steam locomotives, my new acquaintance said he had loved railroads ever since he was old enough to line up a string of toys beneath his parents' kitchen table and pretend that he had made a train.
"It don't seem like railroading," he said, looking around our Amfleet coach. "But I guess they don't run railroads just to seem like railroading. I would say that this car here rides comparable to a Union Pacific coach in the 1950s."
I laughed disdainfully, betraying my ignorance.
My knowledgeable companion looked at me from over the tops of his glasses. "That was a compliment, you know."
After Washington, I transferred from Amfleet to older sorts of trains, from the future to the past. I found myself on an excursion into memories, mostly other peoples':
"When I got out of the service in '46 there was forty-two schedules a day through here and now there's just the Crescent," said the Southern Railway agent as he made up my ticket for the Transcontinental Sleeper in the all but empty, small cinderblock building that now serves as Southern's Birmingham station. "And there was seventeen clerks in the ticket office then, and I'm the last of them. I don't believe they count on this train or me bein' around here much longer."
The elderly, slow-moving agent opened up a cluttered drawer and pulled out a bar of soap, which he handed to me. The wrapper read: "You're safe and sure when you travel by PULLMAN."
"Now that," said the agent, "is a real souvenir. You have a nice trip and hurry back, hear?"
A few days later, on the Sunset Limited, I struck up a conversation about baked potatoes, then and now, with a dining-car steward named Ike Houston. It took him back. "We gotta forget the old days," he insisted. In a moment, however, he was remembering the ride he had taken on the Sunset many years ago, when the train made its maiden voyage west.
It sounded like a trip that had been worth taking. "Was the food good then?" I asked.
"Oh, man," said Houston. He shook his head at me, it was such a stupid question. "Ooooh, man!"
Train windows look out on the oldest parts of cities and towns, crosssectioned by the tracks. You glide beside landscapes that no automobile has ever visited. From Washington, I rode down to Georgia, past many little towns whose names I didn't catch, the train rumbling through them as if it meant to knock them flat. From Atlanta I went to Birmingham, then to Louisville (a stormy voyage on Amtrak's wretched Floridian, over the ruined tracks of the Louisville and Nashville), then back to Birmingham, and at last I was lying by my window on the coast-to-coast sleeping car, going to New Orleans on the Southern.
The Southern Railway is one of three that stayed out of the Amtrak pact. It runs the Crescent by itself and pays the losses. The new management does not love passenger trains. At present it is maneuvering to rid itself of this last, unprofitable piece of "varnish." A Texan, very fond of trains, summarized this general problem for me. "It is entirely possible to love railroads," he drawled, "and not love railroad companies." Yet during the era of Amtrak, the Crescent has been a plug for private enterprise in general and for the Southern Railway in particular. The cars on my train were old and some of the upholstery threadbare, but the only dirty car in the whole train was the Transcontinental Sleeper, which belongs to Amtrak. The porters, who wore starched white coats with holes in them and fraying cuffs, were almost painfully polite. (The porters seemed to be in mourning for the trains of yesterday. Many railroad men are thus afflicted. One veteran dining-car steward who works for Amtrak could not bear to serve his customers with Amtrak's ordinary table settings. So he purchased a set of old railroad silver. Now he carries on board his own gleaming pitchers, forks, and knives. He cannot bring back the fancy menus, but he does make sure that in his car passengers still eat in the traditional style.)
The Crescent rolled down across low trestles, through that swampy region which natives call "L.A." (meaning "Lower Alabama"), over brown rivers, past small red-roofed stations with ancient baggage carts by their front doors and weeds sprouting up through the cracks in their platforms. In Mississippi, a delicate black and green steam engine, wearing the inscription "Hattiesburg & Bonhomie Southern" on its side, sat by the tracks, looking ready to roll. In the dusk, Purvis, Poplarville, Slidell slipped past. We crossed Lake Pontchartrain in the dark, and then New Orleans lit the sky.
Late that night, just before I fell asleep, I felt my car being moved around in the New Orleans yards. When I awoke in the morning and stepped outside, I saw that my sleeper had been hitched to the Sunset, just in front of a remarkable, a wonderful old railroad car. It sat there at the end of the train, shining, like a gift. "Silver Lookout" was its name.
The "Lookout" would be the Sunset's first-class lounge car. It would belong to me and my fellow passengers all the way to Los Angeles. It was early, hours before departure, but I took possession right away. I climbed aboard the enormous car and prowled around inside.
At the front end, I found four huge bedrooms, equipped with showers that no longer worked. Next, I discovered a pleasant-looking barroom; the seats were very soft. At the back of the car was a spacious lounge, flanked by tall windows. A stairway led from there to an observation deck, but I did not climb up to investigate that wonder, because a couple of Amtrak maintenance men were sitting up there talking.
"I hear this car will be gone next year," one of them remarked.
"Yup," said the other, yawning.
I sat down in one of the lower lounge's swivel chairs and practiced gazing out the "Silver Lookout's" rounded stern.
The "Lookout" was never crowded on that trip. Counting its empty seats when we pulled out of New Orleans, I felt both pleased and sorry. I believe most fans of travel by railroad have shared these emotions. An empty train is a bad omen, promising a bleak, trainless future, but it often makes for pleasant riding. In my experience, crowds on trains have usually meant dirty floors, bad smells, and squalling babies. Crowded trains can lead to enmity among the passengers. But on a train with less than half of its seats filled — as was the case with the Sunset— friendliness invariably prevails.
The journey from New Orleans to Los Angeles lasts for two and a half days, time for an ephemeral community to form inside the "Silver Lookout." Surely we had the best of Amtrak's new generation of porters, a young black man named Richard Ruffin, who told me that he always met interesting people in this car. Aboard were the Atterburys, Kirby and Renee, restaurateurs and seasoned travelers riding just to enjoy the "Silver Lookout" once again, for they feared its imminent retirement. There was also "Big Bill," a bartender from New Orleans, a very heavyset young man whose calling card described him aptly as "Dilettante Extraordinaire" and as "barman, entertainer, counselor." He was just traveling. Apparently just traveling, too, were several unaccompanied elderly women. There was a soft-spoken blind girl, and a woman who was drunk on sweet gin drinks most of the way to the coast. Her hair was dyed yellow. She had a hoarse, loud laugh.
When we reached El Paso and the train stopped for awhile, we all climbed out for the touch of stationary ground. I was strolling down the platform, admiring the train, when the hard-drinking woman from the "Lookout" came rushing toward me, her pocketbook bouncing, her arms outstretched.
"Greet me!" she cried, breathing sweetish odors of the barroom. "Pretend you're greeting me."
She was upon me before I could open my arms and deliver the welcoming hug. She pulled up short. She made a sour face. "Ahhh, you're no fun," she said, and we climbed back on the train.
Perhaps the most robust inhabitant of that fine and ancient lounge car was the shoe salesman. I met him on the second day out. We were riding through West Texas then. It is mostly sand hills, mesquite, and stubby telephone poles strung with single wire. You have to peer through the glass to notice the changes in that landscape. From time to time we passed a dirt road with the name of a ranch hung over it. The road would stretch off to the horizon. I was sitting in the lower lounge, occupying myself with thoughts of life out there, thinking that one could die of thirst on some of those ranches' driveways, when from the corner of my eye I saw a man sit down beside me. He started making sounds, clearing his throat, stirring about in his chair. So I turned to him. He was tall and bony-looking, all elbows and knees, with a wrinkled face and a large pitted nose, a quite elderly Ichabod Crane. He said something about the weather, and then I noticed his shoes.
They didn't match. On his left foot he was wearing a very shiny blue loafer and on his right a black brogan—"an attractive arch-preserver brogan," he would tell me later.
I showed an interest in his footgear, and the fellow pounced. He must have used that trick before.
Would I like to buy some shoes? Perhaps I'd like to be a salesman. Well, anyway, he would like to show me some of his samples. They were on display back in his tiny roomette, a dozer shoes lined up next to a paper plate of hors d'oeuvres, peanut butter and jelly on Ritz crackers.
Shoes, of course, led to other topics, and so it was that I heard a great deal about my new friend's days as an optometrist in a rural Massachusetts town. A year ago he sold his office equipment and hit the road. Now he was traveling, selling shoes on the side.
The sixty-five-year-old woman occupying the roomette across from the shoe salesman's confided to me one evening that the man was driving her mad. "He won't leave me alone! I think he watches in the morning and as soon as I get out of bed and he sees my feet, he's poking his head in through the curtain." In El Paso, the shoe salesman marched around the station singing the Harvard fight song—in order, I think, to tell us a piece of his life history. It was obvious why he was riding the rails: trains are notoriously sociable places.
On the last night of the voyage, a party was held inside the "Silver Lookout." One of the few young women on the train was having a birthday. Richard, most excellent of porters, arranged for a cake. Afterward, we sat around the lower lounge and played a getacquainted game. One had to affix an alliterative adjective to one's given name, and repeat all the other names that had gone before. It was interesting to hear the names that people chose for themselves. A demure young woman told us she was "Lascivious" Lele and a rather opinionated fellow admitted that he thought of himself, or feared that others thought of him, as "Inane" Irving. The shoe salesman had dressed for the party in a necktie, gray flannels, and a yellow smoking jacket that looked suspiciously like a bathrobe. He styled himself "Daring" Dick.
We were rolling in the dark now through Arizona, sipping drinks. The shoe salesman tried to repeat the names that had preceded his, and misspoke every one of them. Someone near me whispered, "He's doing it on purpose." But everyone else laughed, in a very friendly, indulgent manner, and the shoe salesman's cheeks began to glow. As the ghost train rattled on, he turned his face away. Then he made a remark as mournful as the sound of those famous old whistles blowing across the prairie. "I wish this train would never end," he said.
-TRACY KIDDER
REPORTS & COMMENT CONTRIBUTORS
George Kistiakowsky, professor emeritus at Harvard, played a major role in the development of the atomic bomb.
Tracy Kidder has written for The Atlantic on solar energy and on the Vietnam veterans.