Rocky Mountain Country
For refugees from industrial America, the Rocky Mountain states are the suburbs of Eden. Open spaces. Peaceful valleys. Clear, clean water. But the region also commands a huge share of the nation's remaining mineral wealth. Coal: billions of tons lying just beneath the ground. Uranium: 95 percent of our known reserves. Oil: more of it—trapped in shale—than exists in all the Middle East. The people who live here are divided in their own minds about whether to fight for the magnificent spaciousness they still have, or to collaborate in dirtying it, mining it, and filling it up. What they decide about their future will profoundly affect the future of the whole country.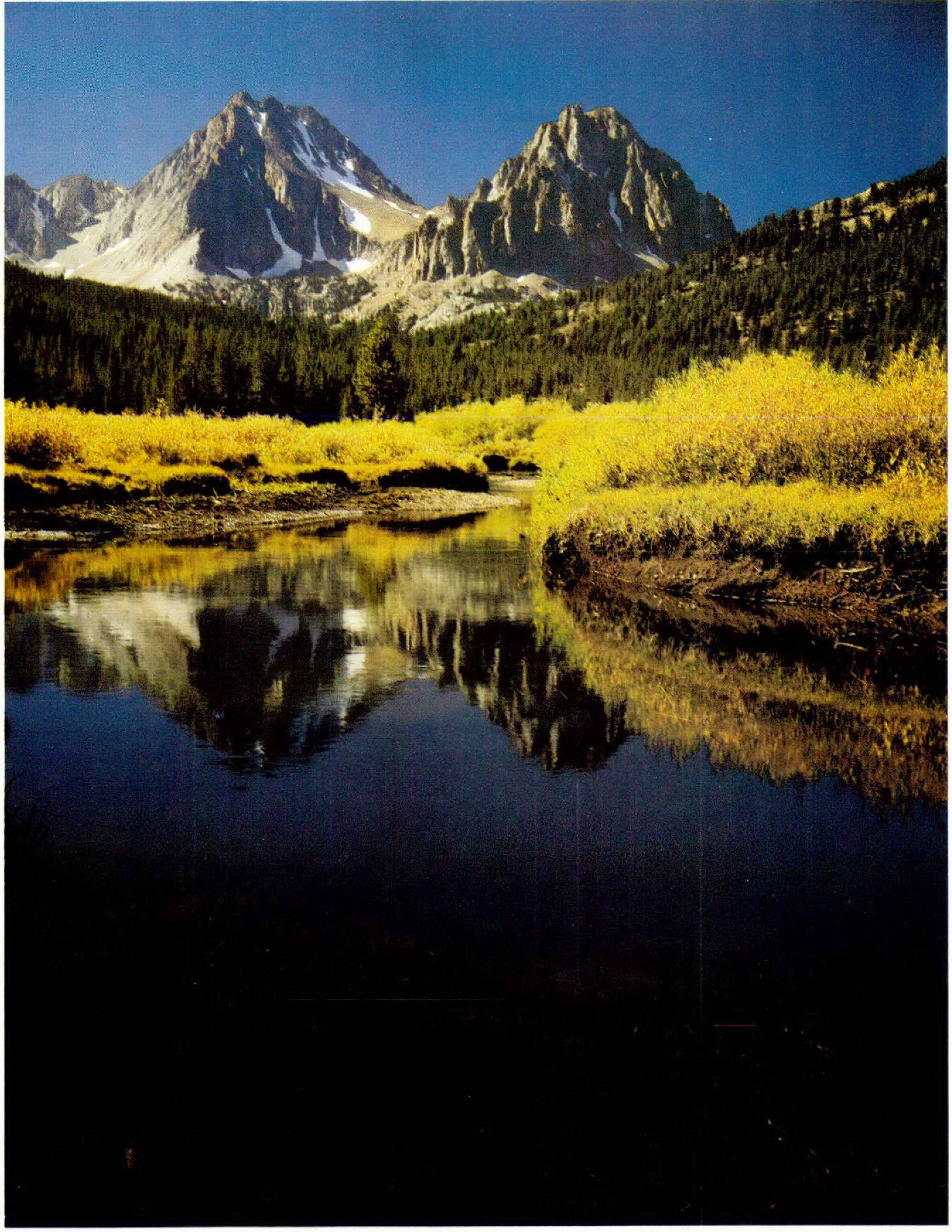 by Wallace Stegner and Page Stegner with an Ansel Adams portfolio
1. Living Under the Big Sky
Bright water braids through the yard between the log ranch buildings. The wind shakes down an aftershower of drops from a big old ponderosa pine obviously left over from the time when the Bitterroot Valley was prime timber country. Red Angus cattle with wet gleaming hides graze in the field across the road. In a corral a boy of twelve or so has kicked himself up onto the back of a 2000-pound bull and is riding him around like a pony.
Echoes of old, pastoral Montana, of the good natural outdoor life. A yard dog wags us up to the gate, where a St. Bernard with the eyes of a repentant roué takes over to escort us inside. In the kitchen he leaves muddy tracks the size of dessert plates, but Ross and Joan Toole, coming with their hands out, pay no attention. Ross has a boyish face netted with tine wrinkles that somehow make him appear younger than his fifty-seven years. Joan, slim and smiling in Levis and a checkered shirt with the tails out, her pants legs wet, looks as if she has just come in from irrigating, which it turns out she has. They lead us into the book-filled living room by the fire; the talk starts before we have eased down into the upholstery. Though we know the Tooles only from correspondence and from Ross's books (Montana: An Uncommon Land: Twentieth-Centu-ry Montana: A State of Extremes; The Rape of the Great Plains), we are friends in thirty seconds. The St. Bernard lies down with a groan and drops his jowls on his forepaws and turns up his pouched eyes, resigned to another session on the Rocky Mountains, past, present, and future, problem, solution, and hope.
What we talk of, Ross knows as well as anyone alive. Now Hammond Professor of Western History at the University of Montana in Missoula, he has been state historian and curator of the State Historical Museum, as well as president of a cattle company over in the Red Lodge country, east of the Absarokas. His family has lived in Montana since 1859, he knows everybody in the state. A lecturer whose classes draw anywhere from 700 to 1000 students, he is the best talker in Montana, and his head is packed like a honeycomb with facts about Montana's resources, the past raids on them, and the present threats against them.
We talk about growth, old and new populations, mined and husbanded resources, pressures on towns and backcountry, the transformation of little cities into bigger ones, cow towns into boomtowns, grasslands into pits and spoil piles, mountain valleys into suburbs, condominium slums, and tourist traps. We speak of local loggers and Forest Service officials in conflict or in cahoots, of wilderness preserved and wilderness lost, of Indians and Indian lands, of federal agencies and state politics, of water, strip mines, and power plants, of the slow accretion of environmental law, the difficult spiral of social change.
What we talk about is what we have been driving through for a week, ever since Boise. Not too long ago a pleasant little provincial capital nestled between the foothills of the Sawtooths and the Snake River plain, Boise is now, at three times its 1960 population, enjoying new opportunities and enduring new strains as it bucks for major-city status. Up along the Snake on the way to Twin Falls we have found the towns not much changed, only a little larger than we knew them. But the future is being written in the jets of water that curve from sprinkler irrigation pipes onto thousands of acres of raw benchland. Every new pump that sucks water from the Snake not only reclaims a patch of desert, it appropriates water in demand elsewhere; not only increases the need for power but decreases the power head at all the Snake River hydro plants, thus bringing closer the day of coal-fired plants with their construction booms, their environmental pollution, and their trebled or quadrupled cost.
The gray sage plains out from the river have not changed. Mountains still haunt the horizons, brown welded seamlessly to blue. The license plates of the cars we meet along what was once a weary stretch of the Oregon Trail say with bucolic pride, "Idaho Famous Potatoes." The air and light along the river are softened by man-made humidity, but as we turn north at Twin Falls, across the lava plains, the distance regains its old hard brilliance. A cluster of peaks far northward, fifty miles or more, up somewhere around Stanley, is as pure and clean and miniature as something seen through reversed binoculars. A car hurrying down from that direction wears a license plate like a promise: "Montana—Big Sky Country."
Famous Potatoes, Big Sky Country. There are the prose and the poetry of the mountain states, the practicality and the romance, reclaimed desert and untamed wilderness. A lot of people in Idaho are discontented with their potato slogan, envious of Montana and indeed of anywhere distant and romantic. In Pocatello they speak disparagingly of Idaho State University's fieldhouse as the Half Astrodome.
They needn't be envious. Montana's sky is no bigger than Idaho's, and it is every bit as endangered. In both Montana and Idaho, as in Utah, Wyoming, and Colorado, the people who live under that sky are divided in their minds about whether to fight for the magnificent spaciousness that they all still have, or to collaborate in dirtying it, mining it, and filling it up, in return for jobs for themselves and their children and profits for big-money corporations, most of them based outside.
One version of the future we have passed through in Ketchum Sun Valley, overbuilt but still building, a town of raw wood almost as new, though not so ugly, as Ketchum was when it was a mushroom mining camp. Of places like Sun Valley in Idaho, Aspen and Vail in Colorado, ski resorts being metamorphosed into all-season recreation and convention centers, many pleasant things may be said, but it must also be said that the entrepreneurs and pleasure-circuit people who are building them up unite in destroying the sanctuary they seek or sell. All are outside-owned. Sun Valley represents Utah-Wyoming money, Vail belongs to Texas, Aspen is being bought up by Twentieth Century-Fox. As corollary or antidote or penance for commercial development of gorgeous country, they also unite in promoting culture, in the same spirit that built opera houses in Leadville, Central City, and Butte a hundred years ago. They bring the city to the backwoods, sophistication to the sticks; and though there is a growing core of permanent residents trying to create a community, most of the population is as migrant, and shows the same steep gradient from nabob to drifter, as the population of the old mining camps.
Another variant of the future, related but less explicit and more ominous, looms at Stanley, fifty miles north of Boise, in a lovely, remote basin on the Salmon. It is overlooked by four mountain ranges and is being systematically bought up, for undisclosed purposes, by William Harrah of Hurrah's Club, Reno. Harrah has also bought land in McCall, Challis, and the Bogus Basin, some say in the hope that Idaho will legalize gambling so that he can build a string of New Renos (or more likely, New Jackpots), some say only because he understands the speculative value of outdoor recreation land. Our host at Stanley is an ex-sheepman, once neighbor to the Harrimans over on the Old Railroad Ranch near Island Park. He is holding off on Hurrah's offer for his six acres and 700 feet of Salmon River frontage with the best view in the valley. He hopes that a Morrison-Knudsen vice president will buy it as a summer place. Either way, his Ma-and-Pa motel is due for a face-lifting.
Still another variant of the future has surfaced at Salmon, a lumber and ranching town that is headquarters for float trips down the "River of No Return." Here the river runs very muddy in the rain as the cutover mountainsides wash down into it, and talk runs turbid too: some support the preservation of the Salmon River backcountry as wilderness, accessible only by boat and raft (it is now being inventoried in the RARE II study, along with other potential wilderness areas). Some, on the contrary, want to run up and down it in off-road vehicles, hunt and fish in it, and even log off its second-rate timber. The rangers in the local Forest Service office are cautious and discreet: they will have to carry out whatever policies Washington decides on, and they also have to go on living in Salmon.
It is not only the cloudy future we have been running through. We have touched heroic history all the way: along the Snake, the Astorians, the Whitmans and Spaldings, the Oregon-bound wagons; along the Salmon, Captain Bonneville, Alexander Ross, and other partisans of the fur brigades; at Hailey and Ketchum, the mountain gold rush. For an hour, too, we have sat in a wet cloud on the summit of Lemhi Pass, where Lewis and Clark first crossed the Continental Divide and started down what they thought would be an easy descent to the Pacific. They found themselves instead turned back by the impenetrable canyons of the Salmon.
We have followed them over Lost Trail Pass into the Bitterroot Valley, but it is not the same Bitterroot Valley that Lewis and Clark called in gratitude Traveler's Rest. The big ponderosas have been cut and have not renewed themselves: here the growth cycle is not forty years, as in Oregon, but more like 120. Logging jobs, vanishing, are clung to. And subdividers have gone a long way toward cutting up the ranches into house lots and junior estates of a few acres, for this is the Banana Belt of Montana.
The Tooles have reversed the process. Beginning as a simple country place, their few acres have become a ranch—because they are ranching people, because animals gather around them, because somebody gave their youngest son a Red Angus calf and it multiplied, because they could not resist buying the land across the road to save it from subdivision.
Ross, whom some people in Montana consider a fiery radical, describes himself as a true conservative. In 1969 he wrote an angry letter to his brother, blowing off steam about the excesses of campus violence, which made its way into 500 newspapers and was read by millions, more than 20,000 of whom flooded the Toole ranch house with their letters, mostly grateful. He thinks of himself as a member of the establishment. By his present and by a previous marriage, he has seven children, "all of whom," he says, "are grimly determined to live in Montana and die here. What I want for them, above all, is jobs and lunch buckets. I believe that their best and perhaps their only chance lies in the real future of Montana. That future (and the jobs necessary to it) does not lie in converting Billings into Bayonne, New Jersey. . . . Americans are seeking as they have never sought before what Montana has in greater abundance than almost any state in the Union—open space, clear, cool waters, a big, clean sky. Once, distance, space, and remoteness were our economic curse. Now they are our economic blessing. What awesome irony and tragedy it would be if we were to turn our curse into a blessing only to turn it again into a curse."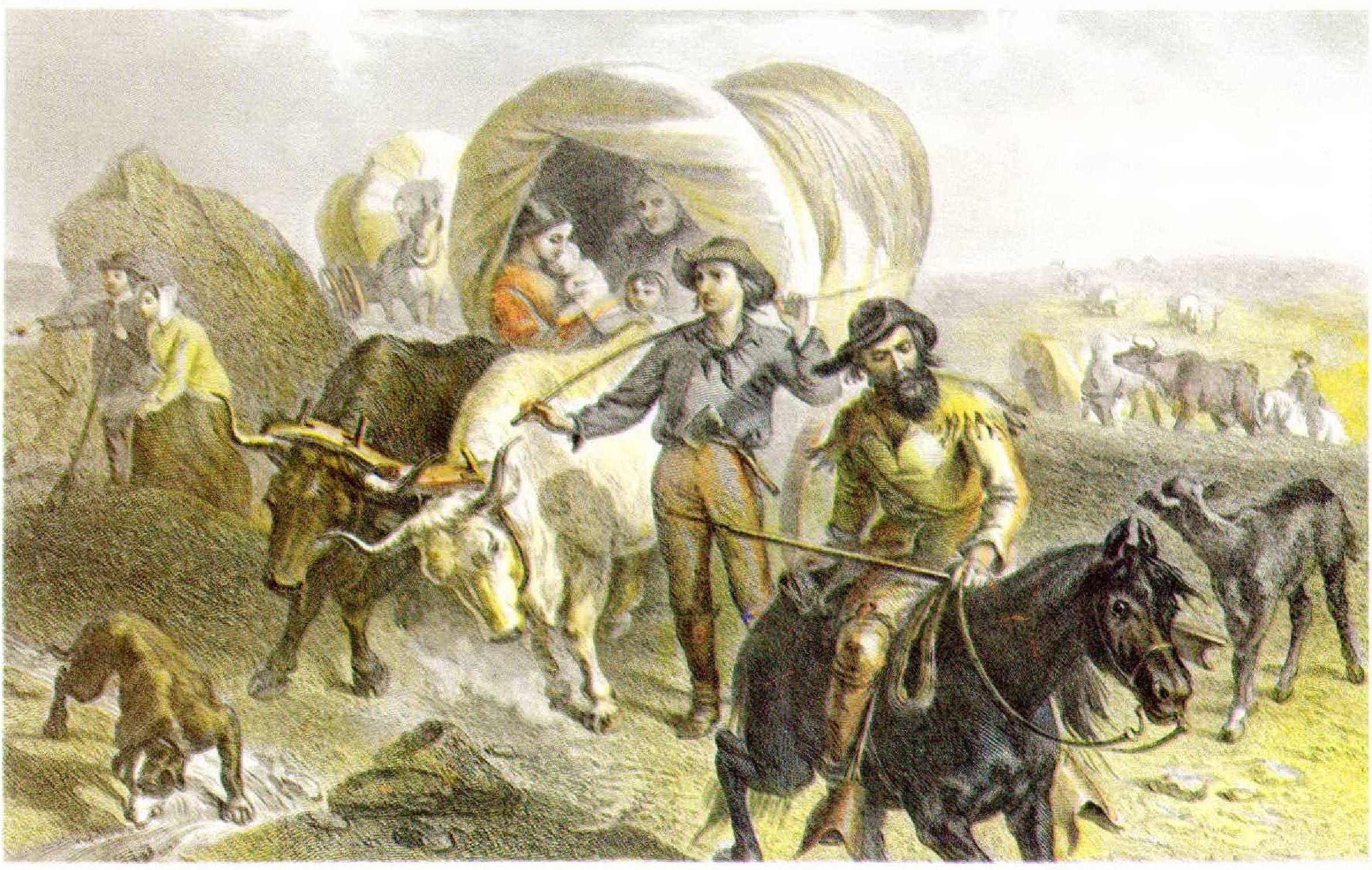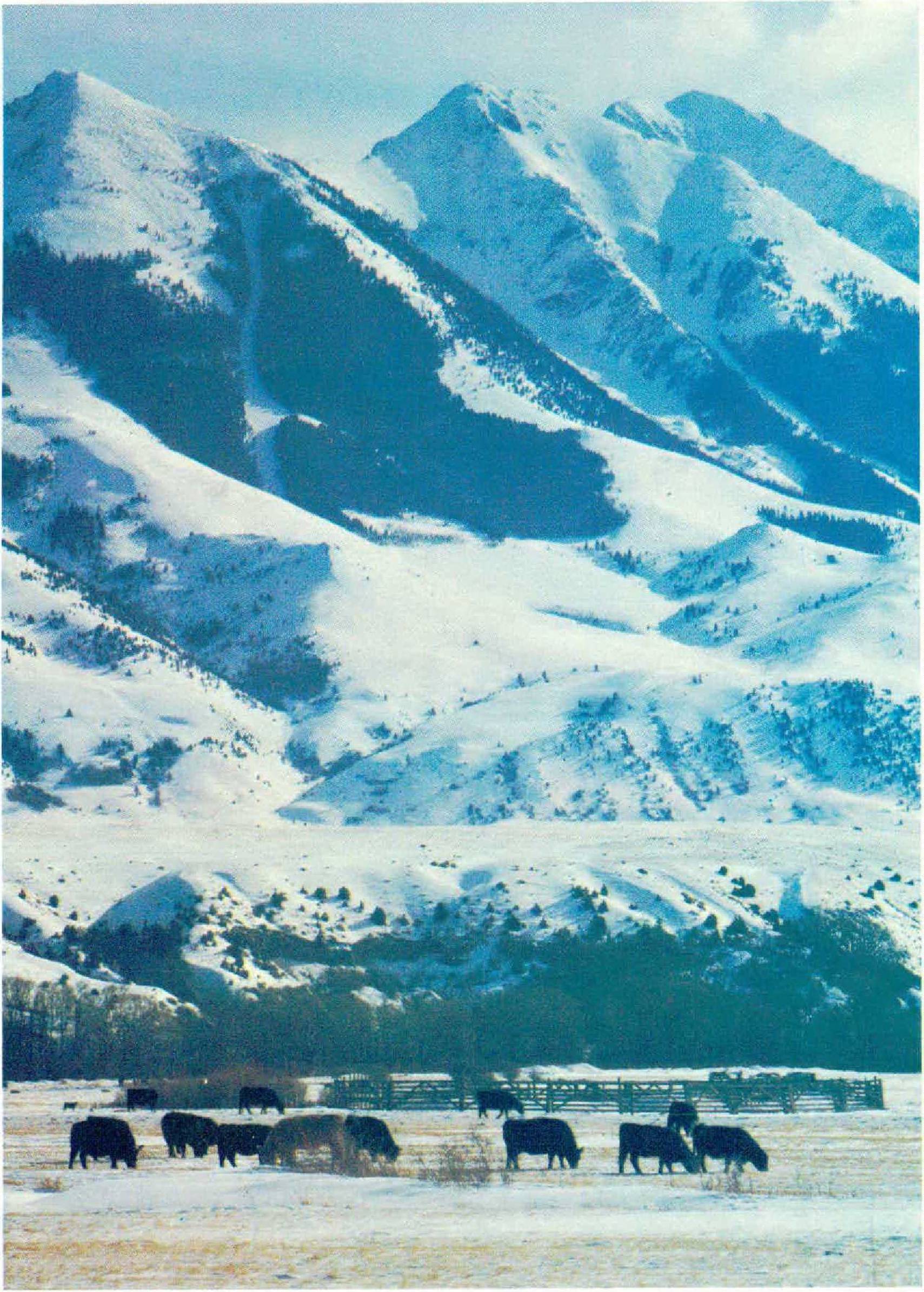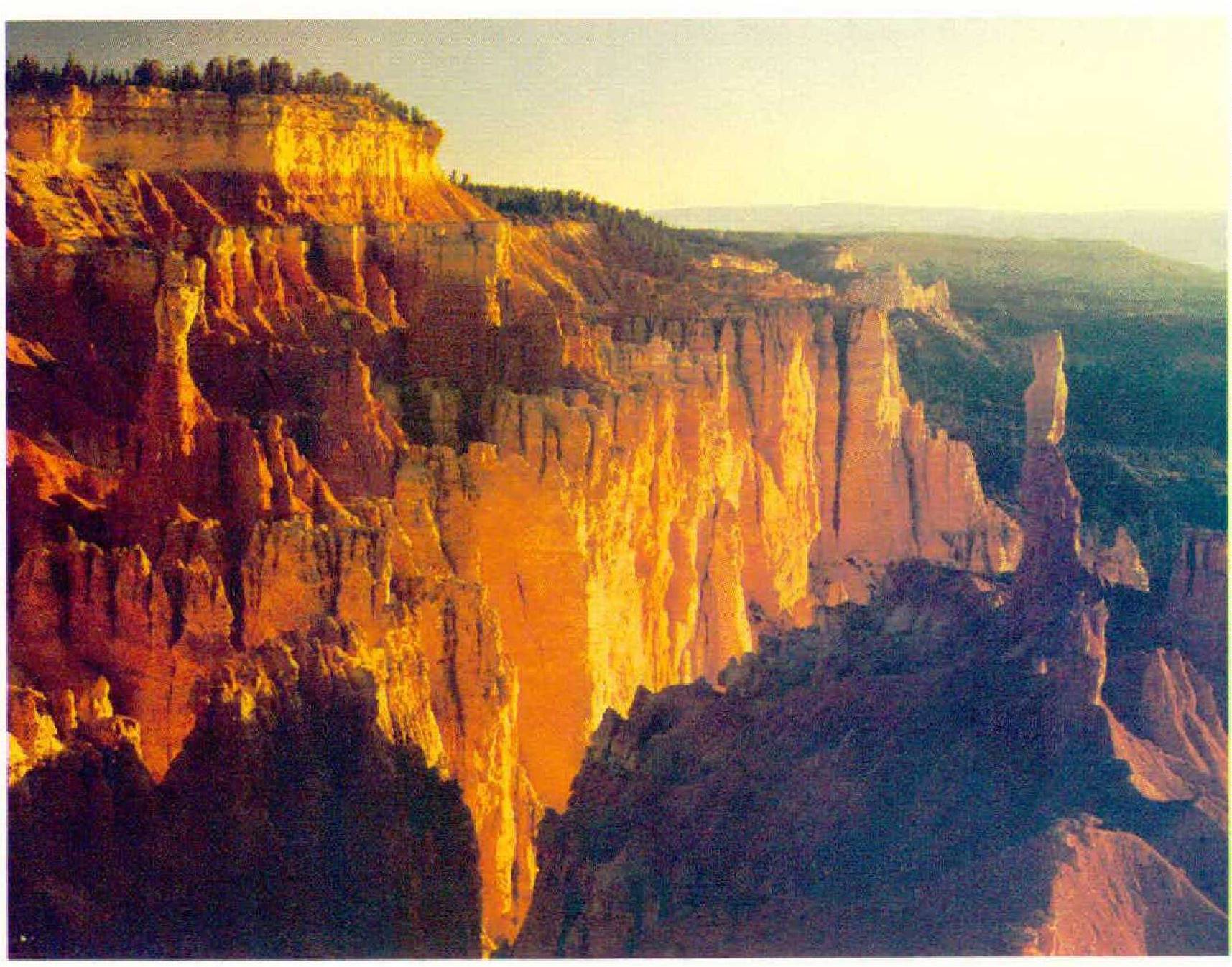 He speaks of Montana. He might just as well be speaking of all the Rocky Mountain states.
They have been less a region than a montage of romantic legend, Bierstadt images, economic dependency, and cultural backwardness. Last to be settled, they have been easily disregarded except by exploiters and vacationers— in brief summer when America comes streaming to their nine national parks to crowd the campgrounds and spoil the dispositions of rangers and bears, and in winter when their multiplying ski resorts attract another kind of transient. Vacation country, to be visited but not settled in. The boondocks, economically a colonial dependency, culturally almost as retarded as the rural South. And, in the common view, not only retarded but tame, exciting in their history and legendry only, dull in their present; their towns raw and unenhanced, their explorers turned into surveyors, their mountain men dwindled into backcountry guides and packers, their cowboys become dude wranglers, their road agents graduated to real estate. Instead of luring the young and adventurous with beaver, gold, wild freedom, and the promise of New Jerusalem, they have provided raw materials for more go-getting parts of the country, and systematically exported their best and brightest young people to lake advantage of the wider opportunities in California or the East.
But that, as Ross points out and as we have seen, is all changing.
The Rocky Mountain states are properly six, but New Mexico, the southernmost one, is culturally and historically so different from the others that it demands to be part of the Southwest, not part of the Rockies. Even with New Mexico snipped off, the others are only imperfectly a region. Montana, Wyoming, Idaho, Utah, Colorado—not one of them is culturally or even topographically a unity as Iowa is a unity, and collectively they are nothing so consistent as, say, the Northwest.
Montana, Wyoming, and Colorado (and for that matter, New Mexico) could as legitimately be called plains states as mountain states. Named for its mountains, Montana is three-fifths high plains, and the plains, with their grass, wheat, and coal, are a different country from mountain Montana with its metal mining, lumber, and tourism. They are politically more conservative, they are more mesmerized by the cowboy image, and they lean not toward Spokane and Seattle but toward Minneapolis.
Wyoming is at least half plains, and a lot of the rest is the sagebrush-covered Wyoming Basin that divides the American Rockies into a northern and a southern segment. Colorado is about equally plains, mountains, and plateaus. Utah is part of the Rocky Mountains only in the northeast, its southeastern half being plateaus and its western third Great Basin desert. Even Idaho, the most mountainous of the so-called mountain states, is all lava plains along its southern edge, and culturally it is three things: the Mormon southeast, the Boise-Caldwell area of Ada County, which is most "Idaho,"and the Panhandle, which reaches up through the gorgeous Coeur d'Alene and Pend Oreille country to the Canadian line, and which is essentially part of the Northwest.
Conflicts emphasize and advertise diversity. In Colorado, squabbles over water between the Denver megalopolis and the western slope make the Continental Divide a boundary as significant as a state line. In Utah and southern Idaho, Mormons and gentiles polarize in an ancient opposition. Montana's Indians and whites are involved in intricate lawsuits over rights and resources. In all five states, a growing population of returnees and in-migrants, many of them well-educated, young, urbanized, liberal, and environment-minded, find themselves at odds with the more conservative values of older residents.
Political weakness and division often frustrate attempts at regional action. Though these states have an area one-sixth that of the whole Lower Forty-eight, they contain only about as many people as North Carolina, and elect fewer representatives to Congress than greater Los Angeles. Their ten senators, until Senator Lee Metcalf's recent death, split down the middle, five Democrats and live Republicans—and the region's necessities are not the same to Senator Frank Church of Idaho, to Senator Gary Hart of Colorado, and to Senator Jake Garn of Utah.
Not even within the states is there singing in chorus. Of the five governors, all Democrats, one (John V. Evans of Idaho, a protégé of Cecil Andrus's, the former governor, now Carter's secretary of the interior) has a legislature that is Republican in both houses; one (Richard D. Lamm of Colorado, elected by antidevelopment forces in 1974) has a Democratic house and a Republican senate; one (Ed Herschler of Wyoming, ill through a part of 1977) has a standoff in the senate and a slim Democratic majority in the house; one (Thomas L. Judge of Montana, who Ross Toole and Bud Guthrie wish were a little more environmentally militant than he is, and who is spoken of as a replacement for Metcalf) has a Democratic majority in both houses, but a majority that is hanging back and getting its wind after the bold and imaginative land-use legislation of the early 1970s; and one (Scott Matheson of Utah, tied politically to the lunch-bucket policies of former governor Calvin Rampton) enjoys a narrow Democratic majority in both houses, but these are Utah Democrats, who on payroll issues are easily confused with Republicans.
They are all big states, but none is nearly as big as it seems. All include large areas of public domain, which may seem to be Utah or Colorado but are actually United States, and their resources with them. The federal government owns 66 percent of Utah, 64 percent of Idaho, 48 percent of Wyoming, 36 percent of Colorado, and 30 percent of Montana. Nobody objects to "the feds" so long as the land they control seems worthless, or has been overgrazed or clear-cut and needs expensive rehabilitation, but the quarrel is bitter when, as states' rights people say, the feds have "locked up" grass, timber, coal, minerals, or something else that the state or its business interests want. So long as federal bureaus are custodial, they please environmentalists and frustrate entrepreneurs. When they start making timber sales and granting coal leases, the response is reversed.
From Doris and Kelsey Milner, neighbors of the Tooles' who drop in to dinner, we get a succinct and impassioned statement of the case against one federal bureau, the Forest Service. The Milners are not nativesKelsey is one of a group of forty virologists happily stationed at a laboratory in the valley—but they have made Montana's problems their own. Doris, Ross has confided, intimidates him. "When she decides to show you what clearcutting really means, you either have to climb through every clear-cutting in the valley, hanging onto her shirttails, or take to the air. In the latter case, she keeps shouting to the pilot, 'Lower, goddammit, lower!' Since I can already see the needles on the pines, this makes me nervous."
She might well make Forest Service officials nervous, too, for she is an informed and formidable partisan. The change from custodianship to overcutting she traces to the first Eisenhower Administration, when Ezra Taft Benson was secretary of agriculture. In Montana the best privately owned timber had already been cut. Loggers and logging companies were crying for a crack at the national forests. Doris understands the demand and profoundly disagrees with it, citing the Bolle Report (1970), which was prepared by the head of the University of Montana's Forestry School for the late Senator Metcalf and which bluntly accuses the Forest Service of timber mining. She sympathizes with local Forest Service people, many of whom do not agree with what they are doing, and she revered the late Guy M. Brandborg, for many years head of the Region One Forest Service office in Missoula, and the guru of every environmentalist in the area.
But she is bitter at what she sees as the Forest Service's alliance with developers (as at Big Sky, at the proposed Ski Yellowstone complex, and at Mineral King in the Sierra Nevada), and at its footdragging with regard to designation of wilderness areas. There are too many foresters in the Forest Service, she insists. There ought to be many more soil and water scientists, fish and game people, recreation people, people who do not think exclusively in board feet. Spawning waters of many streams have been damaged by the timber mining policy, the watersheds have been hurt, the mountains have been uglified, and at these latitudes wounds on the land do not readily heal.
We know what she means. A few days earlier, we stopped to watch a clear-cutting operation back on Lemhi Pass.
The Forest Service and the Bureau of Land Management, which control the biggest part of the public domain, come under the severest criticism from one or the other element of the local population, but even the National Park Service, dedicated to preservation, raises hackles when it tries to control motorboats on Yellowstone Lake or restrict the use of snowmobiles and trail bikes. Local residents in the West have a tendency to think they own, and should control, what they so freely use.
The fact is, the mountain states operate under two sovereignties—three, actually, for all of them contain Indian lands, and Indian lands are neither quite part of the state in which they lie nor quite part of the public domain.
Still, Balkanized and federalized as it is, this is more a region than it seems on first inspection. Its several states share a history of successive resource raids followed by stagnation, and a present in which both population and per capita income increase at much faster than the national rate. They share the mountains, those interlocking and overlapping ranges which rise out of the midst of the arid lands to catch the snow and generate the water for most of the West. They share rivers that carry Rocky Mountain water as far as Astoria, Oregon, Brownsville, Texas, and New Orleans, Louisiana. They share the new and dazzling possibilities opened up by the discovery that they are one great energy mine. They share an oasis civilization of irrigable basins and mountain valleys, around and between and behind and beyond which are hundreds of square miles of the grandest country on the continent, much of the most spectacular scenery and the most unspoiled wilderness, a vast savings account of stone, water, sky, trees, and clean air which, because it is federal land for the most part, and because the National Park Service (and until twenty years ago the Forest Service) is custodial and preservationist, we have so far failed to draw out and spend.
This region's isolated, limited towns and cities inspire a protective affection and loyalty in their children; the backcountry breeds a way of life. The cabin or cottage in the mountains is standard for anyone who can afford it, and a surprising number can. Ross Toole is building a place on Flathead Lake. Bud Guthrie, author of The Big Sky and the Pulitzer prizewinning The Way West, and the poet Richard Hugo, probably Montana's best-known writers, both have places on the Teton River, north of Choteau, under Elephant Ear Mountain. (Hunting Bud's place in the early dark, we get lost and run up the canyon of the South Fork of the Teton, which flows out of the Bob Marshall Wilderness. At the cabin where we stop to inquire, two men and a boy come out with rifles in their hands and suspicion in their voices. From the rafters of the low porch, so close that we can smell its dead odor, hangs a great elk head—and it is not elk season. The men—relatives of Boone Caudill's, maybe, or deserters from an Alexander Ross fur brigade—seem pleased to know that we only want to know where Bud lives. We are just as pleased to take their directions and depart.)
In every mountain state, every second mechanic, linoleum layer, laborer, or bureaucrat is a fisherman, it seems, and every third one is a hunter. There are class variations on the theme: academic people and the new environmental types are likely to be backpackers and perhaps fishermen; mechanics and workmen favor hunting, four-wheel-drive vehicles, trail bikes, and snowmobiles. But they make use of the same country.
A recent poll in New York showed that only 7 percent of New Yorkers like where they live. Here the figure would be more like 97 percent, and that goes for people born here and people who have newly arrived. In the past, many who had to emigrate would have stayed if they could have found something to do. These days, more are staying and more are coming back, and they are joined by the reverse brain-drain—people like the Milners, like the physicists in the nuclear testing center at Arco, in Idaho, like the faculties of the growing universities to which, in the past, only the rootbound or impoverished would go. And there are always the refugees, both rich and poor, who come staggering out of the noise and smog of industrial America and discover the mountain valleys to be suburbs of Eden.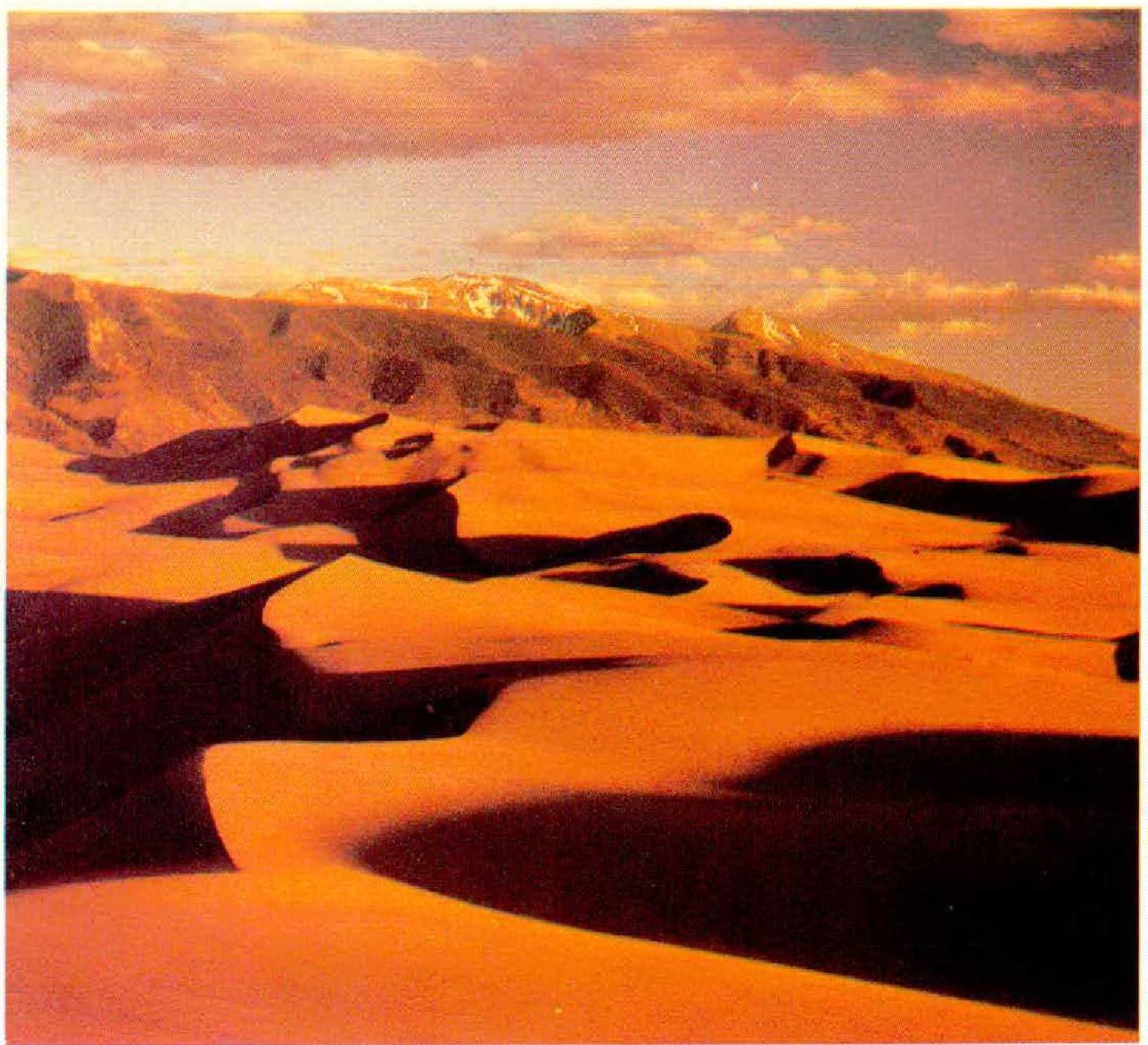 It is as if the mountains had awakened to find themselves named in Howard Hughes's will. Opportunity not only knocks, it thunders, and people answer the door in different moods—some with gogetter cupidity, some with apprehension (and properly, for they are themselves part of the knocking they hear), and many with the wistful hope that jobs and better opportunities for their children can somehow be gained without consequences too disastrous to their towns, countryside, air, water, and wildlife, without total destruction of either public morals or the trout fishing.
Water bank, energy bank, open space bank, the region will profoundly affect the nation's future in deciding (or accepting) its own. Its decisions about encouragement or control of growth will be neither easy nor unanimous, and they will not be made by the states alone, singly or in concert. The feds are in the game, and so are the Indians, and so is the direct, brutal, big-money power of the energy companies. So is public opinion, of every shade from boosterism to no-growth intransigence.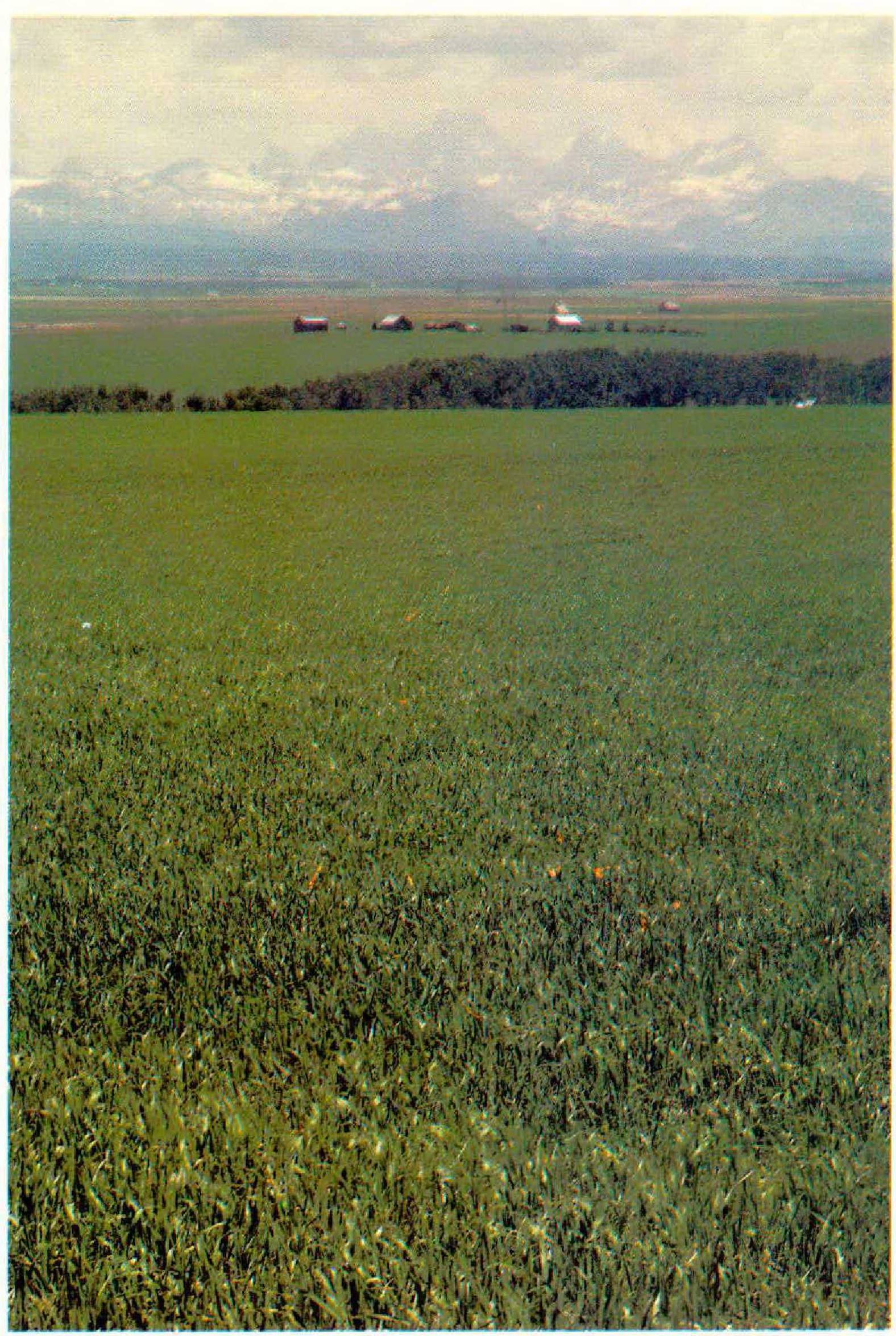 In Montana, Colorado, and the Idaho adjacent to Oregon, the environmentalists are organized, vocal, and of considerable influence. In Wyoming they are lonely; in Utah they are a dirty word. In Idaho, in 1972, Governor Cecil Andrus could say, "If it takes pollution to make the economy go fast, we don't need that much speed"; and four years later environmental forces which he supported could kill Idaho Power's proposed Pioneer coal-fired plant near Orchard. In Utah, too, environmental opposition led to the aborting of the enormous Kaiparowits complex of coal mines and power plants. But in Utah much of that opposition came from outside the state, or at least outside the county where the plant was to be built. Mayor Ted Wilson of Salt Lake City, who opposed the Kaiparowits installation, and Robert Redford, who attacked it on the television show 60 Minutes, were both hanged in effigy in the southern Utah town of Kanab.
The conflict between the environment and the lunch pail, universal throughout the mountains, will be viewed differently in different locations.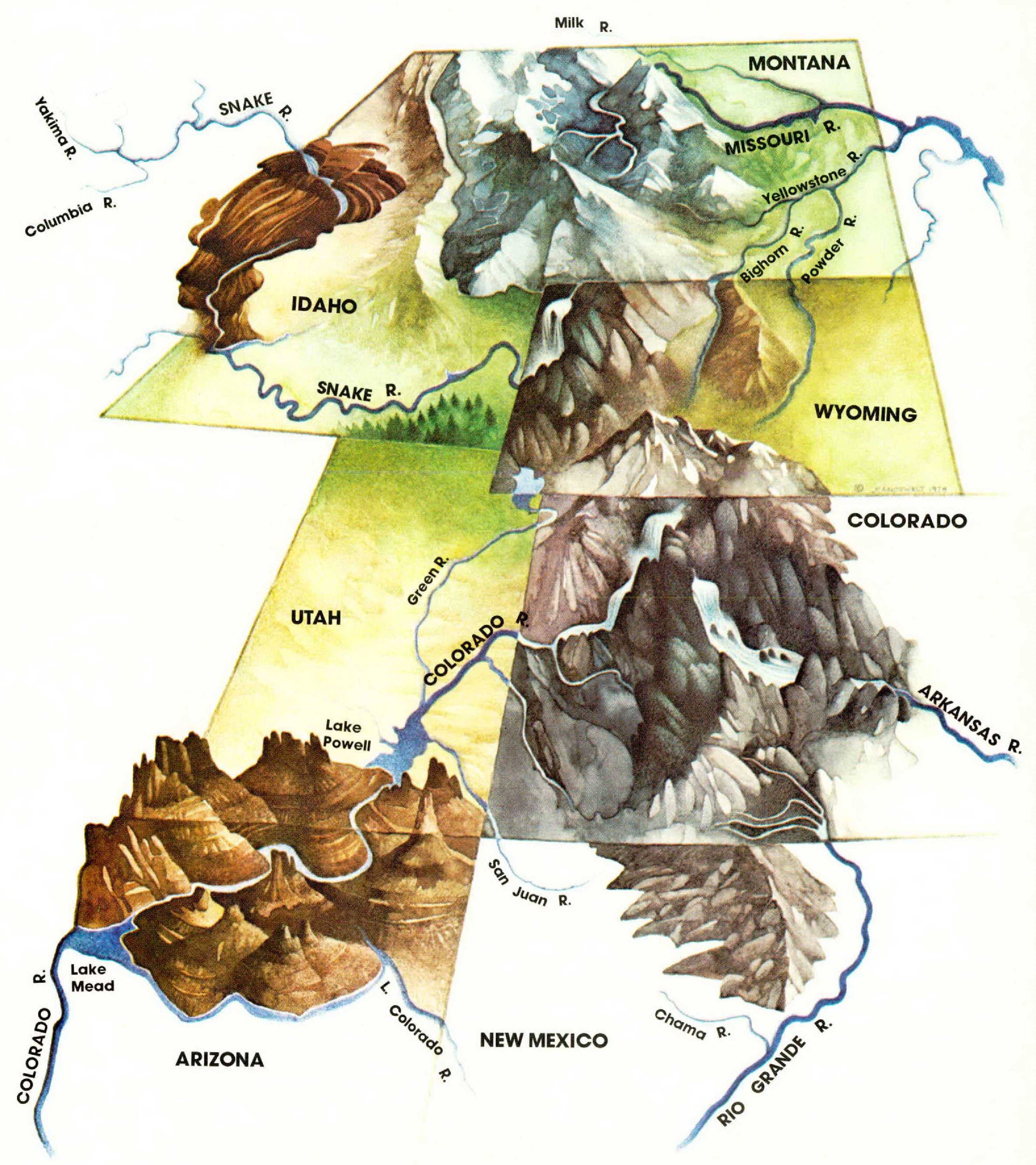 2 Mighty Rivers, Dusty Ground
Ross Toole has just come back from testifying in Helena, where, after a three-year moratorium on withdrawals, the water of the Yellowstone is being allocated to agricultural, industrial, municipal, ecological (and, according to Ross, speculative) use. In our day and a half together, we talk more about water than about the Forest Service logging and recreational policies which Ross has been fighting for twenty years, and strip-mining and mine-mouth power plants, on which in 1976 he wrote his angry book The Rape of the Great Plains.
Watershed of the West or not, the mountain states are all arid. Even the Yellowstone plateau, which with 35 inches of annual precipitation is as wet a place as there is in the mountains, averages 6 inches less than New York City and a little more than half as much as Mobile. The Big Hole Basin gets only 6 inches. Salt Lake, Denver, and Cheyenne about 15 inches, Boise and Helena about 11.5 inches. Most of the precipitation falls as snow. Throughout the mountains water has always been short; there is a finite amount of it, and all the Bureau of Reclamation engineering has done no more than hold it back and move it around. Water—the dearth of it—sets limits upon growth in the West, lower limits than boosters and developers will accept. Agriculture, cities, industry, population, are all constrained by water, and every river in the West is cither overdrawn or in danger of being overdrawn. We have had this water conversation in many places throughout the five states, and will have it again in many more. Invariably the conclusion is what Bruce Nelson, a young assistant to Governor Judge and a former student of Ross's, tells us in Helena: "The whole is less than the sum of its parts."
Of the ten rivers in the United States over 1000 miles long (including Alaska's Yukon), five rise in the Rockies. The Missouri begins where the Madison, Jefferson, and Gallatin join at Three Forks, Montana, and flows for 2464 miles through or along six states until it meets the Mississippi above St. Louis. The Snake meanders for 1038 miles through Wyoming, Idaho, Oregon, and Washington to its meeting with the Columbia near Kennewick. The Rio Grande, the Arkansas, and the Colorado, all of which rise in Colorado, flow east, south, and west for a total of nearly 5000 miles. The North and South Plattes also originate in Colorado and represent a combined length of a little over 1000 miles before they meet in south-central Nebraska and flow together another 300 miles to the Missouri.
The major tributaries of these rivers are almost as impressive: the Green in Wyoming and Utah, the Bighorn and the Powder in Wyoming, the Gunnison, Dolores, and San Juan in Colorado, the Salmon in Idaho, the Milk and the Yellowstone in Montana. They add up to a lot of water. If the states where the rivers originate had no obligations to downstream states, there would be no water problem in the Rocky Mountains. But that is not the case. A single example, the Colorado, will illustrate.
It begins in Rocky Mountain National Park, Hows west out of the mountains picking up the Gunnison at Grand Junction, then cuts south through Utah and Arizona where it is joined by the Dolores, the Green, the Dirty Devil, the Escalante, the San Juan, and finally the Little Colorado. From that conjunction it winds through the Grand Canyon into Lake Mead and south along the California border to the Gulf of Mexico. It is 1450 miles in length, with an average annual flow of 15 million acre feet. (An acre foot will cover one acre to a depth of a foot, and represents roughly 330,000 gallons.) Surely there ought to be water enough here to take care of western Colorado, which spawned most of it, forever.
Except that the Colorado River Compact, signed in 1922, gives first rights to the end of the line and last rights to the place of origin. Since the river runs its last ninety miles through Mexico before it peters out in salt flats and sand two miles from the Gulf, Mexico has first claim to 1.5 million acre feet annually. The Lower Basin states get the next 7.5 million (the compact is actually for 75 million acre feet every ten years), and the Upper Basin states, including Colorado, what is left. In dry years like 1976 and 1977, when the river has run at half its normal flow, it does not make Coloradoans happy to hear of people in Los Angeles hosing down their sidewalks and driveways and gamboling in their pools.
Allocation of Colorado River water is not simply an interstate issue, because there are two Colorados, the east slope and the west slope. Most of the state's population is concentrated along the Front Range, and its only major stream, the South Platte, is insufficient by itself for municipal, industrial, and agricultural needs. Denver Water Board figures project a water-consumption increase in the Denver area from 345,000 acre feet in 1975 to 550,000 by 1990 to 849,000 by 2010. This water can come only from new storage facilities and from trans-mountain diversion lines like the Big Thompson and Roberts tunnels; 27 percent of the state's allocation from the Colorado is already being diverted to the east slope.
But two thirds of all the water in Colorado originates on the west slope, which also contains most of the state's fossil fuel resources. How much water will be needed to develop the coal and oil shale, to transform them into power or transport them out of the state, to service the anticipated population explosion in communities like Meeker and Rifle and Rangely? One slurry pipeline, if that method of transporting coal were to be used, would consume 15,000 acre feet a year. What are the priorities?
What are the priorities anywhere in the mountains? Should speculators and farmers be allowed to put more and more siphons into the Snake and pump water onto more and more desert benchland? Ken Robison, who first as editorial page editor of the Idaho Statesman and later as editor of the Idaho Citizen has been lighting Idaho Power's plans for coal-fired plants, did not think so when we talked with him in Boise. He thinks, on the contrary, that the Desert Land Act should be repealed or at least suspended, that the Snake is more valuable for recreation and for its clean, cheap power than for some additional acres of potatoes.
Should municipalities, mines, and power plants be awarded so much of the Yellowstone's water that their withdrawals will inhibit the agriculture of one of Montana's most fertile valleys, deplete a blueribbon trout stream, and threaten riparian wildlife, the last two of which are important to Montana's life-style and to its tourist business? Ross Toole does not think so. Neither does Jim Posewitz of the Montana Department of Fish and Game. Neither does Phil Tawney, who from the cluttered little rooms of the Environmental Information Center in Helena keeps his flashlight on the legislature and the governor's office. But the lawyers for energy companies, sitting day after day and week after week in the hearing room where the river's fate is being discussed, have other ideas.
Should the Intermountain Power Project, proposed by a consortium of southern California cities and scheduled for construction in southern Utah, the nation's second driest state, be allowed to pump from the Dirty Devil River and from wells the annual 50,000 acre feet it would require? Does Utah really want to sacrifice its precious water and pollute its air to light Burbank and Anaheim and to power Disneyland?
One thing is clear. There will not under the best of circumstances, be enough water to maintain a significant agriculture and provide for municipal needs and mine fossil fuels and produce power from them and keep sufficient instream flows for healthy fishing and honor all the downstream commitments. A hundred years ago. John Wesley Powell was warning the West that there was not enough water to supply more than perhaps a fifth of its land, and he was not allowing for the demands of industry.
"Ninety-five percent of our water is from snowpack," points out Harris Sherman, director of Colorado's Department of Natural Resources, "and it disappears in sixty to ninety days during the spring runoff." That assumes a normal year. In 1976 and 1977 there was no significant snowpack, in Colorado or elsewhere in the mountains, and farmers and ranchers, including Indian ranchers, suffered severe losses. Not surprisingly, the region's politicians were extremely upset by Jimmy Carter's "hit list" of water resource projects in March 1977. Representatives from all the mountain states testified repeatedly before congressional committees that "water that is not stored is water lost,"but eight of seventeen projects, including Fruitland Mesa, the Narrows, and Savery-Pothook in Colorado, were not funded.
Whether benefits from these rejected projects would have offset the costs in money, loss of agricultural land and wilderness, relocation of people, and risks implicit in dams built above populated areas is a question variously answered. Colorado's administration insists that the issue is not simply environmental preservation versus growth and development, but is much more complex. A commodity as precious as water, they say, is not likely to go unused. Sherman, one of a number of bright young environmentalists that Governor Richard Lamm has appointed to state office, is afraid that if the Bureau of Reclamation and the Colorado River Basin Fund can't build these projects, the energy companies may propose to build them out of their own corporate funds.
He admits that private development of water resources is only a possibility, and that there would be strong opposition from a number of interests, including the state. "But when you kill federal water projects intended for agriculture, you create a situation where energy or trans-mountain diversion can get it. Under our water laws, if you don't use the water you have a claim to, you lose it. And if you can't store it, you can't use it." So the Lamm administration, composed largely of environmental activists, finds itself in the curious position of supporting projects to be built by a Bureau of Reclamation that the Governor scornfully remarks is "like a beaver—it can't stand the sight of running water." The alternatives, as Lamm sees them, are the drying up of agriculture in favor of the energy industry, or trans-mountain diversion that will add to an already impacted Front Range population concentration.
Opponents reply that to build any dams is to create storage facilities that will feed the environmentally destructive energy industry, whether those facilities are designed for agricultural use or not. They point to the Boysen and Yellowtail projects built some years ago in Montana to provide irrigation water for Montana agriculture. Almost immediately, companies like Exxon, Peabody Coal, and Gulf began buying up options from the Bureau of Reclamation and soon owned 35,000 acre feet of Boysen's water and 623,000 acre feet of Yellowtail's. That amounts to speculating in public water at the public expense.
Governor Lamm does not believe that this kind of subversion can take place in Colorado. He has been able to write veto powers into Bureau of Reclamation contracts, and he has an agreement with Secretary of the Interior Andrus, himself no great lover of the Bureau, that the Governor has to "sign off" any diversion of water from new projects to any use other than agriculture. The recent Bureau of Land Management Organic Act, moreover, clearly states that federal agencies must take into consideration local and state planning organizations in decisions affecting the states, and that in case of conflict only the secretary of the interior or the secretary of agriculture can override local agencies.
But what, the environmentalists ask, if the feds negate a veto on grounds of national energy requirements? And what if you find yourself dealing not with a Cecil Andrus but with a Douglas McKay or an Earl Butz?
The question of water rights and who controls them is further complicated by President Carter's move to establish a national water policy. In July 1977 hearings were held in eight cities across the country to discuss a long list of options proposed by the Water Resources Council, copies of which arrived in the statehouses only a week to ten days before the meetings. President Carter proposed to announce his national policy on November 1, thereby providing only ninety days for discussion. The mountain states went wild. Senator Clifford Hansen of Wyoming charged that the hearings were only window dressing for a policy already decided on. Governor Herschler of Wyoming, along with Governor Lamm and others, testified at the meeting in Denver on July 28 that the options developed by the council would result in "complete strangulation of the western states,"and promised that federal controls on water would be met with fierce resistance.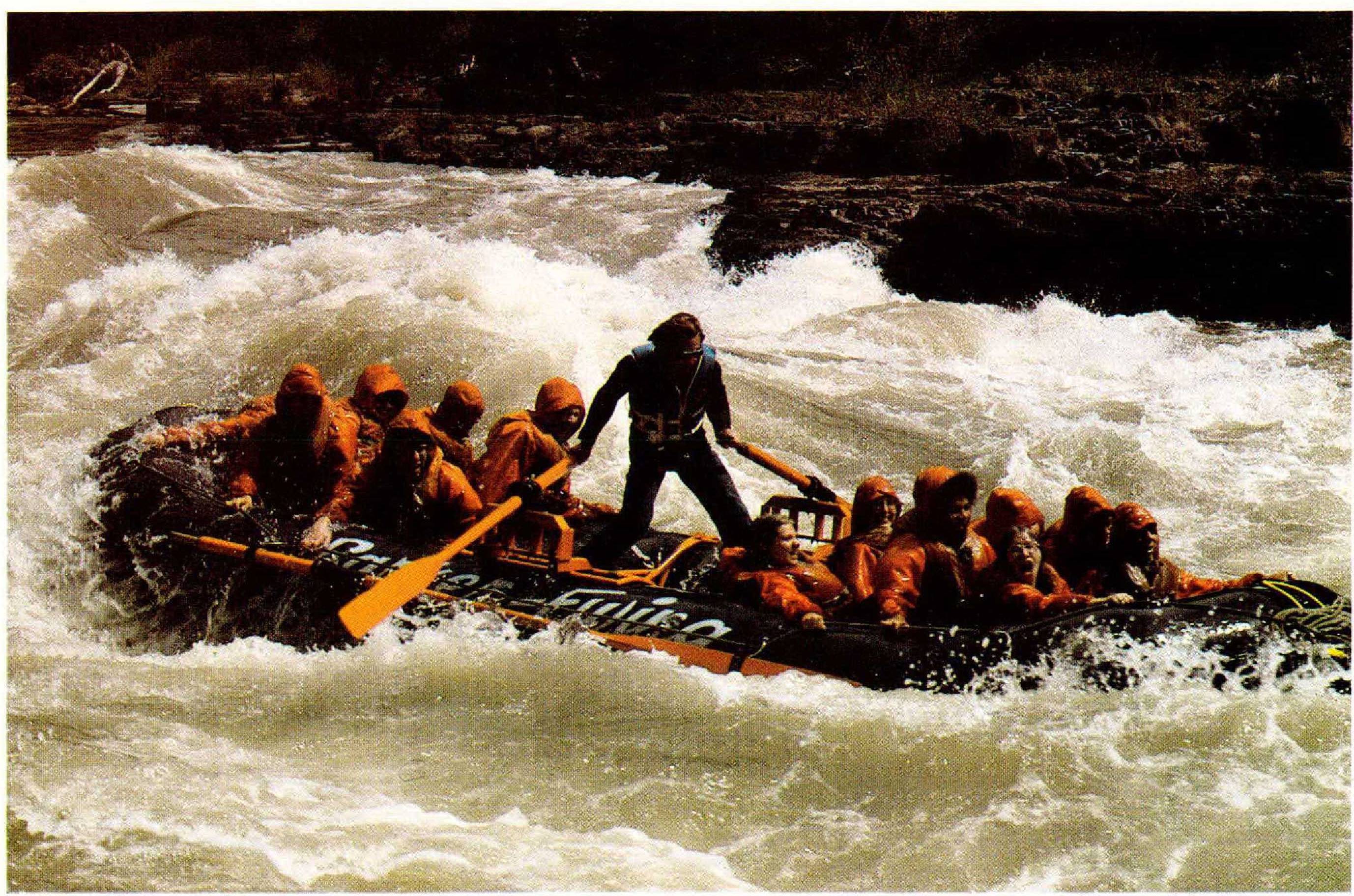 President Carter reconsidered, agreed to a longer period of public discussion, and at a meeting of western governors arranged for his benefit in October, assured them that there would be "no federal pre-emption of state or private prerogatives in the use or management of water."Policy planning was a cooperative matter: "We're not going to spring anything on you."But until the issues are finally resolved, says Senator Gary Hart of Colorado, one of the young liberal environmentalists elected along with Lamm in 1974, the western states will "keep our hands on our wallets and keep our powder dry."
Regardless of what policy emerges from this entangled situation, the key to energy resource development, as to everything else in the mountains, is water.
3. Energy Futures: Can You Fight Progress?
What kinds of energy resources do the mountain states contain, and how much? Words will answer about as well as meaningless large numbers: every kind, and God's plenty, in all the states except Idaho, which has only hydro and geothermal possibilities.
Oil and gas? The August 1977 map supplementing the Petroleum Information Corporation's publication Oil in the Rockies is a Jackson Pollock composition of solid-green oil fields and dottedgreen gas fields spattered northwestward along and between the ranges from the San Juan Basin in New Mexico's northwest corner to the Montana Alberta border. Peppered among the green splotches are the red circles of wildcats, the crossed circles of dry holes, the red dots of discovery oil wells, and the asterisks of discovery gas wells. It is an area of intense activity, especially in the Overthrust Belt of northeastern Utah and southwestern Wyoming, where exceedingly deep drilling has made major strikes. Oil and gas are nothing new in the Rockies, for some of the fields on the map are more than fifty years old. But oil and gas are not played out, either, nor all discovered.
Uranium? The Colorado plateau of Colorado, Utah, and the Navajo reservation (which overlaps Utah, New Mexico, and Arizona) has 95 percent of all the uranium in the country.
Oil shale? There is more oil in the shale deposits of northwest Colorado, northeast Utah, and southwest Wyoming than in all the Middle East. Up to now, the history of oil shale has been a history of millions poured into leases and experimental plants without return, all against the opposition of environmentalists who very reasonably fear that oil shale exploitation would require overdrafts on the West's limited water and leave a lot of wreckage on western land. Recently the oil shale investors have seen hope in the in situ process, which cooks out the oil underground, leaves no surface spoils, and needs less water than other processes. Its reported cost of $14 a barrel begins to come close to the OPEC price of imported oil.
Coal? Here the numbers are bigger and more confusing than ever. God's plenty. Plenty in Colorado and Utah, even more in Montana and Wyoming. In one single field, the Fort Union coal region of eastern Montana, northeastern Wyoming, and western North Dakota, there are estimated strippable reserves of 97.7 billion tons, enough to provide the United States with fuel, at its present rate of consumption, for more than a century. The total amount of sub-bituminous and lignite coal in the region is more like 1.3 trillion tons.
"It's good to be shifty in a new country," Captain Simon Suggs used to say. It's also tempting to think big in a developing country. Both industry and some federal bureaus have been led into doing it, as Ross Toole's Rape of the Great Plains makes clear. The North Central Power Study of 1971, prepared for the assistant secretary of the interior by a collection of utility companies and public power districts, scared Montana with its proposals for the stripmining of wide areas of the best ranchland in the world, the construction of twenty-one mine-mouth power plants, some of them as big as 10,000 megawatts (this is megathinking with a vengeance: the entire Four Corners complex, whose pollution our returning astronauts saw from space, rates only 2085), and the distribution of power to adjoining regions over 765 kv transmission lines-that's 765,000 volts. Even before these proposals were made public, energy companies were busy negotiating leases against the future; and not only energy companies but speculators whose intention was not to dig coal but to hold the leases until price rises gave them an inflated value. At the same time, both legitimate companies and speculators were buying up water rights to make their coal leases viable.
Other revelations of the think-big mentality, such as the so-called Harza Study, the Bonneville Power Authority's projections for five "power corridors" across Montana to the Northwest, and the Bureau of Reclamation's guess about developments to be based on the water from the Fort Peck Reservoir (ten coal gasification plants, three large strip mines, four 1000-megawatt coal-fired power plants, an ammonia plant, a coal slurry pipeline, and a population increase of 189,000 by the year 2000), did nothing to calm Montanans down. Some of them are seeing dollar signs in the Big Sky, many are convinced that they are being victimized by a combination of energy conglomerates and the feds, and started on the road to becoming another Appalachia.
In the foothill country around Billings where this activity focused, ranching is both a business (not presently very profitable) and a way of life—the most authentic and cherished way of life that has developed in the West. Much of the range is Bureau of Land Management (BLM) land, grazed under permit, in which the federal government retains mineral rights. It also retains mineral rights under a good deal of land whose surface is privately owned. Theoretically it has the right to tear up a rancher's grass as well as his way of life in order to mine the coal. Understandably, the first BLM leases aroused rancher resistance, which solidified as the Northern Plains Resources Council (NPRC). This group, based in Billings, includes among its leaders such leather-faced, old-style cattlemen as Boyd Charter, angry and profane, and the Marlboro Man, Wally McRae, whose "Montana face" conceals far more subtlety and complexity than the cigarette ads suggest. These are mainly prosperous ranchers, the people who have made it. Twenty-five years ago they were the prime target of Bernard DeVoto's fire when he was defending the public domain and the federal bureaus against the "landgrabbers."Now they find themselves in an unlikely alliance with environmental groups to save the land, the water, and the water table from both the BLM and the energy companies.
The once overwhelming power of Anaconda Copper in Montana has waned, and along with it (this could be vigorously debated) some of the related influence of Montana Power and the Burlington Northern. Once, Anaconda owned every significant newspaper in the state except the Great Falls Tribune. Now most of the former Anaconda papers are owned by the Lee chain, and the press is essentially free; in the case of the Missoulian, it is even downright environmentalist. As a result, ever since 1959, when Montana Power's wholly owned subsidiary Western Energy took over the Burlington Northern's Colstrip mine and began mining coal for Montana Power's Billings plant and preparing for the four-unit plant scheduled for Colstrip, all of Montana has had a clear look at what such development means. Also, Montana is a state where people know one another, and where everybody gets around. A lot of Montanans have visited Colstrip and looked over its first thundering plants, and canted an eye at its trailing plumes of smoke, and watched the enormous draglines rip up the overburden, and have walked around with the company PR people inspecting the demonstration plots of reclaimed earth (forced with heavy doses of fertilizer and producing mainly not the old nutritious native grasses but exotic and less fattening varieties). They have listened to company scientists make rosy claims about reclamation, and have read the far less rosy studies that estimate it might well take fifty years for complete restoration of stripmined range, if it is possible at all.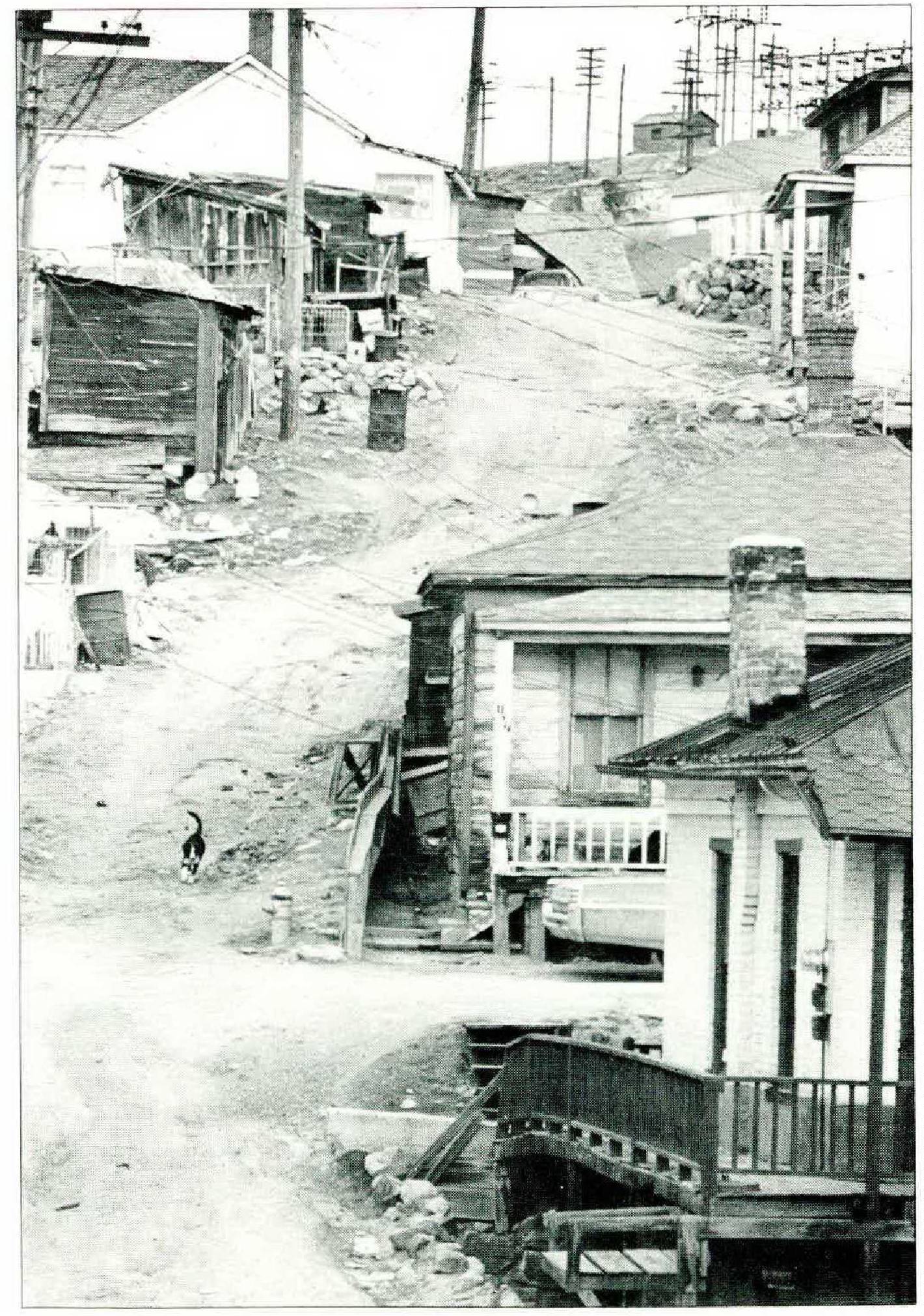 A big coal-fired power plant is not an attractive neighbor; a strip mine and its spoil piles are as ugly a scene as there is in nature. Ross Toole reports seeing, just at the departing edge of Colstrip on the way to the Northern Cheyenne reservation, a piece of cardboard tacked to a post, with a scrawled legend on it: "You have just seen the future, and it doesn't work."
We will sec Colstrip in a few days, put on our hard hats and take it all in. Curiously, we will come away not with impressions of the future but with a memory of the past, of an evening in Butte, just after sunset. The light is melancholy, almost tender, across "the richest hill on earth."Up where we are parked, high on the western hill toward Big Butte, a few children arc playing in streets like goat paths. There are smells of supper in the air, lights are going on in some houses. But up and down Montana Street few cars are moving, and whole blocks of wooden houses hanging to their hillsides are dark. Cars speeding along the valley highway toward Billings or Missoula or Helena do not turn up toward town. East of us there is a vast dark core, an emptiness that we know is made up of the unseen abyss of the Berkeley Pit, and beyond that of the abandoned neighborhoods of the McQueen Addition and Meaderville, waiting for the bulldozers. Back of us, skeleton headworks and mine machinery loom against the darkening skylike the machines of siege.
Butte was once the greatest city in Montana, the richest, largest, liveliest. In it the piratical games of capitalism unrestrained by ethics or law were played out among Marcus Daly, William Clark, and Frederick Augustus Heinze. In it was also born one of the most violent labor movements the country has seen. But it is a dying city, for the ground it is built on is too rich for holding houses, and the houses cover most of the hill that is left. And Anaconda Copper, perhaps alone among corporations, possesses by gift of the legislature the power of eminent domain.
A dying city. The last convulsion of its violent womb produced Evel Knievel. The next and final act will see it swallowed by its own pit, consumed by its own extractive frenzy. Out in the valley another towm, smaller and less brutish, built on renewable grass and soil instead of on a finite hill of ore, maytake its place. But as we leave Colstrip, which is just another company town, and escape between the draglines that look like gigantic mantises, through blasted country, until we reach the sane grass and scattered pines of the reservation, the image of Butte rides with us, darkening as if under its last sunset. Too much of the history of Montana is subsumed in that image. Montana has been mined of too many things—ores, timber, soil fertility— and has made imperfect progress toward a way of life that can perpetuate itself.
It is that way of life that Ross Toole and the ranchers of the NPRC are fighting for. They are fighting, specifically, the BLM's leasing power, with its potential destruction of great stretches of range. They are fighting the conversion plants, whose emissions Clarence Gordon of the University of Montana's botany department has demonstrated are harmful to grasses and even more harmful to ponderosa pine; and they are fighting the idea of the slurry pipelines that would appropriate too much of Montana's limited water. In the last item they have unexpected allies: Ross shows us, with amusement, a letter from a Burlington Northern official explicitly involving the railroad in the fight against slurry pipelines, which would cut the railroad out of its freight business.
Colstrip 1 and 2, at 300 megawatts each, are now operating—they slipped in ahead of the opposition. The other two units, planned for twice the capacity of the first two, may have been permanently stopped, though Montana Power by no means admits that. Resistance coalesced first in the revised state constitution which was ratified in 1972, and which contained a strong environmental article. Within the next three years the liberal legislature that came in with the constitution enacted a remarkable body of environmental law: a Clean Air Act, the Montana Strip Mining and Reclamation Act, the Coal Conservation Act, the Montana Utility Siting Act, the Montana Water Use Act, and the Montana Severance Coal Tax Law. This last soaks the coal companies a stiff 30 percent to pay for the social costs of their operations (something Montana never got out of Anaconda), and to provide a fund for the future when they have dug their coal and cleared out. In addition, in 1974 Governor Judge asked for, and got, the three-year moratorium on allocations of water from the Yellowstone which is now coming to an end. Without water you cannot build conversion plants and may even have trouble operating mines and servicing the company towns they generate. The first boom was quickly slowed, BLM had already, in 1971, announced a moratorium on further federal coal leases.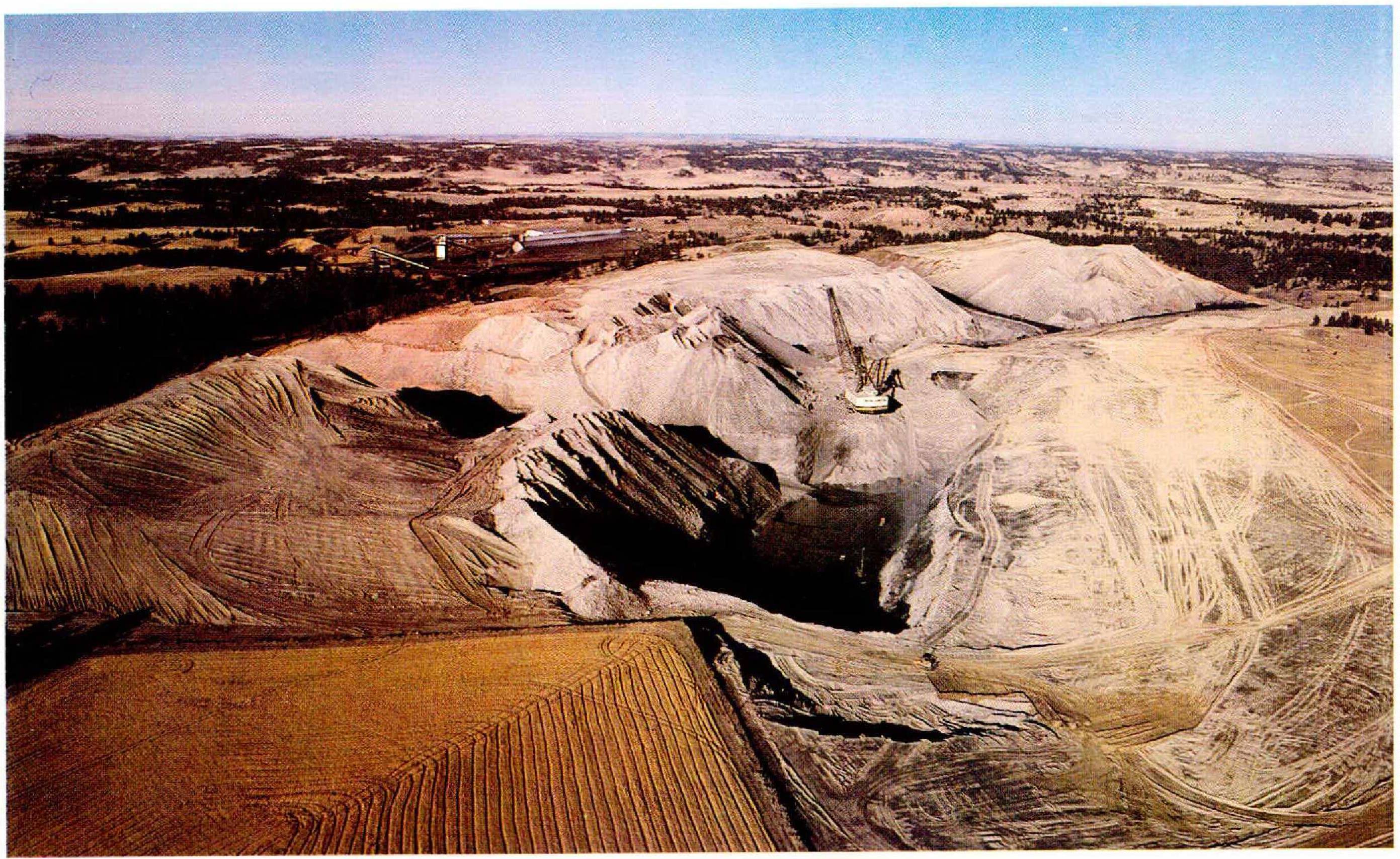 Neither the environmentalists nor those who are in the Judge administration claim that Montana has put itself entirely in control of its development. But it is by no means helpless before events, either, and even intransigent conservationists such as Clarence Gordon, who thinks the passionate Ross Toole is too moderate, have some confidence that with strenuous effort it can direct its own destiny, and capitalize on the energy boom without destroying itself.
It is different in other states. Wyoming, prospering at its own expense, has made headlines all through the 1970s as a social disaster area; and though 12.5 percent of the state's receipts from federal coal leases is now "up front" as impact aid, Rock Springs and Gillette remain as daunting demonstrations of what an unplanned-for boom can do to a place.
Rock Springs, once a shabby little spider of a town crouched on the trip thread of Interstate 80, is now an appalling sprawl of shacks, trailers, mobile homes, rutted dirt streets, dust, trash, and beer parlors, a polluted non-community of 26,000 people. Its coal mines (which used to fuel Union Pacific trains before the diesel engines came) and its Jim Bridger Power Plant (Pacific Light and Power and Idaho Power, jointly making electricity for export) have drawn miners and machine operators who are at least semi-permanent, and construction workers who are almost as transient as the papers that blow through the streets, but who need (and mostly don't get) water, sewers, schools, medical care, and other public services, and who want (and do get) entertainment of the kind to which they are accustomed.
In October 1977, both a team of Deseret News reporters and Dan Rather of the 60 Minutes show reported on Rock Springs. Both found that it has so swiftly built itself into the prostitution and narcotics circuit (with the help, it is charged, of municipal and possibly state corruption) that it is exporting vice as well as electricity to much larger places. Municipally it is a shambles; visually it sickens the soul. A Wyoming joke has it that one of the two most beautiful sights in the world is the Grand Tetons, and the other is Rock Springs in a rearview mirror.
When we were in Boise we spoke to Logan Lanham, vice president of Idaho Power, asking him among other things if the company could justify in anything but profit terms what the Bridger plant has helped do to the Rock Springs-Green River area. Mr. Lanham is Idaho Power's public relations man, a formidable testifier before hearings and commissions, and he is impatient with such objectors to progress as Ross Toole and Clarence Gordon. He categorically denies Gordon's studies of air pollution from coal-fired power plants, and refers us to Idaho Power's engineering consultants in Denver. He also hands us a clipping from a Rock Springs paper, a letter to the press in which a citizen praises the boom for having improved the town's schools and other services. Asked if he would like to live in Rock Springs, Mr. Lanham snorts incredulously, indicating that Rock Springs has always been such a hole that nobody in his right mind would ever have lived there.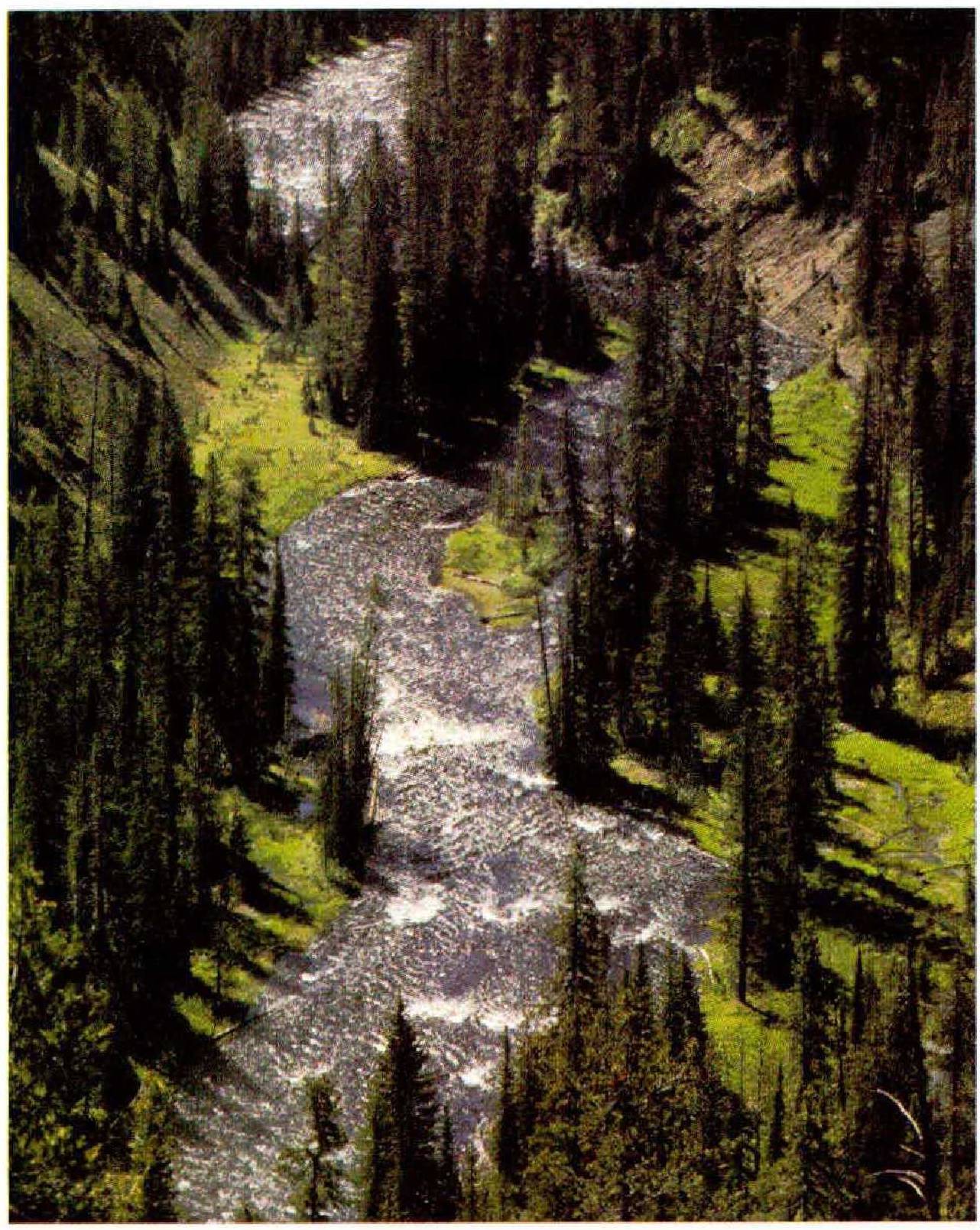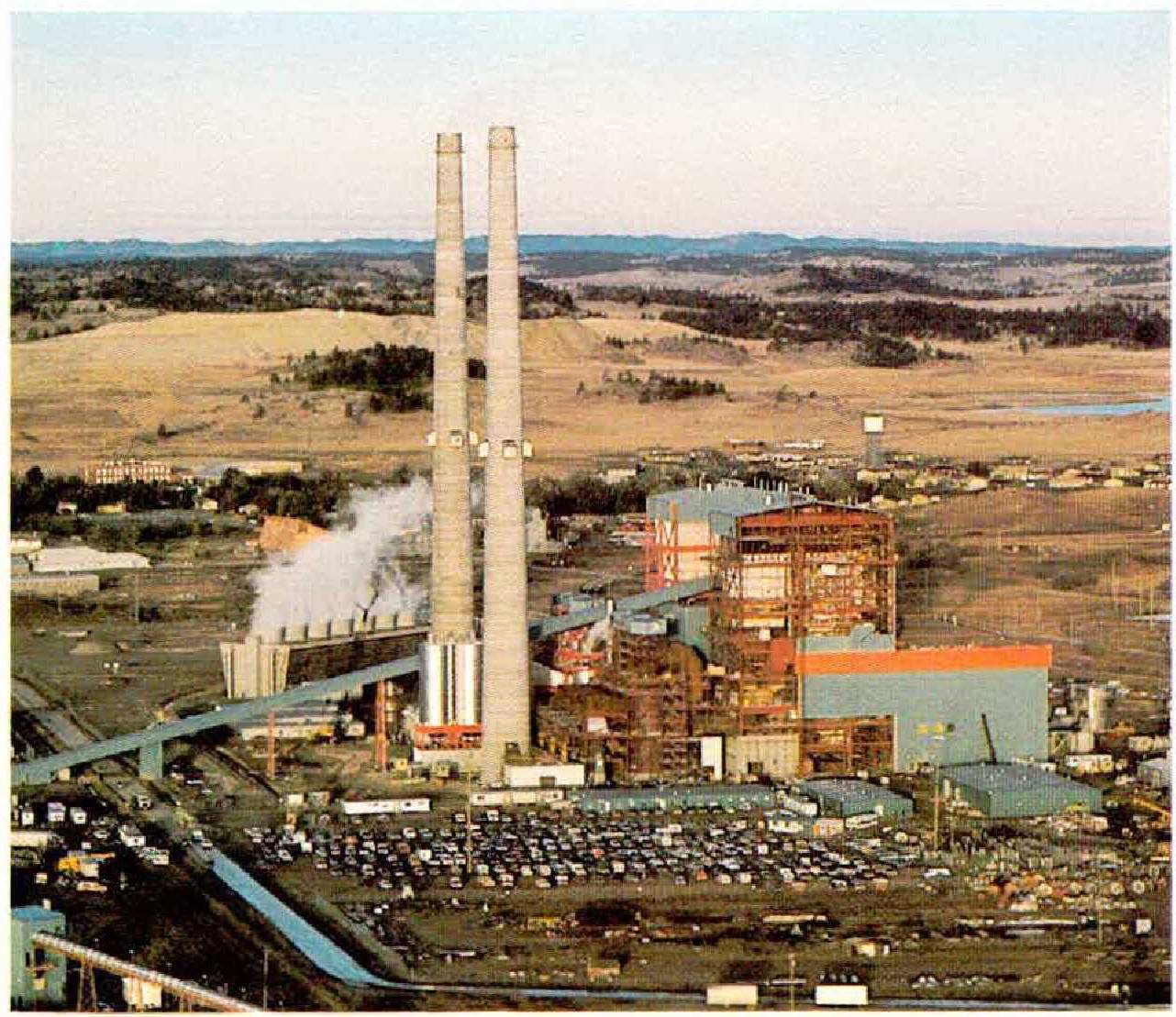 We reserve judgment. We have known Rock Springs and Green River since the early 1920s. They were never Eden, but they were a whole lot more palatable then than they are now. As for Gillette, now Rock Springs's twin, it was once a pleasant little cow town.
John Nyland, a third-generation Carbon County, Wyoming, rancher, and now director of economic development and planning for the state, regretfully writes off the casualty towns. "Rock Springs and Gillette are like the country girl who went to the fair," he says. "She was had before she knew it." He believes that some of the damage can be repaired, with time, and he implies that a Rock Springs could not happen again. That would seem optimistic, for even some girls who have gone to the fair forewarned and programmed for self-protection are still being had.
Eight years ago, Craig, in Colorado's northwest corner, was a cattle, sheep, and lumber town of 4000, a quiet, remote place where people all knew one another, where the schools and barstools were uncrowded, where there was little crime and no policeman. But Craig is in Moffat County, and Moffat County, along with adjoining Rio Blanco, Garfield, and Mesa counties, has rich reserves of natural gas and uranium, 29 billion tons of strippable coal, and enough oil shale to meet the nation's needs for the next eighty years if it can be economically extracted. Being in Colorado, Craig has had the benefit of an environmentally responsible administration. Nevertheless, it has the potential for becoming another Rock Springs.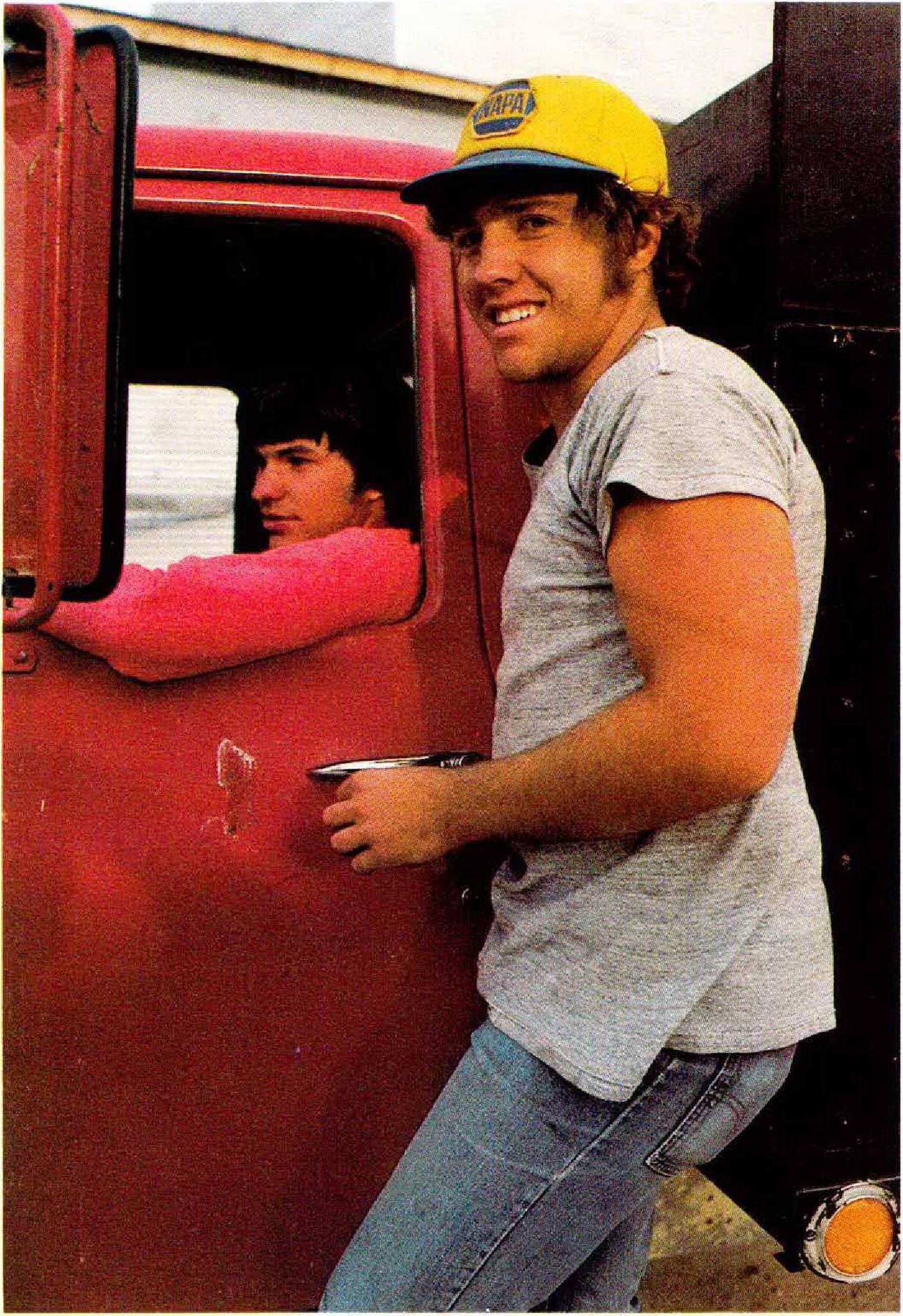 Governor Lamm has been the environmental spokesman among western governors. He has repeatedly said that Colorado should generate its own power and nobody else's. His coal policy has been "Dig it here, burn it elsewhere."But despite his best efforts and much public support, he has been unable to get a utilities siting bill past the legislature, and Colorado's coal severance tax law is so far from Montana's model that it might as well have been written by the energy industry. So at Craig they are both digging it and building a 760-megawatt power plant to burn it in. The town overflows with 10,000 people and shows most of the cancerous symptoms associated with boom: doctor shortage, teacher shortage, classroom shortage, housing shortage, dreary trailer parks, inadequate services. It now has a sixteen-man police force, in spite of which crime went up 43 percent in 1977. Vice, though not yet on the Rock Springs scale, has come in. Ironically, the unemployment rate, which is 7 percent in the state as a whole, is 9 percent in Craig.
In Colorado Business for May 1977, writer Bill Sonn, in an excellent article entitled "What's Going On Here?" quotes one analyst of the four-county area: "We used to plan for the future. Now things are happening so fast, we don't have reliable data on what happened last week, and we won't have for a couple of years. ... In many respects, Mesa County doesn't have the luxury of deciding what it wants anymore. It gets, and then all we do is try to make the best of it."
Sometimes, too, a country girl can want and not get, through no lack of trying. Southern Utah has made a couple of efforts; one, the Kaiparowits, came to nothing, and the other, the Intermountain Power Project, has been at least temporarily stalled. It is instructive to note how, and by whom.
Utah does not have, except in a limited way in Salt Lake City, a highly organized environmental movement. Neither does it have the sort of concern that in Idaho killed the Pioneer plant and in Montana has so delayed Colstrip 3 and 4 that Lieutenant Governor Schwinden can call it a toss-up whether the plants will ever be built. Utah invites industry as eagerly as Wyoming does, and its prevailing attitude is indicated by the fact that when the legislature passed a land use act in 1976, the citizenry promptly wiped it out in a referendum. The Energy Commission that has replaced it has only advisory powers.
It is understandable why there is a willingness in Utah to build plants that will make electricity mainly for export, and to accept Class 2 and even Class 3 air. For one thing, mine-mouth plants are the most economic way to promote the use of Utah coal, which, though low in sulfur and with a high BTU rating, is mainly dug from underground mines, and costs more. State planning has consistently gone in this direction, both under Governor Scott Matheson and under his predecessor, Calvin Rampton. A 1975 publication of the Department of Community Affairs, entitled "Energy-Rich Utah: Natural Resources and Proposed Developments," shows eight actual and projected power plants in Emery, Wayne, Garfield, and Kane counties, all based on local coal resources. Long established coal towns such as Helper are on the boom, and other mines are opening. Dr. Hellmut Doelling, chief of economic geology for the Utah Geological and Mineral Survey, has estimated that "by 1985 there could be 8000 megawatts of new generating capacity in Utah to serve both Utah and the entire southwest market. This would involve mining of some 35 million tons of coal annually, providing employment for 10,000 miners, 4000 power plant workers, and nearly 20,000 employees for indirect facilities and service industries."
That is heady prophecy in counties which, like Carbon and Emery, lost population between 1960 and 1970 and have exported their young people for generations. In the cohesive Mormon society, the lunch-bucket argument that plants mean jobs and that jobs will keep the children at home has more force than elsewhere. And if such plants do what the Geneva plant of U.S. Steel has done to Utah Valley—dirty the air, blight the countryside, disrupt established communities, and even hurt the tourist business, why that is the price one pays.
So it was outsiders, not locals, who killed the Kaiparowits Project in 1976, and it is outsiders, not locals, who have been the strongest opponents of the intermountain Power Project (IPP) which took its place. The outsiders were backed by the feds, and they acted under a federal law, the Clean Air Act. When Secretary of the Interior Andrus, in June 1977, declared the air of the Capitol Reef National Park, only eight miles from the proposed IPP site, to be Class 1 air, which should not become subject to deterioration, he may have killed the IPP. For though he has said he does not intend to kill it, only to move it away from the park; and though Governor Matheson at once put his Energy Commission to conferring with the BLM about alternative sites, Daniel Lawrence, director of Utah's Division of Water Resources, guesses glumly that environmental considerations related to a new site may delay things as much as two years, by which time rising prices may have made the project unfeasible.
When he was governor of Idaho, Mr. Andrus conducted a poll of the state's citizens to find out what kind of Idaho they wanted in their future. Dreaming, more in the spirit of Oregon than in the spirit of the Rocky Mountains, they asked for some growth—not too much—and no environmental damage. Utahans seem to care less about such damage. If IPP is killed, it would not be surprising to find Secretary Andrus hauled up on a pole in effigy, to join Mayor Wilson and Robert Redford, while in California, which knows about Californication, the Sierra Club and the Friends of the Earth dance in the streets.
Whatever the results, the federal presence is going to be strong, and could be absolutely dominant. "The white man is coming," says Governor Lamm, a longtime conservationist who also likes to think of himself as a political realist, and whose realism sometimes angers old colleagues lucky enough not to have to run a mountain state. "To refuse to cooperate with him might be morally satisfying, but it's a satisfaction one would enjoy on a train to somewhere else. Against the development of federal lands by the federal government, opposition would be the mouse that roared. What am I supposed to do? Organize the ski patrol?"
It would be naive to expect the federal bureaus to act with total consistency, or to think that any one of them, such as BLM or the Forest Service, will in future be either consistently custodial and preservationist or consistently bent on development. Policies change with circumstances, administrations, and public pressures. Constant cooperation between the federal and the state sovereignties is the obvious compromise course, and the compromises, whether made under the new leniency of the BLM Organic Act, or by understandings between governors and the secretary of the interior, or by some other means, will be neither easy nor fully satisfactory to either side. But political realists of both sides agree that each sovereignty must give a little.
And when we are speaking of sovereignties, it will not do, though we do it all the time, to forget the Indians.
4. Arabs of the Plains
"Indian land is not a deviant sort of public domain, as the feds have a tendency to think. It is a separate tribal property."
—Clayton Old Elk of the Native North American Natural Resources Development Federation.
The conference room in the Holiday Inn on the outskirts of Billings, Montana, is packed. The time is late September 1977. The occasion is a conference on Energy Resource Development and Indian Lands, sponsored by the American Association for the Advancement of Science, the Montana Intertribal Policy Board, and Montana State University. Panelists include state and federal officials, professors and experts and representatives of industry, and many Indians. There are big delegations, led by the tribal chairmen, from the Crow and Northern Cheyenne reservations east of town, plus the tribal chairmen of the Fort Belknap, Fort Peck, Flathead, Rocky Boy, and Blackfoot reservations, all in Montana, plus a scattering of Indians from outside the state—Sioux from North Dakota, Navajos from Arizona, a Tlingit from Alaska. Rayna Green, the conference coordinator, is an Oklahoma Cherokee woman, well-educated and adroit at large group management, who looks like a college professor of English.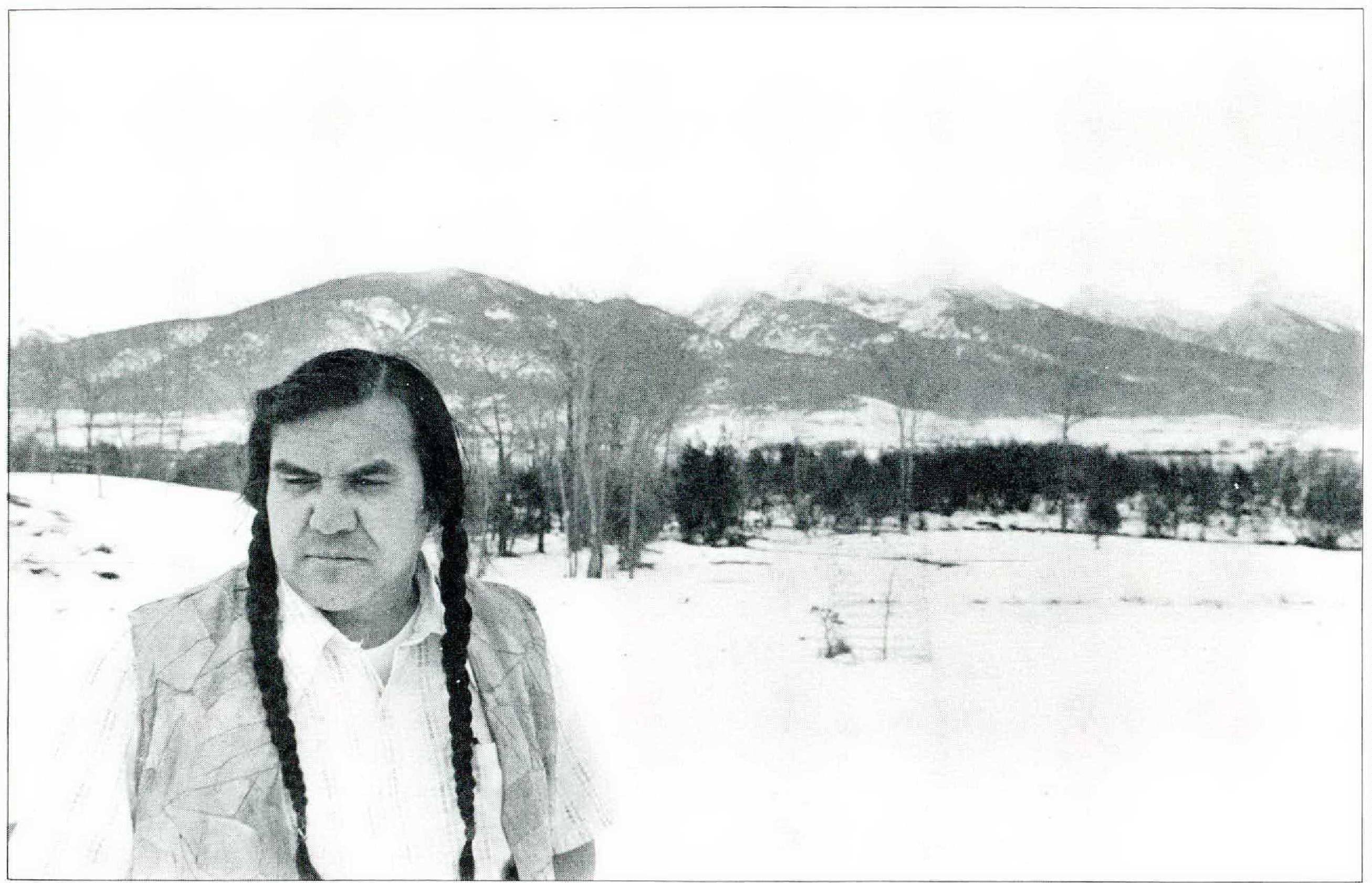 It is not quite a pan-Indian meeting, but many western tribes and many of their problems are here. From the rear, where we sit with Jim Canan, area director of the Bureau of Indian Affairs in Montana and Wyoming, we are aware of a strong Indian ambience—the clothing of the men which fuses Indian and cowboy, the touch of silk and silver, the black braids, a big-shouldered, narrow-hipped look in most of the men, as if the purely masculine activities of hunting and war for which they were bred produced a physical type that maintains itself long after the activities have passed.
Few of the delegates are militants, and their tone is not hostile. But it is challenging and sardonic. When Lieutenant Governor Ted Schwinden declares that Montana's problems and the Indians' problems are the same, and should be approached in the spirit of cooperation, there are snickers: Indians are suing the state over water, taxes, jurisdiction, and much else. When the vice president of Montana Power, William Coldiron, whose name sounds more Indian than Rayna Green's, but isn't, defends the fairness of his company's contracts with Indians, a couple of Flatheads hold their noses: the Flat heads lease the Kerr damsite to Montana Power for $1 million a year, which they think is not enough, and they are being difficult about the hundred-yardwide corridor that Montana Power wants for a transmission line across the reservation.
Speakers are as critical of the state and federal governments as of industry. The state, they say, has no right to impose its severance tax on coal mined within the reservations; it should have no control over the water in reservation rivers; its civil code should not apply either to Indians or to whites living on the reservations. The Bureau of Indian Affairs (BIA), which is supposed to act only as trustee over Indian property, interferes too much in matters that do not concern it; the letters BIA really mean "Bosses Indians Around." Even "helpful" white organizations such as those sponsoring this conference strike some Indians as part of the smoke screen that conceals another rip-off. And the bitterness is universal against the white group that calls itself MOD (Montanans Against Discrimination), which resists the enforcement of tribal laws upon white residents of the reservations. What all these Indians want is acknowledgment of their jurisdiction over themselves and their lands, their sovereignty as separate enclaves, almost separate nations.
They intend to make no more mistakes, for Indian lands once thought virtually valueless are now known to contain resources of immense value, and the times no longer permit the sort of ruthless white take-over that flooded the Black Hills with gold-hunters a hundred years ago. Even old chiefs sound like young warriors. Tom Swaney, a Flathead, is on his feet so often, protesting and arguing, that from the speakers' stand Barney Old Coyote, a Crow, kids him, saying that the Flatheads are like Coors cans, you see them everywhere. But when Swaney takes the floor microphone by the throat and tells his hearers that "the Rocky Mountains are one great energy belt, and half of it is owned by Indians," the room sighs with agreement, satisfaction, and determination.
Jim Canan leans over toward us with a smile. He is a square, red-haired man, minutely informed, sympathetic to Indians, struggling to maintain an objective stance between forces both of which are likely to attack him. ("A good man," Ross Toole says, "full of arrows," and the best type of fed.) "They really are beginning to think like Arabs,"he says.
Exactly. And like Arabs, they hold good cards. Specifically, gas, oil, uranium, and coal, four aces; and water, a wild deuce.
The Southern Utes in Colorado, the Uinta-Ouray Utes in Utah, and the Blackfeet in Montana all have both gas and oil. The Shoshones and Arapahos on the Wind River reservation in Wyoming have so much that already every man, woman, and child in the tribe is receiving about $100 a month in royalties. The Flatheads have valuable timber, plus half of the very desirable Flathead Lake, plus half-adozen damsites in addition to the one already leased to Montana Power. Several reservations contain geothermal resources. The Bannocks and Shoshones at Fort Hall, in Idaho, own one of the richest phosphate deposits in the West. Down in the Southwest, outside the Rocky Mountains that are our present concern, the Navajo and Hopi reservations possess great oil and gas fields, plus uranium, plus so much coal that Navajo Tribal Chairman Peter MacDonald has been heard to claim for Indians half the strippable coal in the United States.
Clearly he exaggerates. Clearly Tom Swaney exaggerates when he says that Indians own half the energy resources in the Rocky Mountains. But in coal alone, and in Montana alone, the potential is enough to dazzle and perhaps frighten Indians who grew up thinking of their reservation as a kind of poor farm.
Estimates of coal reserves vary wildly according to who is making the guess and whether he is guessing about total reserves, recoverable reserves, or strippable reserves. Some coal has a low BTU rating, some is less valuable because of a higher sulfur content, some beds arc too thin or too deeply buried to be economically mined. What matters is that 6 to 7 billion tons of the best and most strippable coal lie within the Northern Cheyenne reservation, and that another 5 to 7 billion tons in the same thick Fort Union deposits lie in the Crow reservation next door.
According to Jim Canan, these beds will yield 50,000 tons to the acre. Three or four active mines would dig perhaps 600 acres a year, for a total of 30 million tons. The going royalty on federal leases (a royalty that Indians are increasingly unwilling to accept) is 12.5 percent on a price of $8—a dollar a ton. Divide $30 million a year among the 3500 Northern Cheyennes (anyone with half Cheyenne blood is automatically enrolled in the tribe, and there are formulas for adopting others who are not half bloods. Tribal members share in tribal income whether they live on the reservation or not), and each Cheyenne receives $8571 annually. Divide a similar royalty among the 6100 Crows and the per capita income is $4918. And each tribe could keep that up for a hundred years without exhausting more than half of a 6-billion-ton resource.
In the first Burry of the energy crisis, both the Crows and the Northern Cheyennes signed leases with Johnny-on-the-spot energy companies, the Cheyennes with Peabody Coal and others totaling 16,000 acres, the Crows with Shell Oil on reservation lands, and with AMAX and Westmoreland Coal on ceded lands north of the reservation boundary, to which the Crows still hold the mineral rights. But second thoughts—Arab thoughts or Indian thoughts—led them to reconsider, and demand that these leases be canceled. Westmoreland's Absaloka Mine on Sarpy Creek, in the ceded lands, is the only mine that has dug any Indian coal. The Cheyenne leases were suspended by Secretary of the Interior Rogers Morton in 1974, the Crow leases by Secretary Thomas Kleppe in 1977. Reinstatement of these, or the negotiation of new ones, appears to depend on what answers the Indians get to some hard questions.
1) Can the State of Montana be prevented from collecting its stiff severance tax and its gross proceeds tax on coal mined within the reservations? It tears the Crows up to see the state getting 27 percent on the gross price of that coal, while they, the owners, get only 8 percent as royalty. They have considered imposing a severance tax of their own, but that added to the state's bite would make Crow coal noncompetitive.
continued on page 71
What makes this imposition all the more intolerable to Indians is that the severance tax is the only tax, state or federal, that is levied on the reservation. Everywhere Indians set up "smoke shops" to sell tax-free cigarettes. If tax-free cigarettes are legitimate, why not tax-free coal, especially since the Montana attorney general has ruled that the state strip-mining law does not apply on the reservations, and since the new federal strip-mining law, which does apply, specifically gives the Indians control over all coal mining on Indian lands?
2) Can the Indians develop their own coal with energy companies as agents, and if they do, what effect will that have on the severance tax? A tribe that develops its own resources (the Flatheads want to do it with their hydro sites, too) retains powers that as a lessor it could be held to have relinquished. Even if it should be held that a lessee such as Westmoreland is properly subject to state taxation, the Indians argue that a sovereign tribe should not be. A secondary but by no means unimportant aspect of the joint-venture possibility is that it would give Indians a greater share of the proceeds from their resources, even if they did not (as they surely would) impose an Indian severance tax to replace the Montana one.
3) Are the reservations little sovereign nations embedded in the United States? The answer to this question is entangled with the answers to the first two. Even tribes with modest resources have been pressing so hard for recognition of their sovereignty that to people of the MOD persuasion it looks like a conspiracy.
Here are the Flatheads with their demand that white cottagers on Flathead Lake pay an annual ground rent. Here are the Mescalero Apaches developing a resort in southern New Mexico and refusing to apply for a state liquor license, insisting that the reservation is not bound by state laws. Here is Laguna Pueblo installing a racetrack on its land and proposing to allow gambling, which is against the law in New Mexico. Here are the Crows banning white fishermen from the Big Horn River without an Indian permit. (The Supreme Court ruled that the fishermen had been placed in double jeopardy, and left undecided the question of stream ownership.) Here is a white trucker who hits and kills a Cheyenne's horse near Lame Deer, and who, with the support of his employers, resists being tried by the tribal court, which insists on dealing with his case. Here are Washington Indians who, sustained in their traditional tribal fishing rights by Judge George Boldt, go into the fish packing business and outrage every white fisherman in the Northwest. Here, finally, is a Crow couple, living on the reservation, who fail to repay a bank loan. The bank attempts to garnishee their wages, and serves a writ on them. The couple obtains an injunction against the action, on the ground that though the state court was admittedly competent to issue the writ, it had no authority to serve it on reservation land. But the court did serve the writ, the Montana Supreme Court sustained it, and the U.S. Supreme Court refused to take the case.
The jurisdictional challenges proliferate, the court suits multiply. Issues are confused by the fact that reservations are not simple areas with simple boundaries. The allotment system which earlier in the century gave individual Indians title to family acreages resulted in many sales to non-Indians. Now the reservations are checkerboarded with white holdings, and the leasing of land to white ranchers has increased the number of "alien" residents. The Northern Cheyennes have been trying to correct this situation, and have been steadily buying back their reservation, but the Crow reservation is used 80 percent by whites, and a third of it has passed out of Crow ownership.
Attempts to enforce Indian law and order infuriate white ranchers who insist that they live in the United States and in the state of Montana, and are bound by the laws of no other governments, especially governments in which they have no voice. They say that they bought their land for a fair price and have a clear title and have in no way relinquished their constitutional rights. Under pressure from MOD, the legislature in 1977 passed a resolution asking Congress to prohibit tribes from exercising control over non-Indians on the reservations. Indians retort that Congress has no legal power to pass such a law, in view of the unique status of Indians and their unique relationship with both the federal and state governments. As Earl Oldperson, the Blackfoot chairman, says, Indians are only trying to hold onto the last vestiges of their heritage, and must have the right to govern them.
The "homeland" argument is significant, and reflects changing attitudes. For generations, life on the reservations has been impoverished, demoralized, and hopeless. A few young people got away to school, or were taken away. Young men went to pick potatoes in Idaho, or become smoke jumpers in the national forests, or pursue Morrison-Knudsen construction projects from the Persian Gulf to Prudhoe Bay. But their options were few and their end too often predictable: drunken culture shock in some city Skid Road (as in Scott Momaday's novel House Made of Dawn), or drunken, unemployed refuge back on the reservation (as in James Welch's novel Winter in the Blood). Those inevitabilities seem to be changing. Outside the Billings Holiday Inn the pickups wear bumper stickers that read INDIAN PRIDE ON THE MARCH, and I'M CHEYENNE INDIAN AND PROUD OF IT. The vision that Indians are beginning to see is a reservation homeland with both economic and cultural security, with jobs, with dignity, with hope, with a future.
And yet they are by no means sure of what they want to do. Few Indians are insensitive to the traditional reverence for the earth, and some angrily reject the notion of mining and industry, no matter how many jobs or how much money those may mean. "God put the coal there," says one speaker at Billings. "That's a good place for it." Phil Beaumont, a young Crow, speaks wistfully of the old ways and the old values, and confesses that he feels caught between two worlds, without clear guidance. Barney Old Coyote, a polished and successful man of the world, once a high Interior Department official, later an offeer of the American Indian National Bank, and now a member of the Crow Coal Authority, cautions the audience three times that when you destroy an Indian's environment you destroy his whole way of life, for his spiritual wellbeing is linked with that of the earth through traditions, rituals, and mystical belief. The Crow lawyer Urban Bear Don't Walk, whose attractive and welleducated wife has chaired one of the sessions, makes a rather surprising statement: that it is more often than not the young and "Americanized" Indians— those contemptuously referred to as "breeds"—who are strongest for traditional values and against development. Perhaps, having taught the whites something about how to care for the earth, Indians are now catching it back from white environmentalists.
In Billings we hear no Indian voice for hasty or headlong development. We hear many voices of caution, and some of repudiation. But some tribal actions in recent months may be symptomatic. In all the Crow leases presently under discussion, and in the only one which has been renegotiated (Westmoreland), there is, according to Jim Canan, a provision that prohibits the building of any conversion plant within fifty miles of any reservation boundary; and the Cheyennes, angry at what blows their way from the Colstrip 1 and 2 plants of Montana Power, have declared the air of their reservation Class 1 air, and got the EPA to approve that designation. Since Class 1 air cannot be subjected to any deterioration whatever, doubt is thrown on the building of Colstrip 3 and 4. There is no way those plants can go on stream without polluting the Cheyennes' air to some measurable degree, for their proposed site is practically on the reservation line.
On the conversion of coal into energy, these Indians would agree with Colorado's Governor Lamm: Dig it here, burn it elsewhere. And if they choose to dig it, they are determined to be paid for it. The most applauded words spoken at the Billings meeting are spoken in a dinner speech by Charles Lipton, a New York lawyer, who bluntly advises the tribes to learn from the Arabs. (Twenty-three tribes have since gone to OPEC for advice.) Lipton is critical of the agreement that the Blackfeet have just signed with Damson Oil, an agreement that company President Barry Damson insists is the best deal the Indians ever got. The point is that the best deal the Indians ever got may not be good enough. Lipton's advice is for Indians to model their contracts not on soft federal leases but on the hard agreements that oil companies are now forced to sign with developing nations overseas. This is what happens when you hold good cards and are learning to play the game.
One other card the Indians possess, a wild card that in the West takes all others: water. Nobody will know for a long time how much the card is worth, but nobody values it lightly.
Only a few days before the Billings meeting, we listened outside the hearing room in the state capitol in Helena where wary, weary politicians, bureaucrats, industry lawyers, ranchers, and city officials from several places have for weeks been trying to get more water out of the Yellowstone River than flows in it. Everybody wants as big an allocation as he can get. Burlington Northern wants water, ranchers want water, energy companies want water, Montana Power wants water, lease speculators want water. The City of Billings, apparently under the impression that it will be as big as Denver by the year 2000, has put in for 317,456 acre feet a year. The Montana Fish and Game Department, hoping to protect the fishing and the riparian ecosystems of this magnificent, free-flowing, undammed, 600mile stream, wants left as instream flow 8 million acre feet a year, which is just about the annual average flow of the Yellowstone where it empties into the Missouri.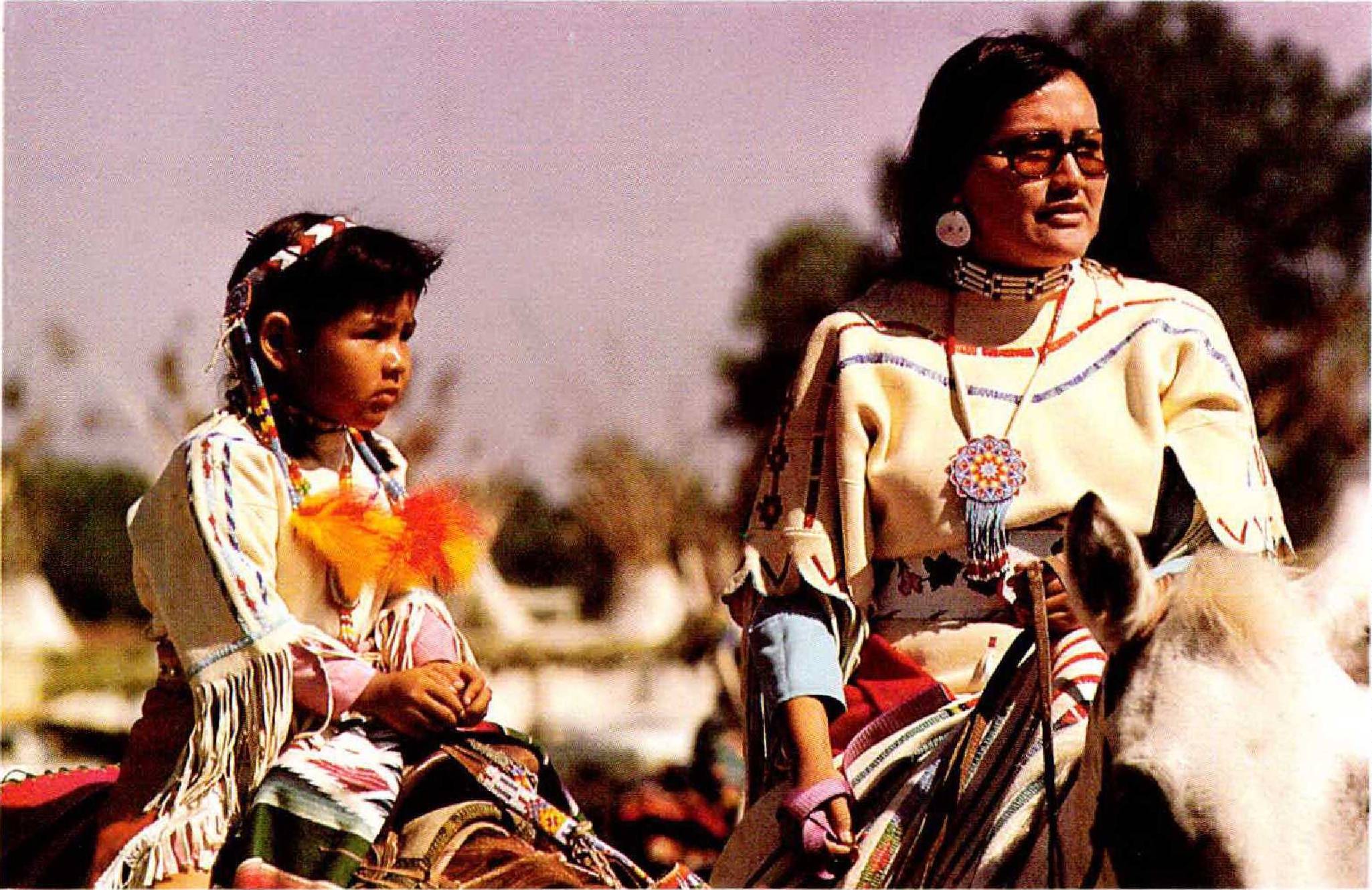 They must all await the settlement of Indian claims.
In 1908 the Supreme Court of the United States enunciated the so-called "Winters Doctrine,"which guarantees to the Indians the beneficial use of water that is adjacent to, or rises on, or flows through the reservations. But the Court did not define the nature or extent of beneficial use. If it meant the limited agricultural and domestic uses common in 1908, did it mean to restrict Indians to that rural standard, or did it allow for the fact that Indians might grow and change as the country and the times changed, that future beneficial uses might include industry, new towns, and other developments?
The Indians insist that their beneficial uses ought to have the same potential for growth as anyone else's. If they are right, then there is going to be less water in the Yellowstone for white interests to divide, for several Yellowstone tributaries run through or past reservations: the Big Horn and Little Big Horn through the Crows', the Rosebud and Tongue through the Northern Cheyennes'. Just to indicate what the Winters Doctrine might mean, the Fort Peck Indians, through whose reservation the Missouri flows, have a claim in for all the water of the Missouri they can put to beneficial use.
Anywhere from 3500 to 5000 white Montanans are presently involved in lawsuits because their use of the water of various streams is in conflict with Indian claims. No wonder Lieutenant Governor Schwinden made a plea for the cooperative solution of problems. Montana itself, like every Indian reservation within its boundaries, is a colonial dependency struggling to gain control of its own economy. The economy depends ultimately on water, even in Montana, which by comparison with some other mountain states is well watered. And for water, as for some other things, Indians are in direct competition. Until their claims are settled, says John Orth, Director of the Department of Natural Resources and Conservation, all other allocations of water in the state will be uncertain.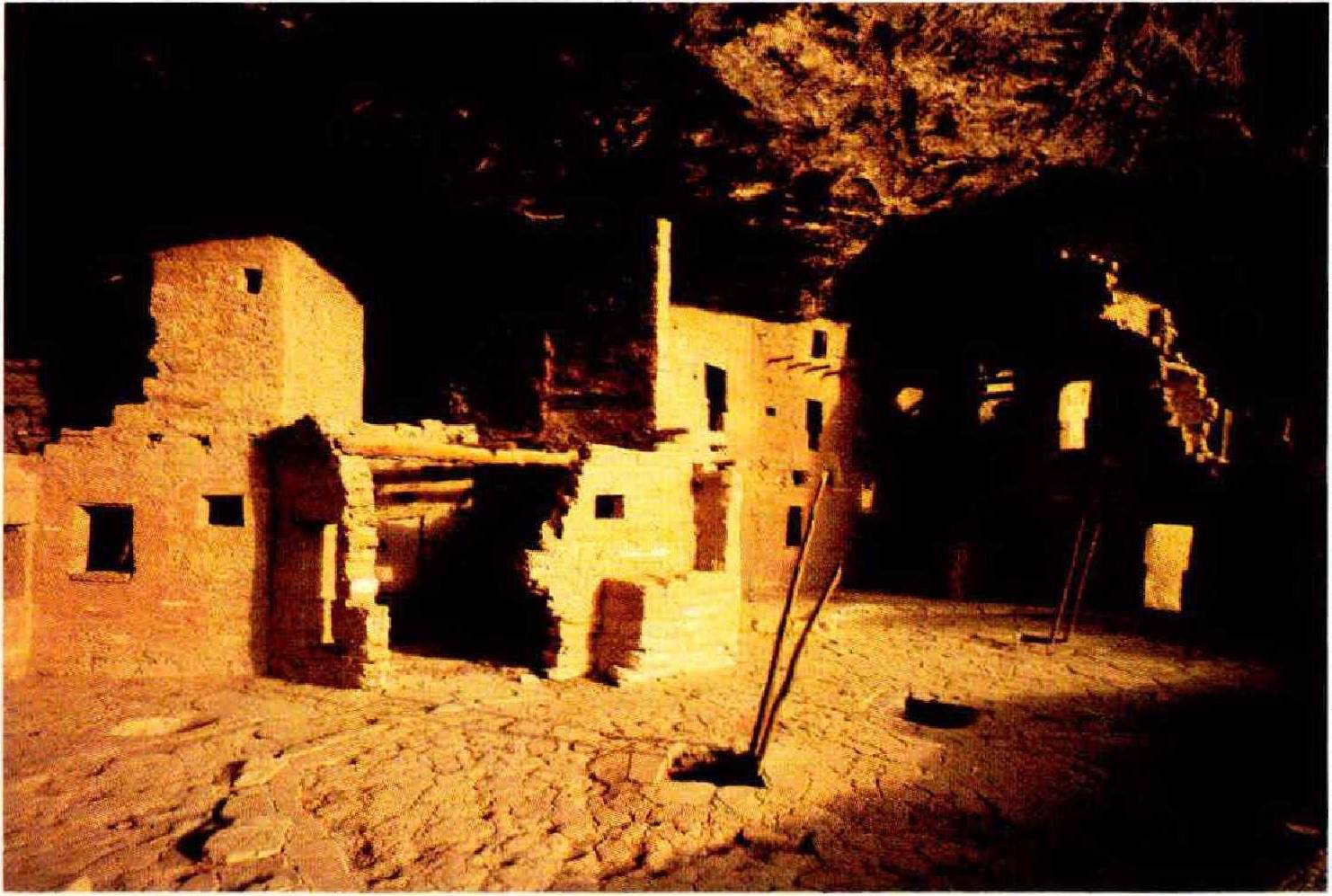 Nor is the Winters Doctrine limited to Montana; it goes wherever Indians are and rivers run. In Utah, for example, the state is entitled, by the Colorado River Compact, to 23 percent of the water allocated to the Upper Basin states. But some undetermined part of that 23 percent belongs to the Utes of the Uinta-Ouray reservation, who have rights to beneficial use of water from the Green as well as the White, the Duchesne, and other tributaries.
According to a Department of Commerce census of 1972, there are only 37,526 Indians in all five Rocky Mountain states. In Montana, where they are most numerous, Indians make up only 5 percent of the population. But they are certain to have more than a 5 percent effect on the future of the state and the region. Poor as they still are, they have the resources in energy, as well as in water rights guaranteed by the highest white court, for the making of a better life.
The Billings meeting decided nothing, but it aired a good many things: Indian determination not to get cheated out of what is left of a heritage; Indian insistence that both their environment and their cultural integrity must be protected; that agreements must bring not only royalties but jobs, and more than menial jobs; that research and reclamation and impact money must be built into any contracts; that tribal jurisdiction over tribal lands must be assured.
Jim Canan, though he sometimes catches missiles meant for the bureau he represents, and just as often is attacked by whites who think him too indulgent of Indian intransigence, believes that all this agitation, coupled with some sort of development of Indian resources, will end in a separate Indian political and economic identity— not complete sovereignty but something like the relation a municipality has to the state in which it lies. He has a lot of confidence in the Indians' growing ability to manage their affairs in a world whose rules are made by whites, and yet to retain much of what is most precious to them. Even limited sovereignty with modified cultural integrity would be much. If Indians achieve it, the National Monument on the hill above the Little Big Horn, where Crazy Horse and Sitting Bull wiped out Custer's cavalry, will become a monument to more than a white defeat.
5. The New Jerusalem
There was a time when no visit to the Rocky Mountains was complete without a report on Salt Lake City and the Mormons, including an interview with Brigham Young and a discourse on polygamy. An interview with Brother Brigham is no longer feasible, and polygamy is now practiced only by rebel fundamentalist groups who are an acute embarrassment to the church. But the Mormons are as much a force in their region as they were when Horace Greeley came through, and their city is as worthy of a traveler's time.
The oldest, the handsomest, and probably the most prosperous city in the mountains, it is both special and typical—special because of its dominant Mormon culture, typical because it is a western oasis with growth problems.
Because I grew up there, other western cities often remind me of it. Walking out into a summer morning in Boise or Missoula, some morning when the air has been blown clean and the light is so pure that it magnifies what is seen through it, when the horizons have been cut with a diamond and the brown mountain slopes are folded close around the city, and down along leafy streets lawn sprinklers are spraying off into the dry air diamonds and rainbows and the smells of grass and wetness, then I am likely to think, this is how a town should look and smell!
A town should lie like this in a valley, protected by such noble mountains as the Wasatch along the east and north and the Oquirrhs to the southwest. It does no harm to have a dead sea to westward, to make a dark blue line in the morning and a glitter in late afternoon, or to have a vast desert beyond the lake to breed sunsets. No town should be without canyons that cut up into the mountains close behind town, for boys to hike in and couples to court in and families to picnic in beside mountain streams. The forests up there are not to be measured in board feet, and won't be; they are watershed, recreation area, and air-conditioner, and being conveniently managed by the Forest Service, they cost the locals nothing. On summer evenings a lovely cool breath flows down the canyons into the valley. In winter the mountains are ten feet deep in the powder that makes the skiing at Alta, Park City, Brighton, Snowbird, and Sundance as good as any on the continent, and that when it melts and runs off means no less than life.
Cities should be laid out according to a rational plan, my upbringing tells me. The Plat of the City of Zion, designed for New Jerusalem by Joseph Smith with assists from Isaiah, Ezekiel, and the Book of Revelations, and imposed on the Salt Lake Valley by Brigham Young, turns out to have been as good a city plan as most, and better than many. If it was a little foursquare and angular, time and the slopes of the valley have softened that defect. The always visible mountains are an instant directionfinder; the town's layout is so orderly that from a street and house number you know exactly how far to the east, south, or west of Temple Square you are.
The Salt Lake City that I remember was not much bigger than Boise is now. It was a city of homes, schools, and churches, a city with richer and poorer neighborhoods but no real slums, a city of monuments where people valued and even mythologized their history. Not a crimeless city by any means, but one with minimal juvenile delinquency: every Mormon child had a participating and responsible place in family and community life, and every Mormon ward had an amusement hall which promoted athletics, dances, and all sorts of youth activities, and even welcomed non-Mormon outsiders like me. The high school I attended gave me a better training in fundamentals than I see my grandchildren getting now in much more sophisticated places; and if the University of Utah, when I went there, was a streetcar college of 3000 or 4000 students, it was also, like everything else in Salt Lake City, safe, friendly, and comfortable, and even then it was plugged into at least some of the circuits of world mind.
It was a good hometown, a secure place to grow up in, and I am grateful to it and to the close-knit, mutually supportive Mormon society that gave it much of its tone. It is a bigger and busier town now, and the streetcar college has grown into a multiversity of considerable distinction, and the intellectual and social life are altogether livelier than in the years when Hemingway's Mr. Frazer, listening to a Salt Lake radio station from his Montana hospital bed, got the impression that the City of the Saints was "clean but dull." I am sure that for the inmigrants and returnees who since World War II have flocked to this as to other Rocky Mountain cities it is neither as clean nor as dull as Mr. Frazer labeled it; but that it still has some of the complex feel of freedom, health, and sanctuary that mark my own memories of it.
Nevertheless, when I come back to it after forty years, the first thing I do is get lost, deflected from my programmed routes by new limited-access freeways that threaten to sweep me clear out of town and up Parley's Canyon before I can turn off. Then I go downtown and am confused and disoriented by growth and change.
The whole upper part of the business district has been transformed by urban renewal, its sidewalks widened far out into the street, patterned in exposed aggregate and impeded by flower urns, fountains, and stelae of artificial granite. The Lord, it appears, has kept His promise: "I will lay thy stones with fair colors, and lay thy foundations with sapphires. And I will make thy windows agates, and thy gates of carbuncles, and all thy borders of precious stones."It is new, slick, and vaguely disquieting to one nostalgic for the comfortable, shabby little city of the 1920s. Why is it trying to look like San Francisco?
When an oasis civilization is on the boom, the results are more dramatic than when growth is evenly spread over a large area. Much of Utah is almost as empty as it ever was. Growth takes place primarily along the "Wasatch Front"—the western face of the Wasatch between Brigham City and Nephi, a stretch which is the mirror image of the concentration along Colorado's Front Range on the other side of the Rockies.
Seventy-seven percent of Utah's 1,235,000 people live in a four-county area along the Wasatch Front within forty-five miles of Temple Square. Growth outruns statistics, but the figures for 1972 will make a point as well as later ones would. Between 1960 and 1972, the population of Salt Lake County increased from 383,000 to more than half a million; the number of telephones went from 180,000 to 329,000; new dwelling units jumped from 3000 to 9000 a year; the annual valuation of authorized construction rose from $50 million to$200miliion. And the curve goes steeply on and up.
U.S. News & World Report has projected Utah's growth between 1970 and 1980 as the sixth fastest in the nation, just behind Idaho, which is fifth, and ahead of Wyoming, Colorado, and Montana, which are ninth, tenth, and sixteenth in that order. The base is so small that in actual numbers the growth may not seem like much. But parked up on Wasatch Boulevard, overlooking what has happened to his hometown, a returning native feels both exhilarated and apprehensive.
It is as superb a view as it ever was when we used to park with our girls to look at the lights. The Wasatch, which here behind the city goes up to 11,000-foot peaks, is a spectacular backdrop. The Oquirrhs across the valley, with Kennecott Copper's smelter stack trailing its significant plume from their northern end, are a typical worn Great Basin range: I remember how smoothly they take the snow. The city that now seems to fill the entire valley clear up onto the highest beach terraces of ancient Lake Bonneville looks big. The flats out along the Jordan River are patterned with industries, warehousing facilities, airport extensions, and the highways that feed them. The skyline lifting in a tight cluster below the capitol is surprisingly metropolitan, and all down the long valley clear to the Jordan Narrows the residential streets are channels through the green of trees. But the new freeways curve arrogantly across the rectilinear patterns of Brigham Young's city, and the traffic on them looks like that on the Bayshore or the Jersey Turnpike. Also, ominously, the whole city lies under an oily brown haze, and even up here on Wasatch Boulevard the air smells like San Jose.
Like most mountain valleys with low average wind velocity, like the valleys in which lie Boise, Helena, Missoula, and many other western cities, the valley of the Great Salt Lake hoards whatever pollution is emptied into it. It always did. When the old smelters at Murray, Sandy, Magna, Garfield, and Arthur were active and the whole city was heated with coal, you could practically walk from the Wasatch benches to the Oquirrhs on the smoke during a winter inversion. That basic susceptibility to smog will not change. Though Kennecott's smelter is installing a chemical scrubber which early in 1978 will begin turning the sulfur dioxide of its emissions into sulfuric acid, thus reducing one source of air pollution, there is still the mile of oil refineries just north of town, there is still the concentration of industries out on the flats. Every "clean" industry lured into the area by an eager Chamber of Commerce, including the International Trade Fair recently built by Saudi Arabian petrodollars, inevitably increases the fleets of trucks and swarms of cars that are the principal polluting agency. Every tourist in search of scenery or rubbernecking Temple Square, every skier hunting deep powder, helps deface what draws him here.
Governor Scott Matheson, sitting uneasily in the driver's seat, and dedicated like all the western governors to controlled development, may have trouble handling his fractious horses. A Democrat and a liberal, a graduate of Stanford Law School, he is experienced in how Californication works, and is philosophically on the side of protecting the environment. But he is the political protégé of Utah's previous governor, Calvin Rampton, an immensely popular politician, an advocate of lunch buckets and payrolls. Moreover, Matheson's career experience has been entirely as a lawyer with Union Pacific and Anaconda; and though he has pledged himself to be responsive to the people's will, the people's will in Utah is generally pro-growth, and doesn't give a damn whether the air is clean or not.
Tall, amiable, intellectual, Governor Matheson even more than his fellow governors in the West is caught between conflicting pressures. Looking down from his capitol offices on the yellow-brown air that blankets the city even on a good day, he tells me that the whole Wasatch Front is a "non-attainment area" under the standards of the Clean Air Act, and must be cleaned up within a short time. In the same rueful breath he gives me the reason for the narrowing-down of Main Street during urban renewal—to satisfy the EPA by squeezing some cars off the street and turning the business district into a kind of mall— and notes that automobile registrations have gone up 8 percent in 1977.
Squeezing a few cars off Main Street is unlikely to do Salt Lake any good—not while church, state, and business cooperate to promote growth. In Utah we see no bumper stickers reading DON'T CALIFORNICATE UTAH. Utah is busy Californicating itself.
Even if the boosters tried to back up, they couldn't. Geography has become fate. For Salt Lake is the capital not only of the state but of an enormous regional hinterland. It is "the only metropolitan area between Denver and the West Coast, and between the Canadian border and Phoenix." The tourist brochures that call it "the center of scenic America" and the Tabernacle broadcasts that label themselves as coming from "the crossroads of the West" are both accurate. Itself a major tourist attraction and ski center, Salt Lake lies approximately midway between the national parks of the Northern Rockies—Glacier, Yellowstone, and Grand Teton—and those of the Southern Utah and Arizona plateaus—Grand Canyon, Zion, Bryce, Canyonlands, and Capitol Reef. It is the natural stopping place between the Colorado Rockies and the Sierra Nevada. In hunting season, Utah is jammed with the RVs and pickups of elk and deer hunters from all over the West. The hub of rail, highway, and air transportation, it is a warehousing headquarters for markets east, north, west, and south, just as in the 1860s and 1870s it was the supply point for the Idaho, Montana, and eastern Nevada mines. The state enhances its warehousing importance by assessing no inventory taxes, and the Chamber of Commerce seduces outside industry by advertising a labor force that is the best educated in the United States, very little unionized, and brought up in a system that encourages discipline and dutifulness.
Salt Lake's television and radio stations, as well as its two daily newspapers, the Tribune and the church-owned Deseret News, influence a whole cultureshcd (Montana, for example, has no PBS station and depends on Salt Lake or northwest stations for its educational programs), and Utah's cultural and educational institutions exert a gravitational pull on every city, town, and ranch within hundreds of miles.
Colorado's population includes only 1.7 percent Mormons, Montana's only 3 percent, so that Utah's pull on those states is not significantly church-related. Wyoming contains only 8.9 percent Mormons, but they are concentrated in the southwestern corner, and that corner leans strongly toward Salt Lake. Idaho's 25 percent, too, is more significant than it seems, for it is packed into the southeastern corner and along the Snake River from St. Anthony to Twin Falls, and that part of Idaho thinks and feels like Utah.
The bond is close, warm, and mutual. When, in June 1976, the Teton Dam burst and sent a thirtyfoot wall of water down across the towns and farmlands of the upper Snake River valley, those were Mormons who were washed away, and it was the Mormon relief machinery that most quickly and efficiently responded. Within hours, every Idaho ward was on a disaster alert and trailer rigs had begun heading out from Salt Lake carrying tents, mattresses, blankets, diapers, halazone tablets, and other necessities. By evening, the church's Ricks College in Rexburg was organized as a relief center, and its kitchens and dining halls were serving the first of nearly 400,000 meals they would put on the table in the next few weeks. For days and weeks church trucks rolled out of Welfare Square in Salt Lake, the nerve center of the extraordinary, continuing, cooperative Latter-Day Saints relief program that grinds, bakes, packages, cans, processes, and distributes emergency food and clothing—but only on a bishop's order, and to people who have shown themselves willing to help themselves. It was Deseret Brand foods—"the brand that money can't buy,"nor food stamps either—that flood victims ate while volunteer crews, largely Mormon, bulldozed away wreckage, burned or blew up ruined buildings, and cleared ditches for a new start.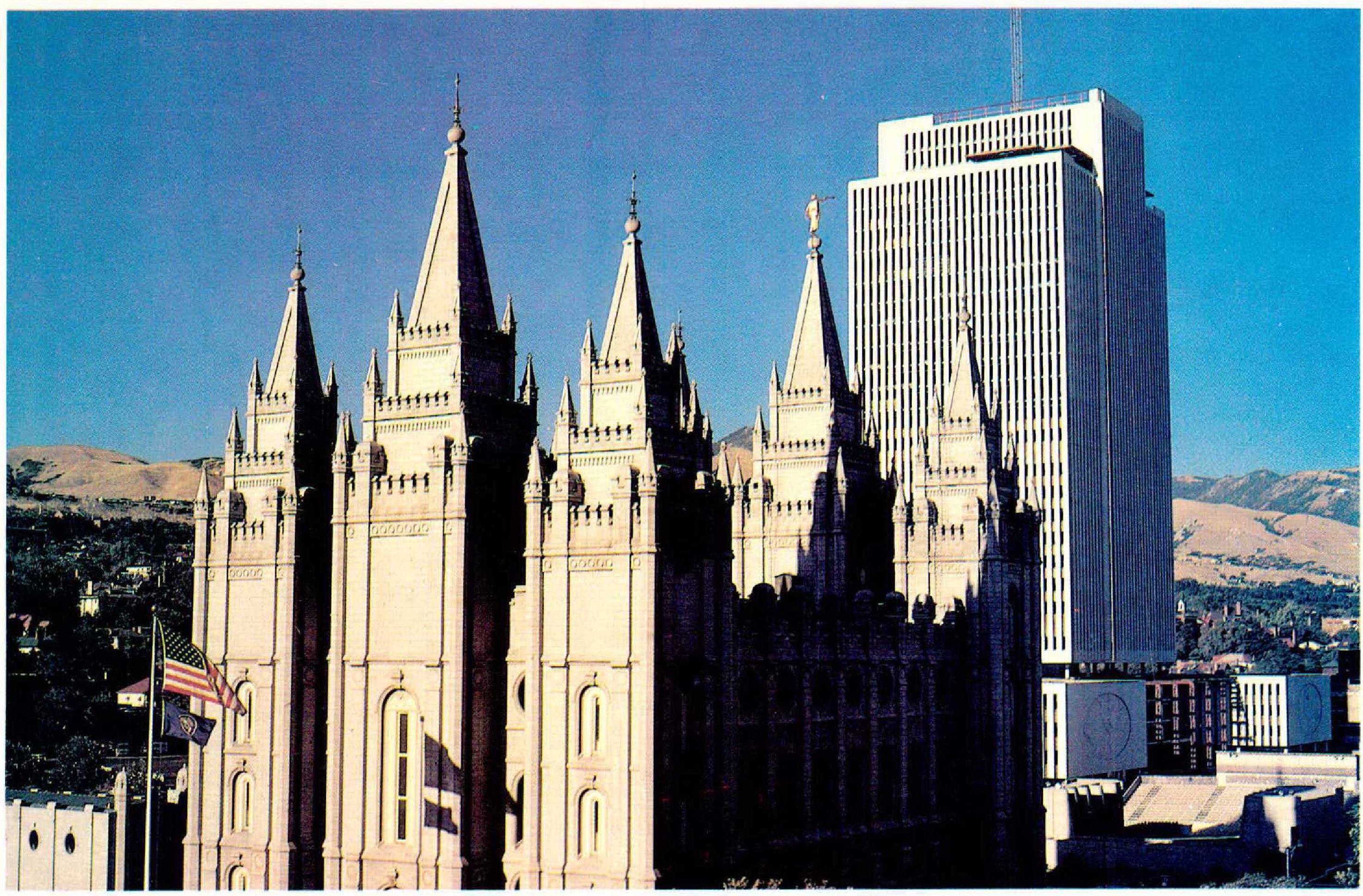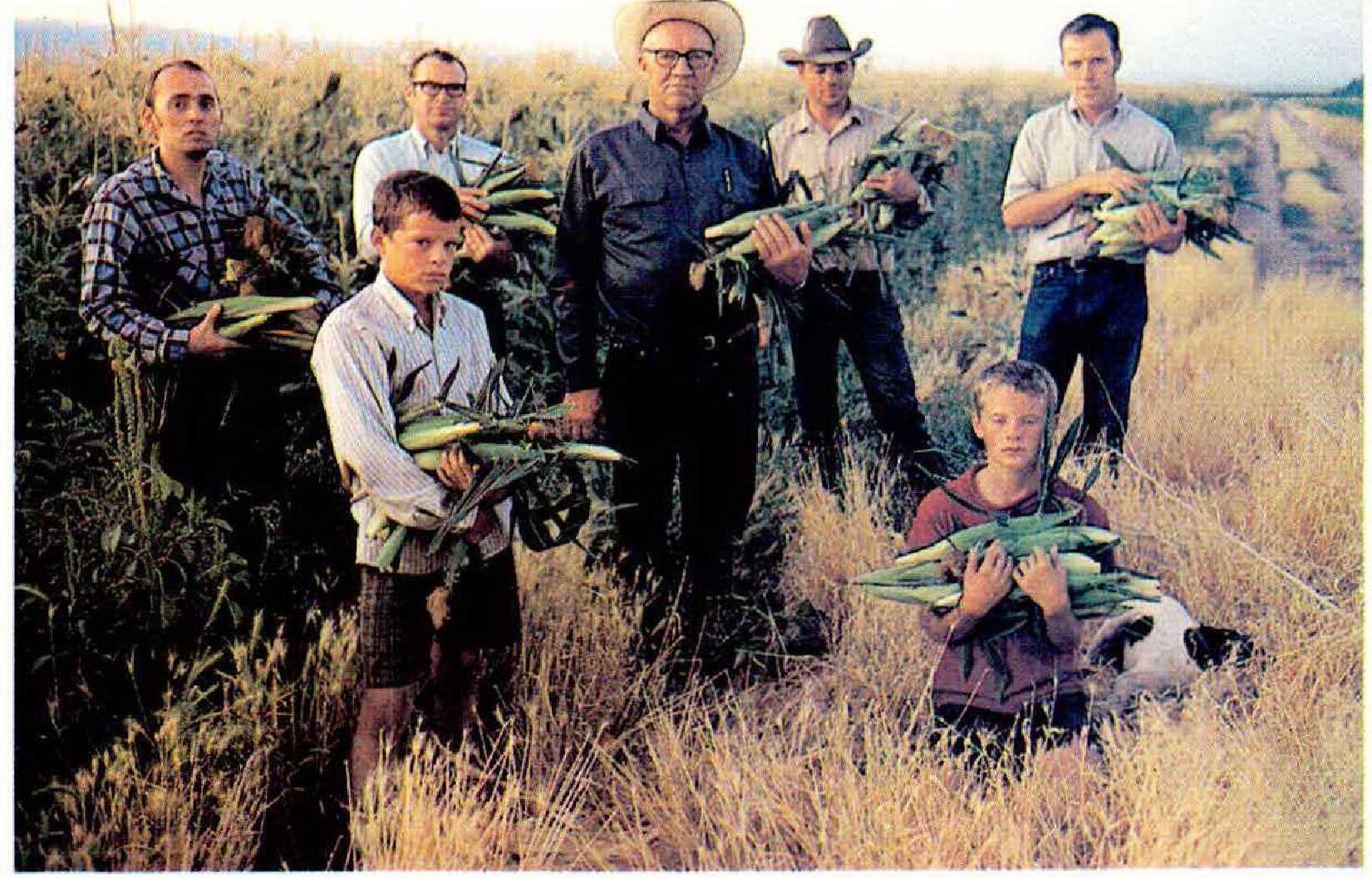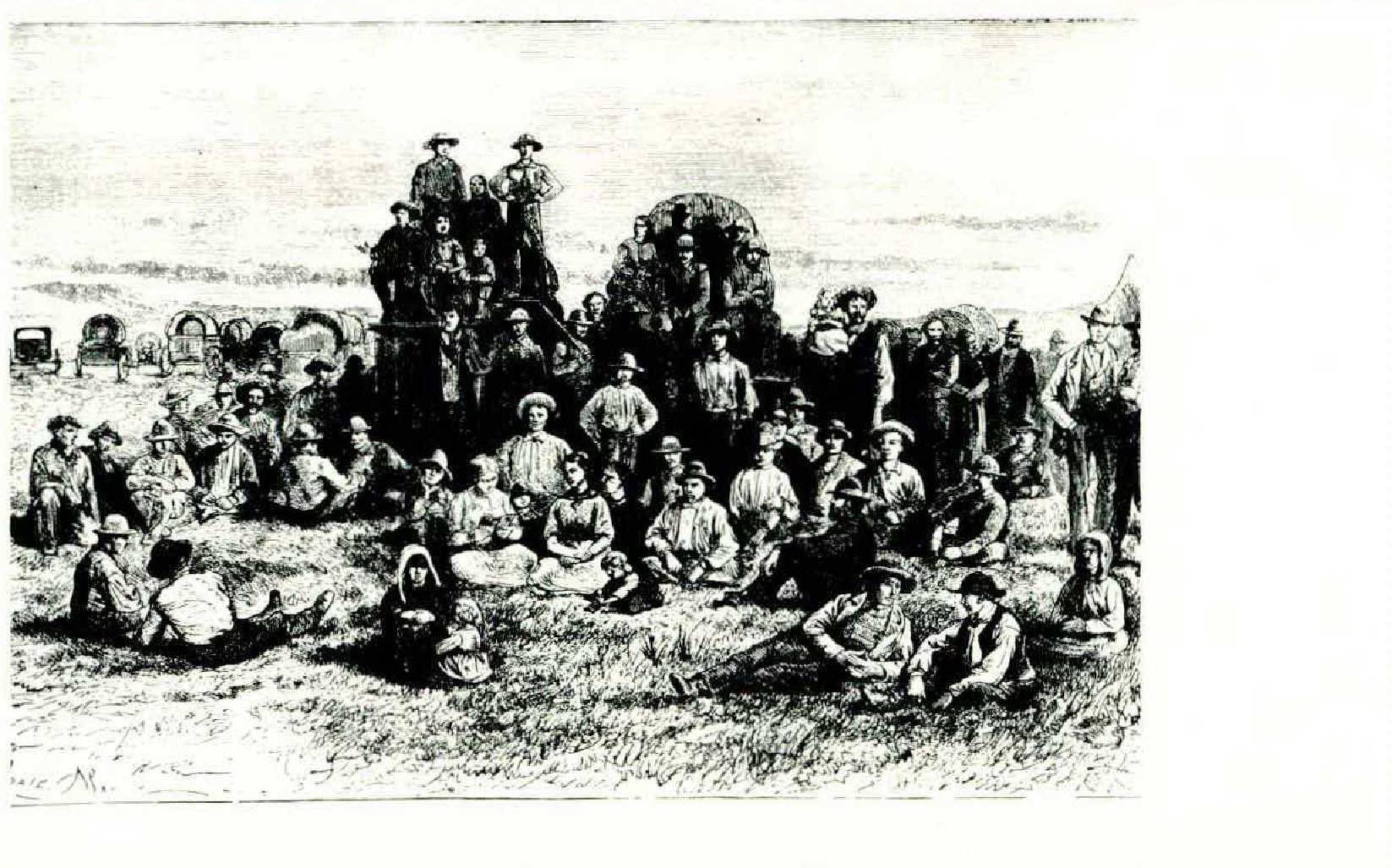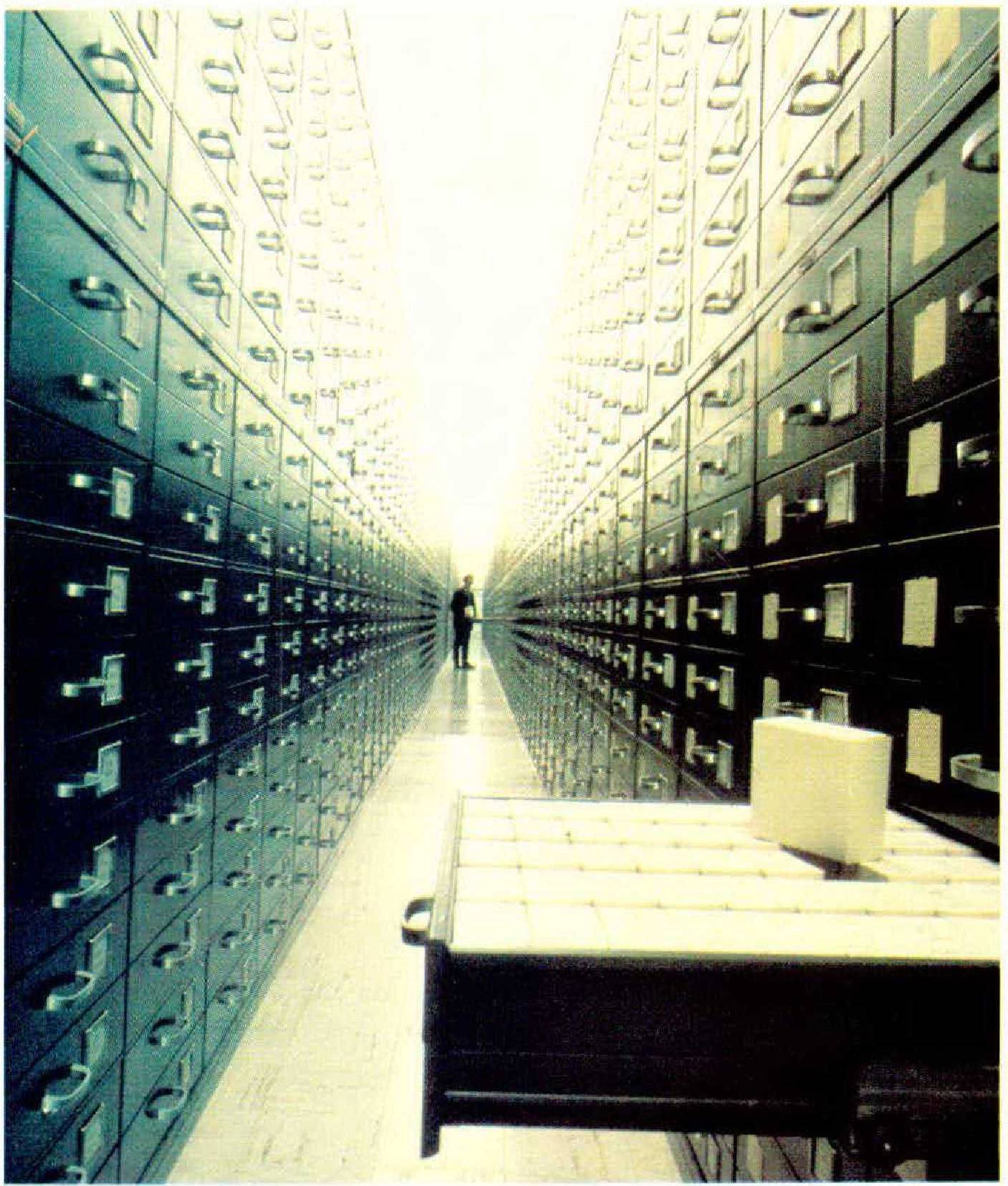 The State of Idaho, Utah Power and Light, Idaho Power, and other agencies worked very hard in the disaster area, but they would have had a long hard time of it without the prompt, efficient, beautifully organized and coordinated church effort. When I am in a disaster, I want it to be in some place that the Mormons take an interest in.
In Pocatello, in early October 1977, every radio station on the air seemed to be carrying the sermon of President Spencer W. Kimball as he opened the fall general conference of the church in Salt Lake. His talk was all of sins—stealing, alcohol, drugs, homosexuality, living together without marriage, pornography, abortion, "population control," permissiveness, and many more. Some of his Mormon listeners would be more indulgent than he was, but his list of anathemas defined the moral standards of Mormon communities, especially rural Mormon communities, throughout the region. Any listener would have understood why Mormon women flooded the Salt Lake meeting of the International Women's Year in June, shouted down the NOW speakers, routed the organizers, and passed their own resolutions against abortion and the Equal Rights Amendment. The church denies that it incited the women to that action, and to similar action in Montana, and it insists that it does not take political stands except where moral issues are involved. But it does not deny that it believes abortion, which threatens the family as the social and theological foundation of the church, to be such an issue; and it is perfectly content that the ERA, which would weaken the motherhood role, has not been ratified in Utah and is not likely to be.
Like all priestly civilizations, Mormonism is a monument-builder, and nearly all its monuments are to the family. In Mormon belief, marriage and family relationships are not for this earthly life only but "for all time and eternity." Husband is therefore "sealed" to wife, and both to their children; and in order to release the dead from their soul's prison, pious Mormons, most of them women, search out their ancestors and are baptized for them vicariously, thus giving them their chance to join the Saints in the hereafter. The Mormon Temple is a temple of family rites. The Genealogical Library in the Church Office Building, housing the archives of what the church correctly describes as "the most active and comprehensive genealogical program ever known in the world," is a tunnel that leads straight back to Adam and Eve.
In its rows upon rows of steel cabinets are more than 812,000 rolls of microfilm containing genealogical data from parish registers, cemetery and probate records, every sort of document from all over the world and as far back as records go. Several thousand new rolls are processed every month, and the library is moving toward the even more intense miniaturization of microfiche, which can put the contents of an entire book on a surface the size of a playing card. There are 250 microfilm readers in these reading rooms, and on most days every one of them is in use. The atmosphere is quiet, concentrated, rapt.
This is spiritual scholarship, and it is served with every modern aid to efficiency and speed. Visitors are welcome, and non-Mormon scholars—geneticists, anthropologists, historians, and others— increasingly find the library an incomparable resource. It is unique.
But what they see and use is only the shadow on the cave wall. These sleek floors contain only the books and the positive microfilm prints. The negatives are out in Little Cottonwood Canyon in rooms cut out of solid granite—damp-proof, bombproof, disasterproof, stored there for time and eternity, until the dead searched out and baptized for and sealed to the living are all gathered together in the Last Days. Of all the monuments Mormonism has created, from the Hill Cumorah to the farthest corner of church penetration, these granite vaults are the most extraordinary, as remarkable in their reflection of social and religious purpose, if not in their art, as the caves at Ajanta.
Other aspects of Mormon belief and behavior amaze the curious gentile. The so-called "Word of Wisdom,"a set of health and diet rules promulgated by Joseph Smith, has become a shibboleth that separates "good" Mormons from "jack" Mormons. Jack Mormons often drink and smoke, good Mormons do not. There are no bars, but some wish there were. Liquorbythedrink, pronounced as a single word in Utah, is a perennial source of acrimonious argument. In Utah you may buy a bottle at a state liquor store, and you may get a drink with a meal, though the restaurateur provides it only as a service, and makes nothing out of his airline minibottles the state liquor commission gets the profit. Also, people have developed the habit of dropping into a restaurant, having two or three drinks while waiting for a table, and then going out without bothering to eat. With a growing worldliness, good restaurants and an enlarged nightlife have come to Salt Lake City, but the restrictive liquor laws act as a ball and chain to them. Gentiles and jack Mormons scream for an end to blue laws. The Mormon majority sits tight. Bottle clubs, where you can bring your own liquor and be served setups, proliferate, and the membership requirements are not extensive.
On alcohol, the Mormons feel they have been right all along, and they are a little smug that the rest of the country seems to be coming their way on tobacco. On tea and coffee, good Mormons are by themselves. Only in Salt Lake, or at least in Mormon country, would you find a wealthy and worldly businessman, graduate of the Harvard Business School, who eats his breakfast downtown at Lamb's Café every morning because, as he confides with some amusement, his wife won't allow coffee in the house.
Even if Mormonism did not exist, Salt Lake would be a regional capital. But Mormonism does exist, and Salt Lake is its Zion, and so it becomes a world city. The church that Joseph Smith established with six members in 1830 numbered 4 million worldwide at the end of 1977, and it grows at the rate of 200,000 a year. It grows both at the periphery and at the core. When I lived there, the Mormon population of Salt Lake County was less than 50 percent. It is now 67 percent. In Utah as a whole, Mormons totaled 65 percent in 1940. They total 71 percent now. Next to Mexico, the newly established Utah mission baptizes more converts than any Mormon mission in the world. And according to Wendell Ashton, who heads the church's public communications department,1 they are better Mormons: more of them attend sacrament meetings, tithe, and obey the Word of Wisdom.
So when President Kimball addresses his people from the Tabernacle podium, he speaks, as surely as the Pope from his balcony, urbis et orbis.
Mormons have always been aggressive proselytizers. Even during the winter of 1846, in desolate flight from Nauvoo, Brigham Young pulled men away from their starving and freezing families and sent them to preach in England. In 1855, a third of all British emigrants to the United States were Mormon converts. But the recent success of the missionary effort makes that early performance look tame.
In 1978, a quarter of a million Mormons, most of them young, are out fulfilling their missionary obligation of thirty months. The overseas membership, which in 1960 was only 155,672, has swelled to 843,476. Units of the light church organization— stakes, wards, branches, missions—are scattered through nearly a hundred countries. Of sixteen temples now in use, four are outside the United States (in England, Switzerland, New Zealand, and Canada). A new one is being built in Saõ Paolo, Brazil, and others are planned for Tokyo and Mexico City. Mexico, the richest of the mission fields in these days, contains 175,000 Mormons, and the congregations grow fast throughout Central and South America. Even Italy has 7000 converts, a fact which inspires papal jokes: "Your Holiness, good news and bad news. The good news is that Christ has come again, and is on the telephone. The bad news is that He's calling from Salt Lake City."
Once, conversion was linked to immigration. For establishing the Mormon commonwealth in the West, Brigham Young needed bodies as well as souls. Building the Kingdom was a holy cause; "Be fruitful and multiply" a more-than-biblical injunction; and the gathering-up of Zion a major church effort. Now, I am assured by President Kimball, the church would discourage a new gathering-up of Zion even if immigration quotas would permit it. "Zion is where the pure in heart are,"he says. "The sacraments, the patriarchs, and the temples will be taken to them."
President Kimball, a small gray man of eighty-two with a whispering voice (he lost his voice to cancer twenty years ago) and the caref ul movements of one who has twice undergone heart surgery, is known as an indefatigable spiritual leader, but he is relatively indifferent to practical and financial matters, He leaves these concerns to others, notably N. Eldon Tanner, one of the First Presidency, and second in line for the top job after Ezra Taft Benson. But on the issue of a new gathering-up of Zion, the spiritual and practical views coincide. Zion doesn't want a new horde of the poor and unskilled. Frontier times are over. What Zion wants is new industries, businesses, skilled jobs. It is further along the road to industrialization than any part of the mountains except the Denver area, and it wants to go further yet.
At the turn of the century the Mormon Church was nearly broke, selling its securities to pay its debts. At that point, according to church historian Leonard Arrington, it reorganized itself along capitalist lines in order to survive. If that is what it did, it succeeded. In 1962 Mayor Bracken Lee, a nonMormon, created a stir by guessing the church's income at about $1 million a day. Church authorities, who do not publicize their finances, neither confirmed nor denied Lee's guess, though he later said he got the figure from a member of the First Presidency. Neither did they confirm or deny the estimate made in 1976 by a pair of Associated Press reporters, David Briscoe and Bill Beacham. Their series of articles (not carried by any Utah newspaper) listed church holdings that ranked the church among the fifty largest corporations in the country, those with assets of more than $2 billion, and concluded that its combined income from tithes, contributions, investments, and business operations was probably $1 billion annually, or nearly three times what Mayor Lee had guessed only fourteen years before.
Whatever the figure, President Kimball can look down from his quietly opulent offices high in the new twenty-eight-story Church Office Building at 50 East North Temple and sec impressive evidence of wealth. He overlooks the "Mormon skyline,"almost entirely church-owned. The south side of South Temple between Main and State is taken up by the slick new church-owned ZCMI Center— Eldon Tanner's realized dream out of whose malls and shops rises the twenty-story tower of the church-owned Beneficial Life. The north side of South Temple is all historical Mormon buildings from the Eagle Gate through Beehive House, Lion House, and the old Church Administration Building to the Utah Hotel. Across Main from the hotel, Temple Square fills an entire walled block. Along its patterned garden paths, queues of tourists move past the Seagull Monument, the statues of Joseph and Hyrum Smith, the turtle-backed Tabernacle, and the gray, spiky Temple from whose easternmost spire a golden Angel Moroni lifts up a golden horn.
Lifts it up, some people point out, only about half as high as the Church Office Building. Being a spiritual leader, President Kimball may read the financial success of the church as a sign of God's approval, practical power as an emblem of spiritual health. But some church spokesmen concede, a little regretfully, that in consolidating its wealth and power in structures close to Temple Square, the church has left its holiest building, Mormonism's St. Peter's, sunk and diminished among business high-rises.
Critics of the church think it took no twentiethcentury reorganization of policy to bring Mormonism and capitalism together. They say that the Mormons have always been a practical people, at least as attentive to business as to the shaky equilibriums of the spirit, and that their antlike industry created wealth wherever they settled. A hundred years ago, gentiles were referring to Brigham Young as "the Profit,"and there seems never to have been a time when his statue at the intersection of South Temple and Main was not described as standing "with his back to the Temple and his hand to the bank."Recent urban renewal has moved the statue a few yards northward, but has not altered its stance. As for the bank, it has fulfilled gentile prophecy by springing up to nineteen stories, several stories higher than the Angel Moroni.
Even when it makes a splendid gesture, as when it donated two entire downtown blocks as the site for a civic auditorium-sports arena (the Salt Palace) and a Performing Arts Center (still under construction), the church does not entirely escape its reputation for knowing which side its bread is buttered on. Some said it gave that land so that crowds would not be lost to the gentile Third South merchants, or dispersed out in the county somewhere, but consolidated close to the new ZCMI Center. Whether or not that was the intention, that has been the effect. The ZCMI Center is the hummingest retail area in town, busier even than Trolley Square, created out of the old carbarns in imitation of San Francisco's Ghirardelli Square and The Cannery.
There are signs of wear and tear as Salt Lake hustles to become Bayonne, New Jersey. Mayor Ted Wilson discusses them, pacing up and down his offices in the old City and County Building, itself a relic of an outgrown period. (I remember getting maps of the city from this office, for some school purpose, back near the beginning of the twenties, and I remember the night-heavy scent of lilacs in the City and County Building park when one walked through on the way home from a movie. The loafers and old people sunning themselves just beyond the windows on the park benches might have been there since I left the building last.) Mayor Wilson is young (thirty-eight), shirt-sleeved, vigorous, a Mormon native son. Being hanged in effigy in Kanab has not slowed him down: this year he entered—and finished—a marathon. Nor has it reduced his concern for maintaining the quality of life in the City of Zion. But like Governor Matheson, with whom he is personally and politically close, he is under pressure from opposing sides.
He notes that the old central city has been losing population as the suburbs expand, that while bedroom communities spread from Bountiful to Sandy, hidden slums develop along the midblock close-in streets. Traffic, smog, and crowding increase, historic monuments go down before bulldozers (sometimes in the dead of night to forestall the resistance of another new phenomenon, the organized historical-and-environment-minded).
Yet I cannot get Mayor Wilson to be alarmed at such facts as the 15 percent increase in airport traffic in the past year. In his role as promoter of Salt Lake's progress he has to think of that as a good. He is pleased that the building of the Alcan gas pipeline will be directed from Salt Lake, with an accrual of 500 white-collar jobs to the area. But I sense an easing of conflict in him when we get on the subject of water. Water, he agrees, is the ultimate constraint on the growth of the Salt Lake Valley and of Utah at large. Wilson guesses that the city could grow to about 800,000, the state to 1.7 or 1.8 million, without serious consequences, and he is willing to help the process along that far. After that, the great god Aridity will assign limits.
According to Daniel Lawrence of the Division of Water Resources, the water picture in Utah as a whole is bad. In 1970, projections on water use were made to the year 2020, by which time, even with the reclaiming of sewage and the reconditioning of Jordan River water, the state will be up to its absolute limit. Its entitlement from the Colorado River and its tributaries—most of it to come from the Bonneville Project, which escaped President Carter's ax—will be fully utilized. The state engineer has already approved applications for the lion's share of that still unstored water, and has applications for three or four times as much. Before too long the entrepreneurs and promoters and developers will have to be contained and restrained. Growth will have to stop.
But in a new country such as the Rocky Mountain states, belief in the unlimited future dies hard. Consequences have no reality until they happen. And if you live in Utah, they can't happen to you. Consequences are for California, not Utah.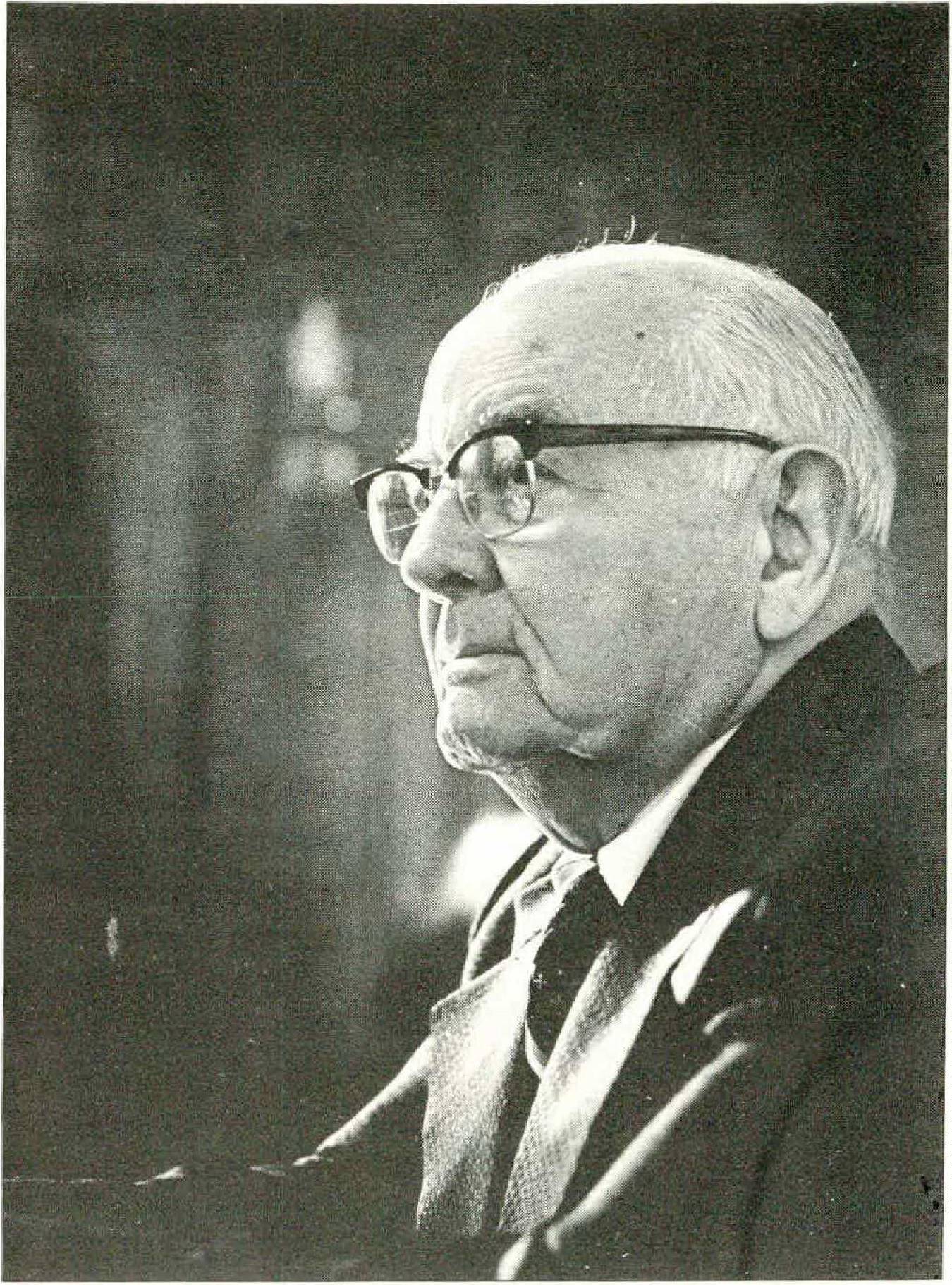 While I am writing this, I have a telephone call from Salt Lake City asking me to participate in a symposium, sponsored by the National Endowment for the Humanities, to discuss the need for diversity in Utah life. "Diversity," translated, means greater intellectual, moral, and artistic freedom, more variety of belief and living patterns, more reach, more imagination in other than business enterprises, more welcome to the contributions of the Irish, Greeks, southern Slavs, Mexicans, Japanese, and other kinds of (nonMormon) people who have been a presence in Utah from very early times without ever making much of an impression on the life or the history books. Without its being quite spelled out, a desire for diversity means reaction against the smugness of a dominant revealed religion, which is so easily converted into the kind of right-wing raid that Mormon women made on the International Women's Year meeting in June. It means that gentiles, jack Mormons, and an unknown number of faithful but troubled church people are feeling restive.
Some signs say that the church is less dominant and restrictive than it was a generation ago. It is less a closed society. Once, to use the historical archives of the Church Library you all but needed a bishop's recommend. Now, under Leonard Arrington, in the benign reign of Spencer Kimball, the archives are open to anybody. Once the church tried to scratch dead leaves over the darker pages of its history. Now, at the very hour when Wendell Ashton and Jerry Cahill of the church's public communications department are cheerfully helping me gather material, others are just as cheerfully helping Lamont Johnson to plan a TV series on, of all once unthinkable subjects, the Mountain Meadows Massacre, which raises the never satisfactorily settled possibility that Brigham Young was an accessory to mass murder.
On the other hand, there is the right wing, which, if President Kimball's repaired heart should stop, would have support from his successor, Ezra Taft Benson. Benson's being next in line scares many Mormons badly. There is also the inevitably conservative weight of the church's wealth, which leads it into regular alliances with the business community but docs not endear it to the advocates of free thought, free criticism, and "emancipated" lifestyles. There is the traditional, patriarchal view of women and women's role which the church espouses, a view that is built into its scriptures as surely and as awkwardly as its rule that blacks may not hold the priesthood. There is, finally, the fact that the Salt Lake Tribune, gentile-owned and for generations the opposition paper, has fused its business operations with those of the Deseret News in the Newspaper Agency Corporation. The two old rivals now publish a joint Sunday edition, and newspapermen complain that investigative reporting has all but disappeared, and that no reporter ever has much encouragement to question press releases from high places. Some of the most vigorous journalism in the city is being practiced by the magazine Utah Holiday, whose editor, Paul Swenson (a Mormon), manages to work it in while ostensibly covering restaurants, night spots, and ski resorts.
When Brigham Young led his people out of Nauvoo in 1846 he aimed to get clear out of the United States. The Mexican War made Utah American territory before the Mormons ever reached it, and Mormon society has been in a mixed state of alliance and opposition ever since, now joining the United States, now pulling back and asserting its "peculiar" institutions; now coveting the outside's good opinion, now telling it to go to hell; now throttling opposed opinions, and now opening up a gingerly dialogue. As it heads toward the twenty-first century and nears its own 150th birthday, nothing has substantially changed.
— W. S.
6. No Mean Cow Town
It is 600 miles from Kansas City to Denver, 500 from Salt Lake, 400 from Albuquerque, and it doesn't make much difference if you come pushing a handcart or towing a donkey or driving in an air-conditioned Cadillac, you will be recorded by history and the Holiday Inn as a weary traveler. And whether you have come down from the Oregon Trail, or up from the Sante Fe Trail, or across the plains of western Kansas and eastern Colorado, Denver will look like a good place to stop. A million and a half people found it such a good place that they decided to stay. And there are more coming.
Denver sits on the 105th meridian and the 40th parallel, a mile high at the base of the Front Range of the Rocky Mountains, forty crow-flight miles from the Continental Divide. It sprawls north and south for twenty-six miles; east and west about twenty-four; and includes the municipalities of Aurora, Arvada, Englewood, Littleton, Lakewood, Wheat Ridge, and Westminster in what is known as its "greater area." It has an annual precipitation of 15.51 inches, and an average temperature in July of 85 degrees . . . not much in these statistics to indicate why (in that "greater area") the population has increased 65 percent since 1970, 250 percent since I was a college student at Boulder in the mid-1950s. Indeed, the municipality of Aurora is the fastest growing mid-sized city (those with populations from 100,000 to 200,000) in the entire United States. Lakewood, which didn't even exist back when I knew something about the city, is third.
For reasons that are largely circumstantial I have not been in Denver for almost twenty years, and my memories of it have largely to do with Phi Delt Christmas proms at the Brown Palace Hotel (the only class joint in town, circa 1956), and an Elvis Presley concert at the fairgrounds which was the only other event during the years I spent there that drew anybody off the Boulder campus. There was nothing ever happening in Denver. You could see all you wanted of it as you bypassed it on Highway 6 heading west toward Aspen.
And so I am somewhat dumbfounded, as I travel east on that same Highway 6 (now Interstate 70, multi-laned, divided, banked, graded, utterly amazing) and descend through the notch a few miles past Idaho Springs where the Front Range bumps to an abrupt halt in layered hogbacks of red sandstone and shale that rise like dominoes out of the scrub vegetation ... I am somewhat dumbfounded to discover that the vast, flat plain that used to stretch out before us farther than our eyes could see has been filled in . . . farther than our eyes can see. Because now our eyes can't see very far. Not only has Denver oozed off in every direction like molten lava, it has a smog problem. Air quality measurements indicate that at times it is the worst in the nation.
I stay at the house of some old friends from Peace Corps days in South America. Dan and Nancy Morgan, like many returning volunteers with no specific occupational roots, had a wide open choice of where to settle and raise a family. They picked Denver, they tell me, because it seemed to have more to offer than any other place they could think ofjob opportunities, affordable housing, good climate, recreation. They are, I am to discover, typical of the kind of people who are migrating to Colorado and who account for a considerable percentage of that population explosion. They are young (early thirties), well educated (Dan has an MBA from Stanford; Nancy an MA in Spanish), and concerned with the quality of the environment in which they live. They have two children under six.
We sit out in the yard until nearly midnight, while the sprinkler runs on the grass and the bricks of the house go on radiating the heat of the day. The neighbor's air-conditioning rattles in a downstairs window. Nancy turns a fan on in the house to blow some air through the baby's room, but the heat doesn't seem oppressive in any way—on the contrary, to a northern Californian who never gets to sit outside after the sun goes down, it is very pleasant. Overhead the sky is streaked with high clouds that seem to reflect the lights of the city back upon itself, and away to the west, over the mountains, a storm is gathering. I've been listening to its grumbles for almost an hour, and now lightning is beginning to flicker up around Longs Peak. Before we finish up that last six-pack of Orange Crush it'll be along to cool things off for bed. Nice here in Denver. I approve their choice. Might think of moving myself one of these days . . .
"The town is filling up with young people looking for an alternative to the rat race on the east and west coasts," Joe Farber tells me. Farber, the owner of one of the largest real estate appraisal and consultant companies in Colorado, is himself a transplant. He is bearded, vigorously talkative, and extremely amiable, and his enthusiasm for his town is so infectious that I miss two appointments while he steers me up and down 17th Street showing me new construction, reconstruction, restoration. He introduces me to a local art dealer, the owner of a men's wear store, a bank president—various "men on the street" involved in the business life of a booming Denver. "Tell him why you came here," Farber prompts each one. "Quality of life,"they intone.
Later, back in his glass and wood and thickly carpeted office high above the city, Farber chuckles at me and underscores his point. "You see what I mean? These people are highly educated and highly qualified, and they could go anywhere, but they chose Denver because it's a great place to live and work. They're not nearly as concerned with salary and opportunity as they are with a life-style."
His words are echoed by corporate executives at a number of businesses recently moved into the state—firms like IBM, Hewlett-Packard, Eastman Kodak, Sunbeam, Frito-Lay, Johns-Manville. When Johns-Manville decided to relocate from the east coast it considered a number of cities and picked Denver, partly because of its central location in the country, but mainly because of the life-style it offered. "You tell some guy he's being moved to Newark," says one personnel director, "and you may have a vacancy to fill."But it is easy to get people to transfer to the gateway to the Rockies.
That "quality of life,"it seems to me, derives less from the city itself than from things the city is in proximity to—fishing, skiing, hiking, magnificent scenery, the great outdoors. Denver, in fact, is rather without character, flat and sprawling, predominantly brick and single-storied, with a downtown that is now more "in progress" than established. When I drive through various residential districts it occurs to me that I could as easily be in Columbus, Ohio, or Topeka, Kansas. That many of the young and "with it" are returning to the inner city, buying heretofore undesirable old Victorian houses and restoring them, hasn't changed the essentially single-family dwelling, backyard-barbecue, summer-evenings-watering-the-grass-in-yourshirt-sleeves flavor of the place, and while it is pleasant and green and faintly redolent of charcoal and corn-fed beef, it isn't very distinct from anywhere else in mid-America. Only the sun setting behind the wall of the Front Range, the lightning forking down through the purple thunderheads that pile up behind the peaks, remind me that I am a long way from the Midwest.
Nor is character much established by Denver's nonresidential area. When I drive down to the center of the business and financial district, down around 17th and 18th streets at Champa and Stout, the impression is one of simultaneous demolition and construction. New skyscrapers going up, old buildings coming down—or already down and their vacancies tilled by parking lots, ten square blocks of parking lots, all awaiting the time when prime land in the center of the center will be used up and "urban renewal" will begin to let out its belt.
There are at least fifty-four structures of ten stories or more currently on the drawing boards for that 734-acre downtown area (eight of them planned for from thirty to forty stories), and in the next decade all that vacant space will undoubtedly be filled in. For the moment construction seems concentrated along 17th Street, where the Mountain Bell Service Center has recently been completed and work is under way on the $40 million Urban Center One, the $25 million Cadillac-Fairview office building, and the forty-story Anaconda Tower. With luck, decent planning, and some good design, the downtown may develop a distinct personality when all this renewal is completed. Walking around there now one distinctly feels that this is a place still on the come.
Unless one takes that walk after five o'clock. Then one distinctly feels that it's a place on the went. There are 72,000 people who work downtown during the day, and an additional 80,000, give or take, who go in to shop. Only 2000 actually live there, and the local joke is that if you fired a cannon down 17th Street after working hours you would indict no casualties.
Not all of the urban renewal going on in Denver is quite so obviously dramatic as the Anaconda Tower or the Cadillac-Fairview building. My old Peace Corps friends suggest that if I'm interested in minority problems in Denver, low-income housing, ethnic neighborhoods, and so forth, I should get in touch with an organization called Brother's Redevelopment, Incorporated, because they are involved in a different, and in many ways more interesting, form of building enterprise. And indeed they are. Brother's Redevelopment, I'm told by one of its founders, Joe Giron, is a non-profit organization that focuses its attention on remodeling, restoring, and retrofitting the older homes of Denver's low-income families, and on attempting to restore the quality of neighborhoods that have, over the years, deteriorated. Funded from a variety of sources, uncommitted to any specific area or ethnic group, theirs is still a young organization, dedicated to a refreshing kind of social activism that believes the solutions to problems of the inner city (those suffered mainly by Chicanos, blacks, and the poor) can be better addressed by making it beautiful than by burning it downor tearing it down and replacing it with the usual kind of "low-income" housing projects that the old tenants can't afford.
Brother's Redevelopment operates on a unit basis, anything from a complete overhaul to a plumbing repair, and because it has foundation support and a lot of volunteer labor it can do its work far more cheaply than a conventional contractor could. But it is also moving toward a block-byblock concept, concerning itself with all aspects of a neighborhood environment from open space back yards to community vegetable gardens to resident associations. Face-lifting as a vehicle for social change may not be a new idea, but because Brother's has resisted pressure to grow too big too fast; because it has managed to keep from miring down in bureaucratic red tape, and because its people are dedicated, it seems to be a program that works.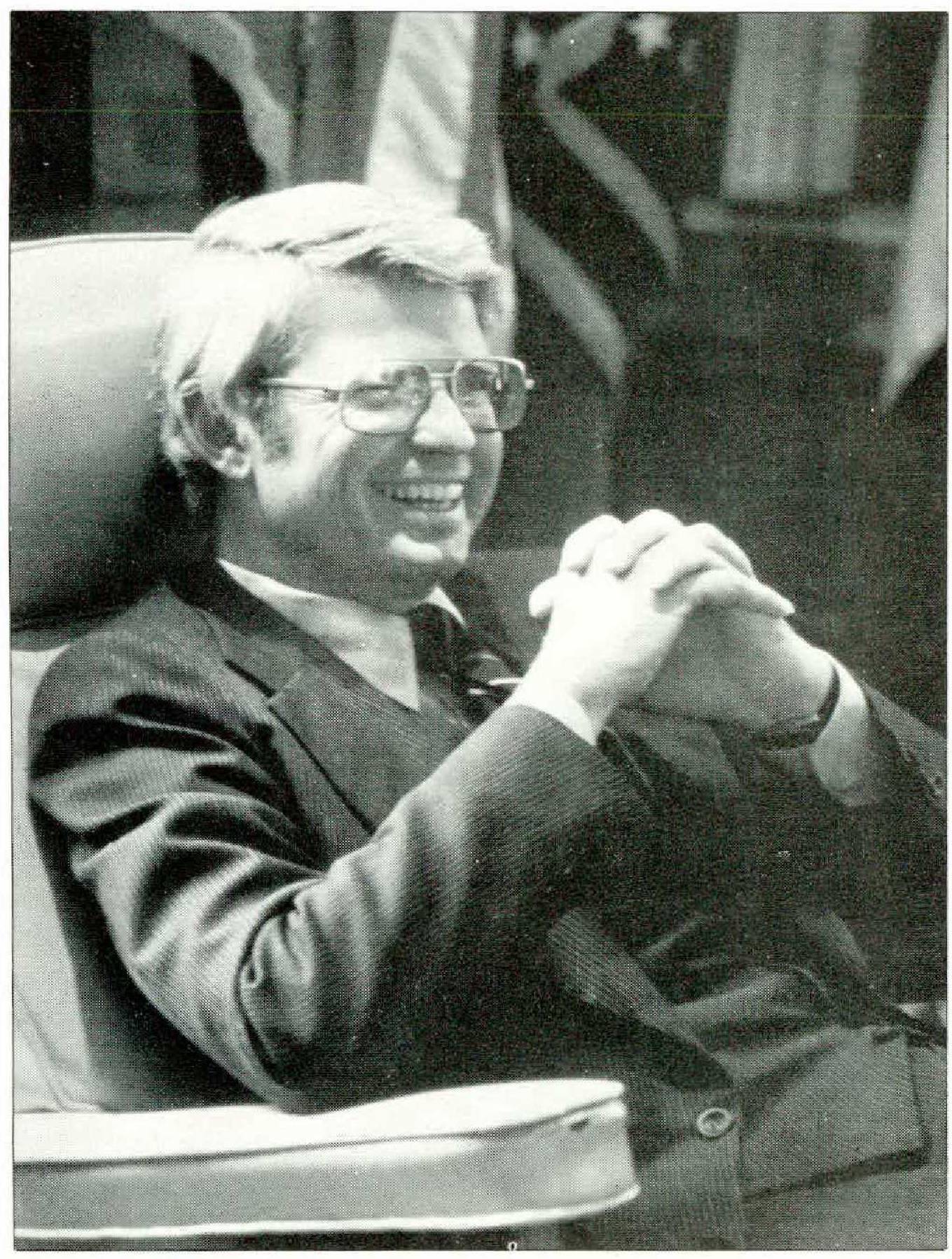 A good many Denverites are still entertained by the notion that their city is some kind of cow town on a bend of the Platte, unsophisticated Old West. This is largely nostalgia. It hasn't really been anything like that (if it ever was) since the beginning of World War II, when Colorado became especially attractive to the federal government as the perfect inland site for locating a number of its operations. Camp Hale, the Rocky Mountain Arsenal, the Denver Ordnance, and the Pueblo Ordnance Depot were added to the existing Camp Carson. Later the Air Force brought in thousands of civilian and military personnel to staff the Fitzsimmons and Lowry bases, NORAD, and (it hates to be called the West Point of aviation) the Air Force Academy. By the mid-60s nearly 20 percent of the state's manufacturing employees were involved in defense-related industry (the national average is about 7.5 percent). While federal residence was at first largely military, there are now over 200 nonmilitary bureaus, commissions, and ollices in greater Denver—more than in any single spot outside Washington, and providing over 2 percent of all civilian-held federal jobs. Almost an annex to the District of Columbia.
And there are more coming, government and nongovernment. Giant corporations such as Anaconda Company, whose world headquarters will be located in that new forty-story tower on 17th Street. Westmoreland Coal, Peabody Coal, W. R. Grace, Arco, Gulf, Amoco, all companies whose arrival or expansion has been dictated by the rush for new sources of energy. Dozens of ancillary businesses and manufacturing firms related to the energy industry. Insurance heavyweights such as GreatWest Life of Canada, whose $40 million twin-tower office building, about to be constructed in the heart of the downtown area, will provide some 800,000 square feet of office space for new workers. Still more federal agencies, such as the Solar Research Institute on South Table Mountain above Golden, which will become the center for the nation's solar research and development activities. Some cow town.
Perhaps they mean cow town in reference to entertainment and the arts. It's true that Denver does not rate many column inches in Gourmet magazine's guide to haute cuisine, but it deserves more than it gets. There are several excellent French restaurants. If one's taste is for Basque or Szechwan or Mexican or Italian, it's all available, and at prices which the bootless and unhorsed can still afford. One does not have to settle for the chicken-fried steak in Denver. And if your taste in an evening on the town runs to fern bars and swinging singles, you'll feel just as much at home in this cow town as you would in San Francisco. There are a number of ways in which Colorado resembles California, though this is one of the least interesting.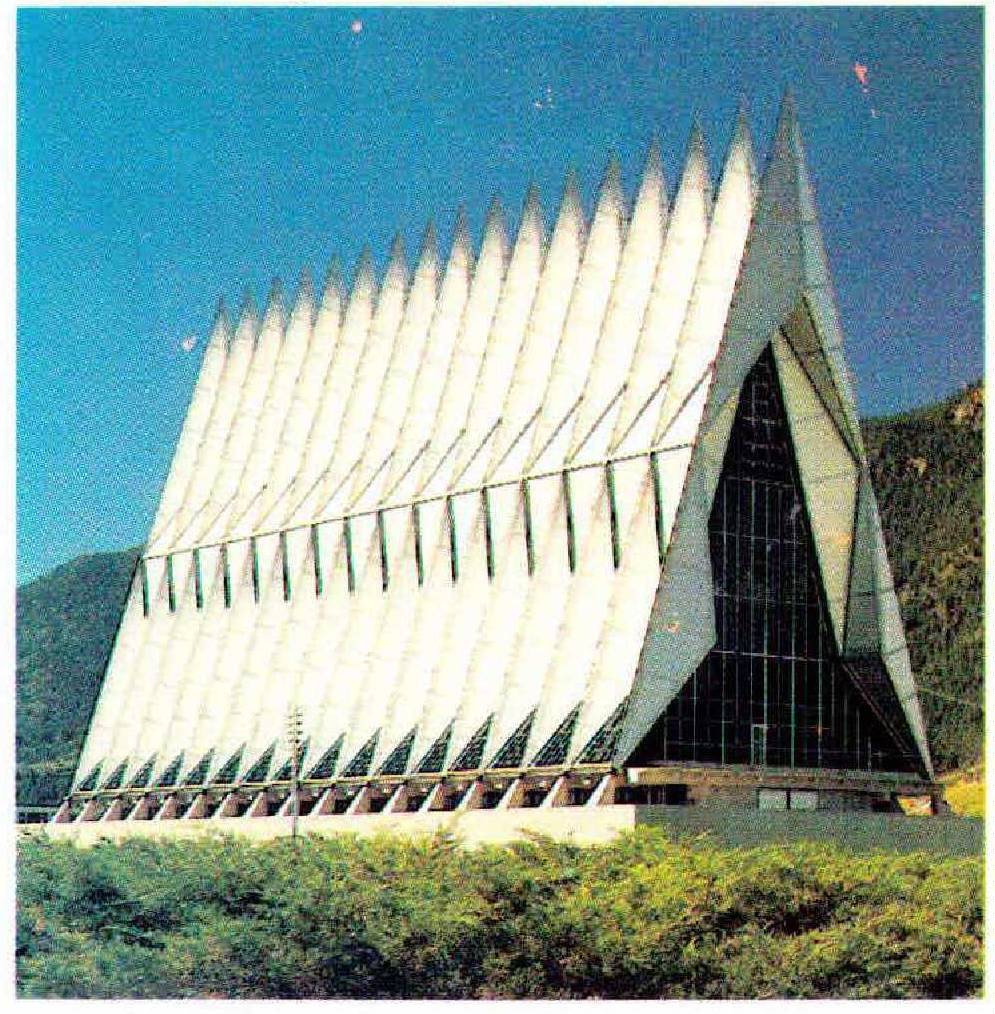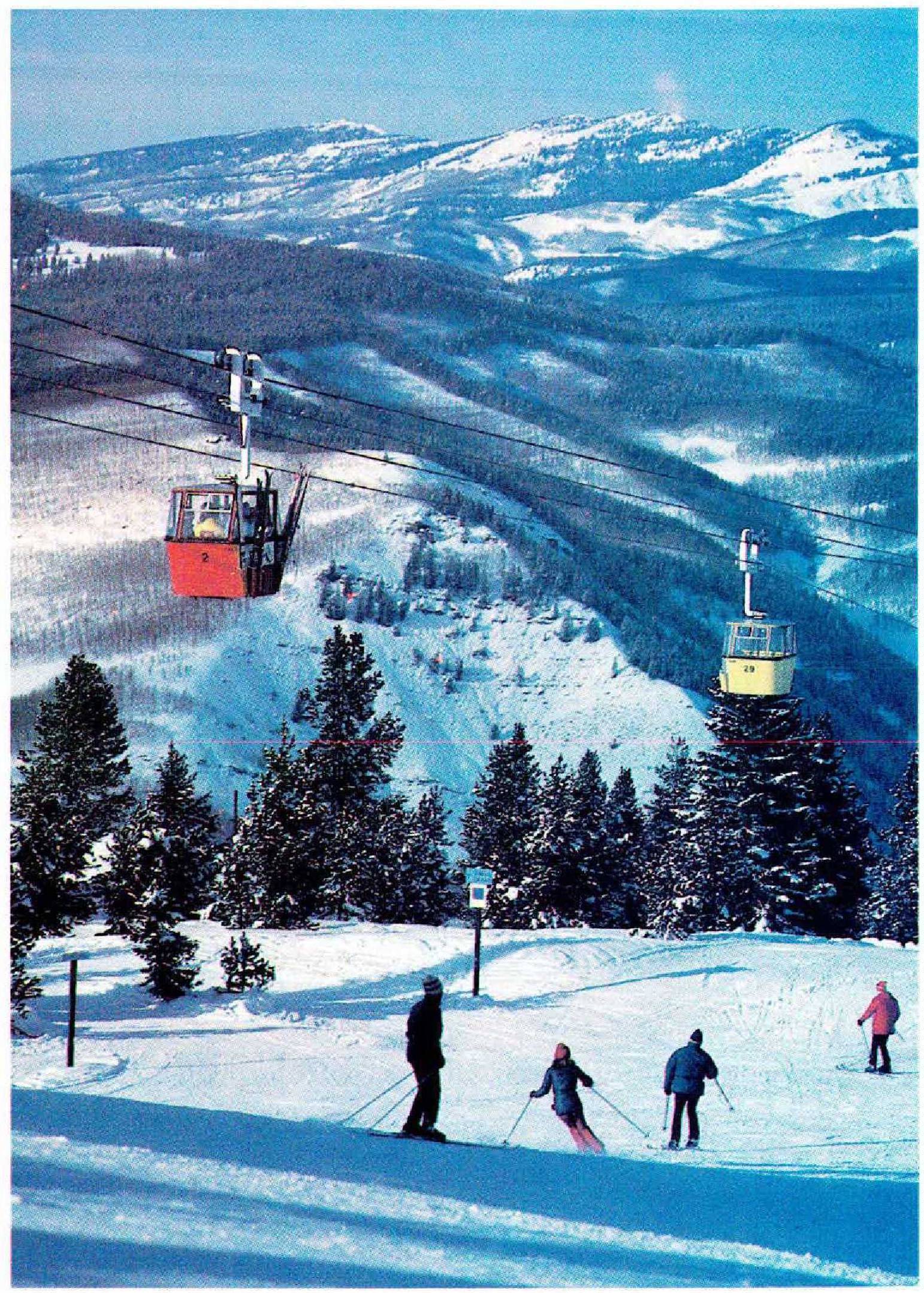 It is also true that while Denver has its symphony and ballet and theater, these arts have suffered for years from a lack of major facilities in which to play. All this is about to change. The Denver Center for the Performing Arts is scheduled for completion in 1980, and will include in its complex a $13 million concert hall and a $12 million parking facility that will accommodate 1800 cars. None of this will immediately alter the fact that in the centers of the art world Denver is a place few people ever heard of. Perhaps that's not a problem that really concerns anybody in Colorado, but the performing arts center will, at the very least, provide an impressive facility for what has become under conductor Brian Priestman's direction a thoroughly professional orchestra (ironically, Priestman is leaving), and a home for an anticipated professional repertory theater company. The arts, like everything else in Denver, are on the come.
But what about that future? If the energy boom makes business happy, and a performing arts center makes the art lovers happy, and Red Miller and Craig Morton make the sports fans happy, all should be well in this best of all possible worlds. But the weary traveler wonders. If he happens to come from a part of the country that has already undergone the kind of expansion that Denver currently enjoys—if he comes, say, from Los Angeles or the San Francisco Bay Area or almost anywhere on the eastern seaboard—he may find some of the signs and symbols he encounters a little disturbing. He may begin to fidget when he hears once again the kind of boosterism he has heard before; the kind that equates growth with progress, and finds in the concept of expansion the first principle of the American Dream. If he goes into the foothills and stands looking east over the city, and north over the city, and south over the city, he may well wonder to himself how long it will be before "greater Denver" extends itself from Fort Collins up near the Wyoming border all the way to Pueblo, a hundred miles from the New Mexico border; how long it will be before the few buildings he is still able to see are completely erased in the smog; how long it will be before "progress" has turned Denver into another Los Angeles, San Jose, Newark. Here, as elsewhere in the mountain states, Californication is well along.
Just take a drive up to Boulder, thirty miles or so northwest, through what was, back when I was a student, some of the most beautiful farm and ranch country anywhere in the state. In 1960 Boulder County was 60 percent in agricultural use. Today it is less than 25 percent. Housing tracts pop up like spring mushrooms in a cow pasture, treeless, ugly, squatting on the plain with their plastic banners and come-all-ye's flapping in the dusty breeze. As the developers move in and the land values escalate and the taxes go up, the remaining farms go down like ninepins. Give it a few more years and Boulder will be just another municipality in the "greater" Denver area. It's a woefully familiar pattern.
Or pick up the real estate section of the Denver Post some Sunday and look through the full-page ads for new developments. "Summer Valley Ranch" (ranch?) offers three new styles: the "Deer Trail," suggested as a starter home for the young family; the "Valley Station," for the family on the increase; and the "Carriage Place," for that executive family on the way up. You can start on the access street and, as your salary and position improve, work your way toward the cul-de-sac of your dreams. If you don't care for the selection at Summer Valley you can drive a few blocks to "NuWest" on Cherry Creek and check it out. If NuWest doesn't make it, "Pier Point," just down the road, will put you in a "Spinnaker" or a "Yachtsman" for under $65,000. And so on and so on, page after page after page. That there arc severe limitations of natural gas allocations, and an even more critical limitation on water hookups imposed by the Denver Water Board, doesn't seem to matter. The housing industry for the first six months of 1977 was 74.8 percent ahead of its 1976 figures, according to the Home Builders Association of Metropolitan Denver. The area's largest builder, Witkin Homes, sold 1200 units in 1976-1977, $45 million worth, and had the best year in its history. For 1977-1978, according to Dave Olson, vice president of marketing, the company is 33 percent ahead of last year. "I would imagine we will be close to 1500 units by year's end. That all depends on how fast we can build them."
All of which is a little surprising when you consider that Coloradoans are perfectly aware of the implications of a critical mass population density and even earned themselves a national reputation by defeating the Chamber of Commerce boosters and turning down the opportunity to host the 1976 Winter Olympics, Colorado, which has sometimes thought itself the most environmentally conscious state in the union, demonstrates both the awareness and the apparent helplessness of the mountain states. Governor Lamm, as far back as 1969 when he was a member of the state legislature, began attacking the "sell Colorado, growth is progress, bigger is better" approach to social organization, pointing out in article after article, speech after speech, that more is in fact less—less clean air, less water, less open space, less quiet, less of all those things that make up the quality of life that so attracted people to the region in the first place.
The point is made for me on the day before I leave Denver, when I stop by the governor's mansion (on invitation) for breakfast. Dick Lamm greets me in blue gym shorts and a T-shirt, and a pair of something that look like Jackie Stewart water-buffalo-skin driving shoes with a couple of nippled, nonskid, rubber bath mats glued on the bottoms. He has been jogging, and from the excellent shape he's in I'm forced to conclude that the outdoors, the environment, means a great deal more to the Governor than just a subject for political rhetoric. Indeed, the first time I met him he had just come down from climbing a mountain with a watermelon in his backpack.
We go upstairs to the living quarters where the kids have the funny papers spread around on the floor and Dottie Lamm is making coffee, and there is some general bustling behind the scenes to get everybody ready for an imminent trip to Gothic, down in the middle of the state, where the Rocky Mountain Biological Institute is located. But the Governor settles on the couch with his orange juice and talks more or less nonstop for an hour and a half without the slightest indication that he has anything better to do with his Sunday morning than chat with me. We discuss a great many thingsthings that have been reported elsewhere in this article—but eventually we come back to questions of the future of the "greater Denver area."
"Nobody looks at the big picture,"Lamm remarks. "The problems sneak up on you, and when it's too late you suddenly look up and say, 'Oh man, look what happened.' We need planning. We need to learn from the examples of others and try to avoid making the same damn mistakes. I've seen San Jose. I saw it when there were still orchards there. And I've watched what happened to it within my lifetime, within my professional lifetime. We have to get it through our skulls that growth is not progress."
His argument is, and has been, that Colorado should seek balance, not growth, that population maldistribution threatens to destroy the quality of life along the Front Range, that failure to pass plant siting laws and to develop systems of rapid transit that would allow people quick access to the Denver area without having to live in it will result only in more sprawl and greater pollution. "It's criminal," he says, "to create an endless city of the Front Range."
One does not even need to share a political philosophy with the Governor to believe he is right. One needs only to be heading back to a place where it has already happened and to reflect for a moment (while waiting for the traffic snarl to clear at the access ramp to 1-70) on how and why. That reflection is, of course, the easy part. How to achieve balance, how to force people to look at the "big picture," is a far more complicated matter. But unless Coloradoans get serious about alternatives to Front Range urban sprawl, a critical-mass population density may well occur before they know it. And that old American dreamer out in his splitlevel "Yachtsman" on the cul-de-sac of his dreams at Pier Point may well find himself choking on his own pollutants in a dusty town where the water in his highball is more precious and costly than the whiskey, and where the view from his plate-glass window facing the mountains is Vandyke brown. It hasn't happened yet. But it could. —P.S.
7. Newcomers to the Suburbs of Eden
From 1940 to 1970, according to a study made by W. LaMar Bollinger of the College of Idaho, Idaho annually lost 4000 people, characteristically the young, energetic, and welleducated, by emigration. Since 1970 the flow has been reversed; transfusion has replaced hemorrhage, and the blood type, properly, is the same. Of the newcomers questioned by Professor Bollinger, nearly half were under thirty; of the returnees, two thirds were under thirty-five. A third had college degrees, against a state average, among people over twenty-five, of 10 percent. Almost half identified sparse population, low pollution, and outdoor recreation as important reasons for their coming. One third came from California—people who had seen the elephant and decided they didn't like his looks.
The pattern is uniform throughout the mountain states, and the effect is cross-fertilization, challenge and response, universal stir and excitement. Newcomers bring their tastes with them, and demand creates supply. In only a few years, for better or worse, in-migrants have changed the tone and style of some communities almost beyond recognition. In some matters, such as housing, the demand is recognized and often anticipated by speculators, so that whole areas of the future are prefabricated according to stereotypes that the future will regret. But in matters not subject to subdivision, cultural matters, the results have been less predictable.
The physicists at the Arco atomic testing center have not only shaken up the conservative Mormon politics of Idaho Falls, where most of them live, but have created a splendid science museum there, and are busy revolutionizing the domestic architecture of the town. Boise's platoons of young executives, drawn from the Stanford and Harvard business schools by Boise Cascade, Morrison-Knudsen, and Hewlett-Packard, are probably responsible for the fact that Antoine's restaurant, which failed in Twin Falls, is making it in Boise—with a $25 minimum. Those same people are literally creating art and music in Boise by being an audience, and hungry.
It is not the old Utah when Park City stages topless and bottomless nightclub acts, nor was it the old Salt Fake that in the summer of 1977 roped off Main Street for a weekend art fair. Livingston, Montana, is not the same old cow town since novelist and screenwriter Tom McGuane bought a ranch on the East River Road, between the Yellowstone and the abrupt surge of the Absarokas, and gradually accumulated around him a wild bunch as newsworthy as Butch Cassidy's. Up the creek or across the pasture live actor Peter Fonda, artist Roger Chatham, writers Richard Brautigan and William Hjortsberg. Around and about, working or just visiting, there is always a crowd: a champion surfer named Jim, assorted stars, starlets, and asteroids from Hollywood, the son of Hemingway's old Key West majordomo, trout fishermen who drop in to tie one on. Out in a corral is a huddle of Mexican steers with their horns in splints from the enthusiastic Sunday morning roping. The party never stops at McGuane's. When we drive in to Livingston to pick up some buckets of Colonel Sanders Kentucky Fried Chicken to feed the multitudes, and Tom names his name, the waitress's eyes jump, startled, to his face. "What's the matter?" Tom says. "Heard of you,"she whispers, looking down.
Tom is aggrieved when we kid him about being a Gifted Dude. He says that sounds rather like Charming Pimp, and he shows us the check for first-prize money that he won roping in the Gardiner rodeo. Roping is his passion and training roping horses his specialty, and he takes enormous pleasure out of his ranch and the mountains behind it. Nevertheless, there is nothing very native about his writing, his life-style, or his associates. If we are looking for writers with the feel of the country in them we should go up on the Teton, north of Choteau, where Bud Guthrie, who wrote perhaps the best novel ever to come out of the mountains, and gave Montana its Big Sky image, lives with his wife, Carol, on a jack-pine alluvial slope in a house they call The Barn, and spends his spare time fighting for the preservation of the land and suing a subdivider who threatens them with a hundred unwanted neighbors.
Or we can visit Missoula, and drop in on Jim Welch at his suburban house on Rattlesnake Creek. No one could be more native than Jim Welch—half Blackfoot, half Assiniboine, born on the Fort Belknap reservation. He is gentle, soft-voiced, almost girlish. He smiles constantly and is amused by many things, including the tourist woman who, trying to be with it, pronounced the town of Ninepipe as Ninnypippy. It is hard to imagine his great-grandfathers hunting buffalo and taking scalps, or Jim himself becoming a professional Indian. But then you read his poems, and his poems do not smile; you read his novel Winter in the Blood, and you feel the iron.
Missoula is as literary a town as there is in the mountains, partly because the University of Montana has supplied jobs for writers of several kinds, from Guthrie, Joseph Kinsey Howard, Walter van Tilburg Clark, and Ross Toole to Leslie Fiedler. Fiedler's influence lingers like a faint odor of brimstone or ozone, but despite his antagonism to things Montanan he was probably good for the place. He made Montana writers think about who they were and who they wanted to be; and if he only confirmed them, ultimately, in their nativism, that itself is a service to a forming culture. In any event, the writers you will meet at Jim Welch's are as native as sagebrush: Richard Hugo and Bill Kittredge, both from the Northwest but closely enough related to qualify as cousins; and Dorothy Johnson, author of The Hanging Tree, A Man Called Horse, and other books, many of which have been made into films, and of The Bedside Book of Bustards, which ought to be required reading for anyone wanting the authentic taste of Montana.
What we find in Missoula we find at some degree of intensity in all the major mountain cities. Generally it is associated with a university, as at the Universities of Utah and Colorado and at Boise State. Sometimes the local literary life finds its center in some individual writer, as with Brewster Ghiselin in Salt Lake City and Thomas Hornsby Ferril in Denver. Often the literary, the academic, and the environmental fuse in the same group, in which case newcomer and native are likely to come closer together.
In the 1920s it was possible for a literary young person to grow to voting age in Salt Lake City without ever having exchanged a word with a living writer of more than the most local reputation. The ground is not exactly crawling with poets and novelists yet, and Charles David Wright (an in-migrant from North Carolina) describes himself wryly as "exactly half the poets listed under Idaho in the Directory of American Poets." Nevertheless, sitting on his back porch in Boise, overlooking a back yard full of chickens, goats, ponies, and other country fauna, we encountered a good many men and women of words: Opal Fisher (in-migrant of long standing), devotedly putting all the forty books of her late husband, Vardis, back into print; Dwight Jensen (returnee), once a newspaperman, now a historian and novelist; Alan Minskoff (in-migrant from White Plains), editor of the magazine Idaho Heritage; Ken Robison (native), crusading editor of the environmental magazine Idaho Citizen; Julie Monroe (in-migrant), feature editor of the Idaho Statesman; Judy Austin (in-migrant), of the State Historical Museum and Library; American studies professors Louie Attebery from the College of Idaho and Dick Etulain from Idaho State. Plus assorted painters and sculptors, journalists, editors of the Ahsahta Press, which publishes poetry chapbooks, plus people from the cultural vaults of the state capitol. They are lively, informed, and eager, not at all cut off, and not like what we used to be, provincials yearning for print as an unthinkable consummation, and reading our own stuff in our drink.
There was a time when much of the artistic aspiration of the mountains was literary, perhaps because literature, of all the arts, is most easily practiced and enjoyed in isolation. By all the evidence, that is changing. The public arts of music, theater, dance, and painting have invaded the mountain states and are finding a home there.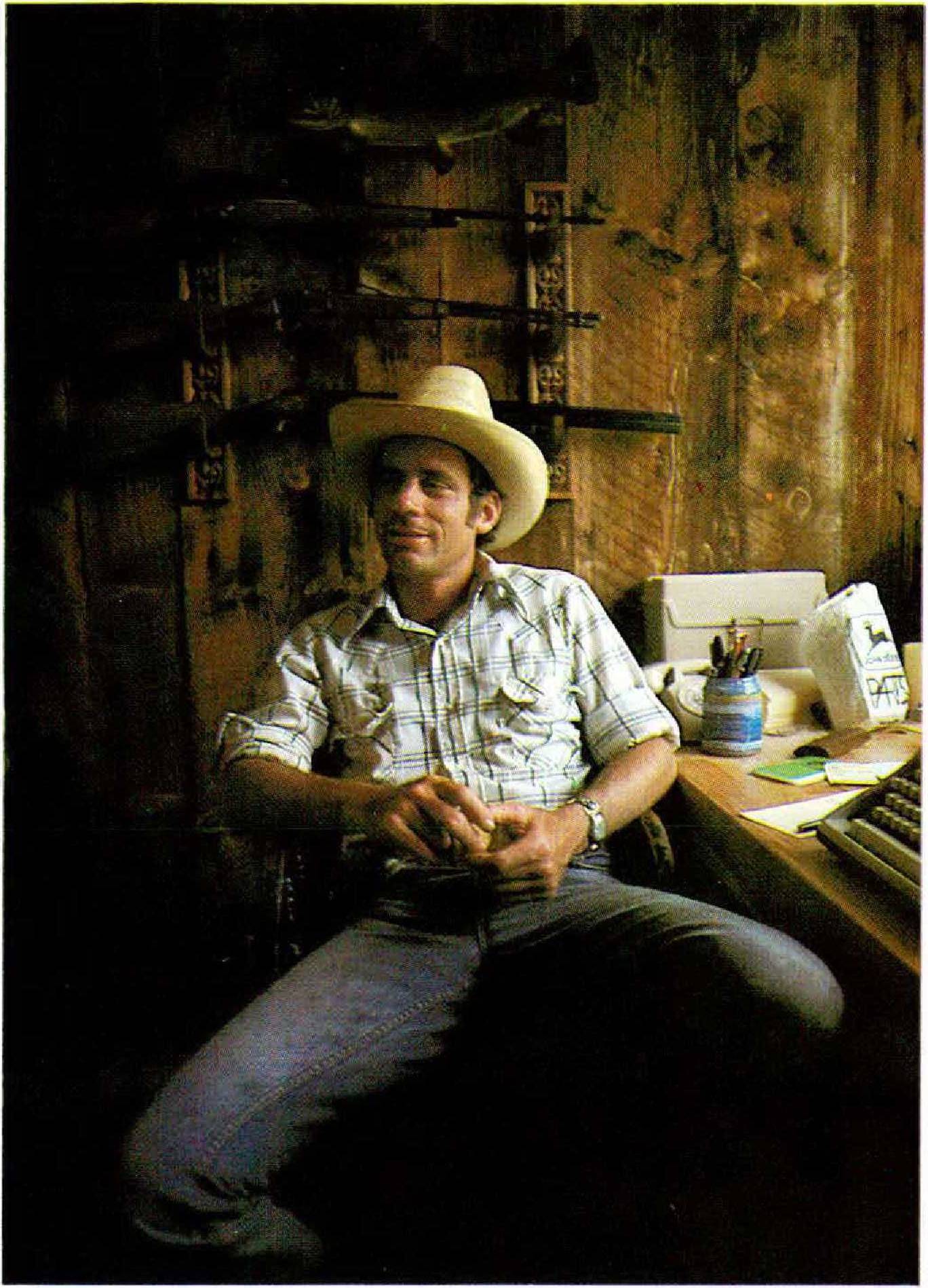 The museums of the mountain states collect mainly pioneer relics. You can see them in Salmon and Cody, Denver and Boise, and in the Temple grounds in Salt Lake City. Art collections, even in the places such as Salt Lake, Denver, Boise, Missoula, and Park City, where museums exist, are meager. One of the best is the Charles M. Russell Museum in Great Falls, a loving monument to the cowboy artist and a favorite son. Another is in the little town of Springville, Utah, south of Provo, which has been an "art town" for more than half a century, with an annual art festival and a local museum whose greatest treasures are productions of the sculptor Cyrus Dallin, again a native son. But there is nothing in the mountains to match such museums as, say, the Gilcrease in Tulsa, or the Joslyn in Omaha.
Denver and Salt Lake have the only symphony orchestras of any distinction, though Boise's is gaining. The only real opera company is Denver's, though again Boise is in the game. For reasons that sociologists might inquire into (because the Mormons have always been a singing and dancing people?), Salt Lake is the base not only for the Tabernacle Choir, which the world hears every Sunday morning, but for two dance companies, Ballet West and the Repertory Dance Theater, which perform before packed houses through soldout seasons. Once, too, Salt Lake possessed the first theater built between the Mississippi and the Pacific Coast—and one of the best acoustically anywhere. With the razing of that old Salt Lake Theater in the 1920s, theater died for a generation. Lately, it seems to have returned to life, with eight theaters operating in the metropolitan area.
But the new developments in mountain art and theater are to be found in such little aggregates of artists as Sandpoint, Idaho, where artists seem to survive by taking in each other's wash, and in the ski resorts which are busily being remade into allseason convention and cultural centers.
In its way a folk movement, the flight of artists to the mountains has been assisted by both the states and the feds, and so has the development of audiences in the hinterlands. In 1974 the Western States Art Foundation was formed by the art agencies of ten western states (all except California) to serve as a support system with a regional overview. The WSAF adopted a touring approach for dance troupes, theater companies, chamber groups, art exhibits, writers' workshops, and artists-in-schools programs. Absarokee, Montana, could never afford to sponsor the Tyrone Guthrie Theater of Minneapolis, or the Bert Houle and Sophie Wibaux Mime Theater, or the Martha Graham Dance Company. But in company with Lamar, Colorado, and Sandpoint, Idaho, and Page, Arizona, it can. The Guthrie Theater in 1975 traveled 3500 miles through eight western states and performed thirty-seven times, in towns as small as Sinclair, Wyoming, pop. 500. The next year, the Seattle Repertory Theater gave thirty-nine performances in eleven cities before a total audience of 53,740. Look very deep into the financing of that highbrow Chautauqua and you find the benevolent hand of the National Endowment for the Arts and the National Endowment for the Humanities. As with Mormonism, Zion is where the pure in heart are: the sacraments can be taken to them.
That kind of cultural missionary work in a developing country is not especially new. But the ski resorts as cultural centers are. There is a whole forming circuit of them, from Telluride through Aspen, Vail, and Crested Butte, across to Park City and Snowbird, where the University of Utah conducts the cultural show, and on north to Jackson and Big Sky and Sun Valley, and still on to the Banff School of Fine Arts in the Canadian Rockies. Their programs of music, dance, theater, art; their writing and photography workshops; and their intellectual conferences are much the same, with only local variations. Aspen is of course the model, with its Aspen Institute and its summer music festival, and in some ways it is still the best. But the town of Aspen itself has been commercialized and corrupted, made over for the pleasure-circuit people, barefoot and otherwise. Each time we visit it, in spite of its gorgeous setting and its stimulating intellectual climate, we like it less. Let us visit Sun Valley instead, new as a cultural center but the oldest and most regal ski resort in the Rockies.
We hit it in mid-September, between seasons, when the crowds are small and everybody is cleaning up after the summer activities and preparing for the winter. In Ketchum, which is like a second-class carriage attached to the first-class Sun Valley car, there is a lot of building going on, but the atmosphere is relaxed and comfortable and unpressured. The Big Wood River runs low and clear, the air is sweet with woodsmoke, there are many roaming dogs with friendly dispositions. The bowl of bare mountains gathers around protectively, and the sun is mild.
In their office behind the Potato Gallery, in the Sun Valley Mall, we find Jim Belson and Dave Griffith, director and administrative director, respectively, of the Sun Valley Center for the Arts and Humanities. They are both in their thirties, Belson a native Idahoan who took a Ph.D. in English at UCLA, Griffith an in-migrant, recruited for this job from a teaching position somewhere down on the Snake River. In Levis and sports shirts, they look more like the ski patrol off duty than like cultural ambassadors. But they take their operation very seriously. Since it was created only in 1971, it is still malleable. They are busy shaping it with their minds and hands, considering alternatives, projecting possibilities, assessing performances, as we talk.
They show us the facilities—the Potato Gallery with its displays of art and ceramics from the center's workshops, the Opera House, part of the original Sun Valley complex, where their theatricals and their music and dance programs arc performed. They have hopes of a new outdoor theater at Elkhorn, the condominium-golf-course-tennisranch complex building in the next valley. We walk down Trail Creek to the center's 6.9-acre grounds, a donation from the Sun Valley Company, and visit the well-equipped ceramics building, the photography building, the humanities building, the fiberarts building with its student lounge. We look in on the Ketchum-Sun Valley Community School, a private school built on the center's property, and talk to Sam Hazard, the principal, an in-migrant, once a master at the Athenian School in California, who is outspoken about his family's reasons for moving up here. We talk to one of the teachers, Jimmy Woods, who moonlights as a bartender in a Ketchum wateringhole, and who invites us over after school. Students lie around on the carpeted floor, eyeing us now and then, but going on with their studying. It is a relaxed but not an indulgent place. The book room is full of books, good books. Hazard tells us that he knows several families who have moved to the Hailey-Ketchum area only because of the center and the school.
Asked if they have designs on Idaho's cultural future, Belson and Griffith aver that they certainly do. Asked if they have yet had any effect, they consider, seriously, and decide that they have. When we quote them a remark we heard in Boise or Twin Falls, that their cultural programs are made by outsiders for outsiders, the sort of thing a wellrun cruise ship provides as "enrichment," they wince a little, admitting that 80 percent of the people involved in their art workshops and many in the writing workshops come from outside. Some of the audience for music, dance, and theatricals is certainly drawn from tourists at the lodge and from residents of the condominiums that surround it. But approximately 50 percent of those attending their three successive Institute of the American West summer conferences have been from Idaho, all over Idaho, and carried back to their schools and colleges what they heard. Also, Belson tells us, the center has its art program geared into every primary and secondary school in Blaine County, the children being bused in periodically. Later, he expects to take the program to the schools themselves.
Their hands shape the future, applying torque. They do not know the intentions of the new owner of the Sun Valley Company. He may turn out to be far less supportive than William and Glenn Janss, who more or less got the center started and have worked hard to build it up. The new owner is Earl Holding, a Mormon go-getter who in a very few years built a single gas station into many millions, and who owns, in addition to Sun Valley, the motel chain called Little America and the Sinclair Oil Company. Holding gives every sign of wanting to maintain Sun Valley's serene and opulent style. He has built new ski lifts in expectation of a winter, for a change, with snow. He has said that he has no intention of imposing his Mormon scruples on his hotel business or substituting Postum for the breakfast coffee. Belson and Griffith, without actually knowing what to expect, anticipate that the center will develop and grow. They think they can demonstrate that they have enlarged and enlivened the community as well as provided diversions for lodge guests. They think they can be a little temple of the arts, and that from their 6.9 acres of dedication they can reach the whole state and even the whole region.
This is the note we hear everywhere in the mountains. The future is full of possibility, and consequently people of many kinds are inflamed with the ambition to build it according to the heart's desire. Among the forces bent on resource exploitation, the forces bent on preservation of the wilderness and a way of life, the forces panting for escape from industrial cities, and the forces determined to bring art and ideas into the isolated and half-educated hinterlands, the future will be hammered out. The noise is going to be something to hear.
Since I talked with him in October 1977, he has become publisher of the Deseret News.↩