Woodstein U: Notes on the Mass Production and Questionable Education of Journalists
More than enough students are enrolled in journalism courses at this moment to replace every professional journalist now employed on an American newspaper. What explains this madcap scramble for jobs that don't exist, and how well are the students prepared? A veteran journalist reports on the state of America's schools of communications.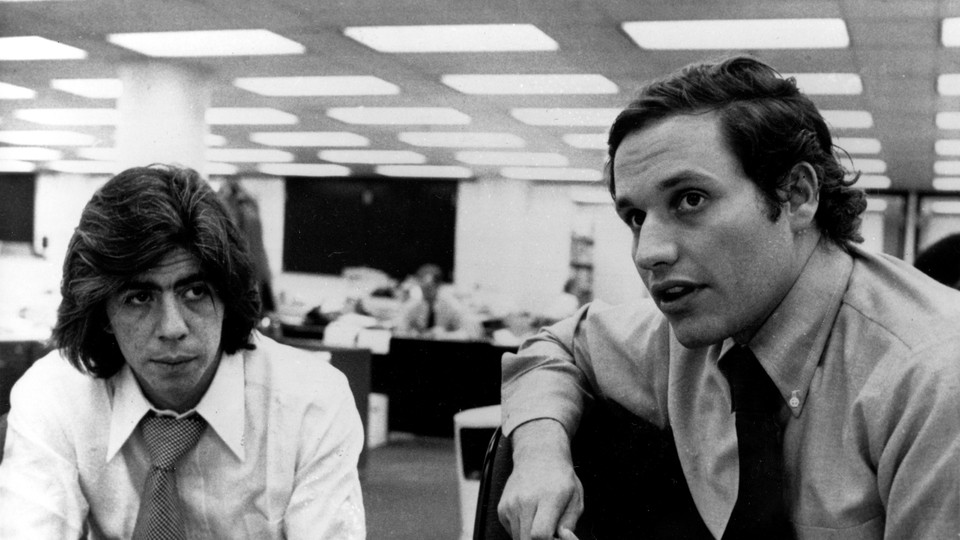 Roger Williams prepared himself for a career in journalism by studying history for four undergraduate years. Then he went to Pennsylvania State University, where he wrote his master's thesis on William Bradford and took enough practical courses to learn basic skills. He graduated with a 3.6 average. Several months before graduation he began to seek a job.
Williams did not commit the sin most often attributed to journalism graduates: he did not insist upon getting an important reporting job on a high quality metropolitan paper in a sophisticated big city. He took out various publishing directories and looked for small to medium papers, any place except central Pennsylvania where he grew up. He realized that job opportunities were greatest on smaller papers and with a bit of luck one would get more experience in two years on a small paper than on a big one where the beginner is often ignored.
He typed a neat one-page résumé that included the crucial ingredient of former practical experience: he had been proofreader and high school sports editor on his hometown paper, the Huntingdon News, for over a year. He offered enthusiastic recommendations from his professors. He attached a one-page letter and sent out forty-five copies of the material, each addressed not to the "Managing Editor" or "Personnel Director," but by name to the editor who did the hiring. This he determined either from directories or from people who knew.
The letters went out after the first of the year. Of the forty-five editors who received them, thirty-six did not bother to reply. Nine others replied by the end of May, most of them curtly, some of them with form letters. Typical of the answers was:
"There are no openings at the present time. We will keep your letter on file but I should tell you that the situation for the future does not look good."
So Williams wrote to his former managing editor at the Huntington News  who replied with a more personal letter but said essentially the same thing.
By commencement Williams began to feel desperate. He was married and had an eighteen-month-old son. His wife had been a teacher but had been at home since the baby was born. They had been living on their savings of $1200 and they were down to $130.
Williams sold a revision of his master's thesis to a historical magazine for $300. He used the money for a job-hunting trip. He went to the Pennsylvania state capital at Harrisburg and applied at the Associated Press and United Press International bureaus, with no success. He made the rounds of the local newspapers and radio stations, offering to do anything-sweep the floor or sell ads-but found no openings. He tried the governor's press office. No luck. He started answering want ads in the Harrisburg paper. A meat-packing plant needed someone on the assembly line. He applied for the job but they told him he was overqualified.
"At that point," he said, "we were scared."
On July 10, 1976, he had an unexpected telephone call from the managing editor in Huntingdon. A reporter on the staff had left for a public relations job at a local college. Would Williams want his job? He'd be paid $2.25 an hour, about $90 a week. Williams took the job. It could have been worse. The June 1975 Penn State Journalist listed the present jobs of the class of 1974. Of sixty-nine responses, 19 percent were working on small dailies or weeklies, but 25 percent, one year after graduation, were still looking for newspaper jobs while doing other things like selling insurance, cutting lawns, painting houses, and delivering prescriptions for a pharmacy. The rest were in non-journalistic jobs and no longer expecting to enter the field. In the June 1976 issue, according to responses from the 1975 class, 44 percent were on small dailies or weeklies and 56 percent were in nonjournalistic jobs.
ENROLLMENT GLUT: On the Trail of Woodward & Bernstein
Today's generation of young Americans is flocking to journalism schools in unprece- dented numbers. In 1960, 11,000 college and university students were majoring in journalism or "communications." This year the number is 64,000. The growth rate is double the rate in all higher education. More than enough students are enrolled in some kind of journalism major at this moment to replace every professional journalist currently em- ployed on American newspapers.
If jobs are the goal, the rush to journalism defies all reason. An appalling percentage of journalism graduates face guaranteed unemployment in their chosen field. Almost every year since the late 1940s, the U.S. Department of Labor has warned that journalism jobs are scarce. In the last twenty-five years, reportorial and editorial jobs on newspapers increased 33 percent, while journalism majors increased tenfold. One of the worst job shortages in journalism occurred in 1974; that year freshman enrollments in journalism rose 20 percent. In 1975, jobs continued to be scarce, but freshman enrollments rose another 21 percent. In 1976, the job market improved slightly; enrollments, however, increased by only 351 students, or .5 percent, possibly signaling the crest of the boom.
The glut has hit every college and university that had not put an arbitrary limit on journalism majors. The ten biggest journalism schools in the country (in order of size, University of Texas at Austin, Syracuse University, Boston University. University of Georgia, University of Missouri, University of Florida, California State University at Fullerton, University of Tennessee at Knoxville, University of South Carolina, and Kent State University) enrolled a total of 3360 journalism majors in 1965. In 1975, the number was 14,000.
More and more junior high schools offer courses in journalism and at least 40 percent of the high schools teach it. Five hundred and eighty-eight two-year junior colleges offer journalism courses, a 50 percent increase in four years. More than 200 colleges and universities have established departments or schools of journalism, and last year 451 Ph.D.'s were awarded in the field.
Colleges and universities, caught in a shrinking economy, welcome the journalism students. Textbook publishers are selling books on the subject in record numbers. Small newspapers that used to beg for raw beginners are now inundated each year with hundreds of applications from college-trained and sometimes experienced reporters. Broadcasters who used to teach technical skills to office aides now have universities do it at no cost to the industry.
The motives of the students entering the field are mixed. Some, as ever, think they have found a glamorous postponement of the moment when they must decide on a lifetime career. Many see the subject as practical entry to jobs in a society that has no place for graduates in fields like English, history, or philosophy. Others are serious about a career with a palpable impact on society and with growing intellectual demands.
Whatever their motivation, some students are among the brightest ever to enter journalism education. At the Medill School of Journalism at Northwestern University, for example, verbal and English composition standard achievement scores for entering freshmen are the highest (over 600) for any school within the university. Rank in graduating high school classes is the highest for any department of the university (93rd percentile).
Other students, however, are not only poorly trained in high school but shoddily prepared in journalism afterward. Transfer students from junior college journalism courses-a major source of current training-are seldom able to meet ordinary university competition in journalism. Too often they have been taught by faculty members with neither professional nor academic backgrounds in journalism. Their courses, in a dismaying number of cases, have been largely a rote imitation of some wretched local publication or broadcast station.
The extraordinary popularity of "communications" has been attributed to "the Woodstein Phenomenon," the effect of the Woodward and Bernstein feat of exposing and unseating the Nixon gang in the White House. The model has been irresistible. Woodward and Bernstein were young, inexperienced, and not particularly promising in the eyes of their superiors. Working in a city and on a paper where the country's most celebrated journalists were in top command, the two beginners beat them all and became national heroes. Their books became best sellers and they were memorialized in the movie All the President's Men. They became millionaires. Even their style was appropriate for the young professionals of the 1970s—cool, informal, unideological. If they could do it, why couldn't every high school student?
JOURNALISM, U. OF TEXAS STYLE: Is Biggest Best?
The University of Texas School of Communication, with more than 3000 majors, has more students than the entire enrollment in half the colleges and universities in the country. In this mammoth institution can be found most of the elements, good and bad, that characterize other journalism schools across the country.
The University of Texas School of Communication more than train journalists for newspapers. It maintains a department of journalism, a department radio-television-film (known as "RTV" in the trade), a department of speech communication, and a department of advertising. The journalism department offers concentrations, or sequences, in news and editorial, magazine work, broadcast news, journalism, and public relations. Within the school, journalism attracts 36 percent of the communication students, radio-television-film 31 percent, speech 18 percent, and advertising 15 percent.
The dean who presides over the school is Wayne Danielson, formerly dean of the University of Carolina School of Journalism, and a specialist in computer science and statistical studies involving journalism. Like the deans of six of the ten largest journalism schools, Danielson has had little or no experience in professional journalism.
The campus paper, the Daily Texan, while not formally issued by the journalism department, is housed in its complex. A superior paper compared to most campus dailies, the Daily Texan has a circulation of 37,000 (total university enrollment is 42,000). It has had editors (usually not journalism majors) who later became prominent professional writers and editors. The Daily Texan has provided students with a realistic view of the vicissitudes of independent-minded editors. When Willie Morris (never a journalism student) was editor of the Texan, he editorialized against deregulation of natural gas, a view that strikes Texas politicians as tantamount to promoting the suspension of breathing. The Texan is read, story by story and headline by headline, by a representative of the Texas Board of Publications who sits at the copydesk and views everything that goes into the paper. The board says it does not censor but merely monitors for bad taste and libel. Apparently editorials calling for regulation of the natural gas industry are considered bad taste, and Morris left white space in protest over the deleted (censored) editorials.
Kay Northcott, a former editor of the Texas Observer, was also an editor of the campus paper when she was a student in the 1960s.  Her editorials against the war in Vietnam became the subject of a censorship battle. A member of the publications board told her. "After all, this is Lyndon Johnson's university." The editorials were eventually printed, but Regent Frank Erwin told her that they caused an unnamed donor to cancel his $1 million gift to the new communications complex.
The journalism faculty is heavily larded with University of Texas graduates and former reporters and editors for Texas papers. Forty percent of all new reporters for Texas papers come from the school. But the faculty is not distinctive in either the practice of journalism or journalistic research. Until a few months ago associate dean under Danielson was A. Richard Elam, Jr., member of a prominent Texas family, owner of a number of small papers, and former owner of a television station once rated by the Columbia Journalism Review as being among the thirty-four worst in the country.
Dr. Norris G. Davis, chairman of the department of journalism until late 1976, lists in his official biography "17 summers of work as a reporter and photographer." The biography does not state that this work was for a utility company's house organ, or that his journalistic experience was rounded out by doing public relations for a former governor.
Academic requirements for journalism students at Texas are technically the same as for all accredited schools and departments of journalism. Students must take only 25 percent of their undergraduate work in "trade" courses, with the rest devoted to other subjects, preferably in the liberal arts. The idea is to get a broad education while acquiring training and perspective in journalism.
The requirements include nine hours of English, thirty hours in the sciences, twelve hours in American government and history (a state law requirement) and five hours of physical education. This leaves about thirty-six hours of electives, thirty-two hours of which may, if the student wishes, be filled with courses given in ROTC or by the Biblical Studies Association.
Within the news and editorial requirements, a major would take 1) Introduction to Communication, a largely quantitative course on behavioral studies taught by Dean Danielson. Alternatives would be Theories of Mass Communication, another scientific research course, or Writing for the Mass Media. 2) Copy Editing: "Fundamentals of copy editing for printed media." 3) News Reporting: "Advanced development of skills in gathering and writing news for the print media." 4) Advanced Information Processing: "Planning content and format of newspapers and other periodicals." 5) Media Law and Ethics: "Social and ethical responsibilities 6) Reporting Urban News: "Study of community news sources . .."
PROPAGANDA OR NEWS: The Journalism/Public Relations Paradox
Years ago, as a young reporter, while watching the police raid an illegal dice game in Pawtucket, Rhode Island, I picked up a gambling supply catalogue. On one page the catalogue offered a set of calipers and scales guaranteed to detect any phony dice ever made. On another page was offered a set of loaded dice guaranteed to escape detection by any device in existence.
A parallel to this paradox can be found in journalism schools where reporting is taught in the same department as public relations/advertising, as is the case in half of the 200 colleges and universities offering journalism degrees. Journalism education fosters a dedication to reporting significant public information, including penetration of propaganda. Advertising and public relations teach persuasion by paid propaganda.
The teaching of manipulative arts bothers many faculty members, including Professor John Huffman of the University of Tulsa, whose article "Can Advertising and Journalism Continue to Live Together?" appears in a recent issue of Journalism Educator, organ of the Association for Education in Journalism. Huffman wrote: "A thinking person cannot believe in the basic tenets of journalism and the basic tenets of advertising at the same time. Advertisers are one of the largest groups of users of social science findings about the mutability of man." They use this mutability, he says, to benefit the advertiser rather than the consumer.
"Journalism, on the other hand, says that man needs help in separating the wheat from the chaff, and that man must be educated as to causes and effects and their relevance in improving the social order."
The promotional teachers insist that they teach only truthful and ethical advertising and public relations, with the prime intention of helping the citizen. A recent textbook, Advertising by Maurice Mandel, describes the process:
"The consumer tells the firm his wants and desires. This information is translated into product, package, brand, price, channels of distribution and promotion.
Such nonsense is widespread, and if students believe it they will suffer rude awakenings when they try to keep their jobs in the field. A University of Texas communication brochure on its advertising says, for example: "Advertising students concentrate on purposive communication… Their ethic is the mutuality of interests between seller and consumer, business and public." Do journalism and radio-television-film courses taught in the university concentrate on purposeless communication?
I asked Dean Danielson why he taught advertising and public relations. He said that for one thing, students want it. They like commercials.
"One of the most popular student shows is the rerun of prizewinning commercials. Students pay admission to watch and hear two hours of commercials. When freshmen see a favorite commercial from their childhood they burst into applause. When the little man jumps out of the Post Toasties box it is an image from early childhood. At that age what can a poet do for a creative kid? The 10-second or 30-second or 60-second sales message may serve the function of poetry or creative outlet for students."
Danielson is probably correct about student interest. In 1968 the university enrolled eighty advertising majors; today it enrolls 271. The courses reflect a cultural conditioning of American society that is forever bedeviling journalists.
"Ad students are among the most creative we have," Danielson said. "The use of symbols, music, and words has a big appeal. Students are very skilled in image use. Don't forget that when they come to us they have had 16,000 hours of television viewing."
SCHOOL FOR SCANDAL: What Goes On in Journalism Classrooms
The sheriff strolled into the crowded press conference a sombrero tilted back on his head.
"Well, I understand you fellas have a few questions and I'm here to tell you the whole story, the true facts. I understand you been talking to some of the Chicano [he pronounced it Chee-cano] folks and got yourself quite a story. Now, I like those people but they do get a mite excited and they can let their imaginations run hog-wild. I completed the investigation, talked to all the eyewitnesses, and I'll answer all your questions."
A reporter asked. "Sir, what happened?"
"Subject was first seen downtown at Fifth and Main in some kind of altercation. When approached by Officer Smith subject was abusive and profane and threatened Officer Smith and then got into his pickup truck and drove off at high speed. Officer Smith gave chase and called on his radio for help. When Officer Smith and four other officers in cruisers reached home of the subject, subject had barricaded himself inside and refused to answer the door, Officers broke down the door and subject was inside brandishing a weapon and announcing he was going to kill the deputies. The deputies shot in self-defense and subject was killed by a single bullet that entered his chest. That is exactly how it happened."
The reporters sat down at their typewriters as the sheriff strolled out.
The case was real, an incident in south Texas,  but the "press room" was a journalism laboratory in Redwood Hall in the Stanford University department of communication, and the "reporters" were students there. The "sheriff" was a teaching aide who had covered the case as a newspaperman. After the students had written their stories, another teaching aide reviewed them by asking the "reporters" questions.
"I don't see in any of the stories what the subject actually said or did to threaten the officer. I don't see what weapon he used. I don't get any idea from the stories or your questioning of the sheriff about the details of the shooting in the home. Remember that a significant part of this community is in a state of extreme agitation over the incident, and there isn't enough detail here to answer questions or be very convincing as a total explanation. For example, how far away was the man from the officers when they shot him?"
The "sheriff" was recalled and the questions asked. The subject, it turned out—as in the real case—had brandished a butcher knife, but he had been twenty feet from the nearest officer when he was killed by gunfire. The subject had no gun in his possession.
This was the course in beginning reporting conducted by Professor William L. Rivers. Three hours each week in classroom lectures he introduces a variety of model new stories of different types—straight news, reports of meetings, feature stories, profiles of public persons, and investigative articles.
They are taken from the best work in real journalism. Students are asked to analyze the information content and writing patterns.
This is one of the better courses in the elements of good reporting. It is duplicated in a number of good schools and departments of journalism, though not always with the student-teacher ratio of 15-to-I used in the Stanford news laboratory.
The realism of training depends partly on location of the school. Schools in isolated areas are forced to create events for students to cover. One reason for the high reputation of Columbia in journalism education is its location in New York City. Its journalism students, relatively small in number, can be assigned to real news-at the United Nations, federal courts, corporate offices, City Hall, major public events. They write stories that can be discussed internally as well as compared with accounts of the same events in the professional news media.
Some students at the University of Texas at Austin complain that their instructors tend to be from the Dallas Morning News and their standards that of the Morning News of ten years ago, standards not universally admired. Kaye Northcott of the Observer wrote of her experience:
"The worst journalism teacher I ever had taught an entire semester's course to seniors on public affairs reporting. He'd bring in a document, like the Austin city budget. 'This is a city budget,' he'd say. 'If you were a City Hall reporter, you'd have to know how to read this thing.' Then he'd read some of it aloud. Sometimes, mercifully, class would last only ten or fifteen minutes . . . The main thing I learned is Don't Rock the Boat."
From fairly rigorous and realistic training in the graduate schools and some of the better undergraduate departments, the level of training drops precipitously at the easygoing colleges and at most junior colleges where stereotyped journalism is taught. Despite long hours sitting in a mock newsroom at college and typing standardized news stories from dubious models, the students go out into the marketplace and are the chief subjects of editors' complaints that graduates can neither spell nor write and often know too little beyond the operation of their typewriters
At Los Angeles Valley College in Van Nuys, for example, 2200 students a year take journalism courses; their required and recommended courses are fewer than those in the hotel-restaurant manage- ment major. One course consists, in fact, of putting out the college yearbook; another of working on the copydesk for the campus weekly. Of five full-time faculty members in journalism, as listed in the latest directory of Journalism in American Junior Colleges, none has had previous professional journalism experience,  and none has ever taken courses in journalism.
In almost half the junior colleges teaching journalism, the faculty has had no professional experience; in 28 percent, the faculty has had neither media experience nor college courses in the subject.
In hundreds of junior and senior colleges journalism training consists of sitting at desks learning mechanics, jargon of the trade, bad writing, and stereotyped stories. For two or four years students are inundated with the worst possible models-wire service copy that is notoriously dull and imprecise, or local papers or broadcast transcripts that too often are examples of journalistic schlock. These lessons are frequently imposed by a retired hack who had failed as a journalist or, often, had been a mediocre public relations counselor.
In such places students are taught clichés. In one college a test consisted of stories with blank spaces to be filled with adjectives, the "correct" answers arcane or phony words used by Time magazine during the era of Henry Luce (but no longer used even by Time). In another college the blanks to be filled were the most hackneyed phrases, so that fires were always "raging," heavy rains always "torrential downpours," and recriminations always "bitter."
Students are given the impression that they have achieved their commission as accomplished journalists when they have learned to type "—30—" to signify the end of a story and "(more)" to indicate that the story is continued on a forthcoming piece of paper or can use words such as "slug" and "shirttail" and other jargon of the trade more appropriately by issuing a half-page of mimeographed terms be studied for five minutes.
Recently the mania for teaching mechanics found supreme gratification in the new electronic keyboards that produce stories on a television-like screen instead of typed letters on paper. Publishers are usually niggardly in support of journalism education or journalism research, but they have become generous in giving the new machines to journalism schools, thereby obtaining a tax write-off and saving themselves a few days of company time to teach new reporters the simple method of using machines now being adopted in American newsrooms.
In a distressing proportion of schools hackneyed journalism courses are imbedded in a curriculum that discourages intellectual growth, prevents depth of knowledge, and denies the future journalist a broad perspective on society, including the role of the news media. A number of schools proudly announce that their courses in journalism have been designed with the help of local publishers and broadcasters, entrepreneurs whose daily products in some instances are spectacular examples of rotten journalism.
ARE JOURNALISM SCHOOLS NECESSARY? The Views of Editors and Pulitzer Prize–Winners
The people ordinarily expected to judge—the editors and news directors who do the hiring—say they have mixed but largely negative attitudestoward the value of journalism education.
Ron Semple, publisher of the Helena Independent-Record in Montana, said, "No one is hired directly from journalism schools on my newspaper. Ilet someone else knock the nonsense out of their heads."
Semple mainly objects to elitism by journalism graduates.
"I go to meetings all over my community and I see reporters with working people, in community organizations. They no longer know how to get rapport with ordinary people. If we disdain the high school graduate who is a blue-collar worker then we alight as well give up. Reporters just don't know people like policemen and truck drivers anymore."
I wrote to the editors of 100 daily newspapers of above 25.000 circulation, the ten biggest in the country and ninety others taken at intervals from a list t of papers of descending size. Fifty-eight percent said they preferred journalism graduates. The editors of three of the biggest papers (Los Angeles Times, Chicago Tribune, and the Milwaukee Journal) said the preferred journalism graduates; the others (New York Daily News and Wall Street Journal among them) were indifferent.
The editors rated as superior journalism schools the University of Missouri. Northwestern, and Columbia. In 1972 deans of professional schools rated the best journalism faculties in this order: Columbia, Stanford, Minnesota, Wisconsin, and Northwestern (lowest, Marshall, Louisiana State, San Fernando State). The most effective graduate programs were said to be, in order, Columbia, Minnesota, Northwestern, Stanford, and Missouri.
Whatever editors might say, they do hire journalism graduates. Sixty-five percent of their most recently hired reporters and an estimated 60 percent of their total professional staffs came from journalism schools. Larger papers seldom take on a reporter or editor directly from college. Published work and career experience are more relevant than place of education.
Michael O'Neil, editor of the largest paper in the country, the New York Daily News (circulation 1,900.000), expressed the sentiments of many editors, especially those of larger papers: "College years are a very precious period-one of the few times in life when you can concentrate fully on soaking up knowledge, developing thinking skills, forming judg- ments and points of view. If a student spends too much time learning the technical side of our busi- ness, then he or she may never again have the opportunity to build the intellectual stockpile needed for really productive work in later life…We can teach them the technical skills."
On the other hand, Richard Leonard, editor of the Milwaukee Journal, expresses a view typical of major editors who prefer journalism graduates: "My experience has been that people who are interested in journalism as a profession attend journalism schools."
John Quinn, senior vice president of news and information of the Gannett chain, voices the same opinion: "Generally, they demonstrate a more sophisticated commitment to journalism and understanding of its demands, plus a working knowledge of the beginner skills."
The trend is significant in the Gannett chain, which consists of seventy-three daily papers. Quinn estimates that before 1960, from 20 to 35 percent of professional journalists on Gannett staffs were journalism graduates; from 1960 to 1970, 50 percent; but since 1970, 70 percent.
Bernard Lyons, editor of the Lafayette (Indiana) Journal and Courier, has larger reasons for his preference for journalism graduates: "In general, they have a better background of the kinds of things they don't learn on the job: the posture of a newspaper in a democratic society, libel, privacy law rudiments."
Not all editors agree. August Lockwood, editor of the Jersey Journal (circulation 78.000), says: "I have found most J-school graduates misinformed about newspaper work and badly informed about the world in which they live. I prefer to hire a literate, informed college person. In six months, with the help of my staff, I can teach such a person more than most J-school grads seem to acquire in 'earning' a degree."
Of news directors of the 100 largest television stations, 36 percent replied to my inquiry. Their preference for journalism graduates was almost the same as editors', 57 percent. They rated the same schools superior-Columbia, Missouri, and Northwestern. Fifty percent of their most recently hired reporters were journalism graduates. About half of the news directors themselves were journalism graduates.
But one experienced news director at a major television station said: "I prefer someone who majored in sociology or architecture or art history or psychology rather than somebody who spent a year or two learning how to put a film story together. One of our best reporters was a Rhodes scholar specializing in Florentine history. Given the nature of politics in this city. I don't think that expertise in Machiavellian politics is such a bad idea."
The people who hire journalists say they are divided on the value of journalism schools. But what about practitioners of journalism who, with the benefit of years of experience, can look back and judge for themselves? Did journalism graduates distinguish themselves over non-journalism graduates?
I wrote to fifty-three journalists who have won Pulitzer Prizes over the last ten years. Of those who responded. 75 percent did not major in journalism, most having degrees in English. English literature, history, or philosophy. Three did not attend college.
These Pulitzer Prize-winners were largely hostile to the idea of journalism schools and most of those approving a journalism degree specified that they favored a different undergraduate degree with journalism solely in a year of graduate work.
Emily Genauer, 1974 Pulitzer Prize-winner for distinguished art criticism, found something different: "My two years at Columbia School of Journalism were invaluable. I learned. . . how to handle acts kind of story . . . how to spot features and column possibilities in straight news dispatches, how to anticipate where and when news would break, how to keep myself open to news and column possibilities and changing styles. Most important, I learned a sense of responsibility to readers. It has been of immense importance to me, especially in writing art criticism which, for too many writers, becomes an ego trip."
But Roger Ebert of the Chicago Sun-Times said, "To consider journalism as an academic subject all itself is somewhat silly since the working journalist will be for the most part reporting on everything but journalism."
William Caldwell, who won the Pulitzer in 1971 for editorial commentary in the Bergen (New Jersey) Record, did not go to college. He says he delights now, in his retirement, in discovering things his classmates got from college forty-five years ago. "It's hard to write about it without getting stuffy, but I suggest the newspaperman who doesn't know Homer and Shakespeare, Whitehead and John von Neurniann and Bonhoeffer as well as his old city editor knew the names of the type fonts and all the bootleggers in town, will not be very useful to an employer or very companionable to himself."
David Broder, widely regarded as the best political reporter in the country, won the Pulitzer in 1973 for news commentary. He was a liberal arts major at the University of Chicago, and received an interdisciplinary master's degree that emphasized political science and economics with a little sociology thrown in. "Basically, it was designed for secondary schoolteachers." he says, "but it fit fine with what I wanted. so I grabbed it."
Stanley Penn, who shared the prize in 1967 for national reporting, did go to journalism school but says: "Journalism school was largely a waste of time…If I started out again, I'd major in English, history, or philosophy."
Frank Peters of the St. Louis Post-Dispatch, who won the prize for commentary in 1972, majored in English and says: "1 have a very low opinion of journalism schools and suspect that they are positively damaging. Journalism is simply not a 'discipline,' nor is it a profession in any but the loosest sense. Journalists should be intelligent, informed persons, and they should use college to inform themselves about history, economics, literature. the arts, and the sciences . . . . Being run by old newspaper hacks and young ideologues, the journalism schools manage only to perpetuate the worst vices of journalism-ignorance and prejudice."
Many editors share these negative views of journalism degrees, stressing the need for "a good liberal arts education." But they do not practice what they preach. Professor Paul Peterson of Ohio State University compiles the most reliable statistics on journalism enrollment. He says: "More and more, students notice that when recruiters come to campus from newspapers and from magazines and public relations agencies, they don't stop in the liberal arts departments but go directly to the schools or departments of journalism."
CHI-SQUARES VS. GREEN EYESHADES: What Is a Journalism Education?
Reporters and editors argue over whether journalism school is the best way to create good journalism, so it is natural that journalism educators, too, are bitterly divided over how they should educate. Some teach the techniques and background of journalism; others teach research techniques for studying journalism, journalists, and the public reaction to communications.
The contention between the two factions is known in the trade as "chi-squares versus the green eyeshades." Chi-square is a mathematical formula for measuring the degree to which a series of statistics conform to an expected pattern. It is a favorite technique of quantitative researchers and has become the symbol for the journalism academics who use social science and mathematical methods to study the field. The "chi-squares" study a wide range of subjects: the characteristics of journalists (so long as it can be done mathematically); the psychology of individual reception of messages (so long as it, too, is subject to objective tests of mathematical precision); the propagation of messages through a social group; survey and sampling techniques-all following quantitative psychological and sociological methods. The training includes a great deal of mathematical method and quantitative research.
The "green eyeshades" get their label from the celluloid visors now almost extinct but once widely used by copy editors to shield their eyes from the glaring lights over the copydesk. The term has come to mean training in the practical techniques of reporting and editing.
The angry man of the green eyeshades is Curt MacDougall, a seventy-three-year-old, six-foot-one scourge of the "communicologists." He is the author of A College Course in Reporting for Beginners, retitled Interpretive Reporting, now in its eighth edition ("It sent five children through college"); has a Ph.D. in sociology from the University of Wisconsin; and thinks that journalism training should stick to journalism.
"Until a short time ago, it was safe to assume that college students majored in journalism . . . with the intention of becoming journalists . . . . Today it would be presumptuous to assume that half the enrollees in journalism classes have the slightest intention of becoming journalists . . . . In any shakeup of journalism curricula the most essential step is to clean house of the communicologists who have been infiltrating for about two decades now. They are Ph.D.'s in theory and methodology, actual or virtual disciples of Marshall McLuhan, who insists 'the medium is the message.' Translated that means it's more important the way you say or write it than that you have something worth saying or writing.
…Today young Ph.D.'s in communicology teach reporting and other practical journalism courses even though they have had little or no professional experience . . . . The internal fight by those of us who warned against and resisted the influx of chi-square fiends is over. We did our best and we lost . . . . Let the J-schools do what they please as long as students know that they're not learning journalism and nobody ever would hire them . . . somebody should do something about it."
Somebody did something about it. Professor Karlen Mooradian of the University of Oklahoma at Norman, at last year's meeting of the Association for Education in Journalism, called for a "Division of Qualitative Studies" to promote the growth of nonmathematical methods as opposed to "quantitative" or mathematical analysis of journalism problems. The response to Mooradian was overwhelming. More than sixty-five university departments of journalism supported the idea of fighting the dominance of mathematically based research.
Nevertheless, the chi-squares remain strong, arguing that they take the study of mass communications out of hunch, guess. and personal impression into scientific objectivity. They say that they have promoted what is now called "precision journalism," replacing the universal cabdriver as the old-time reporter's "public opinion survey" with proper survey and sampling techniques.
Chi-squares apparently have another advantage. Having more access to research money and being closer to power centers on faculties, they seem to be paid more than green-eyeshade teachers, though that is a generalized impression. Some journalists with distinguished careers can command faculty salaries equivalent to research professors with similarly distinguished professional accomplishments.
But usually this is not the case, and within most university minimums and maximums for each stage of faculty status, journalism professors tend to be in the lower brackets.
About half the journalism teachers in colleges and universities hold Ph.D.'s, usually in some chi-square subject. Almost all the rest have master's degrees. Mature and experienced journalists are the prime source of knowledgeable teaching of journalism. But having spent most of their working lives in their profession rather than in academia, they usually hold only bachelor's degrees. Yet, according to a survey by the American Association of Schools and Departments of Journalism, holders of only a bachelor's degree constitute but 5 percent of active journalism faculties in colleges and universities.
Journalism faculty members, like leadership in newspapers and broadcasting, remain mostly white male (88 percent). Some schools now require Ph.D.'s for all new teachers in order to circumvent pressure to hire women and minorities. They also circumvent the best journalists.
Economic trouble in higher education has influenced what is taught. Most universities prefer faculty members who bring with them foundation and government grants, which help maintain salaries and fellowships at no cost to the institution. Professional journalists are less likely to be the recipients of these grants than are Ph.D.'s in the social sciences. Once hired, the quantitative researchers also carry more weight in the ferocious combat for status and money within the campus, since they have conventional degrees and come closer to meeting the requirement of publish or perish. So the teaching of "communications research" has been steadily increasing in senior journalism schools at the expense of courses in the practice and ethics of journalism. This has left much of the training of journalists to the junior colleges, which re the least qualified in acuity and course standards.
Intellectual standards vary in four-year colleges. Most reflect the nature of the university as a whole, but some journalism departments are so close to the local media that their training is geared to demands of local editors who want first-day production from graduates rather than careers of high quality more likely to come from good intellectual and creative education. In those departments intellectual standards are low and narrow, work uncritical and repetitive.
On the other hand, the more demanding courses combine laboratory work with serious reading. A Berkeley course in mass media and society, for example, requires reading in the standard journals related to journalism-Journalism Quarterly, The American Sociological Review, Social Forces, Current History, Journalism Monographs, Public Opinion Quarterly-but also in books, including Psychology of Rumor by Gordon Allport; The Rights of Americans edited by Norman Dorsen; The System of Freedom of Expression by Thomas I. Emerson; The Early Window by Robert Liebert and John Neale; The Selling of the President by Joseph McGinnis; About Television by Martin Mayer; A Free and Responsible Press, the report of the Commission on Freedom of the Press; News from Nowhere by Edward Jay Epstein; Brave New World Revisited by Aldous Huxley; Hollywood, the Dream Factory by Hortense Powdermaker; Public Opinion by Walter Lippmann; and the Surgeon General's Report on Violence on Television.
But for most schools the main reliance is on the standard how-to journalism textbooks. Titles are important. "Journalism" and "Reporting" used to be required in a title for successful sales. Now "Mass Media" or "Mass Communications" is preferable, since such books can be used for teaching print, broadcast journalism, public relations, or advertising. Perhaps the biggest contemporary seller is Introduction to Mass Communications by Edwin Emery, Philip Ault, and Warren Agee, first issued in the lean years of journalism text publishing but now in a fourth edition that sells about 10,000 copies a year. A popular book is The Art of Editing by two authors named, appropriately. Baskette and Sissors.
The decision of a professor to assign required texts in an introductory course at the University of Texas can make a publisher happy. For example, three books are required, each at a cost in hardback of about $17, for 1100 students a year, a sale of $56,000 a year.
A CONCLUSION: What Journalists Need to Know
Two justifications persist for journalism training in higher education.
One is to give sufficient technical training to let the beginner know the true nature of the work so that he or she can decide whether the appropriate career choice has been made. But technical training does not require a university setting. Anyone who can't learn that part of journalism in a few months belongs in another line of work. Nevertheless, newspapers and broadcasters refuse to do systematic on-the-job journalistic training for inexperienced beginners because it would require money and the time of senior professionals. The trade prefers to let the cost be borne by the students or their parents or, in public institutions, the taxpayers, all the time becoming more strident in its demands and complaints about "ivory tower professors."
The other justification is more appropriate for institutions of higher learning: to impart to the potential journalist a knowledge of the proper role of journalism in society, the ethics implied by this role, an encouragement of empathy with people they will study for the rest of their careers, and some advice on what academic programs will provide lasting insight into society. Technical training without this comprehension is meaningless-it merely makes propagation of ignorant journalism more efficient. The charade of "journalism education" in places that teach mostly technique and typing will simply perpetuate the curse of what Walter Lippmann called "untrained accidental witnesses."
Most newsrooms are not suited for training and inspiring young entrants to journalism, even if they choose to try it. News companies are increasingly corporate giants, bureaucratic and impersonal. They are in danger of sterility unless they are constantly fed generations of new journalists lively in spirit and mind, formed by something other than the corporate ethic. This kind of men and women will not come from journalism schools turning out typewriter jockeys trained largely to avoid embarrassing their alma mater during the first week on the job. They will come from institutions that still nurture the humanities and creative teaching and that produce journalists who, whatever problems they have the first week with an electronic typewriter and computer, will, ten years later, still have the capacity to understand a changing human condition.