The Pleasures of Eating in Persia
In Tehran, the capital of Iran, or Persia, as some still like to call it, there is a variety of good restaurants: French. German, Italian. Chinese. American, Mexican, to name a few. One national cuisine, however, is barely represented: Persian cuisine itself. There are of course some Persian restaurants, but these, like the other restaurants of the city, are mainly for the benefit of Tehran's large foreign population not for the Persians themselves.
Persians do eat out a great deal, but not at restaurants, which they find impersonal and expensive. Moreover, their cuisine and their eating habits are such that they are free to eat almost anyplace they wish, and many of these places are pleasanter than a restaurant.
There are reasons for this. For one thing, Persian food is highly portable. Persians do not like hot food—believing this obscures its flavor—and thus they are not constrained to eat within a lewsteps of the kitchen. Second, aside from the food itself, there is little to carry from the kitchen since few utensils or dishes are used. "God made fingers before forks," the Irish say, and the Persians agree and use their right hands. As for dishes, the custom of a group of people gathered around and eating from one big tinned copper tray is still common, as is the custom of disposable plates, i.e. the big flat rounds of Persian bread. Finally, and most important, there is no need for the furniture of eating. The Persian chair is the floor, the table a cloth spread on a carpet, and taken up when the meal is finished.
It is not surprising, therefore, that in the usual Persian house there is no dining room. People eat where they fancy, and their fancy ranges far. For example, one of the most common places to eat is in the courtyard, perhaps by the pool, a carpet and cloth spread on the cobbles, or under an arbor, or in something called a neem-cat, A neemcat is a king-sized, raised wooden platform railed on three sides, a kind of free-standing balcony that can be moved to the sun or shade, by the water, or under a tree when it's in bloom.
There is another courtyard arrangement which surpasses it, charm any dining setting I have ever known. To the Westerner it may sound both uncomfortable and precarious, but once the muscles have been developed the Buddha position is as comfortable and secure as sitting on Hepplewhite. Assuming one's pool is large enough, one can put a broad plank across the width and cover it with carpet and cloth. Often on warm evenings in Isfahan I and a friend or two would dine on "the bridge," as we called it: a light summer polou made with cherries or currants, the old chimneyed Russian candlesticks, and to either side of us the water chilling our wine flagon and floating the melon we would have for dessert.
Another favored place for eating is the roof, which is accessible by an inside stairway, is flat, and is bordered by a low parapet. In Ramazan, the fasting month, the meal most commonly taken there is called sahar, and it is eaten just before sunrise since the Moslem fast obtains only during the daylight hours. There is an abundance of food and guests, relatives and friends from the neighborhood. This meal on the roof in the growing light of day, with all its overtones of God's bounty and law, means much to Persians.
There remain two other areas in many houses where meals are taken, one associated with summer, the other with winter. The summer place is called hoz-khaneh—a room with a pool. In my house this room was about five feet below the ground level; it was floored and wainscoted in turquoise tile, with a small pool and fountain at the center of the room. Typically, there was only one window, grilled and small to shut out the light. No room could have been a better refuge on a hot afternoon. The midday meal which I often took there seemed in its way to match the room, a big bowl of mast-va-khiyar, iced cucumber soup made with yoghurt to which the Persians add raisins, walnuts, onions, and powdered mint.
In winter the snuggest place to eat in a Persian house is under and around an arrangement called korsi. Korsi consists of several things. First there is laid on the floor a thin square of padding about six feet by six feet or larger; in the center of this is placed a low table which covers a pot of burning but fume-free charcoal. Around the matting, boxing it in, are bolsters. Then over all, table and matting, is spread a large comforter. Persians remove their shoes before entering a house and their indoor garb is the pajama—a Persian word, by the way—so they can slip into these heated nests without encumbrance, leaning against the bolsters, the comforters over their legs and waist, the table there for work or food. I know of nothing more relaxing than a korsi and its gentle heat.
The korsi I remember best was in the house of a friend who lived in a village in the Bakhtiari mountains. The village, at 7000 feet, was one of the coldest in Persia, and yet so enfolding was the korsi's warmth that we would often throw open the French doors to watch the snowfall in the courtyard and breathe in the sharp, fragrant mountain air. There I ate the best chelo-kababs of my life. Chelo-kabab is the national dish: a mound of excellent, longgrained Persian rice into which one mixes kababed young lamb plus butter, onion, and egg yolk. At my friend's we topped this with a healthy blob of yoghurt seasoned with mountain herbs.
These then are the dining areas in a Persian house. The people, however, are gregarious and restless and they often eat out and in a variety of places. One of the most routine of these is the street.
Any crowded thoroughfare has its food vendor whose place of business is a pushcart. The cart holds on its rimmed, tablelike top a Coleman lamp, a vase of flowers, and the food itself. Whole, boiled beets served on little saucers are popular. Also dough, a liquid yoghurt, often flavored with mint and powdered rose petals, chilled with crushed ice. Perhaps the most common pushcart food is roasted corn. The roaster with quick dexterity shucks the corn, lays it on the brazier, fans the charcoal to keep the flame up, and when the corn is finished dips it in a jar of salted water to cool and season it. Islam frowns upon the public consumption of food which the poor cannot afford. But beets and corn are so trifling in cost that even a beggar can buy them, and so eating off a pushcart is an inexpensive way to eat out. The most direct connection, however, between food and religion is nazr, a repast which one provides for one's neighbors—especially the poor among them—in gratitude to God for some favor which has been granted. The nazr I remember best took place at a holy tree in an oasis where I once lived. This plane tree, some eighty feet high, was considered holy by the local people because they believed that a saintly man had once stopped there and that God, to mark his visit, had willed the tree to grow to a gigantic size.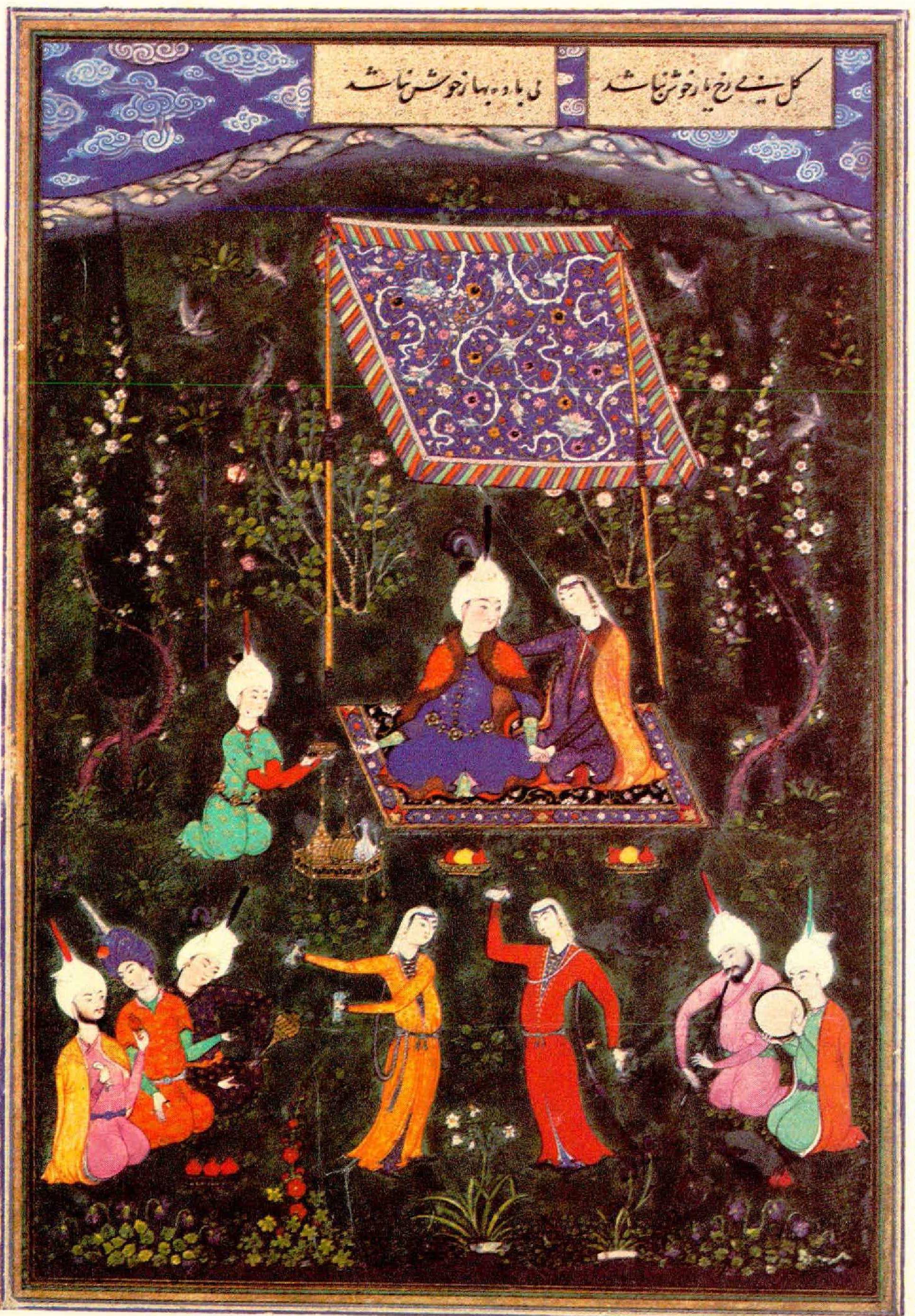 I used to pass this tree on my walks and sometimes a group of the oasis women in their ink-blue veils would be gathered beneath its branches cooking a big caldron of aash, a kind of thick lentil soup. Always they would hail me and insist that I partake of their nazr, bringing me bread, goat cheese, herbs, and a big bowl of the delicious soup.
In general Persians enjoy eating outside, for they claim that food tastes better in the open air. To get to the open air and the countryside is for most of them an easy matter. In this country of little rainfall, towns are usually located at the base of mountains to take advantage of the mountain springs and the melting snows. Thus it is common for a town to have within walking distance its own little mountain resort—some cool, tree-shaded ravine and streambed.
When I say "resort" I mean, however, a place not of hotels and cinemas but rather of pavilions and teahouses. Teahouses are ordinarily situated in a small park; trees, a pool bordered with potted geraniums, neem-cats—the wooden platforms—spread with carpets where the customers sit tailor fashion drinking tea or eating kababs.
The pavilions, like the teahouses, are simple places. Typical was one belonging to a doctor friend who lived in a small town west of Isfahan. From his house and office it was a twenty-minute walk to his "vacation home." Constructed of whitewashed mud brick, a flat-roofed oblong, it was built into a slope above a stream. An outside staircase led to a spacious, chalk-white, reed-ceilinged room, a fireplace at one end of it, French doors at the other opening on to a wide balcony or deck, railinged with wrought iron, braced out over the ravine and stream. There was no furniture. We would bring carpets, donkey-back, from the village and on our way cut orchard blooms to put in the big jars set around the place.
To be by water, as this pavilion was, is of importance to Persians and for this reason bridges too are popular places to eat. The most dramatic example of this is the Khajoo bridge in Isfahan. The Khajoo, built of tile and sunbaked brick, looks like a long arcaded box laid across the river. On the downstream side there are twenty vaulted alcoves with terraces below leading to the river. Here on warm nights hundreds of people bring their carpets and food or buy from a vendor a specialty of the bridge—lettuce in a dressing made of honey and vinegar.
The place most favored by Persians for eating is the garden. The Persian garden is not, however, what we think of as a garden but is rather a walled orchard traversed by water channels. Many gardens also contain a pool and sometimes, especially in the south, a bonegah. A garden near Shiraz where I occasionally went had one at its very center. It consisted of a circular, raised platform of clay cobbles surrounded by a stone water channel which was in turn ringed by six magnificent plane trees. Around the rim of the platform stood socketed granite blocks into which torches could be placed at night.
Here we would come early on a Friday morning—the Moslem sabbath—and lay out the carpets on the cobbled circle, scatter pillows, set up the samovar and brazier, unpack the cards and backgammon board. The morning would be given over to tea, talk, a game of backgammon. At noon the cloth would be spread on the carpet and from the hampers and canisters would come the food; perhaps a chicken roasted with lime juice and saffron, stacks of flat, unleavened bread, a platter of greens and herbs dolloped with chunks of goat cheese, yoghurt, fruit, and tea. Then the carpets would be moved into full shade and we would sleep until late in the afternoon when we awakened for tea, more talk, a stroll in the orchard. Sky, water, trees, companionship, rest, and food—such is a day in a Persian garden.
One summer evening in Isfahan a friend suggested that we walk to a teahouse in the hills and take our supper there. Hot from our climb, we decided to eat on the teahouse roof. It was a pleasant spot, the branches of a big plane canopying it, the city below in its oasis like a wash of green across the desert. For our supper we had nan-vakabab-bread and lamb-one of the simplest and best of the Persian dishes. The bread and lamb we had brought from the town in a cartridge bag. The teahouse provided yoghurt and greens, a brazier and skewers, a bottle of vodka. We kababed the lamb as we needed it, sliding it off the skewer into a piece of bread, adding a pinch of greens and herbs, dunking it into the yoghurt, washing it all down with a swig of vodka.
My friend had just flown down from Tehran that morning. The previous evening a foreign acquaintance had taken him to a restaurant in one of Tehran's new international hotels. The food, he said, had been good and the décor attractive-paneled walls and indirect lighting. "All very pleasant,"he said. "Yes." I answered. But of course it never occurred to either of us to question which was the better place to eat, the hotel restaurant or the teahouse roof.