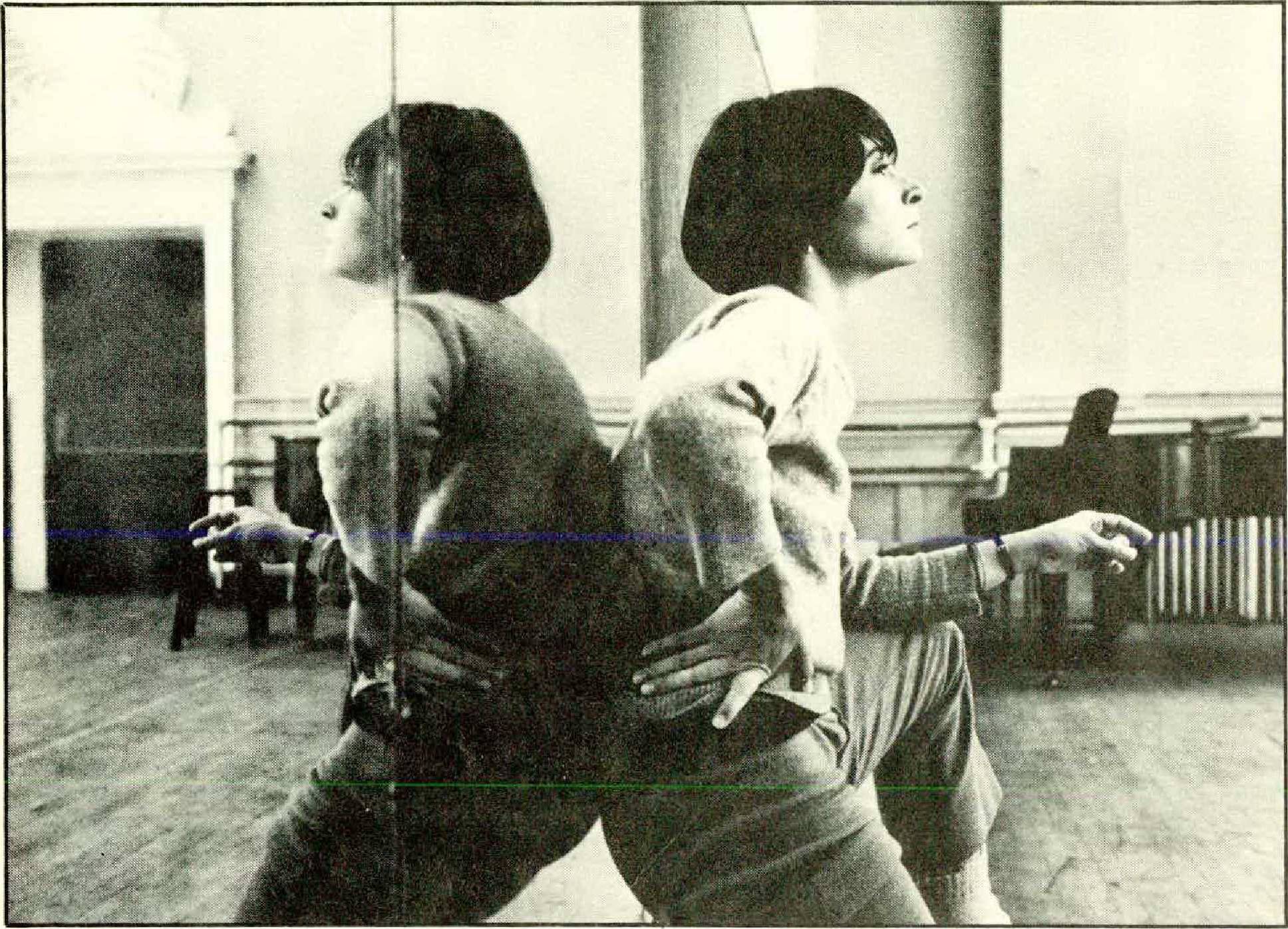 Twyla Tharp, at thirty-five, is the leading choreographer of her generation, at once the most gifted and the broadest in appeal. As a dancer she studied widely and rigorously: classical ballet, tap, baton-twirling, finally modern dance with Merce Cunningham. For a while she performed with the Paul Taylor company, then in 1965 she began to choreograph, collecting around her a group of talented dancers and appearing in various kinds of places—in gymnasiums, church halls, Connecticut College, the Polytechnical Institute of Richmond, Virginia, the Metropolitan Museum in New York, Queen Alexandra's House in London. In 1970, when she presented her Raggedy Dances (music by Mozart and Scott Joplin) at the Anta Theatre's Festival of Modern Dance in New York, she had a reputation for the beauty and inventiveness of her work, but only a small public. By 1974, when the Tharp dancers appeared at New York's Town Hall for a single performance, the police had to be called out to control the crowd on 43rd Street who had failed to get in. Her most recent New York engagement, running from March 25 to April 4 at Brooklyn's Academy of Music and combining a teaching and demonstration residency with public performances, was sold out three months in advance.
Twyla Tharp combines, as only a few people in the history of dance have done, genius and flair. Like any really original creator she goes her own way with uncompromising independence. All her dances are daring, idiosyncratic, and astonishing, but they are rarely bewildering. They have, on the contrary, an instant accessibility that makes the public accept as familiar what is, in fact, remarkably novel. She brings together disparate elements such as jazz dancing, ballet, and modern dance, and disparate modes such as gravity and flippancy, noble formality and playfulness, and makes it all seem, if not perfectly natural, then exhilaratingly compatible. On the strength of three ballets she has, in a little over two years, increased the range of dance and become in the process a celebrity.
Her first piece for a ballet company, Deuce Coupe, made for the Joffrey and danced to a collage of Beach Boys songs, was a triumph, both in the press and at the box office. Seen in a repertory that specialized in exploiting any available fad, it showed, quite devastatingly, the difference between the trendy and the popular. Her second ballet. As Time Goes By, also for the Joffrey and set to the last two movements of Haydn's 45th Symphony, was another success, though of a different sort—markedly classical this time, yet full of displaced accents, glimpses of odd behavior, passages of silence and sudden casualness. It was a work that made the young dancers, so often demeaned by the shoddy ballets they usually appeared in, look beautiful. By the time Twyla Tharp was announced as preparing a work for American Ballet Theatre she had become a famous choreographer, The idea that she was going to use Mikhail Baryshnikov was news; it was a meeting of talents that sold out Push Comes To Shove even before it opened in New York and necessitated the scheduling of extra performances after its triumphant first night.
The fact that Push Comes To Shove is both a fully achieved, impressive work of art and a hit is consequential for ballet in the United States. The huge new dance public that has come into being during the last five or six years tends to be undiscriminating. Its normal response to any performance, but especially to those given by famous companies, is enthusiasm. It loves stars, particularly imported ones; it loves big occasions; above all, it loves the opportunity to give vent to its feelings, which are usually strong and intensely personal.
Bring together for the first time Natalia Makarova (late of the Kirov Ballet) and Erik Bruhn (late of the Royal Danish Ballet) in a pas de deux set to the adagio of Mahler's Fifth Symphony (late of Visconti's Death in Venice), give it a vaguely emotional title like Epi-logue, and the result is pandemonium: flowers, bravos, a dozen curtain calls— during the course of which the audience does not so much applaud the performance as continue it, or even bring it to a climax. Sometimes you feel that the main point of a performance is the opportunity it provides for the audience to show its love for the dancers. That John Neumeier's choreography for Epilogue is uninventive, that it reveals nothing of the performers beyond their willingness to accept admiration, is beside the point. A work like Epilogue is an excuse for a communal celebration, the prelude to a love-in. During the ABT's winter season in New York a new pas de deux by John Butler for Carla Fracci and Baryshnikov, called Medea, though even more vapid than Neumeier's, gave the public a further chance to indulge in the rites of personality worship. Nobody seemed to think the ballet was any good, but everyone loved Fracci and Baryshnikov.
The success of Push Comes To Shove is of a different order. For one thing, the ovations were not merely longer, louder, and warmer, they were spontaneous. Throughout the performance the audience was quite plainly caught up in the dynamics of the work as a whole, not merely in its star, spectacular as Baryshnikov was. At the premiere there was, moreover, an incontrovertible sign that Push Comes To Shove had been something special. When during the curtain calls Tharp came on stage to join the dancers everyone stood up and cheered—an acknowledgment that her share in the evening's success was the determinative one, and, by extension, that first-class choreography is a rare and precious commodity. Except at the New York City Ballet, where the ballets of George Balanchine are the chief attraction, you rarely find the public aware of the crucial importance to dance of creative energy. But Push Comes To Shove shows that stars look even starrier in first-rate ballets. Baryshnikov was a great dancer before Push Comes To Shove, but he was in danger of exhausting his novelty; now he is a great dancer with a future. But what Push Comes To Shove proves above all is that the most exciting and valuable feature of dance is its formal expressiveness.
All of which makes the ballet sound solemn, whereas what it is is serious. Push Comes To Shove, as it happens, is often very funny, though its intention is not so much to make us laugh as to surprise us. This it does by exploiting incongruity, by cheating us of our expectations. Tharp takes Baryshnikov's special gift of being able to perform astonishing technical feats without giving any indication of their difficulty and separates the insouciance from the brilliance. She shows how great a part of his authority as a performer depends on the charm that accompanies his virtuosity. She makes him the animator of the ballet as well as its star, the emcee in a kind of vaudeville show.

The ballet opens with a prelude, set to Joseph Lamb's 1919 Bohemia Rag, that brings Baryshnikov strolling casually onstage dressed in vaguely Russian costume and wearing a derby. Standing near the footlights to one side of the stage, he looks soulfully out at the audience with his arms folded and his body slouched. After a moment he slides into movement: a series of wiggles and bumps, a shimmy, a glide, a jerk of the shoulders—all the time slipping in and out of the fluid rag rhythms. Joined by two more dancers, Martine Van Hamel and Marianna Tcherkassy, he leads them across the stage in a syncopated strut while they pass the derby back and forth, sometimes courteously, sometimes teasingly.
Only in the ballet proper, which is set to Haydn's 82nd Symphony, does Baryshnikov get to show his speed and energy, and even these flights are interspersed with throwaway gestures, with preparations for grand occasions that never take place and end instead with Baryshnikov passing his hands desperately through his hair. But Push Comes To Shove is not just about a single person and his extraordinary gifts; it is about a whole set of relationships in which he is involved. Though he dances only with Van Hamel and Tcherkassy, he weaves in and out of an entire ensemble made up of three more soloists and a corps de ballet. As these designations suggest, this is the familiar courtly universe of classical ballet in which people are seen in terms of hierarchy, yet in Push Comes To Shove they preserve their individuality, co-exist. Tharp creates ensembles not from uniformity but from the juxtaposition of independent action. There is so much going on that you don't quite know where to look. What holds everything together is the unremitting energy they all take from Haydn's music and the fact that, without warning, the derby, which eventually becomes two derbies, keeps turning up all over the place, as if to remind us that everybody, the grandest as well as the most ordinary, is implicated in foible, accident, and absurdity.