The Man Who Fell in Love With Death: Harry Crosby's Transit to the Sun
He was the prince of excess among the expatriate Americans in Paris in the 1920s. A Boston Brahmin, proprietor of the Black Sun Press, handsome and high-rolling nephew of J. P. Morgan, friend of Hart Crane, e. e. cummings, and Archibald MacLeish, author of a book of poems for his wife and another for his mistress; and, some thought, a madman. That was Harry Crosby. On December 10, 1929, he shot his lover and then himself in a studio in New York's Hotel des Artistes. Author and critic Wolff records perhaps the strangest of the Lost Generation legends.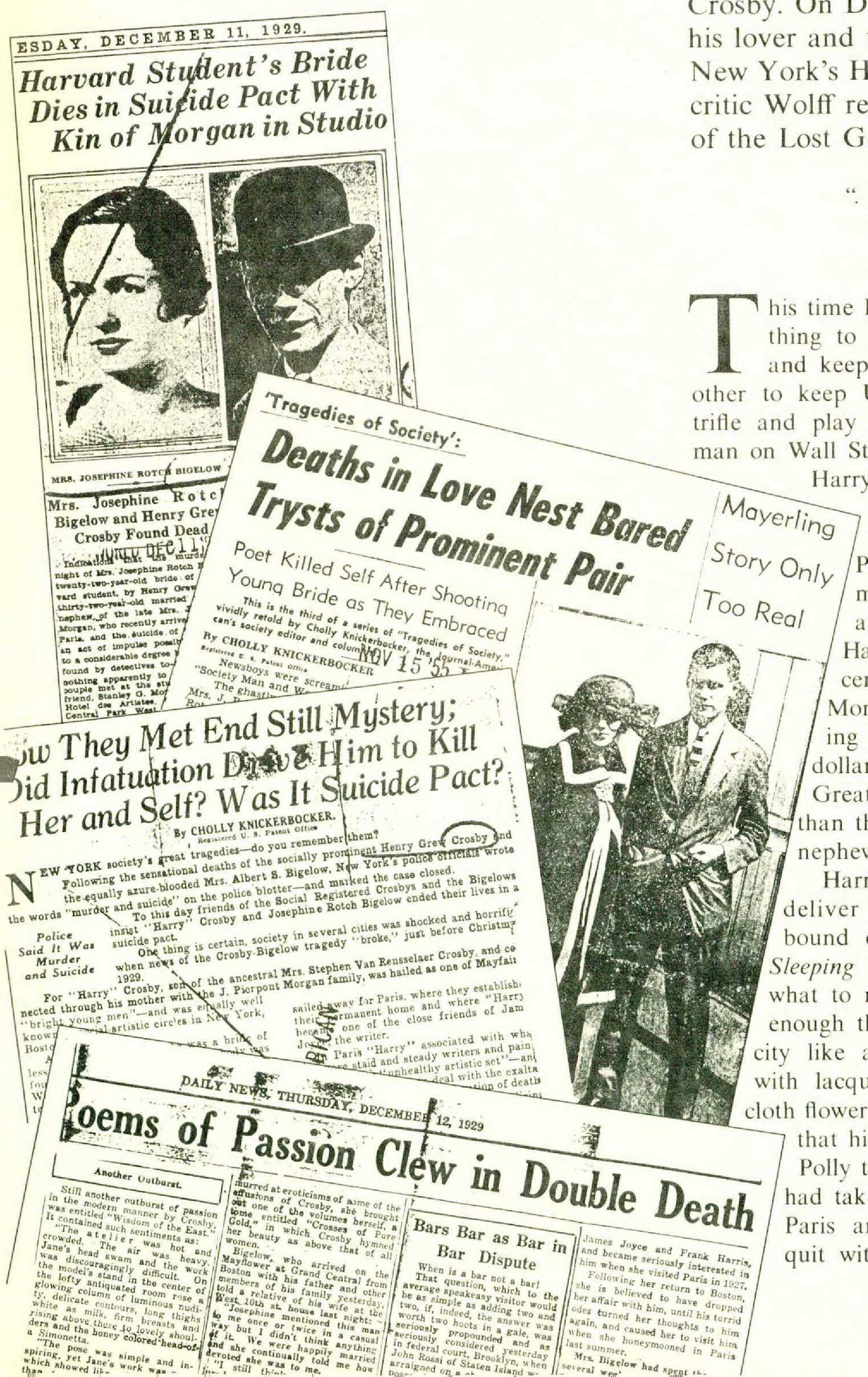 ". . . to make the Last Thing Perfect. "
—Harry Crosby's Notebook
This time Harry had gone too far. It was one thing to fashion one's life as one pleased, and keep one's own time; it was quite another to keep Uncle Jack waiting at teatime, to trifle and play the fool with the most powerful man on Wall Street. Now, going on half past five,
Harry Crosby was thirty minutes late. obliging his mother to make small talk for her brother-in-law. J. Pierpont Morgan, Jr., while that mighty personage, stealing glances at the library clock, tried to put Harry's wife at her ease. It was December 10, 1929, a difficult time for Morgan, who was mobilizing a banking pool to raise a quarter of a billion dollars to support stock prices after the Great Crash. Matters of greater moment than the capricious rhythms of an outlaw nephew had claim to his attention.
Harry had made the appointment to deliver a Christmas gift, an elegantly bound copy of his new book of poems. Sleeping Together. His uncle didn't know what to make of the young man. It wasn't enough that his nephew walked around the city like a dancing master, without a hat. with lacquered fingernails, wearing a black cloth flower in his buttonhole. It wasn't enough that his wife had changed her name from Polly to Caresse. It wasn't enough that he had taken a job with the Morgan bank in Paris and then neglected his work, and quit without so much as a by-your-leave. Now he broke appointments. Mrs. Crosby insisted that it was not like him, not at all. Had he not won the punctuality prize at St. Mark's School? Caresse insisted that there must be some proper explanation. But by six-fifteen there was no more to be said, so the ladies left the huge house on Madison Avenue and returned, bewildered and angry, to their rooms at the Savoy-Plaza Hotel.
Harry had spent the morning looking at sculpture and buying steamship tickets for his return with Caresse three days later to France, where they lived. After an early lunch he showed up at the Hotel des Artistes, One West 67th Street. His friend Stanley Mortimer, a man of the world like Harry, a portrait painter, kept a duplex studio on the building's ninth floor. He had given Harry a key because Harry wanted a place to meet with his girlfriend when she came down from Boston.
Sometimes they would arrive at Mortimer's separately. But today they arrived together. People said they looked like brother and sister. Harry and Josie, Henry Grew Crosby and Miss Josephine Rotch, both of Back Bay, Boston. Now she was Mrs. Albert (Rotch) Bigelow, had been married six months before to a Harvard hockey star in Old Lyme the morning of the Yale-Harvard boat races in nearby New London. Harry called her his Fire Princess. They both had beautiful skin, like parchment, skin that people noticed, and said they could see deep into. And they both had eves sunk beneath strong brows. Her mouth was sensuous, and her lips were full, and like hers his lips would quiver when he was excited, and like her he was frequently and easily excited. Harry was thirty-one. Josephine twenty-two. She wore her dark hair according to the fashion of the day, in a tight helmet, just like Caresse's.
Mortimer was discreet: "When he popped in Tuesday with Miss Rotch—Harry always called her Miss Rotch in my presence—I knew he was going to ask me to leave. The two of them went up to the balcony. I was at my easel downstairs, working at a painting. They leaned over the balcony rail and kidded me."
Harry had a bottle of Scotch. Josephine was wearing an orchid.
"Crosby gave me a signal and I got on my street clothes and went out."
Caresse and Harry had lived in Paris since their marriage in 1922, but they returned to America from time to time, at first to please Harry's mother, later to please themselves. Harry and Mrs. Crosby were uncommonly close: during 1927 alone they had exchanged a couple of hundred letters. And although she cautioned him from across the ocean in Boston to live within his considerable income, and urged him to govern his excesses, she nevertheless managed not to preach at him. so she maintained his affection and his trust.
She had a fine and healthy crush on her son, but he was a mystery to her, and a trial. Their 1929 reunion had not been satisfying: Harry and his father had quarreled again, and bitterly. Mr. Crosby, an investment banker, had not yet recovered from his son's drunken cable from Paris a few months earlier: "PLEASE SELL $10,000 WORTH OF STOCK—WE HAVE DECIDED TO LEAD A MAD AND EXTRAVAGANT LIFE." And when his parents had begged him to behave like a grown gentleman instead of some layabout Oriental prince, he had lectured them: "For the poet there is love and there is death and infinity and for other things to assume such vital importance is out of the question and that is why I refuse to take the question of money seriously."
Harry hated money ("Why in hell won't they transact business with gold coins instead of with those filthy germ-ridden paper bills?") and he hated the getting of it. He overdrew his account at the State Street Trust, which was the equivalent in Boston of desecrating an altar. He and Caresse bought racehorses, gambled, and entertained on an imperial scale at their Paris apartment and nearby country place, where Douglas Fairbanks might be found playing donkey polo while a member of one royal family took a bath with a member of another royal family while D. H. Lawrence was busy breaking a recording of Bessie Smith's "Empty Bed Blues" over his wife Frieda's head. Just a little bit too much was just enough for Harry.
He had had a hard war, of course; his parents realized there had been circumstances in extenuation of his willfulness and excess. When he was still only nineteen, and six months out of boarding school, a shell had exploded near the ambulance he was driving at Verdun, and had blown it and Harry's youth to junk. Harry had won the Croix de Guerre, and his mother and father could only guess at what it had cost him. But many of Harry's friends had been through the fire with him, and they had come to grips: they wore hats when they walked about town, they understood propriety and responsibility, they worked for a living, or at least pretended to. Sometimes Harry's rebellion against Boston ("Drearytown," he called it, "The City of Dreadful Night") seemed perverse. There was an almost mathematical purity in his response to his family's expectations of him: 180 degrees off course seemed always to be his setting.
Harry and Caresse had sailed from France on the Mauretania November 16. He was determined to return to Boston in time for the Harvard-Yale game a week later in Cambridge; he had enjoyed the game the year before. Perhaps not the game itself—what did he care about football?—but the wildness of the occasion, its supercharged character, the drunkenness everywhere. He appreciated waste, and liked the casual way cars had been abandoned by their owners in their haste to get to a party somewhere after the game, anywhere: New York or Long Island or Boston or Florida or California. Harry liked crowds, if they were wild enough. He was himself reserved in his manner, but he cherished the irrational: noise, energy, danger, especially danger. His favorite occasions during the past few years had been the hysterical reception at Le Bourget for Charles Lindbergh and the institutional carnality of the Four Arts student balls every June in Paris.
Caresse had realized that her husband wasn't rushing home merely to attend a football game. She knew what had seduced him back. But she didn't argue with him; what was the point? When Harry wanted to do something, he did it: "No regrets" was their motto.
They had had a miserable crossing. A storm put them into New York a day late, and Constance had been along, Constance of the Golden Horse, Comtesse de Jumilhac, another Boston lady, one of Harry's special girls. Caresse was tailing out of patience with Harry's special girls, if the truth were told, but she understood that it was late in the day to change their mutual regulations and, after all, she enjoyed her own courtiers. At least she was still Queen. When Harry wasn't passing time during the gray, rough crossing playing baccarat with Constance, or receiving cryptic and conspiratorial cables from Josephine, he was laboriously writing by hand a fair copy of Sleeping Together, his "dreams for Caresse." This gift for his wife he had had bound by Gruel in Paris, in a fabrication of rose vellum, gold embossed. Harry's taste was right on the money, always.
The dreams were weird, not perhaps just the words J. P. Morgan would have selected with his brandy to warm him in front of the library fire:
I have invited our little seamstress to take her thread and needle and sew our two mouths together ... I have arranged with the coiffeur for your hair to be made to grow into mine and my hair to grow into yours. I have persuaded (not without bribery) the world's most famous Eskimo sealing-wax maker to perform the delicate operation of sealing us together so that I am warm in your depths, but though we hunt for him all night and though we hear various reports of his existence we can never find the young wizard who is able so they say to graft the soul of a young girl to the soul of her lover so that not even the sharp scissors of the Fates can ever sever them apart.
This dream from his new book was prophetic, for it showed that Harry finally understood what Caresse had only dimly guessed, that they could be cut off, one from the other, by even such clicheridden hags as those "sharp scissors of the Fates." They had always liked to talk and write of their souls, and of their indivisibility. As far back as 1921, when Caresse was Mrs. Richard Rogers Peabody, and Harry was a student at Harvard, and they were in love but unable to marry, he had cooked up a brave, bizarre, absurd scheme to rescue them from their frustration. If Caresse didn't get a divorce, he promised her, he'd take the train to her in New York "and kill you and then myself so that we can go right to Heaven together—and we can die in each other's arms and I'll take the blame so you won't have to worry, Dear."
He had been writing seriously only since 1925, but he had already published nine books, all printed by his own Black Sun Press in Paris. Like most writers, he liked best what he had written last: "Transit of Venus (for Josephine) Sleeping Together (for Caresse) these are the two books I have written which are damn good. The others can go to hell." He had written this in his notebook a few days before he stood up his mother and his wife at his uncle's house. It was true enough that one of his favorite poems admitted that Harry had never found the wizard who could graft his soul to hers, but Caresse at least had the consolation of knowing that her lover's last words, more or less, belonged to her.
Lthe poems in his previous volume. Transit of Venus, Harry and Josephine enacted their drama in short bursts, now self-consciously placid, now furious, always elliptical. Neither the poems nor the lovers took time for enjamhement, the French word for run-over lines in poetry that translates "leg-over," and suggests transition. The poems, like Harry's and Josephine's singular theater, are truncated: lines stick out, busted like twigs after a storm. T. S. Eliot wrote a preface for Transit of Venus, and after a windy exercise in good-mannered pleading for the poet's right to fail, he confessed, "I am far from asserting . . . that I understand in the least what Crosby was up to."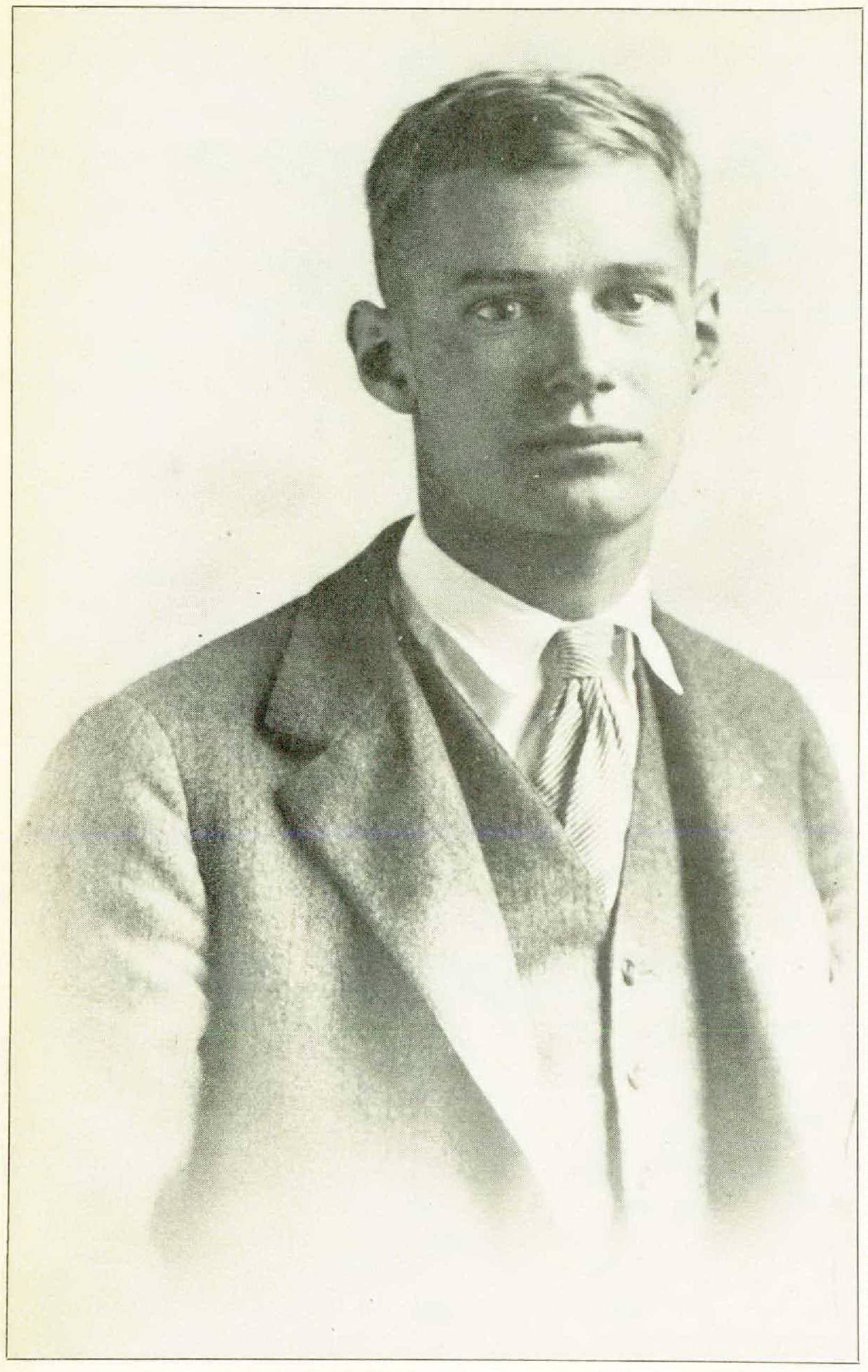 One of the poems is clear enough:
I wish to-night I were a cat
That I might slink
To where you sleep demurely
(Sleeping above the brink of dream)
And suck your breath
Slowly and surely
Into death.
The morning of the Harvard-Yale game, November 23, Harry and Josephine had managed to meet briefly, and ever since had been alternately loving and fighting. Josephine was quick to quarrel with Harry, and violent in her emotions. She had a quick temper, and was jealous, and unlike Caresse she did not hesitate to tell Harry that his attentions to other women were intolerable. No sooner had the Mauretania docked in New York than Harry and Caresse had come up on the midnight train in the company of Constance, the Comtesse de Jumilhac, and Josephine had hand-delivered a letter to 95 Beacon Street, Harry's parents' big Georgian house at the corner of Arlington Street.
Josephine had been educated at Bryn Mawr, where they taught a composed manner, smooth transitions, logical ordonnance. But her syntax in her letters, like her character, was all bounce and flesh, crazy. She jumped from a diatribe against countesses to a diatribe against her fellow matrons of Back Bay to a frenzied declaration of love. A rival for Harry's affection had described her as a "strange wild girl who delighted in saying things to shock people." So was Harry a strange wild man who delighted in shocking people. At home in Paris, according to a few outraged Bostonians, Harry had hung in his stairwell a skeleton, with a black condom for its tongue.
Harry could be a roughneck with Josephine. He was as tetchy as she was, and didn't like to be circumscribed or ridden hard. But he was in her debt (she ran monstrous risks for him: shocking words were one thing, adultery was another) and she was forever calling in payments from him. She wanted Harry to appreciate, again and again, what she was offering him. had been offering him since they first met two summers earlier in Venice. She wanted Harry to pay exclusive attention to her, within the limits of his obligations to his wife, and this he refused to do. She suffered the legendary torture on the mistress' legendary hook: If he betrays his wife for me, he'll betray me for someone else. A sound hunch commonly, but Harry's ways were not common ways. She and Caresse were his princesses; or at the least, in the unreconstructed poetic vocabulary he sometimes abused, they were his royal concubines.
But what sufficed for Caresse did not suffice for Josephine. Her appetite, like his, was cancerous. They drank too much together, and Harry taught her to use opium—"black idol" he called it. Harry had a name for every beloved thing beneath the sun, and he had more names for the sun than for anything else, for the sun was the sign of all he cherished. He was a wizard with figures, conceits, lists, correspondences. His hair was fine and was a light brown closely cropped. Sometimes he seemed not of this world at all.
At the game, Harry was relaxed and happy. He met his lover the following day in Boston, and the day after, and the day after that. Caresse left for New York when the game ended, and checked into the Savoy-Plaza, room 2702, and she wrote Harry, promising him that he'd relish the city if only he would come join her:
You will adore this room. Lying in bed I can watch the tugs nosing up the East River—see fly-like men against the skyline making towers of steel, and thrust through it all the most amazing phallic skyscraper, very straight and proud . . .
Phis is a marvelous city all energy and hardness and keenness, but I like France best, but we must come here every year . . . and after lunch Hart Crane and I have a rendez-vous under Brooklyn Bridge! MacLeish is in Conway but gets back Wednesday morning ... I adore you my darling darling darling! I sleep with "Sleeping Together"— but I want quickly to sleep together with you.
That was good enough for Harry: it never required much of a trick to seduce him away from one princess to another, back and forth. He joined Caresse November 29: New York, he wrote, was a "madhouse," and he approved of madhouses wherever he found them. His first night in room 2702 he wrote run-on in his diary that he liked "living in one room more concentrated more for the poet and high up 27 stories and the round disc of the Sun miraculous place for the sun-death room of the rising sun."
But a couple of days later Harry and Josephine stole off together to Detroit, where they shared friends sympathetic to their unconventional courtship. Detroit! What a setting for a poet to woo his Fire Princess. They went to a speakeasy and drank rum from teacups, not Harry's style at all. They stayed at the Book-Cadillac, and argued and worried and dug at each other. And Harry, always the writer, scribbled some memorial lines in his notebook :
Princess Yes
The Little Yes Princess
Little Animal
Little Yes
They were back in New York December 6, "J sick as a cat from the opium." Harry lay in bed with Caresse, staring out their window, recuperating, she thought. The next night Hart Crane gave them a party in Brooklyn. Crane liked the Crosbys, and he was greatly in their debt. They had known one another less than a year, but they became friends at once when Crane came to Paris and showed Harry his poems, the first of them "O Carib Isle." "Hart what thunder and fire for breakfast," Harry wrote him. "By Christ when you read something like that all the dust and artificiality and brie a brae are swept magnificently aside and one becomes clean like those 'clean enamel frames of death' you talk about."
Harry was hospitable to his own enthusiasms, and never so much as for people he believed to have been dusted by genius: James Joyce, above all living writers, was his favorite, and he published him in his Black Sun Press, as he did also Archibald MacLeish. He had bailed Crane out of a Paris prison after a drunken barroom brawl and had staked him two hundred dollars for passage home to New York. In France Harry and Caresse had given Crane a room where he worked, at their prodding, on his mighty poem The Bridge, which their Black Sun Press finally published after it was teased piecemeal by them from Crane, while they suffered soldierlike his drunken and homosexual escapades.
December 7 Crane gave them a going-away party, and pulled out all the stops to please them. To his Brooklyn apartment, within clear view of The Bridge, Crane invited William Carlos Williams. e. e. cummings, Malcolm and Peggy Cowley, the photographer Walker Evans, and a crew of Crane's favorite sailors. The guests fell drunk, and someone holding a pack of cards urged Harry to select one, and he prophesied that he'd take the ace of hearts. He crossed himself, picked blind, and it was the ace of hearts.
Crane was astounded, and chanted a line from one of Harry's poems about the Nile: "Let the sun shine! And the sun shone!" Crane recognized the poet in his friend, who was his own man, who gambled, who was quick to choose and to act, who could never be argued from the course he had set himself. And Caresse, quite a trick, was at the same time a grave lady and a free spirit. Before the party had wound down, Crane and the Crosbys decided they weren't yet ready to say good-bye to one another, and Harry invited his host to join them for dinner and the theater three nights later. They would see the tour de force called Berkeley Square, a comedy about reincarnation in which Leslie Howard returned from the dead to have a look at a later generation. The play was a touch slick for Crane's taste, but he accepted the invitation. Harry's mother was to be in New York, across the hall from room 2702, and despite Crane's eccentricities, maybe because of them, Harry wanted her to meet his most recent enthusiasm.
November 29 Mrs. Bigelow had written her lover telling him how much she missed him, and complaining about the bruises he had inflicted on her arm, telling him that her husband had been alarmed by them and had tried to kiss them away when she told him she had injured herself falling down. She wrote Harry that she was truly afraid of him for the first time.
Usually Harry was a gentle friend and lover, but there had been some ugly episodes recently. One night in Paris he'd bitten the pale, aristocratic throat of a visiting cousin, had broken through her skin, too, right near the jugular. Ever since the war ended Harry's childhood pals and St. Mark's classmates and Harvard clubmates had remarked that he was "queer," by which they meant that he was peculiar, odd. uncommon. But Harry was not simply an outlaw against Boston's decorums. He had taken to rituals, pagan rites beyond the imagination of his old friends. The year before, in Egypt, across from the Semiramis on the Nile, he had had a huge sun tattooed on his back. He worshipped the sun, but preferred gray autumn to the summer.
Who could unriddle him? Many people tried: he was a much talked about fellow, the hero of many scandals. Some said he was still shell-shocked, others that he was an incorrigible show-off, others that booze and drugs were his undoing. Sometimes he drank alone, and one night at his country place, the mill in Ermenonville where Jean-Jacques Rousseau had once lived, and the alchemist Cagliostro, too, he knocked back a couple of bottles of champagne and then danced and shouted and branded himself with coals hot from the fire before passing out beneath a zebra skin. His potential for violence was always evident, if usually controlled, and his obsession with suicide was so persistent that a friend remarked that shaking his hand was like shaking the hand of a corpse. Another friend, a poet and no lover of convention, said that Harry's force of character was so extraordinary that his companions were terrified to cross him, not because he displayed his power, but because he manifestly had it.
So Josephine was prudent to be "really afraid" of him, and especially now. He had been hitting remarkable highs and lows during the past few days. Perhaps it was the influence of New York, of the "madhouse." Only the day before he was to take tea with his Uncle Jack Morgan, Harry had suggested to Caresse that they fly together through the window of room 2702. She wasn't ready. Later. she said, as they had planned, from an airplane, above Paris. Not now.
Harry's mother and Caresse had hurried back to the hotel from Morgan's house. There had been no word from him, the clerk said. The ladies, distracted and alarmed, dressed for dinner and hoped that Harry would at least show sufficient courtesy to join them at the Caviar, where they were to dine. Hart Crane was already there when they arrived, and he was puzzled also, and worried. Harry's mother kept the talk flowing: she was gracious, not one to buckle easily, or spoil a man's meal by whining. Caresse could not force herself to eat. Nothing like this had ever happened before. Harry went where he willed, when he willed, but he always warned Caresse what he was up to, at least in general terms; he wouldn't worry her needlessly; even less would he act discourteously to his mother.
Caresse left the table after the first course to telephone Stanley Mortimer at his mother's apartment. This was an imposition on him, of course, not at all in conformity with the rules of distance and propriety that she and Harry liked to play by. But she was recklessly upset, she wanted to know what had become of her husband. So Mortimer agreed, discreetly, to pop over to his studio and look around for Harry.
They were discovered in each other's arms, lying in the bedroom upstairs off the balcony, beneath a silk coverlet and dressed except for their bare feet. Mortimer had reached his studio shortly after nine-thirty and tried the door: it was bolted from inside, and no one answered his knock. He called for the building's superintendent, who broke in with a fire axe. Harry was gripping in his right hand a .25 caliber Belgian automatic. There was a bullet hole in his right temple, and a bullet hole in her left temple. His free arm had been wrapped languidly around her neck, and their left hands were clasped. They faced each other. She was wearing her orchid.
Among his clothes police found the Cunard Line steamship tickets he had bought that morning for his return home with Caresse. And, in cash, $523.75. And several artifacts fashioned from the gold in which he had invested so heavily with his metaphors. These objects were translated by the language of the death report into a "yellow metal chain containing 17 parts, one yellow metal letter A." And, most resonant of all. they found Harry's sun ring, which he had sworn to Caresse never to remove. This "yellow metal ring" was found on the bedroom floor, stomped flat.
Police also found a telegram from Josephine, addressed to him on the Mauretania: "CABLE GEORGE WHEN YOU ARRIVE AND WHERE I CAN TELEPHONE YOU IMMEDIATELY. I AM IMPATIENT." In his pocket was another cable from another girl; it said simply "YES," Harry's favorite word. The police noticed, surely with dismay, that the toenails of Harry's bare feet had been painted bright red.
Caresse never went to Mortimer's studio to witness the carnage. Instead she telephoned Archibald MacLeish, who was in town from his Massachusetts farm to pay his respects to his friends from Paris. She begged MacLeish to take charge, and he did.
At the scene of death a detective told reporters that murder most foul had been committed, followed by suicide. Then the chief medical examiner announced that a suicide contract had been executed. The final and official case-closing judgment was a finding of homicide followed by suicide; newspapers quoted the deputy chief medical examiner, who conducted a postmortem examination, as having said that he inferred homicide from the position of the bodies, "and the expression of smiling expectancy on the dead face of the beautiful young wife, indicating that she had gone to her rendezvous expecting a caress, not deadly bullets." Everyone, however, agreed that Harry had let himself live two hours longer than Josephine. MacLeish was amazed: Where had he traveled those two hours? What sights had he seen?
When Caresse posthumously published the final volumes of Harry's diary, Shadows of the Sun, she bravely left almost everything in the record that had mattered to him: his many loves, her misadventures, their fights, his last deep dwelling in Josephine's erratic moods and hours. But she cheated too, just a little. By her published version, the last entry Harry made was on December 9: "And again my invulnerability is put to the test." It sounds as though he went forth to do battle as in a tournament of wills, his against Josephine's, and was defeated and honorably died. There are in fact two entries in Harry's hand following the one Caresse printed. The last, banal enough, declares "there is only one happiness it is to love and be loved." But this declaration rests on a killing assumption, his final entry but one: "One is not in love unless one desires to die with one's beloved."
If Harry and Josephine had dreamt they would be married by blood, they could never have imagined to what degree the manner of their death would polarize the survivors who loved them. Albert Bigelow knew his wife had been murdered: "This man lured her to his apartment and murdered her. I don't believe in any suicide pact no matter what the police or anybody else says, and I believe my wife to be the victim of a mad poet who turned murderer because he could not have the woman he wanted—and who was true to me."
Josephine's friends supported the widower's judgment. Why, hadn't Mrs. Bigelow said to some of them, only a few weeks earlier, that her married life was "terribly happy"? And hadn't she been in high spirits that very morning when she left the Park Avenue apartment of Margaret Burgess, an old school chum with whom she was staying? And why shouldn't her spirits have been high? Hadn't she made an enviable match with Albert Bigelow? He was handsome, and intelligent, and young, and enormously popular. Also, Mr. and Mrs. Burgess had planned a party in her honor for the very night she died, and she had seemed to look forward to it. Surely she would not, they thought, have selected the night of a party given in her honor to fulfill a suicide contract?
On the other hand, one of Harry's lady cousins thought he had been misled and ruined by Josephine: "She was always rather a bad egg around Boston; she was always renowned for being fast. She led Bert a miserable life, and then she met Harry. I think the Bigelow family felt rather badly when Bert married her, but I gather she had a good deal of sex appeal, as they say. She was really such a passing fancy."
One of Harry's closest friends, Gretchen Powel, had had lunch with him the day of the bloodletting, and her recollection supports the notion that Josephine was merely "a passing fancy." She recalls: "Harry said the Rotch girl was pestering him; he was exasperated; she had threatened to kill herself in the lobby of the Savoy-Plaza if he didn't meet her at once. He agreed to see her, reluctantly."
No accurate likeness of Harry can permit him to be regarded as anyone's innocent victim. Some of Harry's extreme partisans, together with people whose recollection of the events have muddied over, permit themselves to believe that Josephine killed Harry, and then herself. Truth is, Harry had been searching for the lover who would die with him; in that sense, they killed each other, in accordance with their wishes. The raw conclusions of the autopsy nonetheless hold: Harry shot Josephine, and two hours later shot himself. The evening before she died Josephine had delivered to the front desk of the Savoy-Plaza a rambling collection of verses. Written on the envelope that enclosed the message to her husband (a meandering poem, "For Harry," of thirty-six lines) is, in Caresse's handwriting, her note of explanation, a wrenching complaint: "This letter Josephine brought to Harry at the Savoy Plaza the night before he died. She had not left town as she had promised to do."
The poem is an inventory of those objects and impulses which Josephine believed that she shared with her lover. It is explicitly sensual, and invokes their mutual love of orchids, caviar, champagne, the number thirteen, and the color black. It declares that they share a belief in the final act of Van Gogh, and that together they worship the sun as a god, and that a child, Pamela, belongs to them. Its concluding line is unambiguous: "Death is our marriage."
What puzzled the police, and fueled the newspapers to write follow-ups through the week, was the absence of a suicide note. The newspapers looked high and low, very low, for clues to what that damned note would have said had Harry only been thoughtful enough to write it. They tried disappointed love, with a boost from Stanley Mortimer, who suggested that the couple had died of frustration, that Society, barring their divorces for the purpose of marrying each other, had killed them. He was off by a mile. Then the newspapers offered booze as a likely suspect, since it was known that Harry and Josephine had finished most of a bottle of Scotch together. (They never thought to headline drugs, though drugs wouldn't have led them much further than love or hootch.) They suggested that immoral times had killed the couple, that European influences had pulled the trigger twice. ("Mr. Crosby, who had lived several years in Paris, held suicide preferable to life in America.") The New York Daily News put its theoreticians to work and reached a novel conclusion regarding the cause of Josephine's death, as seen in the headline:
"POEMS OF PASSION CLEW IN DOUBLE DEATH"
The New York Daily Mirror, the better to solve the mystery of the gunshots, consulted authorities on aberration: "Profoundly moved by the double tragedy which carried the Byronic Harry Crosby, society esthete and Great Lover, to his death . . . psychologists yesterday [December 11] probed further into the young man's writing, seeking there some new reason for the rash adventure."
They were getting warm. Harry's writing was no more nor less than a prolonged suicide note; he had many times, and in every imaginable manner, composed its thesis: "Death is the hand that opens the door to our cage the home we instinctively fly to." Death was a "Golden Future" and "a land where nothing was amiss." By his writings he instructed himself in it, arranged its form, provided for himself the whip to lash him home. It inspired him, literally: it breathed life into him. Death was a goal he ran toward full tilt. He was a poet of final stanzas, so he liked to believe, and that last shot was no more than a punctuation point, a dot smaller than his smallest fingernail, a hard period, full stop. Of course he would leave no vulgar, prosy, summary note.
Harry's experience of art, and its most dangerous risks and sensations, was deep. For the sake of art it was his preposterous ambition to translate himself from a Boston banker into a genius. He studied geniushood as his school friends studied contract bridge, and he decided, with terrible calculation, to short-cut his way to genius by way of madness. He is a laboratory wherein may be studied the terminal consequences of the religion of art, because he alone among the outlaw artists of his time translated every aesthetic notion so long as it was sufficiently wayward, outré, and violent— into an act. In his heart he lived a killing metaphor: Art is magic. The magician is a god. God can do anything. And never mind the cost.
The poet he admired more than any alive, other than Eliot, saw him out. Harry and Caresse had promised each other that whichever of them survived would stand deathwatch over the other's corpse till its soul was safely home. But when the moment came, Caresse wasn't up to the bargain, and it fell to Archibald MacLeish to honor her oath:
As I sat there looking at his corpse, seating myself where I wouldn't have to see the horrible hole in back of his ear, I kept saying to him: you poor, damned, dumb bastard. He was the most literary man I ever met, despite the fact that he'd not yet become what you'd call a Writer. I never met anyone who was so imbued with literature: he was drowned in it. I think I'm close to deciding literature is the one thing never to be taken seriously. (I take poetry seriously.) Harry took it literally. That's what made me so damned mad at him.
But literature-art—like Josephine, was only his accomplice in murder. Death had been his master long before he began to write, even before he began much to read. He loved death. And during those two hours alone with his still lover and himself and his odd, familiar friend, Harry must have studied the dead girl, trying to find in her smile some clue to where he was about to take himself. A clerk at the Savoy-Plaza believed he saw Harry wandering in the lobby while his mother and wife were at tea with J. P. Morgan, just after he had fired the first shot. More likely the clerk had seen a phantom; more likely Harry simply lay beside Josephine trying to unriddle himself, so that he would finally know, before he finally left, where he had been.
His first thoughts of suicide must have come to him during the war. He had learned in France to subdue his terror, and saw at first hand that death, as he had been taught by funeral-loving Boston and a pious mother, was both an occasion for celebration and a reunion with one's kinsmen already dead. Harry believed as a child in a life after death, and he believed as a man of thirty-one, about to shoot Josephine and himself, in a life after death; moreover, a better life than any earth could afford. Nothing else can explain his joyous anticipation of his death with Caresse. As far back as 1921 he invited that death, self-imposed, for her and for himself. Nothing could be more astonishingly natural, or boyish, than the sentence dropped in the midst of a forty-page letter of love to Caresse: . . If by any chance I should die or be killed (I promise you never to kill myself unless you die or unless I kill us both together) I hope you'll end your life and come to me right away so we can be together as One in Heaven."
He was at Harvard when he wrote that, but he meant it, and meant to live by it. Later, Heaven would be translated into the Sun, but the character of his sweet eternity never changed. Three years later he reminded Caresse, as though she needed reminding, that he was ready to die with her at any time, she needed only to say the word. (The word that Josephine doubtless said, just the precise yes.) And from time to time something would steel his conviction: he was deeply impressed upon reading, in The Picture of Dorian Gray, that "youth is the only thing worth having. When I find that I am growing old, I shall kill myself." The promise is commonplace, but was nonetheless persuasive to Harry. He determined to kill himself before he aged, and what Harry determined he enacted. For him it was only logical.
On November 8, 1925, Harry—by God knows what persuasion—obliged Caresse to enter with him into a contract, which they signed together and which he thereafter carried with him always. The contract, written in ink on notepaper bearing the Crosby cross, is titled "Burial Instructions of Harry and Caresse Crosby," and it calls for their cremation—together—followed by their burial—together—beneath a "strong, simple gravestone wrought of white marble." It offers detailed instructions for their headstone inscription, and specifies burial in the Cimetière de l'Abbaye de Longchamp if possible, and at Manchester-bythe-Sea if not. Their intention is simply stated: "Having sworn a sacred pledge to die together which pledge we believe to be beautiful and true in sight of God. . . ."
They had found the cemetery during a walk in the Bois de Boulogne at the close of 1923, and Harry had seen at once that it was for him. "a real burying place." From that time forward he visited the place compulsively, became friendly with the groundskeepers, selected a headstone, and had it delivered to the cemetery. But while all this transpired he began to write in his diary (and on odd scraps of paper and on his calling cards and in the margins of books) yet another instruction, and this also he carried in his billfold:
Instructions to be carried out at our death:
We desire to be cremated together
We desire that our ashes be mingled together
We desire that our ashes be taken up in an
aeroplane at Sunrise and scattered over New York.
He was so beside himself with the idea of the disposition of their bodies that he could not decide— an ass between two bundles of straw—which he most devoutly wished for, the burial near the Bois or an ash-fall over New York; the dive down or the flight up.
Similarly, he was torn between methods of selfslaughter at first, and could not fix for himself a satisfactory deathdate. In 1924 he thought he might kill himself at the Cimetière de l'Abbaye de Longchamp, in a gesture profoundly noble in its economy and fitness. But how? He collected methods like a connoisseur; he clipped news stories about a woman who swallowed needles until she died, and about a man who had caused himself to be locked up in a cage for thirty minutes with lions, to whom he read his verses. (The lions were pacific, or paralyzed with boredom.) Visiting Vesuvius, Harry decided that suicide in the actual crater would not be possible, for one would be maimed before reaching the rim. In 1924 he settled on poison—laudanum—a gentle death.
It never left his mind that Caresse should go with him, and he instructed himself, and her, in the custom of Hindu wives who, from time to time, throw themselves on their husbands' funeral pyres. He noted with appreciation the case of a female lion who had pined away and died in the London Zoo when her mate had died before her. At the end of 1928 he picked the means and the date: "The most simple Sun-Death is from an aeroplane over forest (31-10-42) down down down down Bang! the body is dead—up up up up Bang! ! ! ! the Soul explodes into the Bed of Sun."
A pistol was always a serious rival to the plunging airplane: it was easily available, conveniently employed, and it made a loud bang. Harry had a fixation on Eliot's catch line from The Hollow Men about whimpers and bangs. He refused to be remembered as a hollow man, and he hadn't too firm a purchase on metaphor (or he considered a metaphor to be an evasion of responsibility, and beneath contempt), so he settled in the end for his little Belgian automatic, with the sun engraved upon it. It should not be imagined, however, that his back-and-forthing about the means he would use to kill himself was in any way agonized or painful. He loved it, and his diaries are at their most exuberant when he is about the business of studying the history of suicide, the physiology of suicide, the rationalization for suicide, Montaigne on suicide, Nietzsche, Schopenhauer, Freud, Burton, Voltaire, anyone who shared his passion, his hobby.
Indeed, it can be said that Harry was at his most healthy, at his least morbid, when he studied his forthcoming self-slaughter. He promised not to wait for miracles, but to run to meet them, to seize for himself a great adventure. He would create for himself a cosmos, and abandon it in his own good time. "Death: the hand that opens the door to our cage the home we instinctively fly to: the Sun." He talked it over with friends he could respect, not as though he were sharing with them a dirty secret, but as though he were bringing them wonderful news about himself, about some unexpected bounty that had come his way. He talked to MacLeish, for instance: "I knew of his central commitment to dying while one was in the full of life, of choosing his own death. My impression was that it was all good fun, good decor, but not to be taken too seriously. My own conviction was that he wasn't serious about it, till I found out the hard way that he was deadly serious about it."
He was more circumspect about his corollary ambition, "to have influence strong enough to lead a band of followers into the Sun-Death." Solitary suicide was no good by Harry's lights: it might be misread as a vulgar symptom, as the final convulsion of a man suffering terminal depression, terminal anxiety, terminal failure. To convert another to one's faith: that was the point. To validate one's faith, and enact it: Yes.◻