1. Having fun in the EOB
Beginning this summer, the federal government will publish a new and unusual series of documents called "Weekly Briefing Notes on U S. Domestic Developments." They are a statistician's dream: a compilation in graph or chart form of virtually all the information available in Washington on a host of subjects—from traditional topics such as "Compensation Per ManHour" and "Distribution of Electric Power" to unusual ones such as "Recent Movers." "Obesity." "Amount of Pollutants Released into the Atmosphere," "Endangered Species," "Public Attitudes Toward Science and Technology," and "Attendance at Cultural Events."
These documents are the brainchild and special project of the capital's most prominent odd man out, Vice President Nelson A. Rockefeller.
"I'm crazy about charts,"says Rockefeller, "and I found [on taking office as Gerald Ford's appointed Vice President] that the President was, too." So it was that Rockefeller set about establishing a chart room for the White House, which could draw upon the various government departments working with national statistics and, with the help of a computer, pull information together for easy reference. At first, the weekly briefing book went only to the President and the Vice President (neither of whom, confides one aide, can really understand the charts); but eventually it was shared with presidential assistants, and now with the public. Rockefeller's charts may or not make a genuine contribution to public policy and scholarly research. Their chief significance for the moment, however, is as an example of the handiwork of the irrepressibly energetic character who temporarily holds a job with no constitutional responsibilities other than presiding over the Senate and being available to serve should the President become incapacitated.
The simple fact is that when he was first named to the vice presidency, late in August 1974, Rockefeller solved a short-run problem for Ford: he broadened the new President's shaky constituency and helped encourage the idea that there would actually be a Ford Administration distinguishable from the discredited regime of Richard M. Nixon. Yet Rockefeller's long and quarrelsome confirmation hearings were an immediate distraction. Within the White House, he came to be regarded as too high-powered by half, an overambitious intruder who sometimes outshone his boss. Soon, with the prospect of Ronald Reagan's challenge looming on the Right, Rockefeller became a political liability in Republican circles; and that provided a pretext for Ford to dump him as his 1976 running mate.
If Rockefeller's sudden dismissal from Ford's 1976 team was intended as a humiliation and a means of suppressing his peculiar energies, it was hardly a success. His suite in the Executive Office Building is a maelstrom of activity, and his removal to the sidelines of the Republican battlefield (he is not even encouraged to support Ford too loudly) has, if anything, freed his time for more handiwork, assigned or volunteered. "I feel great, and I do little odd jobs," he says with his well-known grin. To him, everything is potentially interesting—including a pro forma position as a regent of the Smithsonian Institution. ("We all go to meetings and have a good time.")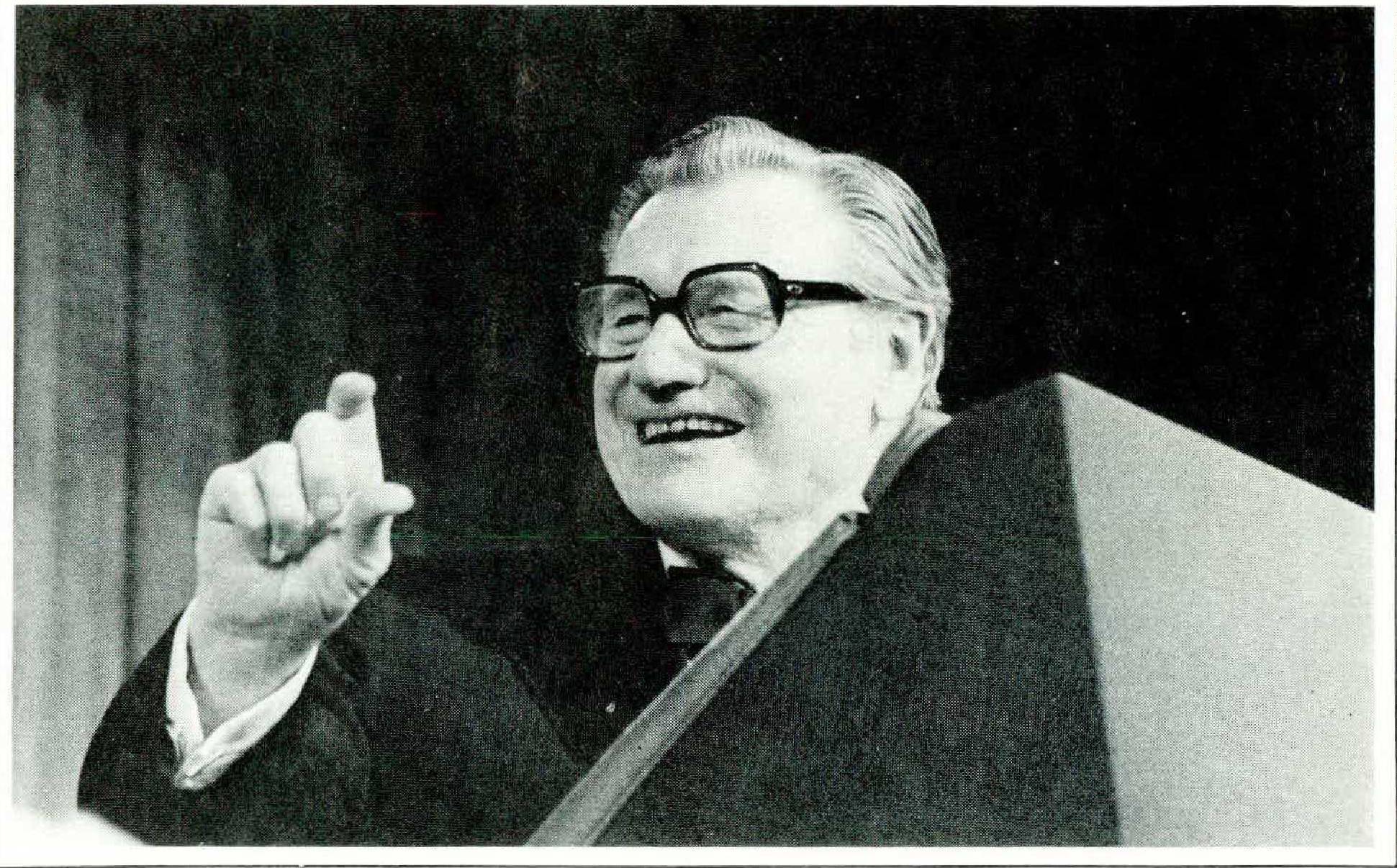 His own presidential ambitions apparently quashed again, Rockefeller perceives himself as an interloping visitor in Washington, "a staff assistant to the President . . . down here just to be helpful." And the President, perhaps partially out of concern over what other tasks Rockefeller might dream up for himself if left to his own devices, keeps giving him assignments. There was the commission to investigate CIA activities within the United States, and the President's Panel on Federal Compensation. Originally just a member of the National Commission on Water Quality, Rockefeller, on assuming the vice presidency, became its chairman and guided it toward producing a report that he felt would balance environmental concerns with the needs of industry.
He was slipped in as a member of the Commission on the Organization of the Government for the Conduct of Foreign Policy, a three-year-old project that was officially chaired by former State Department official Robert D. Murphy. "This [commission] was what is known as getting out of hand," Rockefeller explains, "and I was asked to go in and try to rescue the operation."Using his own staff, he engineered a report that was "acceptable to almost everyone, but satisfactory to no one" (that is, it was mildly critical of Secretary of State Henry Kissinger and his monopoly role in managing American foreign policy). As chairman of the National Center for Productivity and the Quality of Working Life, he has, among other things, launched his own studies of the effects of government regulation. When the mortgage was about to be foreclosed on the Capitol Hill Club, an old Republican institution in Washington, he raised money to save it. He shrugs as he explains: some such workaday tasks simply need "more experienced management."
Rockefeller is the first to admit that there are times when, for all his sincere efforts to help, "I become the problem instead of the solution to the problem." A case in point is his tenure as vice chairman of the Domestic Council within the White House. Ford virtually turned over that mechanism, which had been moribund in the latter days of the Nixon Administration, to Rockefeller, allowing him to select most of the key staff members and organize priorities. The Vice President took his job so seriously and aggressively that he began stepping on the toes and the prerogatives of other White House councils, some left over from the Nixon years and some newly organized by Ford, and offending the Cabinet members in charge of them. Thus came well-publicized flaps with Treasury Secretary William Simon over Rockefeller's proposal (still only timidly supported by the President) for an Energy Independence Authority, and with former Commerce Secretary Rogers C. B. Morton.
In the fall of 1975, during the Administration's self-conscious attempt to show that it was communicating directly with the folks in the heartland while reviewing federal programs. Rockefeller, as overseer of the Domestic Council, was sent out to hold regional "Public Forums on Domestic Policy" in Denver, Tampa. Austin, Philadelphia, Indianapolis, and Los Angeles. They became grand day-long extravaganzas, with an average of 1000 people hearing 2000 pages of testimony at each one. Only two forums had been completed before the announcement, in early November, that Rockefeller was out of the vice-presidential running for 1976. But there, just as Ford and his political advisers were wishing he would disappear, was Rockefeller, out front as the White House's field investigator. Ultimately, he produced a 765-page tome summarizing his findings, including some that were not entirely consistent with the Ford policy line (for example, a conclusion that "National Health Insurance Is Necessary"), and made nineteen major recommendations for the President's State of the Union message (few of which were followed). Last winter, the Vice President, by his own account, "withdrew" from an active role as vice chairman of the Domestic Council, a title he still holds.
Although humility is not his strongest suit, Rockefeller acknowledges that, even after fifteen years as governor of New York State and several earlier stints in the Washington bureaucracy, he had to learn a few lessons in governmental maneuvering upon returning to Washington. For example, take the assignment to study and make proposals for the reopening of a science adviser's office in the White House, which Nixon had shut down. As is his wont, the Vice President called together some of the most respected authorities on the subject of government science policy for a weekend conference in the countryside. They came up with an ambitious suggestion for a new office that would include five specialized assistants. But Ford's staff sent it back, complaining that Rockefeller had submitted an "advocacy paper" instead of an "options paper." The dissatisfied presidential aides developed their own options paper, which included Rockefeller's proposal under the surprising heading of the "Kennedy plan." ("I guess they figured that would be the way to kill it." observes the Vice President with a wink.) Eventually it fell to the Domestic Council, at a moment when it was under Rockefeller's influence, to re-establish the science adviser's office. Of course, it was his original suggestion that was implemented: the difference was that he went along with the implication that the idea had been the President's.
"If you have a sense of humor down here, everything's fine," says Rockefeller, summing up his Washington experiences at a moment when he was setting off for a series of speeches that expressed his own, not necessarily the President's, views on national problems. To be sure, that is easier to say, and to do, when you are Nelson Aldrich Rockefeller, with a personal fortune of $218 million behind you and, after all these years, a certain segment of the public prepared to take seriously whatever you say. Ironically, for all the attempts to do him in, Rockefeller is now a man who can afford politically to have a good time, who can indulge his taste for flashy charts and redesign the vicepresidential seal (the eagle's wings now point up instead of down). Instead of fretting over his past mistakes, his current tribulations, and his dreams of what might have been—and there are plenty of all of those—he is working on having the last laugh.
2. Hard times
The mysterious caller, referred by a mutual friend, has a voice that is solidly mid-Atlantic in accent and plaintive in tone. He wants to explain that "all that glitters is not gold," that the public has a false impression of the glamour and rewards attached to his job; he is a freshman member of the United States House of Representatives. He swears that he is going broke on his salary of $42,500 a year and has taken a rather unusual step in order to try to make ends meet: he sleeps in his office on Capitol Hill. Some people might make effective political hay for themselves out of such behavior devotion to duty, parsimony on the public's behalf, and all that—but this man, in his forties, declines to let his name be published. He is frankly embarrassed about his living arrangements, concerned that his constituents, many of whom, of course, earn far less, will not understand, or that some of his colleagues in Congress will think him a bit odd.
When he was first elected, in 1974, the congressman and his wife made a decision that she would not move to Washington with him. They felt it would be too disruptive to make their two children change schools, especially since one of them would soon be ready for college; and besides, the relative proximity of his district to Washington and his concern for building his political standing there meant that he would be traveling back and forth often (three times a week on the average, as it worked out).
He initially tried living in two different small apartments close to the House office buildings, but each cost almost $400 a month; one, he found, was dirty and had "too many young people," the other unsafe and had "more dogs than people."And he felt he could not afford the rent with all his other bills: $525 a month for his mortgage and other loans back home; $150 a month for renting a car (his previous job, before he was elected to Congress, had provided him with a free one); $135 a month on utilities; at least $90 a week for food both in Washington and at home; $1000 a year for property taxes, and another $1500 for state and local income taxes, not to mention federal taxes. Then there is the travel not covered by his official House allowance, plus the entertainment of friends and supporters from home who visit him in Washington. ("The constituents don't realize there's no such thing as a free lunch or a free flag.") He claims not to have been able to afford any new clothes since his election.
When Congress voted itself, along with other federal employees, a 5 percent cost-of-living increase last year (raising the effective salary to $44,625). he gave his away to charity, because he believes it is improper for legislators to increase their own compensation for a term to which they have already been elected. For others, who still have a 1974 campaign debt to work off, he assumes that the situation is even worse.
Several months ago, feeling frustrated and angry, the congressman approached the superintendent in charge of his office building to ask whether by chance it was permitted for a congressman to bed down in his own suite. "Join the crowd," he was told; there were already four or five other members doing the same. (Their identities are well concealed and protected by their friends.) So he replaced the government-issue couch in his private office with a convertible sofa bed (monthly rental: $26) and moved his suitcase into the closet.
It is not, he insists, an idyllic existence; he generally works until about 11 P.M. and then tries to get to sleep. By 1 A.M., however, the cleaning men arrive in the hallways, only to be followed by cleaning women at 3. His alarm clock, he says, is the mailman, who throws his bundles against the door at 6:45 every morning. The congressman uses the showers in the House gym in the morning, sometimes after a quick game of paddleball. There he sees other members and wonders whether they are the ones who also live in their offices; but the subject is not discussed. He says that he usually tries to eat a hearty breakfast and lunch in the House cafeterias, because his customary dinner consists only of fruit and soft drinks from his office refrigerator. During one week in March, he never went out of doors between Monday morning and Thursday afternoon. When his wife comes to town on special occasions, they take a room in a motel.
He already has second thoughts about having announced for re-election—"But then, if I didn't, what about all these Bicentennial speeches I give about the need for people to participate in their government?" If he is re-elected this year, he says, "I've got to think of something else. Maybe I could rent a room in somebody's home." But the only long-range solution, he believes, is for Congress to have a raise, a big one, to $50,000 a year or more. "We should take our case to the public and show them this would not be a wasted expenditure. . . . We don't want to encourage only the wealthy to come down here; we need a good cross section."
As for the federal judges, a number of whom recently filed a lawsuit in the U. S. Court of Claims charging that inflation has drastically and unconstitutionally reduced the value of their $42,000-a-year salaries, the congressman and his colleagues generally find "different considerations": judges are not, for the most part, required to maintain homes away from home; they don't work the same long hours; and their expenses are lower. Surely the average federal judge's chambers would accommodate a nice big sofa bed; and their mail probably doesn't come nearly as early.
3. Closed for business (almost)
Thirteen hundred civil servants left the national headquarters of the Selective Service System in Washington and its regional offices around the country on Friday evening, February 27, never to return to their desks. They had been "riffed" out of their jobs (which is what happens to government employees when they are the victims of a "reduction in force"). At the same time, telegrams arrived at the office of Byron V. Pepitone, director of Selective Service, from each state headquarters; they announced the disposal of property and shrinking of operations, effective February 28. That was the day when the famous bureaucracy for drafting young men into the military went officially into what the Pentagon calls Deep Standby status.
A few years ago demonstrators were still being taken to federal court for breaking into local draft board offices and desecrating the files. There no longer exists a single such office in the country where that crime could be committed. The 14,000 draft board members, the "neighbors" who passed on every registrant's prospects during the last several decades—presidential appointees who served without pay—will be thanked sometime this summer and told that their services are no longer needed. The system's manpower pool, kept track of by a computer in Alexandria, Virginia, now includes only the names of young men born between 1953 and 1956. Young men turning eighteen are no longer required to register at all; the millions of men who have draft cards need not carry them (although it is still formally a federal offense, punishable by five years in prison or a $10,000 fine or both, to burn or otherwise destroy them). A budget that reached $100 million at its peak, in fiscal year 1972, is down at present to $6.8 million. Further reductions are planned, and by September 30, 1977, the Selective Service System is scheduled to have only 100 full-time employees.
Conscription being the inherently controversial issue that it is. Selective Service has a colorful history in America. Its dramatic high point came on October 16, 1940, when, after Congress had passed the nation's first peacetime draft law, 17 million men between the ages of twenty-one and thirty-live registered on a single day. Two weeks later, Secretary of War Henry Stimson, blindfolded, drew the first lottery numbers out of an enormous goldfish bowl and handed them over to President Franklin D. Roosevelt, who announced the results on a live radio broadcast. The low point may have been on June 4, 1971, when Selective Service Director Curtis W. Tarr—successor to the venerable Lewis B. Hershey, who had been forced out by President Nixon in 1970 after tw'enty-nine years as head of the draft decked an anti-Vietnam War protester who had broken into his office in an effort to handcuff him and make a citizen's arrest. Now, few people pay any attention.
Today's decline, and near disappearance, of Selective Service is the result of the 1970 report of the President's Commission on an All-Volunteer Armed Force, chaired by former Defense Secretary Thomas S. Gates, Jr.— one of the few presidential commissions of recent years whose advice was heeded. It said that a volunteer force in the United States was not only possible but also preferable to one that included many unwilling conscripts; and it adopted an approach recommended by one of its more forceful members, conservative economist Milton Friedman. He proposed recruiting soldiers by offering higher salaries and special bonuses to compete with other wages and opportunities in the free-market economy. Thus began what Pepitone, himself a thirty-one-year Air Force veteran and director of Selective Service for the last four years, calls "a great social experiment."
Although many skeptics shook their heads over the prospect, the Pentagon reported last fall that the experiment is working, that the country can get along for now with the volunteers and the reserves. As a result, the one-day national registration scheduled for March of this year, with the cooperation of the American Legion and Veterans of Foreign Wars, was canceled. Under its Deep Standby guidelines, Selective Service will now train 850 specially designated reserve officers who, in forty-eight fourhour drills and one two-week summer camp session a year. will be taught how to launch conscription again in time of emergency. As envisioned by Selective Service, an emergency draft would include none of the special deferments that became so controversial and were discredited in the 1960s. It would involve a lottery, and the youngest registrants, rather than the oldest, would he called first. According to official estimates, the new system, manned by the reservists, would take 110 days after the passage of a draft law to produce the first inductees for the military, and 150 days to produce 100,000 of them. (In 1966, the peak year of the Vietnam draft, 382,010 men were inducted.) The dismantling goes much further than the post-World War II cancellation of the draft in 1947, which lasted only a year before tensions in Europe built again.
Pepitone. still ensconced in his sixthfloor director's suite two blocks from the White House, is a prince without a realm. A sepulchral silence has fallen on the rows of empty desks at Selective Service headquarters. One of the few ongoing activities in the building is the Reconciliation Service, which runs the alternative work program for the 12,000 deserters and draft evaders who have already been cleared through President Ford's Clemency Board, the Defense Department, and the Justice Department. (Predictably, the Vietnam-era resisters are not the most popular group among old-line Selective Service people. One member of the Reconciliation Service calls the Clemency Board referrals "the little honeys." and another offers a visitor a copy of the board's minority report, which criticizes the majority and staff for "very biased pro-amnesty views.")
"There is a strong feeling in the rank and file [of Selective Service employees]," says Pepitone, who agrees with them, that "a mistake has been made. It is a matter of national preparedness." Even though a future war might require an entirely different kind of manpower fewer infantrymen and untrained, unspecialized personnel—Pepitone objects as a matter of principle to abandonment of the draft and of the obligation to register. "We ask too little of our young people, in my judgment."he says.
Pepitone and the former clerks of local draft boards, now out of work, are not the only ones who have raised an alarm over Deep Standby. Conservative members of Congress argue that the Ford Administration has simply taken a politically expedient course of action by forcing such drastic cuts in the Selective Service budget this election year. Congressman F. Edward Hebert, Democrat of Louisiana, the deposed chairman of the House Armed Services Committee who remains chairman of its investigations subcommittee, recently held hearings which indicate that the decision to dismantle may have been forced on the Defense Department by an overeager Office of Management and Budget. Drawing on testimony from Tarr, now chairman of the Defense Manpower Commission, who maintains that annual registration and classification of draftees is still needed, Hebert charges that the Selective Service cutbacks present "an unacceptable risk to our national security. "
General Hershey, the man who sent out the unwelcome "greeting" to draftees for so many years, is now eighty-two years old and living in retirement in Bethesda, Maryland. He says, "I can't help but have a great deal of anxiety, because I know something about what it takes to get back into business once you get out. . . . Money is now very important. But when you get into an emergency, and there's a question of whether the nation will survive, it's time that counts. And you can't buy time."
—SANFORD J. UNGAR