Innocent Bystander: Fanfare for a Friend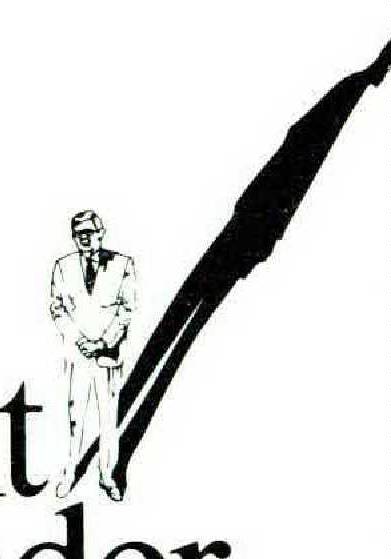 Into each life a little sun must fall. Specifically, most of us have friends, unknown to the world at large, who grow increasingly admirable as the years go by: increasingly purposeful, increasingly staunch, increasingly themselves. I have such a friend. His name is Will Davenport. I write about him now largely because all such unsung friends deserve one song, and because he is an exemplar of them all.
Vignettes of Will by way of introduction:
May, 1955. Outside, the spring sunlight falls over the shoulders of a heavy hotel into a small square, illuminating the front windows of The Nip, a tiny bar. Inside, in a red plastic booth, I sprawl in the attitudes of the World War II generation opposite a friend and colleague, another would-be-poet copywriter. Our talk is lowbrow and desultory; like the rest of our generation, we have abandoned the guise of officers and gentlemen and affect proletarian speech and proletarian ways. The gracious old world is gone. Until, at the door, a tall figure casts a long shadow into the aisle between the booths, a shadow that advances to our table. The author of the shadow is Will Davenport, an incredibly distinguished man in his fifties with English clothes and a Guards moustache. He bows—bows! — and seats himself beside us, flipping his green Tyrolean hat with Fred Astairelike ease onto a coat peg. Imperceptibly. semiconsciously, my colleague and I shape up for the occasion: we sit straighter, adopt a graver mien, and switch the conversation to the latest J. D. Salinger story. Through the agency of Will, we are induced to comport ourselves to the standards of a more exacting generation.
November, 1965. The night of the great northeastern blackout. My wife and I are on our way by car to dinner at the Davenports', a small modern house—reputed to have been designed by Will himself—on a reclusive hillside in the suburbs. We find our host and hostess almost literally in the dark, listening to a battery-powered transistor radio by the light of one small candle. Is dinner off? Not a bit of it. Will and Emmy, his tiny, handsome wife of forty years, build a birch fire in the fireplace and proceed with great aplomb to cook the fish on it. Then the great silver candelabra are fired up, and we sit down to a sumptuous dinner in the style of an earlier century. Everything is managed with panache and grace; we realize, driving home, that the Davenport manner has converted an incipient disaster into a memorable occasion.
May, 1975. An opening at a fashionable gallery. The artist is Richard Merkin, a young New York painter—and a friend of Will's and mine—who specializes in the iconography of the twenties. The paintings have enormous style: their caricatures of the beauties, badmen, and sports stars of fifty years ago upstage the gaggle of guests in the gallery, long-haired, blue-jeaned, dun; and nondescript in the worst manner of the seventies. Then it is all transformed as Will walks in: his own enormous style— the Lobb shoes, Huntsman suit, the white hair and white moustache—echoes the figures in the paintings and makes us understand that the twenties' avatar is here before us, languidly squinting at the pictures and idly commenting in a cool stage-whisper voice.
This morning. Walking to the living room, I am confronted for the thousandth time by Will's self-portrait, painted after a serious operation some years back. It's the best thing he has done since he first studied art, in middle age, at the local museum school: out of a thin and riven face stare two implacable blue eyes, the eyes of a man in his seventies who refuses to admit the claims of time.
Curriculum vitae:
Will is something of a mystery man. Most of his intimates know that he was brought up somewhere in Florida, but nothing is said of his formal education. It is generally known that he enlisted and served—as an underage private, it is understood—in what he calls "La Première Guerre Mondiale." Afterwards, apparently, he signed up with Harold Ross for a hitch as writer-cartoonist-circulation manager with the old American Legion Weekly. This led, in turn, to a job writing promotion copy and eventually selling advertising space for Condé Nast, in the course of which he came to know most of the Vogue and Vanity Fair wits of the time. (Even today, it is easy to imagine him in such surroundings: I can see the young, straight, southern boy, one of that redoubtable army of Americans attracted to New York, making his way among the shafts and shadows of midtown; drinking at a speakeasy in the East Fifties; attending a noisy party in a Village walk-up.)
Superimpose a courtship on those scenes: Will on the town with Emmy, his intended from Boston. Will watching Emmy (he once showed me a poem he'd written about this in the twenties) driving a gray roadster on a bright spring day. Will and Emmy being married in a proper Boston church.
And then the scene changed: Will was appointed advertising manager for British Vogue, and he and Emmy went to live in London (with a good deal of time in Paris, overseeing Nast's French operations) in the middle thirties. Will went riding and hunting: attended a thousand solemn dinner parties; acquired his London clothes and London ways. With the outbreak of World War II, all this abruptly ended: the Davenports came back to the United States and Will joined the Army Air Force as Combat Intelligence Officer. His long tour of duty—during which he rose, appropriately for him, to the rank of colonel—took him, among other places, to the Aleutians with the 12th Air Force. There he met, as he always seems to meet the vital people, an overage sergeant called Dashiell Hammett who edited the base newspaper. Full of rank and commendations (he had helped invent a new debriefing system). Will left the service in 1946, came to Boston, and went to work at the advertising agency where I first met him.
The real flowering of his career was delayed until he took a five-year leave of absence in the early fifties to go to art school under the GI bill. It was then that he began painting portraits and abstractions; it was then, too, that he first applied himself to poetry and, more earthily, to the cultivation of a large and splendid garden.
Lately Will has been at work on a collection of poems about the conjunctions between the seasons of life and the seasons of earth. Though I'm not sure I hold with the haiku form they are cast in such importations don't always transplant well, I feel—many of the poems are both chilling and moving in their acceptance of the casualness of life and death. The poems admit the advances of age with pointed skill and grace; yet Will himself seems almost ageless. One more vignette:
Last month. Will and I are to meet for our monthly lunch at a good restaurant around the corner from my office. The occasion is precisely like those before; Will, remarkably unchanging in what must be his middle seventies (he never talks of age), walks at an amble into the restaurant, shakes hands with great cordiality, and proceeds to order from what he calls "the steward" what he further calls "a martin." These small affectations are understood here; they are simply part of the Davenport style, and they in no way inhibit Will's knowledgeable and free-ranging comments on modern poets, modern painters, modern writers. The conversation is casual and uncalculated but somehow stimulating; Will's perceptions, one realizes, are as thoroughly modern as his manners are thoroughly traditional.
It is a pleasant — and today almost unobtainable—diversion, this business of sitting with a genuine gentleman while talking about today's most ruffianly departures in the arts. It is the essence of something I fear we may have lost: the idea that "living well is the best revenge." For how many people of any age today can afford (in spirit, not in money) the ultimate luxury of living well? Having discarded our ancient disciplines, we run, crossed with anxiety, from pillar to post. We snigger at honor and dignity as concepts we cannot encompass. To be held up to correction by a man of the twenties is bracing and stimulating, at least to me. It is also a sad reminder of how we have forfeited the ability to be what our fathers were. Yet, I suppose, it is never too late to change, to be caught, stopped, and reformed by the idea of civility as a principle of life. If I have mellowed, if I've been tempered in any way myself, I must thank Will and a few friends like him for their guidance and example.
I'm not looking forward to this winter A that's upon us. The discontents of civilization will be manifold—and manifest—during this benighted season. I'll slither down ice-capped roads in the darkness before dawn to catch an early bus and ride through snowbound traffic jams to the unhappy city. There, terrorist bombs will explode in office buildings, "Maiming 2," as headlines say; there, gloomy members of the middle class will hear the declining stock ticker as a knell for the way they live now; there, the whole crisis of our country and the world will come home to roost on our thin urban shoulders; there, life will become minimally more insupportable with each passing day. Money will be tight. Food will be high. Oil will be short.
No, instead I'm looking forward to — really keeping my eyes fiercely fixed on — a certain day next spring. It will be a warm and sunny Saturday sometime early in May. I'll step out to get the paper and see a tiny flash of bluebird. The sun will wreathe me, in its lenity, in a haze of sheer delight. And then, in the early afternoon, my wife and I will get in the car and drive twenty green, springing miles to the Davenports' for their annual garden party.
Outside the low house on the hillside, surrounded by banks of tulips and daffodils blooming their hearts out, we'll sit with Will and Emmy and our mutual friends and congratulate ourselves on having survived another winter. There will be a fine pale Piesporter to drink, as shimmery as the season; there will be all sorts of small good things to eat; there will be relaxed and jovial talk all afternoon and into the evening; there will be garden tours, with special reference to the pink blooms of the peach tree that grew like a fervid weed out of the compost heap; there will be some semblance of peace and order for a few people for a few hours. And, though we'll hear the menacing hiss of the superhighway at the foot of the hillside during lulls in conversation, we'll ignore it — or we'll imagine it to be the sea.
Through all of it, Will, in ascot and tweed hacking jacket, will be the central figure, as both host and interlocutor. He will cast his personal spell of inimitable style on the whole afternoon. Changeless and ageless, he will breed comity among his friends — and redouble their respect for him because he is sui generis, because he is an institution unto himself. Long may he cast his shadow.