CBS: The Power and the Profits
However the Toynbee or the Gibbon of the future adjudges what happened to American society, he will need to reckon large with the impact of radio and television.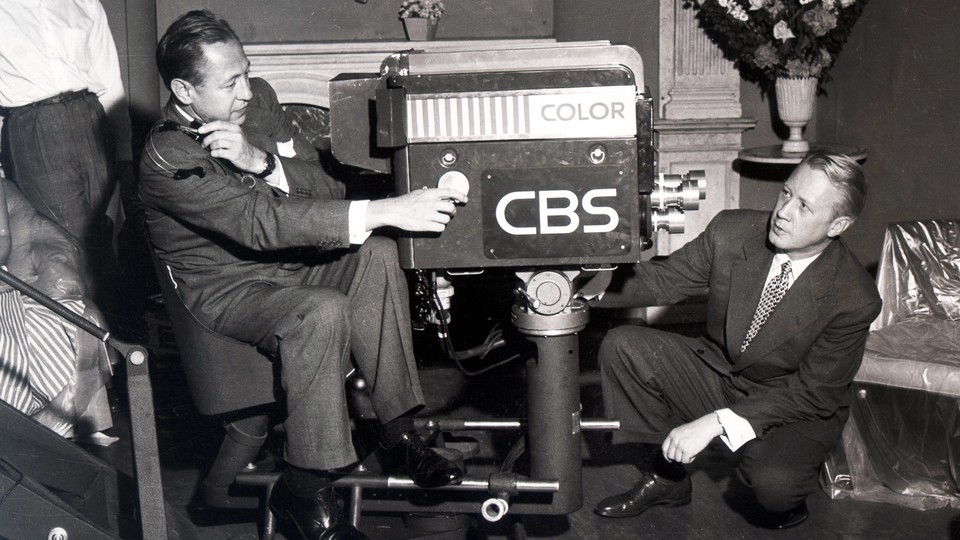 By the 1950s, TV had become the greatest new instrument of political and social influence in the nation. How that happened, how TV became both a shaper and a creature of politics, both a maker and a prisoner of public tastes, is most simply told as the story of one broadcasting network, of its founder and indomitable chairman, William S. Paley, and the men who helped make CBS into Paley's golden candy store. David Halberstam has written that story as part of a larger work in progress about centers of power in America and the ways they have been affected by science, technology, and modern communications. This is the first of two installments.
---
1. The Chairman's Tale: The Man Who Built the Candy Store
Also see:

"The Power and the Profits: Part II" (February 1976)
How three Presidents influenced and were influenced by TV, how TV made Vietnam into an electronic war, and how TV dealt with Watergate. By David Halberstam
In the fall of 1974, in his seventy-fourth year, William S. Paley, a lion in winter pretending it was Indian summer, took time off from running one of the world's great commercial empires to attend the funeral of a younger colleague. Bill Paley liked less and less going to funerals, but in this case the deceased was Hubbell Robinson, and Hub had been in programming. Above all else, programming was close to Paley's heart, the part of broadcasting he loved most. That Hubbell Robinson's second tour of duty at CBS had not ended entirely happily (very few major careers at CBS end happily) was forgotten. (Some ten years earlier Hub had been outlining a program schedule with Jim Aubrey when Aubrey had said, "Hub, you're through." Hub, a gentle soul by comparison with most CBS executives, mistakenly thought Aubrey meant he was through only with that day's planning session.)
On the day of the funeral, many of Paley's best qualities were on view—the sensitivity, charm, and quick flashes of warmth. He spotted Mike Dann, who had also worked in programming at CBS and who had left there sick at heart over what he had put on the tube for millions of Americans. (Worse, Dann had uttered words to that effect in public.) Dann was now doing a form of self-proclaimed penance, working in public broadcasting at the Children's Television Workshop. But whatever had passed between Dann and Paley, Dann had been in programming, and that meant that he too was special, and at the ceremonies Paley asked Dana to ride back to the city with him. As they left the cemetery Paley deftly moved the conversation from the funeral to the subject of programming, today's programming. Bill Paley did not like to talk about the past. The past bothered him. It might mean that he was old and near retirement (he was in fact nine years past retirement, the only person at CBS for whom the mandatory retirement age had been waived). The past was invoked only to make a specific point about the present.
So they talked about the present. Paley seemed as youthful and vibrant and domineering as ever, talking about the shows that bothered him (he never liked to talk about things that were going well, as if his outfit might become complacent if he or his people harped on their successes). What did Dann think about the fall lineup? There was an ape show that bothered Paley He had been dubious about the idea from the beginning, never enthusiastic about having a bunch of apes on his network, and his suspicions had been well founded. The only thing worse than having apes on your network was having apes with low ratings.
They talked about some of the older shows that had seen their best days, and Paley became excited. It was important to keep the old shows alive, perhaps infuse them with fresh ideas and material, make them more contemporary, but keep them alive. Here was vintage Paley, Dann thought. Disavowing an old show was like disavowing children, and he could not bear to do it. Years earlier, when Gunsmoke, once a giant among CBS programs, had begun to slip, the programming people wanted to kill the show and finally persuaded Paley to do it. The decision was agreed upon and ratified, and Paley had gone on vacation. Then he had an inspiration: the show should be rescheduled, in a softer time slot. There it once again prospered.
As he listened, Dann felt himself drawn to Paley once again. His charm and vitality were irresistible. Like many others who had worked at CBS, Dann knew the limits of Paley's charm, knew it could be turned off as quickly as it was turned on. The ride back to town, he thought, was like being in a programming session; he half expected Paley to blame him for the ape show. He complimented Paley on how well the ratings were going, and Paley, nervous as ever with success, said grudgingly, yes, the season was going well, and this young Arthur Taylor who had replaced Frank Stanton was doing very well. He was learning very quickly. Dann knew Paleyology well enough to translate that it meant that Arthur Taylor was doing well but the jury, composed of twelve Bill Paleys good and true, was still out.
The conversation went on to some brief discussion of what Dann was doing at the PBS Children's Workshop (though no one mentioned that Dann was there in part to exorcise feelings of guilt about his CBS days). As they neared the CBS building Dann knew what was coming. And it came. Restaurants, Bill Paley said. Had Mike Dann been to any good new restaurants lately?
He looked, Dann thought, and everyone else who knew him agreed, incredible. He was slim and trim. The talents of expert and expensive gymnasts had gone into keeping him lean and fit, and either gracefulness of aging or the benefits of modern medicine had spared him bags under the eyes and sagging skin.
He resisted time—mentally, physically, psychologically. He defied not only the actuarial tables but the legal rules for retirement at CBS, rules which he himself had written. At CBS he was known as the 800-pound gorilla (as in the joke "Question: How do you argue with an 8OO-pound gorilla? Answer: You don't") and more commonly as the Chairman, much as Mao Tse-tung (who has enjoyed a much briefer reign) is known in China as the Chairman.
William S. Paley was a man of exquisite tastes, not all of which he passed on to an awaiting public. He was a sensualist who, unlike most sensualists, had intense inner discipline. He was at various stages of his life a lover of great art, great food and great women. He was a man of no small inner professional ambivalence, who had given the country both Edward R. Murrow and The Beverly Hillbillies, more of the latter than of the former, though it was Murrow's photo that still hung on his wall. We remember what we like to remember.
He was, in the savage, predatory world of network broadcasting, the best. He had swum for all those years among some of the nation's greatest sharks and there were no tooth marks on him. So he was tough, and, for better or worse, the best. His good people were better than the other networks' people and his awful successful shows were more awful and successful than those of his competitors. He had the best people, the best ratings, the most money. He had written the rules and broken the rules, and then rewritten them so that no one else would ever break them as he had broken. He had managed again and again to perpetuate success, from a small radio station to a radio network, and then to a television network. He and his minions were less than generous in using their airwaves for public service, but they were expert in selling the idea that they were committed to public service. They sold, if not better shows, at least the idea that CBS was somehow classier than the competition. They were skilled at selling their ideals, even when they did not fulfill them. And in all of this Bill Paley became very rich and more: he achieved a power over American taste and an effect on American culture and sociology that had never been envisioned before.
Paley's fascination with and attention to programming set him apart in broadcasting and made him more influential in our lives than David Sarnoff had been at NBC or Leonard Goldenson was at ABC. His devotion to programming and the criteria for programming he helped set affected daily what we saw and what we did not see on an instrument that was, in both overt and subliminal ways, more important and dominant in our lives than newspapers, radio, churches, and often, in the rootless America of the seventies, more important than family, and more influential and powerful than the government itself.
David Sarnoff had been a poet of technology, the protégé of Marconi, a visionary in a new and revolutionary field. In the early twenties he had dreamed of installing something called the Radio Music Box in every American home, and by the thirties, when radios were finally arriving in people's homes, he was already pushing for something called television. Radio competitors bought ads portraying Sarnoff as a gorilla wrecking the radio industry and labeled him (they meant it pejoratively) a "televisionary." He was the wireless operator who made good, a man more fascinated by his equipment than by the images, entertainment, or information it produced.
For the most part, NBC's parent company, RCA, dealt with matters that had nothing to do with NBC. ABC was the network stepchild, originally part of NBC until the government had demanded that NBC divest itself of its second network. ABC lacked a Paley or a Sarnoff and, despite periodic attempts to upgrade its quality, lacked a sense of broadcast tradition. Goldenson was the administrative officer of a vast entertainment conglomerate that had its real roots in Hollywood and dealt as much with movie theaters and popcorn sales as it did with radio and television broadcasting.
Bill Paley, by contrast, was a man totally of broadcasting. One man, one network for over forty years. He was not a man of technology like Sarnoff; technology intimidated him; he seemed more than a little allergic to Peter Goldmark, the extraordinary CBS scientist who invented the long-playing record and pioneered in color television. It was said of Paley that no matter how well and reliably a new invention tested out, when Paley touched it, it came apart. (Sarnoff used to gloat—not without reason—that Paley might be better and shrewder than be in business matters, but whenever Paley tried his hand at technology he always got his fingers burned.) But Paley did more to influence what America saw every night than anyone at the other two networks.
His preoccupation in the 1970s was very much what it had been thirty years earlier. He had been an owner of a radio station in Philadelphia before becoming a major shareholder in the embryonic CBS network in 1928, and his life has spanned the history of broadcasting. He never did as well at business ventures outside broadcasting as he did inside it; outside, his taste and smell often failed him. His company was born of broadcasting as the other two companies were not, and even in later years, as CBS grew and produced good guitars and bad baseball teams. Paley never lost sight of the fact that programming was at the heart of it all. No one could imagine General Sarnoff reading a script for an NBC series; but no one could imagine Bill Paley not checking scripts extremely carefully for a CBS series. Over the years, Paley rarely missed a major weekly programming meeting; that above all was of priority. Thus, before a show was locked in at CBS and made part of the schedule, it bore to an uncommon degree Bill Paley's imprimatur, his vision of broadcasting, and his sense of the national taste.
Paley was not a mere corporate figure but a total individual, a surviving original, a man who lived a life rich in its texture, who knew and enjoyed quality, and who demanded it in every aspect of his own life. If he had helped engineer a broadcasting system that used ratings as virtually the sole criterion for prime time shows, then that told us something not just about Bill Paley and broadcasting but about the mercantile pressures of our society, the limits of our freedoms, what they did to even the best and most interesting of men.
For the vehicle he dominated had a potential that staggered the imagination but disillusioned idealists, such as Sylvester ("Pat") Weaver. Weaver, one of the major figures of the early television days, the man who brought the Today Show and the Tonight Show to NBC television and Monitor to NBC radio, was not averse to profit, but he believed programming needed balance. He often talked of his special dream, television as a vehicle for turning the common man into the uncommon man. But it had worked out differently; dreaming at CBS had produced a slightly different vision, that of turning common profit into uncommon profit.
Bill Paley liked to deny that he was powerful. He was quick to say that he never tried to stop a political program that went against his own political beliefs. He was smart enough to know that his position and influence were resented by some and that any visible sign of his taking pleasure in his power would only make things worse. But the truth was different. He had in fact systematically exercised power, even when deciding what he was not putting on. The failure to make a decision is a kind of decision, the failure to lead is a kind of leadership. His power was real, the impact of his taste and his values far-reaching.
2. Up From a Good Five Cent Cigar to Supermoney
He has lived a rich and full life, enjoying his money and getting the full benefit of it. His social accomplishments have been at least as considerable as his business ones. He married one of the three fabled Cushing girls of Boston, Barbara Cushing Mortimer, a lady at once beautiful, gracious, and social. That gained him Jock Whitney as a brother-in-law and Mrs. Vincent Astor as a sister-in-law. A whole new world opened to him; eventually, in his progress through it, he became president and subsequently chairman of the Museum of Modern Art. A man who wanted the best in everything, he now had the ultimate wife, a woman who was Vogue magazine sprung to life, who looked like Vogue and dressed like Vogue and lived in homes where Vogue would be at ease. If Bill Paley cared about taste, then the second Mrs. William Paley—Babe—was perfect because she was taste, she was an arbiter of style by instinct and by nature; where she went, taste and style followed. She was, pronounced designer Halston, "the number one fashion personality in America because all women notice her-and men too."
Not bad for William Samuel Paley, grandson of Isaac and Zelda Paley of Kiev, Russia, son of Samuel and Goldie Paley. Some thought the picture on the wrappers of Sam's LaPalina cigars looked very much like Goldie, and though Bill Paley insisted that it was just a coincidence, he conceded a certain similarity. Those two worlds, the world of Kiev and the Congress Cigar company, and the world of Babe Paley and Jock Whitney, contrasted sharply. Paley was part of that Long Island, but not entirely of it. He was not a member of Piping Rock, its exclusive country club, and he knew of the resentments provoked by his success and his profession and his religion.
In the late 1950s, Philip Graham, publisher of the Washington Post, suggested to Paley that he join the F Street Club: the perfect club for him in Washington, said Graham, the right combination of good men, powerful, attractive, effective. He would be at home there. Paley, knowing the byzantine ways of clubs and of restricted apartment houses was nervous. He did not really like the idea of clubs, he told Graham; his experience was that he was better off without them. But Graham, a man of infectious enthusiasms, said not to worry about that, these were modern, serious, humane of the world, and he, Phil Graham, would personally lobby it through. Paley, encouraged by the idea of Phil Graham as his floor manager, reluctantly agreed to let his name be put up. Phil Graham was very nearly as good as his word. He lobbied with great vigor and intelligence. A few weeks later he met a friend on a Washington-New York flight and seemed almost desperate for companionship. Graham's customary enthusiasm was gone and he seemed somber. The friend asked what was wrong. "Oh, God," said Graham, "this is one of the worst days of my life—this is the day I've got to go to New York and tell Bill Paley he was blackballed at the F Street Club."
Unattained WASP club memberships notwithstanding, Paley's has been an extraordinary life: his great network, his marvelous and gentle wife, his art collection, his entrè to almost anything and anyone—an instant American Rothschild in terms of status. And yet he possessed a quality that left many who knew him well with more than a small sense of doubt. He had acquired all that a man could acquire. ("Don't buy Matisses and Picassos, Davis," he said in the late forties to the CBS man in Paris, David Schoenbrun, "they've gone too high on the market now. Buy Rembrandt, because Rembrandts are the best. They're the best buy now and they're always going to be great. You remember that and remember that Bill Paley told you." Schoenbrun, though not in the Matisse and Picasso league, remembered that, and remembered years later that Paley had been right, as usual. Rembrandts had gone up more than Picassos and Matisses.)
He had pioneered in an industry that was in a perpetual state of revolution, and mastered it and stayed on top. And yes, CBS was the best, but the doubts persisted, and what was more, they persisted among those who knew by far the most about CBS, those who had worked there and who knew the difference between the reality and the potential of network broadcasting, the difference between what was and what might have been. Of the two very powerful drives working on Bill Paley—the wish to make a profit, to drive CBS's stock and profit ever upward, and the sense of excellence and responsibility to the public—the second thrust had clearly diminished over the years. The dominant thrust, ever more powerful, was for greater profit, almost always at the expense of public time and public service or of willingness to experiment in quality programming in the arts or public affairs. What was lacking was a modest sense of balance. More, the trend was not good, for as television time became more expensive and thus more valuable, the cost of experimentation grew higher and the potential loss of revenue far greater.
The networks always had an excuse or a scapegoat for whatever they chose to do or not to do (the ratings, the affiliates, the FCC). The CBS public relations machinery was able to single out a play at Christmastime, or a documentary like The Selling of the Pentagon, or claim that the network was doing very daring things in its situation comedies (whites with blacks and blacks with whites). For if public affairs programs were sponsored and made a profit, that was not good enough; CBS demanded superprofit, the kind that came from dominating a key section of prime time, so that its share of a minute was worth two or three times as much as the (quite profitable) minute of the opposition. That was profit, that was the ratings, and no one was better at the TV supermoney game than Bill Paley and CBS.
3. Facing Up to the High Cost of Quality
The evening prime time schedule must have high viewer ratings, always higher. Neither balance nor variety was important to the process; the only criterion was ratings, how many million Americans turned on a given show. Any weak show weakened the ratings, and any strong show strengthened them. The broadcasting industry assumes that all prime time television shows cost essentially the same. Costs go up only when a show fails and the schedule has to he revised. Since advertisers pay only by circulation-cost per thousand viewers—and since the networks sell only by circulation, the stakes are very high. If one network dominates, it might earn as much as $50 million more annually in profit than either of the other networks on the same outlay. A winner like All in the Family might sell a minute for $125,000; another program at the same hour might get as little as $35,000. Since each half hour includes three minutes for commercials, a network can earn as much as $250,000 or more clear profit in thirty minutes of broadcasting time. Over forty weeks, that translates into as much as $10 million in profits. At the heart of network competition each year was this need to drive the average share of the ratings up and above that of the competitors. If the average nighttime rating for CBS was 21, and NBC got 19 and ABC 17, each point was worth millions of dollars in profit.
In the mid-sixties, a pleasant, mild CBS financial analyst named Dr. David Blank would meet with the CBS programming people and tell them in a deceptively modest manner, "Gentlemen, if present market conditions hold, I predict that if there is a strong schedule, that a point will be worth $10 million." Ten million dollars! Everyone in that room knew what that meant, most particularly Bill Paley. The pressure in that room was enormous, and it never let up; pressure not just to put on winners and to improve them but to drive off potential losers, documentaries or serious theater which might appeal only to the intelligentsia and which, with their potentially lower ratings might bring the average down. The system was brutal, and network officials often publicly complained that they were its victims. But the truth was that the networks had invented the system, and its real architect, more than anyone else, was William S. Paley. It was Paley who decided early that ratings were the heart of broadcasting, the essence of the system, and it was Paley who wanted the ratings driven up, wanted everything, not just eight of the top ten shows, not nine, but all of them. (When Mike Dann came in one day in the sixties to announce that CBS had nine of the top ten daytime shows, Paley could only grumble and say, "That damn NBC always hangs in there for one.")
From the early fifties on, Bill Paley dominated programming meetings. He was still sitting in darkened rooms at the age of seventy, watching rough cuts of a new show, critiquing it, demanding that it be better. Bill Paley at seventy still knew more about most of the shows than the younger men under him, probing for weak spots, calling his own people at midnight or 6 A.M. to talk about the show. Maybe the set looked a little cluttered, the male lead needed a different jacket and a less mod tie—not everyone lived in California—maybe a girl was too buxom for a certain show. He was always looking for weakness because a weak show meant a declining share of the audience, a drop in the rating averages, a reduction in profit.
Superprofit negated quality. Quality involved risk and perhaps a smaller share of the audience, a lower rating. Quality was for the elite, and while it was good for prestige, it was not necessarily good for the ratings. As commercial television throve, potential profits were greater. The risks, therefore, in experimenting, in offering quality programming were also greater. So fewer and fewer inspired dramas and documentaries were presented on CBS, or on other networks. There was less real accountability to the public; all could be blamed on ratings. There was a special quality of arrogance and isolation to the world of network executives, men who administered television but did not necessarily watch it, and it made them curiously kin to their alleged antagonists in the Nixon White House. Despite all their high-toned speeches and sophisticated corporate public relations, the essential question that guided their decisions was, Will it play in Peoria?
Those who argued for better programming, or at least more balanced programming, did not regularly penetrate the world of Bill Paley. His was a world carefully constructed so that he would not hear anything he did not want to hear nor see anything or anyone he did not want to see. If CBS was in trouble, someone else was always available to take the heat for the Chairman. Over the years it was usually Frank Stanton, the president of CBS, a man effortlessly skilled at testifying before Congress. He would journey down to Washington, practice his testimony for several days in his hotel room, and then do a star turn designed to disarm a potentially hostile investigating committee. Washington, in particular, was a city Bill Paley did not like to visit. It had little in the way of the graces he appreciated and many of the pressures he avoided. In 1962, after CBS had done a documentary on school integration called Storm Over the Supreme Court, Arthur Goldberg wanted it screened at a reception honoring his appointment to the Court, an occasion when all the justices would be present. Would someone please represent CBS at the reception? Fred Friendly, who had produced the show, mentioned the invitation to Stanton, and Stanton seemed cool to the occasion. He saw no great merit in it for himself or the Chairman. So Friendly went for CBS. Friendly later made the mistake of mentioning the reception to the Chairman, who exploded. Clearly this was a rare good occasion in Washington. What right did Fred Friendly have to represent the company? This was an occasion when the Chairman and Mrs. Paley should have been there.
Bill Paley's life was carefully and deliberately sanitized. Arthur Ochs Sulzberger of the New York Times might make himself available at dinner tables around New York to hear complaints about the paper, but those who dined with Bill Paley did not talk about The Beverly Hillbillies or Planet of the Apes or any other aspect of prime time television programming. Indeed, one of the unwritten rules of the Paley home was that one did not talk about programs at all. A few years ago, when one young family member casually mentioned how awful he thought most of the programs were, Babe Paley stomped out of the room and later accosted the young man, demanding to know how he dared to talk like that about television to Bill Paley in his own home. It was, thought the young man, as if he had touched on the ultimate forbidden subject.
Bill Paley could see no one and think he saw everyone, hear no dissent and believe he was hearing it all. He could herald to this reporter the great victories of CBS during its Watergate coverage and, carried away by the expansiveness of it, and knowing that the reporter had been impressed by CBS's Watergate stories, spread his wings wider: without CBS's coverage of Watergate, Nixon might not have fallen! CBS, he allowed himself to suggest, changed Watergate from a local to a national story! Paley's enthusiasm was contagious and seemed to imply that his own role was heroic, which it most decidedly was not. For he was conveniently forgetting that in late October, 1972, when CBS finally showed two long, tough Watergate reports on the Evening News, and Chuck Colson, acting as the White House television honcho, called Paley after the first segment to complain bitterly about it, William S. Paley had worked very hard to make the news division drop the second part. Paley had not talked at that time about the importance of taking a local story and making it national; quite the reverse. Only a special kind of heroics on the part of people in his news division, many of whom felt that their jobs were on the line, had allowed the showing of the second segment, albeit considerably cut down in length, graphics, and impact. So when this reporter quoted details of this incident back to Paley, the Chairman seemed surprised, for this was a Bill Paley the Chairman had chosen to forget and did not at the moment recognize.
In the same interview, Paley became expansive about the news division, which, he said, was what television was all about. Again the charm and warmth flowed. He had dedicated his whole life, he said, to preserving and protecting the news division from the savages who threatened it. It was his prime concern. As he talked he seemed oblivious to the fact that the role of CBS News at CBS, Inc. is a very small and limited one. Though more than 60 percent of the American people say that television is their prime carrier of the news and information, CBS, Inc. does not by a long shot think that CBS News is 60 percent of its self. Aside from the half-hour evening news show, CBS News had access to only 4 percent* of the prime time schedule (7:30 P.M. to 11 P.M. Eastern Time weekdays, 7 P.M. to 11 P.M. Sunday) in contrast to 26 percent for situation comedies, 12 percent for adventure and mysteries, and 16 percent for feature films.
Today's Bill Paley is a far cry from the young and open Bill Paley who above all was close to his reporters, the only people in the company who called him by his first name and in whose prestige he basked. Year after year the company became bigger, and as it did the role of reporters became smaller. In the eyes of the men at the top of the corporation, nothing good came from the newsroom. It produced nothing but constant trouble and occasional red ink. So it was best to keep the newsroom at a distance, to place corporate filters between Paley and the journalists. If the newsroom was not seen and not heard, then it would not seem to be asking for something or complaining about its lot. This in time became true: once the news division was not seen and not heard, it did not ask for time and space, and it did not complain.
Yet, for all that diminished status, there was a grudging respect for Paley among the older correspondents, a sense that he did care about quality in news, and above all that he was better than the generation of faceless men to come, men no longer mindful of Murrow and World War II, but loyal only to the bottom line.*
In 1973, when Bill Paley made a trip to Europe, he did something he had not done in years; he met with his correspondents. They were concerned about the future, concerned that political or other interference with CBS would surely increase. Nixon was but a symptom of what was to come. Winston Burdett, one of the last of the correspondents from the Murrow days left in Europe, asked Paley; "What about the future? You've been good to us but the pressures against the news division are terrible. What's going to happen after you've gone?" Paley answered, "I suggest you find a way for me to stick around for another twenty-five years." Not everyone who knew Bill Paley thought he was kidding.
4. The Chairman's Dilemma: A Corporation with a Conscience?
Great newspapers might see themselves as being in part consciences of a society, but they were not giant corporations. U.S. Steel and Standard Oil were, like CBS, great corporations, but they did not contain small units dedicated to public service and to being a national conscience. CBS was special, a corporation with a conscience, and rarely did the twain meet, though they were always aware of each other. (Jim Aubrey once told Fred Friendly that he thought both men were being used. "They say, to me, 'Take your soiled little hands, get the ratings, and make us as much money as you can'; they say to you, 'Take your lily-white hands, do your best, go the high road, and bring us prestige.'") The conflict was built in, And ironic.
In the spring of 1974, when the President of the United States was locked in an epochal struggle with, his adversaries in Congress and the media—including CBS News—and when fears at CBS's corporate level about its role in the fight were greatest, the corporation was attaining unparalleled success. Though much of the nation was in a deep recession, CBS was generating more money and profit than ever before—perhaps because free entertainment during a time of economic sag was attractive to viewers and thus to advertisers. In the second quarter of 1974, a record period, CBS earned $34 million net profit. One CBS executive congratulated Robert Wood, president of the television network, on this success. Wood, however, seemed to wince at the idea of it.
"What's wrong?" his friend asked.
"Do you realize that what we just accomplished now becomes the norm?—that we must go against it in the future, and if we slip below it it means we've failed," said Bob Wood. And he was right. The pressure continued to make even greater profit, and in the second quarter of 1975, CBS made $58.1 million net profit, just $10 million less than in all of 1969.
Yet that world was very different from the world of watching television. Paley, like many of the men in television, was a purveyor, not a receiver. How different those worlds were he found out in the mid-sixties when he finally realized one of his life's ambitions, to open a restaurant, this to be in the new multimillion-dollar CBS building. The name of the restaurant was The Ground Floor, and friends had not seen Paley, a total food nut, so excited in years. He was always downstairs checking on the decor, sampling the soup, tasting the sauces. All he wanted, he told friends in 1965, was a simple place where a secretary could go downstairs and have lunch for seven or eight dollars. His pleasure was enormous when the restaurant finally opened, and his disappointment equal when it was not a wild success. At one point Paley, puzzled by the lack of its success, turned to the restaurateur running it for him, Jerry Brody, and suggested that they might try a supper club for those who eat around 11 P.M., something that Paley liked to do after an evening of concerts or theater.
"Bill," said Brody, "there ain't no supper business in this town."
"No?" answered Paley, puzzled. "Why not?"
"Because everyone's home watching the tube."
Even when Paley made a disastrous deal, it did not seem to matter; the sheer force of television and American demographics pushed his company ever upward. In 1951, CBS bought a company named Hytron. It was a major mistake. CBS wanted to go into manufacturing, and Hytron manufactured television sets—bad ones, it turned out. Paley traded away to the Hytron people almost a quarter of his company's stock in the deal, a total failure that ended up costing CBS as much as $250 million. Even this fiasco did not seriously damage the company's strength. At the heart of Paley's success was a dual genius: his cold, shrewd business sense and an instinct for what was marketable as mass entertainment. First the business ability. He was and is able to read the bottom line of a report faster than anyone else around him, to ask the one question that subordinates least want asked. At meetings he waits, like a dozing crocodile. If an aide's voice is confident, sure, loud, he sits quietly. But if the official lowers his voice, if there is any sign of weakness, Paley, suddenly alert, is ready to pounce.
If Paley had been in Hollywood, friends think, his shrewdness about entertainment would have made him the greatest movie mogul of them all. He has a sure sense of what the public wants and will accept; and, equally important in the world of Madison Avenue, be knows how to sell his ideas.
A legendary story in broadcasting tells how young Bill Paley managed to sell a show to George Washington Hill, then head of the American Tobacco Company, the most important of all possible customers in those days. Hill was completely committed to NBC, at that time the giant among networks. Paley worked carefully and shrewdly on Hill, charmed the old mart, brought the best ideas be had, and finally realized that no matter how well he got on with Hill, no matter how much personal rapport he achieved, Hill was not going to accept someone else's ideas for a show. The ideas must seem to Hill to be his own. And so, on the umpteenth visit, Paley took the idea of a program featuring martial music—everyone liked martial music—and slowly let the idea slip out as if it had come from Hill. And as Hill warmed to his own idea, Paley, just a fraction of a step slower, warmed too. Yes, it did have possibilities, and he congratulated Hill on his originality. And CBS wound up with a program sponsored by American Tobacco, an important breakthrough for small CBS against the mighty NBC.
Paley's ear is still renowned. In the twenties, he took an ocean cruise and heard records of a then unknown singer named Bing Crosby. He wired back orders to sign Crosby immediately. His ear remains exceptional. Blair Clark, general manager in the news department in 1961, went to the opening night of Camelot with Paley and was astonished by the latter's sense of the show. It was as if Paley was always a beat ahead of everyone else in the audience in laughing, in keeping time to the music. Clark was sure that Paley, who had put up money for the show, had been to rehearsals. But it was not true; Paley had never heard the show before. His sense of entertainment simply made him that much quicker and more responsive than the rest of the audience.
He knew talent and he knew people. He had a talent for hiring the best people (almost the entire top team at ABC News today worked for CBS at one time and went to ABC only out of career frustration, chiefly because the top jobs at CBS were already filled). Even in the early days in broadcasting when CBS was a tiny company and NBC controlled two networks, Paley had an instinct for talent far greater than that of David Sarnoff. Paley wanted the best people around him; Sarnoff believed that he was the best, and at times his company was notable for its shortage of outstanding executives. (Indeed, Sarnoff once told Ralph Cohn, Paley's lawyer, "Bill likes to surround himself with geniuses. I don't want anyone around as smart as I am.") But all of Paley's talent did not necessarily make for a happy kingdom; rather, the conflict between idealism and materialism was a constant problem. The king remained supreme, but a vast number of princes and consorts left CBS in varying degrees of bitterness: Ed Klauber, who set standards for newsroom integrity in broadcasting, Lou Cowan, Elmer Davis, Ed Murrow, Fred Friendly, and Frank Stanton. Yes, even Stanton, the man who had done more than anyone else to create the image of CBS (and Paley), left disappointed and bitter, barely able to suppress his rage at Paley's treatment of him. Upon Stanton's departure from CBS, involuntary as it was, these two titans of broadcasting squabbled over the size of the office space and the amount of secretarial help Stanton was to retain, a dispute so intense that it went to lawyers.
And Ralph Cohn, who was for over forty years Paley's and CBS's lawyer, left under the most strained circumstances of all. No one served Paley more loyally for so many years, sharing not just the CBS association, but an affinity for the cultural world of New York, the world of concerts and museums. Both were on the board of the Museum of Modern Art, though Cohn, a descendant of "Our Crowd," New York's German-Jewish aristocracy, was by background more at ease in that world, while Paley was a bit more of an arriviste.
Nonetheless, it was a good and mutually beneficial relationship until 1969, when Bill Paley, acting as if he could operate as president of the board of the Museum of Modern Art the way he operated at CBS, violated the laws of the museum and arbitrarily fired a director named Bates Lowry without consulting the members of the board. Cohn, for reasons which at times must have bewildered both men, dared at a subsequent meeting to challenge Paley to say, yes, Bill Paley had violated the laws. His protest had no effect; Bates Lowry remained fired. The only real effect was upon Paley, who was furious. Two days later he summoned Cohn to his office and fired him as his personal lawyer. He did not stand when Cohn came in the room, nor did he motion Cohn to a seat, but he announced that he had given the matter considerable thought and decided to terminate the relationship. He said that Cohn would still represent the company. A few months later, when Paley was in the Caribbean, Frank Stanton was dispatched to tell Cohn that his firm had also lost the CBS account
The sting was real for Cohn, an urbane and sophisticated man, and the incident bothered him for some time. Eventually he called Paley and asked to come by and see him. Cohn went to see the Chairman and very quickly made it clear why he was there. He was bothered by this scar, the abrupt loss of a great friendship. It was still very difficult, particularly because they saw each other at so many social and cultural functions, concerts, museum openings. Couldn't they at least on the surface still be friends? Ralph Cohn long remembered Bill Paley's reply: "Ralph, we were never friends. You were my lawyer."
5. No Mogul Is an Island. Or Is He?
Moguls are not all alike. Hollywood moguls make a lot of money and have a kind of limited power, power over writers and producers and actresses. Moguls like Henry Ford dominate a certain vital industry and thus, by their skills or lack thereof, affect the entire national economy. But the power they generate and the influence they wield, has definable limits. A media mogul is different. Media businesses are often family owned, which often means that no limit is set on the mogul's term of office. The money is big, but more important, a media barony brings great respectability and legitimacy as well as political and cultural influence. They may or may not be able to make or break careers, fads, or trends, but if people think they can, that is the next best thing. If they do not make particularly good friends, they are nonetheless formidable enemies.
So it was for Bill Paley. He controlled just about every aspect of his own life; he saw no one he did not want to see; he tended to almost no business that he did not enjoy. He lived life on his terms, and it should not be surprising that he exuded a sense of confidence and vitality. "He looks marvelous," a young woman once said to Truman Capote at a dinner party, "look at all that energy and vitality." "Yes," said Capote, "he looks like man who has just swallowed an entire human being." Very little that was unflattering was written about him, because the great figures of the media treat each other with great respect.
The one thing he could not beat was old age and that fascinated him. He sought reassurances about it (he had an exploratory operation for cancer which the doctors were reluctant to undertake but which he was convinced he needed; the results were negative). He surrounded himself with younger people, and he worked hard at keeping slim. He monitored all doctors carefully. He once called the CBS programming department to complain about a doctor being portrayed on a series that season, claiming that the doctor was too young, that people wouldn't trust a doctor that youthful, and that he, Bill Paley, would not let a young man like that touch him.
He did not in general like young men who crowded older men. It was one of the rare areas where his neuroses interfered with his instinct for programming. In 1959 CBS was showing a program called Rawhide which featured a prototype cowboy hero, played by Eric Fleming, and his sidekick, played by a then unknown younger actor named Clint Eastwood. Eastwood projected great force, and he gradually began to take the show away from Fleming. It was not a deliberate thing; he was simply too powerful for Fleming, and gradually the writers sensed it and began to play to and to write a little more for him. Under normal conditions this would have delighted Paley. With his killer instinct he would have sensed the presence of a great new star and he would have encouraged the emphasis on Eastwood. Not this time. The producers of the show began to notice something unusual in the chairman, a wish to go against the natural (and successful.) flow of the show. He began to call up and complain about Eastwood, the young cowboy threatening the older cowboy. It's not fair, Paley would complain, it's not his show. It belongs to the other fellow. You've got to stop that kid from stealing the show. So the producers went to great efforts to rebalance the program and place Eastwood under greater restraint. It was not Eric Fleming that Clint Eastwood threatened, but William S. Paley.
Sometimes it is a young man's world and sometimes it is not. The mood can vary: in 1969 Paley decided to move aside a man Tom Dawson, who was then president of the television network, trim and athletic at fifty-five. Paley called him in to let him have the news; he was in a pleasant mood, he liked Dawson, and knew Dawson would understand. "Tom, we hate to lose you, but this is a young man's world and we've got to let the young people have their day. It's a young man's world." He said it so charmingly that for a moment it seemed that Dawson was seventy years old and Paley fifty-five. Then Dawson answered, "You're absolutely right, Mr. Chairman, and besides, it's your candy store." But there was something about the combination of age, isolation, and financial success that made Paley increasingly out of touch with some changing realities. He had been a liberal as a young man, and his first wife, an ardent New Dealer, had affected his politics. He still liked to think of himself as a liberal, though the truth was he had become a conservative man. With an enormous corporation to protect, and with personal wealth estimated somewhere between $100 and $150 million, he had great vested interest in the status quo. Consciously and unconsciously he had erected barriers which isolated him; he was vulnerable only to who were very powerful, such as Presidents and key senators. If the Nixon people had complaints about CBS, he once told Chuck Colson, they were just to call him personally. For years he had been kept from making mistakes by those around him at CBS, most notably by Frank Stanton. If Stanton had still been there, some believe, CBS would not have flip-flopped on the issue of analysis of presidential speeches and news conferences.
It is not unusual for a man who has gotten older and richer to become more conservative and begin lose his touch. But in Paley's mind he was not old, he was still very much in charge, still the youthful, liberal Bill Paley fighting the good fight against the forces of darkness. In the summer of 1971, while he was still president of the Museum Modern Art, a number of people there thought it was exceptionally lucky that Paley was out of the country when a strike by museum employees took place. The employees, people who work in a showcase for the rich, were badly underpaid, and the strike was tense and passionate. By the time Paley returned, the strike had been settled, but the first thing he did was look at the agreement and demand that the clause giving health benefits to the workers be stricken. These were benefits, by the MOMA's lawyers' own admission, that should have been granted five or ten years earlier, But Paley was adamant. "I don't care how you do it, but get those health benefits out of the contract."
John Hightower, the museum's director, was appalled; it was basic to the agreement, basic to the kind of protection that, for example, CBS employees had long enjoyed, and basic to common decency. Hightower, with the help of a lawyer, maneuvered around Paley and the agreement stood as did some of the tension and unpleasantness surrounding the affair. A few weeks later Paley was at a museum opening when he spied Hightower's attractive young wife, Caroline. He sidled over to her, and though normally she was very fond of him—the energy and charm still worked—this time she almost involuntarily withdrew from him. "You know," he said, sensing the reason for her pulling back, "sometimes I get the feeling John doesn't think I'm a liberal."
6. How Corporate Wealth. Nourishes Corporate Timidity
CBS was a curious organization, licensed by the government, engaged almost constantly in some form of litigation with the government, and therefore acutely sensitive to the whims of the very powerful. Its main assets were airwaves, invisible and intangible, and thus its awesome financial success did not make it more confident and secure; rather, in a curious way, that very success seemed to underline the insecurity and vulnerability of the entire enterprise. (In 1967, Lyndon Johnson, momentarily annoyed at the network and wanting to keep it off balance, spotted in a speech written by Joe Califano a reference to the "public airwaves." Johnson penciled in "the public's airwaves," a change in emphasis so sensitive that the next day every major broadcast lobbyist had nervously called Califano to see whether this heralded some dangerous new populist policy at the White House.)
It was all unnerving, so much profit supported by so much vulnerability, and though few stations in the history of broadcasting had lost their licenses, the threat was always there. In 1960 Bobby Kennedy complained to a CBS official about coverage of his brother's campaign. When the-official replied, quite properly, that CBS was covering Jack Kennedy much the way the New York Times covered Jack Kennedy, Bobby said yes, that was true, but CBS was licensed by the government and the Times was not. CBS was dependent upon the marketplace, as newspapers were, but the stakes were so much higher, the possibilities so much more seductive for television as opposed to print, that the marketplace set the norm for television as it did not for newspapers or magazines The result was an essentially timid journalistic vehicle. Bill Paley, however, had a different and somewhat more generous term: "a consensus medium," he called it. But the temptation of the marketplace systematically drove Paley away from the newsroom and toward programming and the business of making money.
As the 1950s began, the Cold War was producing a domestic backlash, McCarthyism, and an accompanying political sterility—creating stories CBS's star reporters insisted on covering. Television was arriving as a new national medium and the greatest advertising vehicle in history. Thus the political threat generated by serious newsmen doing their job coincided with the proliferation of commercial profits beyond the imagination of anyone at CBS.
For the first twenty-five years, ending in 1952, CBS's profits always seemed to level out at $4 or $5 million a year. In 1950, the year Joe McCarthy gave his Wheeling, West Virginia, speech, television was just beginning on a national hookup. Profits for that year were $4] million. In the same year, Jack Benny, Burns and Allen, and Steve Allen made their first appearances on television. By 1951, Americans owned 16 million television sets. By 1953, television reached 21 million homes and CBS's profits reached $8.9 million. The next year, 1954, the year of Ed Murrow's McCarthy show, profits reached $11.4 million. ln 1957, 42 million homes had television sets and profits had mounted to $22.2 million. (By 1965 the profit drive seemed to dominate the entire company at the expense of its other responsibilities, and at one point Fred Friendly asked Paley how much profit CBS had earned that year. "Fifty million," the Chairman answered. "That's enough!" shouted the bumptious Friendly, but he was wrong. It was not enough. A decade later, profits had more than doubled.)
These riches and the corporate timidity that nourished them did not ennoble CBS's sense of journalistic mandate. The very reporters who made CBS so respectable during the war now threatened the network's commercial success. As television became more and more powerful, politicians began to monitor television reporters as they had never monitored print reporters. As profits increased, CBS diversified (spending the profits in corporate purchases so they could not be taxed), increasingly buying outside CBS so that the company would he less vulnerable to government regulation. As the company grew, the corporation dominated, and accountability in any true sense diminished. Accountability was owed only to the corporation, which meant only to profit and the bottom line. Year by year, as CBS News became more controversial and more troublesome to its superiors, it also became a smaller and smaller part of the corporation.
Bill Paley, in turn, became more and more a mercantile figure. On rare occasions when friends complained about the types of shows CBS was running, he answered that his job was to drive up CBS stock. He would tell his top aides at high-level meetings that he wanted a 15 percent increase in profit every year. That sort of profit margin could be maintained only by cutting back on documentaries and experimental plays. Did he really have to do this? a friend asked. After all, the network was very profitable anyway. Yes, he answered, the board forced him to. In fact, the board was his own handmade rubber stamp. Or he answered that he personally would like to see more and better documentaries, but he had responsibilities to the stockholders of CBS to consider, the universities which had bought stock, and the widows with children whose futures depended on him. It was too bad, he continued; the worst mistake he had ever made was going public and bringing these pressures upon himself.
The truth was that he loved it, loved those pressures, loved the idea of escalating stock value almost as much as he loved the reality of it. Some who worked closely with him over the years could tell from the tone of his voice at the end of the day whether CBS stock had risen or fallen, noting in his voice either jauntiness or a slight sag and incredulousness. One or two, hearing his voice, would pencil their own predictions, just to check with the New York Times listing the next day. It was not small stuff; one point might mean millions of dollars. In a way, the profits were a daily public announcement of his stewardship, something that the boys in the big world in which he operated understood and respected. A tribute to him and to his manhood. All of this pulled him away from the news division.  He even told a stockholders' meeting in 1965 that profits might have been higher, but news coverage of unscheduled events, such as space shots, civil rights demonstrations, and the funeral of Winston Churchill had cost the stockholders six cents a share. Profits, which had been going up annually in increments of 15 percent or more, had not only leveled off but, in 1965, had dropped slightly. It was a moment of mercantile bluntness. Clearly, there would have to be fewer unscheduled events. A year later, profits were up to more than $63 million,
But journalistic dominance and commitment have rarely been parallel to commercial success in broadcasting; quite the reverse. Often, great moments in public service broadcasting have come when one network was lagging in the ratings race, had a weak programming schedule, and thus had little to lose, little of consequence to interrupt. At such times, boosting news may seem the cheapest way to forge ahead. Robert Kintner did the nation (and ABC) a service in 1954 by deciding to televise the Army—McCarthy hearings. ABC was the only network that did, but that decision was made easier by the weakness of the ABC daytime schedule. Why not let the Senate of the United States provide some excellent programming? Later, when Kintner brought an exciting news orientation to NBC, it was a move dictated again at least partially by need. CBS in those days was so far ahead in everything else, why not make an effort in news, make the station exciting, break in relentlessly on regularly scheduled programs? In 1973, when Gordon Manning of CBS was trying to hire Sally Quinn of the Washington Post to be the instant star of the badly lagging CBS Morning News. Ms. Quinn asked whether CBS News really wanted someone as outspoken as she was, someone so likely to speak the unspeakable. Manning's answer was an extraordinarily revealing statement. "Paley wants controversy, and so does Salant," he answered. "You can get away with much much more at that hour than you ever could on the Evening News." Something congenital to broadcasting: a willingness to take risks only when you are weak. Indeed, some people knowledgeable about broadcasting are ungenerous enough to think that Bill Paley went into public affairs in a big way in the early years precisely because NBC was so much larger, and more powerful in every other way. For in the beginning, NBC dominated. It was born of RCA, and RCA was the giant in the field of radio and electronics, having been created by AT&T, Western Electric, General Electric, and Westinghouse. NBC, with not one but two networks, was started in 1926; at the time it seemed almost invincibly richer and better connected than the fledgling CBS. Thus the attraction for Paley of public affairs, the best and quickest way to make a reputation. Yet Paley had no background in journalism, no sense or feel for it; his guide in these matters was a former New York Times editor named Ed Klauber. Klauber was a dour, morbidly shy man who managed to transfer the best traditions of print journalism to the then seedy, undisciplined, and unprofessional world of broadcasting. He believed strongly that radio as a mass vehicle had special obligations in the field of journalism, that the average listener could make up his mind which toothpaste or what car to buy, but that he had no capacity to judge the reliability of news. That burden, Klauber felt, was totally on the network. He probably saved radio journalism from hyped-up Walter Winchellism, or, equally dangerous, from the kind of vacuum that might have encouraged government-operated broadcasting, as in countries such as France. He helped educate young Paley on the importance of, and responsibility for, good public affairs programs; set the essential standards for broadcast journalism; helped make the subsequent emergence of Murrow and his group possible; and contributed to the aura that somehow CBS was different, just a little better, just a little classier, than NBC.
7. The Chairman Transforms Broadcasting and Joins the Beautiful People
Photos of the young Bill Paley have an almost electric quality; he seems to project an avidity for life, an excitement about what he is and what he will be. What luck that his own coming of age, his own manhood, should dovetail perfectly with the birth and coming of age of such a great new force as a radio network.
Sam Paley had made a fortune at the Congress Cigar Company: Sam Paley, who had started by rolling his own after his immigrant father had wasted away his fortune. At the depths of the Depression, Sam Paley sold the Congress Cigar Company for some $30 million. But before he did, he made his son apprentice at every level of the business. When, in 1928, the chance came for Bill to acquire the CBS network, Sam immediately put up an estimated $400,000 for his son, shrewdly believing that the broadcast bubble would either burst quickly or develop into something very big, in which case it would be marvelous and very liberating for his son.
Bill Paley's background was business. He had gone to the Wharton School of Business at University of Pennsylvania. As a young man, he had become interested in radio while doing advertising for the Congress Cigar Company. His father and uncle Jake were away one summer, and for $50 a week he put Miss LaPalina and a ten-piece orchestra on a local station. When Jake Paley returned from vacation he was furious with the expenditure and canceled the show. A few weeks later Sam Paley was musing that, though the company had spent half a million on print advertising, but never got any playback, now everyone wanted to know what had happened to the LaPalina Hour. So the Paleys returned to radio, sales went up dramatically, and Bill Paley learned that for certain products, radio offered a greater potential than print advertising.
From the outset Paley transformed network broadcasting. One of his first and shrewdest moves was to make the network as attractive as possible to affiliate stations, knowing that the bigger the audience, the more leverage he would eventually have with advertising. So where NBC, the more secure and established of the networks, was selling weaker shows to affiliates, Paley devised an ingenious formula to make his unsponsored shows free to affiliates—as many as ten or twelve hours a day. All he asked in return was the right to option a certain amount of time for sponsored network shows; this allowed him to sign a contract with a sponsor knowing the affiliates would clear the time.
There was something in this for everyone—it was the height of the Depression, and frail local stations were suddenly getting free entertainment; similarly, it was increasing Paley's audience and centralizing broadcasting power in New York. Within a year the number of CBS affiliates had more than doubled. No wonder, then, that CBS blossomed under his leadership: gross earnings went from $1.4 million in 1928 to $4.7. million in 1929 and $28.7 million by 1937, and the number of affiliate stations went from 16 to 114 in the first decade of his leadership.
A revolution was taking place in communication and advertising, and young Bill Paley was at the center of it. He seemed perfectly designed for his new role—tall, handsome, always seen with good-looking women on his arm. He was something of a ladies' man, and a man to savor, to enjoy life. A man of the world. All things would soon be possible for Bill Paley despite his Russian-Jewish origins. (This was and is a point of some sensitivity. When a recent book about CBS by reporter Robert Metz described Paley as a Russian Jew, Paley's PR man, Kidder Meade, sent out a letter to book reviewers purporting to correct factual inaccuracies in the book and noting, among other things that Paley was not a Russian Jew—which, in the pecking order of the American Jewish community, was not as good as being a German Jew—he was an American Jew.)
He was not, then, of New York's Jewish aristocracy. The smell of cigars was still on his money, a problem of which he was acutely aware. He was at once proud of his background and yet intensely sensitive about it. It could even warp his sense of entertainment. His aides had gotten an early option on Fiddler on the Roof, which they were sure would be a smash success. They were surprised when Paley, after reading the script and listening to the music, turned it down. To one assistant he said that it seemed good, but wasn't it too Jewish? He told another friend, "I couldn't do it—it's the story of my own family."
If, as a young man, he was blocked from the staid and somewhat stuffy world of "Our Crowd," he quickly moved into what was then known as Cafe Society. What Paley became a part of evolved into the Beautiful People—the powerful, the successful, the rich, the glamorous, the celebrated, and their attendants. Eventually they outstripped and engulfed traditional Society. In 1932 Paley married Dorothy Hart Hearst, who had recently been divorced from John Randolph Hearst. She had been one of the most beautiful girls in Los Angeles, bright, vivacious, quick, a favorite of old W. R. himself. The home she created for Bill Paley was an exciting place, a center for people like the David Selznicks, Bernard Baruch's confidant Herbert Bayard Swope, and some of FDR's braintrusters: people who were involved in the issues of the day and were successful. Those who knew Bill and Dorothy liked the idea of their being together, not just because they looked so attractive, but because their friends sensed that Dorothy was a good influence on Bill, somewhat more political than he, and something of a conscience for him. She was, friends thought, a woman with a strong ethical sense, and they often heard the word "principle" coming from her. But there was also, they thought, a certain tendency to show that she was smarter than Bill, and on occasion a tendency to correct him. Bill Paley, friends noted, did not seem to be a man who wanted to be corrected by his wife. Even so, in the thirties they were a handsome couple, and he was beginning to be known as a major business figure though his company was still more successful than prestigious. A new dimension of status, however, was soon to arrive; the world was about to go to war, and World War II enlarged both the role of modern communications and the importance of Bill Paley.
8. Enter Ed Murrow, an Innately Elegant Man in an Innately Inelegant Profession
In 1937 a job opened up for a head of CBS European division. It was, in effect, a business job, involving scheduling prominent Europeans for CBS broadcasts. It was not a journalistic job at the start. For a time it appeared likely to go to a young man named Fred Willis, who was charming, sociable, and graceful. A colleague asked Willis about the rumor, since the job was considered something of a plum. No, answered Willis, he had thought it over, but he wanted a real future at the company, and the one thing he was sure of was that you should never be that far from headquarters. So the job went instead to Edward R. Murrow.
Murrow. The right man in the right place in the right era. An innately elegant man in an innately inelegant profession. A rare figure, as good as his legend. His presence was so strong that it still lives. In many ways, because he was what he was, CBS News is today what it is. He was shy and often withdrawn in personal conversation, but totally controlled and brilliant as a communicator. His voice was steeped in civility, intelligence, and compassion. He was a man who, much as Lindberg did, spanned the oceans and shortened distance and heightened time. He helped make radio respectable as a serious journalistic profession, and more than a decade later, simply by going over to television, had a good deal to do with making that journalistically legitimate too. He was, in a way, more an educator than a journalist. His own career and the technological revolution he was part of helped mark America's transformation from a post-Depression isolationist nation to a major international superpower. His very voice bridged the ocean, brought Europe (and thus potentially threatening alien powers) closer, and made its presence more immediate and more complicated. He helped educate the nation in the process of entering the larger world. He also helped inaugurate an era in which the very speed of communication became a form of power.
His was a unique coming. No other broadcast journalist has ever accumulated the prestige that Murrow enjoyed both inside and outside the company. There were many reasons for this. For one thing, radio broadcasting was so embryonic that while Murrow was proving to be so good and the story proving to be so important, his employers had not yet developed the sort of complicated internal checks that might keep him down or limit him. Quite the reverse. As his comet ascended, so did that of CBS. The network was the direct beneficiary of his excellence, so there was little desire to restrain him, or to set narrow limits of objectivity. He was reporting on the survival of the English-speaking peoples, on the democracies versus the Nazis. Britain's finest hour also became his and American radio's finest hour.
In less heroic and more dubious wars (Korea and Vietnam come to mind), where American survival was not at stake, no American commentator made a similar reputation. And, in Vietnam, those correspondents who did make considerable reputations also became controversial, respected by some of the elite and by their peers, but loathed by the government, and often something of an embarrassment to their own companies. Murrow was an ornament to management. His role and the nature of the war allowed him to accumulate enormous capital both within the company and within the profession. His subsequent and hardly hasty decision to expend some of that capital and to be a comparably tough-minded correspondent on the domestic scene created tension and quickly marked the parameters of freedom within broadcasting in the 1950s. He was the same Murrow with the same high standards, but year after year he became less and less of a corporate asset.
Murrow was not a trained journalist, and this was an advantage, because there is a great difference between the words and rhythms of print journalism and the words and rhythms of spoken English. That being the case, he had nothing to unlearn. The spoken word is colloquial; print journalism, when read aloud, is stilted and forced, deprived of its natural balance. Murrow was descended from southerners who had moved to Far West, and his family retained a sense of fashioned High English, an almost poetic language which is fast disappearing from the land. Words were important by themselves. As a young man he had worked as a logger among tough lumbermen of the Northwest, and this rough company not only expedited the changing of his name from Egbert to Edward, but gave him an appreciation the intelligence and shrewdness of ordinary people and how to talk to them. Later he studied drama and voice with some excellent teachers at Washington State University, and this honed his sense of timing and rhythm. One speech teacher in particular, Ida Lou Anderson, had sensed his potential, later, when Murrow was in London, she suggested the pause in his "This. . .is London" trademark. Unlike most correspondents, he knew that pauses and the absence of words could be as important as the words themselves. He had just the right touch, enough drama in his voice to make what he was saying unusually effective, but not so much as to sound like a phony or a ham. His was a natural sense of the drama of his medium. Once, during the Blitz, Murrow held a microphone on the sidewalk during severe German bombing in order to convey the sound of what he was describing—the order and calm with which the British walked to their bomb shelters.
He was not an intellectual; many of the men hired—Sevareid, Kendrick, Smith, Schoenbrun—were far more cerebral than he. But he was an excellent communicator; he had the ability to take something that was happening in one part of the world and make it comprehensible and significant to people living thousands of miles away. His talents were special but were not necessarily those of a brilliant man, for brilliant men often end up talking only to themselves. Rooted as he was the middle class, Murrow could understand the complicated pressures of a shrinking world. Again and again he taught younger reporters at CBS to try to envision their friends back home, try to picture themselves standing at the bar or some other local hangout and, over one or two drinks, explaining what they had seen that day. His passion was not for the scoop but for intelligence, for the audience to understand what was going on in the world. That was the educator in him. A changing map of Europe and Asia had to he explained to the average citizen.
His first job at the network was running its educational service, a job in which, among other things, he helped bring European intellectuals to America. To Murrow, education was a paramount purpose of news reporting. In 1945, after the war was over, he had been impressed with the knowledgeability of a bright young interpreter at Eisenhower's headquarters named David Schoenbrun. Murrow asked Schoenbrun What he planned to do when the war was over. Schoenbrun said he hoped to go back to teaching high school French. Murrow paused for a moment. "Kid," he asked, 'how would you like the biggest classroom in the world?"
Murrow went to Europe as CBS European director in 1937. Early in 1938 came Hitler's Anschluss, the take-over of Austria. CBS sent Murrow as a businessman, not as a broadcaster, but he was quickly caught up in events. The best American journalists were then in Europe—John Gunther, Bill Shirer. H. R. Knickerbocker, Jimmy Shecan, Dorothy Thompson. Murrow was inevitably drawn into their company. When Hitler moved into Austria, Murrow became a journalist overnight. Life itself was speeding up. The speed and totality with which Hitler came to power had been accelerated by science and technology and radio. Even the word for the kind of war Hitler employed, Blitzkrieg, implied an awesome swiftness against which the French Maginot Line could not stand. A man with radio at his disposal could report back with special immediacy to his own country, thousands of miles away: and he could reach a mass audience.
In 1938 America watched and waited on events in Europe, and millions of Americans watched and waited with Ed Murrow. In the first major magazine piece written about Murrow, a perceptive article in Scribners magazine in December, 1938, a young writer named Robert Landsy sensed the coming of a new journalistic order.
He [Murrow] has more influence upon America's reaction to foreign news than a shipful of newspapermen. This influence has not been generally recognized for the reason that newspaper correspondents have tradition on their side, and partly because the networks have played up their commentators rather than their correspondents [like Murrow]. But the influence is there, great and growing—and obvious to anyone who knows both radio and the press. Murrow has three advantages over correspondents for the greatest America newspapers: 1. He beats the newspapers by hours. 2. He reaches millions who otherwise have to depend on provincial newspapers for their foreign news. 3. He writes his own headlines. That is to say he emphasizes what he wishes—whereas the newspaper correspondent writes in cablese—then has his copy edited, maybe rewritten and then published under a bank of headlines in which he has no say.
9. The Murrow Boys at War: What Price Glory?
Murrow set out to hire what quickly became a first-rank team of American foreign correspondents. William L. Shirer had been covering Germany since the rise of Hitler. He was exactly the kind of informed, intelligent journalist that Murrow was seeking. Shirer wrote of their meeting in his diary for August 20, 1937. "I have a job. I am to go to work for the Columbia Broadcasting System. That is, if... I have a job if my voice is all right…who ever heard of an adult with no pretense to being a singer or any other kind of artist being dependent for a good interesting job on his voice. And mine is terrible." Shirer was absolutely right about his voice; it was terrible, and he had no sense of timing in his radio writing. CBS headquarters was much taken with Murrow's first correspondent, and finally Murrow had to cable Klauber asking whether CBS wanted a pretty voice or a great journalist. Murrow carried the day; substance triumphed over style. The CBS men hired by Murrow became what one colleague, not entirely admiringly, called a special kind of philosopher-king-intellectual-statesman-journalist. Other stars soon: followed—Sevareid and Smith and Collingwood—but Shirer was the first. He and Murrow covered the Anschluss together in 1938. As the importance of events mounted, as more points on the map needed coverage and more reporters were hired, the CBS World News Roundup was born. Night after night, as the tension increased and Hitler threatened the peace of the world, the story came to America as Kaltenborn in New York, anchoring the show, came on and began: "Calling Ed Murrow, calling Ed Murrow…"
After Hitler took Poland in 1939, and swept across France in 1940, Murrow moved to London. There his voice became the link between England and America. Most politicians of the generation (with the exception of Hitler and Roosevelt, and later, Churchill) scorned or were slow to understand radio; like most of the intelligentsia, they still thought print the important medium. But the British at every level were acutely aware of' Murrow's power and influence. Their necks were on the chopping block and they knew exactly what he was saying, for many of his broadcasts were re-played for the British Armed Forces. It was a source of encouragement to the British to know that this was what America was hearing.
Murrow was perfectly cast for the role and for the moment. It was a dark and somber time, and he had a dark and somber vision of mankind and of himself. He had warned his wife, Janet, before their marriage to beware of his depressions and his despair, his black periods. "Ed," Janet Murrow said of him, "is a sufferer." He sometimes seemed anxious to bear all of mankind's burdens. Once, during World War II, Paul White in the CBS office in New York called the London BBC office to locate Murrow. Was he there? "Oh, yes," said the Englishman, "he's somewhere around here wearing his customary crown of thorns." He was the Puritan who was never at ease with his own success. He put himself under terrible pressure. Once, during World War II, his colleague Bill Downs heard so much noise in a French farmhouse where they were staying overnight that he thought German troops were downstairs. It was simply Murrow grinding his teeth.
He was always gracious, but always private. Despite impeccable manners, he kept everyone at a distance. He might reveal, to close friends, his thoughts, but never, if possible, himself. He came from the kind of semi-Calvinist home, said his friend Sevareid, "where there were too many rules and not enough love." He was always just short of being formal, in tone and dress. The clothes were expensive, the cuff links very fancy. Any other journalist dressing like Murrow would have seemed a fop. He had, Charles Collingwood later learned, almost decided against hiring the young Collingwood because the first time they met, Collingwood, who fancied himself a young man about town, was sporting a pair of very loud argyle socks. Murrow was not entirely sure a man in socks that loud was proper for CBS, Rhodes scholarship or no.
He was acutely aware of his dignity and appearance. He was a fine wing shot and quite willing and eager to hunt with the British on their great estates. But, like many boys of that era who had grown up poor, he could not swim and no one could get him in a bathing suit or near the water. Once, at the height of Murrow's fame, he and Sevareid were about to board a plane at LaGuardia and Sevareid was rather sloppily eating a bag of popcorn. For Murrow it seemed beneath their respective dignities, and he deliberately walked several yards ahead, to be dissociated from popcornism.
The British, of course, loved him for what he could do for them, but also for what he was; he was taken up by the very elite of British society. In a country where, under normal conditions, upper-class doors are opened to few, all doors were open to Murrow. He consciously avoided British mannerisms, British words, a British accent. And his voice in a social, setting was the same as it was on the air, rich and tempered, making what he said sound somehow more serious, more profound. Part of it was his calmness, his assurance, his civility—British qualities. The very manner of his reporting, as well as his words, seemed to embody what was at stake in the war, the values being fought for.
As the best of English society' was open to Murrow, so was it open to his boss, Colonel William S. Paley. Paley took a leave from CBS and went to London in 1943 to serve on Eisenhower's psychological warfare staff. A friendship with Murrow, whom he had barely known before, was immediately forged. They were often joined by Charles Collingwood, and the three strikingly handsome young men were seen at the best places, often with the best-looking women. Paley was close to his young correspondents then. They were heroes, and he was impressed with their intelligence, courage, the risks those boys took in reporting from wartime Europe. And, in no matter what city, they seemed to know just the right people. Those who know Paley believe that during the war in England he sensed for the first time the true social possibilities that his power might generate. By the time he returned to America, after the war, his first marriage was on the rocks. The women he was seeing now were usually from the Social Register. Not that he was frivolous—he was still the relentless, driving businessman—but he was less open, less accessible. His friends were changing, they were more social, more from the upper reaches of the business world. There was a gradually diminishing number of his peers, a gradually diminishing number of people who might argue with him or dispute him.
The Paley-Murrow friendship survived their return home. Paley still liked having Murrow around him, and why not? In the afterglow of the great war, Murrow was the most prestigious journalist in the country. At Paley's urging, Murrow became a vice president of CBS. This was a mistake, since he had neither the talent nor the inclination for administration, and he soon found himself speaking for the company, and having to defend CBS policies with which he did not necessarily agree. But that did not bother either man at the start; Paley offered Murrow a house in  Manhasset, Long Island, next to his own (the offer was not accepted). If the relationship was nice for Paley, it was also good for Murrow and the news department. Easy access to the Chairman meant access to air time. It was a built-in protection for correspondents. It seemed to symbolize the strength and importance of the news division within the company, the invulnerability to the pressures outside.
Anyone doubting Murrow's power and influence, or misjudging the priority Paley seemed to place on news, had only to know about the guest list for Paley's second wedding, in 1947, his marriage to Barbara Cushing Mortimer. The wedding was very small and select: her family, not his; her world, not his. Just before the wedding, Paley went to an associate at CBS to ask for camera film and to explain that despite their close professional relationship, no business colleagues or friends of his were being invited. A very small party, jut family, Paley emphasized. The friend understood, and did not mind until after the wedding, when Paley dropped off the film to be developed. The associate looked at some of the shots, and saw, yes, it was small, Bill and Babe, and the family, and Jock Whitney, and there was…Edward R. Murrow. Since the associate who lent the cameras and film, Dr. Frank Stanton, had become the president of CBS a year earlier, and since he had come to resent both Murrow's fame and his personal closeness to Paley, the incident did not soon leave Stanton's mind. Nearly fifteen years later, asked by mutual friends why he could not close the terrible breach with Murrow, since both of them were then ostensibly working toward the same essential goals, Stanton would mention this incident as part of the problem—Murrow was a guest at Bill and Babe Paley's wedding; Stanton was not. The nerve was still that raw.
10. The Importance of Being First
Bill Paley always hated being number two. In 1948, after two decades of rule at CBS, and despite his remarkable success, it bothered Paley that NBC, with its early head start and vast resources, was still number one. He always wanted to be the best. (Once, Mike Dann had arranged for a CBS special on Picasso which required months of delicate negotiations. Dann was justifiably pleased with himself—it was a quality idea, and made better by the fact that Picasso spoke English. Picasso, Dann thought, Paley, prestige. And Paley was somewhat pleased, though he dampened Dann's pleasure by saying yes, Picasso was good, "but I'd rather go after Matisse. Can't we go after Matisse, Mike? You know, on today's market, a Matisse is much more than a Picasso.") A certain condescension crept into his voice when he talked about General Sarnoff; he felt that Sarnoff had no serious interest in broadcasting, not as Bill Paley envisioned broadcasting. Murrow and the CBS News team had given Paley vast prestige, but the network was nonetheless second to NBC in programming, advertising revenues, and profit, as it always had been. It was a reality that Paley had never accepted, and in 1948 he was ready to move. He knew that the era of television was fast approaching, and he had a strong private belief that only the very best in radio would survive. He also sensed that a dominance in radio might lead to dominance in television. Quietly, through intermediaries, he started sounding out some of NBC's star radio comedians about switching networks. The struggle soon centered around Jack Benny.
The NBC stars were restless, not so much with the network as with the U.S. government, which was taxing many of them at about 90 percent. CBS consulted with MCA, the talent agency, and determined that stars like Benny could be taxed as companies rather than as individuals, and could thus sharply reduce the portion of their salary handed over to the government. Radio was then at its zenith and Benny was its biggest star, the 7 P.M. centerpiece of a star-studded NBC Sunday team. His contract was soon to end, and he was in a position to set a pattern which his colleagues might follow.
Here the difference between Paley and Sarnoff was crucial: Paley loved entertainment. When a star came to CBS for lunch, Paley was at his best—flowers, charm, style. Sarnoff, on the other hand, convinced that the key to NBC's success was its engineering superiority, its clear-channel stations. His was the greatest theater in the world, as he saw it, and could put on whatever he wanted because the sound system was so good and the seats so comfortable that people would keep coming. General Sarnoff was, in his life-style at least, a modest man, a Russian-Jewish immigrant who made a very great fortune from his position (indeed, the disparity between his and Paley's wealth was something that always grated on him. Paley owned CBS, but Sarnoff was a salaried executive at RCA.) He was a proper man, sensitive about his own simple background and the need to be worthy of his position in America. Dignity was important to him and stars rarely, to his mind, had dignity. A system which built up stars with huge, vulgar salaries was distasteful to him. (Once, at the height of television's success, he found out how much money Jackie Gleason was making. "That's more money than I make," he complained. "But, General," said his aide Pat Weaver, referring to a patented Gleason trademark, a pratfall, "you can't do the fall.") Not surprisingly, even by 1948 Sarnoff had never met Jack Benny, his number one star. Moreover, he had no intention of competing with Bill Paley in wildcat offers for comedians, ventriloquists, and people of that ilk. Some of his aides told him not to worry, that television was coming, and radio stars like Benny would soon be passé. So while Paley turned on the full charm, letting Jack Benny know how much he cared about talent, and that the key to CBS was going to be entertainers, Sarnoft did relatively little. Benny switched.
The American Tobacco Company was nervous about the change, since NBC's audience for these stars was so huge, so Paley promised to pay them $3000 for every Hooper rating point that Benny lost in the move. The moment Benny left, Sarnoff aaid, All right, we'll put Horace Heidt in his slot at 7 o'clock. Horace Heidt. It was a disaster. Benny had a Hooper rating of 27, 3 points higher than he had had at NBC. Sarnoff, tied into a bad policy, valuing machinery above talent, could not hold his other stars. Benny helped persuade them, and across the DMZ they came: Edgar Bergen, Burns and Allen. Red Skelton; At the last minute Sarnoff switched his policy and paid a small ransom to hold Bob Hope. By the time it was over, Bill Paley had stolen NBC's Sunday night. Benny was bigger than ever. More important, the raid strengthened CBS radio and gave CBS precisely the lead over NBC that Paley had wanted for the move into television.
A few days after the raid an irate David Sarnoff called Bill Paley to ask how he could do it: How could he violate their long-standing unwritten agreement not to steal each other's stars? How could he do it?
There was a long pause, and then Paley said (it was, said someone who was sitting in the room with him, the first time he had ever heard Bill Paley sound sheepish): "Because I needed them."
Indeed he did. Within a year CBS was first in programming, revenues, and profits, and was moving headlong into television. Some CBS newsmen began to sense that Bill Paley's need for Jack Benny and Amos and Andy presaged a diminishing need for reporters. The correspondents became a little less important, secondary to the other operations of CBS, as David Schoenbrun soon found out.
Schoenbrun, CBS's man in Paris, once received a phone call from Bill Paley. Jack Benny and Mary Livingstone would soon be traveling through France on their vacation and Bill would like David to keep an eye on them. Paley knew how influential David was in Paris. The message was that it was important to the company that David show Jack Benny a good time. Sensitive negotiations with Benny were about to start again, and he needed to be reminded what a great organization CBS was, how much influence it had, even in France. Bill Paley did not have to underscore how important Jack was to the company. Besides, David would just love Jack and Mary.
The last, at least, was not true. Very quickly David Schoenbrun came to dislike both Jack and Mary. Jack Benny had been portrayed all those years on radio as a stingy man, and he did not seem eager to dispel his own reputation. Nor did Schoenbrun come to like Mary, who nagged at him constantly. A week passed, and finally Schoenbrun thought the visit was over. But on the night of Friday, July 13, Mary called Schoenbrun to say that she wanted some perfume, the kind that Babe Paley used, which was, of course, the best. They were, she added, leaving Paris early on Monday the sixteenth.
"I need two quarts," she said.
"What kind is it?" asked Schoenbrun.
"I don't know, but it's the best; Babe uses it.'
So Schoenbrun listed all the various great perfumes and finally got to Vent Vert. "That's the one!" said Mary.
When do you need it? he asked. By Sunday night, she said.
"Then you've got troubles, because tomorrow is the fourteenth, which is like the Fourth of July, and this town locks up."
"Well," she said, "Bill Paley said you owned this town and you could do anything you wanted and that when Jack saw what you could do we'd be glad to stay at CBS and not go to another network. So do it." And she hung up.
"Resign," said Mrs. Schoenbrun to her husband.
But Schoenbrun's journalistic pride was challenged, and off he went. He raced to Pierre Balmain's store, for Balmain, who made Vent Vert, was a friend, and perhaps things could be arranged. But all he found was a security guard. Eventually the security guard confided that Balmain was at his horse farm in Normandy, and after more wrangling Schoenbrun got the private number there and reached Balmain. Balmain assured Schoenbrun that he was crazy, that the store was closed, locked up for the holiday weekend. "But it's for Jack Benny," pleaded Schoenbrun.
"Who is Jack Benny?" asked Balmain. After several more calls, Balmain surrendered, called the security guard, and told him the perfume was in the vault with the mink coats. The vault was opened and Schoenbrun stuffed a briefcase full of Vent Vert. Immensely pleased with himself, he called Mary Livingstone to tell her his accomplishment.
"Bill Paley said you could do it," she said by way of thanks.
Schoenbrun wrote Paley relating his triumph. He never received an answer. He suspected that if it had been the other way around, Jack Benny would have received an answer. Sunday-night comedians, it seemed, were more important than journalists, even those who owned France and personally knew Charles de Gaulle.
11. Murrow Discovers the Profit Center: "Dr. Stanton, I Presume?"
The success of the raid on Sarnoff's comedians, coming as it did right before the move to television, tipped the balance in favor of CBS. It was now bigger than ever in radio, and was soon to be equally big in television. For the television revolution was outstripping even the predictions of broadcast executives. Americans had never bought any new device so quickly, and nothing had ever become in so short a time a major part of the culture. Before 1948 the CBS television network was virtually nonexistent. By 1951 it comprised 62 stations, and 16 million American homes had television sets. By 1952, CBS had 74 stations broadcasting to 21 million homes, and in 1954, the year CBS became the largest advertising medium in the world, its programs were broadcast over 202 stations to 32.5 million homes, or to roughly two thirds of the families in America.
The quality of American social life had changed, all sorts of habits were now tailored to television programs. The commercial possibilities were immense; it was like coining money, and by l958 CBS promotion advertisements suggested precisely that: a full-page ad showed a cigarette vending machine with a television set placed in the glass mirror and labeled "the greatest cigarette sales machine ever invented." The ad ran in the New York Herald Tribune and was supposed to run in the Times, but some of the senior people in the news division prevaiIed upon Frank Stanton to cancel the ad.
When the possibilities for financial success expanded, so did the drive for profit. What might have seemed impossible years earlier had now become possible. There were new norms for profit and for success. At meetings with key officials, Paley kept pushing for that 15 percent annual increase in profits, along with reduced budgets. And the company was diversifying. Stanton began to talk about company "profit centers." CBS was not a profit center.
These vast new profits meant a rise in the visibility of Frank Stanton, and a change in the role of Bill Paley. When both CBS and Paley were young, the Chairman had been fresh, open, innovative, available to everyone, a great salesman. But in postwar years, as CBS became more and successful, he changed, he was less accessible e outside world. In the earlier years he had needed access to others; now they needed access to him. Before the war his prime effort had gone into selling the company; now, particularly after the raid on NBC, more and more effort went into protecting the company. Now, increasingly, people wanted things from him, and he became less and less available to them. He designated Stanton as his representative, asked him to run the errands he disliked, deal with the pressures and lobbyists he wanted to avoid, and be loyal enough to make an unpleasant decision sound like a Stanton decision, rather than, as was often the case, a Paley decision. ("I've always had a guy like Stanton for jobs like that," Paley once told a friend about a particularly disagreeable assignment.)
Frank Stanton was a loyalist, a man who discharged decisions faithfully whether he agreed with them or not. By the time of his retirement in 1973 he was one of the profession's foremost spokesmen for the integrity of the news department, genuinely esteemed by senior working journalists. But in the crucial early years of his career he was the man who set standards and norms of profit which systematically diminished the strength, standing, and influence of the news division. Murrow, whose position in the company was declining precisely as that of programming was rising, blamed Stanton for the changing balance. He detested Stanton; to him, Stanton was "the bookkeeper." Murrow, almost to his death, believed that the force of darkness at CBS was Stanton rather than Paley, that the key to revitalizing the network was to get back to the good old days of World War II, when Bill Paley was one of the boys and his sense of public service was self-evident. Paley did little to dicourage the natural rivalry between Stanton and Murrow, two young, attractive WASPs who had joined the company the same year, and Stanton was not about to contradict the Chairman, for to split openly on any issue with Paley would have meant an end to his career.
Frank Stanton's loyalty was to the greater good of the company. He was the impersonal man for an impersonal job, a man of systems and management, and a lobbyist in the most sophisticated sense.
In the great boardrooms of New York, no one looked better than Frank Stanton; he was probably offered more jobs, good jobs—head of corporations, universities, foundations—than anyone else in America. He turned them all down because he preferred the one job he thought he had been promised, that of operating head of CBS.
Stanton was the one man in all those years whom Paley had never ground down. The two of them, different in style, taste, manner, and values, were like two strong people locked in a terrible marriage, two people who need each other, dislike each other, and yet cannot divorce each other. The tensions grew greater as the calendar moved toward 1966, the year that Paley was supposed to retire and let Stanton, seven years his junior, take control of the company. As that happened, Stanton cast a larger and larger shadow, the shadow of Paley's mortality.
In the mid-sixties Paley irritably turned to one close friend: "What the hell does Frank really want?" he asked.
The friend answered that Stanton wanted to be the chief executive officer of CBS, as he had been promised.
"Why does he want that?" Paley complained. "Why should he want that? Look at all I've done for him! I've made him a millionaire, I've made him a big man in broadcasting—the statesman of broadcasting. Why does be want to be the head of the company?"
In February 1966, all the arrangements for Stanton's succession had been made. But Paley could not go through with it. He could not give up his company and become, overnight, an old man. In retrospect, it seems the most predictable of Paley's decisions, but Stanton was shattered. He told friends he learned of Paley's turnabout only five minutes before the promotion was to become official. Later in the day another CBS executive ran into Stanton and was surprised to find him almost in tears. "This is the worst day of my life," Stanton said. Why? the friend asked. "Because the Chairman has a resolution which someone else will offer asking that his term be extended. I've been promised that I would run the company, and now it's all gone. This is the worst day of my life." Well, said the friend, who knew the CBS profits and knew Stanton's financial position, if you feel that strongly, why don't you quit? "Because I just bought fifty acres on the Big Sur and I'm damned if I'm going to take my stock options to pay for it," he answered.
Except for remarks like these, he remained publicly silent. He told one close friend, a journalist, "I'm never giving a real interview, or writing a book—it violates my contract." But he got a revenge of sorts: he asked Paley for a cost-of-living clause in his retirement pay. Paley, knowing the precise amount of Stanton's wealth, was enraged. Some thought that Paley had an additional reason for his unwillingness to turn the company over to Stanton. In his heart, they felt, Paley did not think that Stanton was tough enough. He believed that Stanton was too concerned with image, that over the years he had begun to believe his own speeches, that his essential views of broadcasting were too much like those of the critics who wrote all those lofty newspaper and magazine articles but did not understand the real world of broadcasting. By the mid-sixties, Stanton's role was so identified with moral and professional purity that he talked as though a network could be run on ideals. His role had been to convey respectability; now he had in some ways become too respectable, too concerned with images.
To Stanton, the way things looked was often as important as what they were. Stanton felt that a news program should never be called a show. Always a "program." He had a doctorate in psychology from Ohio State, and he took it more seriously than do many Ph.D.'s; he liked being called Dr. Stanton. He was a clean man, almost surgically so, the man who arranged for all CBS stationery to have a dot in just the right place so that all CBS letters typed by all CBS secretaries would have the right balance. He had started out with the hucksters in the company, but he was always a little ill at ease with the advertising and manipulative aspects of broadcasting, as if he feared he might be tainted by them, and he could not return to academe.
His career seemed to parallel the growth of the company. First he sought order so as to control the swiftness of corporate growth. Then came corporate expansion, as cash flow generated a need to expand: the acquisition of a television set manufacturing company, an amusement park, a music publishing company, a guitar factory, finally a baseball team (the New York Yankees) and a publishing company (Holt, Rinehart '& Winston). He helped to develop the corporate norm, which was profitability. Then, the third and most important role: Stanton the lobbyist and statesman. As the company became successful and powerful, the immensity of its profits staggering, good relations with Washington became crucial. Stanton would testify before congressional committees, and when he spoke, the facts about violence and mindlessness in programming, and the profits derived therefrom, seemed very distant. He had become by the sixties, the major spokesman for the broadcasting industry—as Murrow had been in an earlier era—but with this crucial difference: Murrow had criticized not just the society at large, but broadcasting as well. Stanton spoke the same lofty thoughts and envisioned the same wondrous future, but he did not speak ill of the corporation. He stood for all the best things in the best of all possible ways—and when it was all over he had made well over $20 million at CBS.
12. So, Who Controls the News?
The possibilities of nationwide advertising on television transformed the nature of American communications. Afternoon newspapers began to atrophy and die. Large-circulation magazines, which up until then had been the main conduit of mass advertising—for razor blades, beer, tires, cars, main household goods—could not compete with television for advertising or audiences. Within a few years many of them were dead. A new mass audience was eager for mass entertainment: along with it came new dimensions in hard-sell mass advertising. It was all bigger, and reached more and more people, and the quality was pitched just a few notches lower. Dramatic changes in the relationship of programs to sponsors marked the trend.
Having raided Sarnoff of his talent, Paley moved to make sure that something like this would never happen again, in particular that it would not happen to him, and that the stars or people representing stars would have less leverage against a network. He moved now to take control of programming. In the past in radio, and even in the early days of television, the networks had not produced their own shows, but rather had bought them from the advertising agencies.
At first there was some resistance to Paley's initiative. Gradually it began to change. In the old days one company had sponsored a show completely, but now it was all too expensive. No single company could afford a show, given soaring production costs on television. No one could sponsor Cronkite news, as for example Pall Mall had by itself sponsored Douglas Edwards. (It now costs about $18 million a year to sponsor the Cronkite news.) First companies alternated sponsorship on different weeks; then gradually they began to share given programs. It was a tense moment. Would the American people accept a program brought to them by both an auto company and a floor wax? Then there were a number of commercials on the same program. And then the cruelest blow of all, back-to-back commercials. All of this because the costs were always going up.  CBS was no longer a pipeline for the work of others; now it was producing and scheduling as it chose.
Bill Paley loved programming. He had no wild, adventurous policy; he was not a great innovator. He was content to let others experiment and make mistakes while he studied how to improve it. The ratings were the ultimate measure of success, not taste, nor any sense of balance between commercial harvest and public accountability. That one way no one was responsible. The advertisers wanted the highest ratings because they wanted the biggest numbers. So the networks had to give advertisers what they wanted, which was (they could say to themselves) the same as giving the people what they wanted. A kind of golden prison.
The early CBS reporters loved the simplicity and the freedom of radio. Journalism at its best is a highly personal art, and radio encouraged individualism. The technology of radio was not complicated or expensive; if a correspondent had a story, he simply went on the air. Very little was required of producers or technicians. And there was little bureaucratic interference from the home office. Murrow did not want his radio men to mimic the wire services; he wanted more reflective reporting. He wanted thoughts and ideas, a sense of the issues at play. He also warned against tricks and against hamming it up on the radio. "I want personalities," he said. "If you're a reporter you'll become a personality. Just be intelligent and informed." In the postwar era it was a point of pride with the CBS foreign staff that the CIA's chief intelligence experts began their day with the New York Times and a transcript of the CBS Morning News Roundup.
Murrow returned to America after the war with some misgivings. He told his wife that they were going home "to fight the same kind of things we've been fighting here," an odd and dark remark. Paley's attempt to make Murrow an executive was ill-fated, and he lasted little more than a year. Rather than give Murrow the power to make the news section better, the company used Murrow's name to make decisions, not necessarily his, appear more palatable.
The most delicate problem turned out to be Murrow's old friend Bill Shirer. Shirer was doing a Sunday afternoon radio news show and his sponsor decided to drop him and hire another broadcaster. Murrow reassigned Shirer to another time slot, though without a sponsor and thus at a considerable reduction in income. Shirer was bitter. He had sixteen months to go on his contract. Murrow tried to make him stay, but Shirer was hurt and felt he had been gagged. Since Shirer was the furthest left of the major commentators at the time—he opposed the Truman Doctrine and in general was less of what would come to be known as a Cold Warrior than his colleagues—many thought that CBS, Murrow included, was buckling under to political pressure. (Among those who felt that way was Shirer himself, who later wrote a novel, entitled Stranger Come Home, dealing with the McCarthy Era and singularly unflattering to a character seemingly modeled on Murrow.)
The incident underlined the question of who controlled the news, the network or the sponsors. Did the sponsors for example, have the right to control the tone of the news by deciding whose voice should be heard? Murrow said that a sponsor could select a broadcaster, though it could not control content. It was, he knew, an unsatisfactory answer because a newscaster defined the tone and style of a show; there was no such thing as pure content. In addition, it meant that sponsors, rather than CBS News, had the right to advance or thwart a broadcaster's career, and that very quickly the least offensive journalist, rather than the most talented, might rise and be rewarded.
The corporate role was not one that Murrow relished; the voice he spoke with was not necessarily his own. By 1947, he was back to broadcasting, awaiting the arrival of television, which he regarded with suspicion and ambivalence. But he was a communicator; and whatever else television was, it was clearly a powerful forum for communication.
Murrow was not sure that television was a good conduit for the transmission or translation of ideas, and he was ill at ease with its sheer force. He saw in it a tendency toward overdramatization and away from appreciation of subtleties. In particular he was wary of doing any kind of hard-news broadcasting for television. He had never really been a hard-news man; he was always more interested in interpretation. Some who knew him well thought that Murrow was keenly aware of being Murrow, of being a little different from the rest of the pack. He was by no means eager, they suspected, to let the impersonal mechanics of being a television anchorman dilute that impact. So his moves toward television were slow. When he returned to broadcasting, it was to radio, an evening news show. He did some reporting and commentary for television at the 1948 presidential nominating conventions. But he was wary. Television required so much contrivance. It was a team art, involving producers, cameramen, sound men, levels and levels of technicians, all of whom might distort the effect of the individual journalist.
13. The Dynamic Duo: Murrow and Friendly
If Murrow was to go to television, he needed a producer. He found him while still doing radio. His name was Fred Friendly, and they were brought together by a talent agent named Jap Gude. Their partnership began with a series of albums of radio documentaries, I Can Hear It Now, a collection of memorable broadcasting moments from the past. Murrow's narration and Friendly's technical ability made them successful beyond anyone's expectations. (Collectors of Friendlyisms noticed that as the series of albums progressed, the size of Friendly's byline on the album cover gradually grew larger and finally equaled that of Murrow's). Then they tried some radio documentaries, Hear It Now. In 1951 they turned to sight and sound. Hear it Now became TV's See It Now.
Their alliance was an odd one. It brought together Murrow's broadcasting skills, considerable shyness, and enviable reputation and Friendly's enormous aspirations and superb technical expertise. Friendly was ambitious, creative, and restless, at once a builder of his own legend and a destroyer of it. (He managed to destroy it for one talented reporter for the Times named Charles Mohr by offering him a job and then, when Mohr turned it down, suggesting that Mohr keep in touch because there would be a time when his wife would want a fur coat.) In the words of one friend, he always came equipped with his own precipice from which to jump. He had a weakness for beginning a sentence by saying that he was just a simple country boy and ending it by implying that he had as a matter of fact invented Edward R. Murrow. Talented, insecure (the name Friendly is an Americanization of the name Freundlich, which was mother's name; his real name was Ferdinand Wachenheimer, a name not likely to help his career take off. Murrow, by contrast, was a name which would help it a great deal), he took strength from Murrow's reputation. He was not in the basic sense a journalist, but rather a talented dramatist ("Watch out for Friendly," Murrow would tell journalistic initiates, "he doesn't know a fact.")
He wanted to do a Life magazine of the air, and this fitted nicely with Murrow's conception of television. Knowing he was going into television, and knowing nothing about film, Friendly set out to master the art, to retool himself. He went to the Museum of Modern Art and studied just about every technically ambitious film in its extensive archives. Then he went to Pathé News, demanding to know who was good in documentary film, and asking the professionals to explain what worked and what did not work. Then he set out to find the best technicians available for his CBS film team, using Murrow's name as the come-on. He was aware of the unique asset of Murrow's prestige that the name could open doors, and he became expert at using it. Ed wants, Ed says, Ed feels—and whether indeed Ed wanted or Ed said or Ed felt was another thing, but it brought marvelous results of which Murrow was as much the beneficiary as Fred Friendly.
Friendly was physically huge, with a powerful and formidable presence. Restless, domineering, excessive, he was not a man to be harnessed in a lesser figure. Part of Friendly's strength was his exuberance. If Fred was interested in the problems of water, then the whole world had to be interested in water. He was excited, not frightened, by big challenges. The bigger the show, the more difficult the assignment, the more he responded, and this quality set him off from most people in broadcasting. Later in his career, when he was at a higher level in the corporation, the smell of corporate success occasionally got him into trouble. But his restlessness was also a positive force.
In 1954 he was at least as determined as Murrow to do a show on Joe McCarthy. When they were preparing the film for that program, an incident occurred which others who were present forgot. The team was watching a BBC broadcast, an announcer reading the Canterbury Tales in Middle English: All very simple. And suddenly Friendly exploded: "That's it, that's it, that's what this fight is all about!" Someone else asked, "What the hell do you mean, Fred? What do Middle English and Chaucer have to do with it?" "Damn it, for the right to do what you want, poetry, art, and freedom of speech, the freedom to put on whatever you want without fear."
Yet he had a show-biz side that preferred effect to substance. Once, years later, when he was running CBS News and he was told he should hire a reporter who had done very well in a difficult assignment, he answered, "Yes, yes, he's good, I know he's good, but is he a star? I only want stars."
Murrow could control Friendly's excesses, and Friendly could dramatize what Murrow wanted to say and do it with professionalism. He took staid Ed Murrow into the hustling world of television and made the combination, work. Television for better or worse did require a show-biz component, and Friendly provided that, tailoring it to Murrow. The result was that See It Now became a great show—too great, finally, for its own good.
By the late 1940s, what was to become known as McCarthyism had already come to broadcasting (and to Hollywood) in the form of "blacklisting." Actors, announcers, and correspondents were singled out by right-wing critics for having been associated with organizations now considered far left, communist, or communist-oriented, and became the targets of a variety of political and economic pressures. CBS, which had been the most liberal of the networks, became the most sensitive to pressure from the Right. As early as 1948, Murrow was becoming depressed by political reaction at home and the inhibitions on free debate that Cold War tension was producing. He was hardly a figure of the Left. If anything, he was a freedom-of-speech and First Amendment man, a classic political centrist with a certain sympathy for the underdog. But he was becoming uneasy with the increasing timidity of his own profession and his own company. Loyalty was now a political issue and he did not think that broadcasting was doing the job it should in defining freedoms for those accused of disloyalty.
In 1948 he encouraged his old friend David Lilienthal, the head of the Atomic Energy Commission, to make a speech attacking the broadcasting industry for not using its influence to create understanding of the new and complicated Nuclear Age. When Lilienthal showed Murrow his projected speech, he was surprised that Murrow urged him to make it even tougher. Murrow, with all his influence in his profession, felt so concerned about the climate and trends within broadcasting, and felt such limits on his own ability to do anything about them, that he had to turn to an outrider to get his own views aired. Later that same year, when Lilienthal was under attack for his political views and under heavy congressional pressure to resign, he met with Murrow again, and Murrow seemed in an unusually dark mood, talking about subtle, growing pressures against him in broadcasting. He told Liljenthaj that he did not think he could continue to broadcast much longer unless he injected more and more anticommunism in his commentaries. Though his contract at CBS was binding for several years to come, he was already talking to Lilienthal about what he was going to do next.
That television arrived simultaneously with the height of McCarthyism probably helped to narrow the parameters of journalistic freedom, but it was bound to happen anyway. Politically, television was simply too powerful a force, too fast, too immediate, with too large an audience, for the kind of easy journalistic freedom that radio and print reporters had enjoyed. Newspapers competed with each other for power and influence, but television was a virtual rival of the government. It was as if an unwritten law of American journalism had evolved, stating that the greater the institutional platform, and the more power it has to influence public opinion, the more carefully it must be used and the less it must wander from the accepted norms of American society. It is better to be a little wrong and a little late on a major sensitive story than it is to be too right too far ahead of the rest of the country. There were two reasons for this sensitivity. The first was timidity, a desire not to offend the audience's sensibilities, not to get too far ahead of the parade, plus an awareness of political pressures that grew in direct proportion to the success and influence of television. The second was more honorable, the perception that the medium was so powerful that personal journalism of any sort bordered on being dangerous, that no one journalist should be too powerful. So television journalism, far more than print or radio journalism, contemplated the political implications of every story it broadcast, considered what the reaction might be. A political figure could be damaged by a piece in a major newspaper, but a television report might destroy him. Television's important figures became prisoners of their power.
"If Walter Cronkite would say on television what he says on the radio," Lyndon Johnson, an inveterate radio listener, once said, "he would be the most powerful man in America." But for precisely that reason, by the time that Cronkite was Cronkite he could not say those things. Television was simply too powerful a force to permit him to do so. It moved people as radio never could, and reached a whole new mass of citizens who had never been readers. Even among those who had been readers it often had an unprecedented emotional impact. The people who controlled the networks knew this and were uneasy, and in some cases, terrified.
Television came into its own when government was just beginning to pressure broadcasting, and when the networks were beginning to sense the problems their news divisions could cause, For reporters, lowly men in a corporate structure, could nonetheless bring the entire network into unwanted confrontation with Washington. So the networks decided, consciously or unconsciously, to limit the autonomy of the network news show. The kind of freedom radio news had enjoyed would now have to be curtailed. A corporation with so much at stake would have to exert greater controls over its parts. At first Murrow escaped that problem because of his unique position within the company; but eventually even he, with his reserves of special status, found out one day that he had expended it and had become a liability to the corporation. How that happened, how the single greatest broadcaster of an age exhausted his welcome while still doing first-rate work, is a parable of the profession.
14. Murrow vs. McCarthy: Fear and Trembling on the 20th Floor
Reporting the war from London was a magnificent time for Murrow. But the war was a story of such drama and urgency that it virtually told itself. Now, in 1951, doing his weekly See It Now documentaries, making people see what they did not necessarily want to see, bringing complicated questions into millions of homes, work was even more challenging. He was at his best, and in some ways the audience sensed that he was special, that he had more than good looks and a rich voice, that this was a man who could not let go, who experienced the pain he projected into their living rooms. He was at the peak of his powers, and if he was not exactly politically touchable, he was certainly less touchable than other mortals. But even Murrow was aware that he had to hold to the center, that he had to limit the number of controversial shows he could do, that he had to ration his powder in order to protect his influence, and that he had to work to make himself palatable to his public.
See It Now exemplified the best of television, restless and adventurous, probing into complicated social and political problems. But soon there appeared another face of Murrow, called Person to Person. His new show was more a part of the world of show business than of news and pubic affairs. It was less a question of technique than of substance, or rather lack of substance. "Higher Murrow" and "Lower Murrow," the critic John Lardner called the two shows. Person to Person was a celebrity hunt into the homes of the famous (and often fatuous; some interviewees were Rose Lee, the Duke and Duchess of Windsor, Jayne Mansfield, Liberace, Lawrence Welk, Eddie Fisher and. Debbie Reynolds). Murrow, who was not necessarily a good interviewer, was matched with people who often had remarkably little to say. Celebrityhood, that status of being well known for being well known, did not always imply intelligence. The See It Now people began referring to the Person to Person people as "the buttonhole makers."
Joe Wershba, one of the most talented men on the See It Now team, remembered how incongruous it all seemed, the same Marrow who did these marvelous documentaries and who was broadcasting's best voice doing silly patter with instant stars. The first time Wershba heard of the new show seemed symbolic: Murrow was doing a show on Berlin and he was standing at the remains of the Reichstag with Howard K. Smith, and Smith was interviewing Ernst Reuter, the mayor of West Berlin. Murrow mentioned casually to Wershba that he was starting a new show with celebrities and that one of the first guests would be Lucille Ball…Wershba, who revered Murrow, looked and thought, the Reichstag, Ernst Keuter, Ed Murrow, Lucille Ball… Murrow was clearly embarrassed at it. His ambivalence never went away. At one point he wanted to put Andrew Heiskell, then the publisher of Life, on Person to Person. Some delicate negotiation ensued, because Heiskell was less than anxious to appear. Finally the public relations people were sure that they had Heiskell aboard, only to find at the last minute that Heiskell was adamant in his refusal. Why had Heiskell changed his mind? Well, it seems he had run into Murrow that night on the street and he had asked how Person to Person was going and Murrow had said, "I hate that damn show—it's so damn demeaning, but it really makes a lot of money."
He would mutter periodic excuses, such as that he had originally intended to bring a wide variety of uncelebrated Americans—blacks, Indians, laborers—to the show, but it had not quite worked out way. From time to time he said that he did it as a way of picking up a little change for Johnny and Jesse (Johnny Aron and Jesse Zousrner, his two writers). The truth was that he picked up a little change of his own. Paley bought the show from him for an estimated $1 million, a gesture that was generous but not entirely altruistic, since it gave Paley an extra hold on Murrow. "I gave Ed the only money he ever made," Paley said later. But Murrow's reason for doing Person to Person was more tactical than financial: it was a deliberate and conscious decision to broaden his base.
Before Person to Person he was a political commentator, increasingly controversial, frequently hitting raw nerves. This made him vulnerable to criticism, for his real constituency was increasingly among the elite at a time when his instrument was a mass instrument. Murrow was now on the defensive. Person to Person gave Murrow a "good guy" incarnation: it was noncontroversial, it built him up as a star and a celebrity, a celebrity who had a lot of friends, none of whom was controversial. Later he told friends that he had been able to withstand the storm that followed his Joe McCarthy broadcast in part because he had enjoyed so much popularity as a result of Person to Person. Naturally the two programs' staffs, bitter in their rivalries, were acutely aware of the contradictory nature of Murrow's broadcasting roles. The See It Now people hated the idea of their great man indulging in something as frivolous as Person to Person, and the Person staff worried about the risks their star took with the controversial See It Now shows. One morning, after the McCarthy show, when the Senator began to pressure Murrow, Johnny Aron charged into Joe Wershba's office and yelled, "See—you get in with shit, and you get shit on your hands."
The Murrow-McCarthy show was significant first because it took so long in coming, second because it loomed so large over what was clearly so low a landscape, and third because it caused such a storm. It would have been unforgivable for television and for a team with the reputation of the Murrow-Friendly group to fail to do a major documentary on McCarthy. It would have rendered television in general, and CBS and Murrow in particular, a joke. From the start, the real question raised by Joe McCarthy was not what he was—that was self-evident—but rather which journalists and networks would have the courage to say what he was. From the start he was reckless and shallow; the only thing real about him was the fear he generated. For he came on the scene at a volatile time, America blown overnight to great power status, the Soviets with atomic weapons. His was an essential challenge to freedom of speech, and an astonishing number of people were cowed, to a greater or lesser extent, into retreating before the demagogic challenge. This was true of print journalism and it was even more true of electronic journalism. If the center did not fold, it did not exactly hold, either. Murrow was a man of the center; he was the best of broadcasting. So it was natural that in 1952 and 1953 friends began to ask Murrow and Friendly when they were going to take on McCarthy. When? It was a very good question.
For a year before the McCarthy broadcast, the See It Now team had been told to start collecting film. No date for broadcasting the show had been set. Murrow's own failure to act was becoming an issue among journalistic colleagues. Yes, he had done some shows which touched on civil liberties, on people being pressured by forms of McCarthyism. But he had not gone after McCarthy himself. When the subject came up he answered yes, the show would be done, but he was searching for the right vehicle. When colleagues and friends were, as they often were, somewhat more insistent, and demanded that he go on and take the extraordinary forum of television and make an attack upon McCarthy, Murrow pulled back. No, he couldn't do that. It wouldn't do any good. He was aware of the problem, he said, and aware of the force of television, but it wouldn't do any good for him to simply go on television and make a speech against McCarthy. His friends were often not satisfied with his answer, and for that matter, neither was he. For he knew, better than most, that what a journalist chooses not to see is often as important as what he chooses to see.
In late February of 1954, Murrow and Friendly began to move ahead on the show. Those who knew him well believe that Murrow knew the Army was also going to attack McCarthy: he realized that he could delay no longer. Reports were circulating that McCarthy might go after Murrow; the Senator was already telling people that he had documents proving that Murrow was a communist. Murrow warned everyone on the staff what might lie ahead and asked if they had anything to hide, anything which might come out later and embarrass them. At the same time CBS's lawyers began to go through every aspect of Murrow's own past, in preparation for McCarthy's expected counterchallenge.
Murrow was uneasy about using television in what would inevitably be so personal a fashion. McCarthy had broken the rules of civilized political behavior; this meant that any journalist portraying him accurately would similarly have to break his own rules and built-in restrictions. When he finally decided on the vehicle for taking on McCarthy, it was a simple one. He would let McCarthy destroy McCarthy; "the terror," Murrow said, after screening some footage of the Senator "is in this room."
Murrow and Friendly kept the idea of their show a secret inside CBS as long as possible, on the assumption that the less the twentieth floor knew, the better. That was fine with the twentieth floor. Paley was not about to order Murrow not to do a McCarthy show, nor was he likely to order him to do one. But he was not eager to be associated with it, and he kept as much institutional distance as possible between the show and CBS. No, CBS would not advertise the program or allow the CBS logo "eye" to be used. So Murrow and Friendly bought their own ad and paid for it of their own pockets and signed it with their own names. No, Paley, when asked, did not want screen the show before it ran. Both Murrow and Paley knew what his reaction would be: Ed do we really have to do this? Paley did suggest that Murrow offer McCarthy equal time. Murrow had been thinking of that too, that it had the advantage when McCarthy demanded equal time, of not looking as if they were backing down. They also asked Sig Mickelson, nominal head of CBS News (in fact Murrow and Friendly were practically running a separate shop, which was known as Tobruck), if he wanted to look at it, but Mickelson declined. He had screened nothing else of theirs. So the most potent and sensitive television show of the decade went on the air without any screening by CBS superiors. A decade later it would be very different.
Just before the McCarthy show was to be broadcast, at 10:30 p.m., March 9, 1954, a call came through to Murrow from Paley: "Ed, I'm with you today, and I'll be with you tomorrow." A nice call. The show was very good. Long overdue and very good. Murrow examined McCarthy in the piercing light of the American tradition of civil liberties: "We will not walk in fear, one of another, we will not be driven by fear into an age of unreason. If we dig deep, deep in our history and our doctrine and remember that we are not descended from fearful men, not from men who feared to write, to speak, to associate with, and to defend causes which were for the moment unpopular. . . " It was a good show.
On its most important test it passed without a blemish—it caught McCarthy for what he was, not for what he said he was. Twenty years later, in an era when civil liberties were far stronger and there was far greater willingness to defend them, the McCarthy show could be aired without any apology or explanation.
15. The Profit Center vs Murrow: Bad News for the Department
After the show there was a nice phone call from Paley—Babe Paley, that is. She was Bill's proxy. Deniability had to be maintained in case the show or Murrow had to be sacrificed. Viewer reaction was intense, but McCarthy was already overstepping himself, not just against Murrow but against the Army, and finally against fellow Republicans. The tide was turning, and the Murrow show was part of the turning. Not everyone at CBS thought so. Some members of the board were furious, and put pressure on Paley to bring Murrow under control—was he an independent entity, some sovereign state, who could do what he wanted? The next day Friendly ran into Jack Van Volkenburg, president of the television network, and rode up in the elevator with him. He was the first member of management that Friendly had seen since the show, and as they rode up, they talked about the weather and their families, but they did not talk about Joseph R. McCarthy. A few days later Stanton called Friendly into his office, a rare occurrence in the best of circumstances. Stanton said nothing about the quality of the show, just about the problems and pressures it had created.
"A lot of people think you may have cost us the network," Stanton began. He meant lawyers and people in Washington.
Friendly countered by mentioning the avalanche—about 100,000—of supportive telegrams. Stanton took a sheaf of papers and showed them to Friendly: a special Roper Poll, which he had commissioned on the subject of Murrow and McCarthy. Not surprisingly, it showed that more people believed in McCarthy than in Murrow, and 33 percent of the population felt that Murrow a communist or a communist sympathizer. The parts of the poll which reflected anti-Murrow sentiments were all circled in orange crayon. Stanton asked Friendly what he thought of these statistics.
All the more reason to have done the show, Friendly said. Which ended the conversation. Friendly went away as many others had, wondering whose voice he had just listened to. Was it Stanton speaking for Stanton? Or was it Stanton speaking for Paley, somehow passing the word, as it is often passed in broadcasting, to let Friendly know that there were limits to his power?
Both before and after the McCarthy show, Bill Paley stayed as far away from Murrow as possible. Those working on the programs had a sense of his distance. But years later Bill Paley liked to recall those days, and as they were recreated in his mind.  He saw one big trench, and standing alone in it were Bill Paley and Ed Murrow, shoulder to shoulder. Biting the same bullet. As he reminisced like this, he often wondered why people did not give him more credit for his part in the show.
"I'm with you today, and I'll be with you tomorrow." A nice line. A lovely ring of abiding loyalty and sustenance and faith. But the McCarthy show, and several other incidents, proved to Paley that See It Now and Murrow were a potential liability (if not already a liability) to the network. CBS could not grant so much autonomy to so reckless a journalist. (Years later Paley spoke to this reporter about Murrow and journalists. Oh yes, Murrow was a great fellow, a great journalist. No, it was not true that it had ended badly between them. He had letters to prove what good friends they were. Though of course Murrow had a brooding sense of life. Very difficult, dark fellow. Always taking too many risks in the war. Then confronted with evidence of growing separation between the two of them, Paley offered a small lecture on journalists: they were all alike. They claimed to be objective, but none of them really were. They all wanted to make personal comments. He had to fight with even the best of them, like Murrow.)
For the amount of prestige Murrow brought CBS was less important now. CBS was established, there was too much to risk, and there were too many complaints about Murrow and his colleagues from Paley's peers.
Paley was an out-and-out Republican now, an avowed Eisenhower man. (Sig Mickelson had heard from friends how close Paley was to the Eisenhower entourage, but the first tangible evidence came in 1952, when Ike returned home to Abilene to make his presidential announcement. Paley had suggested rather casually to Mickelson that this was something CBS News might want to cover live on television. In those days television facilities were primitive, and a live feed from Abilene would have required running a cable out of Chicago at a cost of thousands of dollars. Mickelson explained to the Chairman that it was much too expensive, but Paley waved aside his doubts—Michelson was to take care of the arrangements, Paley would have AT&T take care of the cable. Cost was never again mentioned, and for the first time Michelson realized how close Paley was to Eisenhower.) His best friends were people like Walter Thayer and Jock Whitney; he badly wanted to become Ambassador to the Court of St. James's; and when his reporters made the Administration angry they were making his closest friends angry.
The problem was not that Murrow's autonomy was growing; indeed, if anything, it was the same or less than it had been. The problem was that television was richer and more powerful, influencing more and more minds. In January, 1950, only 3.2 million Americans owned television sets. A decade later the figure was 50 million. In. January, 1952, for the first time, according to Nielsen, more television sets than radios were being turned on between 9 P.M. and midnight; and in 1954, the same year that Murrow took on McCarthy, television's gross billings, jumped 50 percent over the previous year's, making CBS-TV the biggest single advertising medium in the world. Net income, which for two decades had averaged about $4 or $5 million a year, suddenly was increasingly by 25 and 30 percent to a total of $11.4 million in 1954. The candy store was becoming bigger and bigger.
In exercising his prerogatives, Murrow guaranteed that neither he nor anyone else would ever again have that much freedom or autonomy, that never again would there be a broadcasting personality with a following so great that he could, by walking out, damage the network. The network would henceforth control its reporters, writers, and producers, their shows, programming hours, and, to a considerable degree, their subjects.
Systematically, CBS began to bring Ed Murrow under control. First they limited the number of his shows; then they switched the hour when the shows were aired; then they changed the name of the program; and finally, they took it away from Murrow and separated him from his producer, Fred Friendly. This was all done deftly, perhaps not even consciously. The intrusions were small, never enough to force Murrow to stomp out with a resignation. Within four years of its moment of triumph, See It Now was dead, and in six years Murrow himself was gone from CBS.
In the wake of the McCarthy program Murrow had sponsor problems, and this made him more vulnerable to the corporation. He had long been sponsored by Alcoa, a company at some distance from conventional marketplace pressure. Alcoa had remained loyal, despite grumbling by some of its board members. It had given Murrow complete editorial freedom, which meant that he was not dependent upon the network for license to do as be wished. But the McCarthy show and a program sympathetic to nuclear physicist J. Robert Oppenheimer had caused the rumbling to mount become more direct. At the end of the 1955 spring schedule, Alcoa decided not to renew.
At almost the same time, TV quiz shows were rising to popularity. Not the "$64 question" of the old radio days; no, in superrich America in its supercentury, it was time for The $64,000 Question. Murrow, watching the first run of The $64,000 Question, was disturbed. The hucksterism of the network had always frightened him. At the end of the first run, he turned to Friendly and asked "Any bets on how much longer we'll keep this time period?"
Not very long. Soon after the final See It Now show of 1954-1955, Murrow and Friendly were summoned to Paley's office. The Chairman admired their work and was generous in praise of it. He wondered, however, if it wasn't too confining: coming up every week (in a regular segment prime time, something he neglected to mention). Wouldn't eight one-hour shows a year be better? Wouldn't this be more satisfying? Murrow, wise to these games, asked at what hour they would be shown. Paley said at eight. Murrow asked if he couldn't continue the half-hour show. Paley, who has a particular talent for saying no without using the actual word, made it clear that no more regular half hours were available. The schedule was tightening at the expense of public affairs. More important and more profitable programs had to be shown.
The loss of the time slot was not the only setback for Murrow. To go to a full hour would change the balance of the show and would cost Murrow and Friendly heavily in terms spontaneity, and, in subtle ways, of autonomy. For, with an hour-long slot and perhaps without a regular sponsor, Murrow's shows would have to be scheduled far in advance, and decided upon in consultation with others in the company. No more could they just do whatever they wanted and broadcast it at their hour. Management was taking over the show.
The problems mounted. General Motors offered to sponser six of the eight, then reneged when they were told that one of the shows was to be on the vice presidency. GM suspected that this would end up as an attack on then Vice President Richard Nixon. One of the documentaries focused on the farm problem, and it starred the Secretary of Agriculture Ezra Taft Benson. The Republicans decided that damage had been done to him, and asked for equal time (hardly expecting to be granted it). Murrow protested, but CBS gave the Republicans the time anyway. Murrow came very close to resigning. The 1956-1957 schedule accommodated another eight See It Now shows, but they had been moved to Sunday at 5 o'clock, no longer in good, if fluctuating, evening hours. Shows which Murrow considered important, programs on Tito and Chou En-lai, were followed by panel discussions, an attempt to dilute the effect of what had just been presented. Murrow felt humiliations mounting, his influence waning.
The final indignity for Murrow involved a program which he considered one of the least important of 1958, a minor, presumably noncontroversial show on statehood for Alaska and Hawaii. It was what is known in the business as a "soft show." It balanced spokesman, some for and some against statehood. One of the proponents of statehood, the leader Harry Bridges, was asked about a statement by a congressman from upstate New York, named John Pillion, that Bridges would control the Hawaiian delegation. Bridges answered that Pillion was crazy. Pillion, not that crazy, demanded equal time. CBS caved, in. (One weakness in the whole format of television programming was a lack of flexibility. Television had no equivalent newspaper's Letters to the Editor column, where minor disputes could be aired and then forgotten. The networks were in the position of having to grant a full hour or nothing.)
The decision was straight Paley; Sig Mickelson had argued against it and had mentioned the implication: that it might drive Murrow from the network. Paley was unmoved. The only possible explanation for Paley's adamancy was that he was to see Murrow go. Murrow was shocked. The equal time decision had been made without any consultation with him, and it was clearly a surrender to the most petty kind of political pressure, and would only bring on more political pressure.
Murrow wrote a strong letter to Paley, saying that the decision to put Pillion on without consulting him had undermined his relationship with the company and put the future of See It Now in doubt. It was precisely the letter Paley wanted and expected. A few days later Paley met with Murrow and Friendly. Murrow said that the situation had become untenable and that he or Friendly had to share in the decisions on who was to get equal time to respond to See It Now. "But," said Paley, "I thought you and Fred didn't want to do See It Now anymore."
Murrow argued that he wanted to talk about the equal time regulations — of course he wanted the program to continue.
"I thought we had already decided about See It Now," said Paley. With that both Friendly and Murrow knew: See It Now had closed for the duration.
For Murrow it was his most painful moment at CBS: the end of the TV program about which he cared most deeply.
"Are you really going to destroy all this?" he asked Paley. It was, he pointed out, the most remarkable achievement in electronic journalism.
Paley said yes, he was, he could not stand the constant stomach ache it was giving him; the pain was killing him.
"It goes with the job," Murrow answered. And that was it.
16. The Murrow Era is Being Canceled In Order to Bring You …
For Murrow, this latest in a series of concessions to politicians, was a dark omen, and he became obsessed by the trend. The more CBS gave in to politicians, he told both his superiors and his friends, the more the politicians would demand and the more the pressures against the network would build, at the price of the internal integrity of the news department. Eventually, he predicted, two things would happen: the network would treat fewer and fewer controversial subjects, anticipating in advance the complaints against them; and second, it would gradually deal with public affairs in a way that would not disturb existing authority. In both instincts he was prophetic. What particularly disturbed him was how little say the news department now had in making decisions. Instead of traditional definitions of journalistic fairness being the test, the norms were being set by people sensitive to both the government and the marketplace. The company wanted to keep peace even if in journalistic terms this meant backing down; it was now more sensitive to outside pressures than to its own people. The only hope for survival of television news at its best, he insisted, was a rigid adherence to policies of journalistic fairness and excellence which would, in the long run, build genuine public support, and thus scare off marauding politicians.
The days when Paley might have listened to him, however, were past. Now Murrow watched himself slowly being shunted aside at CBS. He was too proud to complain outright, but gradually he began to change, to become more depressed. Once, around 1958, Charles Collingwood, who was closer to him than anyone else at CBS, told Murrow that he was caught in a dilemma, a choice between doing a show or going on a much needed vacation.
"I'd go on the vacation," Murrow said.
Collingwood mentioned that he rather wanted to do this particular program.
"It doesn't make any difference," Murrow answered. "You're only important around here as long as you're useful to them, and you will be for a time. When they're finished they'll throw you out without another thought." It was a side of him Collingwood had never seen before.
At the 1960 Democratic convention, CBS programmers had reduced Murrow's role to a pitiful degree. At one point during the convention he had a story which they kept scheduling and then canceling; he became more and more morose. Finally he came back to a room which the correspondents used as a base and grabbed two of his colleagues. "Let's go get a drink," he said. "Things have come to a pretty damn point when you can't even get on the air at a convention."
In October, 1958, Murrow went before a meeting of radio and television news directors in Chicago and said: ". . . and if there are any historians a hundred years from now, and there should be preserved the kinescopes for one week of all three networks, they will find recorded, in black and white or color, evidence of decadence, escapism, and insulation from realities of the world in which we live . . . . If we go on as we are, then history will take its revenge and retribution will [catch] up with us." Paley was furious: Murrow had betrayed him, had fouled his own nest. Ed Murrow had betrayed the man who, in Bill Paley's view at least, had made him rich and famous.
The corporation would pay him back. Stanton addressing the same convention a year later, promised, in the wake of the quiz show scandals, tight restrictions on all shows. No more rigging. No newspaper picked up the story. So CBS gave a friendly hint. A PR man called Jack Gould at the Times and deliberately tipped him, all shows. That means Murrow and Person to Person too. So, if Murrow could attack the corporation, then the corporation could slap down Murrow, deliberately diminishing his reputation. Murrow, of course, was furious; he issued a statement to the Times saying that Stanton had finally revealed his ignorance of all news matters. It was quite a day for CBS and its image—two of the foremost figures of the company arguing their disputes out on the front page of the Times. Ralph Cohn went to Murrow with orders from Paley to make Murrow apologize or resign. He would do neither.
The quiz scandals provoked one of those periodic bursts of network good intentions to do more in the public interest. In March 1959, Stanton promised that CBS would sponsor regular one-hour documentaries in prime time once a month. Then biweekly. Then perhaps once a week. He was describing a documentary series suspiciously like See It Now. But without Murrow.
Then the corporate genius showed. In the Murrow-Friendly team it was Murrow's name that was special, Murrow whom they feared. CBS knew that Friendly was ambitious, delighted to be associated with Murrow but eager for a reputation of his own. Paley and Stanton knew that with everyone in CBS News desperate for air time, it would be impossible for either Murrow or Friendly to say no to any major offer of time. So Paley and Stanton made Friendly an offer he could not refuse. He was called into Sig Mickelson's  office and asked to do a monthly documentary. Friendly was surprised. He wondered whether it had been cleared with the twentieth floor. Mickelson made clear that it had been, that this was what the twentieth floor wanted. Was the offer made to the Murrow-Friendly team? Friendly wondered. No, answered Mickelson, but Murrow was going on sabbatical anyway. Murrow certainly would be the reporter on some shows, but other correspondents would be used. So the predictable happened. Murrow encouraged Friendly to take the job—the offer was simply too good, the time too precious. Friendly had been the best documentary producer at CBS. If someone else took the assignment and failed, it might be bad for television journalism.
See It Now became CBS Reports. (Once Stanton and Paley were searching for a name for the show and asked Murrow what to call it. "How about See It Now With Ed Murrow," he answered sardonically.) With remarkable ease Murrow was split from Friendly, the air time went to Friendly, who seemed in no way a corporate threat, and Murrow was separated from any regular or direct access to television air time. Murrow was now an honored name, but a name without a voice. That was exactly what the corporation wanted.
Murrow returned from his sabbatical with his future at CBS very much in doubt. If he was an ornament to his profession, his superiors deemed him increasingly too risky a one. Sig Mickelson negotiated renewal of his contract, and came up with a figure acceptable to both himself and Murrow, but after months and months of querying, he could never get a response from management. The situation was ominous. Murrow himself had little taste for this fight. He was tired now, eroded physically and spiritually, and depressed about his own profession. He saw it becoming more and more a vehicle for manipulation rather than a vehicle for strengthening the parameters of vision. All those years of smoking, all that nervous energy and tension had taken their toll. Those cigarettes and those late-night drinks were depressants, not stimulants, and now he was worn out.
Fortunately for Murrow, whose contract was still unsettled in 1960, John Kennedy was elected President and Ed Murrow was offered the job of running the USIA. The job offer by Kennedy, said Murrow's wife, Janet, years later, "was a brilliant and timely gift." When the Kennedy offer finally came through, Murrow was ready. A man who just twelve years earlier had been supreme in his profession, who had received an under-the-table offer from NBC asking him to write out whatever figure he wanted, just name the price, was now almost unemployable in broadcasting. The day the news came from Washington, he was taping a radio show called Background. Now Murrow wanted out, totally out, and as quickly as possible. He turned to his colleague Blair Clark and asked if Clark would fill in and anchor the program. Clark said he would, and asked Murrow what he should tell their listeners to explain Murrow's absence. Murrow answered, with cold suppressed fury, "Tell them I've gone to serve my country."
On April 27, 1965, Ed Murrow died of lung cancer. He had suffered a long and painful and exhausting illness. That night CBS, under the direction of the man who was now head of news, Fred Friendly, broadcast a memorial program "to the most distinguished commentator in our history." It was made up of tapes from his television broadcasts, and voice-over from his radio days, accompanied by still photos. It was powerful and moving, not least because those friends of his who happened to narrate it—Sevareid and Collingwood—had the best voices in broadcasting. The afternoon before it was aired, Friendly received a phone call from one of Paley's PR people.
Is anyone going to speak for the company? the PR man inquired.
Friendly answered that he didn't know what that meant. This was a show, he said, about Ed Murrow, who had worked for CBS.
Are you going to be on? the PR man asked.
No, said Friendly, it was going to be very simple. Murrow and some of his boys.
What do you think, said the PR man, of the idea of the Chairman going on for two minutes?
Oh, said Friendly, slightly taken aback, do you think he really wants to?
Yes, said the PR man, I'm very sure he'd like to.
So on the occasion of the death of Edward R. Murrow, William S. Paley, who had done so much to make him and almost as much to break him, and who wanted to be sure that the company got credit for Murrow, went on the air to say that Ed Murrow had symbolized the golden age of broadcasting, and that there would soon be another golden age.
In 1973, as the Watergate scandals unfolded, Janet Murrow watched television news regularly. She often felt frustrated by the lack of commentary. Of the varying commentators, she thought that Bill Moyers most resembled Ed. But he was not on the networks; he was on public television. Her son, Casey Murrow, lived in Vermont and taught school. He did not own a television set.
---
*A BBD&O study for a typical year. 1970-1971. NBC in the same study was listed at 2 percent for information and news, and ABC at nothing at all.