A story by Jonathan Schwartz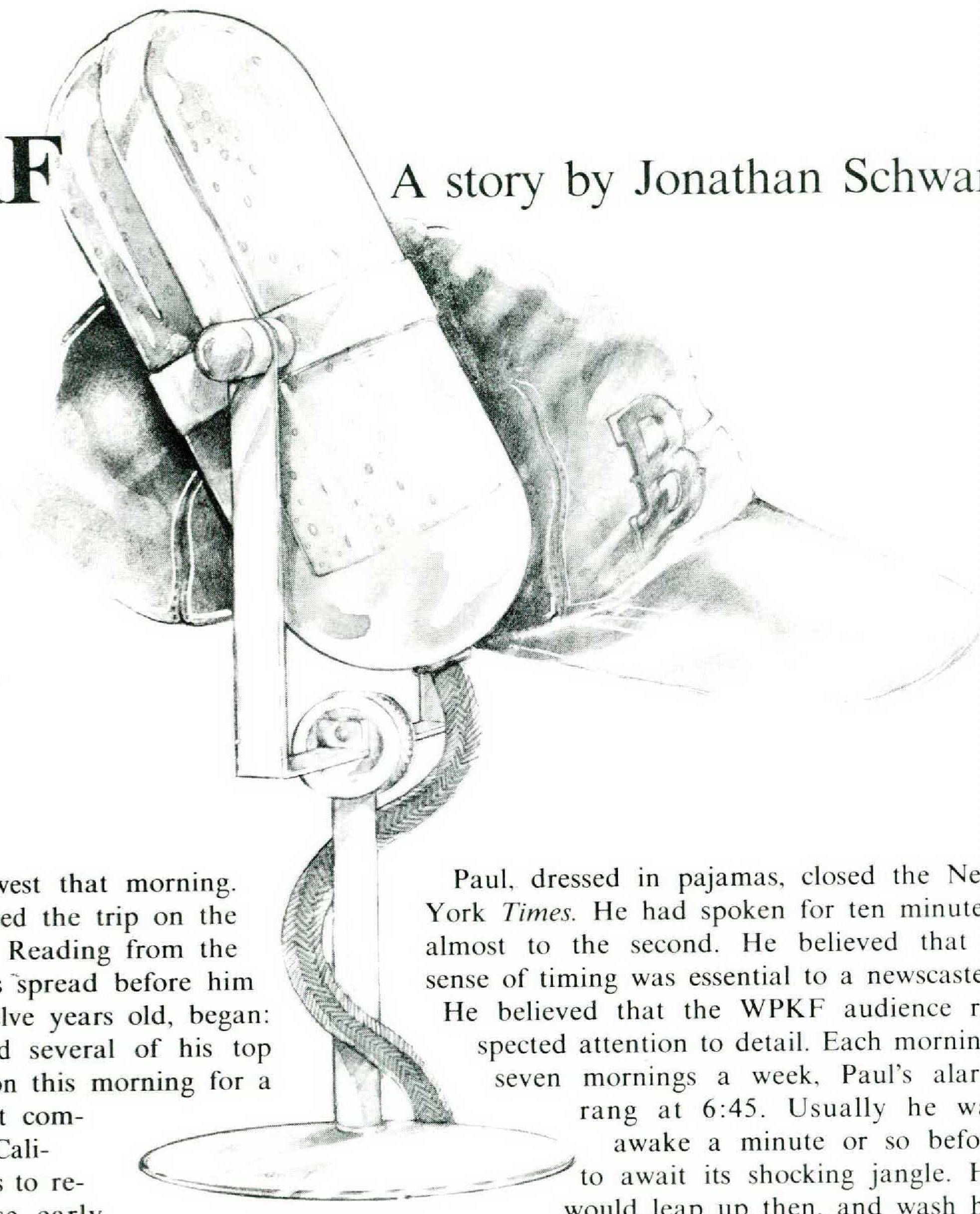 The President flew west that morning. Paul Kramer reported the trip on the seven o'clock news. Reading from the New York Times that was spread before him on a card table, Paul, twelve years old, began: "President Eisenhower and several of his top aides will leave Washington this morning for a five-day stay in the resort community of Palm Springs, California. The President plans to return to the White House early next week."
Paul skipped to local news, reported with a concerned tone that Mayor Wagner had the flu. The baseball scores were delivered with attention to detail: . . And in the junior circuit, the
Philadelphia A's vanquished the New York Yankees six to one as Bobby Shantz gained his fifth victory of the year against only one setback. In the only other game scheduled, the Cleveland Indians, behind Mike Garcia's neat four-hitter, knocked off the Detroit Tigers three to two before a large throng at Briggs Stadium."
Paul ended with the weather: "Today, Friday, fair and mild. The high today in the low seventies, the high tomorrow near seventy. We can expect some clouds with the possibility of a shower or two tomorrow.
"And that's it. The seven o'clock report; a morning feature presentation of WPKF. This is Paul Kramer. Have a good day."
Paul, dressed in pajamas, closed the New York Times. He had spoken for ten minutes, almost to the second. He believed that a sense of timing was essential to a newscaster. He believed that the WPKF audience respected attention to detail. Each morning, seven mornings a week, Paul's alarm i, rang at 6:45. Usually he was awake a minute or so before . to await its shocking jangle. He would leap up then, and wash his face, and brush his teeth with Calox tooth powder (his mother had often told him, "Powder gets the job done a thousand times better"). With a bathrobe over his pajamas he would leave his room and scurry down the hall and unlock the front door and pick up the I imes and return to his room. He would scan the front paae. pinning down the national and local news. International news was filled with unpronounceable names of diplomats and countries ("Ambassador Garzinhastitouf said today . . . ," "Ethiopia suffers famine"), and for this reason Paul rejected international news in its entirety. At precisely seven o'clock, according to the Westclox by the bed. Paul would begin: "Good morning. On WPKF this is Paul Kramer with the news."
The fictional station had been on the air of his own imagination for over two years. Its call letters had been fashioned from his initials and his father's first initial, F, for Franklin. It was. after all.
Franklin's copy of the Times that Paul used as a wire service; and it was Franklin's copy of the Times that now. as on every morning, must be folded carefully back to its virgin state and returned to the entrance hall outside the front door of the apartment.
The WPKF broadcast schedule was a flexible one. With the exception of the morning news, rigidly commenced on the button of seven, other programs would take to the air at Paul's discretion. Music would be aired when Paul played the phonograph: "Hi there, Paul Kramer here with music tor you on a cloudy Tuesday evening. To kick off' the proceedings, here's Joni James." Programs of classical music were conducted with more formality: "Good afternoon, this is Paul Kramer. We hear now a performance of Mozart's Symphony Number Twenty-Nine in A Major. The NBC Symphony Orchestra is under the direction of Arturo Toscanini."
And sports, baseball especially, played an important role in the WPKF program schedule. Paul would listen to Mel Allen broadcast a Yankees game, or Red Barber with the Dodgers, or Russ Hodges with the Giants. He would keep a record, pitch by pitch, so that his scorecard at the game's conclusion was unimaginably detailed. He would then, on another day, rebroadcast the game on WPKF, beginning always: "How ya doin' baseball fans. It's a perfect day for baseball, and this is Paul Kramer inviting you to pull up a chair, bring out a Ballantine. and enjoy all the action that I'll be bringing your way. After identifying the teams and reading through the starting lineups, Paul would announce with considerable authority: "The broadcast you are about to hear is intended only for the private use of our listening audience. Any rebroadcast, or any other use of this play-by-play description, without the express consent of Paul Kramer or his father, Franklin Kramer, is prohibited."
At the beginning, Franklin Kramer was disturbed by WPKF.
"He's in there talking to himself," he declared to Paul's mother.
"There's nothing wrong with that," Carol said. "I mean I can't see that it does any harm. He's alone a lot, you know."
"How true."Franklin's compassion was evident.
I his one child of his was burdened with solitude. His mother had been ill since his birth, and had drifted in and out of the Rockefeller Institute for experimental medication. As well, on several occasions she had submitted herself for months to a hospital in Durham. North Carolina, where she lived on a diet composed entirely of rice. At home, surrounded by capsules and pills, she remained in bed with Gourmet, a magazine that was filled with photographs of glorious meals forbidden to her. She read of her illness in medical journals, searching for clues, weepy and determined, her medication altering her moods: euphoric highs and embittered lows that were charged with accusation and despair. Fatigue surrounded her, accompanying her sedentary life like a heartache. She would slip to sleep, and awaken at a desperate hour in the night. Overwhelmed by hunger, she would choke on cold rice in a dark kitchen. On the way to her room she would open her son's door, her eyes adjusted to the dark, and stand by his bed in the studio of WPKF. Her stranger of a child, restricted in his home, his energy suppressed by his mother's fragile presence—"Don't slam the door, you'll wake your mother '; "Keep your voice down, your mother isn't feeling well." She sat by his sleep and whispered, "I love you, Paul."
Franklin had watched his son take to reclusive activities and shield himself whenever he could from the confusing world outside his bedroom. His behavior at school was troubling and inflammatory, and his homework was sacrificed frequently to WPKF.
"Why the letters WPKF?" his father had asked on one of the many walks the two of them took together after dinner. "I understand the WPK. but what's the F?"
"It's for Franklin. I wanted you to be a part of the management of the station."
"I'm delighted. I accept the job." Franklin understood that what his son was asking for with the F was his father's authorization for the whole project, a kind of parental FCC. Wishing to know if Paul grasped this truth, Franklin asked, "How much of a part do I play? I'm only one of four letters."
Paul thought about this for a moment. Then he replied. "A big part, but not a decision-making part. I got two letters and the fourth is neutral." He said this very warmly. There was in his tone the suggestion that this flagrant construction of his mind, this WPKF, New York, was grasped by its conceiver as the temporary necessity it was,
That morning Paul's mother was awake early. The family sat at the breakfast table.
1LWe have an English test today," Paul revealed.
"Vocabulary, or what?" Carol asked.
"David Copperfield. I'm way ahead, so it's okay."
"Will it be an essay or facts?" Franklin inquired. English was Paul's only strength. The road to college would be rocky indeed.
"Don't know. I like essays. They're fun. Everything else at school is facts. Facts, facts."Paul laughed. "I got a lot of facts but I don't know anything. You know?"
"But you need facts, don't you?" Carol asked. She had a cup of black coffee before her.
"Two X equals four. X equals two. How important is that for a radio announcer to know?"
"It might turn out that you won't become a radio announcer," Franklin suggested, aware of the possibility of irritating his son.
"Oh. no?" Paul replied dryly. And then, with a glance at his mother, acknowledging his own use of a pet phrase of hers, he told his father. "We shall see what we shall see."
It was a loving mimic, to be sure. Carol was comfortable with it, even flattered. Any parroting of her own theater by her son made her feel observed by him. Foolishly, it seemed, she needed to know that Paul was conscious of her. not simply of her darkened bedroom, her silk nightgown, her steaming rice. He could get away with almost anything by simply nodding hello.
In a while Paul left for school: a crosstown bus, a subway ride to Van Cortlandt Park, and a climb up the hill to chapel. "Faith of our Fathers, Holy Faith / We will be true to you till death. Amen." Paul imagined the assembly in song: "Ask the man for Ballantine. What kind? Ballantine. Amen."
Franklin sat with his wife in her bedroom. He had long ago moved into the study at the other end of the apartment, Carol's restless nights having regularly awakened him. She had insisted that he sleep away from her so that he might have peaceful rest. She had insisted, too, lovingly and with candor, upon a sexual life for Franklin in whatever corners of the city would reward him. Her own appetites, voracious at the start of their marriage, had been diminished and finally extinguished by sickness. She wept by herself, possessed bv her own futility. She inflicted marital abstention on her greatest and closest friend and was staggered constantly by an overriding guilt. "See other women," she told Franklin. "This is no life. Please. This is no life."
Franklin told her no. No.
His profession was the theater. Franklin Kramer was a playwright and an actor. He frequently traveled on the road with second companies. He was a thin, dark-complexioned man who inhabited his body w'ith grace and dignity. Through a long and somewhat unnoteworthy career on the stage, he w;as often cast as a lawyer or a doctor or a distinguished scholar. He seemed to be compassionately disposed toward all of his fellow actors and their multiplicity of characters. One got the feeling that there was no rage to be found in Franklin Kramer's marketplace. Even in the most histrionic of court appearances, Franklin suggested with a lift of his head or a gesture with his hand that there was humaneness to be found in this theater, on this stage, even in the vilest of the population. Villainy wvis softened by the wisdom Franklin Kramer projected on all he addressed. Perhaps he was in touch w'ith God. Though he himself was an agnostic Jew, a spiritual ambience surrounded his performances. He commanded a paternal respect, and the younger women on his stages were beguiled. For years a moral and faithful husband, he took at last his first adulterous pleasure with a sad-faced uirl named Wendy, his daughter in a play about infidelity. They merged silently in the Bradford Hotel in Boston. Massachusetts. Afterwards, Wendy held him and whispered, "My bunny."
Franklin Kramer the playwright concerned himself with frivolous notions about entangled men and women. The people of his pages played Parcheesi. and giggled, and smoked cigarettes. Mirth. That was the word. Mirthful and urbane, Franklin's couples posed slyly at social intercourse and toyed with tapioca sex. They were charmingly devious, with names like Robin and Wilfred. Two of Franklin's plays, both concocted in the same year, drew praise and audiences. Franklin appeared in one, as the gentle neighbor of the entangled protagonists, and played it on the road, and later in revival to a less enthusiastic response. His two plays enabled him to save money, although these savings w'ere depleted constantly by Carol's medical bills. But their lives w'ere perpetuated through the years in theaters around the country, and Franklin Kramer lived on his modest royalties and acting jobs.
"It's such a lovely spring morning," Carol said. She was sitting in bed. wearing a blue bathrobe over her nightgown. She had washed her face and freed her hair from the bun that had contained it through the night. It was light brown, and fell to her shoulders. Franklin observed that his wife had applied lipstick. Her face was oval, her eyes hazel and filled with life: their messages of expectation and defiance had been successfully transmitted to her son's. Paul's eyes were darker, more intense. They suggested the secrets of another language, perhaps a foreign language, of which his mother spoke only a few confused words. These were secrets of the heart, a labyrinth of longing—lightning flashes of desire, evident to a devoted recipient. Franklin Kramer caught glimpses of these secrets. His son's eyes placed him in touch with the woman he had married: with the streak of the wild; impulsive trips to the moon. A feminine, open woman, unprofessionally naive, vulnerable to the flow of human conduct, stung by gestures, imagined implications, and the false shine of deceitful smiles. She moved ahead nonetheless, skipping recklessly across minefields, trusting the outcome, spectacularly affirmative. Franklin Kramer's find, a bit of the Scottish, a bit of the Irish, and much of Protestant America. He had deflowered Carol in Glen Ridge, New Jersey, in the bedroom in which she'd grown up. The only child of two schoolteachers had permitted an actor fifteen years older than herself to come to her home with chrysanthemums only three quarters of an hour after her parents left for Vermont on a hot July afternoon. She had bestowed on this same actor the therapies of wine, and had embraced him. and had led him by the hand to her room, where the power in the air changed hands and Franklin Kramer, without restraint, became the third teacher of the house.
"I was thinking of doing a little shopping today," said Carol. "I feel okay. I feel up to it."
"Would you like to eat at Longchamps tonight? You could have liver," Franklin suggested.
Once a week. Carol was allowed specialties: liver, skinless chicken, a baked potato.
"Maybe I'll let Emma off and make something for you and Paul. How about lamb?"
Emma, the cook, was a sullen, whining woman who slept in a small room by the kitchen. Carol and Franklin had talked of replacing her.
"Why don't we order a leg of lamb and then wait and see how you feel?" Franklin said.
Carol nodded. She smiled at her husband and took his hand. "How's it coming in the study?" she asked.
"Slowly," Franklin told her. He was writing a play, his first in years. "Sometimes I feel like Michael Arlen," he had laughed on more than one occasion. "A passe dandy, a one-shot playwright. It seems I'm stenciling the same pages over and over."
"If a play of yours opened, do you think Paul would read the review on his radio station?" Carol asked, somewhat seriously.
"Possibly," Franklin replied, "but I have a feeling his station will be off the air by the time 1 get something on the boards."
He stood.
"Nine-thirty," he pointed out. "I've got some calls."
"My dear Franklin," Carol said softly.
Franklin, at the door, embraced his wife with his eyes. They touched each other often in this way. He would hold her gently from afar.
Franklin Kramer made dinner. He had given Emma the day off and had cautioned his wife about fatigue; she had visited the shops in the afternoon and had returned with a light feeling in her body. She had always described it as "a floating sensation; as if I'm walking in the air by the ceiling, and rising higher, like a helium balloon."
"I want total rest from you," Franklin had told her.
Broiled chicken, and rice to accompany Carol's, and sliced tomatoes, and Schrafft's chocolate ice cream. Carol sat with them for a while, and went back to bed. Franklin could get a good meal on the table, and Paul could broil meat, defrost frozen string beans, bake a potato, tear up a head of lettuce into small pieces in a glass salad bowl and pour bottled dressing, usually in abundance, onto the lettuce. They both enjoyed preparing food. It was partly due to Carol's passion, and her love of the spirits of the kitchen. She was an instinctive and brilliant cook, and though she could eat nothing that she made, she would read recipes aloud from Gourmet magazine; before entering the kitchen she would write them out in longhand, adding a little, subtracting a little. Casseroles were her favorites: moussaka, beef bourguignon, sweetbreads chausseur, and a bouillabaisse. In the process of preparation she permitted herself not even one taste along the way. "I'm like a blind man playing the piano," she said.
"Would you like to know my favorite things to eat in the world?" Carol asked her family as they sat around her bed after dinner. Most definitely they would like to know'. "Make a list," Paul suggested.
On a yellow legal pad, and with a ball-point pen, Carol made a list:
artichoke
Camembert
draft beer
lobster
corn on the cob
fresh clams
asparagus
avocado
caviar (tied with artichoke)
"That's it," Carol said with pleasure. She held the list up. Paul took it from her, and with his father, he looked it over.
"Asparagus shouldn't be on there. It's too stringy," Paul declared firmly.
"I bet you change your mind on that," Carol told him.
"Never," Paul replied.
"You shouldn't be so positive about things," his mother advised. "Leave room for change."
"Not on asparagus."
"We shall see what we shall see."
"Four of your favorite things are really one big dinner," Franklin observed. "Lobster, corn on the cob, clams, and beer."
"I guess that would be my favorite combination." Carol recalled such a meal with Franklin in the first year of their marriage. In Truro, early in a sultry August. They had rented a house and hired a cook. The fog rolled over the Cape at five. They lay together in a bedroom above the sea, resting gin-and-tonics on their naked bellies. Later, at twilight, at a wooden table in a garden, they were served with care by their silent chef from Bangor, Maine. Mozart chamber music from an old Capehart by a window helped them along. The night turned clear and deep and glittered with stars, and lit their garden with the last full moon before the harvest. A breeze played with the candlelight. Dahlias and cosmos daisies surrounded their table.
"How about a walk and a Good Humor?" Paul asked his father. It was their custom after dinner, at least twice a week, to go out for a stroll, a neighborhood stroll, with the prize a popsicle.
"I'm going to nap a little," Carol told them.
"You need anything?" Franklin asked his wife. "Magazines? Books? The World Telegram!"
"Maybe Vogue, if the new one's out."
Franklin leaned down to kiss Carol. "Truro?" he whispered.
"Truro," she responded as softly.
They both had orange popsicles which shed their sherbet cocoons, revealing vanilla ice cream.
"It's like the surprise in the bottom of the bowl I had when I was a kid," said Paul. "There was a clown's face at the bottom, and gradually, as you finished your cereal, the clown would come into view. I always knew he was there, but it was always a surprise to find him and kind of discover him a little piece at a time."
Through the window of a bar they could see the blinking images of a televised ball game. They stood for a while, finishing their Good Humors and gazing into the dark saloon.
"That's Hank Bauer batting," Paul pointed out. "I hate Hank Bauer."
"Whv do you hate Hank Bauer?" Franklin asked idly.
"Ever see his face? You'd hate that face."
Bauer singled.
"Let's go," Paul said. "Bauer's always getting on."
In a while Paul asked his father: "Who's your favorite player?"
"I'd have to think," Franklin answered. His relationship with baseball was remote, and almost entirely manufactured for his son. Paul, in his Dodgers cap; put Franklin in mind of Carl Furillo: somewhere along the line Franklin, if only subliminally, had made the connection. Furillo's name was the name he chose.
"Do you think the Dodgers will win all the marbles?" Paul asked.
"Yes," Franklin declared. "Certainly."
"Do you think they'll ever win the World Series?"
"Isn't the World Series all the marbles?"
"To me that's just the pennant."
"I think they'll win the World Series."
"When?"
"This year."
"Why?"
"Why do I think that? I just do."
"You wouldn't make a very good interview guest," Paul remarked.
"Why not?" asked his father.
"Your answers are too short. You gotta really talk if you're going to be a guest."
"Do you ever do any interviews on your station?"
"Sometimes in Sports Extra after a game I'll interview one of the players. Kind of like pretend, you know?"
Paul and Franklin continued on without talking. They were now only a few blocks from home.
"Do you know what I'd like?" said Paul, at last. "I'd like to interview you. Just for practice."
"I'd be delighted," Franklin replied.
"When we get home let's just practice, okay?"
"Tonight?" Franklin had looked forward to reading in his study.
"Not for long. Okay?"
"If it's not for long."
"I've never interviewed anyone, you know, real."
Franklin wondered how deeply his son had hidden away the consideration of fantasy. At what point would the dam spring a leak and the secret begin to dribble out, and pour through Paul, flooding the transmitter of WPKF. condemning it forever to silence?
They sat opposite each other at the card table in Paul's room.
"Ail right, are you ready?" Paul asked. "This is just practice."
"I'm ready," Franklin said.
"Good evening," Paul began. "This is WPKF, and I'm Paul Kramer. Tonight our guest is Franklin Kramer, the actor and playwright. How are you tonight, Mr. Kramer?"
"I'm fine, thank you," Franklin replied. He was amused to find himself slightly nervous.
"I'd like to ask you. first of all, are you planning to write a new play?"
"As a matter of fact. I'm working on one now, my first in a long while. It's called The Shade of the Apple Tree. Is that a long enough answer?" Franklin was aware that he might disrupt the interview by speaking out of the character of a guest.
Paul ignored his father's aside. "When will it be produced?" he asked, his voice assuming a persuasive radio flow.
"I hope sometime next season. Perhaps a year from now." Franklin felt relieved that Paul had let it pass.
"Well now. tell me," Paul continued, "what are your upcoming plans?"
"You mean professionally? I plan to continue work on The Shade of the Apple Tree, and to look after my family, my son, Paul, and my wife, Carol, which is all, of course, on the personal side. There's a possibility of a tour in a play called The Man Who Came To Dinner for sometime this summer."
"I see," said Paul. "And your family? What are their summer plans?"
"My wife, Carol, will remain in New York. If I should do the play in July and August she'd have a part-time nurse to make sure that things were in order around the apartment. My son. Paul, will be returning to Camp Robinson Crusoe for his second summer. Last summer was somewhat difficult for him, but I think that now that he's a bit older, he'll enjoy camp life more."
"I don't think so." Paul said, most seriously.
"Why not?" Franklin asked the interviewer.
"Because everything is so competitive at that camp. And there's a schedule for every hour. And I hate the kids."
"Why do you hate the kids?"
"Because they're morons. And they kick you and they steal your Dodgers hat, and things like that."
"Maybe there'll be some new kids this year."
"There's never any new kids."
"You were a new kid."
"I was the only one. Maybe there were about three."
"But you won't be new anymore."
"There's something about being new. Once you're new, you're always new."
They fell to silence. Franklin thought that he would let Paul struggle with the issue on his own.
At that moment, from the hallway outside Paul's closed door, there came an unusual sound. Both Paul and Franklin picked it up at once, but at first neither could make any sense of it. Paul had the eerie feeling that a large dog had stationed itself in the hallway and was wagging its tail against the wall, so that a thumping sound called attention to its presence.
They sat motionless for perhaps a half a minute. Then, in a quiet voice with an almost electronic texture, similar to a radio transmission, Franklin Kramer said to his son: "Your mother's dying."
Franklin's lips had formed the words; Paul had seen them gathering into a declarative order. He read his father's lips, but the sound of the words failed to reach his ears. Paul heard nothing but the thumping of the dog's tail in the hallway. He was unaware of his father's jolting departure from the room. It struck Paul that a game had been interrupted by a roll call; that certain plavers were absent and their names were being repeated on the radio. He listened for the names.
On the floor in the hallway, a few feet from Paul's door, Carol, on her knees, struggled to stand. Franklin surrounded her with his arms. She was vomiting blood in a steady stream. Her mouth was filled with white foam. She was choking on her excretion. Her silk nightgown was soaked through with blood. Her arms and ankles and feet were painted a black-red. Her hair was tangled over her face and covered with blood. Now she struggled to remain on her knees. Franklin, with his mouth to her ear, repeated over and over, "Carol easy love easy love Carol love love." Bloody foam splattered on him and clung to his face. Carol's knees gave way and she slipped to her side. Her nostrils spewed blood. She attempted to speak but gagged on a gush of foam. "Carol easy easy love Carol easy easy." Franklin kept speaking into her ear over and over. He held her tightly to him. He was bathed in her blood.
Paul came to the door. He stood on the threshold of his room. Was someone calling his name? Was he wanted on the phone? Was he missing a program? Oh no. Oh no. Oh no.
"Paul, gel Morris up here. Get Morris up here and after that I want you to go in your room and close the door and stay there until 1 come in. Get Morris now'." Everything that Franklin had said had been spoken quietly, as if someone were asleep nearby. At once Paul w'ent down the hall. He rang the elevator bell. A short man named Morris ascended. He faced Paul. Paul said: "Come."
Morris ran down the hall.
"Get Dr. Spiro and an ambulance," Franklin told him,
Morris said: "Jesus."
Morris used the phone by Carol's bed. Paul stood in his mother's doorway.
"I want you to go to your room and stay there until I come in," Franklin told his son again. Paul did as his lather asked. He shut the door to his room and (ay down on his bed.
Morris ran through the hall to the elevator. Franklin lay next to Carol on the floor, his chest pressed to her back. Her head rested on his arm. franklin repeated over and over and over: "Easy love easy love Carol love." He whispered to her, his mouth pressed directly to her ear. And then softly, and clearly, and with her eyes closed, so that she appeared to be speaking from within sleep, Carol said to her husband: "Thank God for you both."
"Easy easy love," Franklin said to her.
Paul lay on his bed in his clothes, his face buried in the pillow. He was now'here near tears, although he attempted to induce them by going over in his mind the events of moments earlier. And then sleep surrounded him and disengaged him from his mother and father. He slept dreamlessly with the lights on.
He was awakened in the middle of the night by a knock on his door. He swung quickly into consciousness. He checked the clock. It was four-thirty. He w'ondered why his mother was knocking, why she didn't simply come in, simply open the door and walk in. Paul felt that she needed a glass of water, that the faucet in her sink had run dry, and that he would be able to provide her with assistance.
The door opened slowly. Paul faced his father. Franklin's face w-as white and his eyes were black. Paul assumed that he was wearing makeup, that he had just come off' the stage, that he had flown in from another city to be with his family on a special occasion.
"Your mother died at midnight," Franklin said from the doorway. "She had a stroke and she died. She's gone." At first he spoke softly, his eyes focused on Paul. But then, with a bit more strength in his voice, he continued. "She was the bravest woman I've ever known. The bravest human being. The most courageous." Franklin's eyes filled with tears. "She had a will to live that I've never seen the likes of. She was determined to go on with her life."
Paul had never seen his father cry. Now he watched, amazed, as tears streaked his father's face. Why was his father crying? This gentle and composed man standing in the doorway, why was he crying so iate at night with the lights on?
"Why are you crying?" Paul asked.
'Tm lost," Franklin answered.
They faced each other in silence, Franklin remaining at the door.
"Carol is gone," Franklin said, finally, more to himself than to his son.
"Is she dead?' Paul asked. He was sitting on the bed, his legs dangling over the side.
"She's gone, Paul. She loved you. You don't know how much she loved you." Franklin moved into the room. He sat down at the card table, his arms at his sides. His gray cashmere sweater and blue slacks were caked with blood.
"We're alone," said Paul. He hadn't formed the words in his mind, or thought out their meaning. They just came from him, and with them the first momentous perception of the truth.
"That's right,"replied Franklin, "That's true."
Again there was silence, a silence so heavy in the deepest hour of the night that Franklin's tears, at first quietly and even peacefully discharged, nowflowed steadily, and became sobbing. Franklin closed his eyes and wept. Paul, on the bed, extended his right arm. his fingers reaching for his father. Franklin covered his face with his hands.
1 he alarm rang at 6:45. Paul got up and put a bathrobe on over his clothes. The lights were off. his father gone. A dim early morning sunshine filtered through the blinds. Paul w-ent to the bathroom. He washed his hands and brushed his teeth (powder gets the job done a thousand times better).
He went dow-n the hall in something of a hurry, for the time was approaching seven. Paul saw that the door to his father's studv was closed.
"Good morning. On WPKF this is Paul Kramer with the news."
He was right on time.
''President and Mrs. Eisenhower arrived in the desert resort community of Palm Springs, California, this afternoon for a weekend of rest and golf. Thev will remain until midweek and plan to return to Washington by Thursday morning.
"In other news. Mayor Robert F. Wagner is reported improved today after a severe case of the flu. The Mayor has been confined to bed since Tuesday.
"In major league baseball, in local activity, the Yankees beat the A's nine to five, the Dodgers overcame the Phillies four to two, and the Giants lost to the Braves eight to one.'*
It was here that Paul stopped for a moment to fold the paper together, and close it. and lay it gently on the floor. Then, resting his arms on the card table, he looked straight ahead of him for perhaps half a minute before beginning again.
"1 have an announcement to make." he declared extemporaneously. "There is a news story that is not in print this morning that must be reported by WPKF. My mother. Carol Kramer, died last night. She had a stroke and she died. She died at midnight. She was forty-one."
Again, silence. And then, at last:
"I wish you a good day. The sun has risen. This has been the seven o'clock news. Tune in tomorrow morning at seven o'clock for more news from the studios of WPKF. in New York. This is Paul Kramer speaking." □