Innocent Bystander: Gebrauchsgrafik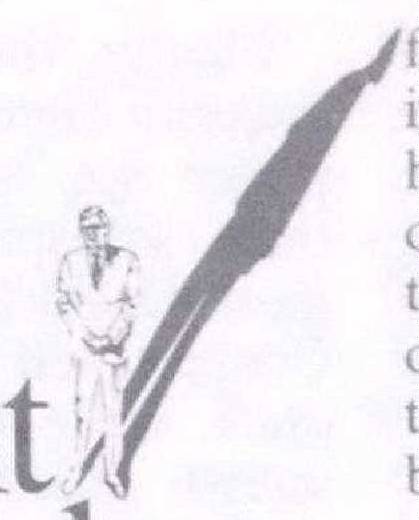 As I get older, I find that, more and more, my day is made by the anticipation-and realization-of small pleasures. When we are young, we hope to be transfigured and transmogrified each time we turn a corner. As we grow old, we are sufficiently gratified by a familiar face - the coffee lady smiling as she always does when pouring out our morning cup-or by a tiny, unexpected insight. For me, at least, many of these insights are provided by a small group of people who are enriched-but unsung — by our society.
I'm talking about cartooflists. I first acquired a taste for their work when, as a mere sixor seven-yearold, I began browsing through piles of old magazines and graphic-arts journals in my father's commercialart studio. There were tall, untidy piles of New Yorkers and Saturday Evening Posts, Punches and Penrose Annuals, and a small hoard of a German advertising-art magazine called Gebrauchsgrafik, which means practical or commercial art. Though I was barely able to read an English sentence, let alone a German one, I took eagerly to these old magazines and their stylized pen-and-ink illustrations which, even without words, perceived the world from an angle which seemed to me delightful. I was too young then to know the word, yet I suspect that I enjoyed their subversiveness-their easy ability to caricature and ironize people and institutions which deserved a put-down. My liking soon became addictive; by the time I'd reached my teens. I'd added a set of turn-ofthe-century American cartoon annuals to my collection, become a constant reader of such heavily cartoon-bearing publications as The New Yorker and Esquire, and—of course—developed into a daily follower of editorial cartoons and comic strips in the newspapers.
In those days-around 1940-most of the really satiric and biting cartoon art was confined to the pages of a few "sophisticated" magazines; the rest of the genre-in the Post, for example-tended to consist mainly of bland change-ringing on such dull and immemorial themes as the mother-in-law and the henpecked husband. The newspapers' editorial cartoons were hardly more imaginative, a fact that had led The New Yorker, some years earlier, to print a series of stock cartoons, replete with Uncle Sams, John Bulls, and Russian Bears, which could be used by any paper on virtually any occasion. Only in the comic section of the Daily Blat was the subversive spirit stirring: for years, the beloved J. R. Williams, in Out Our Way, had been having hilariously at the lower-middle-class American way of life; his collected works are an achievement at least equal to that of the author of Vic and Sade, who labored fruitfully in the same vineyard.
In a somewhat more surrealistic way, the authors of Major Hoople (a.k.a. Our Boarding House) and Smokey Stover put American pretensions through their highly individualistic wringers (Major Hoople was a Fieldsian adept at bombastic con artistry; in Smokey Stover, the foothills, so labeled, always looked like human feet in limp white sweat sox). And, starting around 1936, the young and feisty Al Capp began to challenge these masters with his surprisingly stylish satires on high and low life; one of his more memorable creations was Senator Jack S. Phogbound, perhaps the earliest modern caricature of our purblind legislators (in his best days, Capp would take anybody on, from the lowlifes of Dogpatch-inspired name, that-to the highlifes of England, including Sir Cedric Cesspool, a distant relative of the Yokums, whose favorite saying was, "We Cesspools are deep").
Even some of the so-called serious strips won my admiration and that of my friends in those early days. We ardently looked up to one comic strip in particular, the elegantly drawn Terry and the Pirates. So much were we moved by Terry that when, in the fall of 1942 as I remember, one of his inscrutable, Hepburnish ladies died (this one was prematurely gray and wore a football jersey, though I can't remember her name), a group of my fourteen-year-old friends and I held a wake, with cider and doughnuts, on Halloween, to mourn her passing. (If any reader can remember her name, by the way, I'd be greatly obliged.)
I spent the years of my majorityadmiring Barnaby, by Crockett Johnson, in the old PM. Barnaby was the first, and for a long time the only, explicitly political comic strip; some of my allegiance was transferred to Pogo when that philosophic rodent and his cohorts came on the scene, though I always felt Walt Kelly was a tad heavyhanded in his send-ups of Joe McCarthy and other ignoble notabilities. Pogo at its best was an uncannily accurate tape-recording of everyday American spoken nonsense, in whose capture Kelly rivaled Ring Lardner; fittingly, one of the most risible of all Pogo sequences, the episode in which a swarm of gnats spelled out classically inane sports headlines in midair (capped by "Gnats Take It All; D.C. Delirious"), resulted from a collaboration between Kelly and one of the younger Lardners. And I was touched, at Christmas, 1973, by what appeared to be Kelly's own posthumous epitaph. Some weeks after the cartoonist died, Pogo and some of the other animals put out across the Okefenokee in one of those flat-bottomed skiffs they were always using, skiffs with the name of some friend or editor of Kelly's emblazoned on the gunwales and transom; this time, though, the skiff bore the initials "W.K." and the artist's dates. A moving tribute, presumably from his assistants.
Now that we're up to the present day, I can anticipate a question about Peanuts. Let me hasten to say that I admire Charles Schulz at his wittiest, but not at his most whimsical: still and all, I think he's done a remarkable job of keeping his head-and the toughness and honesty of many of his ideas—when so much fame and fortune has been heaped on him. And few cartoonists have ever had a funnier idea than Snoopy's rejection slip for his unwanted dog food, handed to a bemused Charlie Brown: "Thank YOU for submitting your material. However, we regret that it does not suit our present needs."
Any self-respecting reader of comic strips today would note, of course, that there's a new spirit abroad in the land of four panels a day. The pioneering efforts of the artists I've mentioned-and perhaps the subversive spirit so endemic in this country in late years—have really opened up the comic field to satirists and fantasists of every stripe. If you like Broom Hilda or Tank McNamara, you'll get no serious argument from me. But if I were to name my current favorites, I'd begin with The Wizard of Id, because, at its occasional best, it advances the American tradition of the killing thrust, the deflating punch line, the jest that ends with Collapse of Stout Party, as the English would say. And Parker's drawings are exactly right: just acid and shrewish enough to ram the message home.
However, my Grand Gonfalon Winner among all contemporary strips is something else again—literally, a new departure in this old art form. I'm talking, of course, about Gary Trudeau's Dooneshury, which must surely be one of the first strips written from the point of view of the younger generation. Two things give it uncommon bite and pertinence: first, the fact that the author is always willing and able to see and poke fun at the solemn, pompous side of his young idealists' aspirations; second, the fact that he apparently works very close to deadlines, thus keeping the strip on top of the news. No great shakes as an artist, he nevertheless manages to make his people some of the most human—and most believablewe've ever seen in comics. Not a mean feat, especially since his characters include our last President and his White House aides; Trudeau is probably the only comic-strip artist with guts enough to comment scathingly on our nation's biggest recent scandal even while it was still in progress. I had hoped to tell you a little of how Trudeau thinks and works; my wish was stymied by the fact that he does not take phone calls or grant interviews. Good healthy sign, that.
But I've been slighting those other two areas where exciting things have been happening in recent years: magazine and editorial cartoons. Ever since Charles Saxon first appeared in The New Yorker in the middle fifties, the decline of magazine humor in general has been offset by the rise of a new generation of New Yorker artists. Saxon, who has become the prime satirist of my generation, has been joined by William Hamilton, who has done for (or to) his generation of Young Trendies what Trudeau has done for his generation of Young Hippies; Edward Koren has risen as a mythologist of animal-like humans and human-like animals; George Booth has followed in the footsteps of George Price, illuminating the crotchets of the cat-happy middle-agers of the lower middle class; and still another covey of still younger artists have begun to make their bows in The New Yorker's pages.
In some kind of happy limbo between the gag cartoon and the editorial cartoon reside—besides Saul Steinberg, the longtime leader of the band and a great artist in his own right—such notables as David Levine, Jules Feiffer, and Edward Sorel; behind them are such able up-and-comers as Robert Grossman. And the Sunday pages of the New York Times now play host to a score of younger talents.
The editorial cartoon, moribund for so long, has only recently awakened to the new ferment in America. For years, Herblock, sometimes abetted by Mauldin and Fischetti, was almost alone in carrying pungent (and sometimes stinging) satire to those he conceived of as America's enemies; today, though, there is a whole new school of foil-slinging duelists out there on the ramparts.
Doing battle for our national honor are Conrad, of the L.A. Times, a slugger with a (sometimes too) hard and heave line; Haynie, a spiritual heir of Walt Kellv. whose ornate caricatures sometimes draw blood and often draw laughter; Oliphant, widely considered the best of the young Lurks, whose savage limnings of Nixon and others perhaps owe a debt to both Rowland 1 melt and Ronald Searle; sou can alwavs tell an Oliphant drawing bv the fact that the people look like sacks of walnuts, with pear-shaped heads repeated in pear-shaped bodies. Two still newer hands, Wright and MacNelly. have been accused of ripping off Oliphant's technique; perhaps so. but their fresh ideas, especiallv MacNelie's, transcend any intimation of mere copy work.
In short, in this age of canned and portion-controlled media bits for the jaded consumer, there are still a double handful of wits abroad in the comics, on the editorial (and Op-Ed) pages, in the few surviving magazines that print cartoons. They are a national treasure, these Gebrauchsgratikers; there should be annual Oscars and Ernmys, beyond the predictable Pulitzers, for their subversive and gloriously American art; they should be hung in galleries (like the new Nicholls Gallery, on Madison Avenue, which specializes in New Yorker artists); their work should be preserved in the social history of our time.
Meanwhile, allow me to salute them for the fun and sanity they bring me, in small, welcome increments, almost every livelong day. Long may they and their descendants jape and jibe at a corrigible country whose truths they love, whose lies they good-humoredly expose, hold up to ridicule, and healthily deplore.