AFGHANISTAN
Sept. 1
PASHTUNISTAN DAY CELEBRATION, nationwide. Tribal dances, wrestling and other sports.
Oct. 22-31
BUZKASHI, Kunduz, Baghlan, Mazar-I-Sharif, Samagan. An
Afghan equestrian game.
BURMA
April 8-12
WATER FESTIVAL, nationwide.
May 1
MAY DAY CELEBRATIONS, Rangoon. Exhibits of Burmese products, fireworks and cultural shows.
CEYLON (SRI LANKA)
Jan. 14
THAI PONGAL, nationwide. Hindu festival.
April 13-14
SINHALA and TAMIL NEW YEAR, nationwide. Fireworks. July-August
FIRE WALKING FESTIVAL, Kataragama. Barefoot!
ESALA PERAHERA, Kandy. Procession of elephants. July-September
TEMPLE FESTIVALS, Jaffna. End of harvest festival.
CHINA (TAIWAN)
Feb. 11
CHINESE NEW YEAR CELEBRATIONS, nationwide.
June 14
DRAGON BOAT FESTIVAL, Taipei.
Sept. 20
MID-AUTUMN FESTIVAL, Taipei. Harvest moon events.
August 21
GHOST FESTIVAL, Taipei. Colorful rites honor the dead.
HONG KONG
Feb. 3-March 1
ARTS FESTIVAL, Hong Kong. Music, art, drama, opera.
Feb. 11-13
CHINESE NEW YEAR CELEBRATIONS, Hong Kong.
June 14
DRAGON BOAT FESTIVAL, Hong Kong. Races.
July 21
BIRTHDAY OF LU PAN, MASTER BUILDER, Hong Kong.
Celebrations for those in the building trades.
INDIA
Jan. 14-16
PONGAL-SANKRANTI FESTIVAL, Andhra Pradesh and Mysore State. Gay rice harvest festival. Cooking ceremony, parades. Jan. 25-Feb. 3
THIRD WORLD HOCKEY CUP FOR MEN, Bombay.
Jan. 27
FLOATING FESTIVAL, Madurai. Temple deities, clothed in silks and jewels, afloat in procession on the royal barges.
Feb. 1-10
WORLD TABLE TENNIS CHAMPIONSHIPS, New Delhi.
March 27
HOLI, Northern India. Traditional throwing of colored water on friends. Greetings and sweets are exchanged.
April 22
POORAM (TRICHUR), Kerala. Procession of elephants carrying deities. Music.
April 23
MEEAKSHI KALYANAM or MYTHICAL WEDDING OF LORD SHIVA AND MEENAKSHI, Madurai.
July 10
RATHYATRA or TEMPLE FESTIVAL, Puri in Orissa.
August 9
TEEJ, Jaipur. Monsoon festival.
August 30
JANMASTAMI, Bombay, Mathura, Agria. Anniversary of the birth of Lord Krishna with special prayers and rites.
Nov. 3
DIWALI or FESTIVAL OF LIGHTS, nationwide.
Nov. 18
PUSHKAR FAIR, Pushkar. Races, exhibits, music.
INDONESIA
Jan.1-8
AUTO RALLY AND TOURISM WEEK, Padang.
Feb. 13-17
RICE POUNDING FESTIVAL, West Java in Tjigugur and Kuningan. Rice pounding set to music.
Feb. 23-24
TABUT or FOLK FESTIVAL, Padang and Fariaman. May-October
CLASSICAL DANCE FESTIVAL, Pandaan.
June
DJAKARTA'S 448th ANNIVERSARY CELEBRATION. August-October
KERAPAN SAPI/BULL RACES, Madura Island.
JAPAN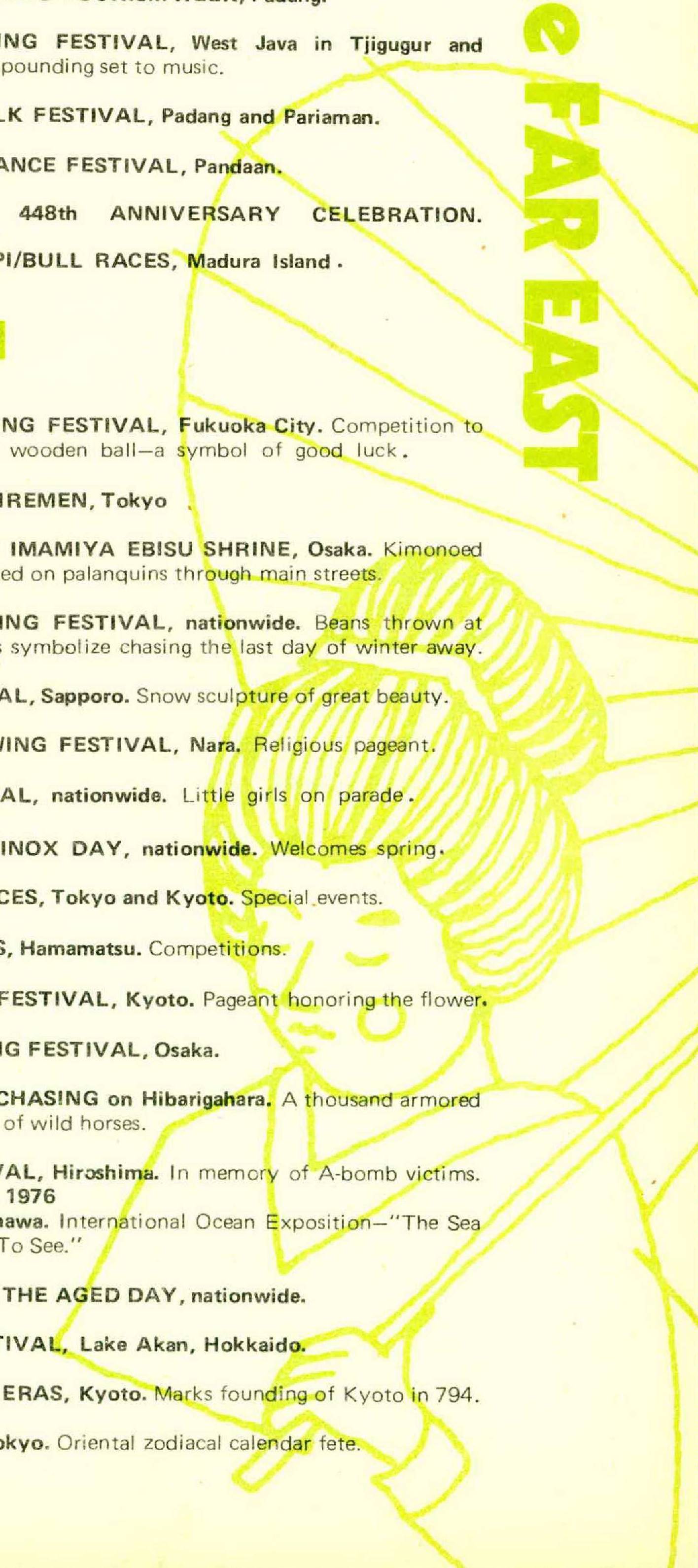 Jan. 3
BALL CATCHING FESTIVAL, Fukuoka City. Competition to catch a sacred wooden ball—a symbol of good luck.
Jan. 6
PARADE OF FIREMEN, Tokyo Jan. 9-10
FESTIVAL OF IMAMIYA EBISU SHRINE, Osaka. Kimonoed women are carried on palanquins through main streets.
Feb. 3-4
BEAN-THROWING FESTIVAL, nationwide. Beans thrown at imaginary devils symbolize chasing the last day of winter away.
Feb.1-4
SNOW FESTIVAL, Sapporo. Snow sculpture of great beauty.
March 1-14
WATER DRAWING FESTIVAL, Nara. Religious pageant. March 3
DOLL FESTIVAL, nationwide. Little girls on parade.
March 20 or 21
VERNAL EQUINOX DAY, nationwide. Welcomes spring. April
CHERRY DANCES, Tokyo and Kyoto. Special events.
May 3-5
KITE BATTLES, Hamamatsu. Competitions.
May 15
HOLLYHOCK FESTIVAL, Kyoto. Pageant honoring the flower. June 14
RICE PLANTING FESTIVAL, Osaka.
July 23-25
WILD HORSE CHASING on Hibarigahara. A thousand armored riders in pursuit of wild horses.
August 6
PEACE FESTIVAL, Hiroshima. In memory of A-bomb victims. July 20-Jan. 18, 1976
EXPO '75, Okinawa. International Ocean Exposition—"The Sea We Would Like To See."
Sept. 15
RESPECT FOR THE AGED DAY, nationwide.
Oct. 9-10
MARIMO FESTIVAL, Lake Akan, Hokkaido.
Oct. 22
FESTIVAL OF ERAS, Kyoto. Marks founding of Kyoto in 794.
Mid-November
COCK FAIR, Tokyo, Oriental zodiacal calendar fete.